Publish content to your screens directly from Microsoft Teams
Learn More


Product
ScreenCloud Zoho Customers App Guide
Need to get to know your customers better? We have just the app you need!
Like most businesses, you probably often speak to certain customers, whether it's the small businesses that are like mini celebrities to your team or the large enterprise customers that everyone in the businesses knows.
However, there will always be that silent majority that you, your Support team or Customer Success team, don't know about. The ones that slip under the radar, but nevertheless are important.
That's why we built the Zoho Customers app so that you can know your customers better.
With the ScreenCloud Zoho Customers app you can:
Share useful information about your customers from Zoho, direct to your digital screens
Create rich displays without needing to do any design
Automate it so new customers show up without you having to do a thing
Here's how it works:
1. Select and install ScreenCloud's Zoho Customers app
To begin, follow this link and select "Install this app" in the bottom right-hand corner. This will log you in to your ScreenCloud account, or prompt you to set up our free trial in order to use the Zoho Customers app and others within our App Store.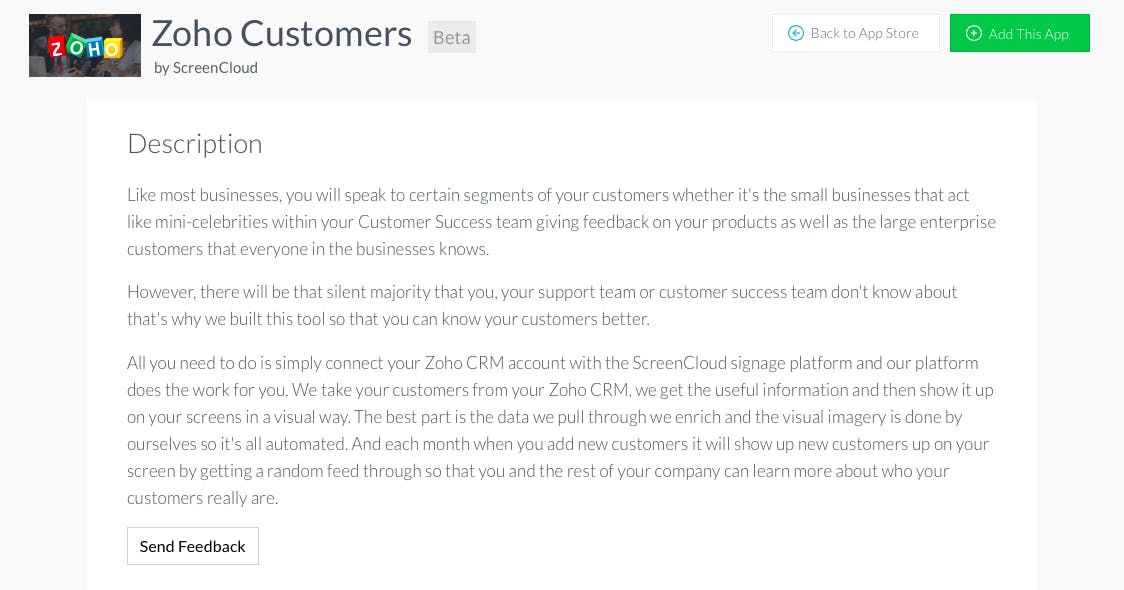 2. Login to your Zoho account
Select the Login button to open the Zoho login page.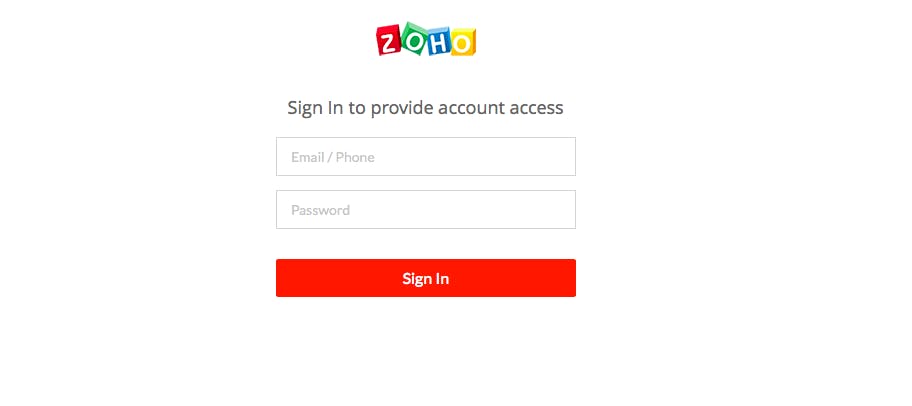 Enter your Zoho account details. Please ensure that your Zoho CRM has customer details in the "Contacts" section of the CRM. If you don't yet have any customers it will not allow you to login with that account.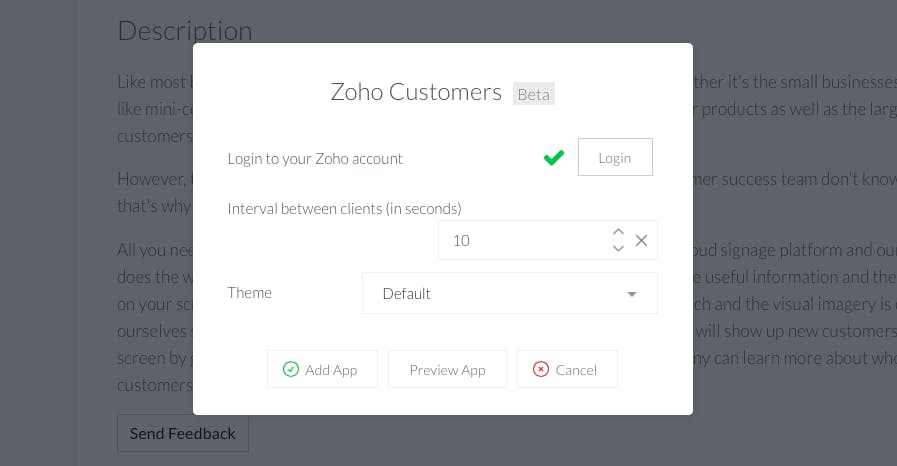 Once you have successfully logged in you will see a green checkmark displayed next to "Login".
3. Choose your settings
Next, choose how long you want to show each customer for by changing the interval time. We have a default of 10, but you can make this shorter or longer depending on your preference.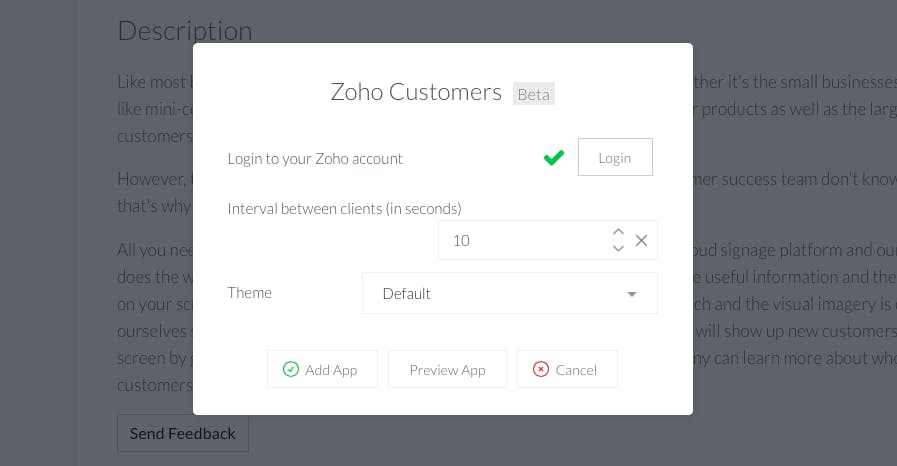 4. Choose your theme
With Zoho Customers app you can choose which theme to use to display your customers on screen.
The preset options include the default theme or a dark or light theme as shown below.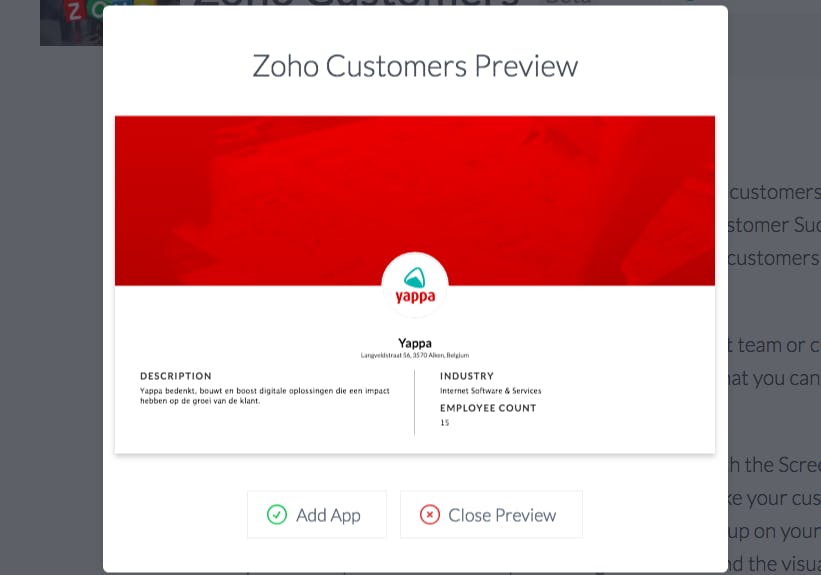 You can also create a custom theme made up entirely of your company branding or chosen colors. For example, here the app branded in the "Starbucks" brand color theme: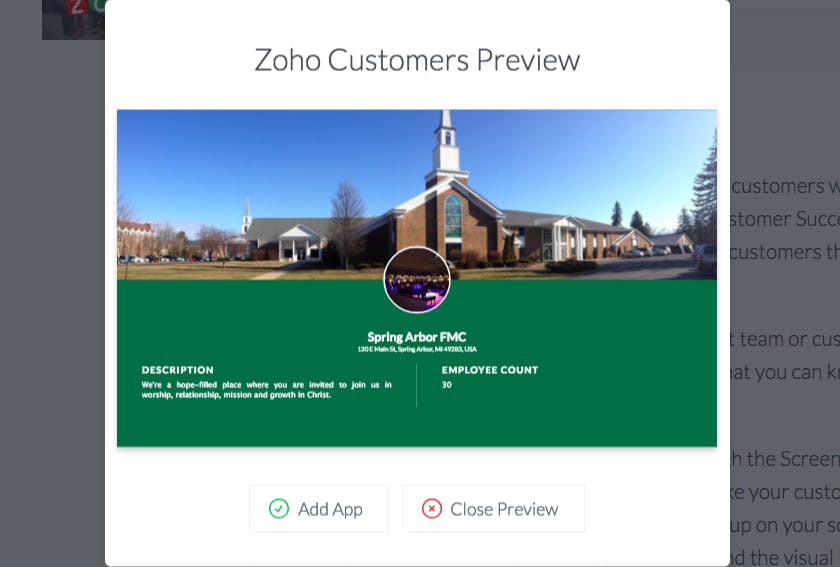 To create a custom theme, check out our guide on how to use the App Theme Editor. Once you've set up a custom theme you will see this in the theme dropdown within the Zoho Customers app settings.
5. Preview your results
To check you're happy with the details that will be shown, click "Preview App" and a small pop-up will show what your app will look like on your digital screen. Please note that it can take up to 15 seconds for the preview to show on first setup. This is because the app needs to look for your accounts and select the initial 500 accounts to show.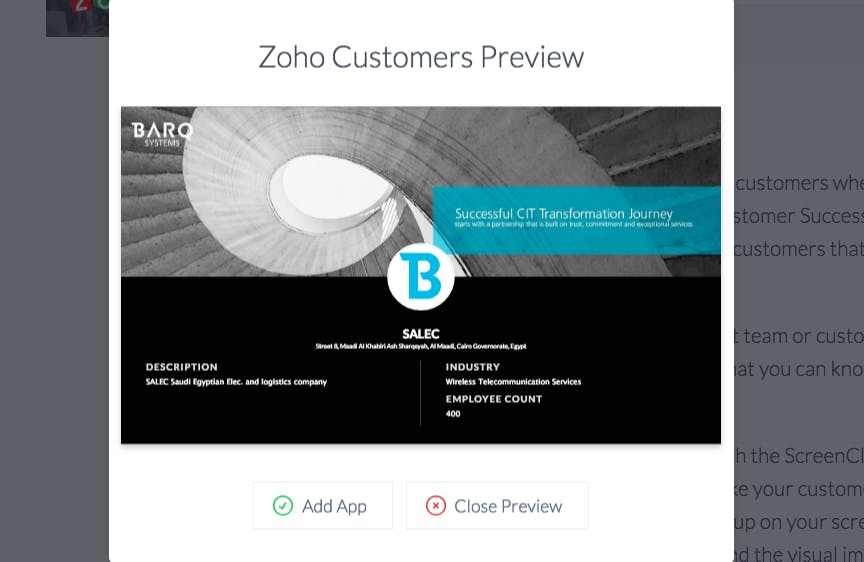 To make any further changes or to test a new color theme you can simply click "Close Preview."
If you are happy with your preview, click "Add App."
6. Add Zoho Customers app to a playlist
Once you've chosen to "Add App," you can give your Zoho app a name.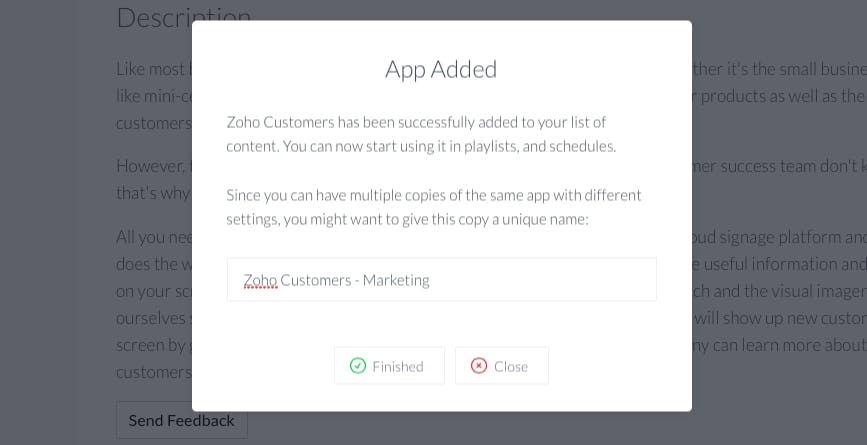 Next, go to "Playlists" and drag and drop the app from the selection bar on the right-hand side, to the playlist of your choosing.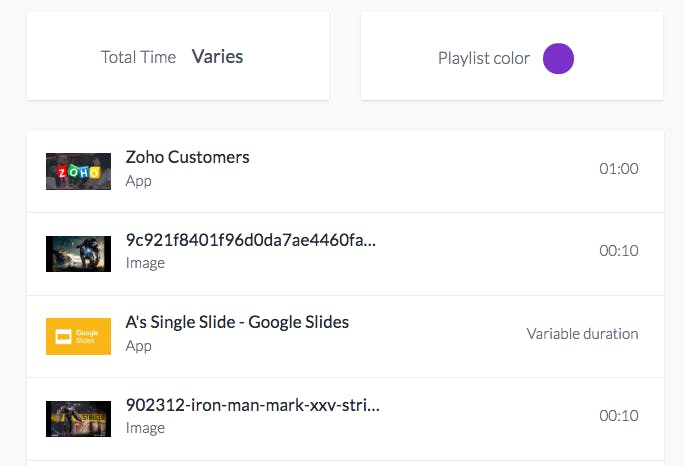 Frequently asked questions:
The app isn't showing some of my customers?
Part of the app is that we enrich the data we get from your Zoho CRM so that the information you see on screen is more valuable to you and your company. This information is pulled using the email address of the Contact associated with the Accounts in the Zoho CRM. If the email address is incorrect then the app will not be able to show any data for that customer.
Will the app show all of the customers in my CRM?
We pull through a random 500 list of your accounts from your Zoho CRM when you first start up the app, and then an additional 100 of your customers each month thereafter.
Which order will my customers be shown in?
We randomize which customers appear on screen and when, to make sure that you get to see a broad selection across your customer list.
I am getting an error displaying on my screen You have reached limit of active Zoho tokens to use ... when I have added several instances of the same app?
There is a maximum limit on the amount of times you can use the same login for the Zoho Customers app. If you are setting up more than nine versions of the same app you will receive an error on the screen.
How does the app work offline?
All customers which loaded at the last online session will stay on the screen and transition through if the app is offline.
I am seeing a You used the maximum number of requests from this account. Try again in 15-20 minutes error on my screen?
If you try to load the app multiple times by clearing your screen cache lots of times within a short period then it will show this error. Please wait a short period of time and the app will resume as normal.
Ready to get your organization connected?
Connect your first screen today with our 14-day free trial