The Ustream app from ScreenCloud allows you to easily take your Ustream live streams or recordings and share them on your digital signage screens. This allows more people to access your streams and engages a bigger audience with what you have to say. UStream app can also be used within your office or a meeting to share a live stream of company comms.
With the ScreenCloud Ustream app you can:
Share any live Ustream direct to your digital signage screens
Play recordings of your Ustream feeds on the screens around you
Start your livestream automatically at a time of your choosing
Here's how it works:
1. Select and install ScreenCloud's Ustream app
To begin, follow this link and select "Install this app" in the bottom right-hand corner. This will log you in to your ScreenCloud account, or prompt you to set up our free trial in order to use the Ustream app and others within our App Store.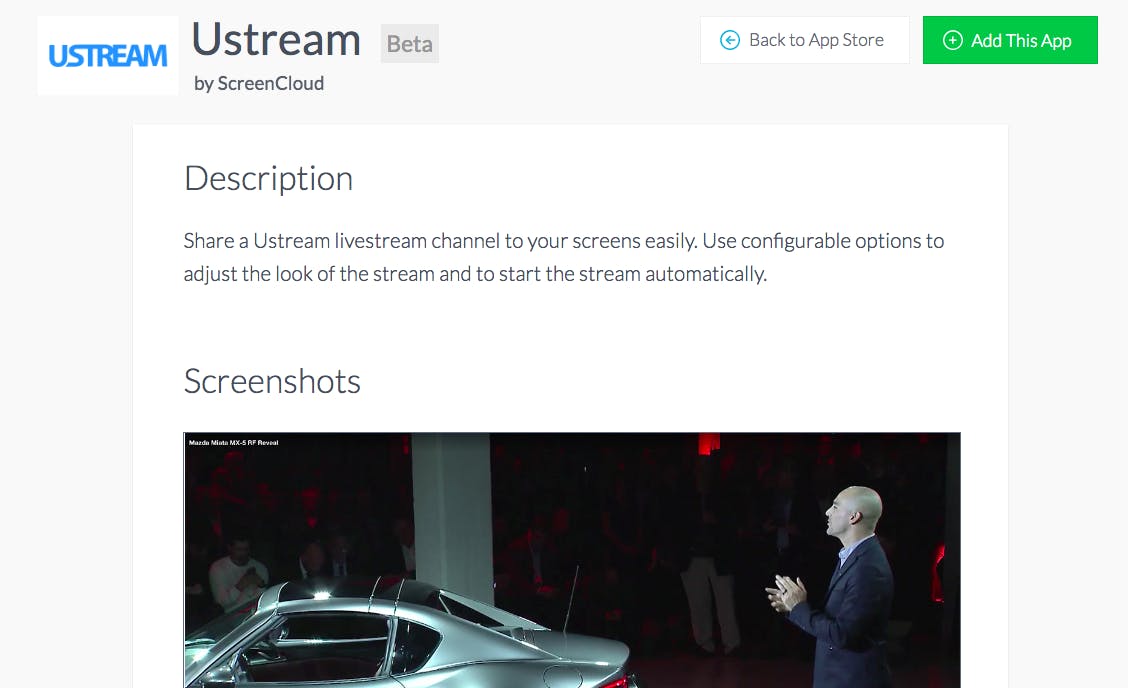 2. Choose your Ustream channel or recording
Next you will need to get the stream or recording link from the Ustream page and add this to the Ustream channel or recording URL box in ScreenCloud: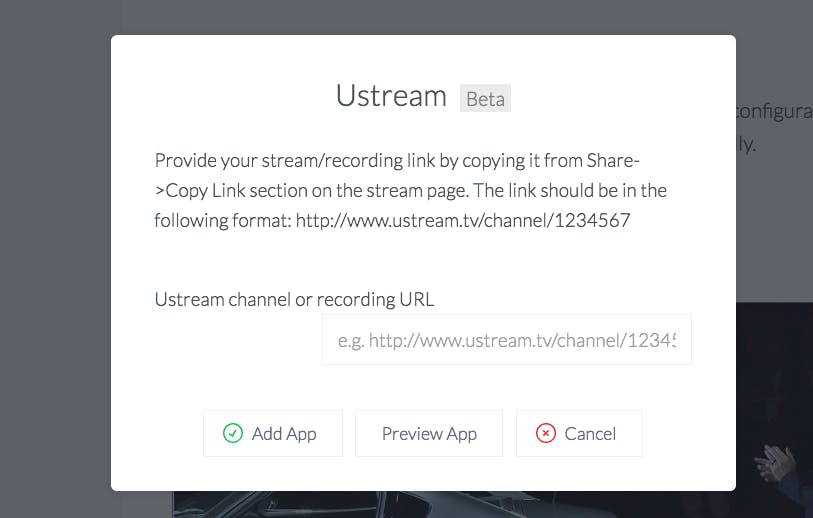 The Ustream link should be in the following format: http://www.ustream.tv/channel/1234567
To obtain this URL click on the small "Share" icon which is second in on the black bar that shows when you hover over the video (the "Share" word above the video may not provide the same options to copy link):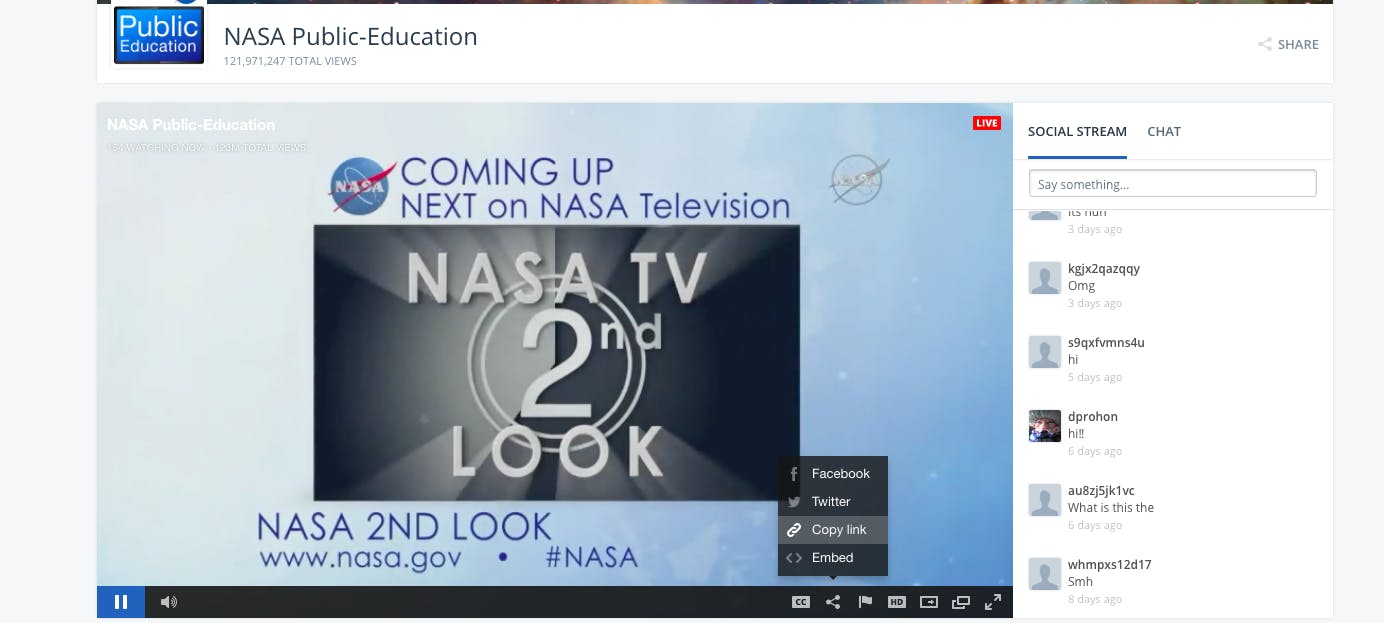 Select "Copy link" and copy the link to the video as shown here: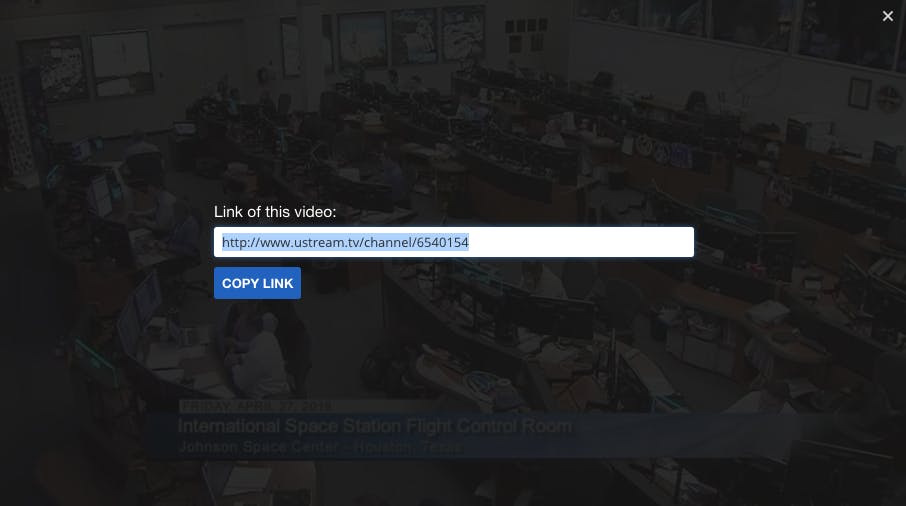 Add this to the URL field in ScreenCloud.
3. Preview your livestream
To preview what your livestream looks like, select "Preview". A small popup will show you your Ustream feed as it will look on your digital screen: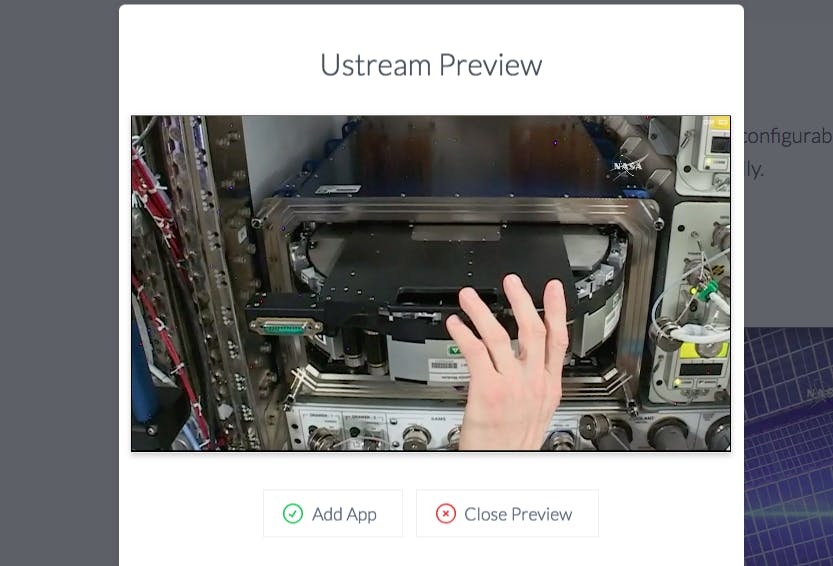 To make any further changes or to add a different video URL you can simply click "Close Preview."
If you are happy with your preview, click "Add App."
If the channel is off-air you may see in the preview a message saying "This channel is off-air" or "This video is unable to play". Once the video is on-air this will change.
4. Add Ustream app to a playlist
Once you've chosen to "Add App," you can give your Ustream app a name. This will make it easy to find if you use more than one livestream within your account.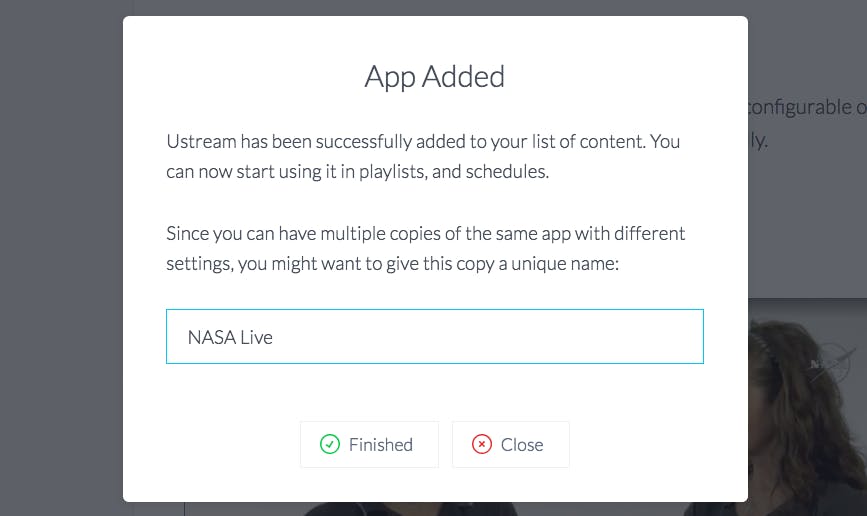 Next, go to "Playlists" and drag and drop the app from the selection bar on the right-hand side, to the playlist of your choosing.
Frequently asked questions
My Ustream isn't showing?
This usually happens when the settings of the Ustream or video are set to prohibit autoplay. In order for you to be able to share your video or livestream to ScreenCloud, the video must be set to allow autoplay.
You can change this within your Ustream account settings. If the video you're trying to play isn't yours and you have no access to the settings we suggest you contact the creators of the video, as they may want to change the settings for you and other users.
My Ustream video isn't showing within the playlist
If you are experiencing the issue above, your Ustream may be skipped within the playlist because there is no content to show.
Why does my Ustream flicker on and off every 25 minutes?
If you have the stream constantly on for over 25 minutes we refresh the content which means you will see a quick content flicker as this is refreshed. This is to ensure we can keep the stream running live for long periods of time and shouldn't cause too much disruption to your viewers.