Please note, if you are using the older version of ScreenCloud (signage.screencloud.com) you can download the alternative Twitter Timeline guide here.
The Twitter Timeline app from ScreenCloud allows you to easily put tweets from your feed up onto your digital signage screens. This is great for sharing a Twitter feed with an internal team or staying on top of mentions and favorites. You can access the digital signage Twitter app from within our App Store. 
The Twitter Timeline app works by allowing you to select any feed from your own Twitter account. 
With the ScreenCloud Twitter Timeline app you can:
Share tweets from your timeline
Show account mentions
Show a favorites feed
See updated tweets in real-time 
Here's how it works:
1. Select and install ScreenCloud's Twitter Timeline app
1.1. Get started by logging into your ScreenCloud account here and choosing the ScreenCloud App Store from the left-hand menu.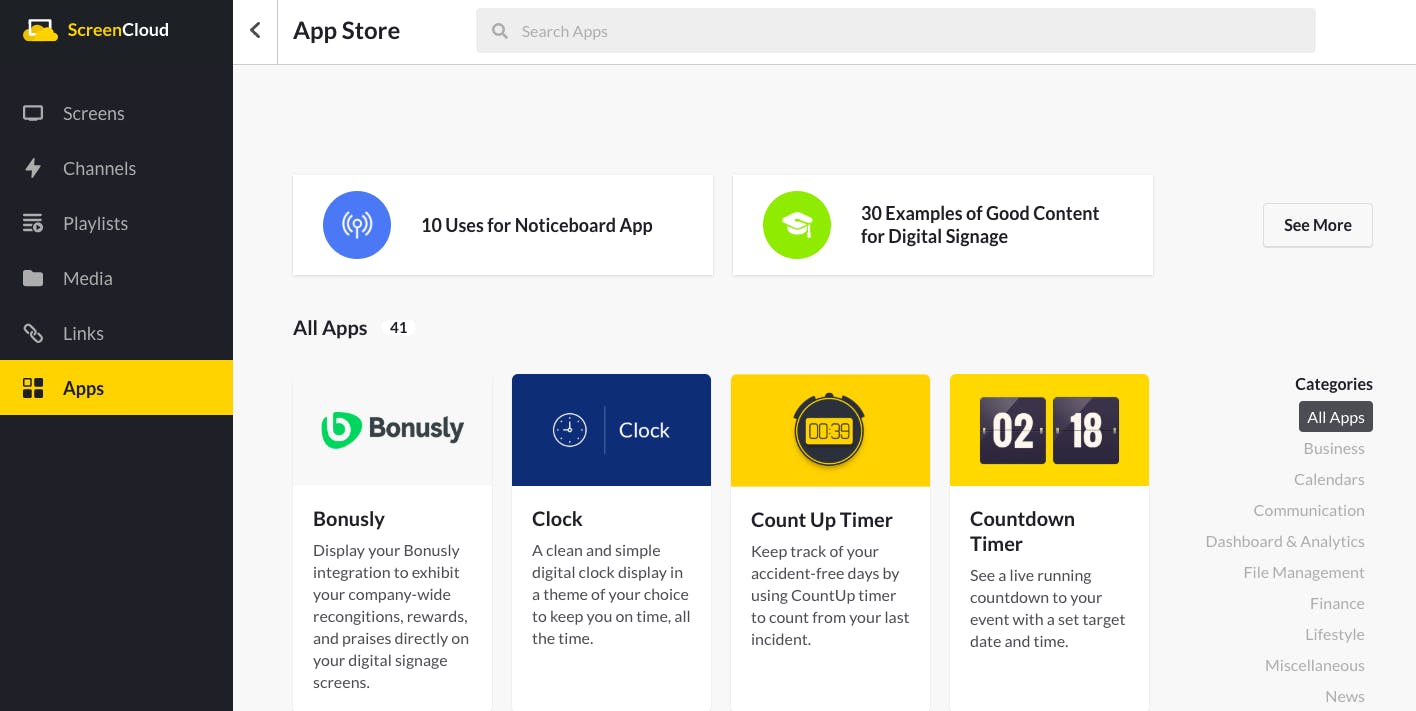 1.2. By searching "Twitter" you can find the Twitter Timeline app and choose the "Install app" button to add a new instance. As you'll see, there are two Twitter apps. Twitter Timeline allows you to show tweets from your own profile updating as they are sent, alongside monitoring elements such as your mentions or your Home Feed, whereas Twitter Search allows you to search for other accounts and hashtags within Twitter.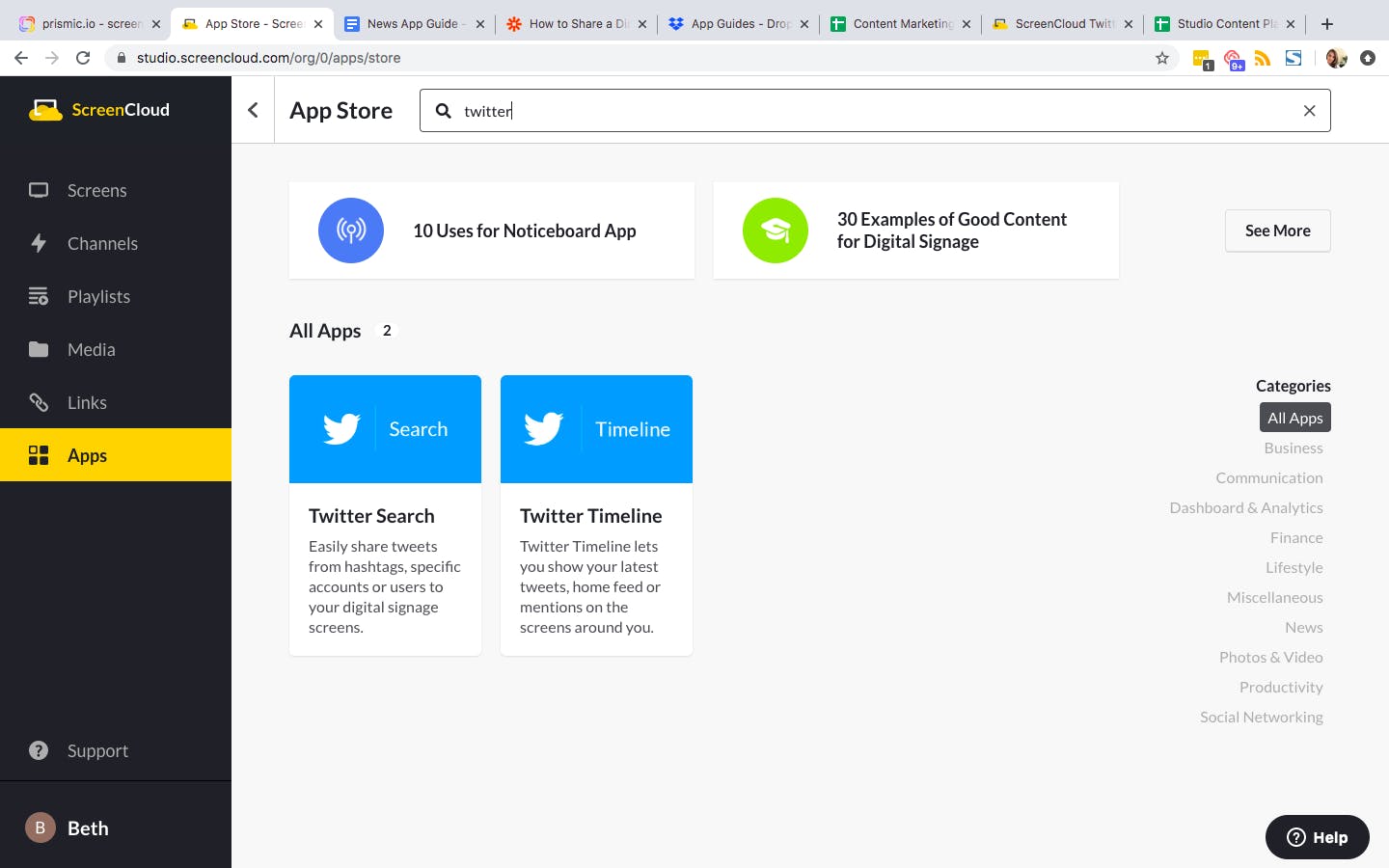 Once you have selected the Twitter Timeline app, click the "Install App" button to add a new instance.
2.1. In order to access your Twitter Timeline, you will need to select "login". This will take you to a page where you can authorize ScreenCloud to access your Twitter account. You will need to do this in order to allow ScreenCloud to pull through your tweets in real-time.
Once you have successfully logged in, you will see a green checkmark box next to the login button.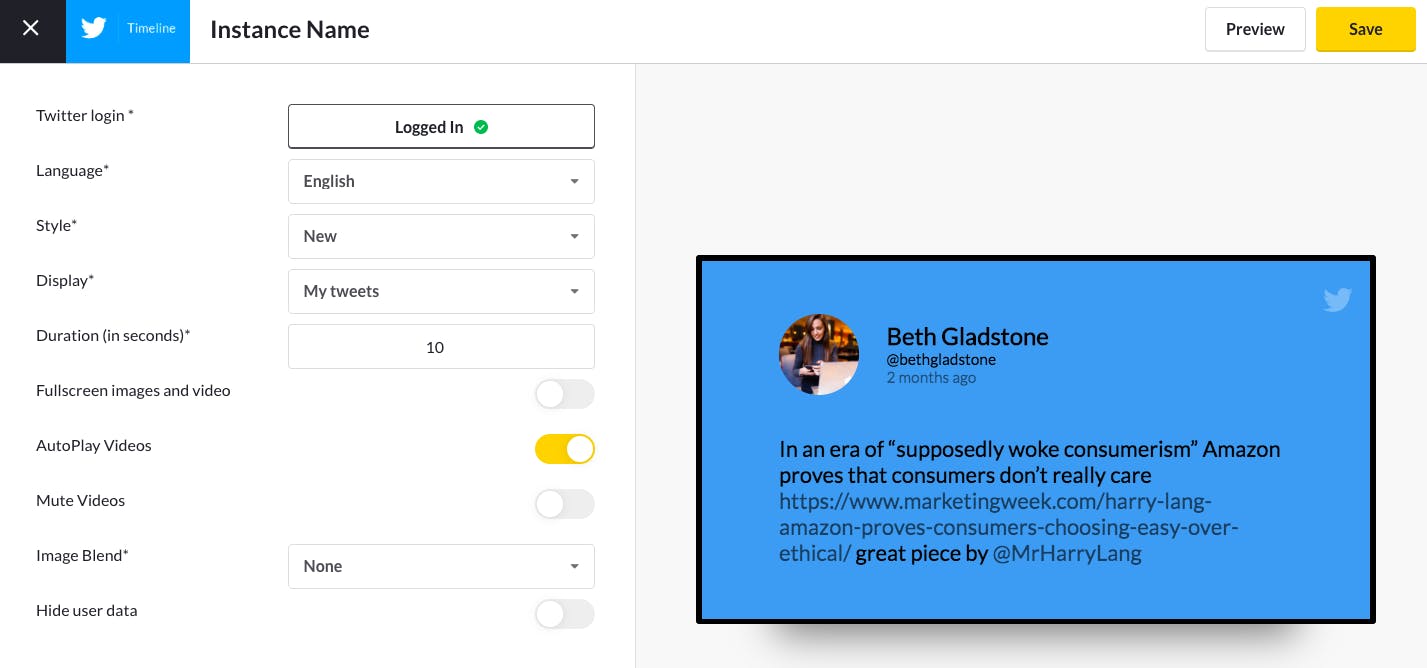 3.1. Once you've created a new instance of Twitter Timeline app, you'll want to give it a name, for example "My Twitter Mentions". This is to help you to distinguish the app if you decide later that you want to add more than one instance.
3.2. Next, you'll want to choose what you see from Twitter and how you see it. You can do this by tweaking the Settings panel for example:
Language - Choose from English, Spanish, German, French or Dutch
Style - There are two Twitter Timeline styles to choose from, an old style and a new style.
Display - Here, you can choose whether you'd like to show your tweets, your mentions, tweets from those you have followed or the tweets you have favorited.
Duration (in seconds) - This determines how long you wish to show each tweet for.
Fullscreen images and video - This allows you to choose how images and videos within tweets are displayed.
AutoPlay Videos - On/Off
Mute Videos - On/Off
Image Blend* - This allows you to choose what style to show your tweets in when they contain an image in Full, Medium or None.
Hide user data - This removes the Twitter handle and allows you to share just the tweet as a standalone image, video or piece of text.
Once you're happy with your Settings you can select Save to add the Instance to your Apps panel.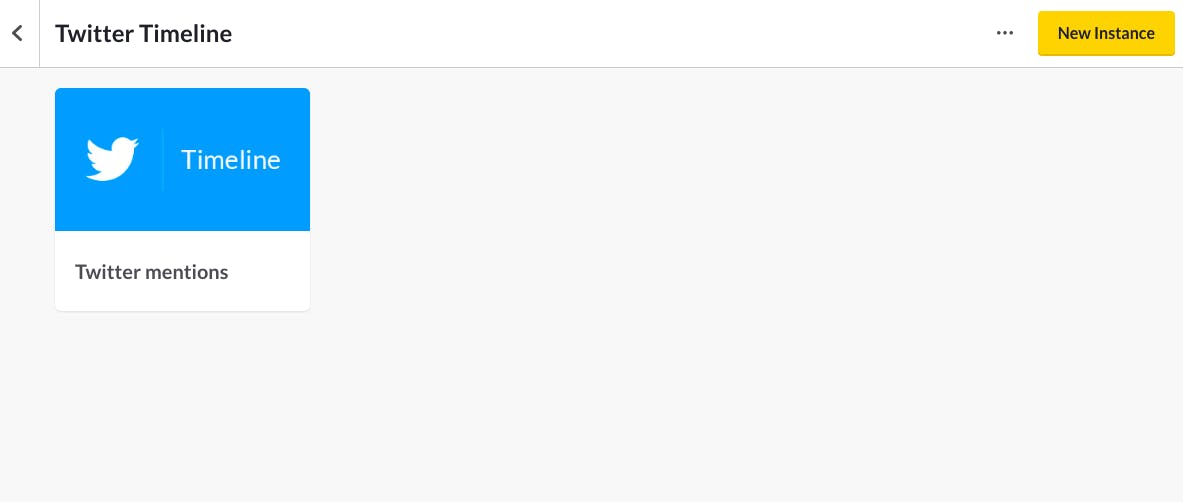 Once you have chosen your Twitter Timeline headline and settings it can be easily added to a Channel or Playlist to be played on screen. 
Simply select "Add Content" to open the Media Picker and under Apps you will see all of your app instances, ready to be installed.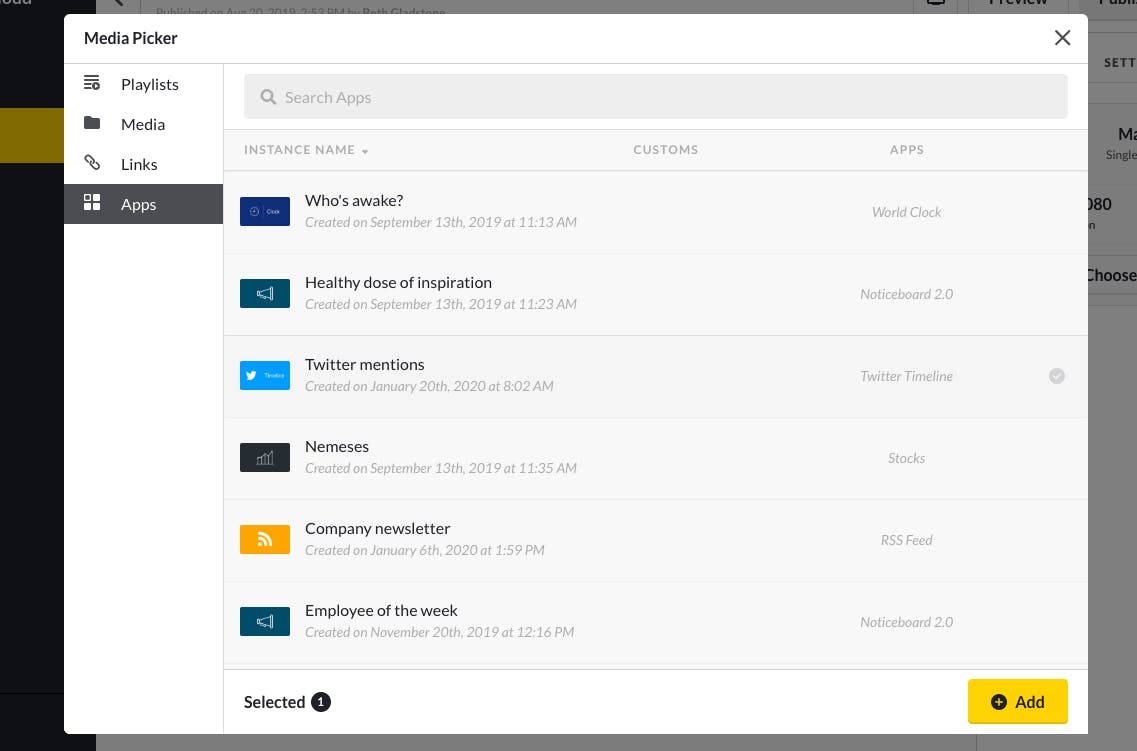 5. Custom brand your Twitter feed
Twitter Timeline is one of the ScreenCloud apps that can be custom branded. Creating a branded theme is easy and can be created within your Account Settings (as shown below).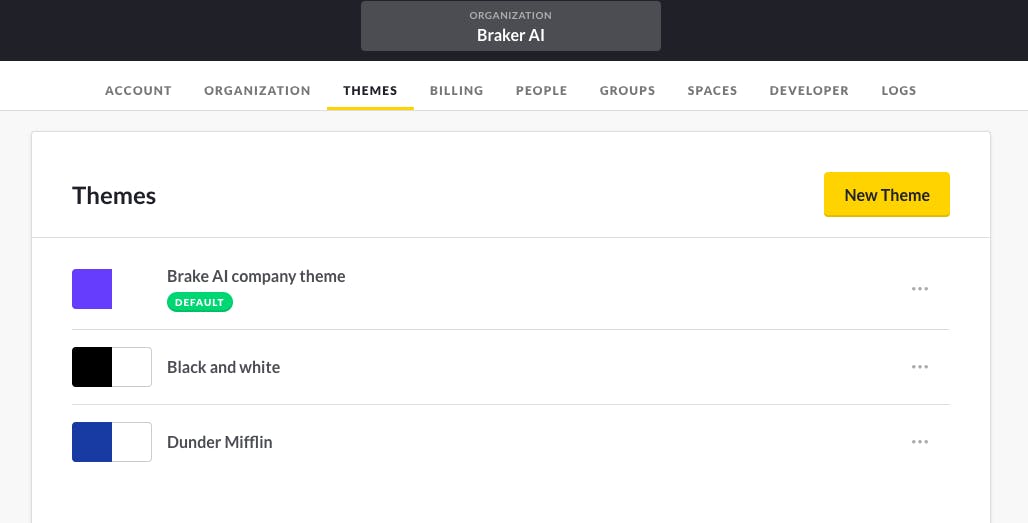 Once created, themes can be added at a Channel-level in order to custom brand apps like Twitter Timeline. Find out more about how to create custom themes with ScreenCloud here. 
Frequently asked questions:
Can I display the Twitter app in portrait mode?
Yes, the Twitter app can be used within a portrait or landscape display.
Can I use the Twitter app as part of a zoned digital signage display?
Yes, you can use Twitter Timeline within zoned Channels.
How are the results ordered?
Tweets are shown either chronologically, or according to Twitter's algorithm depending on which feed you are showing. 
Why do I have to log in through Twitter before my results can be shown?
This is due to Twitter's API which asks for tokens in exchange for Twitter search results. When you log in, Twitter gives you access to your tweets which can then be displayed on the screen.
What if I want to show someone else's feed instead of my own?
Please use the Twitter Search app instead.
Why doesn't my Twitter post display?
The Twitter Timeline app can only pull in posts from up to 7 days ago. This is also due to Twitter's API.
For further questions please contact support@screencloud.com with details.