Please note, if you are using the older version of ScreenCloud (signage.screencloud.com) you can download the alternative GroupEX PRO guide here.
The ScreenCloud GroupEx PRO app makes it easy to take your gym class schedules and easily add them to your digital signage screens. The perfect partner for gyms and fitness centers who are using GroupEx PRO as their gym class schedule system of choice.
GroupEx PRO app gives you an easy way to share upcoming, scheduled, or cancelled gym classes with everyone that walks by. Increasing attendance, awareness, and reducing the need for mass mail or printed timetables.
With the ScreenCloud GroupEx PRO app you can:
Automate the pulling of gym class schedules to display them on screen
Choose how far in advance to show your schedules
Design your schedule with your brand colors and logo
Display the location and name of the instructor for each class scheduled
Here's how it works:
1. Select and install ScreenCloud's GroupEx PRO app
1.1. Get started by logging into your ScreenCloud account here and choosing the ScreenCloud App Store from the left-hand menu.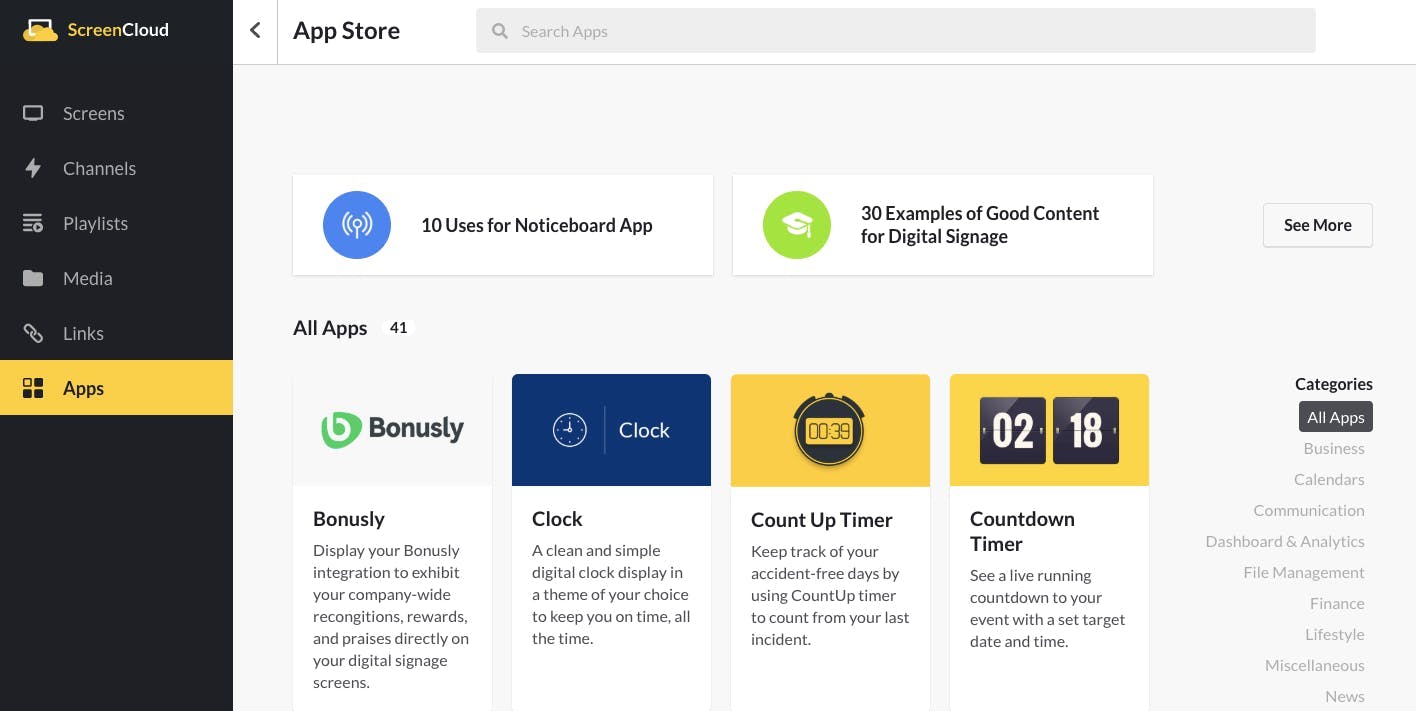 1.2. By searching "Group EX PRO" you can find the Group EX PRO app and choose the "Install app" button to add a new instance.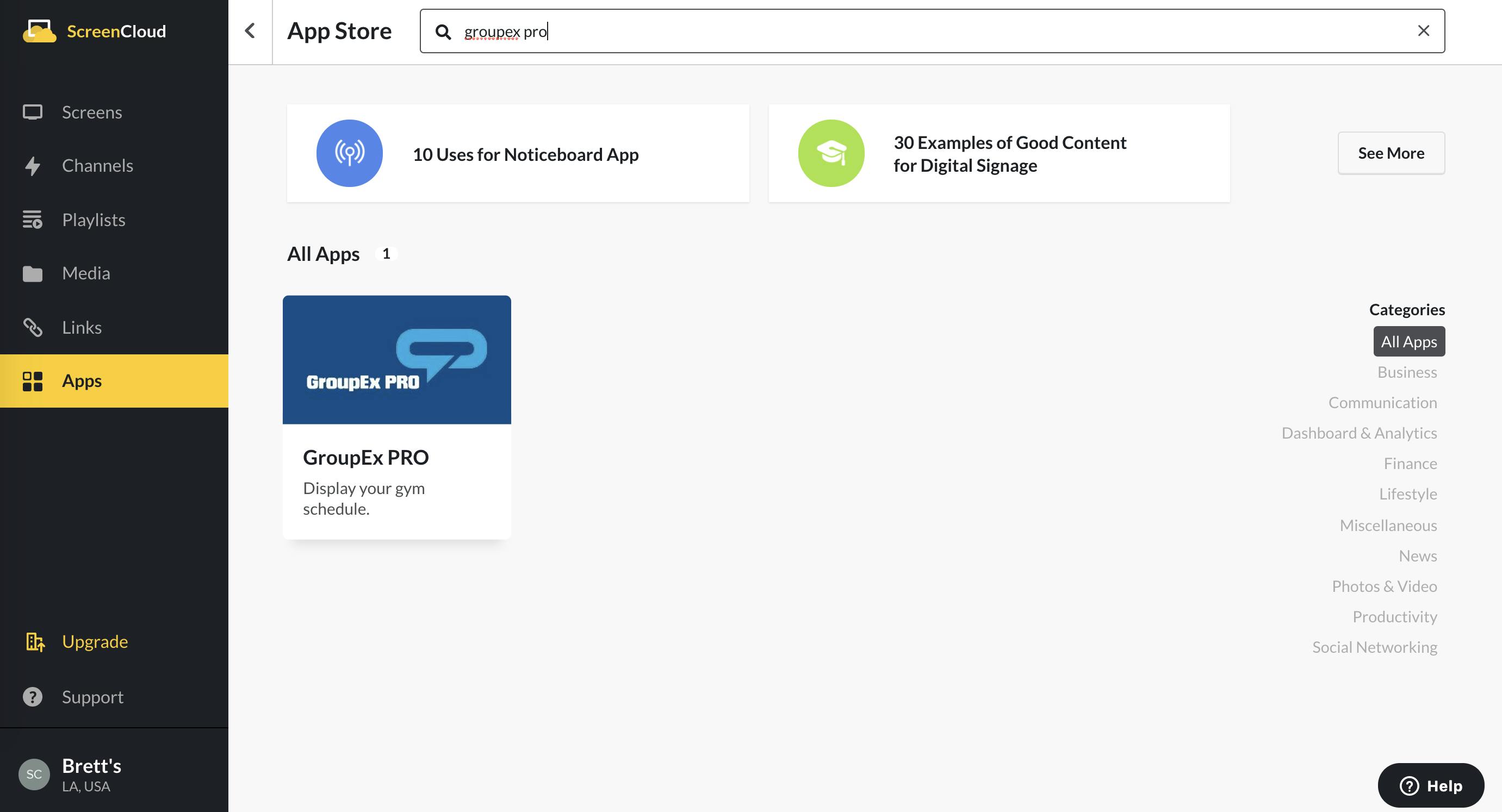 2. Add your GroupEx PRO account ID
2.1. Once the settings panel opens you will see the option to Configure your gym. Select "Configure" and enter your GroupEx PRO account ID. To find your account ID, the account holder should open the accounts settings page of your GroupEx PRO account and it will be displayed at the top of the page.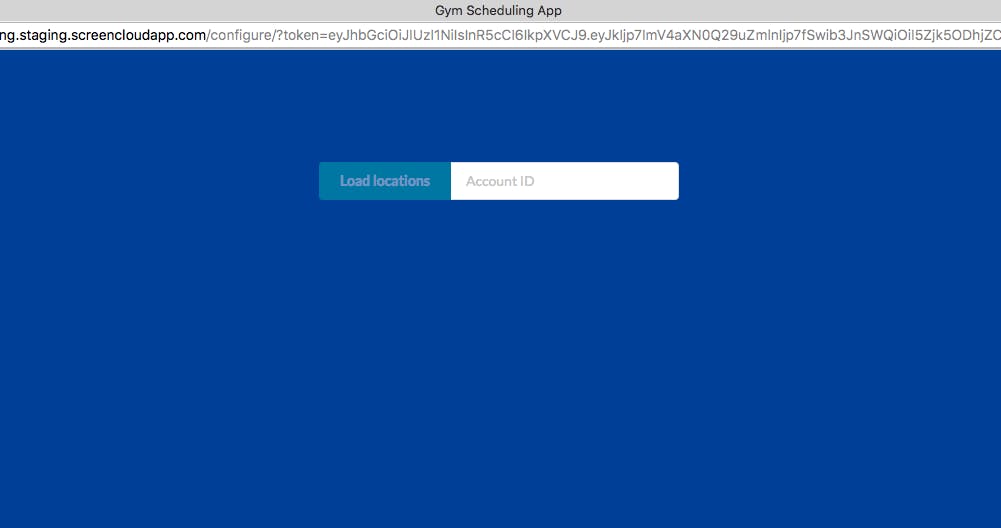 2.2. Once you have entered your account ID select "Load locations" and you will see a list of all of the gym locations available with your account: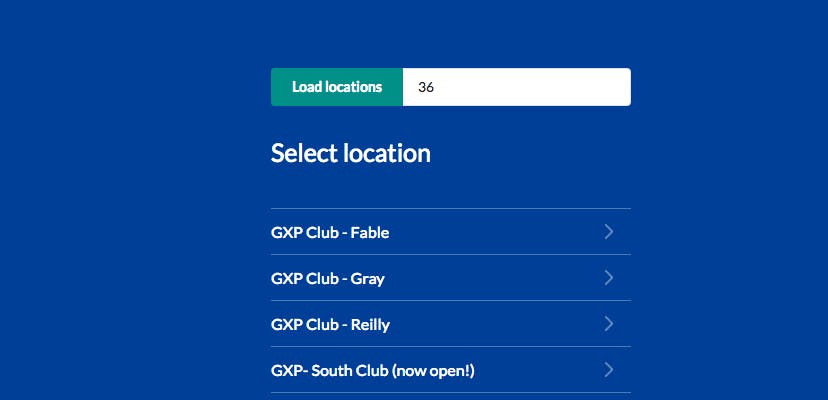 You can select one location per install but don't worry - if you need to use more you can just re-select the app for a separate location.
2.3. Choose your location and the pop up will close. When you return to the app you should see a green checkmark next to "Configure".
3. Choose your GroupEX PRO settings
Next, you have the option to personalize your display with this list of settings: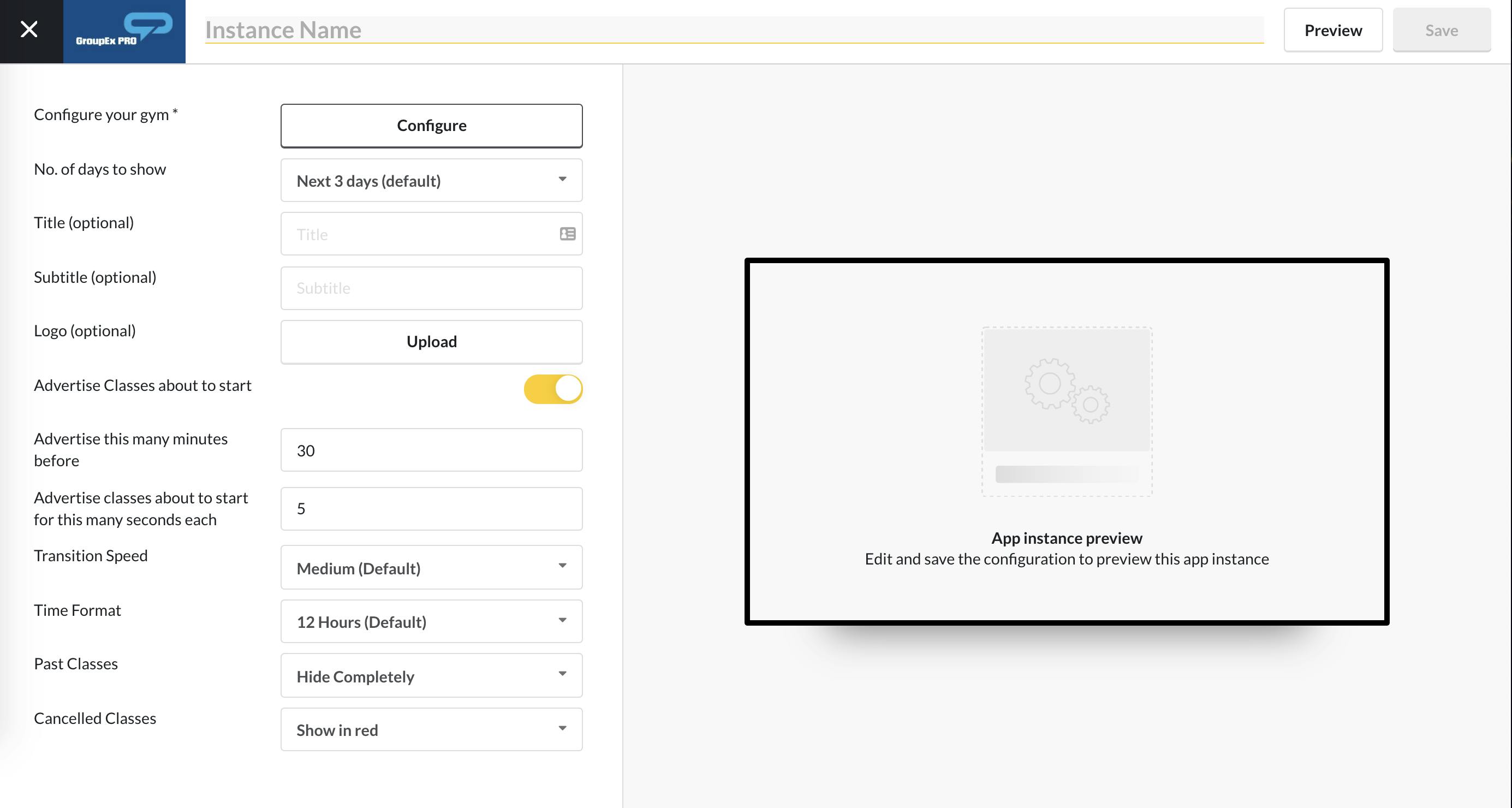 No. of days to show: here you can choose how many days worth of schedules to show, from the current day up to the next 7 days.
Title: here you can add an optional custom title, for example, "Studio 1 timetable".
Subtitle: add more information for your users if you wish.
Logo: add your logo to the corner of the screen for an additional branding opportunity.
Advertise classes about to start: this provides an option for you to "interrupt" the current schedule to show upcoming classes to provide an extra boost of information for those waiting to go in.
Advertise this many minutes before: select how long before a class starts in minutes you would like to interrupt the usual display to show it.
Advertise classes about to start in seconds: select how long before a class starts in seconds for how long you would like to interrupt the usual display to show it.
Transition Speed: select how quickly you'll move between different classes.
Time Format: show a 12 or 24-hour clock.
Past classes: choose whether to grey-out or hide classes that have finished.
Cancelled classes: choose whether to show these in red or to hide them completely.
Display Location: You can display this by setting a location when creating or editing a GroupEx event in your account.
Display Name of Instructor: You can display this by setting an instructor name when creating or editing a GroupEx event in your account.
Theme: you also have the option to create your own custom theme. To create a custom theme, check out our guide on how to use the App Theme Editor.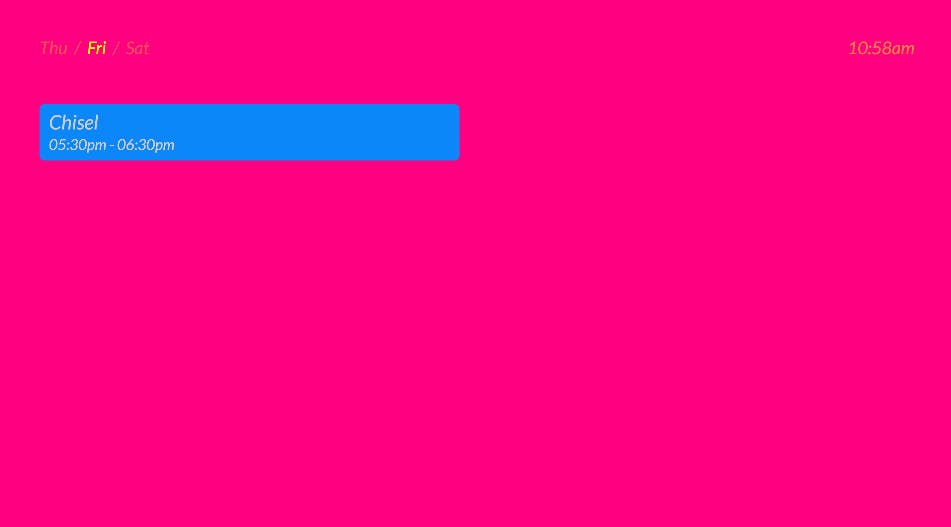 4. Preview your GroupEX PRO app
Once you've added your GroupEX PRO app you have the opportunity to preview it before it gets added to your screens.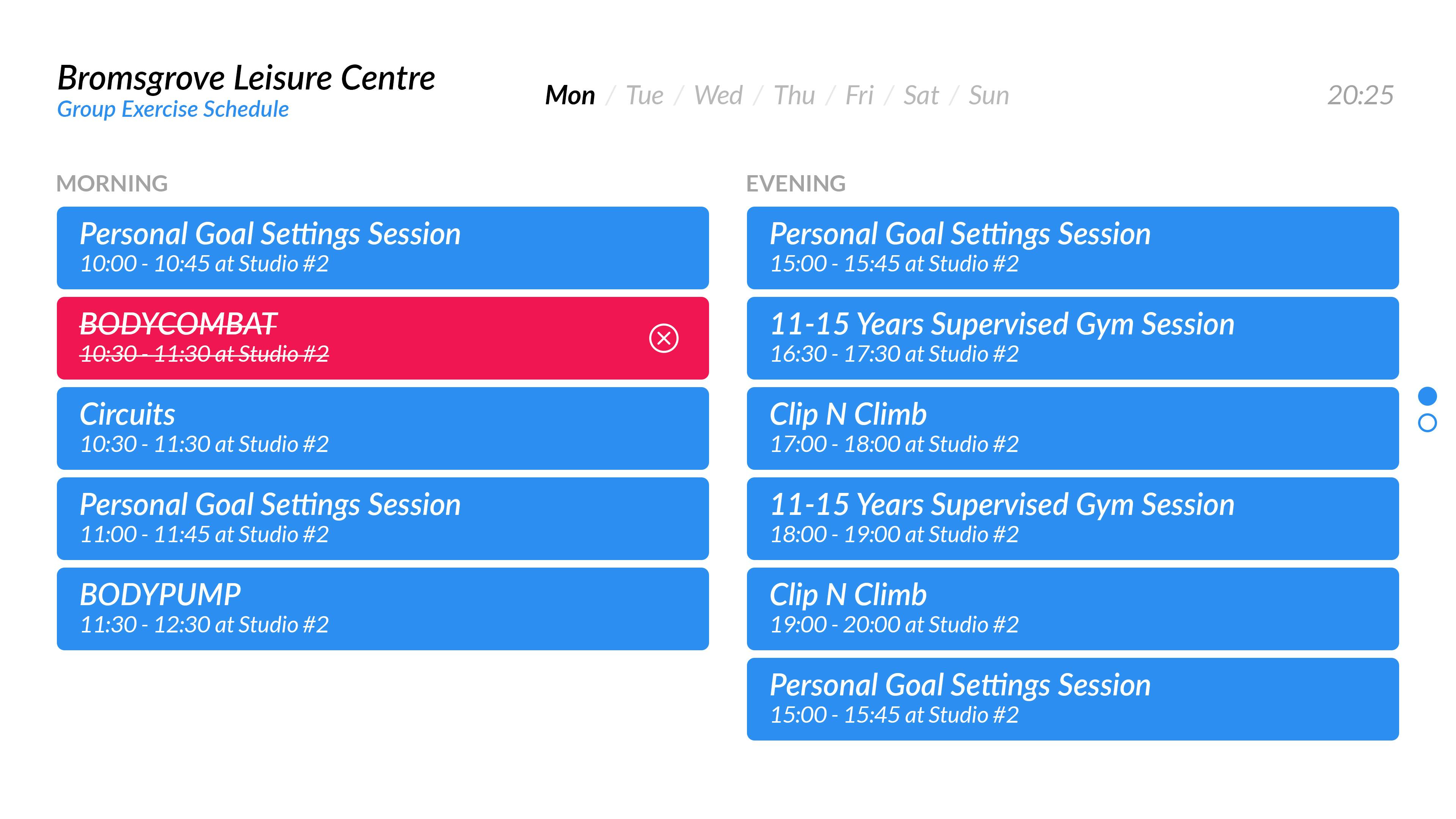 Click 'Preview' and a popup will display your GroupEX Pro app.
5. Add your GroupEx PRO app to a channel or playlist
Once you have configured your GroupEx PRO app it can be easily added to a Channel or Playlist to be played on screen. Simply select "Add Content" to open the Media Picker and under Apps, you will see all of your app instances, ready to be installed. You can also view ways you can set content on your digital screens using ScreenCloud by clicking here.
Frequently asked questions:
How can I make a change to what's shown on screen?
When you make a change in your GroupEx PRO account, this is automatically updated on ScreenCloud. This means that canceling, adding, or rescheduling a class only needs to be done once in your GroupEx PRO account and your screens will update to reflect the changes.
How often does GroupEx PRO look for updates?
The app will refresh every 60 minutes.
How long will the schedule show for?
The schedule will show for the time set in the playlist duration. This is automatically set to "01:00" for one-minute but you can change this at any time from within the playlist.
For further questions please contact support@screencloud.com with details.