With ScreenCloud's Engage app, you can encourage your employees and teams to share content directly from their smartphones. The app allows you to capture photos, add captions, and send them to streams to be shown directly on your digital signage screens. A simple and easy tool to keep your workforce engaged and connected!
With the ScreenCloud Engage app you can:
Easily share photos and updates from your smartphone in seconds
Set up different streams based on photos, location, or preference
Invite users to manage, share, and add content to your streams

Here's how it works:
1. Download the ScreenCloud Engage app to your phone
1.1. To get started, visit the Apple Store (iOS) or Google Play Store (Android) on your mobile device. For the example below, we downloaded the app from the Google Play Store and performed these steps on an Android device.
1.2. Search for Engage ScreenCloud in your App Store search bar.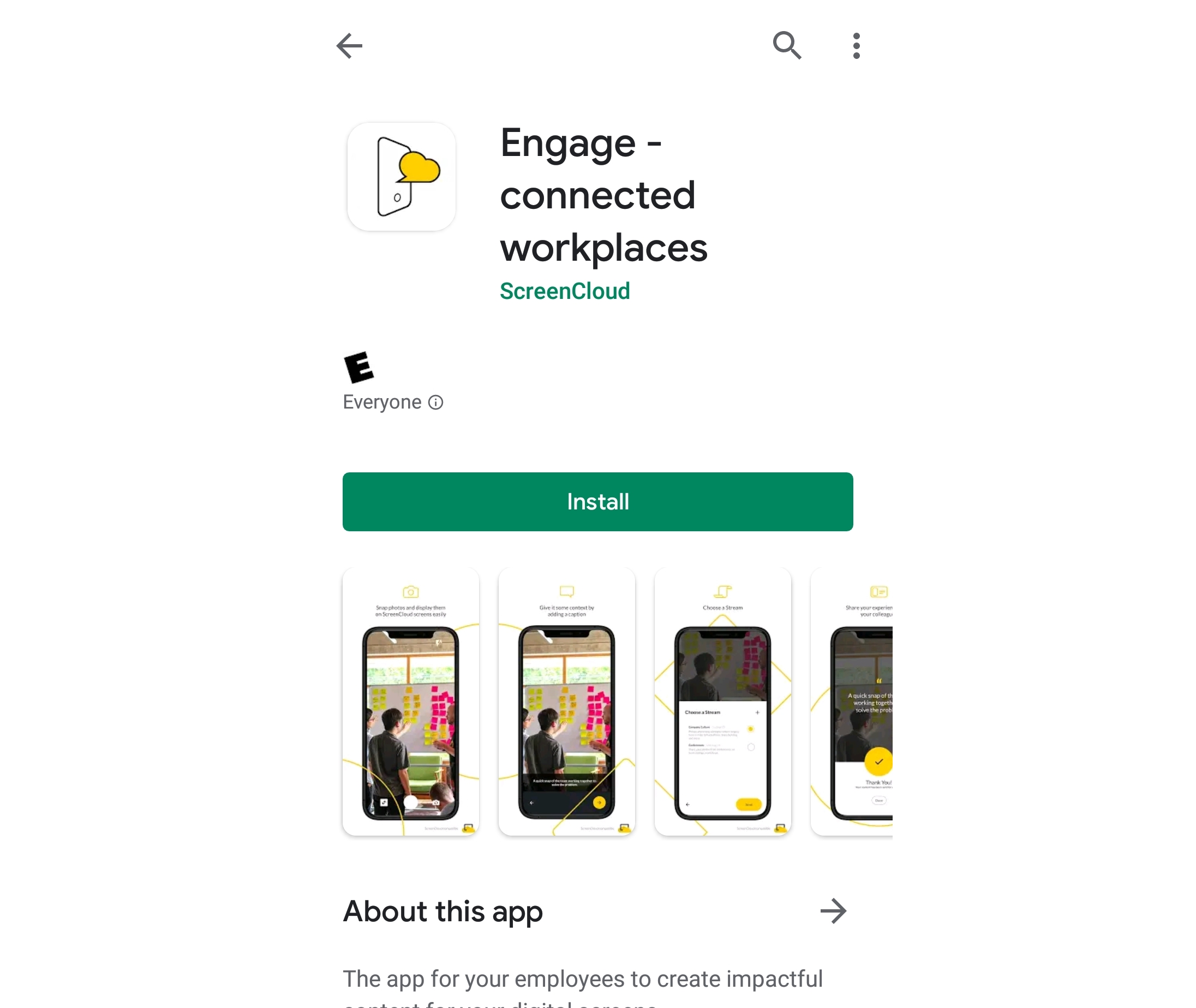 1.3. Select Engage - connected workplaces and hit Install. Once the app is installed, click Open.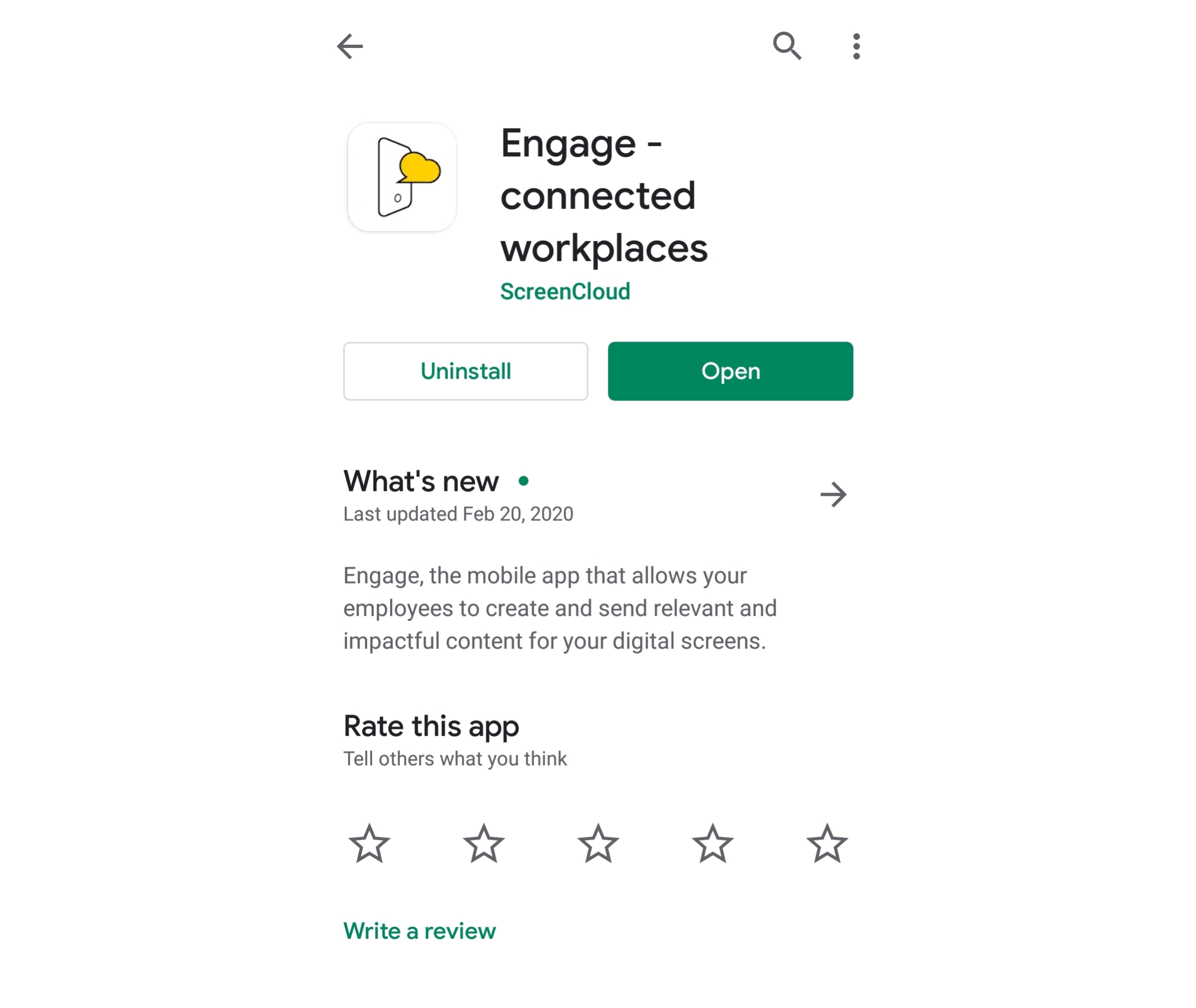 2. Sign up for a ScreenCloud Engage app account
2.1. On the welcome page, please click the Sign Up button and create your own account for the Engage app. Please note, even if you're already a ScreenCloud customer, you'll still need to have a separate login for the Engage app.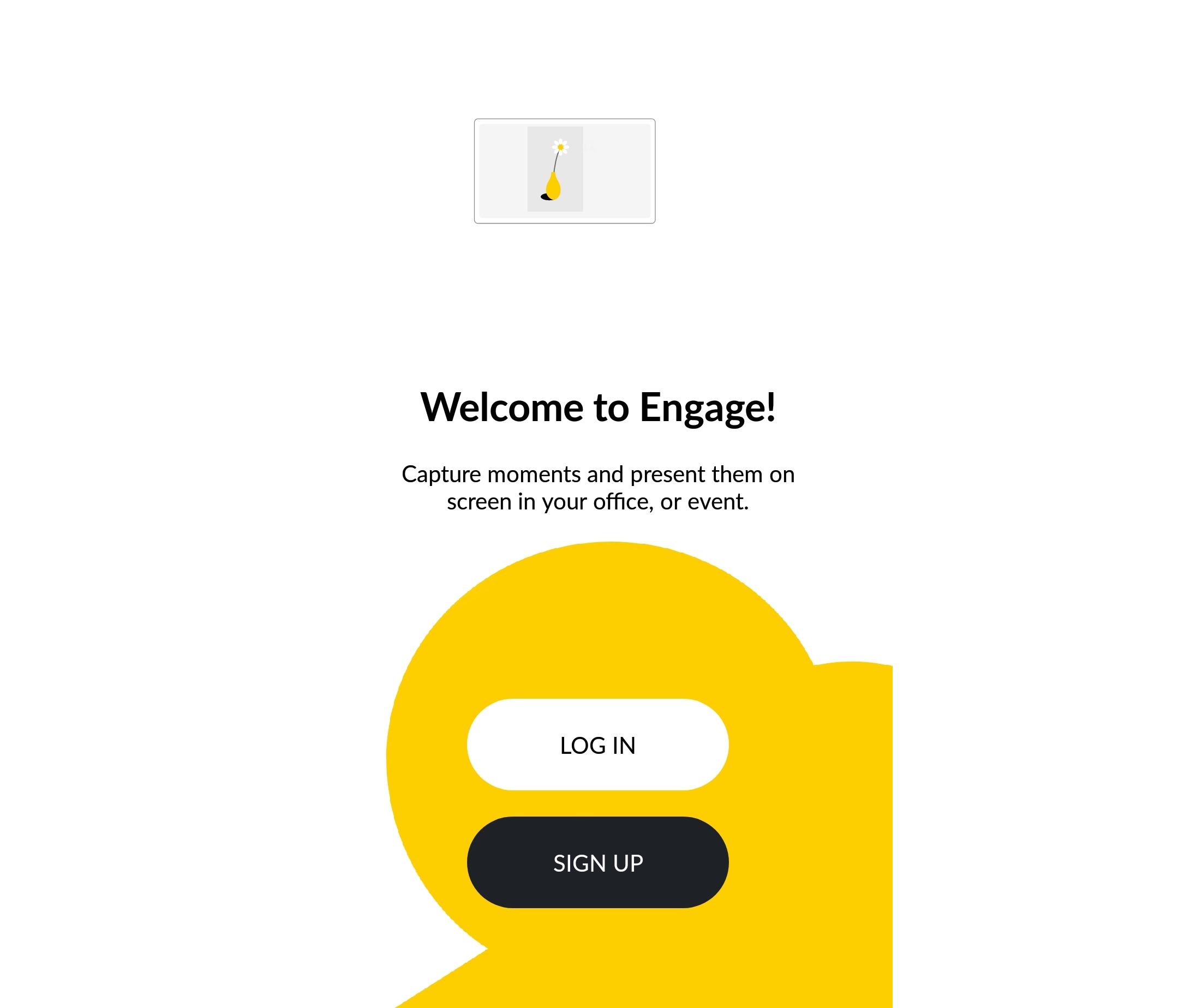 2.2. Follow the prompts for entering your information for your new Engage account and review our terms of service. Once you've filled out the form and check-marked the terms agreement, click Sign Up to access your new account.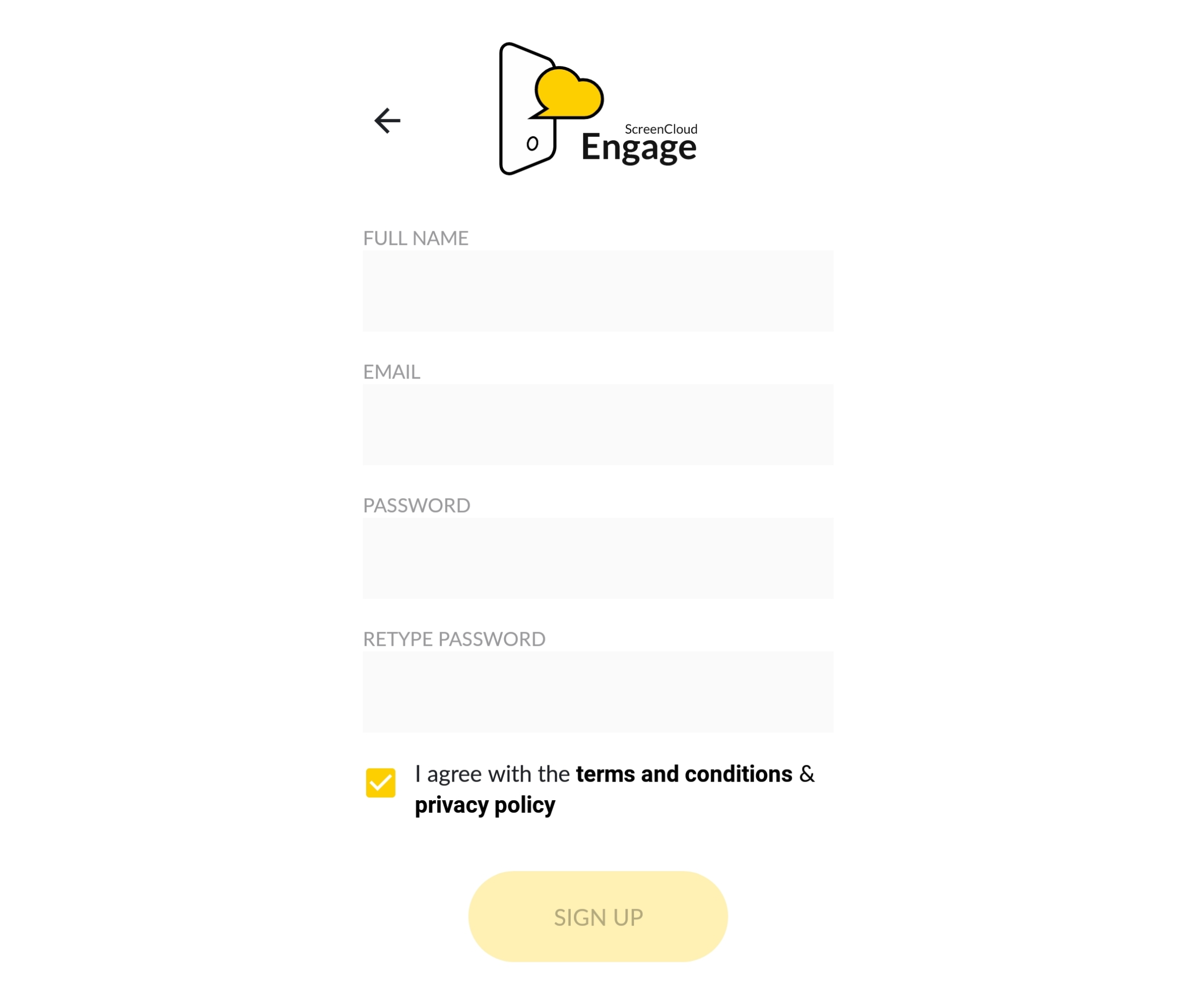 2.3. After you've signed up, your phone will prompt you with a notification on screen to allow the Engage app to access your photos, videos, and camera. Please note, you need to accept this in order to submit photos from your camera or photo roll. 
3. Take and share a photo
3.1. Once you gave the app permission to access your phone, you can start sharing photos. You can either snap a new photo or access your photo gallery to upload an existing photo.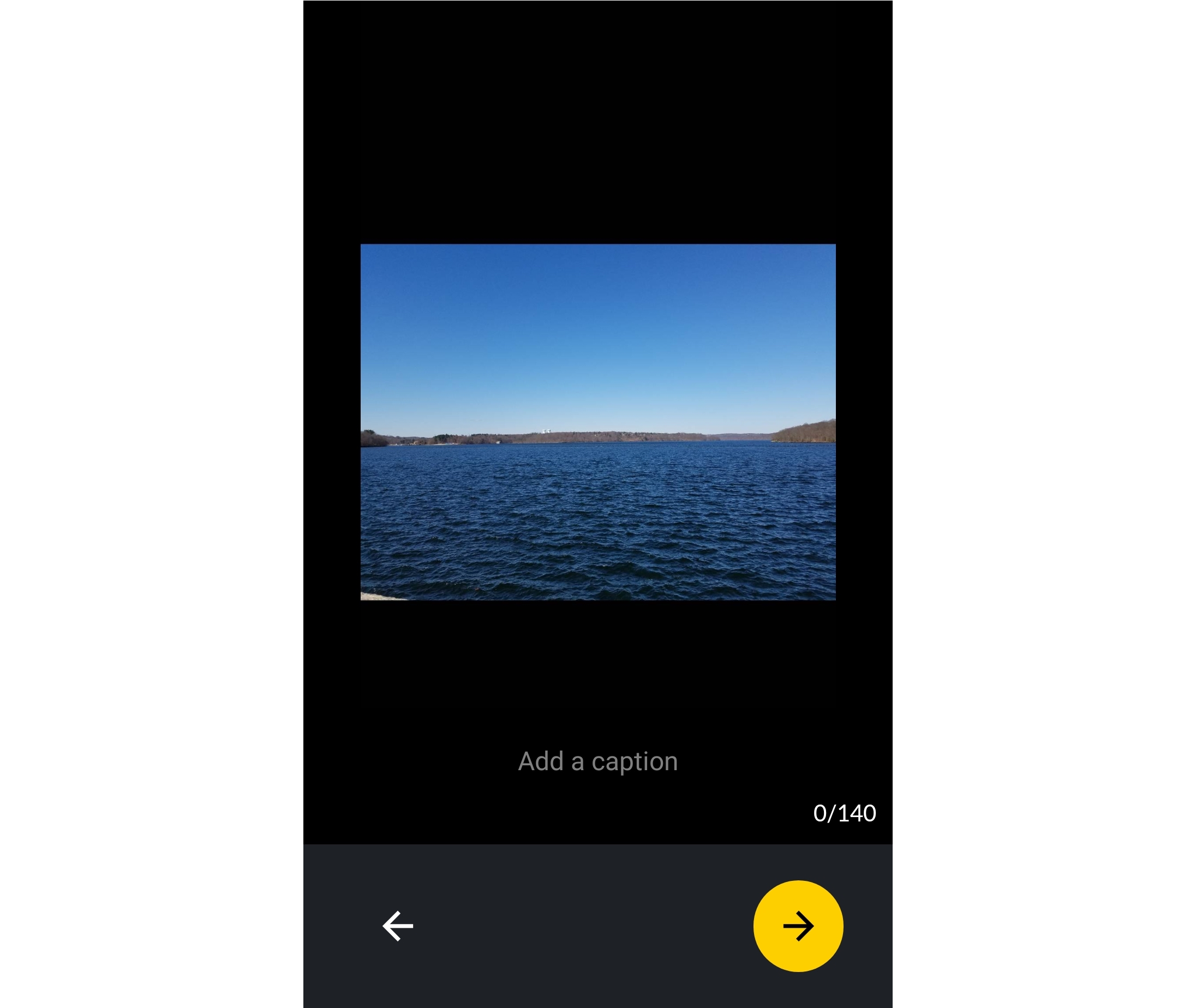 3.2. When you take a photo, you'll be prompted to add a caption. Please note, there's a 140 character limit for the text you'd like to add.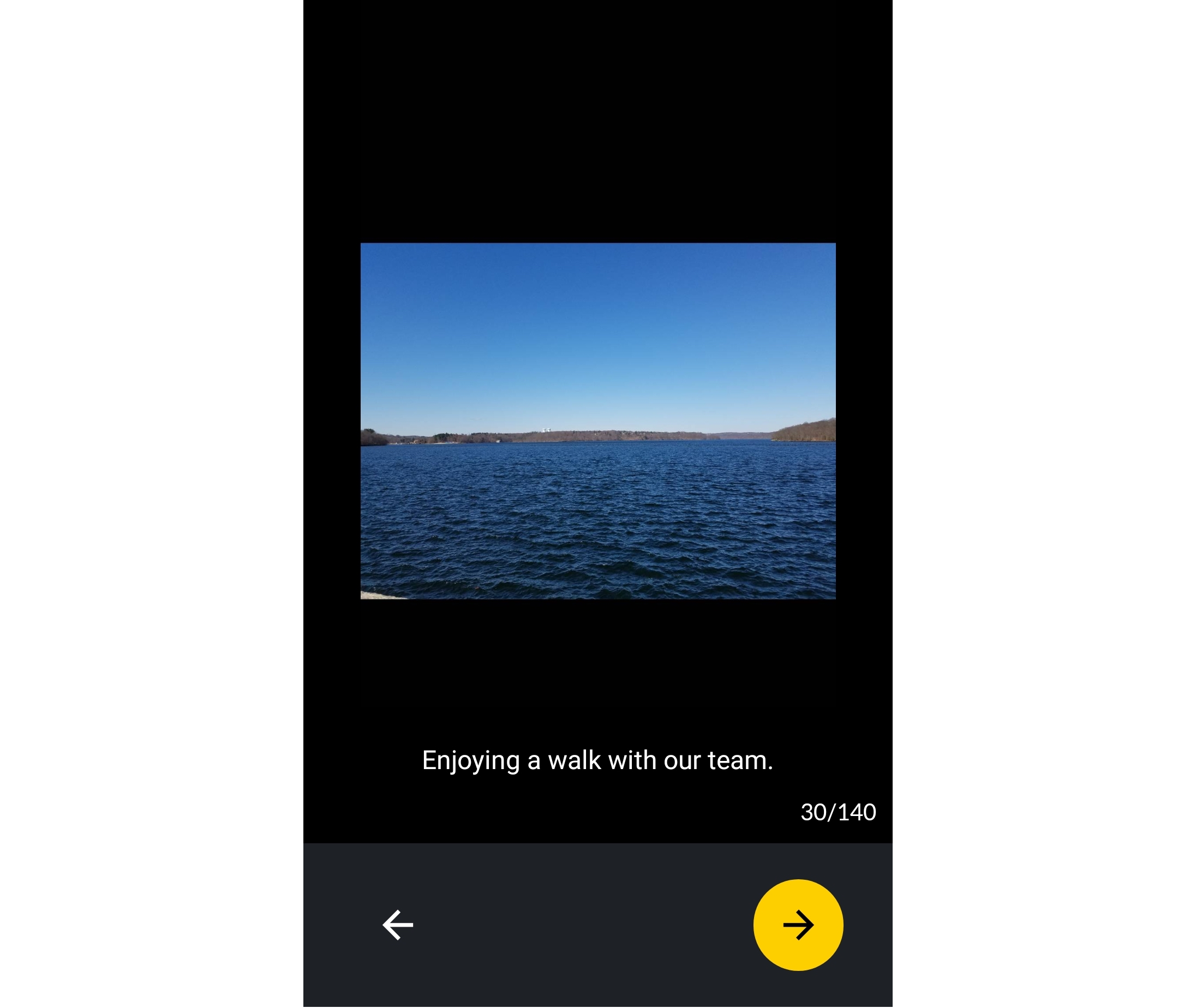 3.3. Once you're done adding a caption, select the yellow arrow in the bottom right corner to create a stream.
4. Share your photo to a stream 
4.1. Next, select the "+" option to create a new stream for your screen. With streams, you can easily manage content on-the-go and enable users to share photos directly from their smartphones. For example, you can create a stream for a team, location, department, or any other theme of your choice.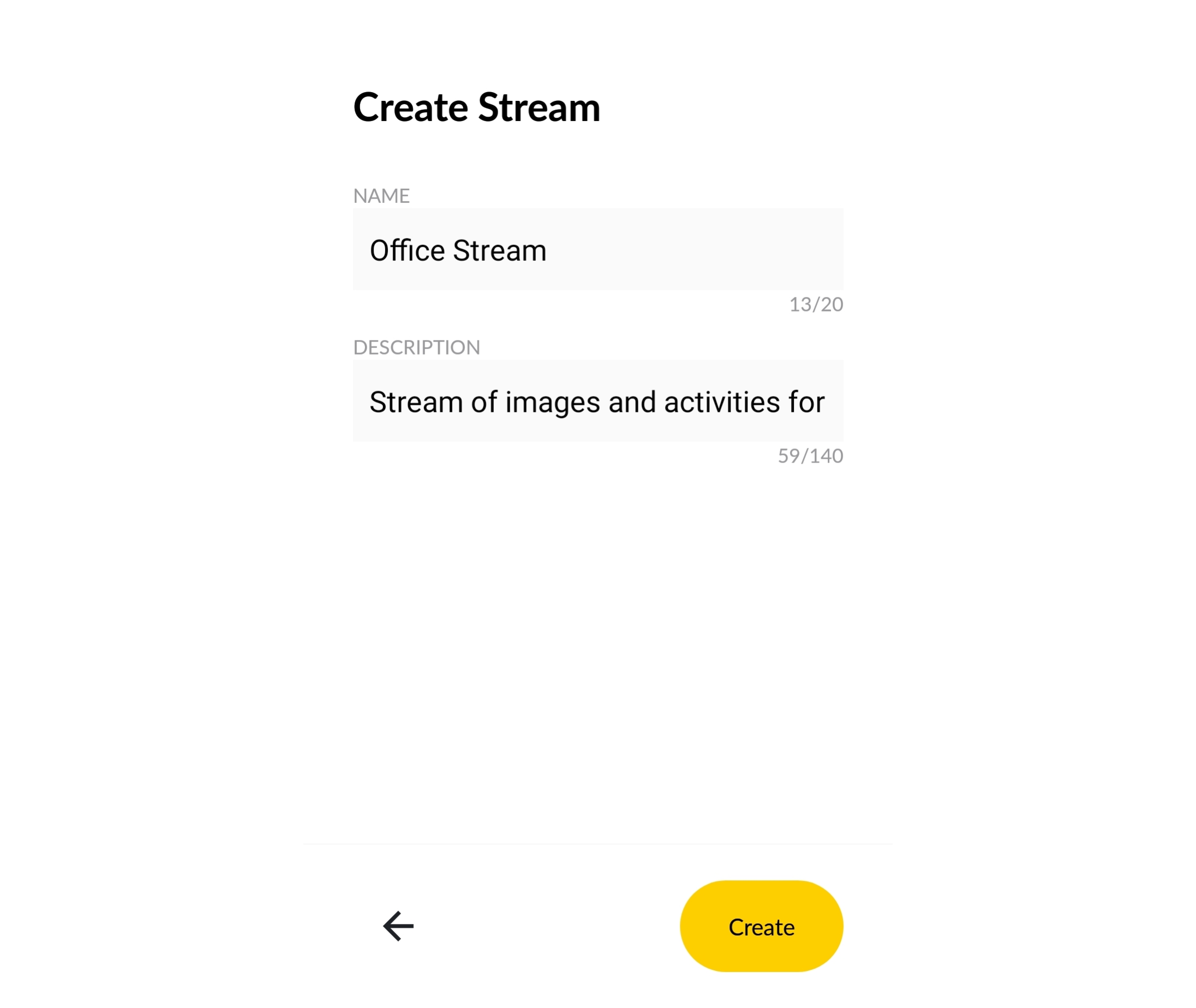 4.2. Select the yellow Create button and the app will process your new stream.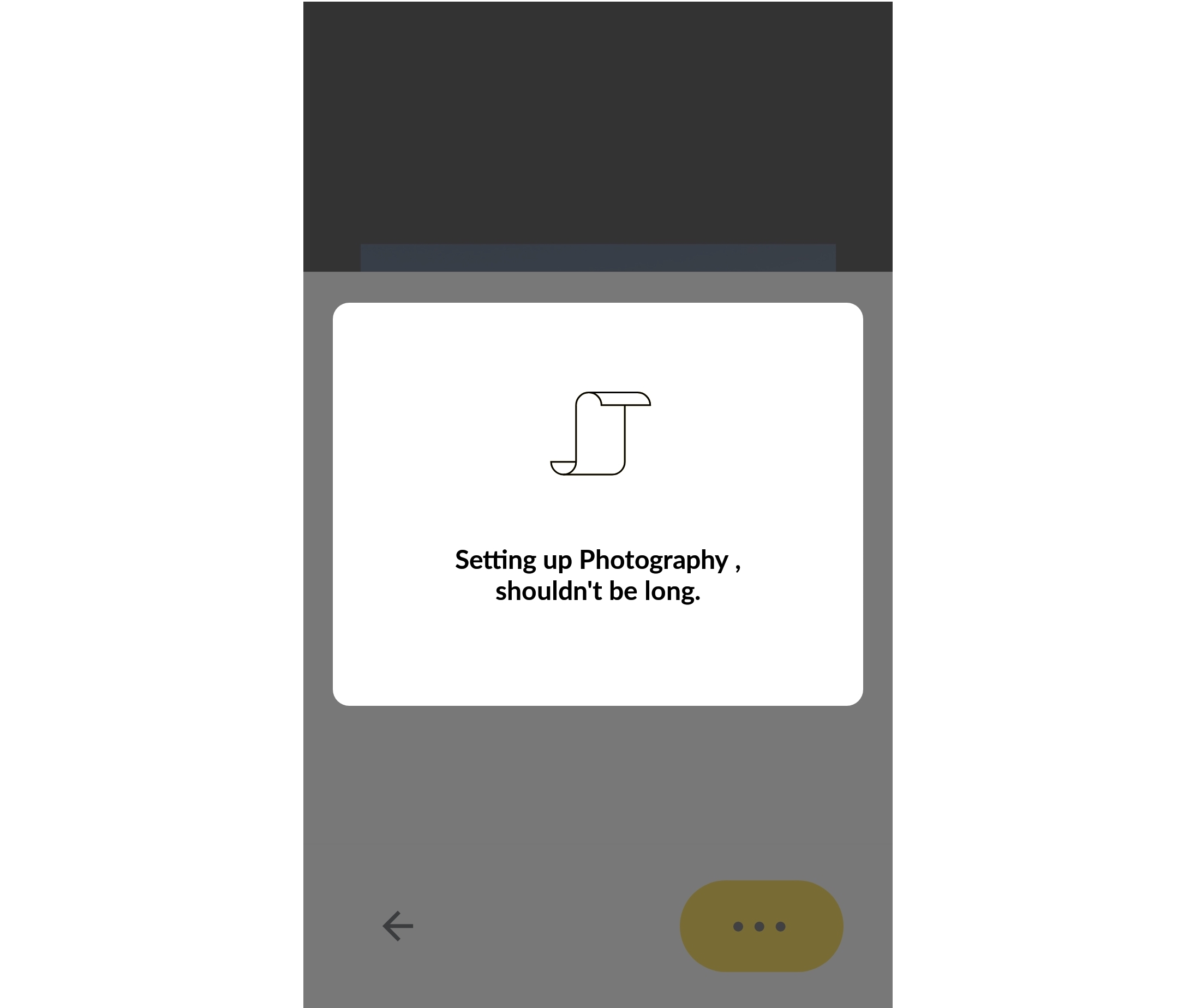 4.3. You'll receive a confirmation message once the stream is created, confirming that the content has been uploaded.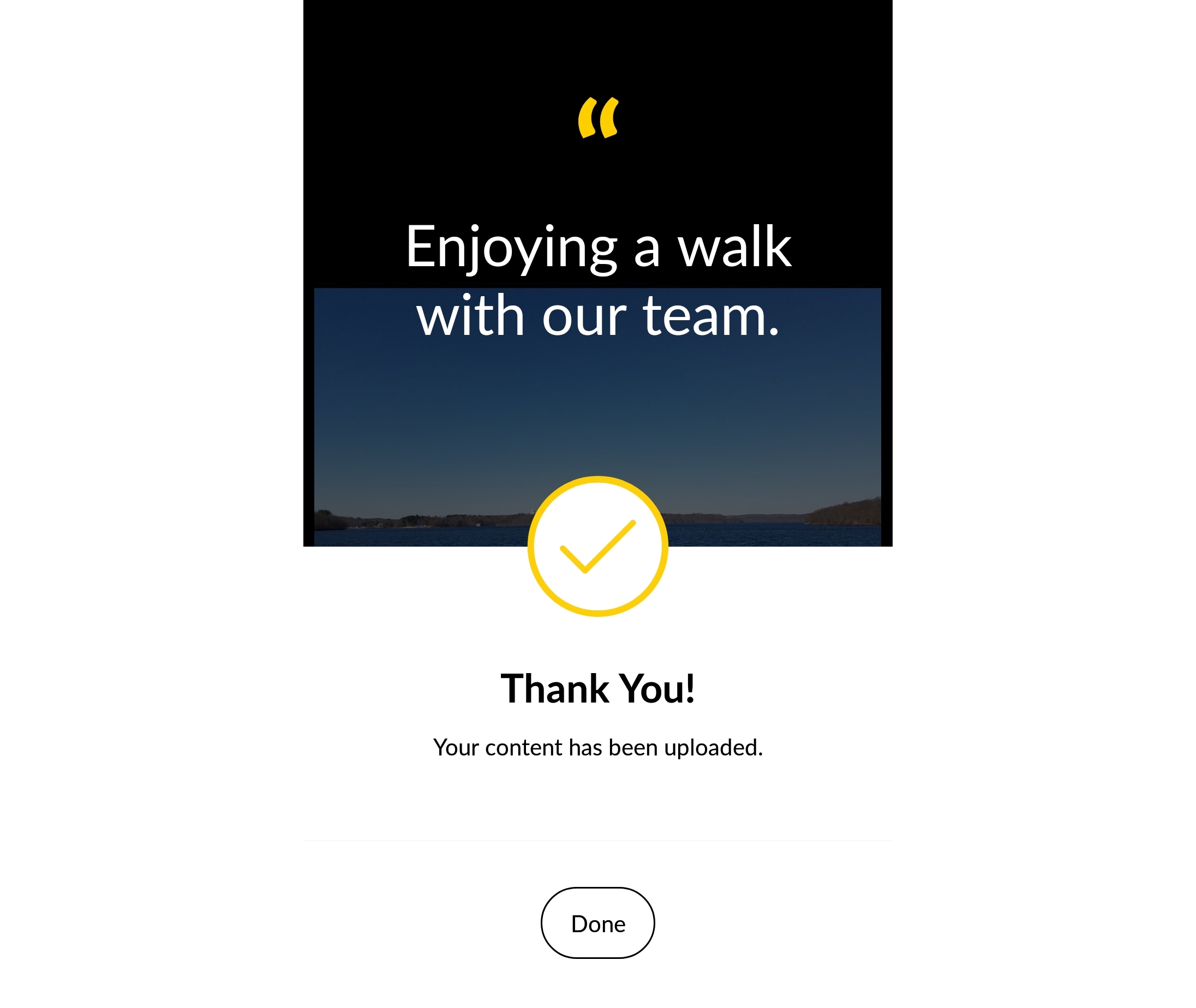 Please note, you'll also be able to view all of your existing streams any time you try to share a photo. For example, if you've created a stream named Office Stream, it'll appear in your list of available streams when submitting a photo.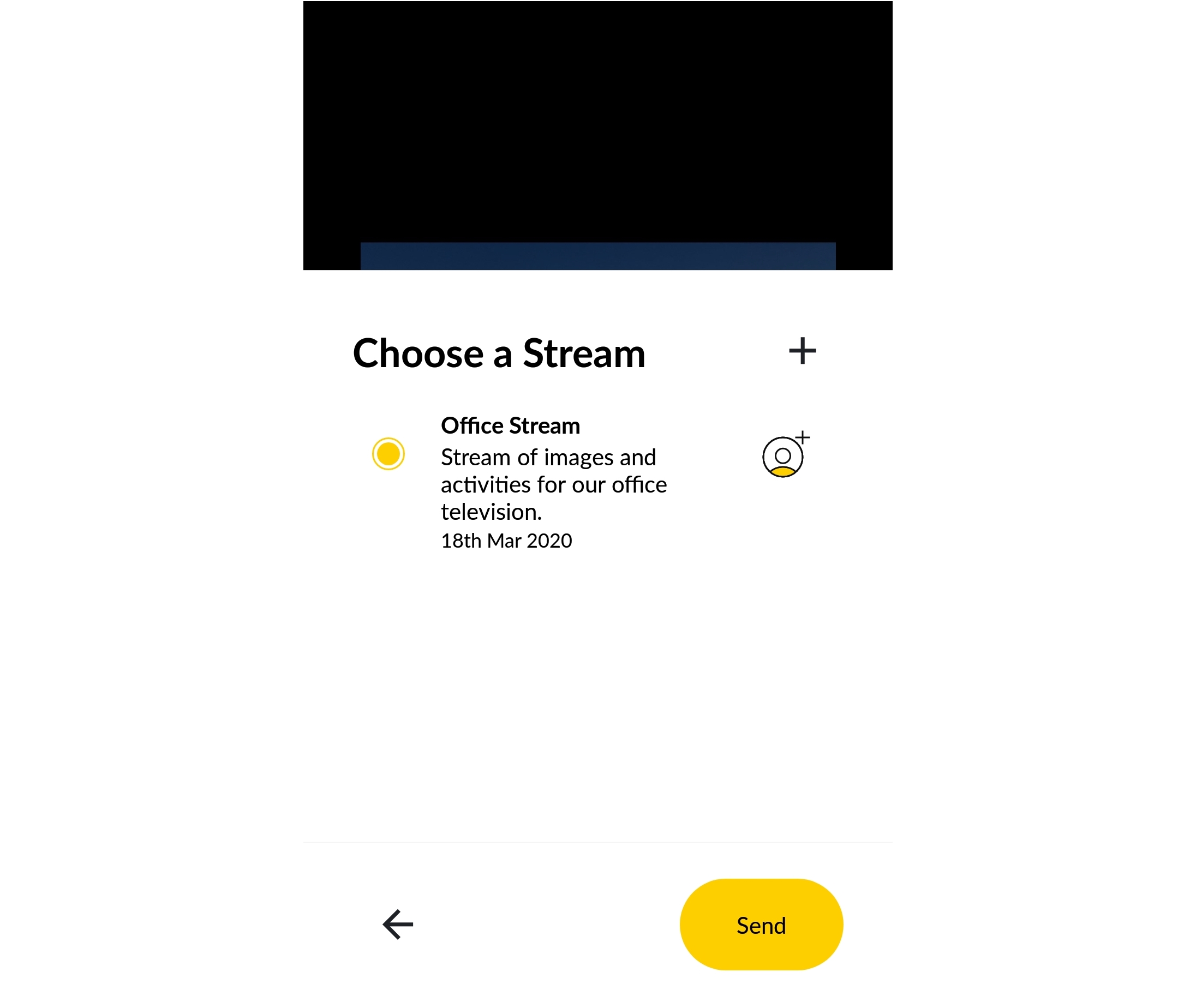 5. Add the Engage app to your ScreenCloud account
5.1. Once you've finished sending the photo, please visit https://studio.screencloud.com. This will prompt you to either log into your existing ScreenCloud account, or sign up for our 14-day free trial to use the Engage app and other available apps within our App Store.
5.2. After you've logged into your account, click on Apps from the left-hand menu.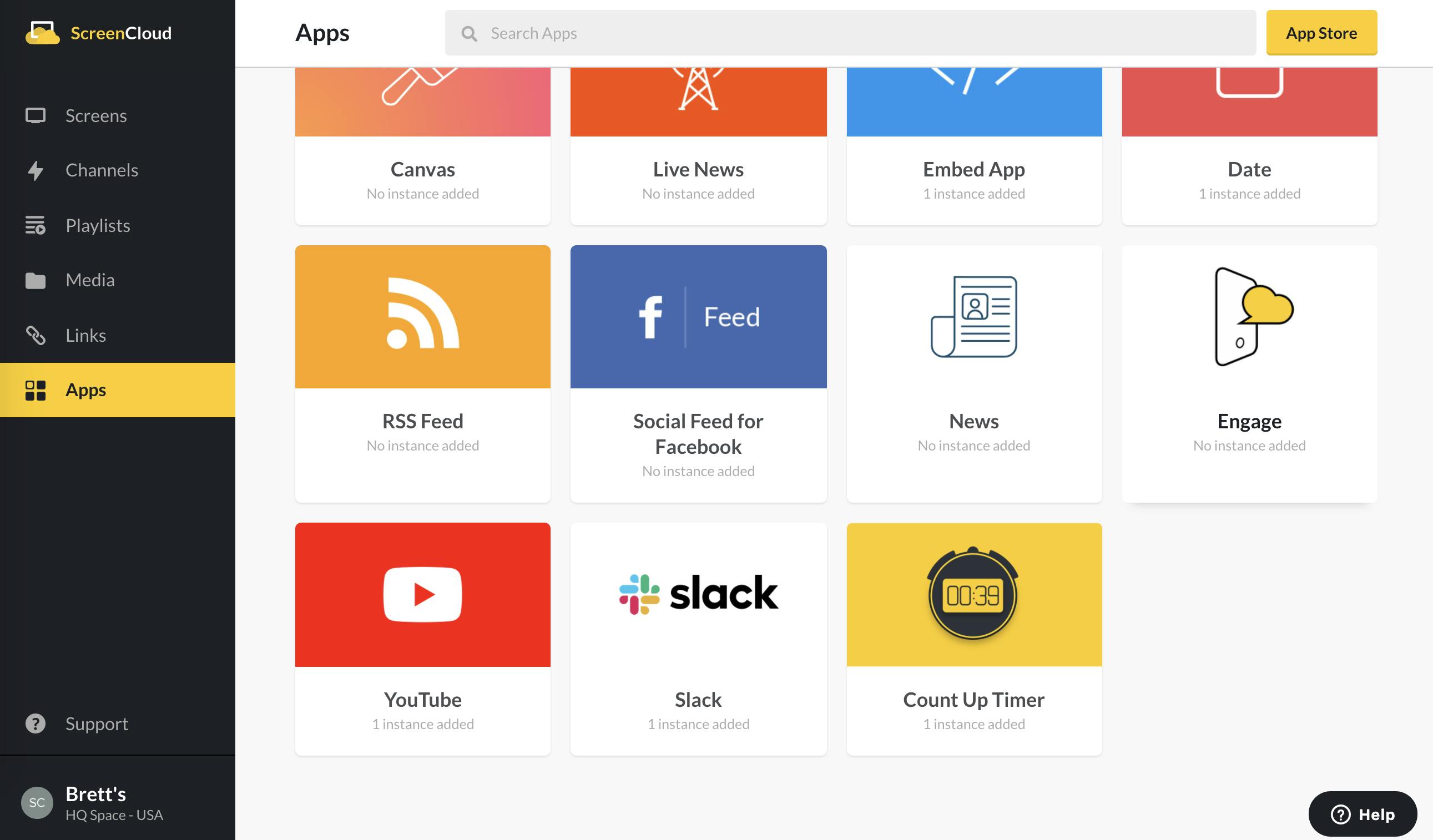 5.3. From here, you can find the Engage app among your installed apps. Click on the app and then hit the New Instance button.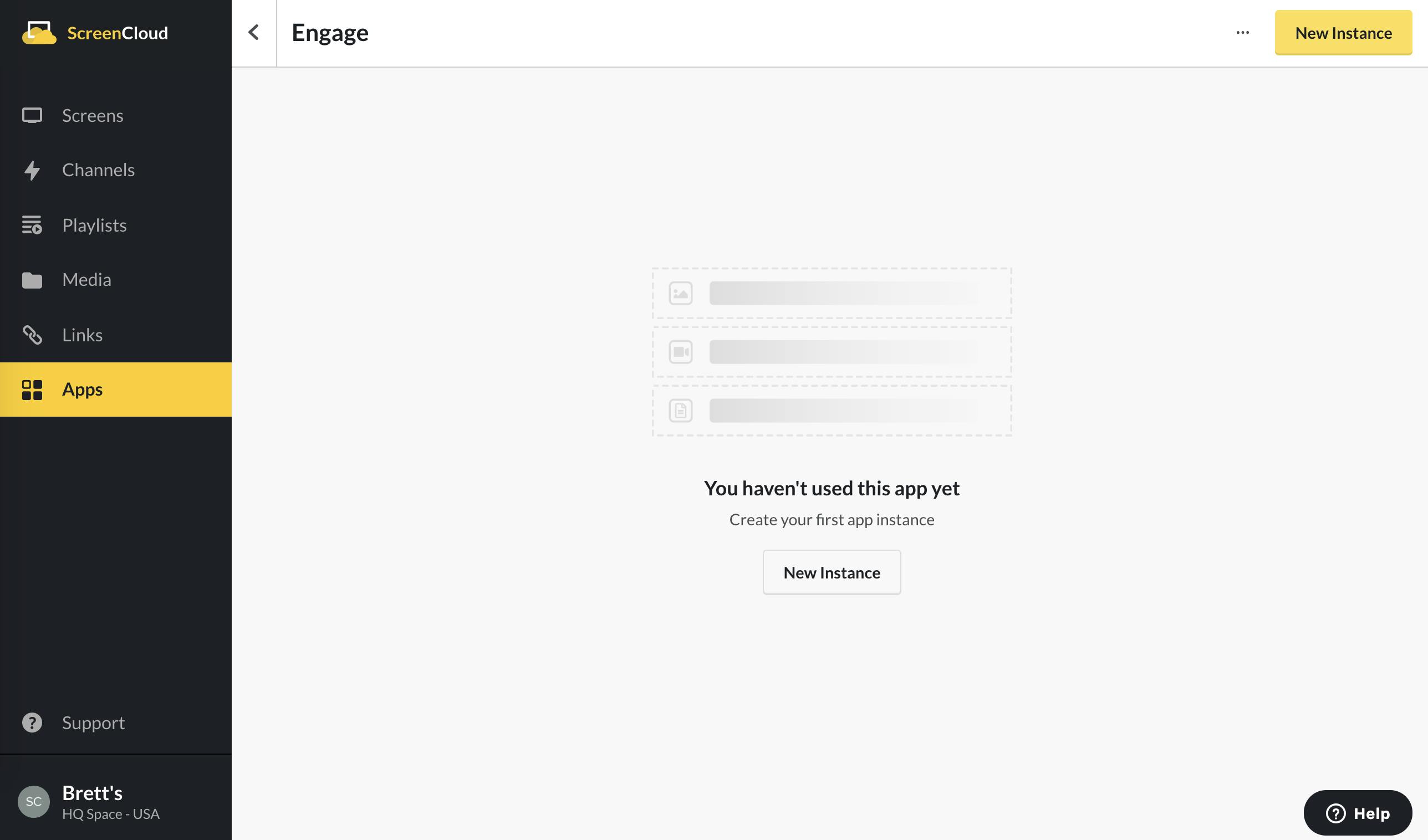 5.4. You'll be prompted to enter an instance name and to log into your Engage app account. In this example, we called the instance Photography Stream.
Please note, if you don't have an existing Engage app account under the email address you've entered, the system will prompt you to sign up for an account.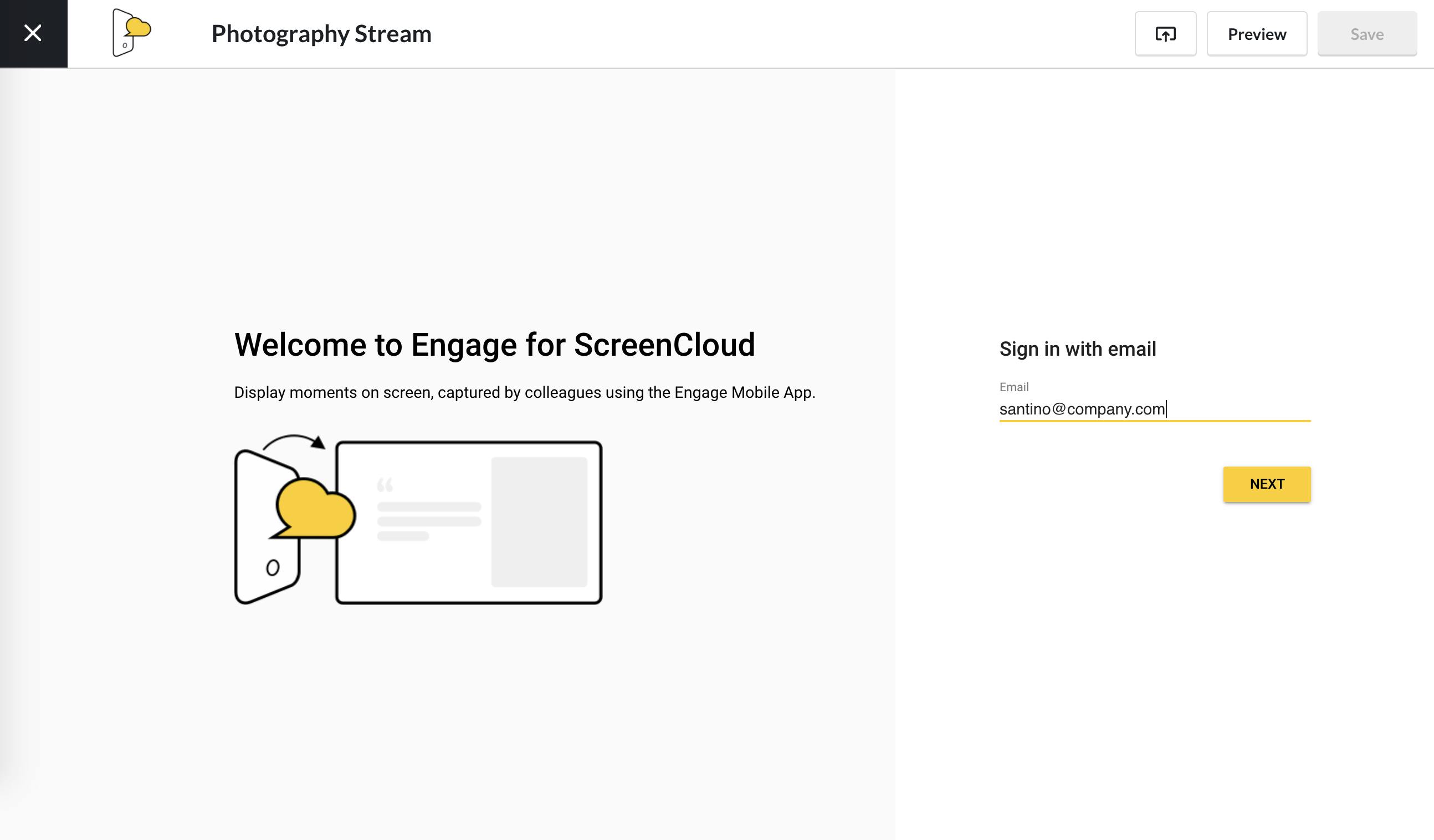 5.5. Once you're signed in, you can simply select any stream you've created using the drop-down menu and set the duration between images to display on your screen. For example, if you enter 10 for seconds then your images will transition to the next one in your stream every ten seconds.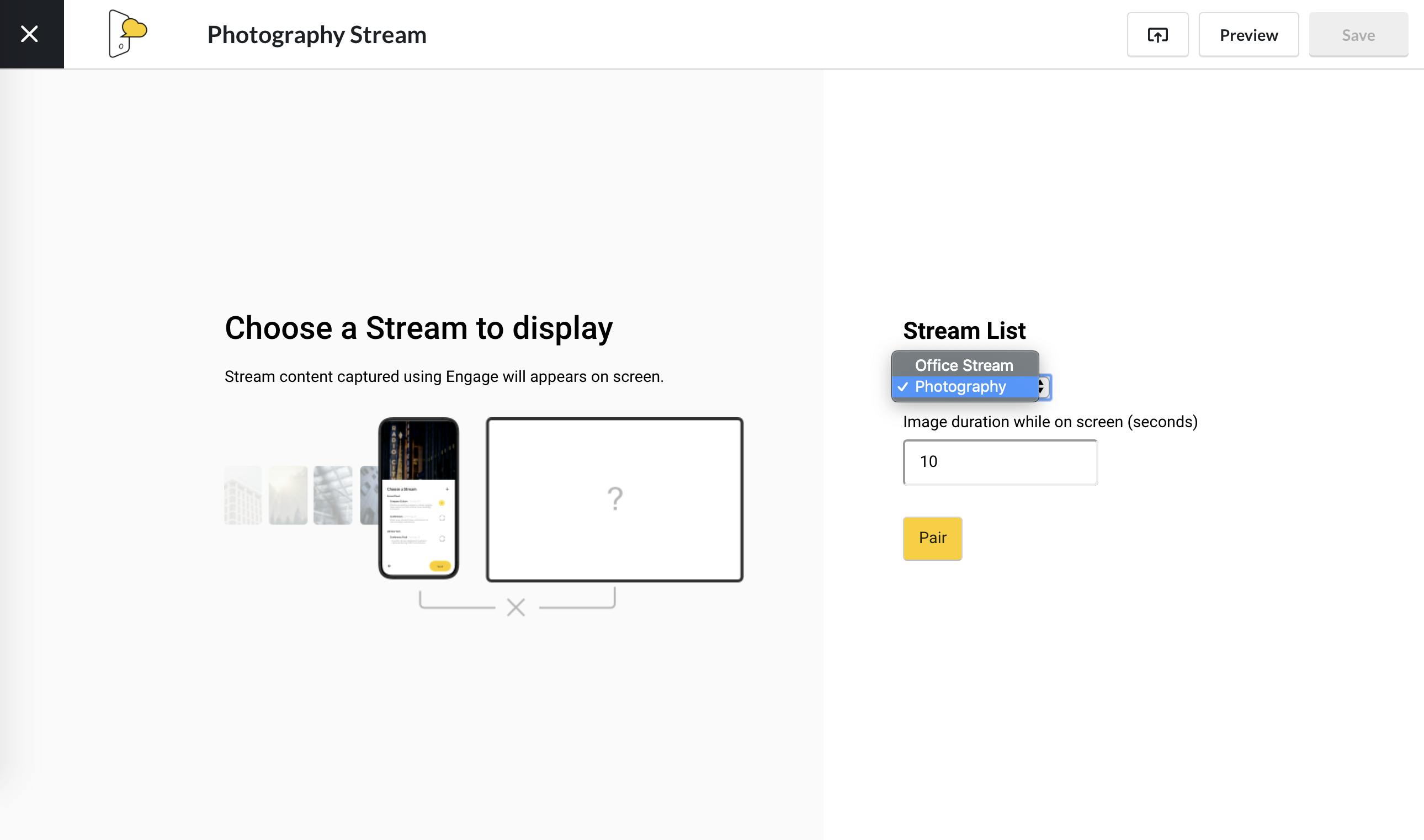 5.6. Once you've configured your Engage app, select Pair and you'll see a confirmation that your stream has been successfully linked.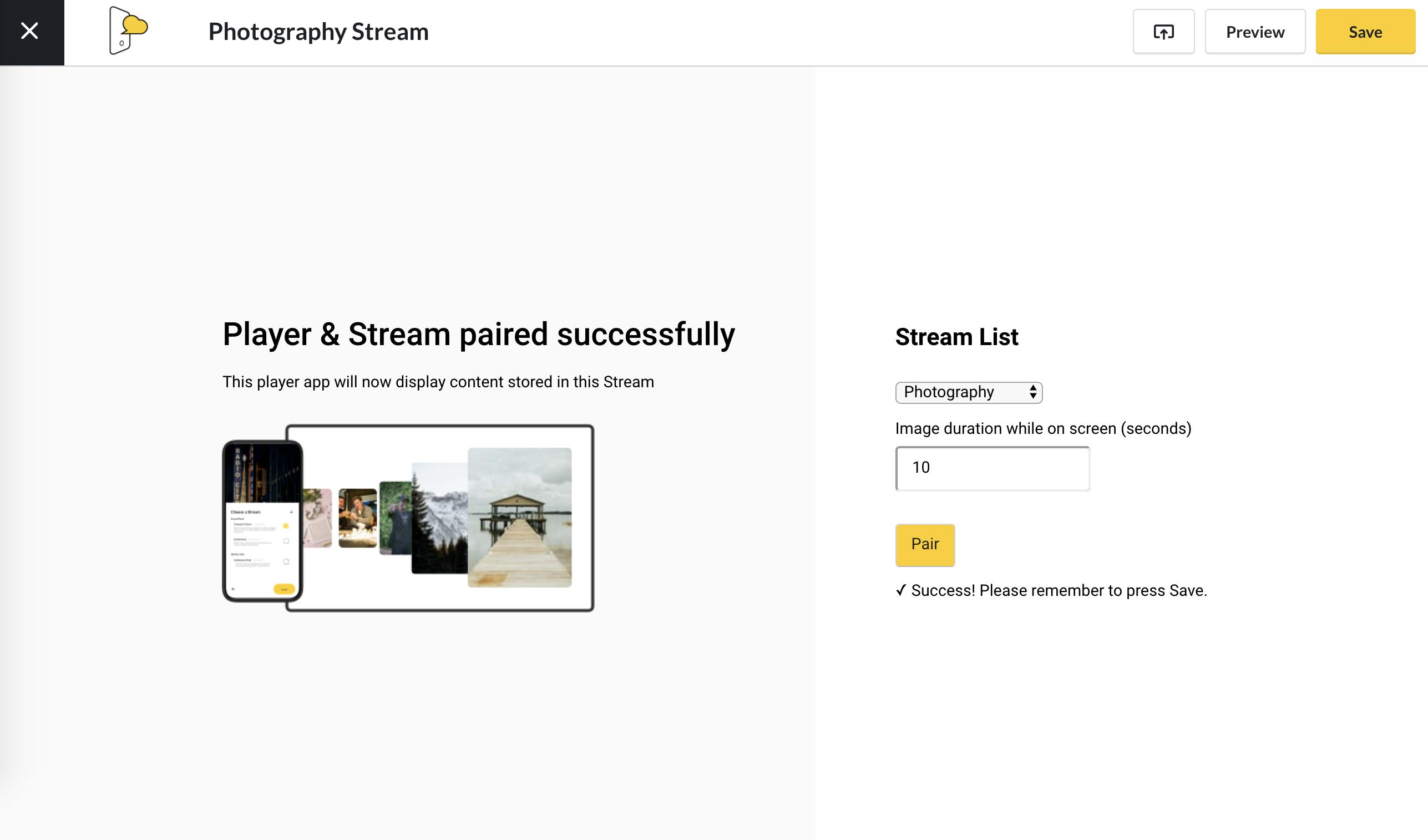 5.7. Click the Save button in the upper-right hand corner to finish setting up your Engage app.
6. Preview your Engage app stream
Hit Preview to see how your Engage app will appear on a screen.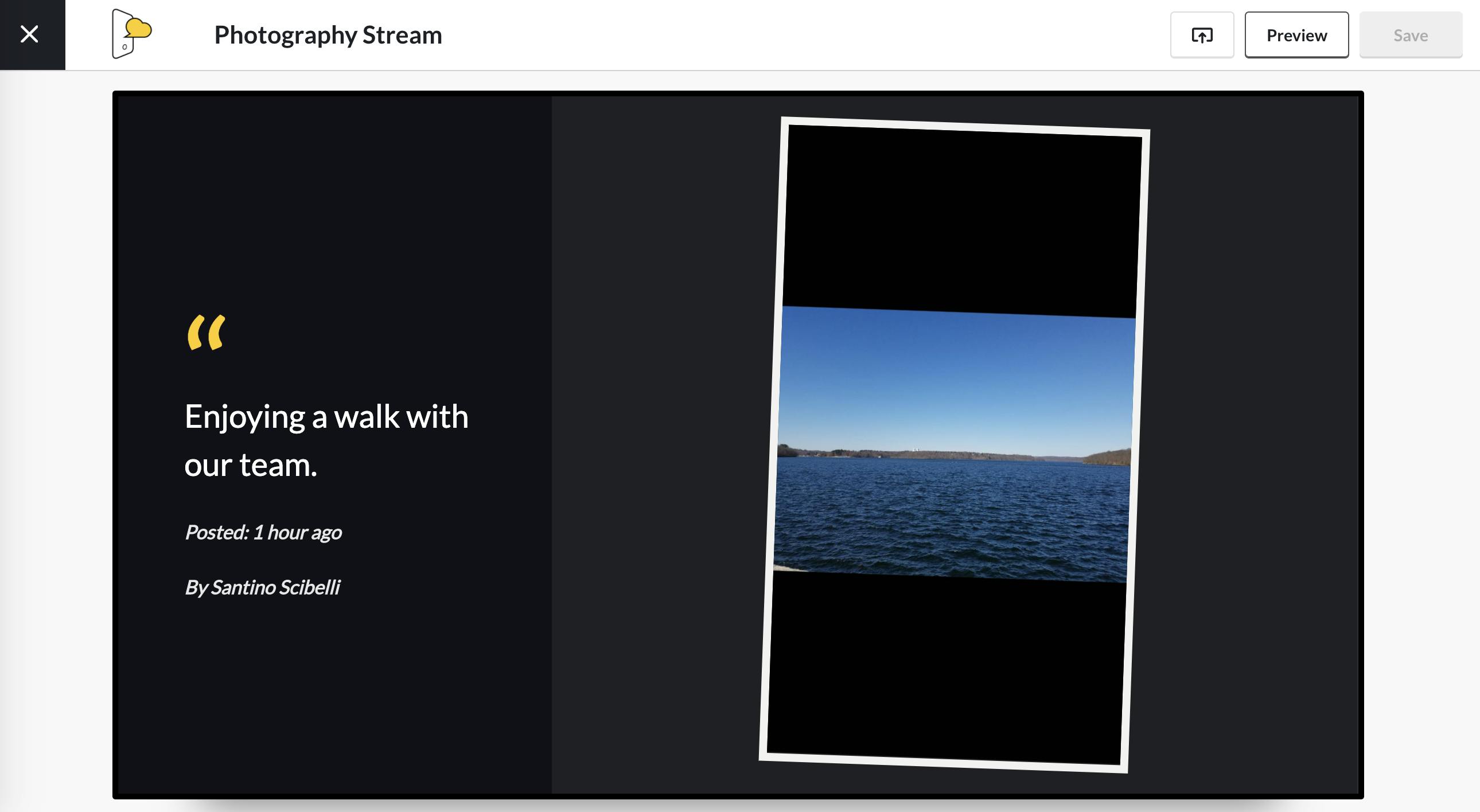 7. Add Engage app to your digital screens
7.1. Once you've saved your Engage app instance it can be easily added to any screen, channel, or playlist.
i) Set to screen: Visit the Screens section and select the set to screen icon next to Now Playing for any screen. From here, you can use the media picker to assign the Engage app to your display.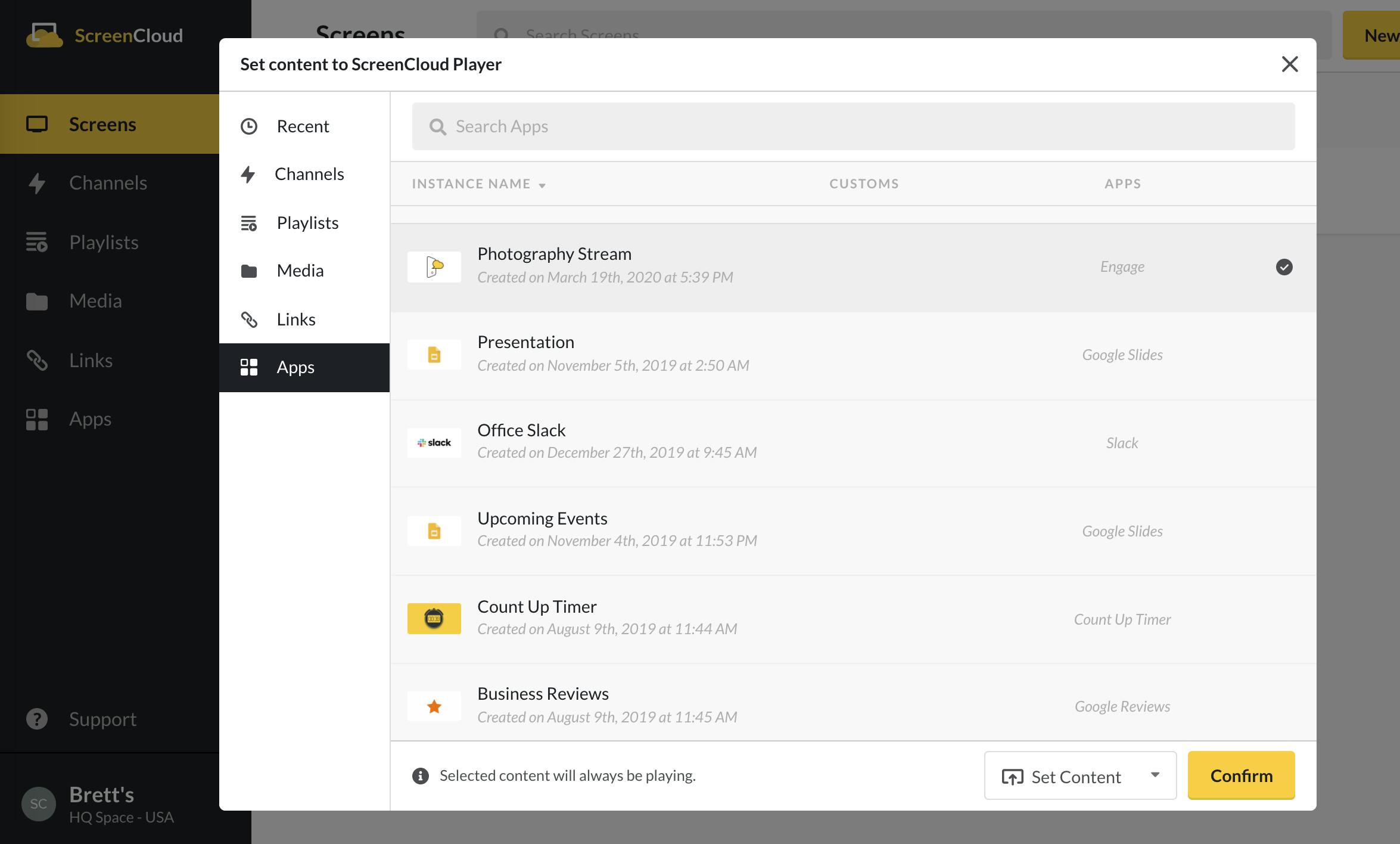 ii) Add to a channel: visit the Channels section and select any channel you'd like to add the Engage app to. Then choose Add Content and use the media picker to add the Engage app into your channel.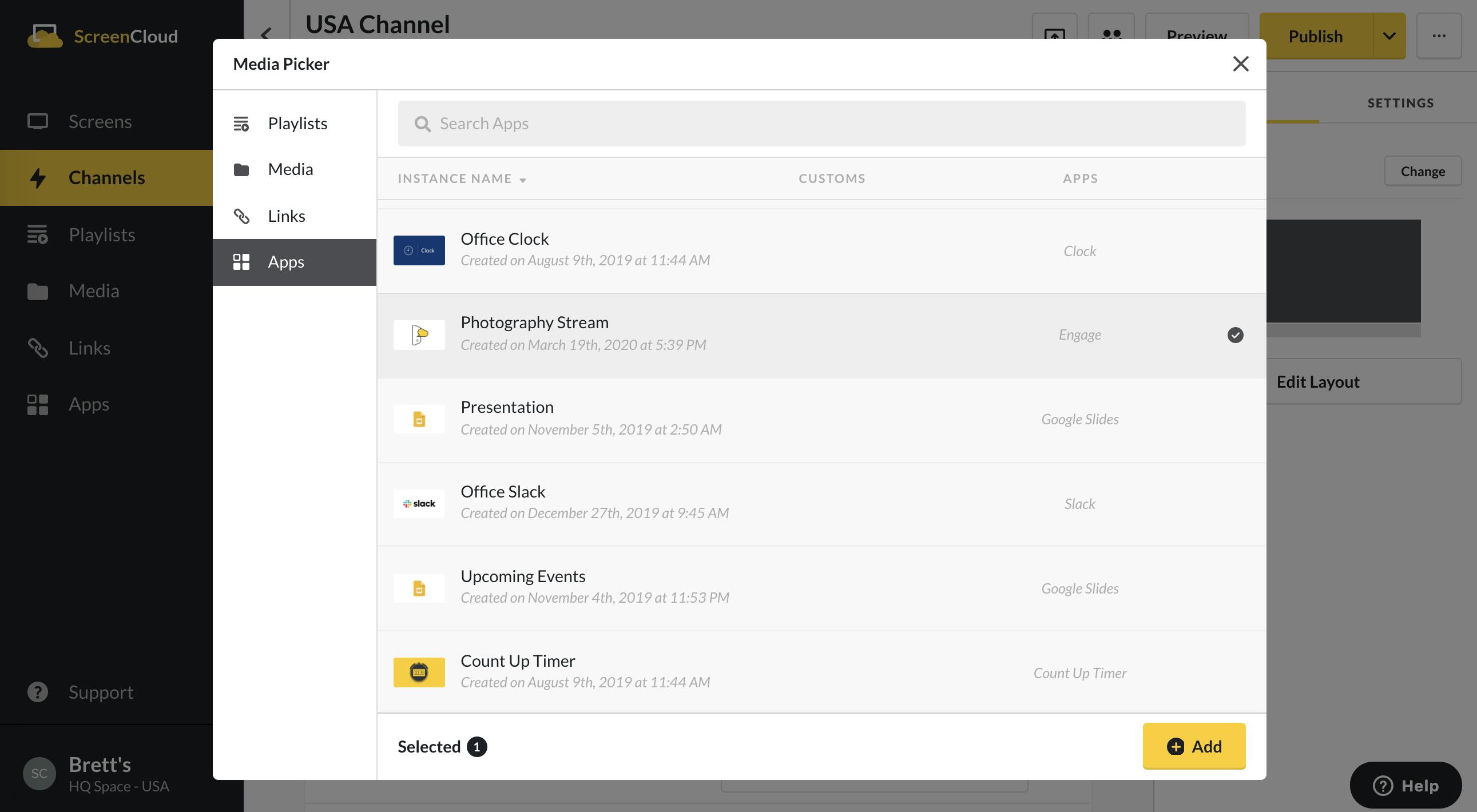 iii) Add to a playlist: visit the Playlists section and select any playlist you'd like to add the Engage app to. Next, simply drag and drop your newly created Engage app instance from the right-hand menu to anywhere within the playlist.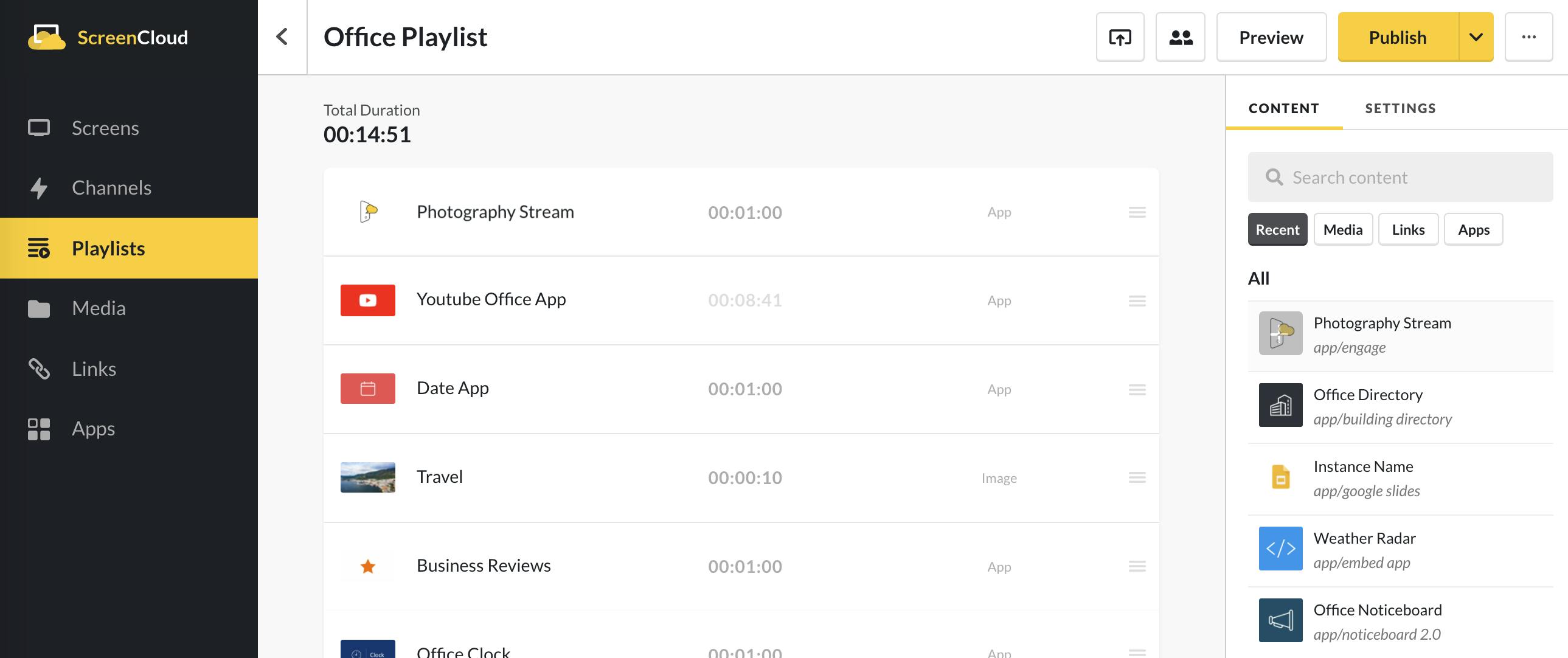 You can now share a stream of content and connect with your teams using the Engage app on your digital screens.
Frequently asked questions:
Do photos appear automatically once sent from my smartphone using the Engage App?
The Engage App pulls new images to your digital screens every 60 seconds. Please note, the Engage App will not show the most recent image on the screen you have sent right away. The current photo which is queued will continue to display and then proceed to show the new image once the photo list is cycled. For example, if you have 10 images in total and your screen is currently displaying the 5th photo - you add 2 more images from your phone, the app will continue on through the remaining images and then show the new photos.
What are the minimum operating system requirements to use the Engage app on my phone?
You need Android 5.0 or higher or iOS 10 or higher. We don't support other platforms such as Blackberry OS or Windows phone.
What file types can I upload to the Engage app? 
The Engage app can support .jpeg and .png.
What is the maximum file size does the Engage app support? 
Images are automatically compressed to work with the app when uploaded so there's essentially no limit on the file size.
How can I edit the content on my streams? 
You can edit the content on your streams by clicking on the stream icon for your Engage app. You can find this icon in the lower left-hand corner of the app.

Select Edit content for any stream to manage and remove content. Then hit the grey "X" icon to confirm discarding an item.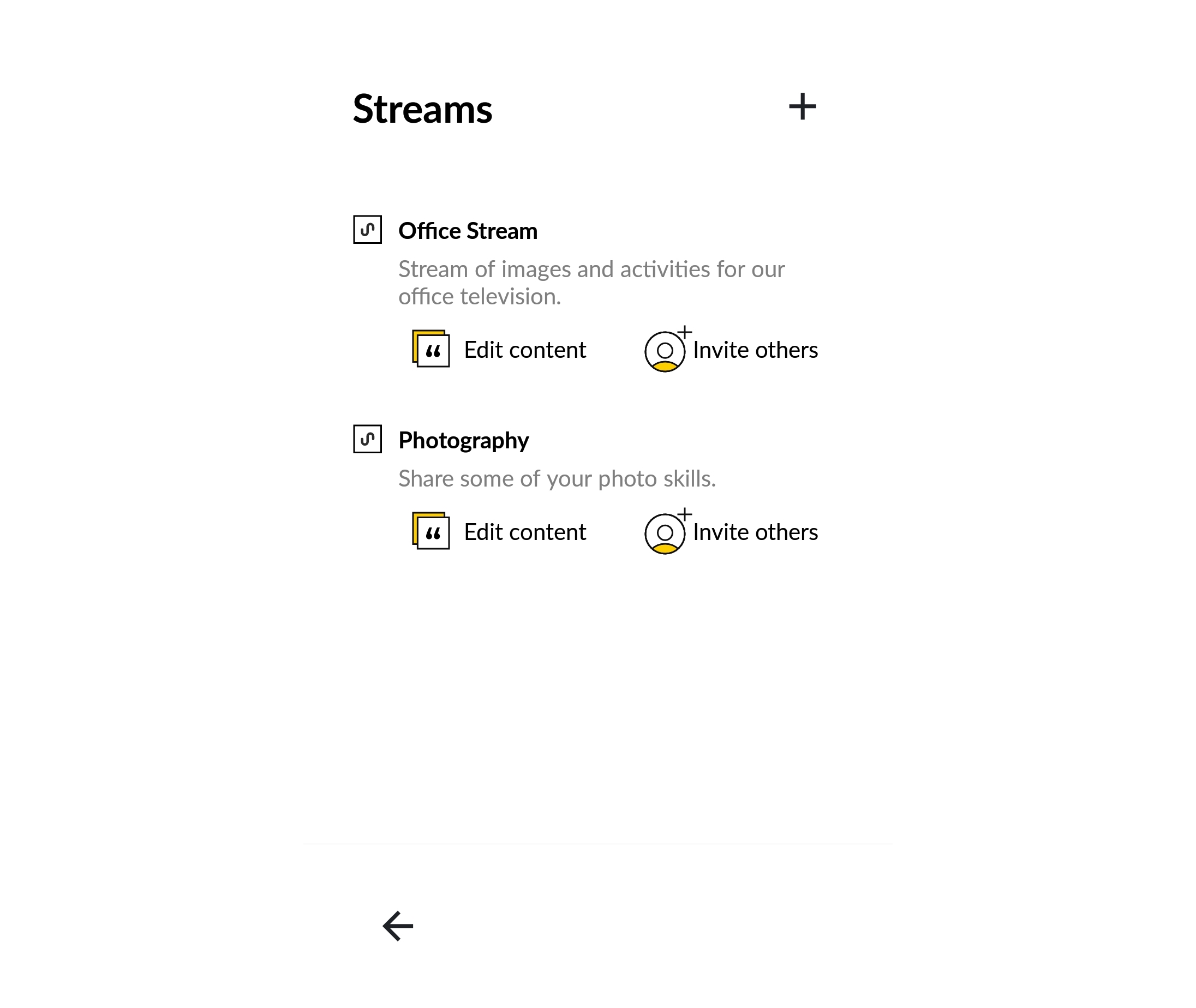 Is there a limit on the amount of content or media I can upload into a stream? 
There's no limit to the amount of content or media you can manage in a stream. Please note, you can also create as many streams as you like.
How do I invite or remove users from a stream?
You can invite users at any time by clicking on the stream icon for your Engage app. You can find this icon in the lower left-hand corner of the app. From here, you can view and edit all of your streams. Click Invite others and you'll be prompted to start sending invite emails to your teammates. Type a valid email address into the form and click the "+" icon to invite your teammate.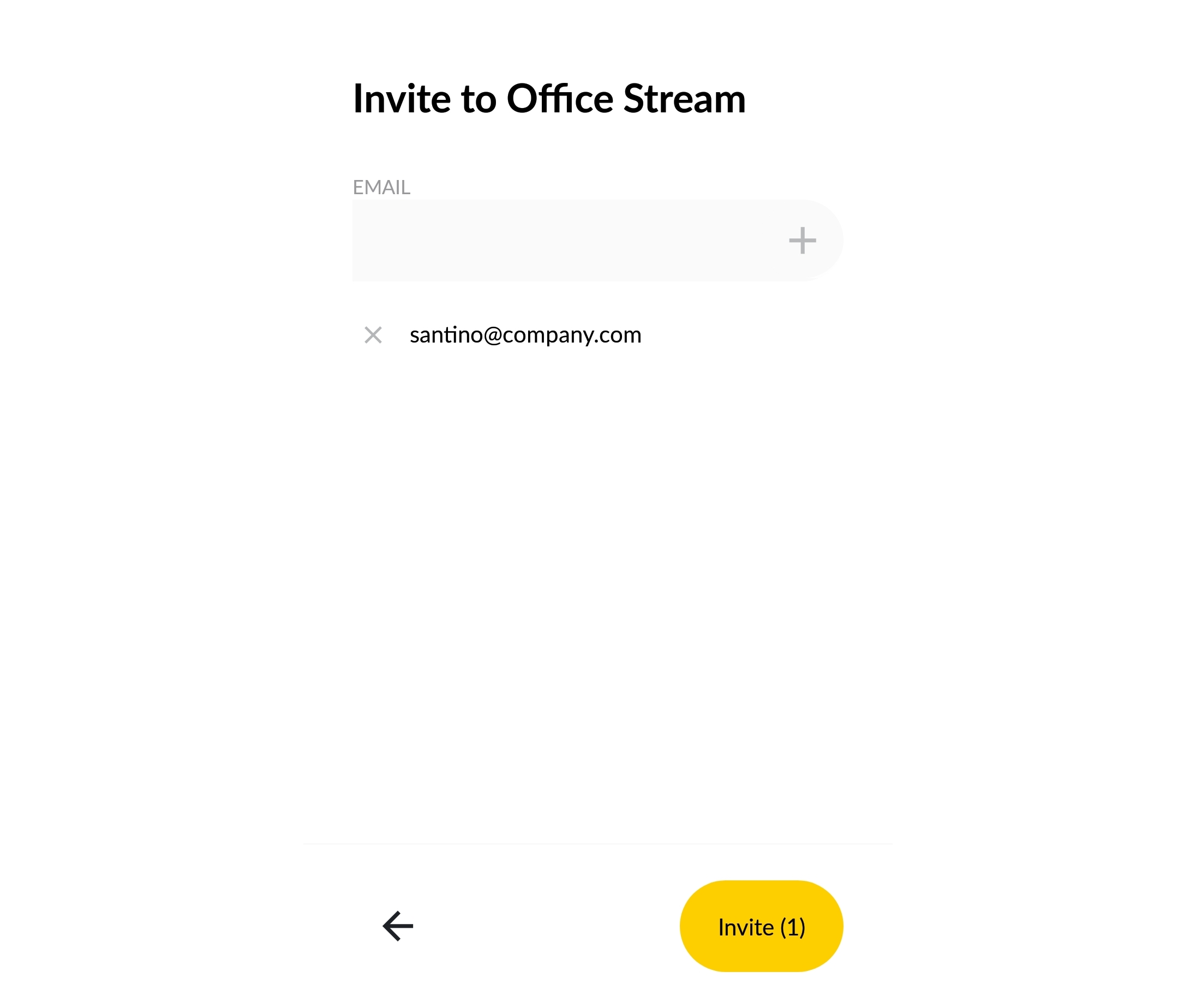 You can edit the stream at any time to also remove any users you've invited by selecting the "X" icon next to their name. 
Is there a limit on the number of invites or users can be added to access a stream?
There's no limit to the number of users that can be invited to a stream. However, each user is limited to 50 streams maximum.
Is it possible to change the name of my ScreenCloud Engage account?
Currently this is a limitation of the app and it is not possible to do.
I've forgotten my password, what can I do to recover it?
While trying to sign in the app from either your phone or online, please select the Trouble signing in? option to receive a password reset link to your email inbox. From there, you can click a link to create a new password.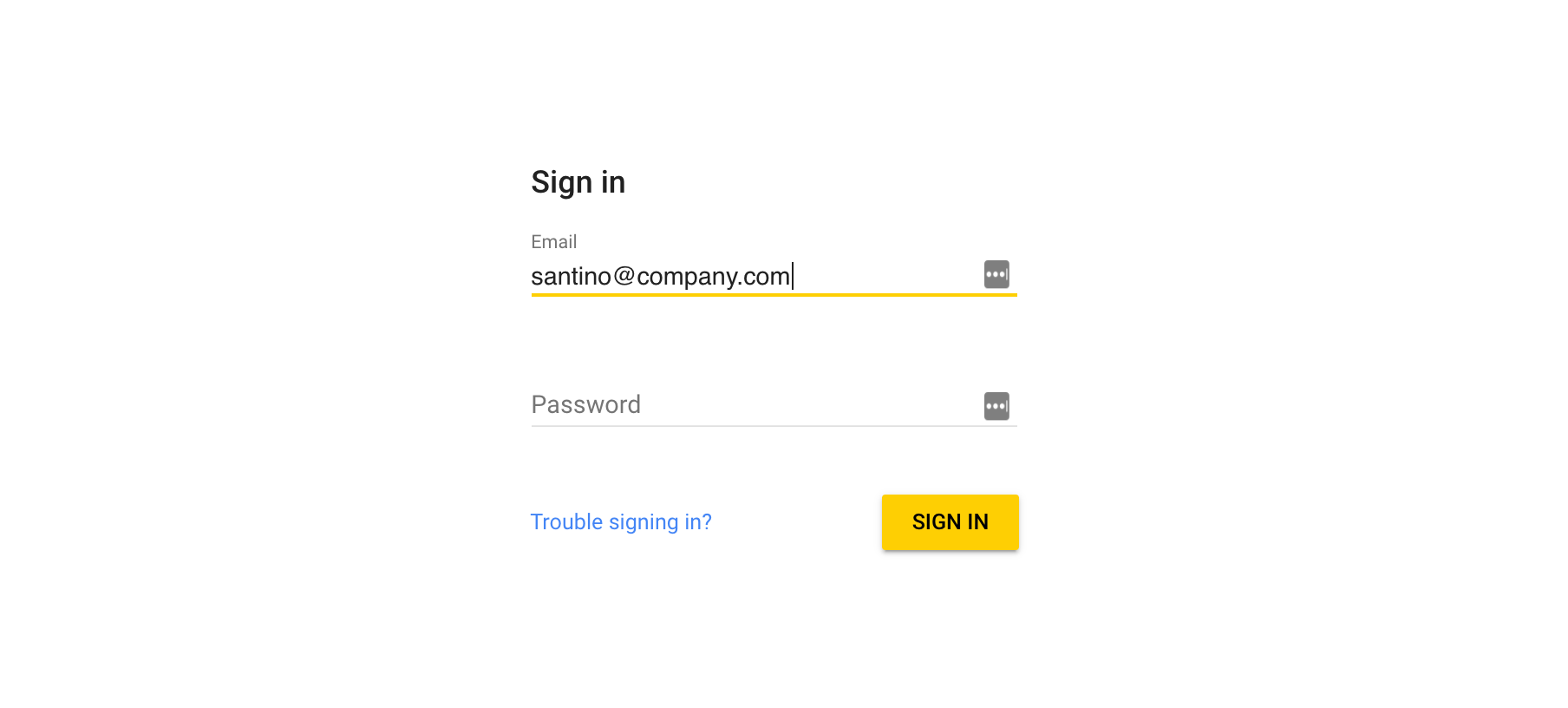 Can I deny or approve a photo before it is added to my Engage stream?
Currently this is not possible, but you are able to go into your Engage stream and delete the post by clicking the X symbol.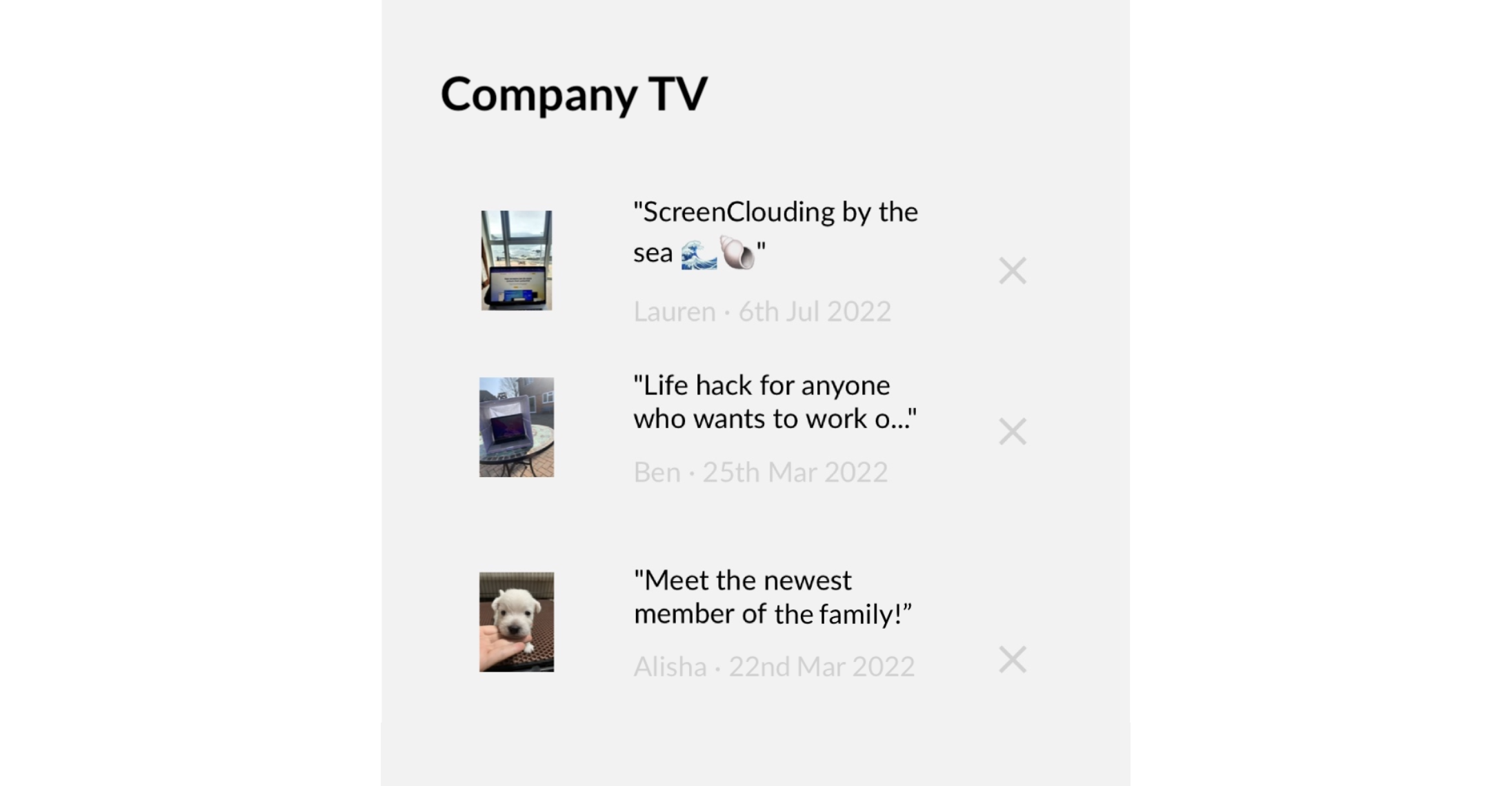 For further questions, please reach out to support@screencloud.com.