If you're looking to keep your students top of mind and share interesting facts, look no further than ScreenCloud's Educational Quotes app. You can easily set up ScreenCloud's Educational Quotes app in minutes to share pieces of academic knowledge and quotes. This is useful for education centers, schools and academic-focused businesses to display brief facts across your digital signage screens.
Here's how it works:
1. Select and install ScreenCloud's Educational Quotes App
1.1. Get started by clicking here and selecting "Get App". This will prompt you to either log in to your existing ScreenCloud account, or sign up for our 14-day free trial in order to use the Educational Quotes app and other available apps within our App Store. 
1.2. Once you've logged in, you can select "Add this app" from the top right-hand corner.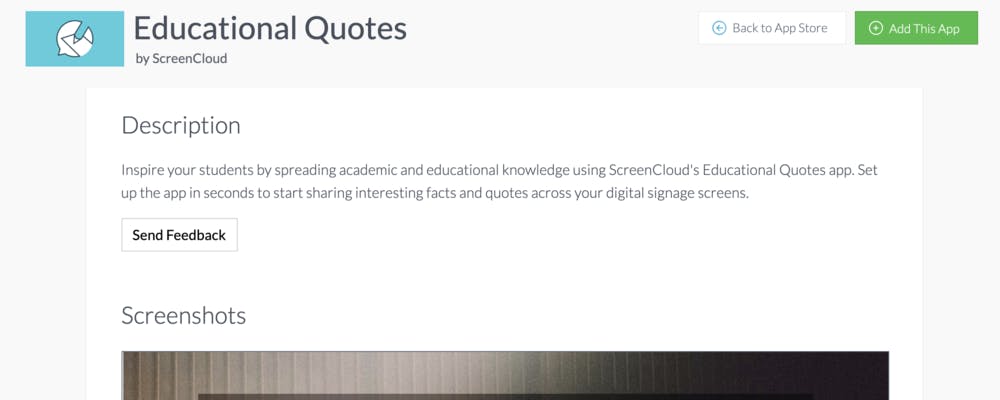 2. Select your Educational Quotes settings
To set up your Educational Quotes app, simply adjust the duration interval for how long each quote appears on screen. The default is set to 20 seconds.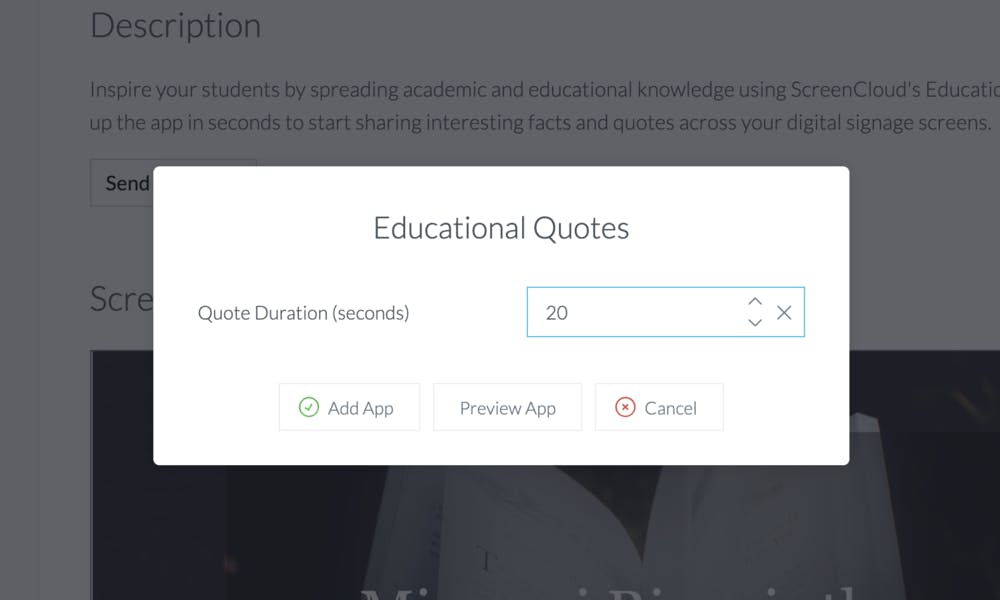 3. Preview your Educational Quotes app
3.1. To preview your Educational Quotes app, select "Preview App". This will open a new window where you can see what your Educational Quotes app will look like on screen.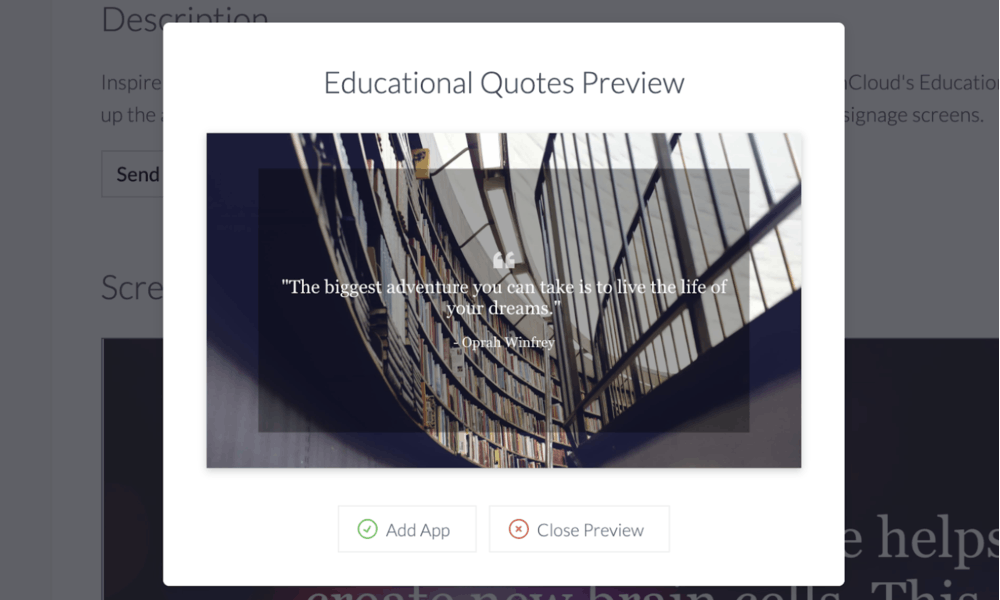 3.2. If you need to make any changes click "Close Preview". Once you've made any further changes, click "Save Changes" and return to open the preview.
4. Add Educational Quotes app to your playlist
4.1. Once you're happy with your settings, click "Add App" and give your Educational Quotes app a name. This will help you to spot it later in your content library, particularly if you're planning to use more than one Educational Quotes app within your playlist.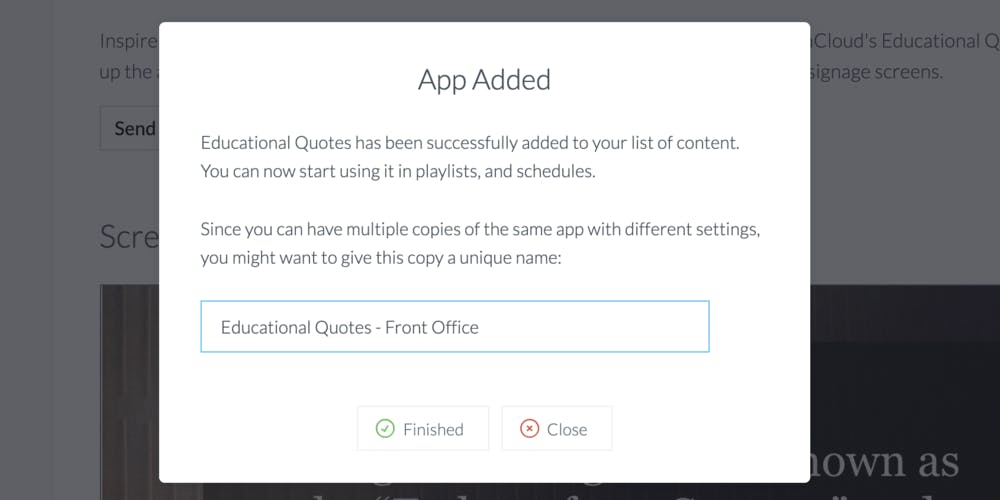 4.2. Select "Finished" and your Educational Quotes app will now be listed within your Content Library. 
Please note, If you want to edit your Educational Quotes app at any time, you can simply hover over the app in the content library and choose "Edit This App".

4.3. Next, select the playlist you wish to add this to and drag and drop the app from the right-hand side to the playlist of your choosing.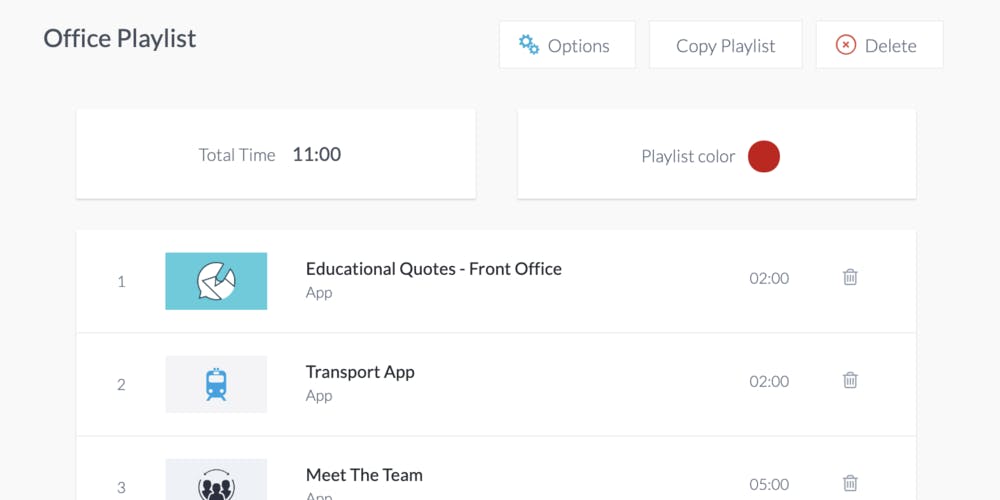 4.4. Here, you can also change the duration that your Educational Quotes app is shown for. It's set to two minutes by default.
Frequently asked questions:
Can I remove existing quotes and use any of my own?
Currently you can only use the preset quotes we have available. In future, we'll hopefully add the ability for you to add your own quotes. Otherwise, feel free to use one of our other apps like Noticeboard or the standard Quotes app to create your own custom quotes. 
How many quotes will show up on the screen?
There are 30 quotes in total paired with distinct images that will shuffle during playback.
How do I show the quotes in a specific order?
Currently, all quotes are shown in randomized order with the images. This is done to keep the content dynamic on your digital screens. 
Will the app work offline?
Once the app has been used for an entire play-through of both the images and all quotes while connected to the internet, it will continue to play on your screen offline.  
For further questions, please contact support@screencloud.com.