Notion's where everything lives: Your ideas and notes, plans and projects, everything that could be useful in the future. It's a mess—a beautiful, useful mess.
But you can't show that to everyone. Not all of it, anyhow. You know the context behind the numbers, the order in the chaos... Everyone else won't know that, though. They'll get lost in the mess.
It's time to make your Notion more understandable and public facing—then put it on the big screen, as a presentation or part of your company's digital signage.
How to build a Notion Dashboard
Every new Notion note could be anything you want: A budget planner, weekly schedule, and content calendar, or more. It could just be a rambling list of inspiration for next quarter's work. That's the promise and curse of Notion. It's effortless to add details to your notes, and just as easy to crowd the best ideas out with clutter.
Your audience doesn't need to see all of that. They came for your takeaways and stats, the conclusions and data your research led you to. Everything else can stay behind the curtain where, perhaps, you'll find new inspiration in the future.
The easiest way to share the best of your Notion with others is to build a Notion dashboard. Clean up your text to focus on the highlights, filter your tables to make them easy to scan, bring in the most important data from other apps, and tweak a few settings to make Notion look a bit nicer.
Summarize text into headings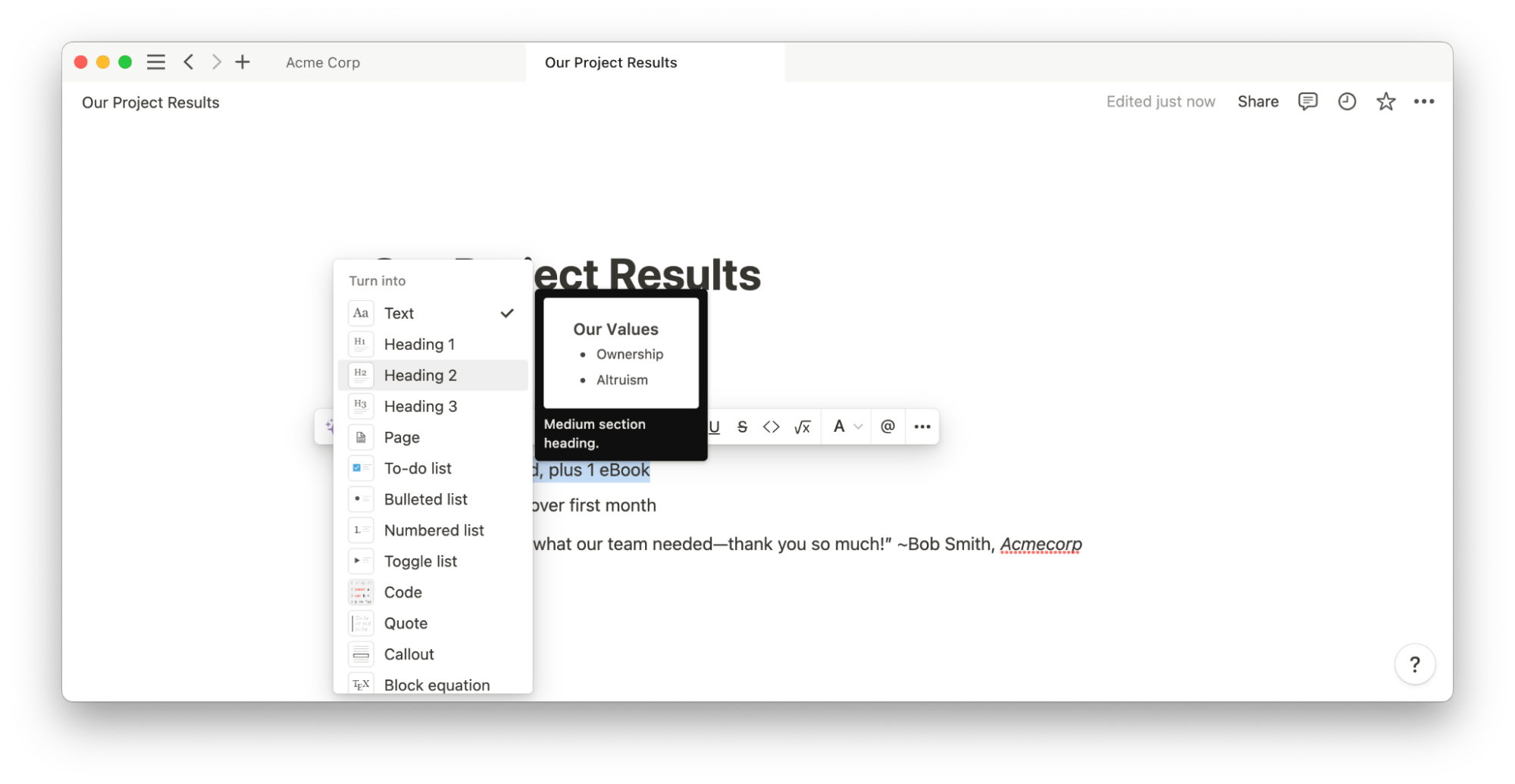 Use Notion headings to get larger text in your notes
It's easy to get wordy when writing notes. Before you present them, it's best to trim things down.
The classic Guy Kawasaki rule of 10 slides, 20 minutes, and a 30-point font can still be a good fit for today's keynote presentations. For shorter meetings, ScreenCloud's recommended 3x5 (three lines of text, five words) rule can be an even better fit.
You can't set your font size in Notion, but you can add your critical points as headings. You also can't embed text from one note in another—so you'll need to start a new note to share.
To build a Notion presentation, open a new note, type three lines or so with the most important details, then select each line and set them as an H2 or H3 heading. Notion includes several other text formatting options—but none of those bump up your font size or make it more readable from a distance.
Need more detail? You can always include a link to your original notes, so your team can dig in on their own after the meeting.
Trim tables to show the most important info

Filter Notion tables, and hide unnecessary fields, to make them readable at a glance
Tables are the best way to keep things organized in Notion. They're mini-spreadsheets, with just enough database features to keep things a bit more organized. Those extra features are exactly what'll help you clean up tables before presenting them.
Take the table above as an example. With every post listed in an editorial calendar, your audience won't learn anything at a glance—just as they wouldn't get much out of your full schedule, CRM, or KPI table without your insights. Clean things up first by hiding fields that aren't necessary (click the table's menu, select Properties, then click the eye icon to hide any less important fields). Then add a filter to, say, only show the posts that have been published this month.
When you're done, you can embed the database in your new presentation note, no copy-and-paste needed.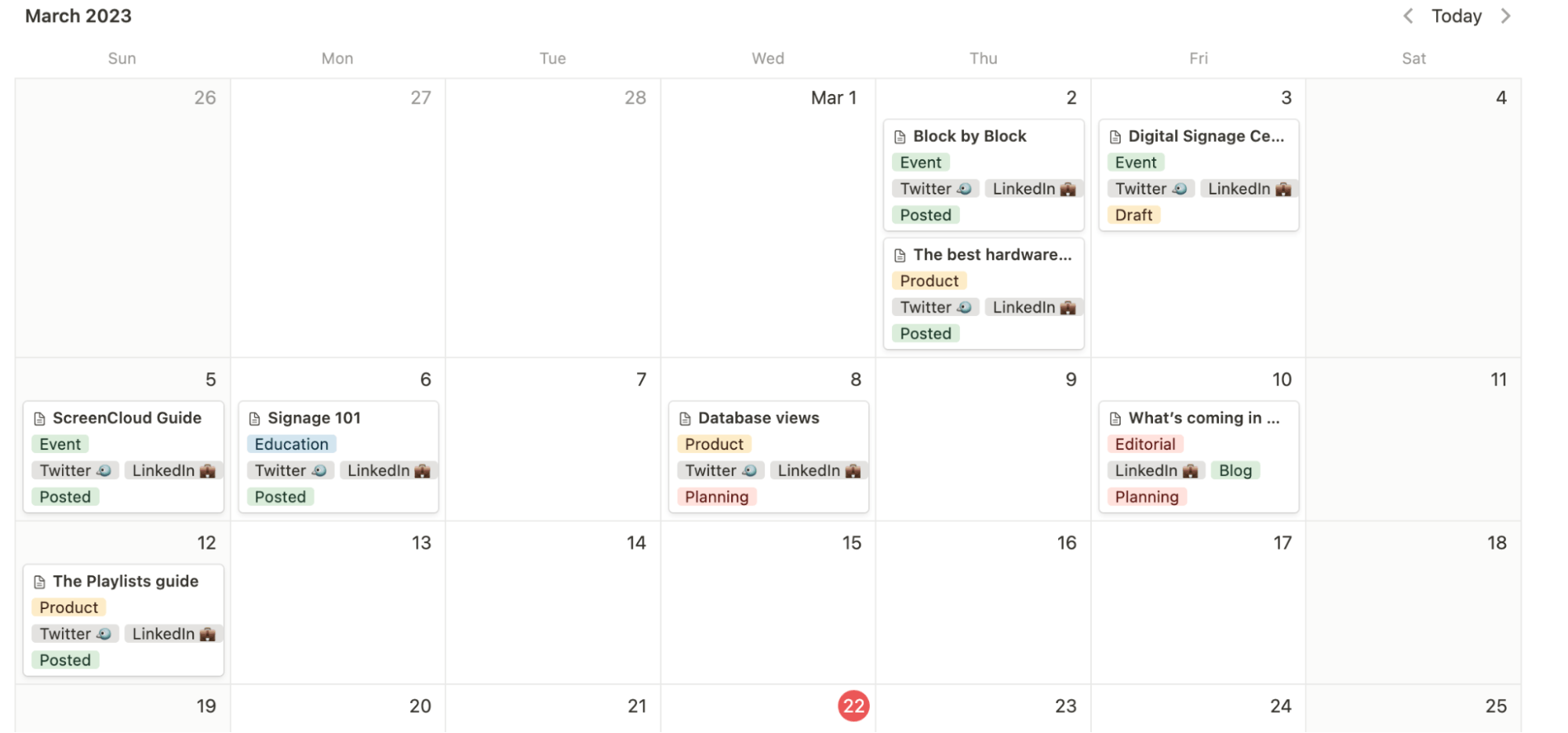 A Notion Calendar view might not be readable at a glance—but it does show progress
You could then switch up the view for something more interesting than a table. Showing events or project progress? Try the calendar or timeline views. Working with more visual items? Use the kanban or gallery views, to showcase a preview of the content along with other details. It will still be challenging to read the data at a distance, but they may help you visualize the general state of your data at a glance.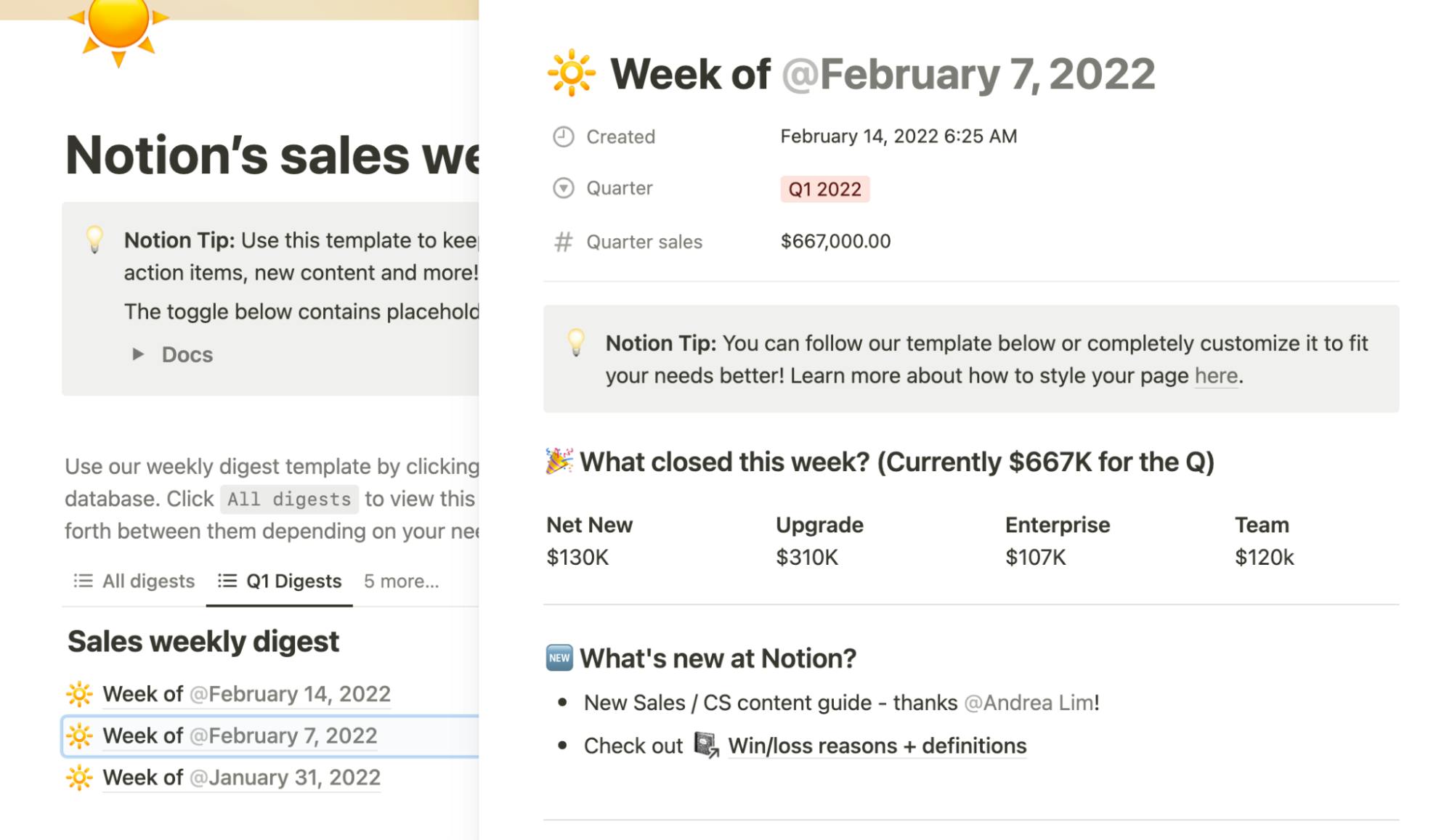 The Notion team manually summarizes data into larger text, in their dashboards
Or, take a less data-heavy approach and summarize what's in the data. Notion's template sales calendar did that, with a 4-column text view that shows total sales and upgrades by teams. Your Notion databases can't generate that clean of a view on their own, but you could use Notion formulas to summarize data then write it up in your notes, for an easier way to present stuff.
Add embeds for everything in one screen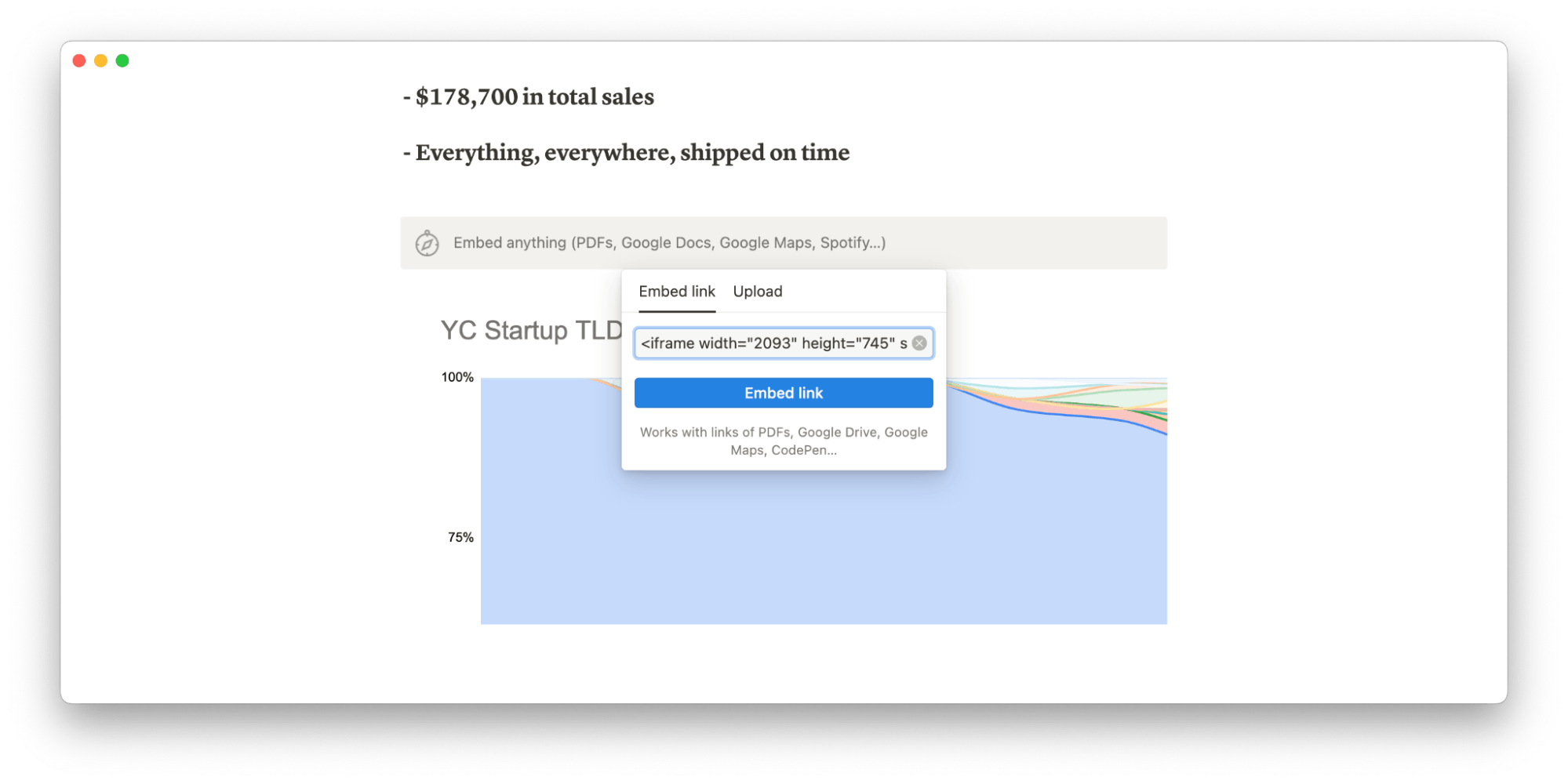 Notion embeds let you add everything else—including graphs.
You won't find graphs in Notion—or even drawing tools to add a quick diagram or flowchart. If your presentation needs those, you'll need to create them elsewhere, then come back and add them to Notion.
Drag images into your notes, or paste in links to your Google Sheets graphs or Lucidchart diagrams to embed them. If you want to add a Google Sheets graph, you could either take a screenshot and drag that into Notion, or embed the graph directly. In Google Sheets, click Publish on a chart, copy the embed code, then in Notion type /embed and paste your code, and voila.
You can then drag-and-drop them in your notes to, say, show an image alongside your heading or a graph beside your bullet points.
Pro Tip: Presenting your notes on a digital signage screen? ScreenCloud natively supports embed codes, too, so you could keep your Notion doc focused on text and tables, then add embeds in ScreenCloud separately.
Make Notion Presentable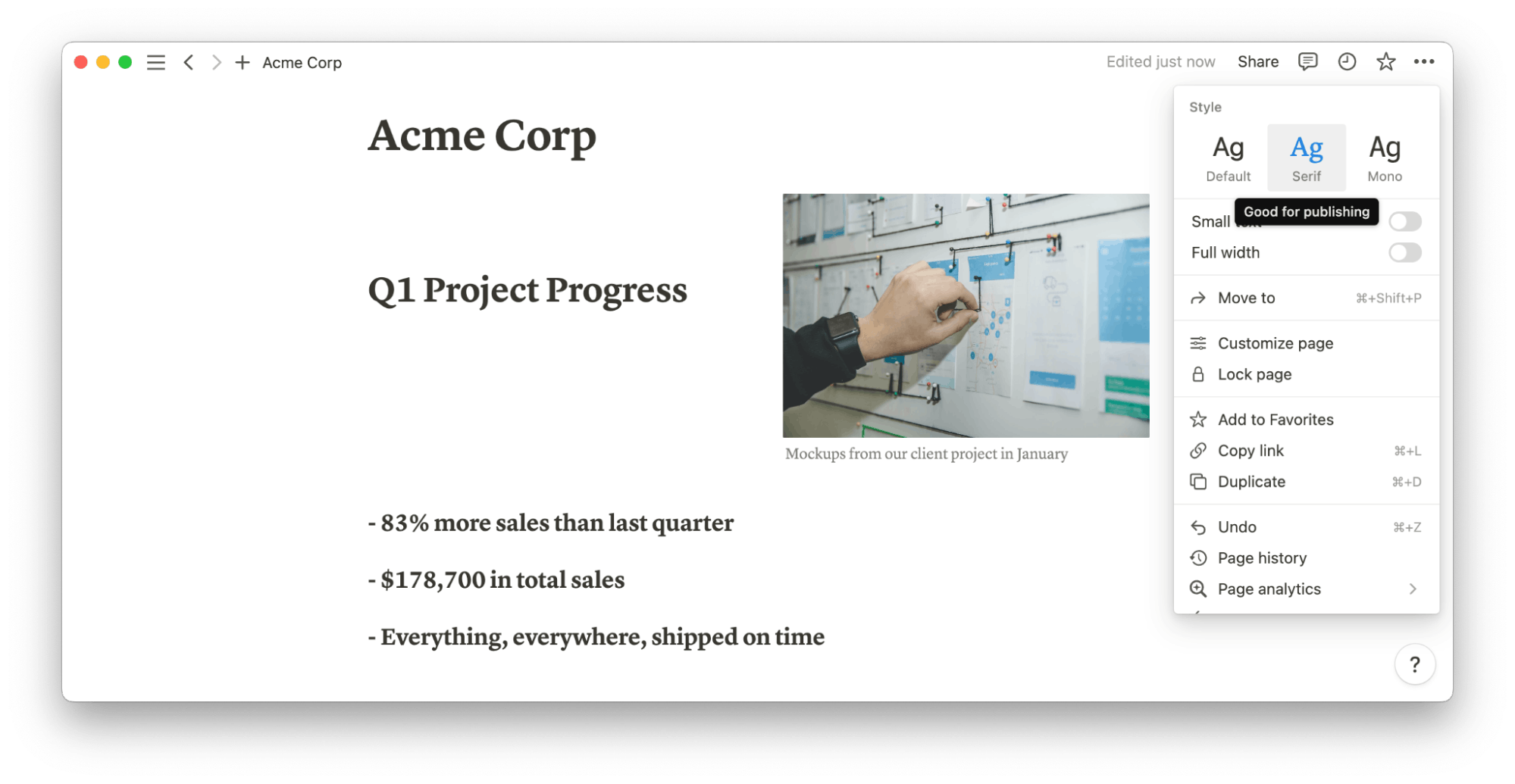 Black or white backgrounds. Three fonts. That's all the formatting options you've got with Notion.
You've got your data streamlined. Now, it's time to make it look good.
Notion's designed to keep you from thinking about colors, fonts, and formatting, so you have more time for your work and research. And yet. Sometimes you want your notes to look a bit different from others, especially for exhibition.
Start with the note background. You can make Notion any color you want, as long as you want white or black. Even those few options are hidden. To change your Notion background color, open settings, select My notifications & settings, then choose the Dark or Light Appearance option. Light's the Notion default; Dark will help your notes blend in more with the background on your TV if you're presenting on the big screen.
Then, you can tweak your note theme—at least a bit. Click the 3-dot menu in your note, and at the top of the menu, you can choose from the default sans-serif typeface, a more traditional Serif typeface, or a code or typewriter-style monospaced font. That'll change the font throughout your note.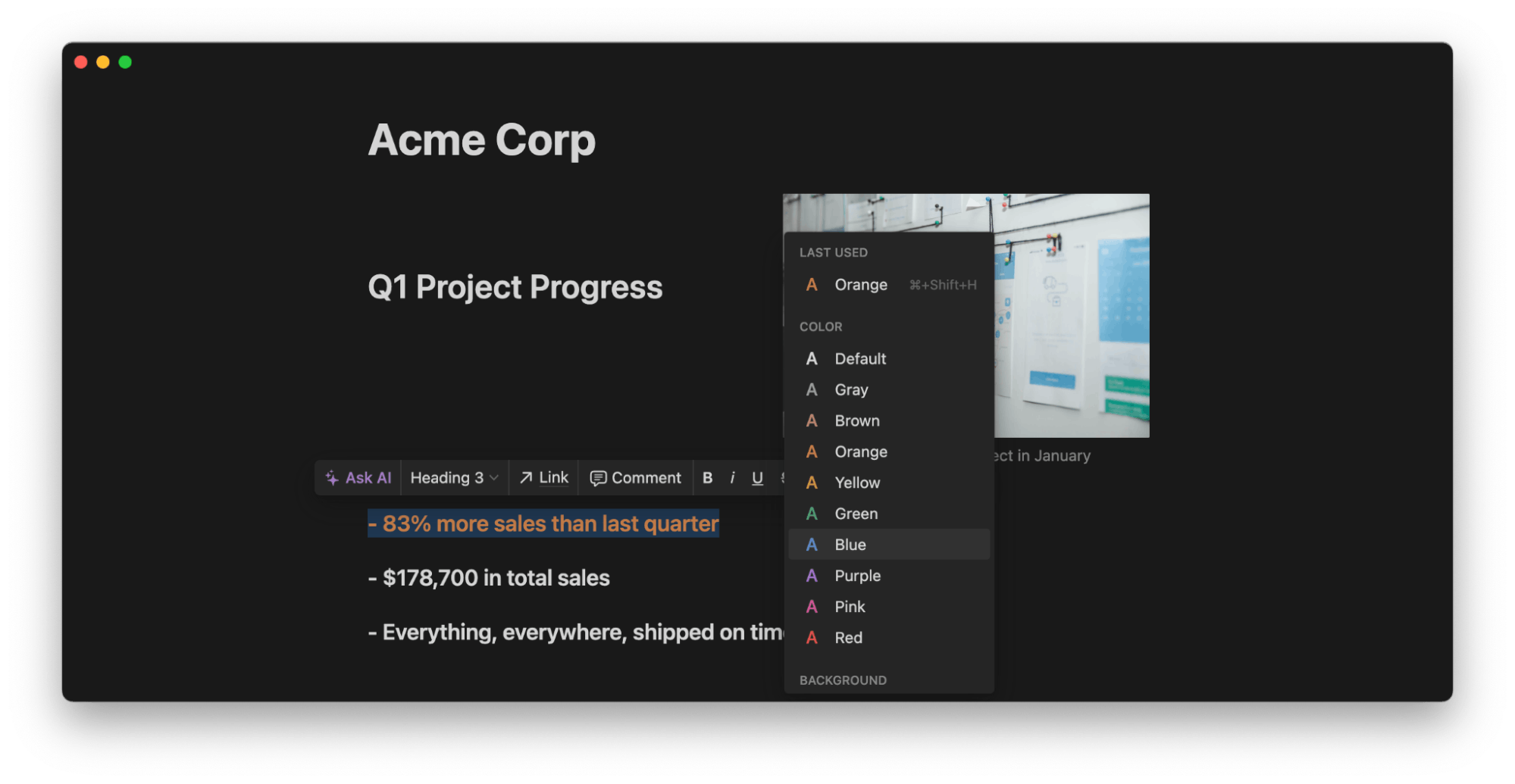 Add a bit more style with text color and background—including shades that work well in both dark and light modes.
You can also tweak text and background color. Select the text you want, click the A button in the menu, then select the text or background color that fits best.
Last but not least, hide your Notion left sidebar, so the rest of your notes don't clutter your screen. To do that, click the double less-than symbols—or press Ctrl or CMD plus \ to hide it.
How to present your Notion notes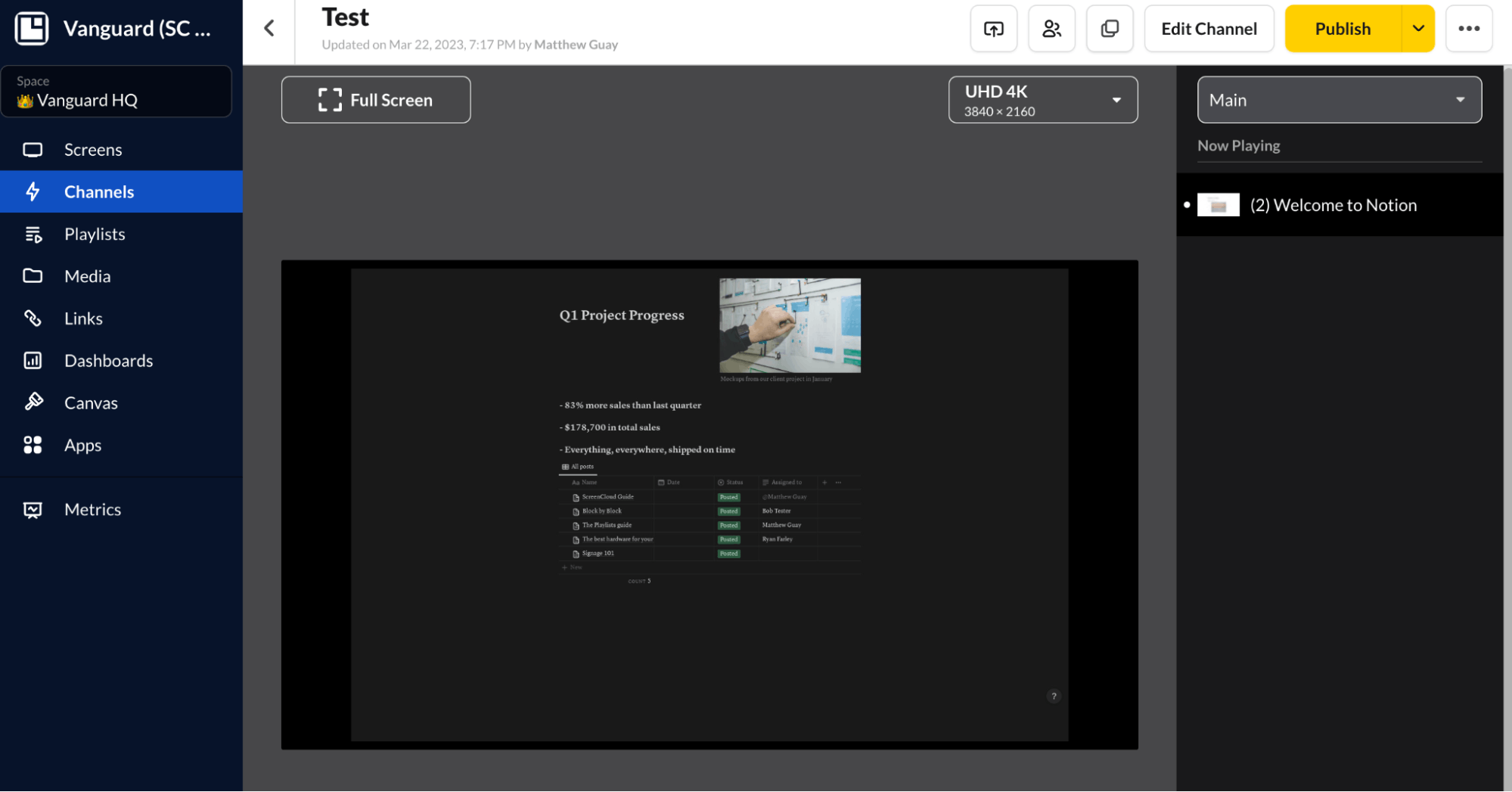 Put Notion on the big screen for your next presentation
You've organized your notes, and made them look nice enough to present. Now it's time to get them on the big screen.
Share your Notion notes, online
Your new Notion Slides could be a website on their own. Click the Share button, set the note to be visible to anyone on the web, then copy the link and share it with your team. Then, when it's time to start your presentation, you can pull up that link on any browser, go full-screen, and talk through your findings.
The same trick works on a Zoom call—or any other live meeting. You could share the note first, or just open it in your personal Notion account (don't forget to hide your sidebar first!). Then open Notion full-screen, and give your talk.
Display your Notion notes on a TV
All that work for a single call seems a waste, though—and your newfound Notion presentation tricks could actually be a good way to update your team with info, anytime. All you need is to put your Notion dashboard on the big screen with a digital signage app.
Notion is the perfect app to pair with digital signage because it's so easy to create and share info. Turn one of your notes into something that's on your company's screens, and whenever you need to update something, just update your Notion note and moments later your signage will reflect the change.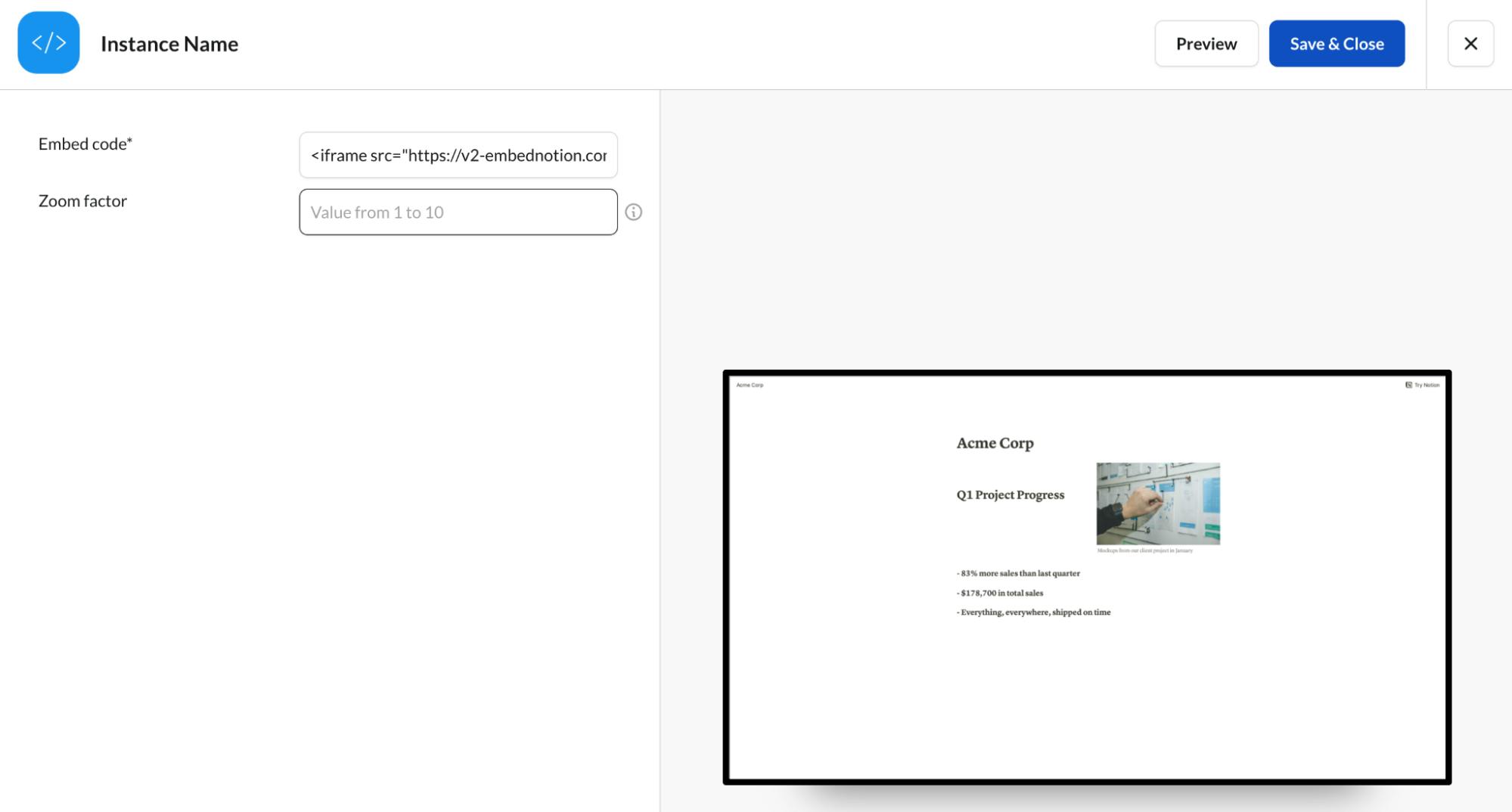 Embed Notion in ScreenCloud for an easy way to put your notes on the big screen
Using ScreenCloud to power your screens, you can put anything from Notion on your company's signage: A full note, a single table, or even one bit of text from a sales note.
The simplest option would be to put your full Notion note on a screen. First, make sure all of your tables are no wider than the text on your note, as your team can't scroll on digital signage. Then, share your note publicly, copy the link to the page, and use a tool like Embed Notion to create an embed code for your note, then embed it in your ScreenCloud channels.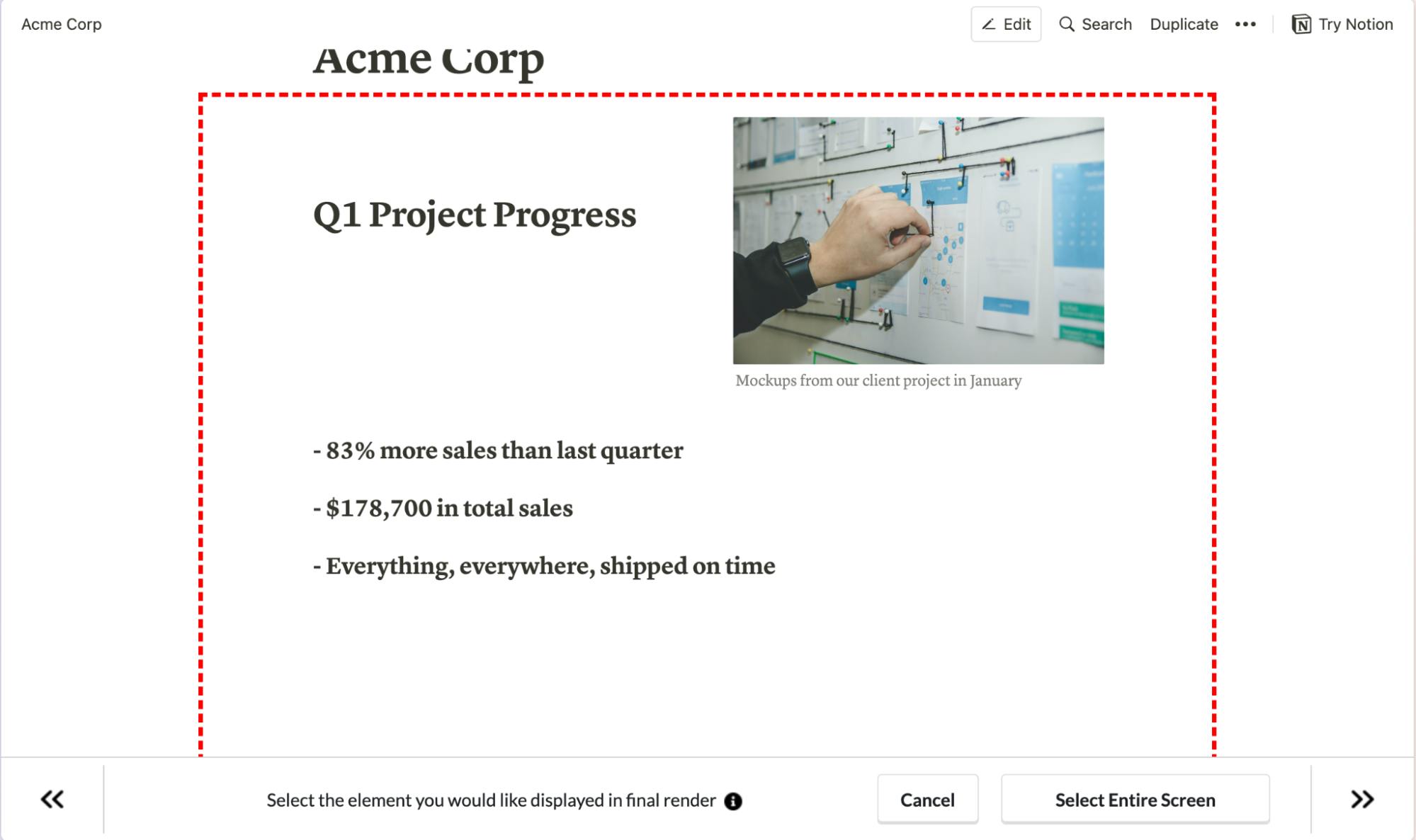 With ScreenCloud Dashboards, you can pick which parts of your notes to showcase
With ScreenCloud Pro or Enterprise, the better option is to use ScreenCloud Dashboards. That lets you log into Notion and select the specific segments and elements from your notes that you want to showcase.
Here's how it works. Open ScreenCloud Dashboards, and paste a direct link to your Notion note or type in notion.so, and click Go. Then, log in if needed—and if you want to change your slide background to black, set that in your Notion settings. Once you're back on your note page, click Finish Journey & Take Snapshot, then select the part of your note you want to show on your screens. The easiest is to select just the body of the note, as in the screenshot above. Or, you could select any section—even a single heading or table. Once you've got the right stuff selected, click Finish Journey, save your dashboard, and ScreenCloud will be ready to showcase your notes on your signage.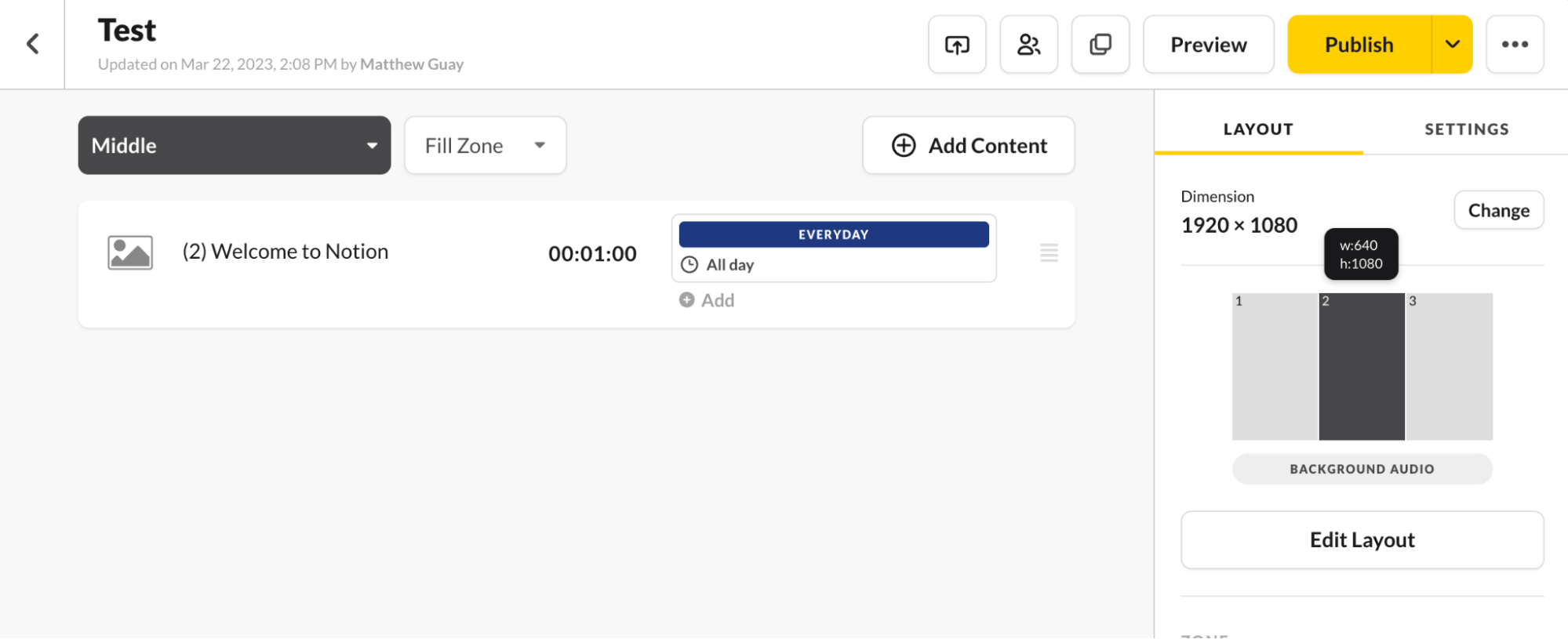 ScreenCloud Channels options let you build screens that showcase Notion data alongside other apps
You could showcase the dashboard full-screen—though do note that you'll get padding on the right and left of your note. Or, open ScreenCloud's Channels and choose a multi-column layout. Notion notes work great with half or a third of the screen—or can work with smaller layout sections if you selected only one portion of your note.
Then you're done. Every time you have something to put on your company's signage, you can spin up a new Notion document and put it on the big screen. You can filter down your tables into something that makes sense on signage, embed graphs from elsewhere, and select exactly what you want to put on your screens.
If you're heavily invested in Notion, this is a fantastic way to share the best parts of your work, with your team, without all the mess.