How to set up digital signage with ScreenCloud
In the guide below, we'll explain how you could set up digital signage using any screen you own and ScreenCloud.
1. Choose your hardware
ScreenCloud is hardware agnostic, meaning it can run on any hardware (and any screen). There are two main ways you can use ScreenCloud: 
An Android TV + the ScreenCloud app
If you already have a smart Android TV, you can use the ScreenCloud Android Player app which you can download from the Google Play Store. 
A standard (non-smart) TV screen + cheap media device + the ScreenCloud app
If you don't have a smart Android TV, then you can use any screen you have (even non-smart ones), adding a $40 Amazon Fire TV Stick 4K or an $50 Chromecast with Google TV to help make the screen smart. Once installed, you can download the ScreenCloud app from the Amazon App Store (if using the Fire TV Stick) or the Google Play Store (if using a Chromecast with Google TV). 
This means that you can make use of screens you've already got hanging around, or you can buy smart ones that have everything you need already included.
2. Pair your screen(s)
Once you've downloaded ScreenCloud, you'll need to sign up for a free trial and then pair your screen(s) with your account:
3. Choose your content
Upload existing content
ScreenCloud allows you to upload your files from wherever they're saved. We also support a majority of file types including jpeg, gif, png, and svg, PDFs, powerpoints and Office/iWorks formats to make uploading your content easier.
Even after you've uploaded your content, you can download it again (and any content updated within ScreenCloud) should you need.
The App Store
In our App Store we have more than 80 apps that will help you to get different content onto your digital screens.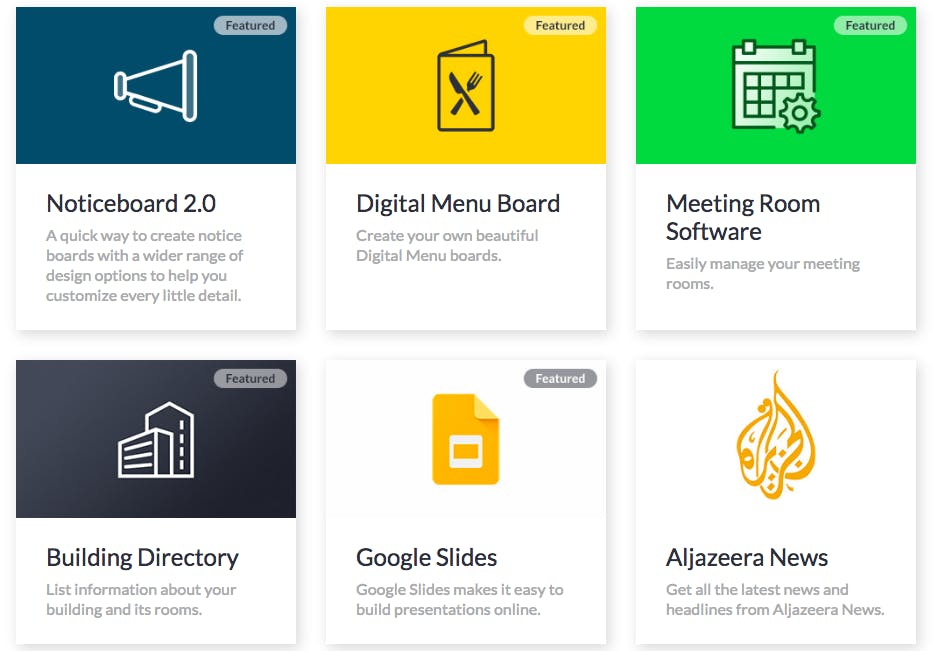 Different types of content includes:
A benefit of ScreenCloud is that you can change this content at any time, and changes will be reflected on your screen in real-time. There is no need to download, edit, reupload and push content to make a change, everything can be done directly within ScreenCloud.
You can also make bulk changes so that the content changes on all of your screens from one edit.
4. Schedule the right content for the right time
If you're running a time-sensitive or seasonal promotion, upload the content once and then set a time/date when you'd like it to show/expire.
This also works well for restaurants and digital menu boards; schedule your breakfast content to show at the right time, and have timely promotions run throughout the day
Playlists help you to organize what shows when; you can learn by checking out our guide to creating the perfect playlist. Once your content is uploaded, you can add it to a playlist and set the order in which it shows and how long it shows for.
Once you've decided on the best playlist for each of your screens, it's time to create a customized schedule for when it will show.
https://screencloud-2.wistia.com/medias/b1vlppone8
Try out ScreenCloud for free
See whether ScreenCloud is for you with our 14-day free trial (no credit card required), or request a demo to a custom look at how we can work with your business.