Publish content to your screens directly from Microsoft Teams
Learn More


What is Digital Signage? The Complete Guide
Digital signage can mean many things – and can also be a confusing term if you've never heard of it before. In this guide we'll explain everything you need to know.
Signage is everywhere and, increasingly, digital signage is being adopted for use by businesses and establishments for uses far beyond the obvious. While we might think of digital signage as a promotional tool, the use of digital displays goes way beyond simply advertising.
When it comes to creating display content, there are many reasons to embrace the technological advances of digital screens...
What is Digital Signage?
At its most basic, digital signage refers to an electronic display platform that showcases programmed content or information. 
Employing screen-based devices like LEDs, LCDs, or projectors, the technology projects a variety of media including images, videos, webpages, interactive interfaces, and even simple text. 
Unlike static, traditional print signs, digital signs are dynamic. Their content can be readily refreshed, altered, or scheduled thanks to robust digital signage software. The system allows users to create, manage, and deploy the content to be displayed. This ease of use and flexibility give the technology an edge, making it an ideal communication tool for any business looking to visually engage its audience.
However digital signage isn't just a tool for business. 
A digital display can also offer real time information for visitors to a location. Whether this is a public transport hub, a shopping mall or a medical centre, digital signage systems can make real world places more user friendly.
What is Digital Signage Used For?
As with any technology, the use of digital signage, or electronic signage, is only limited by imagination. Businesses of all sizes leverage digital displays for an array of applications.
This can include:
Advertising new products
Offering navigational information to customers
Pushing sales and discounts
Displaying dynamic menus
Creating interactive displays
Hosting video content
But the application of digital signage isn't just customer or public facing. Electronic signage has an important role to play in internal communication, especially in large corporate offices.
This may include displaying company metrics, the next weekly meeting schedule, which meeting room is in use, or even reminders to submit timesheets.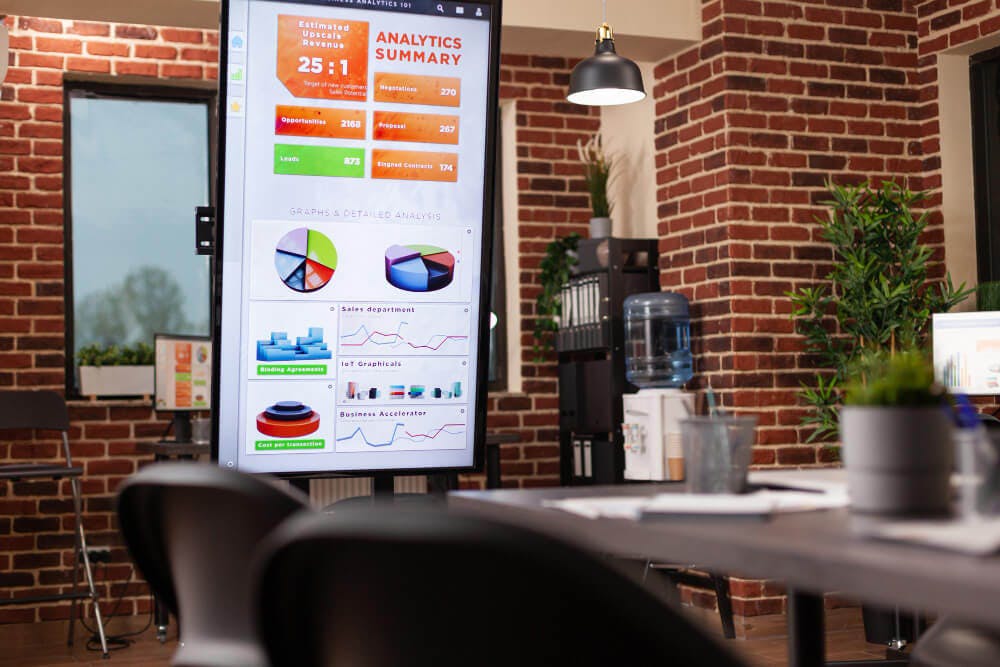 Equally useful in corporate settings, electronic signage is deployed for displaying company events, showcasing training videos, or even advertising internally for employee engagement. Institutions use it for community bulletins, conveying emergency alerts, or sharing real-time data in a similar manner to transit hubs.
Digital signs are appropriate wherever there's a need to communicate information visually, whether it's marketing material, or internal communication. The applications are practically limitless.
Digital Signage Impact Examples
Global giants like McDonald's and Coca Cola were some of the early adopters of digital signage, and their applications are case studies in themselves. McDonald's, for instance, deployed digital menu boards across its stores, enabling them to change their menus swiftly based on time of day, weather conditions or special promotions.
As per a 2018 article in Forbes, the company reported a digital signage related sales increase of up to 3.5% in some locations.
Similarly, Coca Cola leveraged digital signage for crafting engaging campaigns leading to increased customer engagement and ultimately sales.
The market traction that the technology has seen in the past few years reinforces its utility. According to Grand View Research, the global digital signage market was valued at USD 24.86 billion in 2022 and is expected to grow at a compound annual growth rate (CAGR) of 8% from 2023 to 2030.
Not only this, but figures suggest that digital displays have 400% more viewers than static displays, indicating the increasing preference for digital over traditional.
And in the wake of the COVID pandmic, the popularity of digital menus and remote ordering has grown. In fact one report from 2021 suggests that 88% of American restaurant businesses are considering switching to interactive digital menus.
Considering that many restaurants see increased revenue from installing this digital signage hardware, as well as increased customer satisfaction, the benefits of digital signage screens in restaurants or even retail stores are clear.
Types of Digital Signage
Digital signage systems come in a variety of different sizes and styles. When it comes to choosing electronic displays,
Here's a look:
1. Digital Posters: Simply put, these are standard digital displays used for straight forward applications - presenting an image or a video. Think of a captivating store-front ad on loop, or informational slideshows in a clinic's waiting room.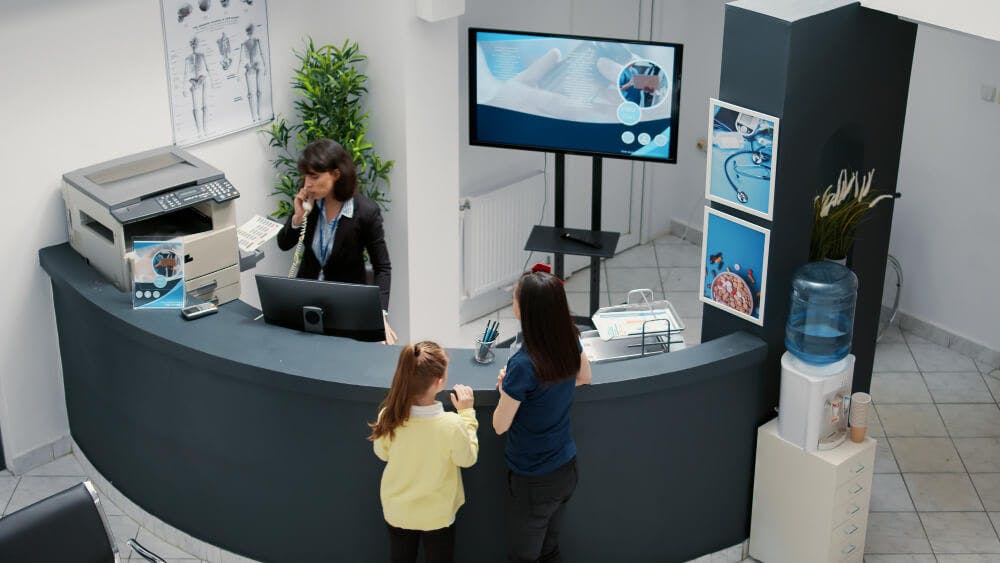 2. Digital Billboards: These large format displays are the bigger version of the digital poster. Mostly used for promotional content, you'll usually see digital billboard signage in high traffic locations such as transit centres, shopping malls and on main road ways.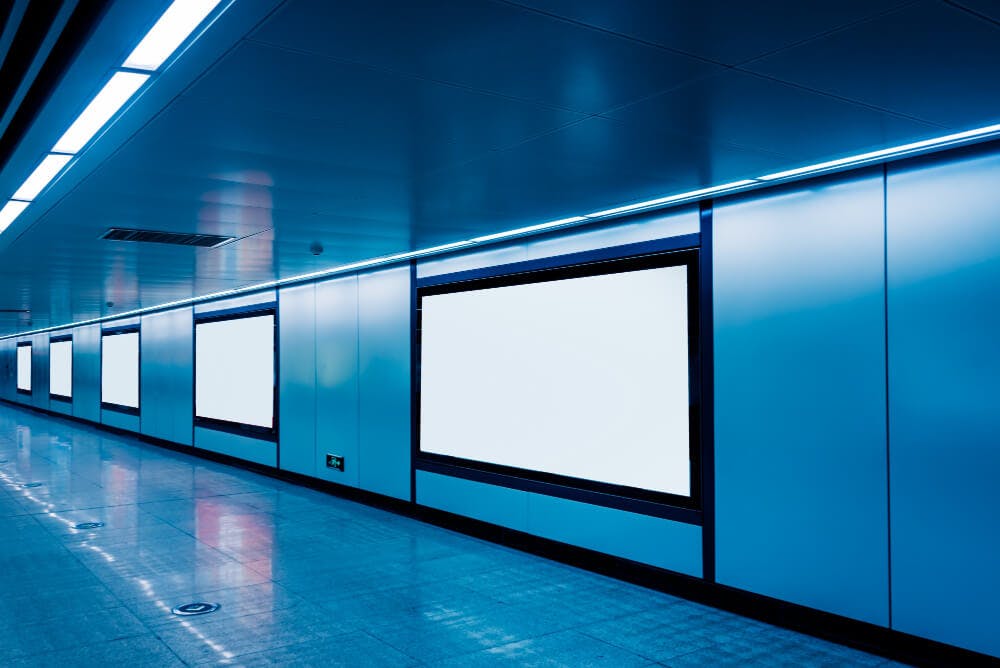 3. Interactive Digital Signage: Digital displays today aren't just about showcasing generic content anymore. With interactive digital signage, users can interact with the content via touchscreens, movement sensors, or Augmented Reality (AR). Whether it's a touchscreen kiosk at a mall or an augmented reality display at an amusement park, interactive signage is creating depth in customer engagement. Given the complexity, an efficient digital signage software is mandatory to manage and facilitate these interactions.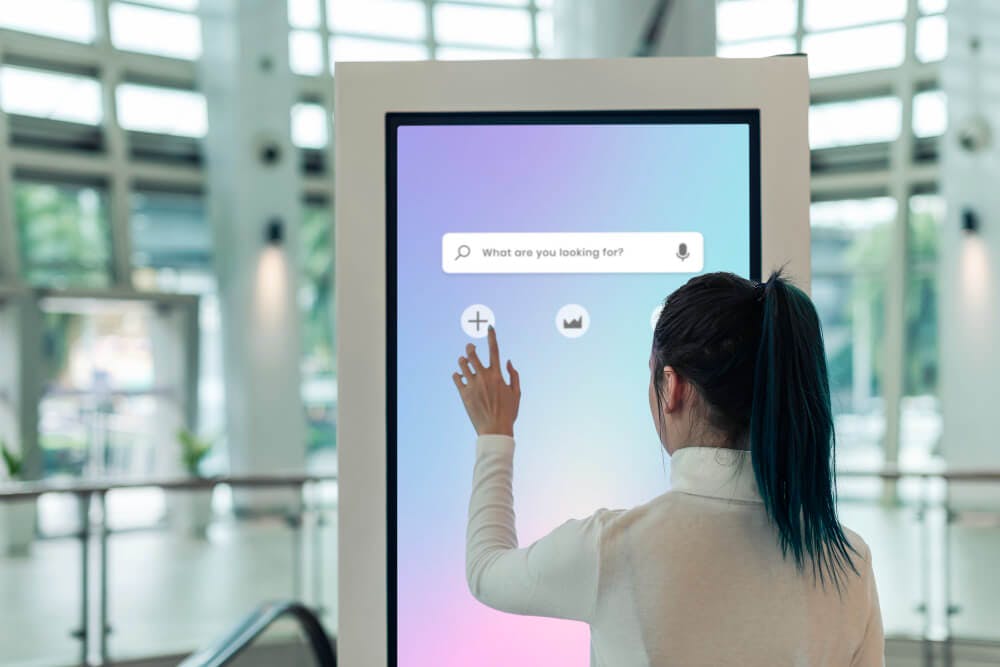 4. Digital Menu Boards: A common sight in the food industry, these digital displays cater specifically to menu displays. Businesses value them for their flexibility - the ability to be easily updated or altered based on meals, pricing, or promotional offers.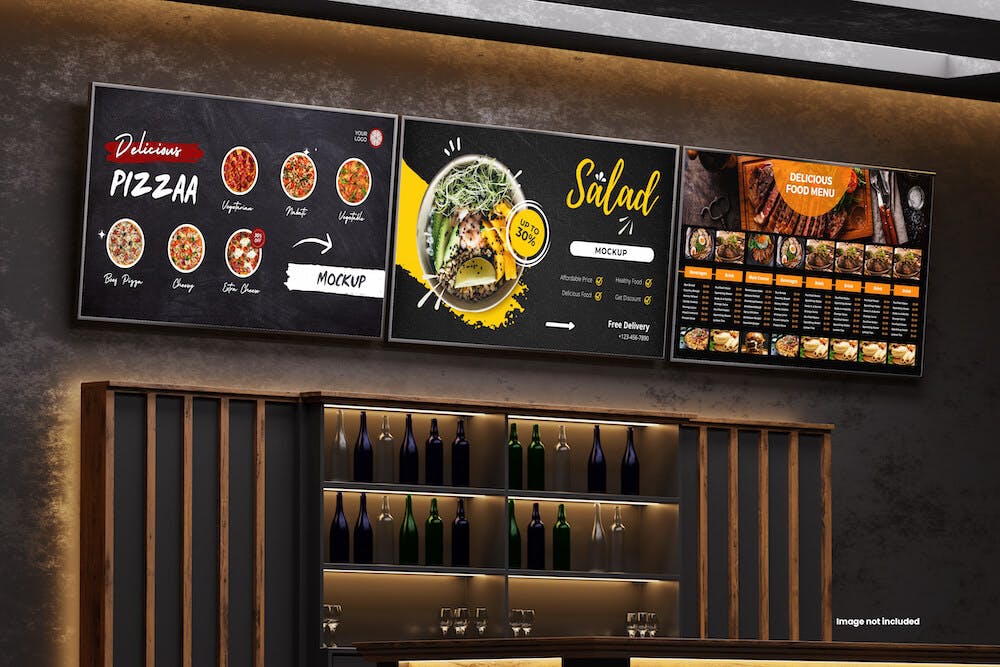 5. Outdoor Digital Signage: These are the rugged weatherproof digital displays that bear the brunt of outdoor climatic conditions. Ideal for billboards or marquee signs, these displays are designed for bright, high-quality, long-distance visibility. They can also be used to display information, for example traffic disruption or weather updates.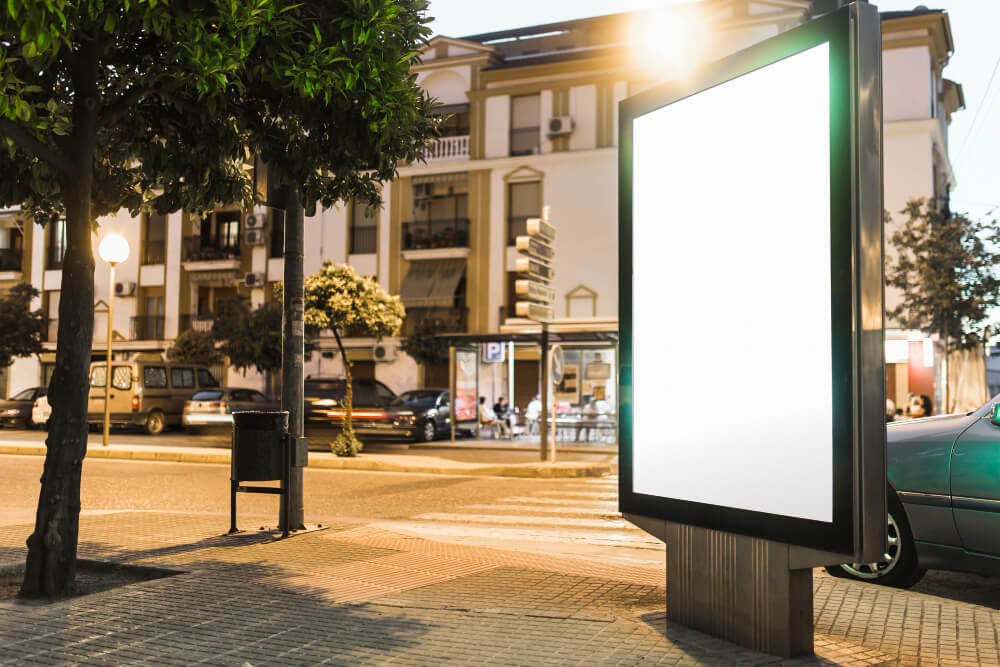 6. Video Walls: These impressive screens are often associated with billboard displays. However they are a little different in that they're designed to host multimedia content often in specific location. Think show stopping visuals at a trade show or music festival, or multimedia screens in a flagship store. While video walls can be made of multiple screens, these days they are usually, these days, one large LCD screen.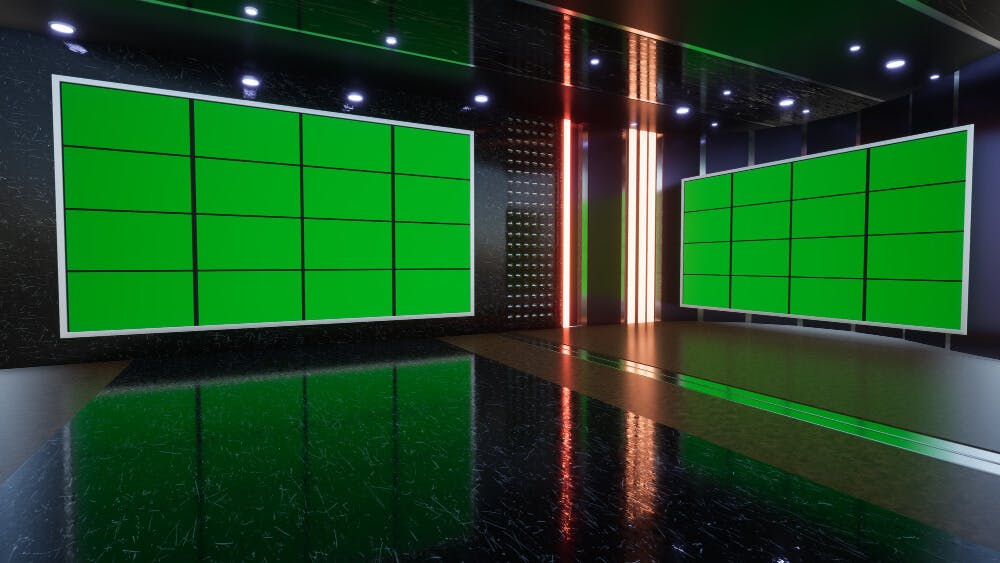 What are the Benefits of Digital Signage?
While using digital signage is nothing new, the technology has come on leaps and bounds in recent years. And while the old fashioned static screen still has a time and a place, there are a number of benefits of using digital signage.
1. Customization
Perhaps the most obvious benefit of digital signage is that it is as customizable as you want it to be.
You can display simple text, or create animated or video messages, or create all kinds of eye catching and appealing digital content.
2. Eye Catching
Digital signage displays are great for capturing attention. Whether this is to convey your marketing messages, or for more practical purposes, a digital signage solution jumps out at the audience and is much more engaging than a static display.
3. Diverse Digital Signage Options
There are digital signage solutions for pretty much any application. Whether this is using an LCD TV for display screens in an office setting, to accessing a digital signage network of out of home displays.
4. Real Time and Reactive
With access to digital signage software, you can quickly and easily update your message as you need. This could be according to anything from the time of day, or a specific event; to stock levels, or whatever other reason you might need to change your display.
5. Energy Efficient
Despite the perceived high energy usage, running most types of digital signage is actually quite efficient. With the advances in LCD screens or even LED displays, digital signage content can be relatively low cost.
Find out how digital signage can save you time and money!
What screens can be used for Digital Signage?
When it comes to your digital display, there are many options. The type of digital signage screen you use will also likely depend on factors such as what is the purpose of your digital display, or where it will be displayed.
But the most common types of digital signage screens are:
1. LCD Screens: Offering excellent display quality with reasonable power consumption and cost, they are a standard choice for indoor applications.
2. LED Screens: If brightness is key, especially outdoor, LED screens are your pick. They represent the brightest displays, fit for outdoor applications where sunlight exposure could be an issue.
3. Projection Screens: An economical way of covering a large area. If the goal is to project content onto a large wall without the need for a physically large screen, projection screens are a good choice.
4. Electronic Ink: Electronic or e-ink screens are usually monochrome, although coloured e-ink is fast becoming a thing. This is also a very energy efficient digital signage solution.
5. Tablets and Mobile Devices: Portable digital displays can be a great option for restaurant menus, in-store interactive digital signage (for example in retail stores where you want people to browse custom or bespoke products), or on public transportation systems.
6. Touchscreens: Of course, the developments in digital signage hardware mean that touch screens are becoming more ubiquitous. With more demand for interactive content, touchscreens are obviously the best way to literally stay in touch with your target audience.
7. 3D LED Screens: While this technology is still in it's infancy, expect to see more of these cutting edge screens in coming years. While 3D LED screens are certainly spectacular, they are best suited to high end digital advertising in highly visible public spaces.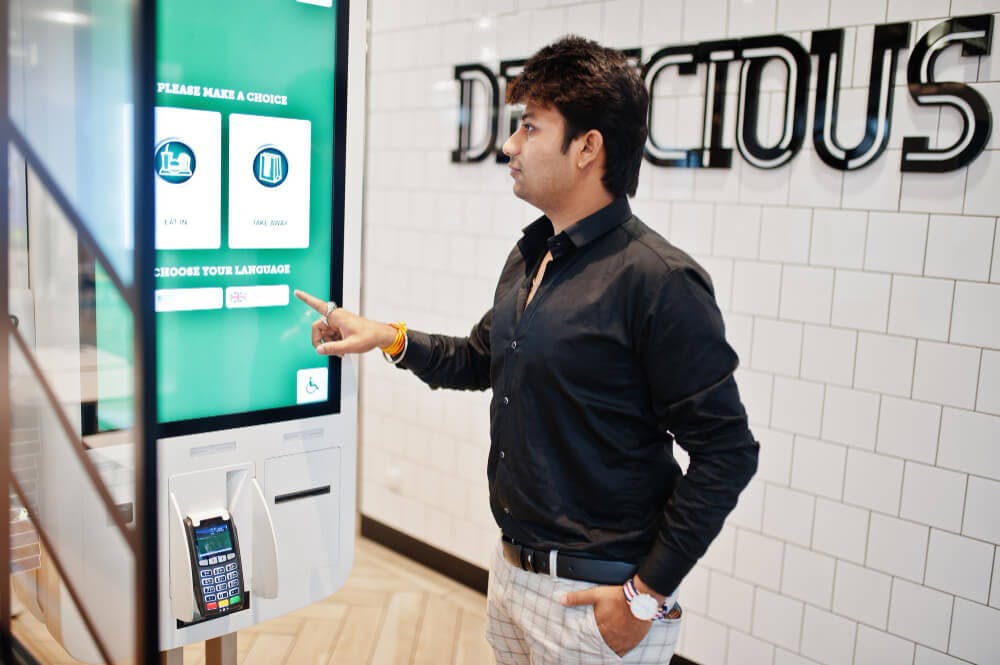 What is Digital Signage Content?
The soul of any digital signage is its content. The power of your digital displays is only as strong as the content it's fed.
With efficient digital signage software, it's possible to manage and control content easily for maximal impact. Content includes the media elements that are displayed on the screen. This could be anything from a static message or photograph, video content, a webpage, or even live feeds of data such as weather information or user generated content.
Steps to Create High Impact Digital Signage Content
Effective digital signage is less about the hardware and more about the content it displays. Numerous studies point towards the incredible retention and engagement rates of dynamic digital content. As per a study by Nielsen, digital signs in grocery stores led to a 33% upswing in sales in comparison to traditional, static signs.
The strategic use of digital signs can transform any business by improving the customer experience, increasing engagement, and fostering stronger connections between customers and the brand. This is why companies invest not just in hardware, but also in creating engaging, dynamic, and relevant content.
Take a look at our guide: How to create digital signage content.
We've summarized some of the best ways to create digital signage content below.
1. Use Clear Fonts and Clear Text Sizing
What good is your digital signage content if no-one can read it? Make sure you use fonts that are clear and readable from a distance, and use larger text sizes so that all elements of your content are visible.
2. Work Within Your Display Resolution
Your display resolution is your canvas, so be sure to keep within your design area. Make sure to leave a safe space, or 'bleed area' around the edge of your design so that content isn't cut off.
3. Pictures are Worth 1000 Words
The old saying is true. If you can use an image in place of text, you can get much more across with your space real estate.
4. Less is More
With digital signage, we don't want to overwhelm people with information. Keep the information succinct and focused, and remember that most people exposed to digital signage are only looking for as low as one second to around 5 seconds. Read more about signage dwell time.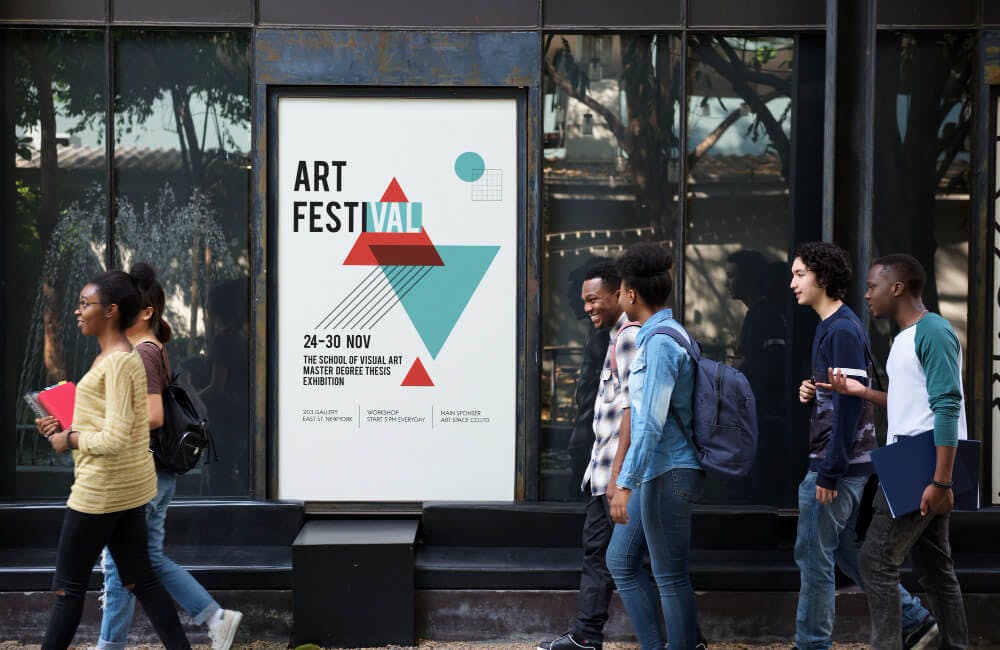 For best results, check out our best suggestions for how to design digital signage content.
How to set up digital signage with ScreenCloud
Setting up your digital displays is simple with ScreenCloud, the industry leading digital signage software. Here, we'll explain how to use ScreenCloud to connect your digital signage hardware and start using it as your content management system.
1. Choose your hardware
ScreenCloud is hardware agnostic, meaning it can run on any digital signage hardware (and any screen). There are two main ways you can use ScreenCloud:
An Android TV + the ScreenCloud app
If you already have a smart Android TV, you can use the ScreenCloud Android Player app which you can download from the Google Play Store. 
A standard (non-smart) TV screen + cheap media device + the ScreenCloud app
If you don't have a smart Android TV, then you can use any screen you have (even non-smart ones), adding a $40 Amazon Fire TV Stick 4K or an $50 Chromecast with Google TV to help make the screen smart.
Once installed, you can download the ScreenCloud app from the Amazon App Store (if using the Fire TV Stick) or the Google Play Store (if using a Chromecast with Google TV). 
This means that you can make use of screens you've already got hanging around, or you can buy smart ones that have everything you need already included.
2. Pair your screen(s)
Once you've downloaded ScreenCloud, you'll need to sign up for a free trial and then pair your screen(s) with your account.
3. Choose your content
ScreenCloud allows you to upload your files from wherever they're saved. We also support a majority of file types including jpeg, gif, png, and svg, PDFs, powerpoints and Office/iWorks formats to make uploading your content easier.
Even after you've uploaded your content, you can download it again (and any content updated within ScreenCloud) should you need.
In our App Store we have more than 80 apps that will help you to get different content onto your digital screens.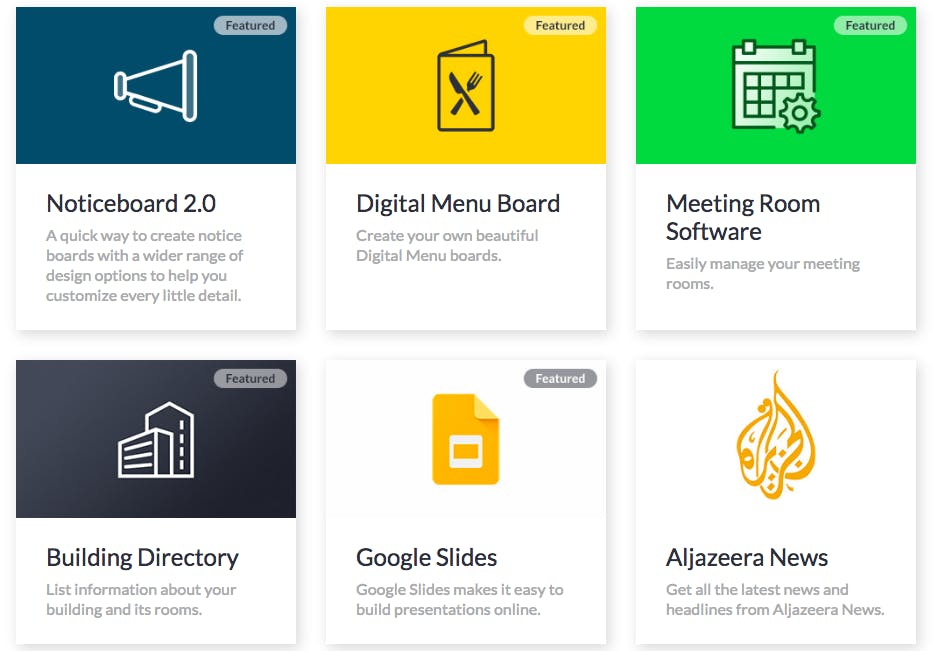 Different types of content includes:
A benefit of ScreenCloud is that you can change this content at any time, and changes will be reflected on your screen in real-time. There is no need to download, edit, reupload and push content to make a change, everything can be done directly within ScreenCloud.
You can also make bulk changes so that the content changes on all of your screens from one edit.
4. Schedule the right content for the right time
If you're running a time-sensitive or seasonal promotion, upload the content once and then set a time/date when you'd like it to show/expire.
This also works well for restaurants and digital menu boards; schedule your breakfast content to show at the right time, and have timely promotions run throughout the day
Playlists help you to organize what shows when; you can learn by checking out our guide to creating the perfect playlist. Once your content is uploaded, you can add it to a playlist and set the order in which it shows and how long it shows for.
Once you've decided on the best playlist for each of your screens, it's time to create a customized schedule for when it will show.
Try out ScreenCloud for free
See whether ScreenCloud is for you with our 14-day free trial (no credit card required), or request a demo to a custom look at how we can work with your business.
FAQs
What is a digital signage content management system (CMS)?

What is "digital signage Software as a Service"?

What is a Smart TV?

What is a tickertape?
Ready to get your organization connected?
Connect your first screen today with our 14-day free trial
articles