Please note, if you are using the older version of ScreenCloud (signage.screencloud.com) you can download the alternative YouTube Live guide here.
The YouTube Live app from ScreenCloud allows you to easily send YouTube Live streams to your digital screens, to share with a bigger audience. This allows more people to watch a YouTube Live feed and makes company broadcasts and live events easier to view and share.
With the ScreenCloud YouTube Live app you can:
Share any YouTube Live video to your digital screen
Stream live broadcasts such as sporting matches or company presentations to a wider audience
Watch YouTube Live videos in portrait or landscape format
Here's how it works:
1. Select and install ScreenCloud's YouTube Live app
1.1. Get started by logging into your ScreenCloud account here and choosing the ScreenCloud App Store from the left-hand menu.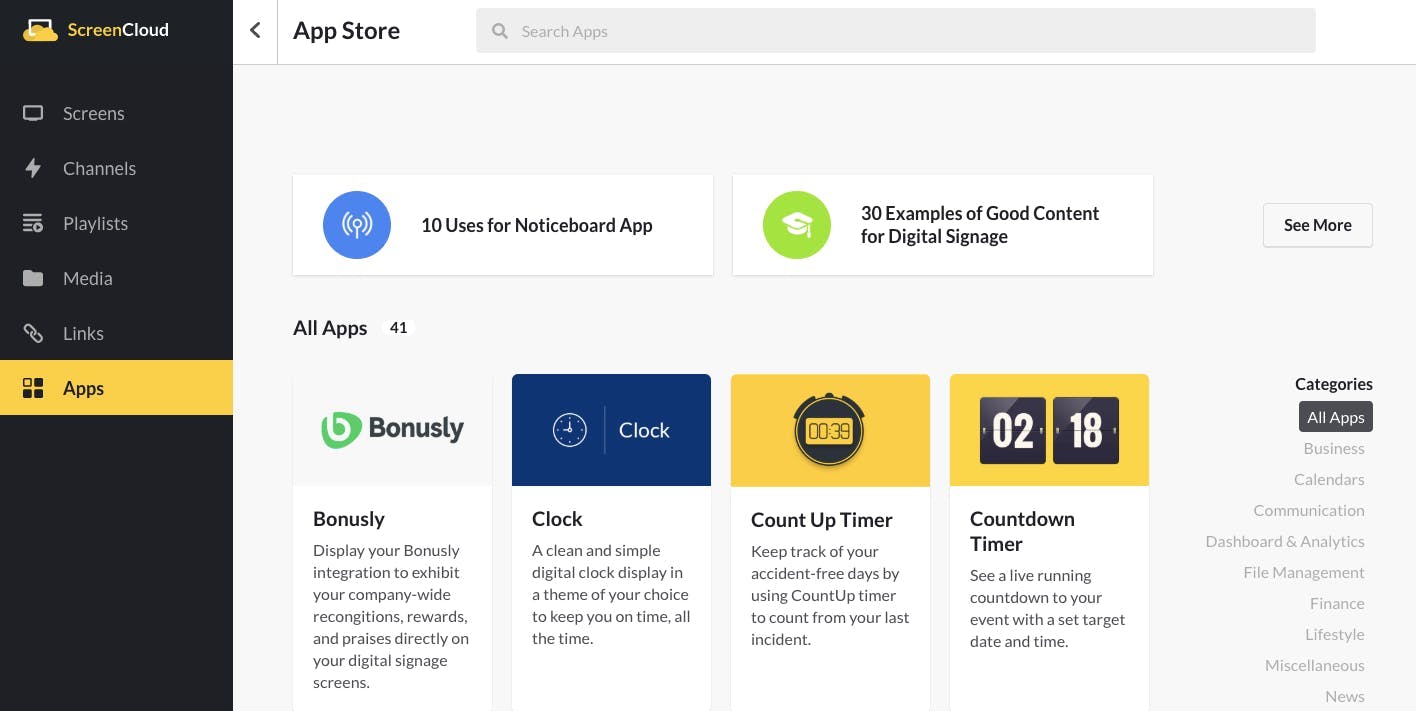 1.2. By searching "YouTube" you can find the YouTube Live app and choose the "Install app" button to add a new instance.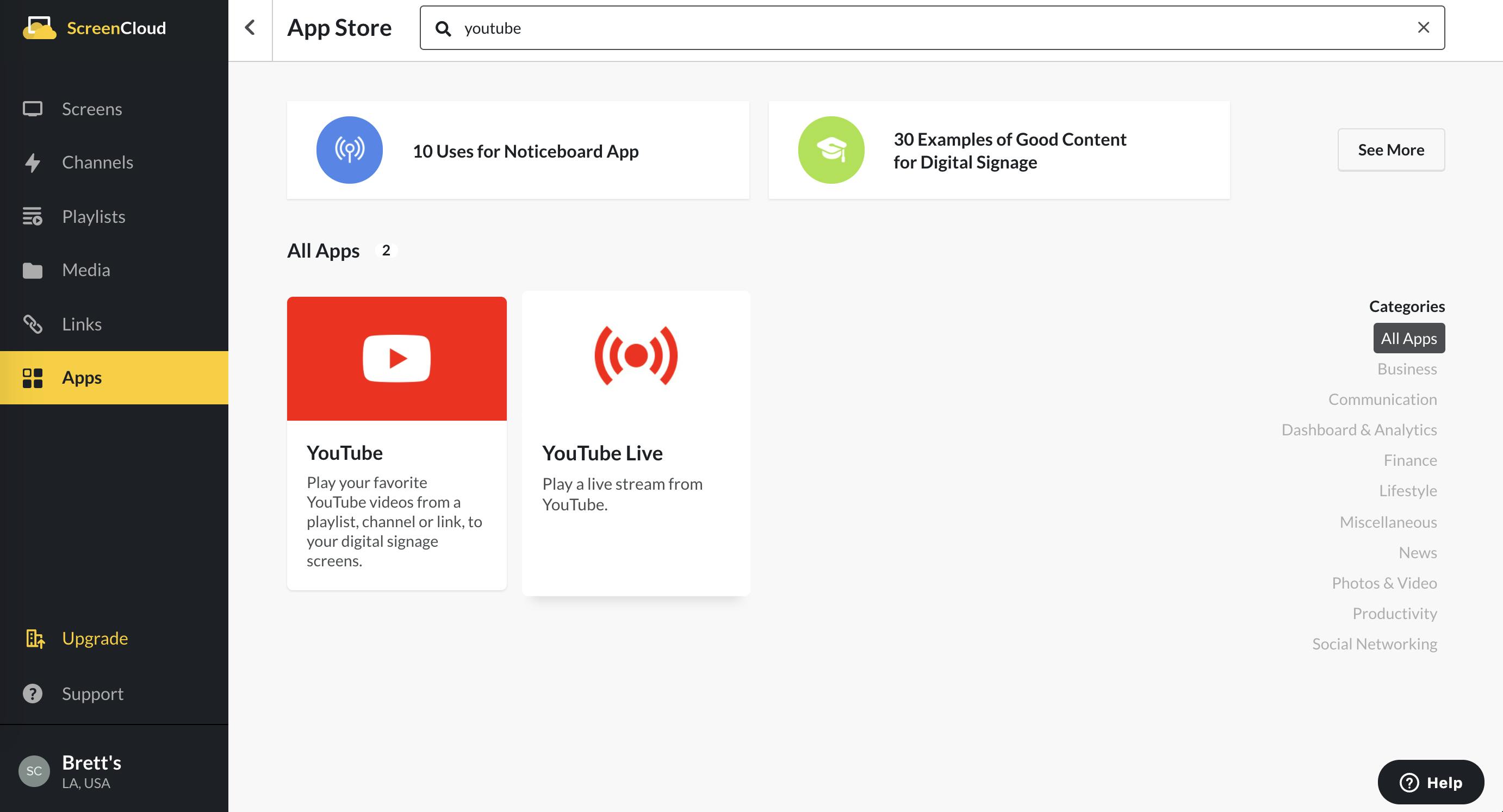 2. Add the YouTube Live video link
2.1. Once your YouTube Live app is open, you can add the link to the YouTube Live video stream in the box shown. You also have the option to mute your video, toggle the subtitles or enable the live stream to repeat once it's finished automatically.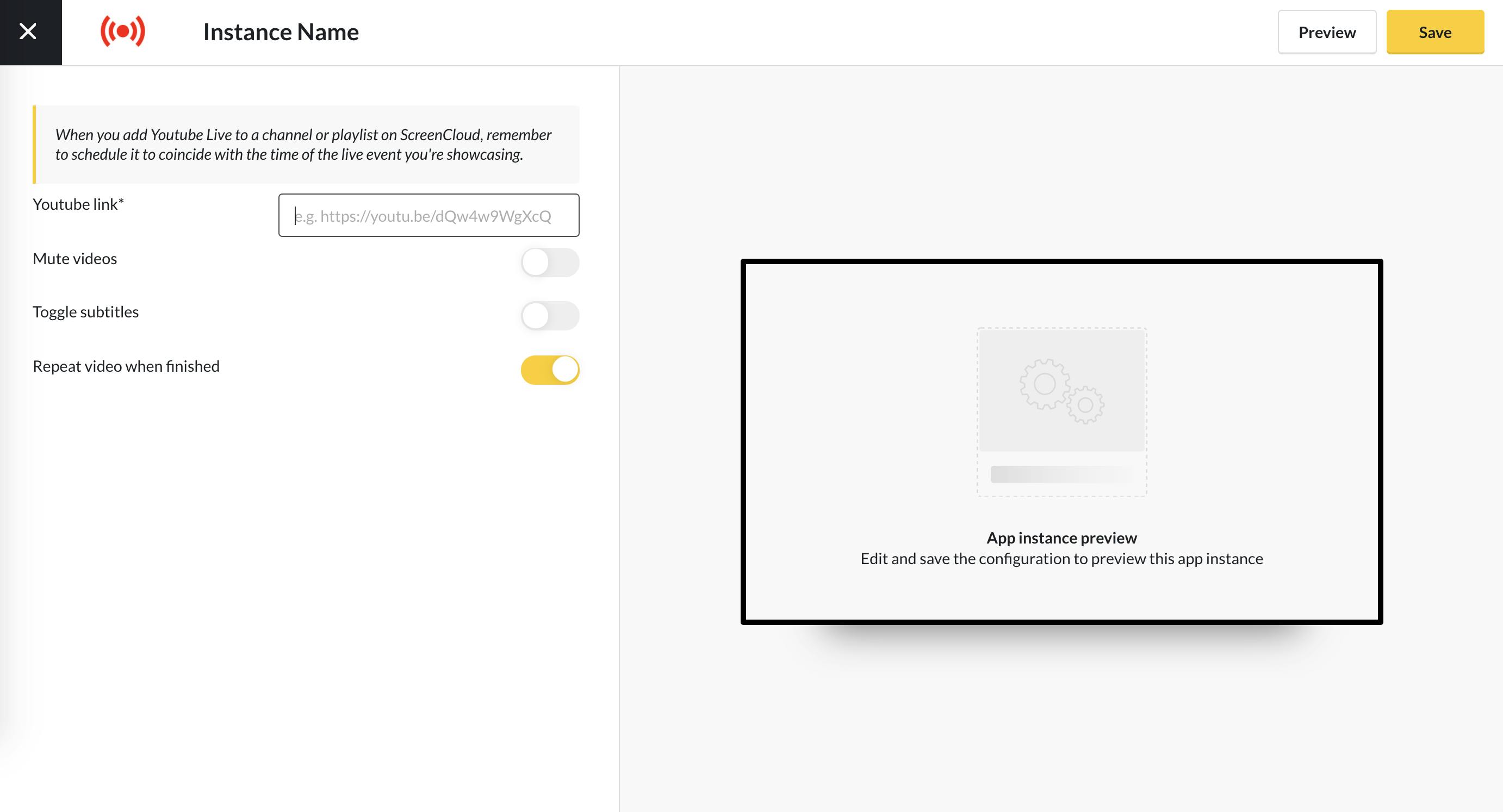 2.2. The link for the live broadcast may be shared in advance by the channel creating the video. If it is your own YouTube Live video, you can find the broadcast link in your YouTube Live dashboard under the "Share" panel.

3. Preview your live stream
Once you've added your Youtube Live app you have the opportunity to preview it before it gets added to your screens.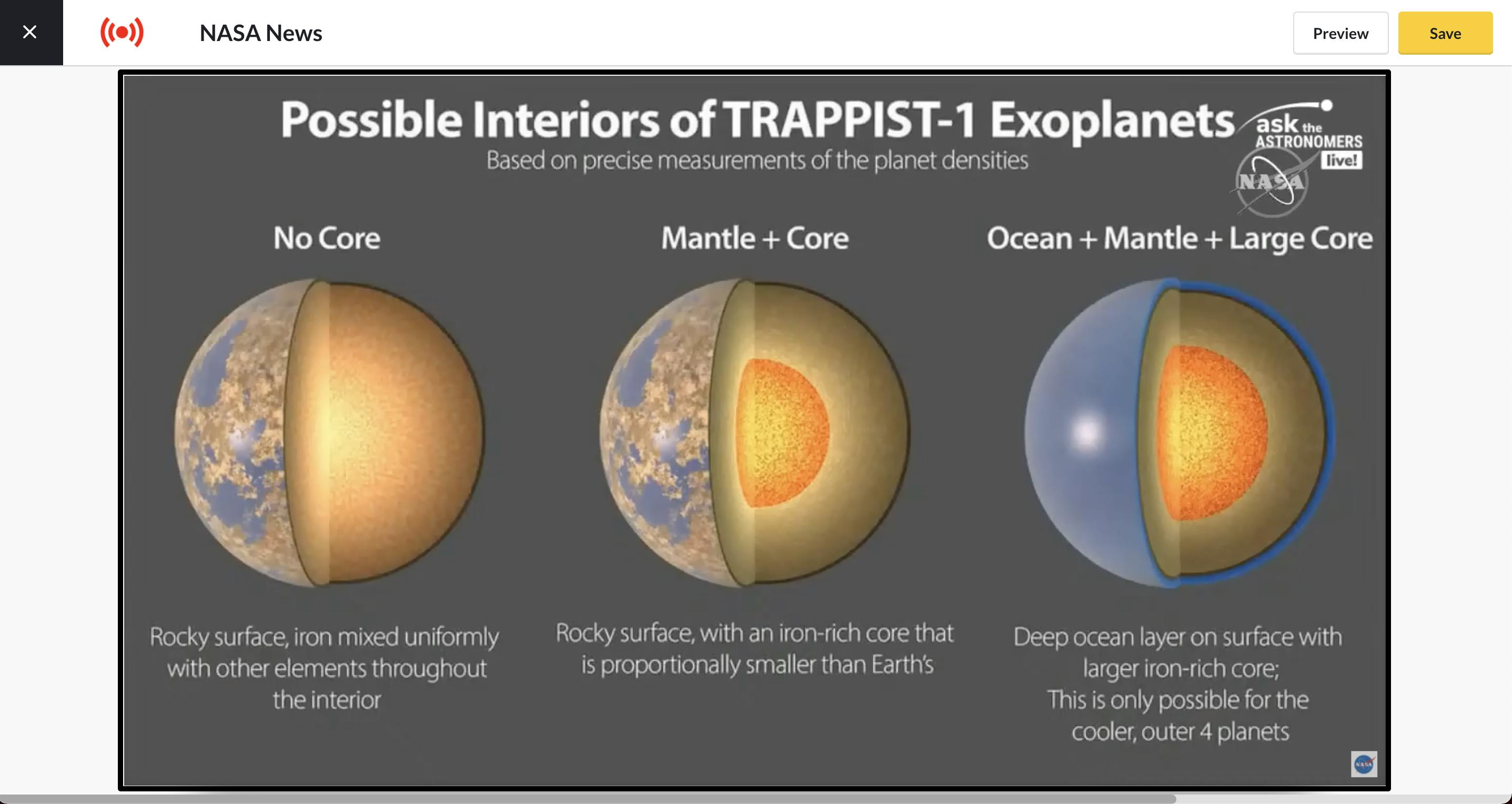 Click 'Preview' and a popup will display your YouTube Live app. Please note, unless the broadcast has started, you will see the chosen cover photo. Once the live stream begins, this will automatically begin to play.
4. Add your YouTube Live video to a Channel or Playlist
Once you have configured your YouTube Live app it can be easily added to a Channel or Playlist to be played on screen.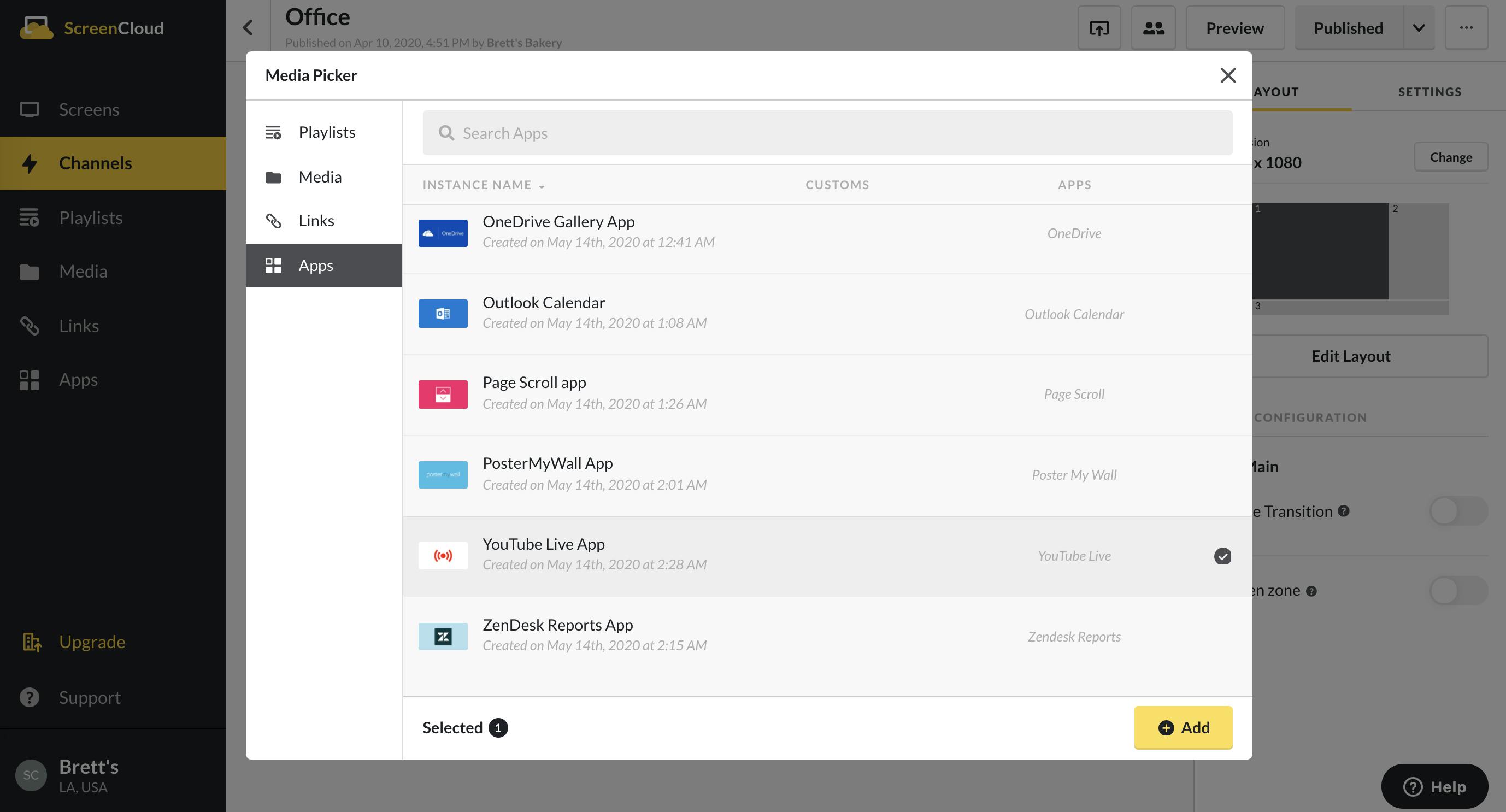 Simply select "Add Content" to open the Media Picker and under Apps, you will see all of your app instances, ready to be installed. You can also view ways you can set content on your digital screens using ScreenCloud by clicking here.
Frequently asked questions
My YouTube Live video isn't playing, how can I fix this?
Please check the link is entered correctly and that the video is Live on the channel. Additionally, we advise checking if there are any restrictions for sharing the link on third-party sites or if the owner has since disabled the link since it was posted live.
What does it mean when it says "doesn't allow playback on other websites"?
To enable your live broadcast to be played through ScreenCloud you may need to enable your account so that you can embed YouTube on other websites and players.
To do this, sign in to the YouTube account that you wish to stream from. Then visit http://www.youtube.com/features and ensure "Live Streaming" and "Embed live streams" are both set to "enabled".
If you are using a company YouTube account you will also need to select "Enable" on "Monetization".
Can I use YouTube Live as part of a zoned digital signage display?
Yes, when setting up a zoned display you will see the option to "Add App". Any YouTube  Live streams you have created will be found in this list. YouTube Live does not work in a ticker-tape zone layout.
How long will the YouTube Live video play for?
You will need to block out the time in your schedule with the YouTube Live broadcast app, for as long as you think the live broadcast will play. If you do not block out enough time, the playlist will automatically move onto the next piece of content at the end of the allocated time.
For further questions, please contact support@screencloud.com with details.