Publish content to your screens directly from Microsoft Teams
Learn More


Product
ScreenCloud YouTube App Guide
The easiest way to play a stream of YouTube videos.
Please note, if you're using the older version of ScreenCloud (signage.screencloud.com) you can download the alternative YouTube app guide here.
ScreenCloud's YouTube app allows you to easily stream your videos to your screens. It's the perfect way to promote, teach, or entertain. You can play a playlist on loop and share individual videos, including those that are unlisted from your own channel.
With the ScreenCloud YouTube app you can:
Select a video or playlist to play
Mute or add subtitles to videos
Showcase a selection of media and YouTube video content
Here's how it works:
1. Select and install ScreenCloud's YouTube app
1.1. Sign in your existing ScreenCloud account and visit the App Store from the left-hand menu.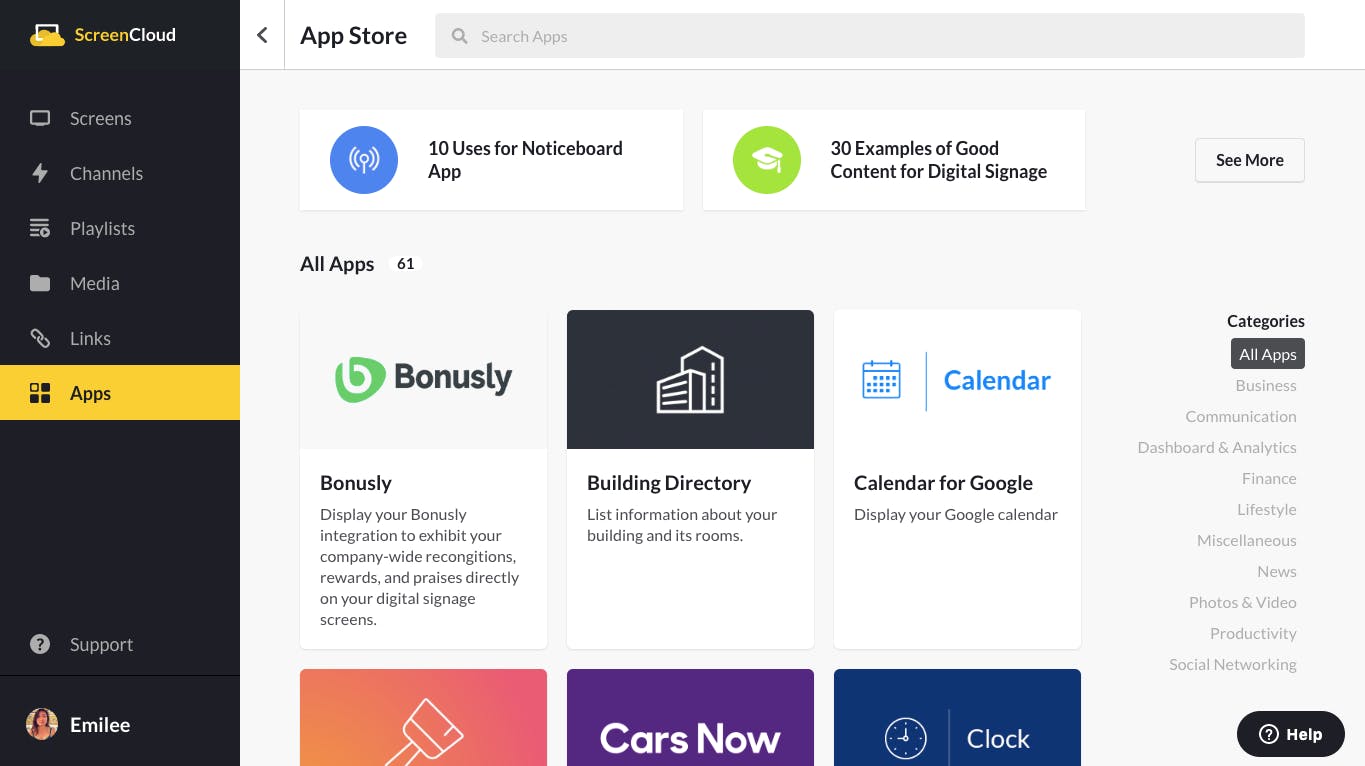 1.2. By searching "youtube" you'll see there are two different YouTube apps. The app simply named "YouTube" allows you to display videos on screen, whereas "YouTube Live" enables you to play only live videos on screen. Select the YouTube app and click "Install App" to create a new instance.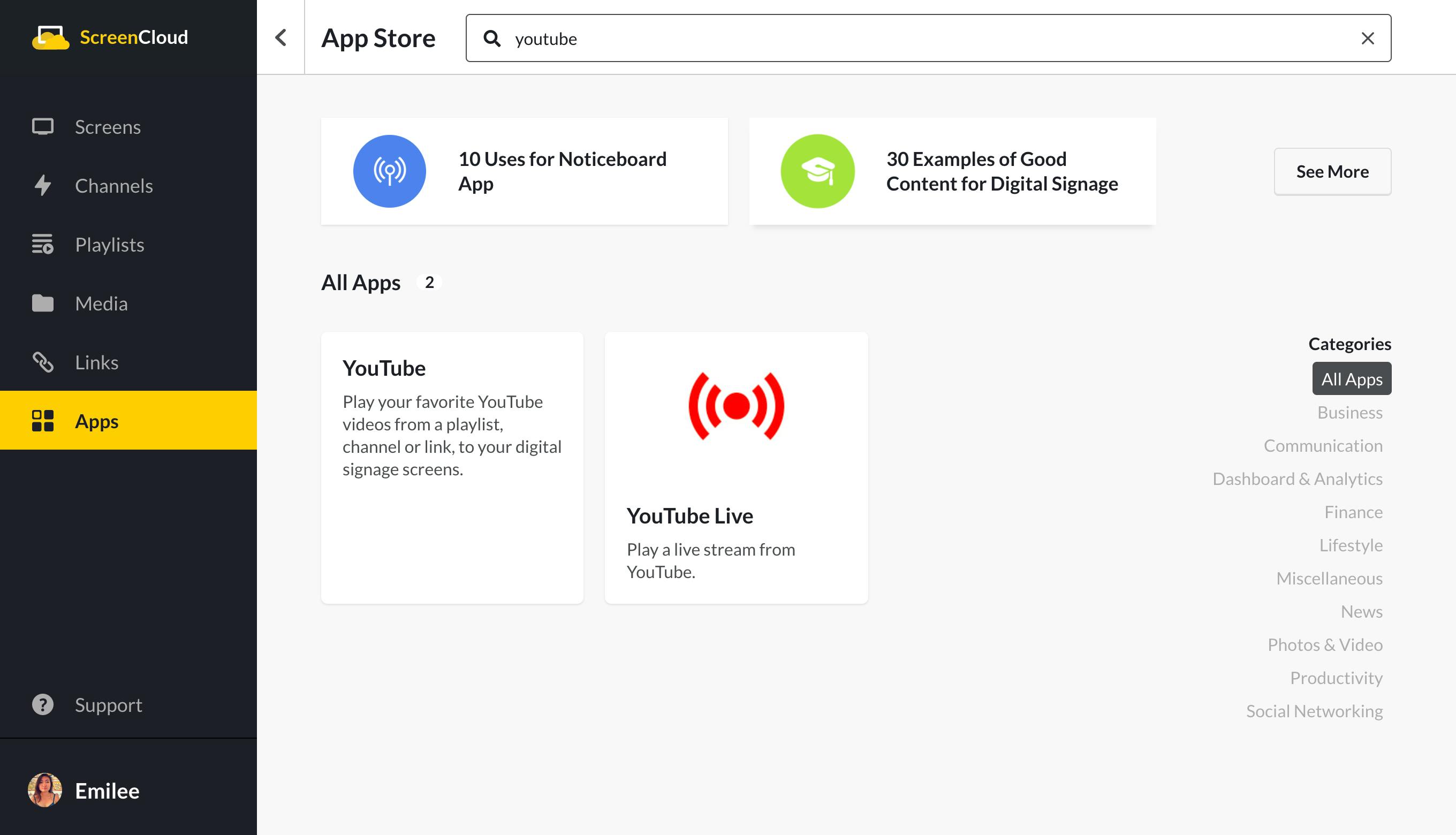 2. Choose your YouTube settings
After the app is installed, you'll be directed to a settings panel where you can create and modify an instance of the YouTube app.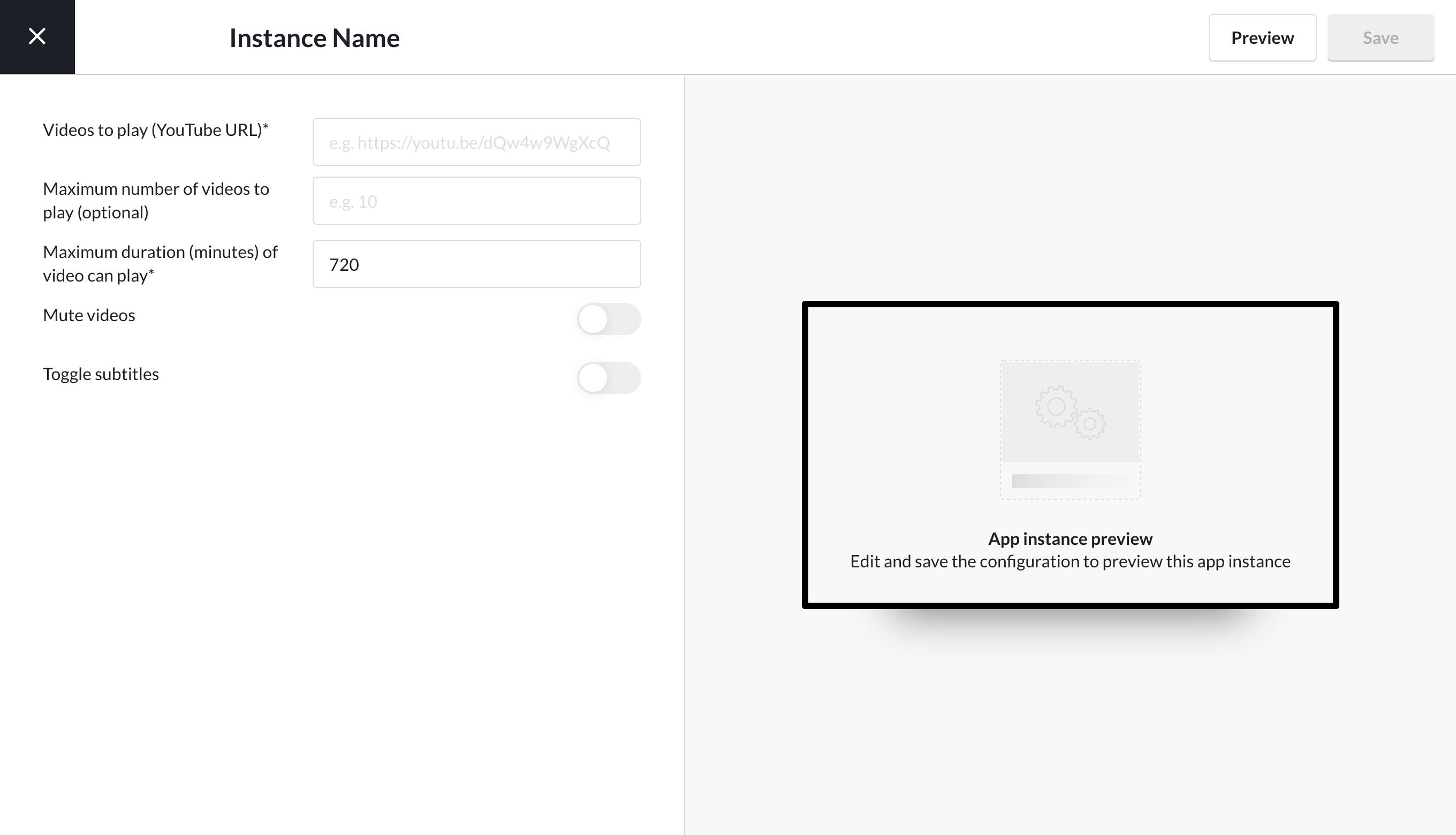 2.1. Select the YouTube video content to show
The "Videos to play (YouTube URL)" option enables you to add the URL of an individual video or of a playlist you want to show. 
Please note, YouTube has made a change to their playlist URL format as of the end of 2018. To grab the correct link for your playlist URL, please follow the steps below: 
(i) Visit the YouTube Playlist you'd like to use, this is a static page that will show thumbnails for all videos and playlists (see below for an example). Click on the "Play All" button.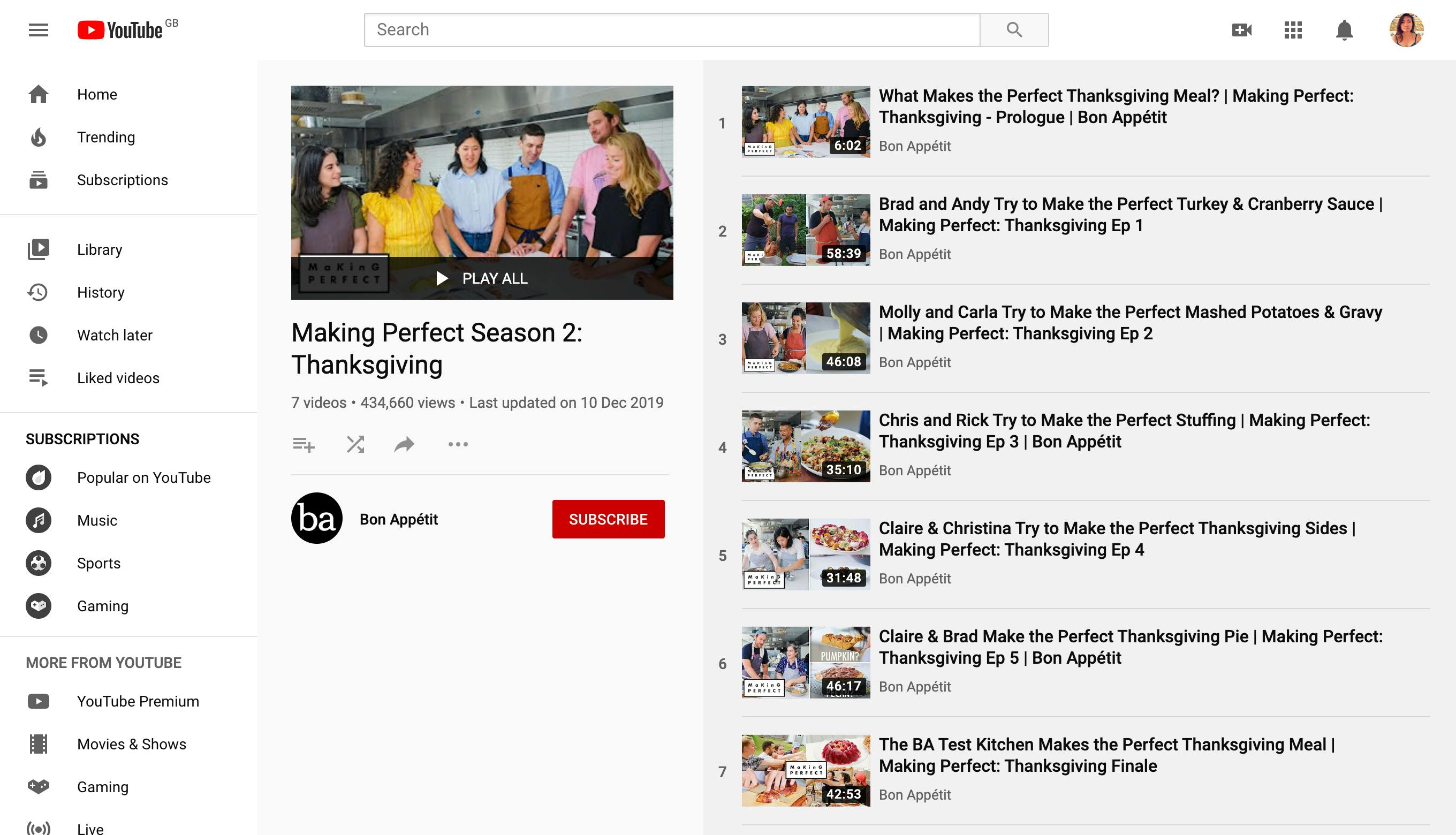 (ii) You're now brought to a YouTube video player that will start to cycle through videos for your playlist. To the right of the YouTube player, right-click the title of the YouTube playlist, and click on "Copy Link Address".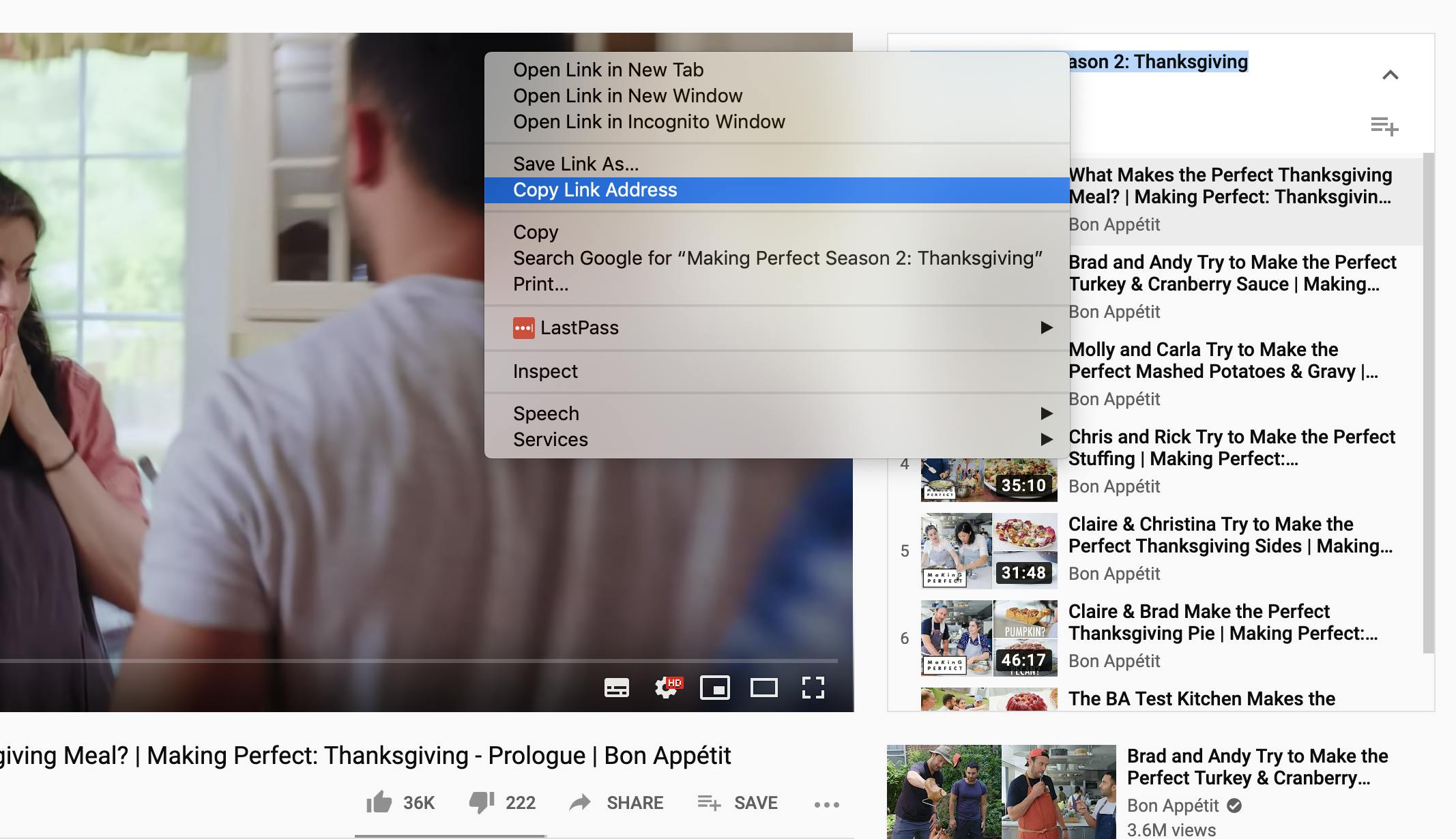 The URL you've copied will look like this example: 
https://www.youtube.com/playlist?list=PLKtIunYVkv_T3sCgXqCUhVq3jFsZhe15p
(iii) Grab the end code of your playlist URL, which is your playlist ID, and plug it into the updated video series format provided for you below:
https://www.youtube.com/embed/videoseries?list=[your playlist ID goes here]
For instance: 
This https://www.youtube.com/playlist?list=PLKtIunYVkv_T3sCgXqCUhVq3jFsZhe15p 
should be this: 
https://www.youtube.com/embed/videoseries?list=PLKtIunYVkv_T3sCgXqCUhVq3jFsZhe15p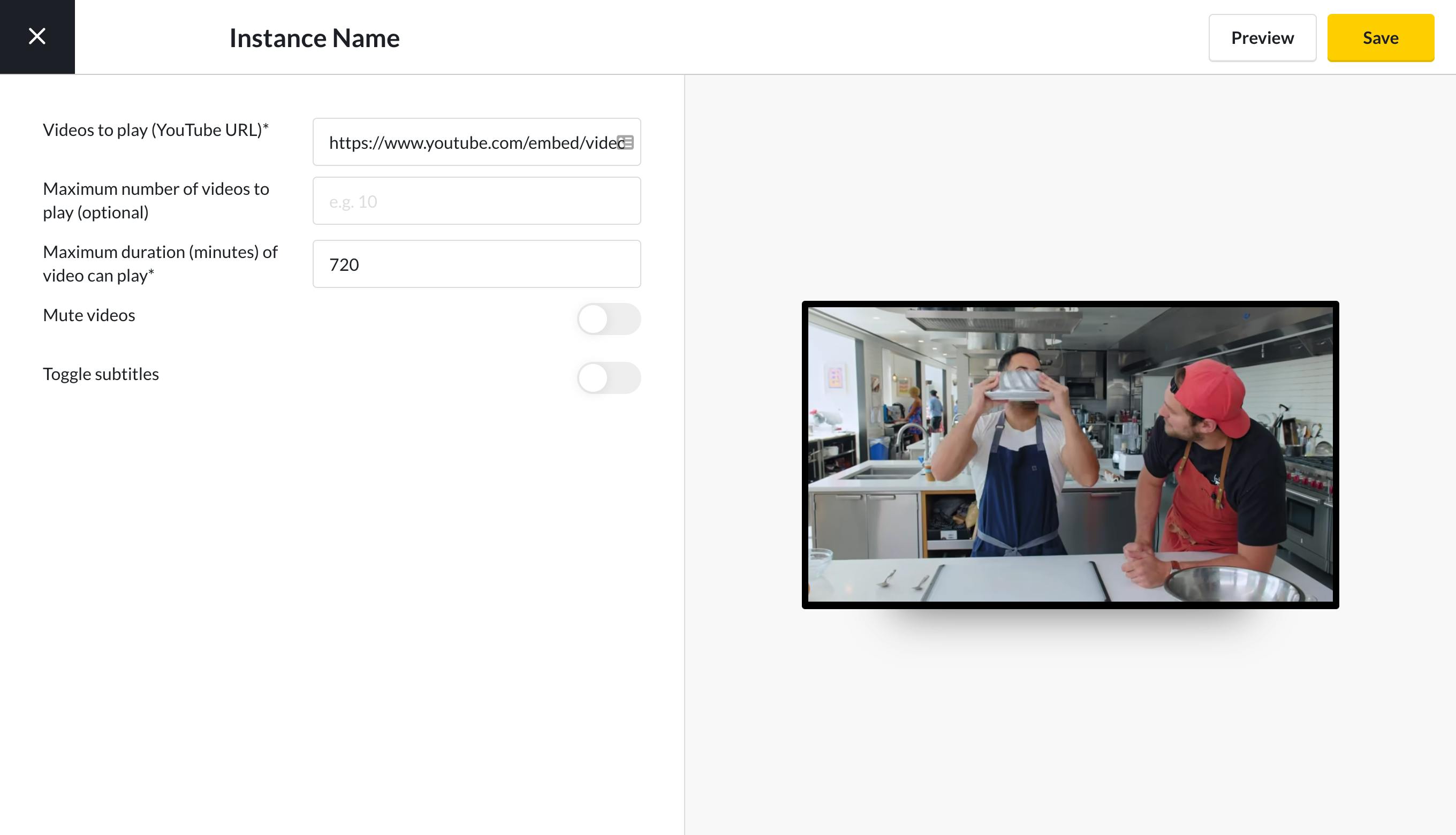 2.2. Other settings
Once you've selected what video content to show, you have a few additional settings to personalize. 
You can choose a name for your selection by editing "Instance Name" (for example, "YouTube - Cooking show"). This will help you spot it later if you're using more than one YouTube app stream. You can set the maximum number of videos to play and maximum duration (in minutes) for each video. You can also choose to mute or toggle subtitles for your video.
Please note: Subtitles will only appear if the video from YouTube has a transcription file attached. YouTube can auto-generate captions for videos while being displayed on YouTube's site. However, on third-party sites subtitles won't show if the video wasn't uploaded with a caption (transcription) file. If you have control of the video upload on YouTube, we'd recommend adding or checking if the video has a transcription attached. You can learn more about this via YouTube's help center.
4. Preview your results
After you've completed your video settings, you can preview the YouTube app before adding it to a Playlist or Channel. This helps you determine that the right video content is playing and in the right order. Simply hit "Preview".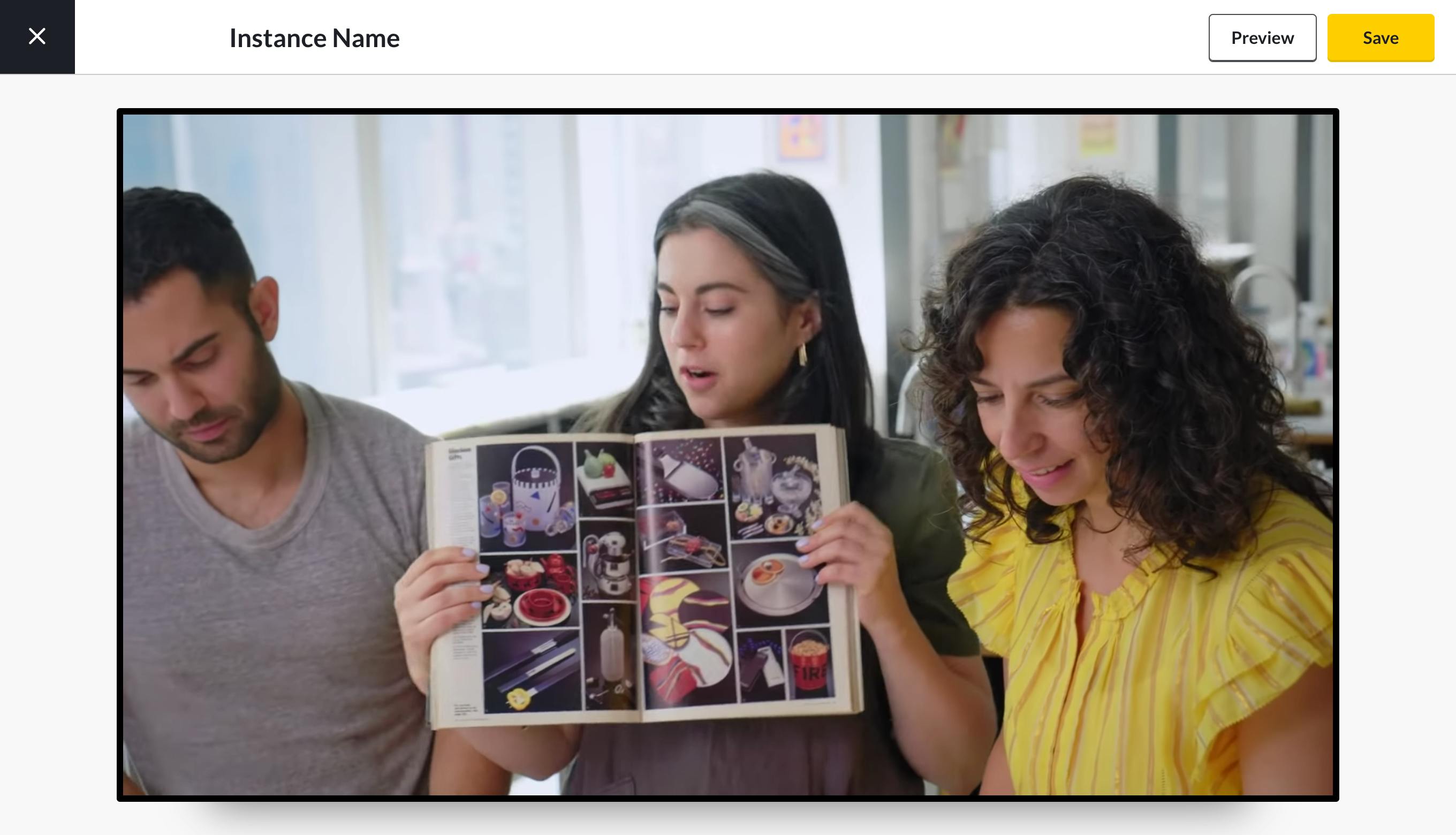 5. Add your YouTube stream to a Channel
Once you're happy with your YouTube settings, you can add the video selection to one of your ScreenCloud Channels. Check out the quick guide below.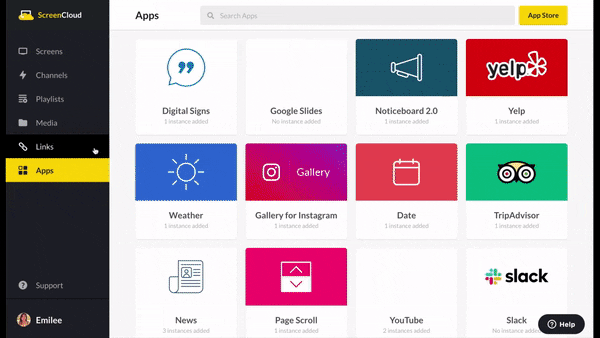 Frequently asked questions:
I can't find the correct video - what should I do?
Please test that you have the correct URL or playlist URL in your browser before entering it into your playlist. Remember, if the channel owner changes the playlist or URL, you'll need to change it in ScreenCloud too.
The subtitles aren't showing on my video
When no subtitles show even when you have subtitles set to "on", this is because those videos don't have captions added to them but were auto-generated by YouTube. To ensure subtitles in your digital signage display, the uploader of the video would need to create captions/add the transcription to the video so that they can be displayed on a screen.
Will the ScreenCloud YouTube app cache videos or my stream?
YouTube videos are streamed rather than cached. 
Can I use YouTube as part of a zoned digital signage display?
Yes, but only in the main zone. As we explain here, this prevents two videos from playing at the same time as this wouldn't provide the best user experience. 
How are the YouTube videos ordered?
The YouTube videos are ordered according to the same rules as on YouTube if you're using a playlist and will be shown in the same order as you would see on the site.
How long will the videos play for?
Each video will play for the full duration if allowed, however this will depend on the total time duration you've allowed in your YouTube app settings. This can be edited in the "Maximum duration (minutes) of video can play" option. If no maximum time is set, the videos will play until the end of the playlist.
Can I skip or remove a video from the playlist?
This isn't currently supported but it's something we'll look to implement in the future.
For further questions please contact support@screencloud.com with details.   
Ready to get your organization connected?
Connect your first screen today with our 14-day free trial