Walls.io is a paid-for third-party app integration; to use it with ScreenCloud, you must first create an account at walls.io.
Digital technologies' journey through the last decade has taken social media from a communications medium to dynamic conglomerates. The days of keeping to Facebook statuses or a recent meal shared to an Instagram page are met with opportunities for marketing ads, business development, and brand storytelling for building connections.
According to a survey conducted by Hootsuite, 11,000 marketers reported in November 2020 for prospective social media trends into 2021 identified to help with ROI and engagement. Following this survey, Influencer Marketing Hub similarly discussed that social media will expand through targeted advertising, storefronts, and an e-commerce-shift for new customer acquisitions into the new year.
The importance of developing an online presence and campaigning social media is vital - a quick solution such as social walls can help as a resource for companies to easily collate priority content to display for their communities or teams. With ScreenCloud's Walls.io App, you can collect, curate, and showcase user-generated content from various social media platforms or allow your audience to post directly on the wall. Walls.io allows you to easily aggregate user-generated content as a customized social feed on your digital screens or intranet. 
You can use ScreenCloud's Walls.io App for:
Collecting, curating, and displaying a collection of media from 14 social media platforms on screen
Let your audience upload content directly to the wall
Customizing, styling, and branding your social walls
Embedding a virtual social wall of events, updates, and posts
Here's how it works:
1. Select and install ScreenCloud's Walls.io App
1.1. Get started by logging into your ScreenCloud account here and choosing the ScreenCloud App Store from the left-hand menu.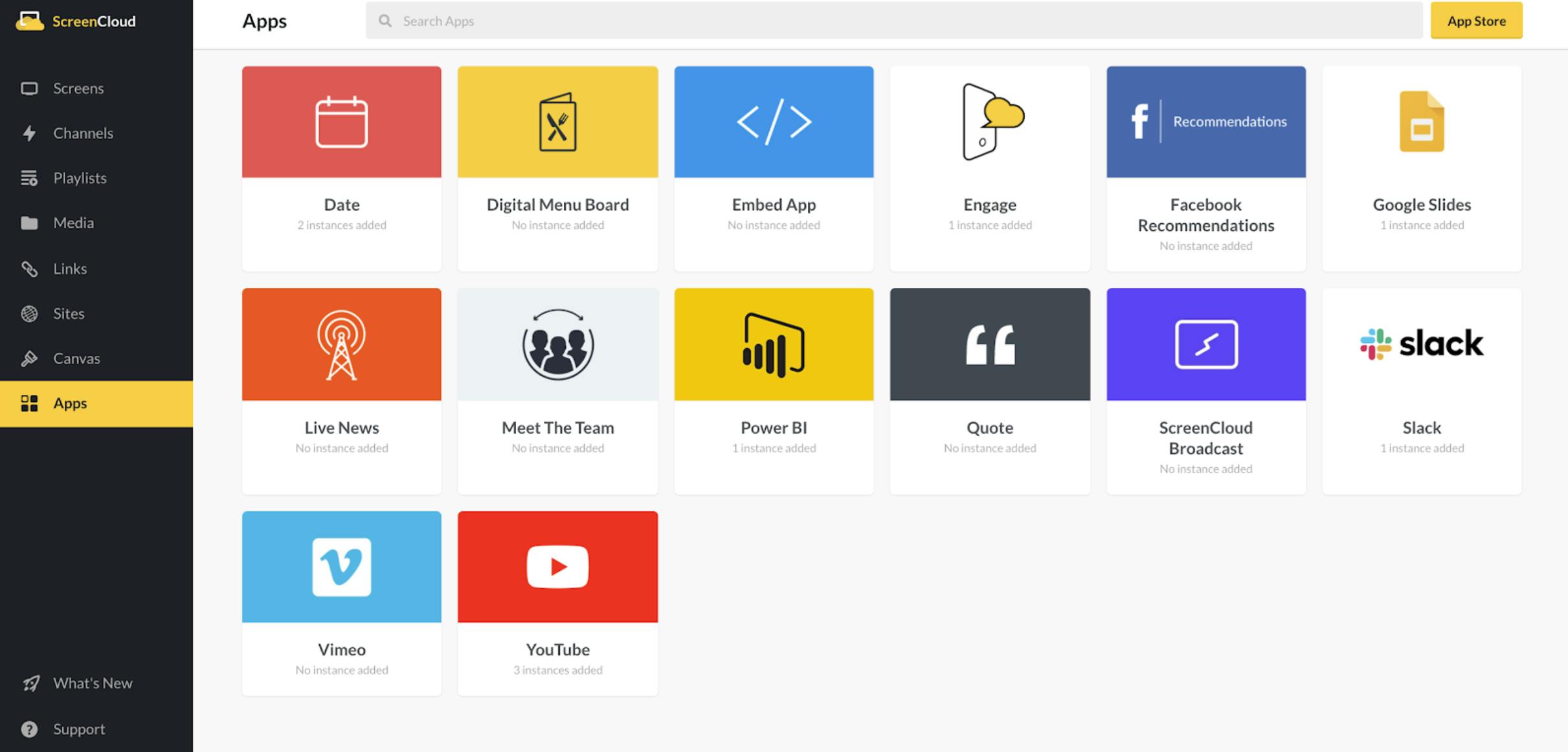 1.2. From the App Store, type in "Walls.io" in the search bar to populate the Walls.io App.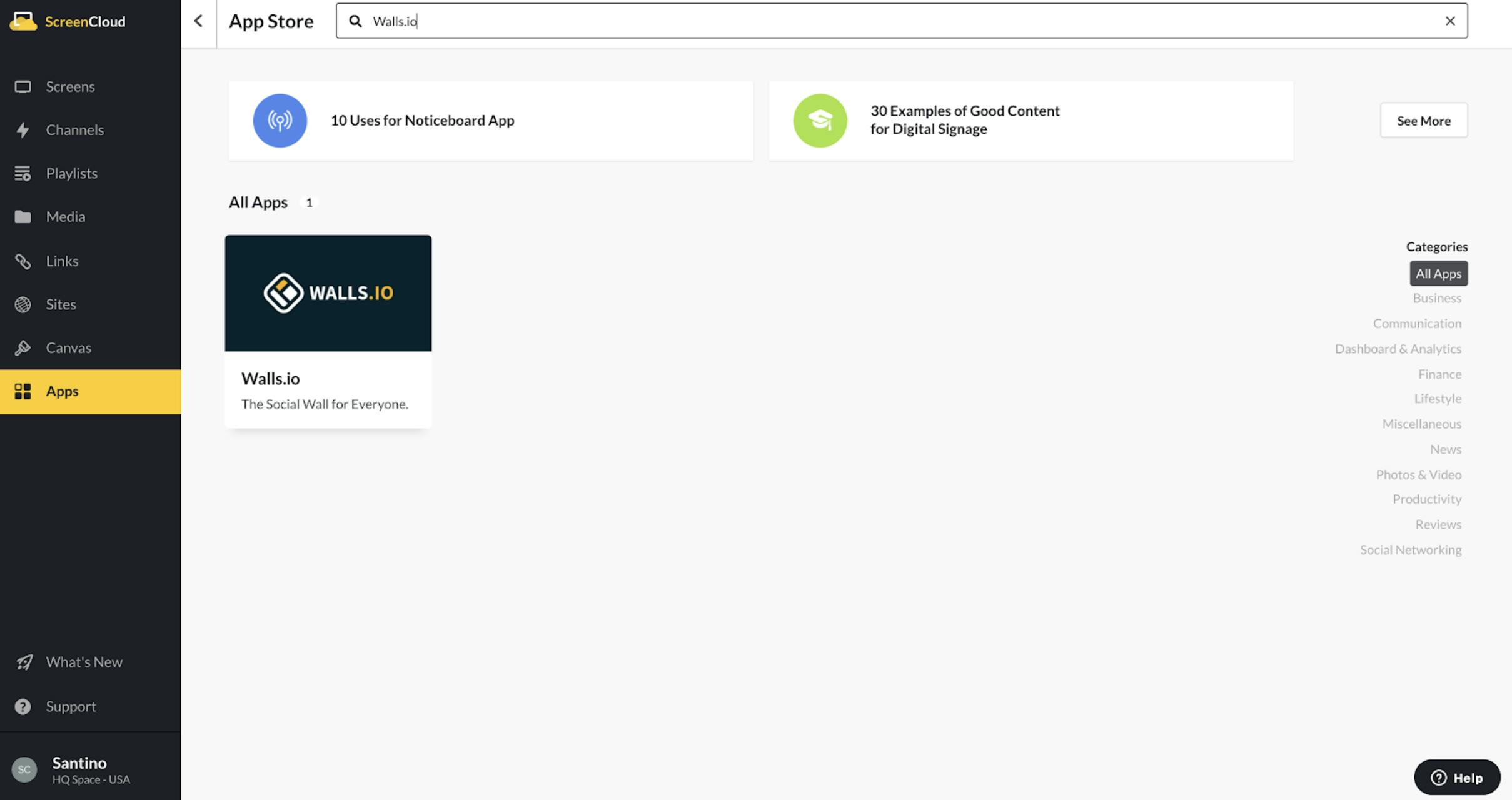 1.3. Click on the app, then select the yellow "Install App" button to open the configuration window for Walls.io.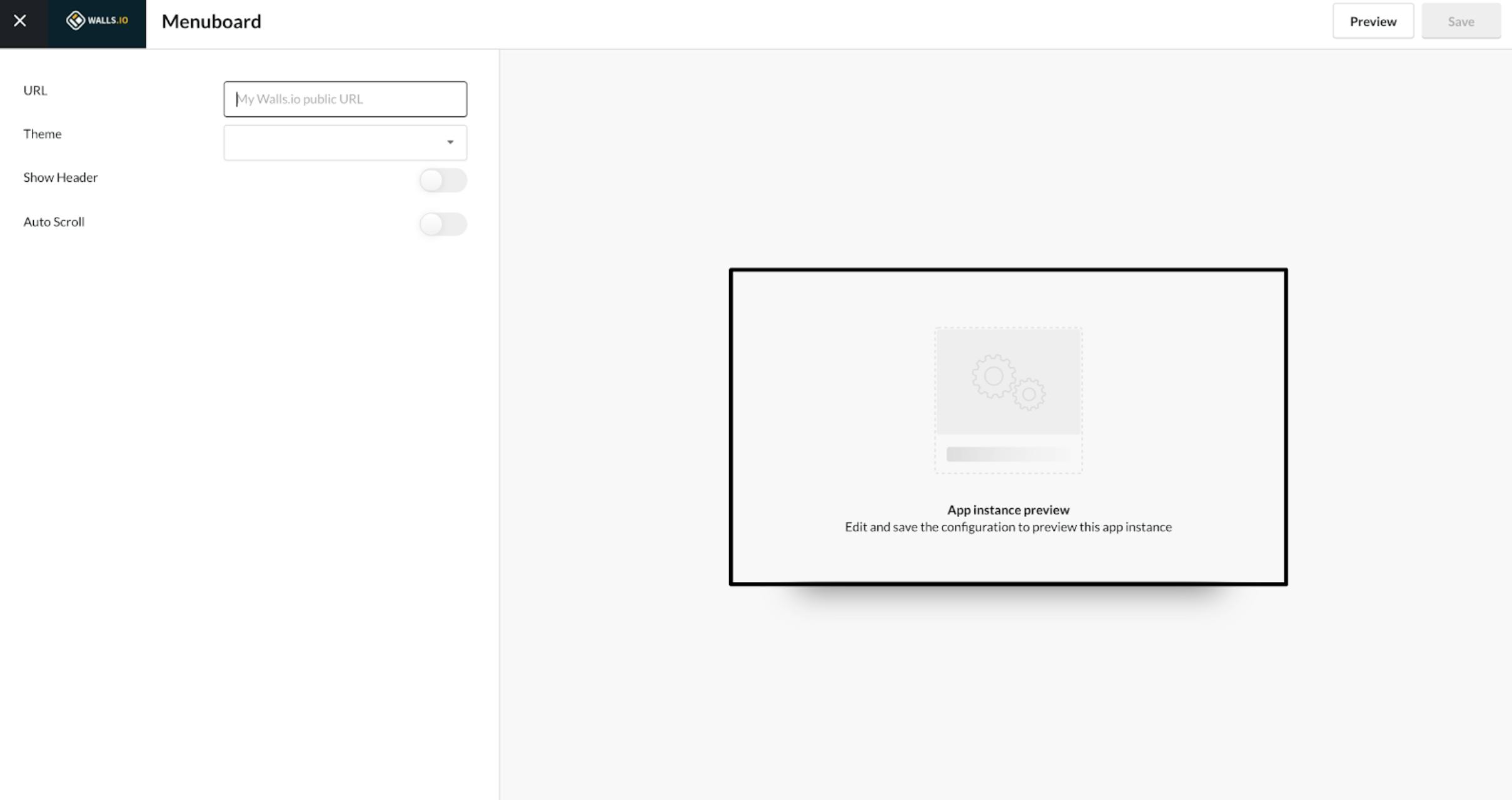 You can type in a name for your app to easily find it later from your managed apps. You can then share the link or URL for your social wall into the "URL" bar, or follow the instructions in step 2 for creating social walls.
2. Customize a social wall on Walls.io
2.1. Next, you can log into your Walls.io account to create and manage your social walls. You can visit the Walls.io Help Center by clicking here for instructions on creating a social wall. Please note, Walls.io is a third-party website for using an embedded social wall. There is a free plan available for use to display social walls with digital signage.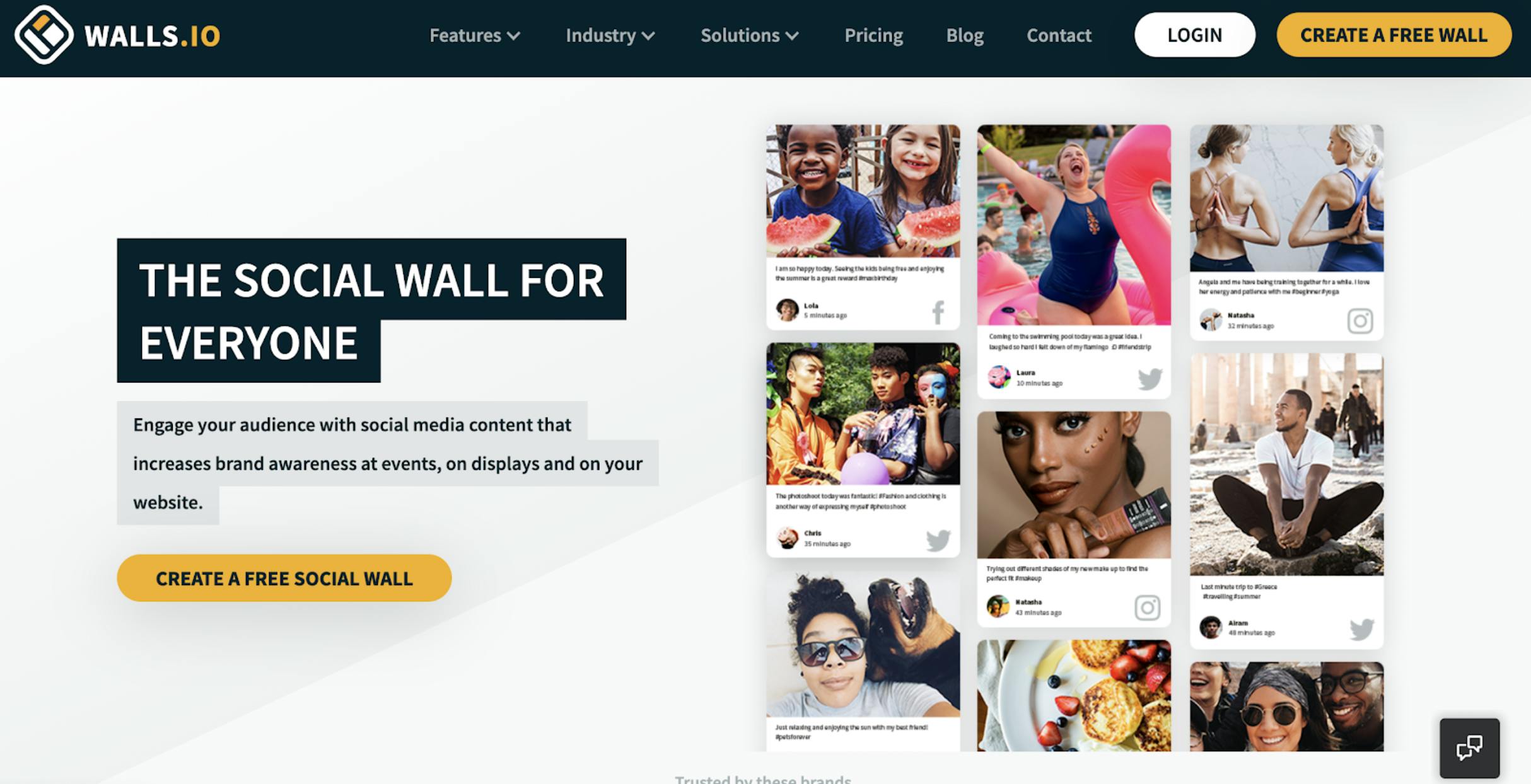 2.2. Walls.io works by simply sharing the public-facing link available for the social walls created in your account. This can be accessed from your Walls.io dashboard, here is an example below as this is the link you can copy and paste into the app configuration for ScreenCloud.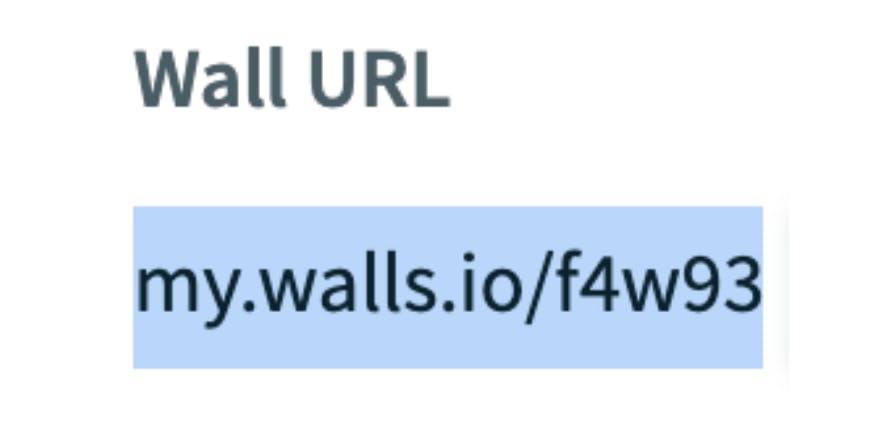 3. Add your Walls.io social wall link into ScreenCloud
3.1. Once your dashboard link is copied, please visit your Walls.io app console in ScreenCloud and paste it.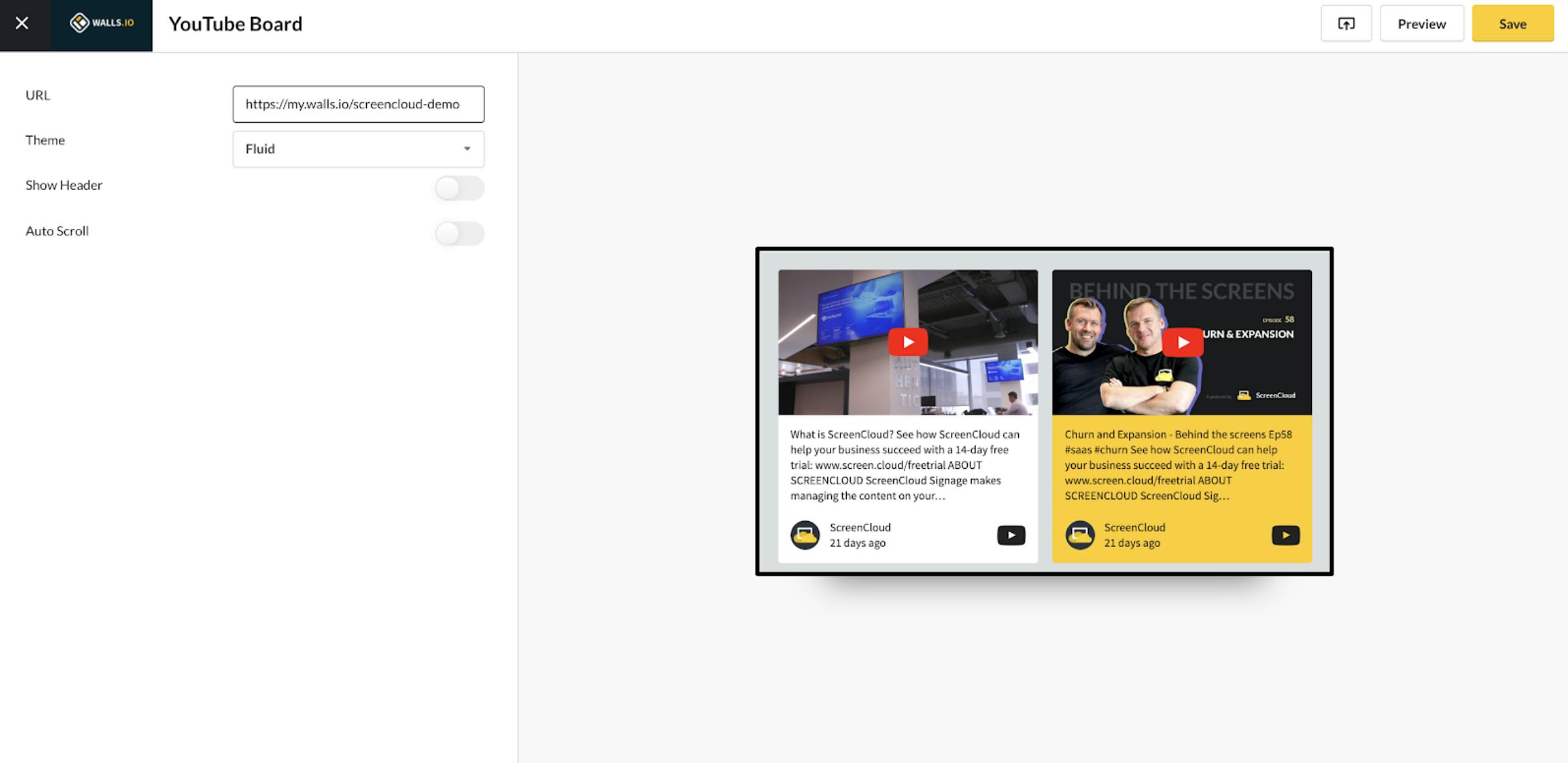 3.2. You can start to configure your Walls.io display using the following settings:
i) Theme: this allows you to choose design elements from the drop-down menu to show how your content appears. For example, the following screenshot displays how the "Bricks" theme would make the social wall display in a different template. Learn more about the themes available in Walls.io.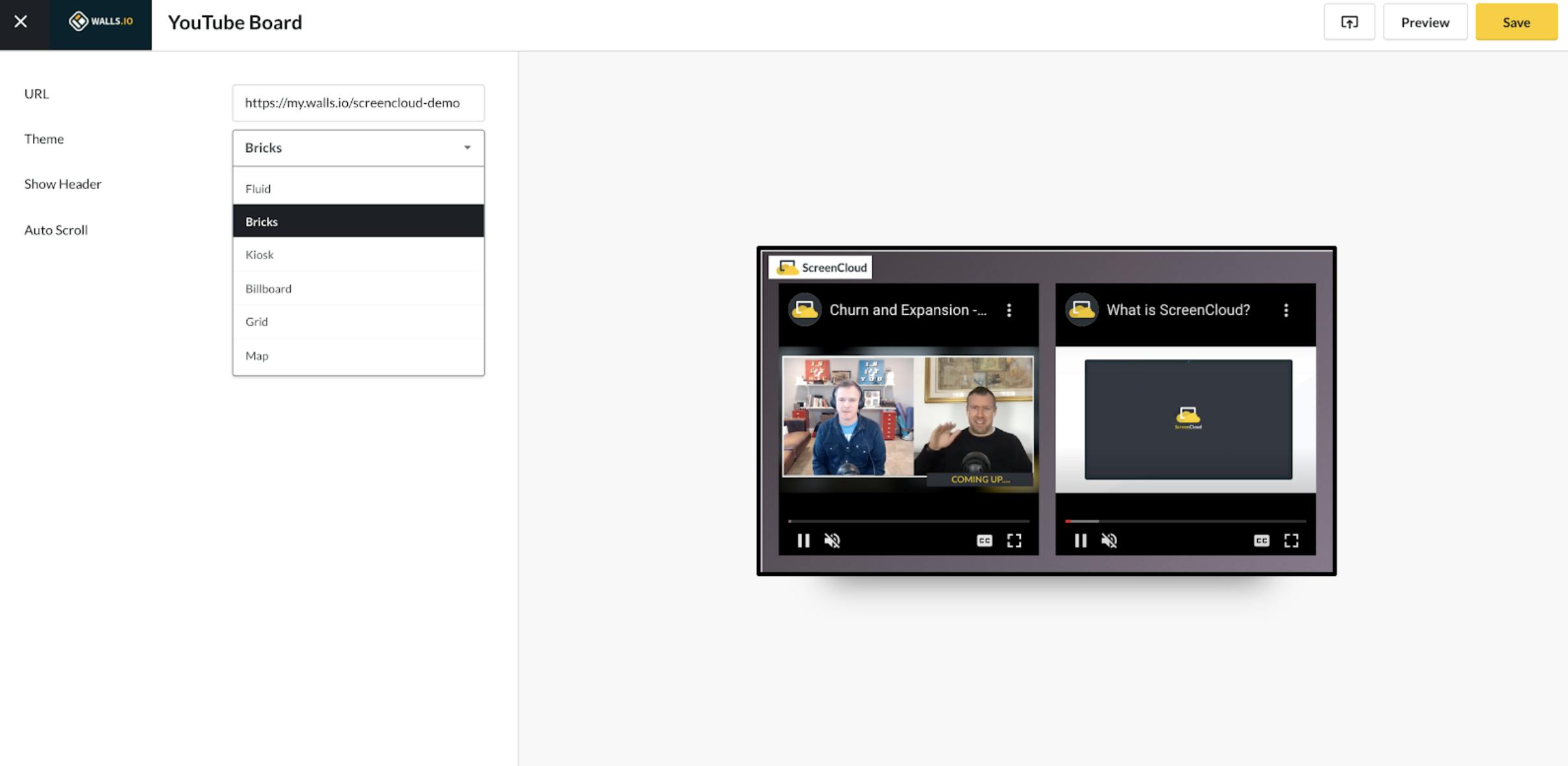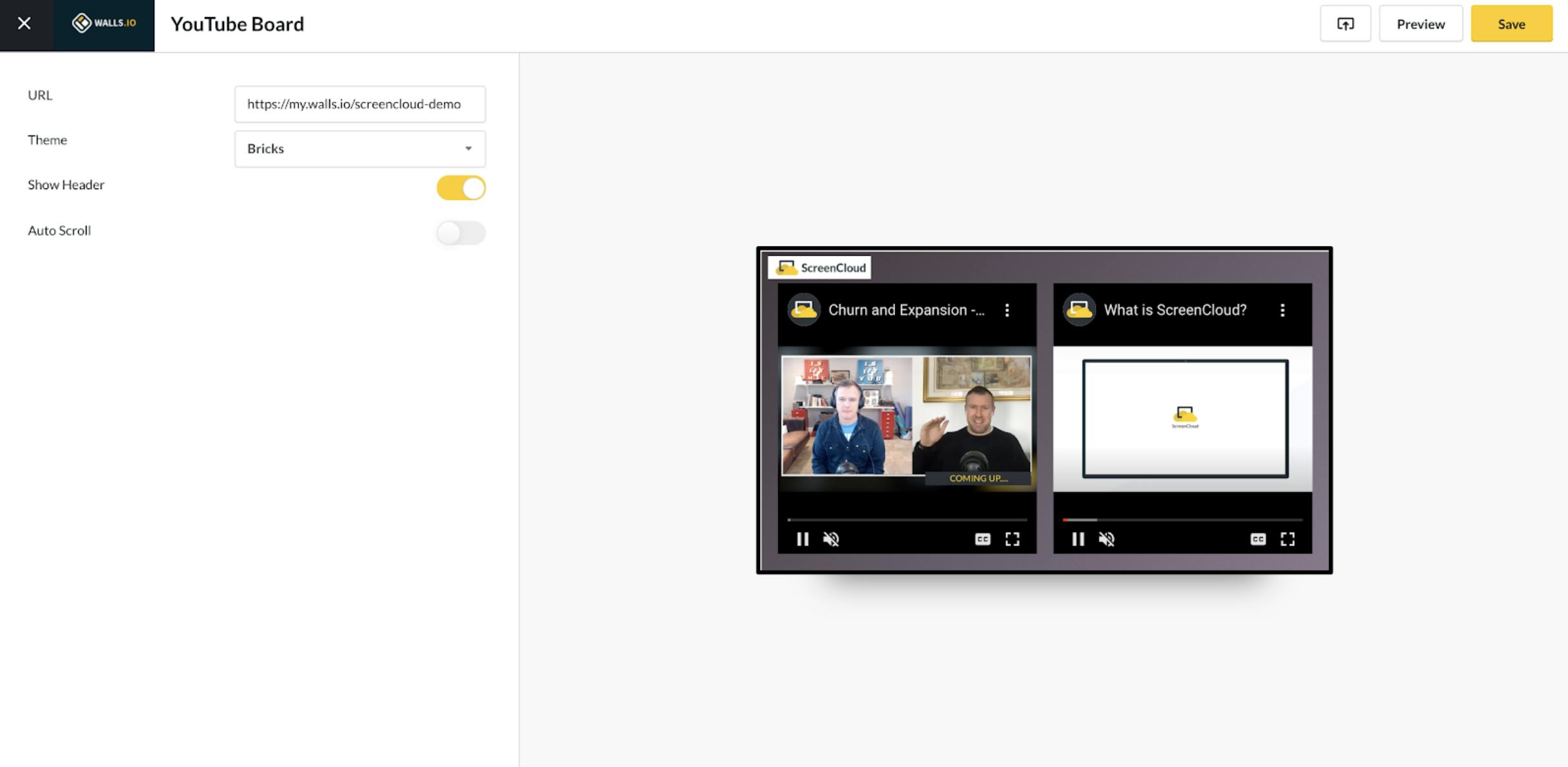 ii) Show header: you can activate a header for your branding and logo.
iii) Auto-Scroll: you can activate auto-scroll for the page to dynamically display different content or scroll through your posts. Please note, auto-scroll only works for the fluid and grid theme at this time as a feature through Walls.io.
4. Preview your Walls.io App
4.1. Once you're done editing and customizing your Walls.io settings, you can select Save to add the Instance to your Apps panel.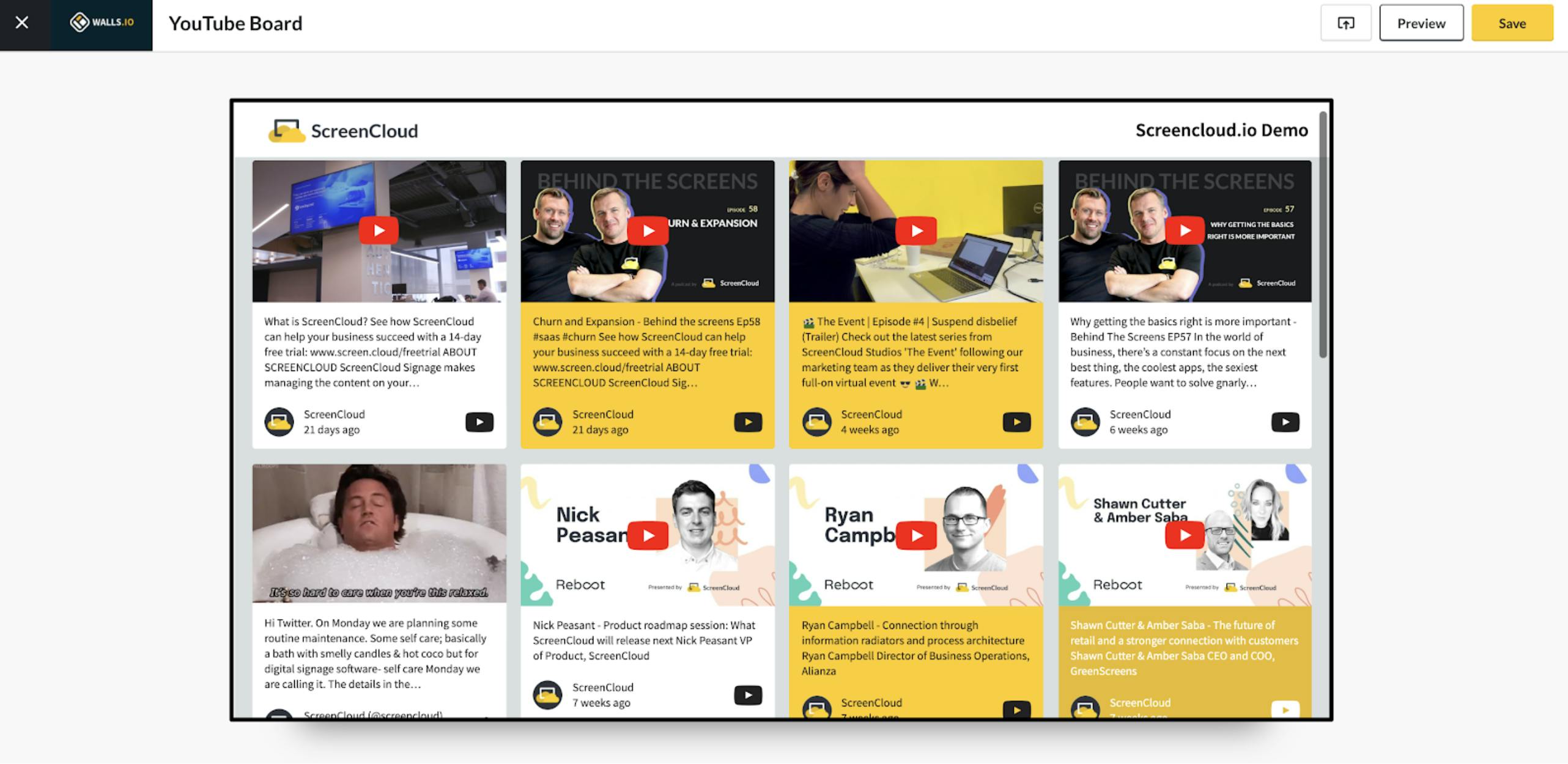 Once saved, the "Preview" button in the upper-right hand corner lets you view an enlarged preview of your Walls.io App.
5. Save and add your Walls.io App instance into your account
5.1. Once you're happy with the final version of your Walls.io instance, your app instance will appear in your installed apps. Please note, you can click on "New Instance" at any time and add more Walls.io links.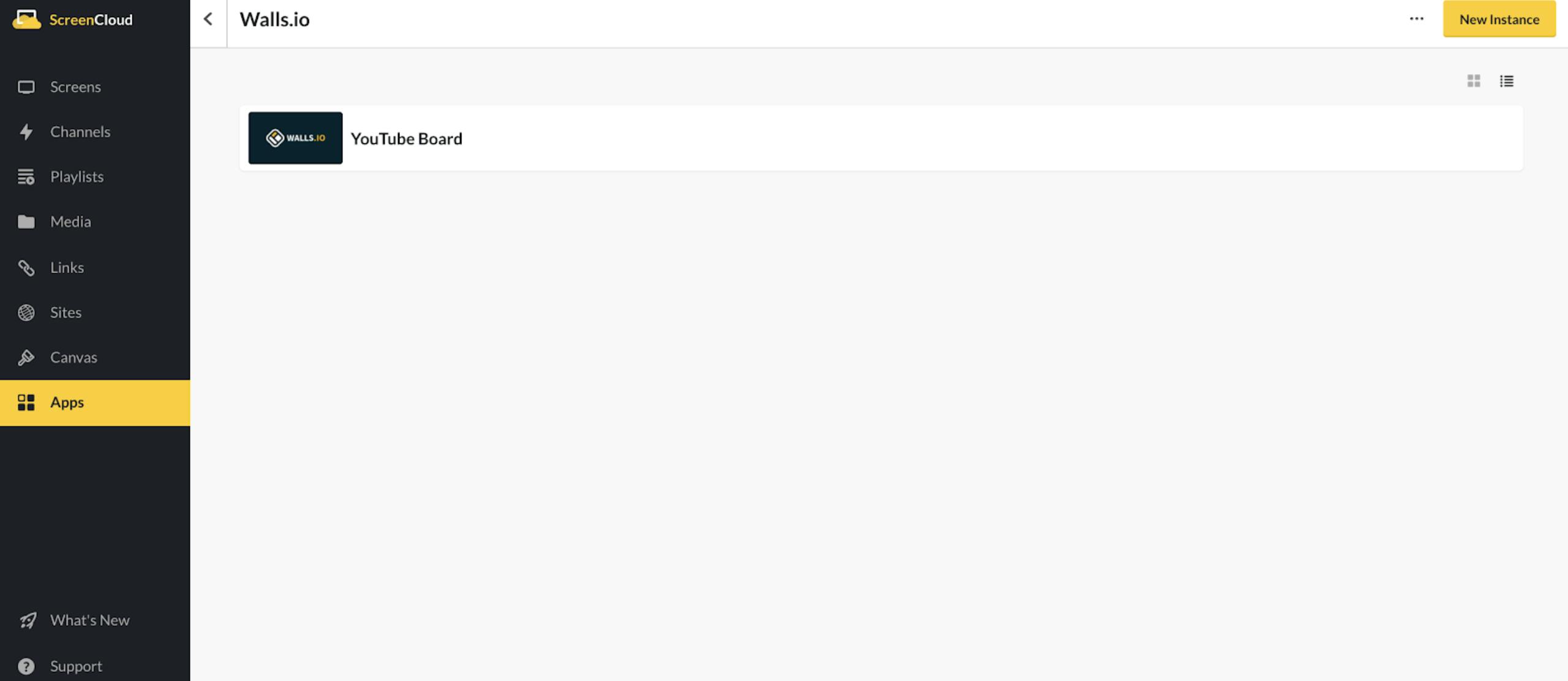 6. Add Walls.io App to your digital screens
You can add the Walls.io App to your screen directly by casting it, adding it into a playlist, scheduling into a channel, and more. You can click here to view ways to set content on your screens with ScreenCloud.
Frequently asked questions
Does the Walls.io App work in landscape and portrait mode?
The Walls.io App works in both portrait or landscape mode. Please note that dimensions will differ depending on the orientation of your screen in accordance with the dimensions of your image. For example, if your image is designed for portrait mode it will be best displayed being used in a portrait display or zone layout with ScreenCloud.
Is there a limit on the number of graphics I can create with the Walls.io app?
There's no limit while using or adding new instances of the Walls.io App in your ScreenCloud Studio account. Please note, Walls.io app is a third-party service for creating embedded social media walls and media content. You can also use web pages or shareable content from Walls.io as a site, link, or with the Page Scroll app.
Is there any pricing information for using Walls.io?
Walls.io offers a free plan which you can use any link or shareable content from within your account to display where available. Walls.io also offers pre-made templates and dashboards which you can use to display content as well. Please visit the Walls.io pricing page for more information, if you have any questions on the pricing related to their service we advise you to visit the Walls.io contact page for the most immediate support. 
What are the best practices and tips for how to create or use social walls?
For resources and creatives on how to use social walls, we recommend visiting the Walls.io blog site - this includes sources for social walls or general information about virtual events, digital technologies, campaigning, and more. ScreenCloud Studio also features embeddable channels which you can use to run social walls with other content embedded into an intranet, system, or shareable as a link.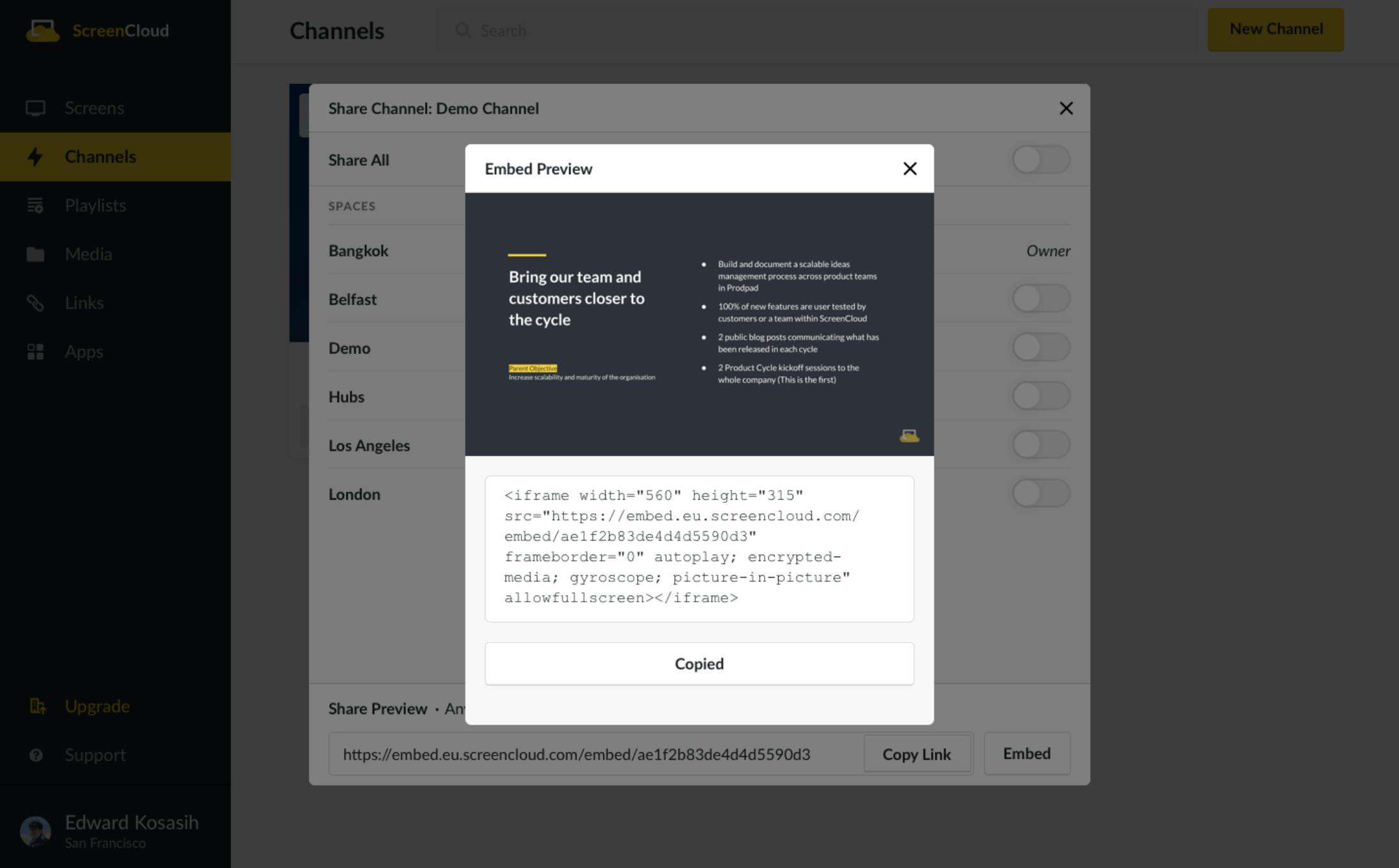 For further questions, please contact support@screencloud.com with details.