Please note, if you are using the older version of ScreenCloud (signage.screencloud.com) you can download the alternative Transport guide here.
What's more useful to customers than keeping them updated on catching their next ride? Forget shuffling in their pocket for their smartphone and trying to Google travel schedules for the local area. Using digital signage screens you can easily bring live transport updates to your customers.
The ScreenCloud Transport App lets you display multiple real-time transport schedules for buses, trains, underground subways, trams, ferries, and more in your local area. You can view a full list of coverage information here.
Transport app provides you with transport options available within over half a mile of your chosen location. Helping customers to stay more in tune with their travels, especially in use-cases such as:
Using screens in your University reception letting students know when their next train or bus is scheduled to run
In your hotel lobby, letting guests discover the best mode of transport to see the city
At your conference, sharing travel schedules to attendees for once the event is finished
In your office to help staff members get home faster, or to catch a ride for their next meeting
Here's how it works:
1. Select and Install ScreenCloud's Transport app
1.1. Get started by logging into your ScreenCloud account here and choosing the ScreenCloud App Store from the left-hand menu.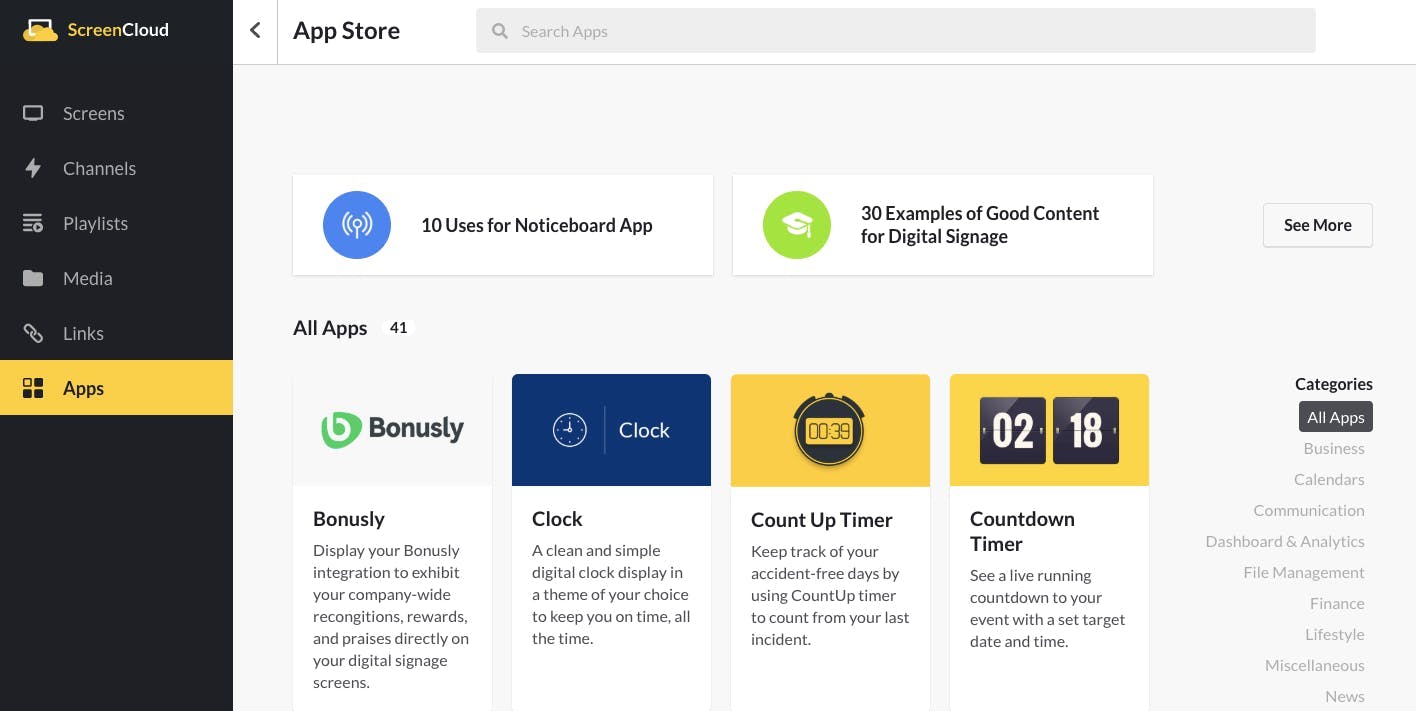 1.2. By searching "Transport" you can find the Transport app and choose the "Install app" button to add a new instance.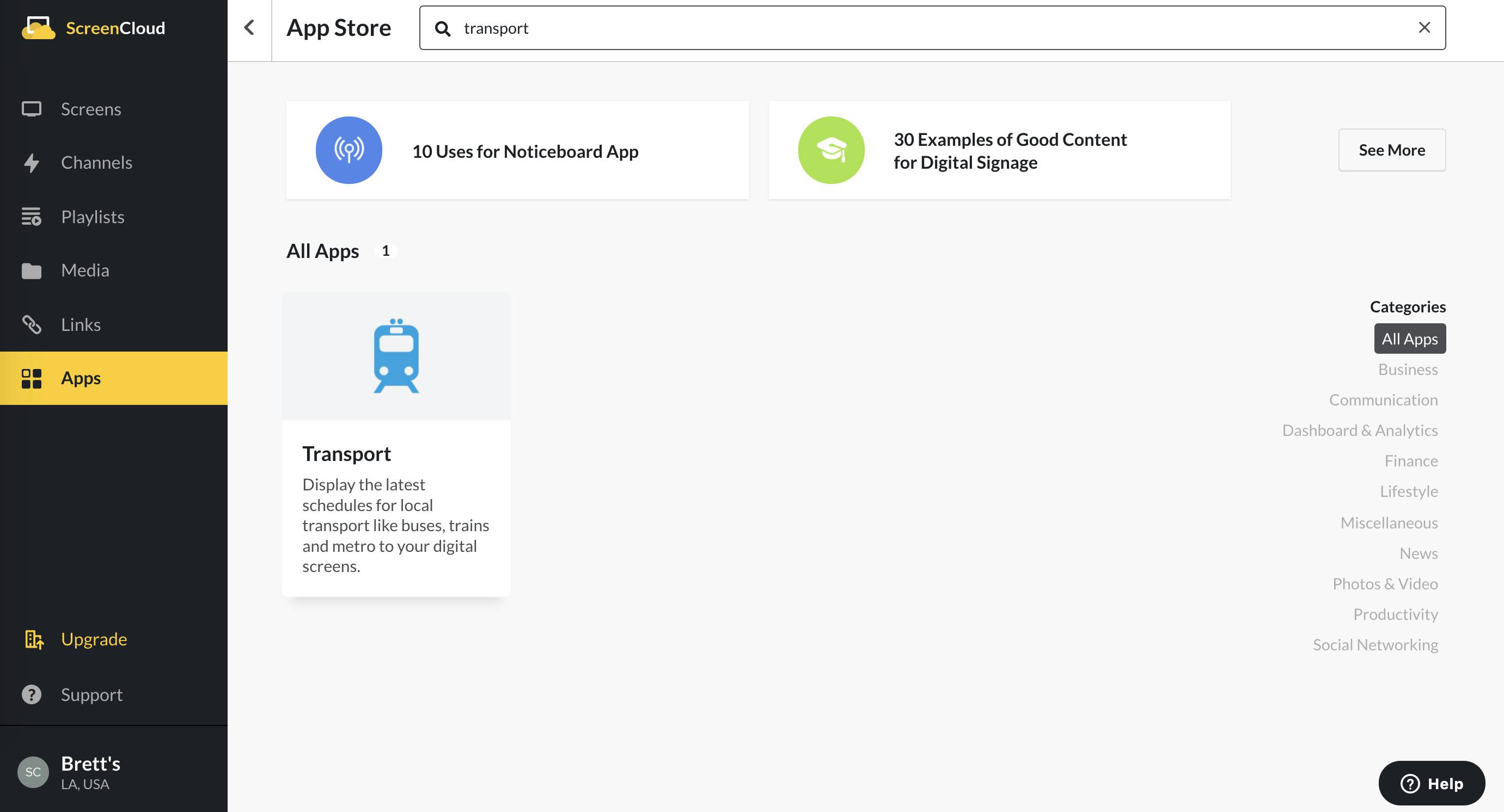 2. Configure the app
2.1. Next, you'll see the transport data configuration panel open on another screen, allowing you to build your transport app.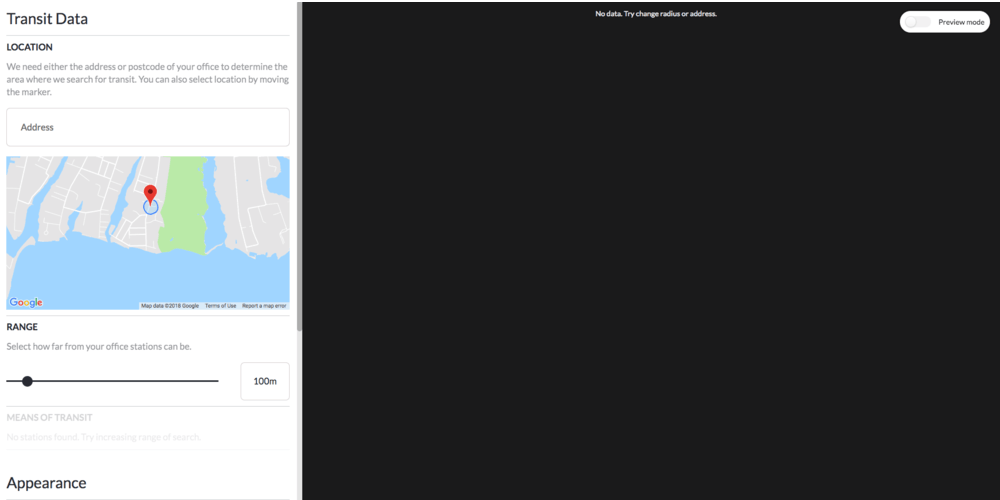 i) Location: Enter the address or postcode of your location to find nearby transport options. You can also select a location by moving the location marker available in the configuration panel. To view a list of all the locations the app supports, please click here.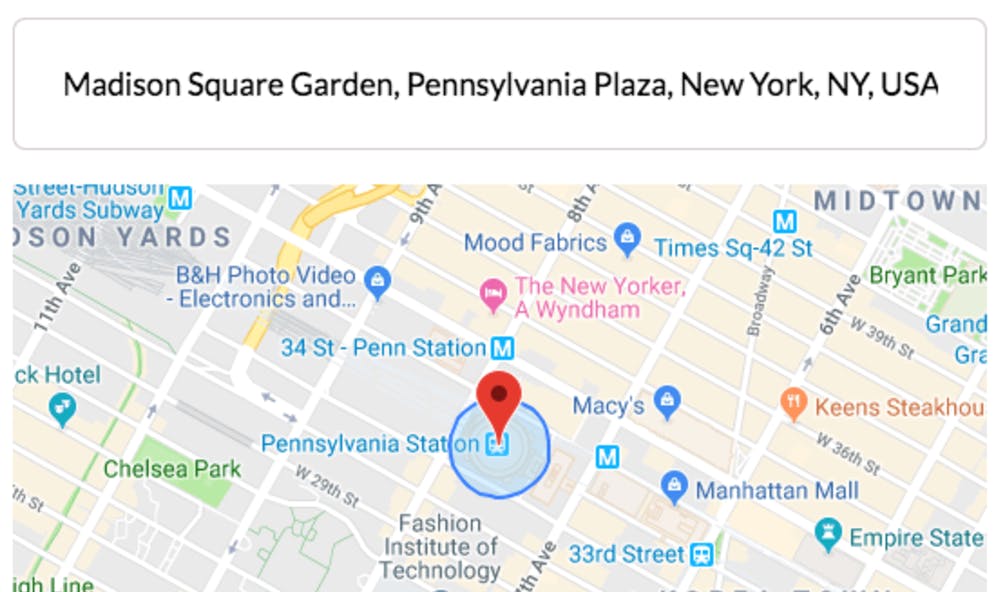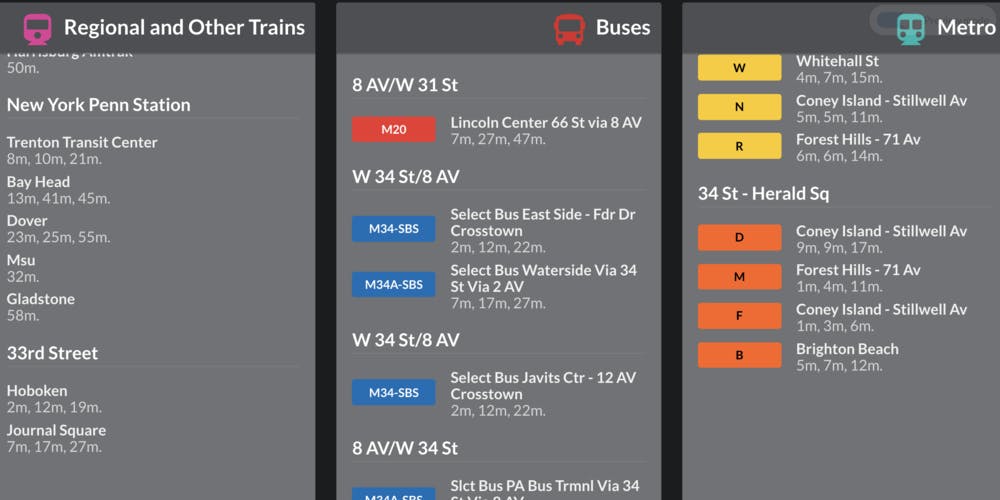 ii) Range: This allows you to select how far from your location you want to collate transport information for, the default will be set to 100 meters. Please note, the minimum distance is 10 meters and the maximum is 1000 meters (over a half-mile of transport data available).
iii) Means of transport: Once your location and range are set, you will be provided with a list of the available live transport data for the specific location you have chosen. Select the modes of transport you wish to display on-screen by clicking the checkmark boxes available.
The app will display the closest transport data available to your location and within the radius chosen. For example, if you're trying to find the nearest bus and train stations for a postcode in the United Kingdom (e.g. EC4A 3AF), the app will pull in more than one method of travel if there are multiple stations/routes available within the range you have selected.
Here's an example of how that might work:
If you were entering a postcode for Holborn in London (EC4A 3AF) you'll see below that there are two different directions someone could travel from using that bus station. transport app will show both of these routes (i.e. Stop L/Route 8 departs in one direction, while Stop K/Route 8 departs in the opposite direction).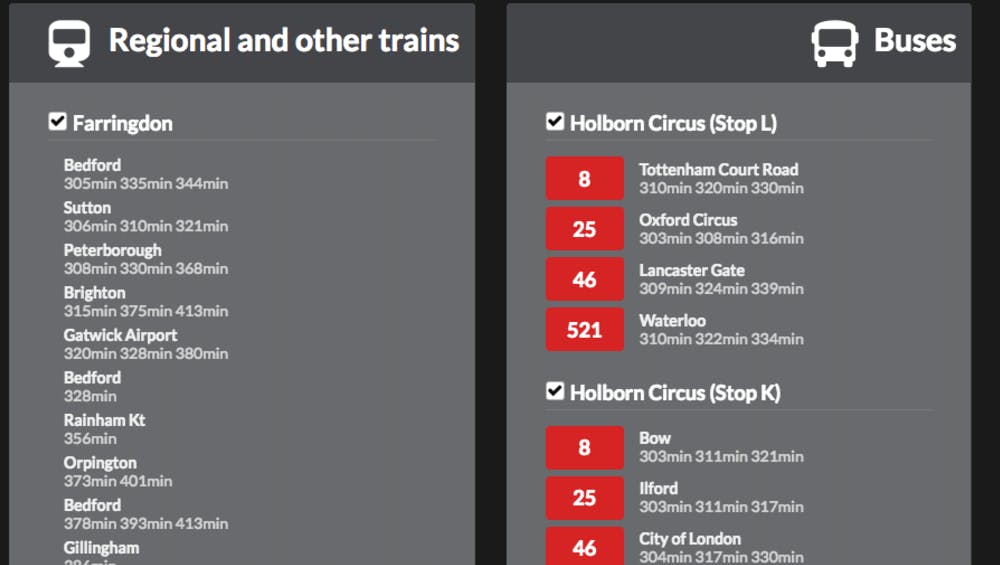 iv) Appearance: you can select between a "dark" or "light" theme for your transport app.
v) Transportation Speed: set the speed of Transportation to fast, medium, or slow to scroll between pages of content. For example, if you're showing a lengthy transport schedule, the content will scroll through to display all of the data if it overflows the screen width/height. This will be set at default to fast (20 seconds).
2.2.  Once you've finished editing your Transport app it's important to select "Preview" to review your setup.
3. Preview your Transport app
Once you've added your Transport app you have the opportunity to preview it before it gets added to your screens.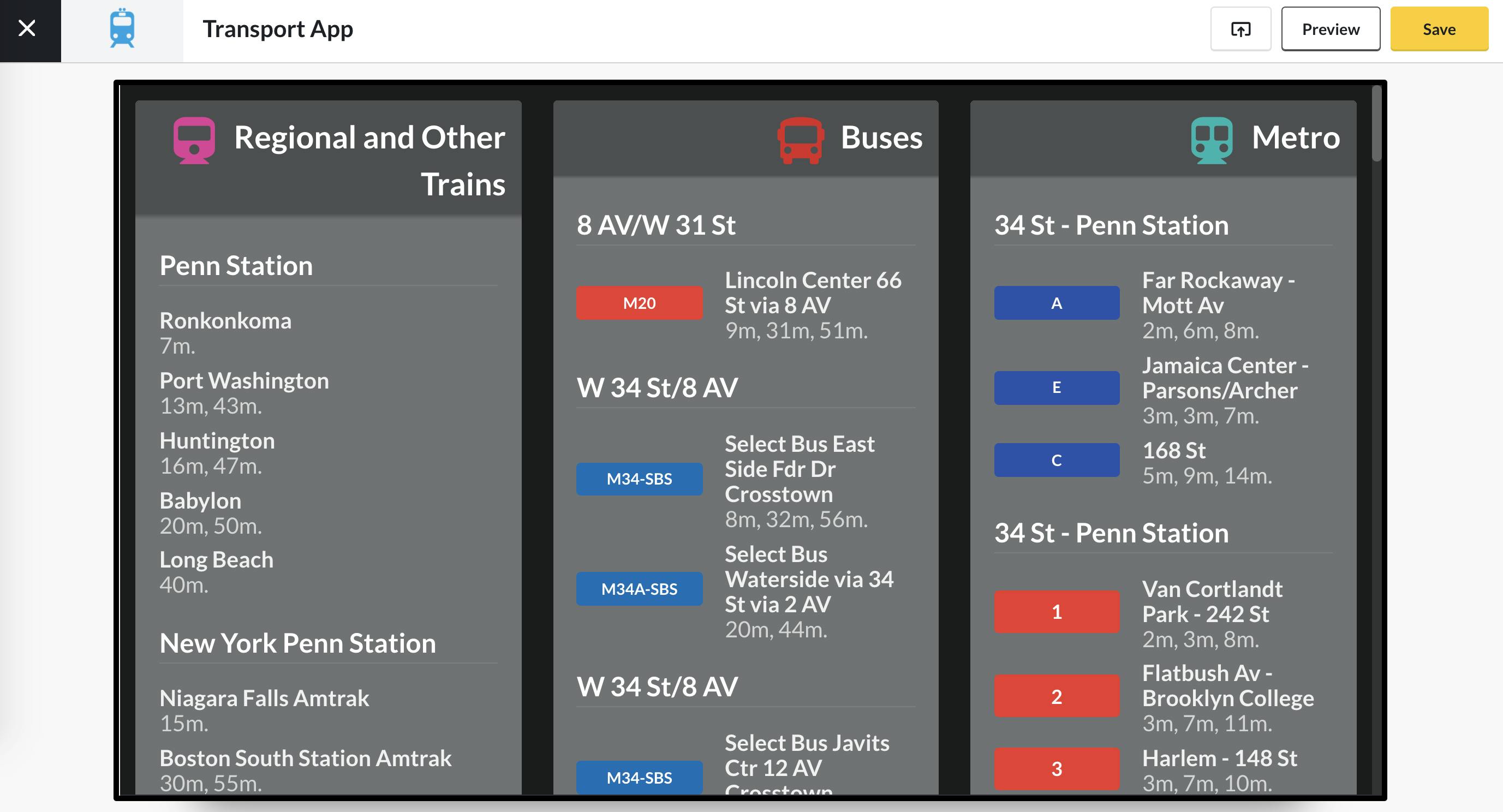 Click 'Preview' and a popup will display your Transport app.
4. Add Transport app to your Channel or Playlist
Once you have configured your Transport app it can be easily added to a Channel or Playlist to be played on screen.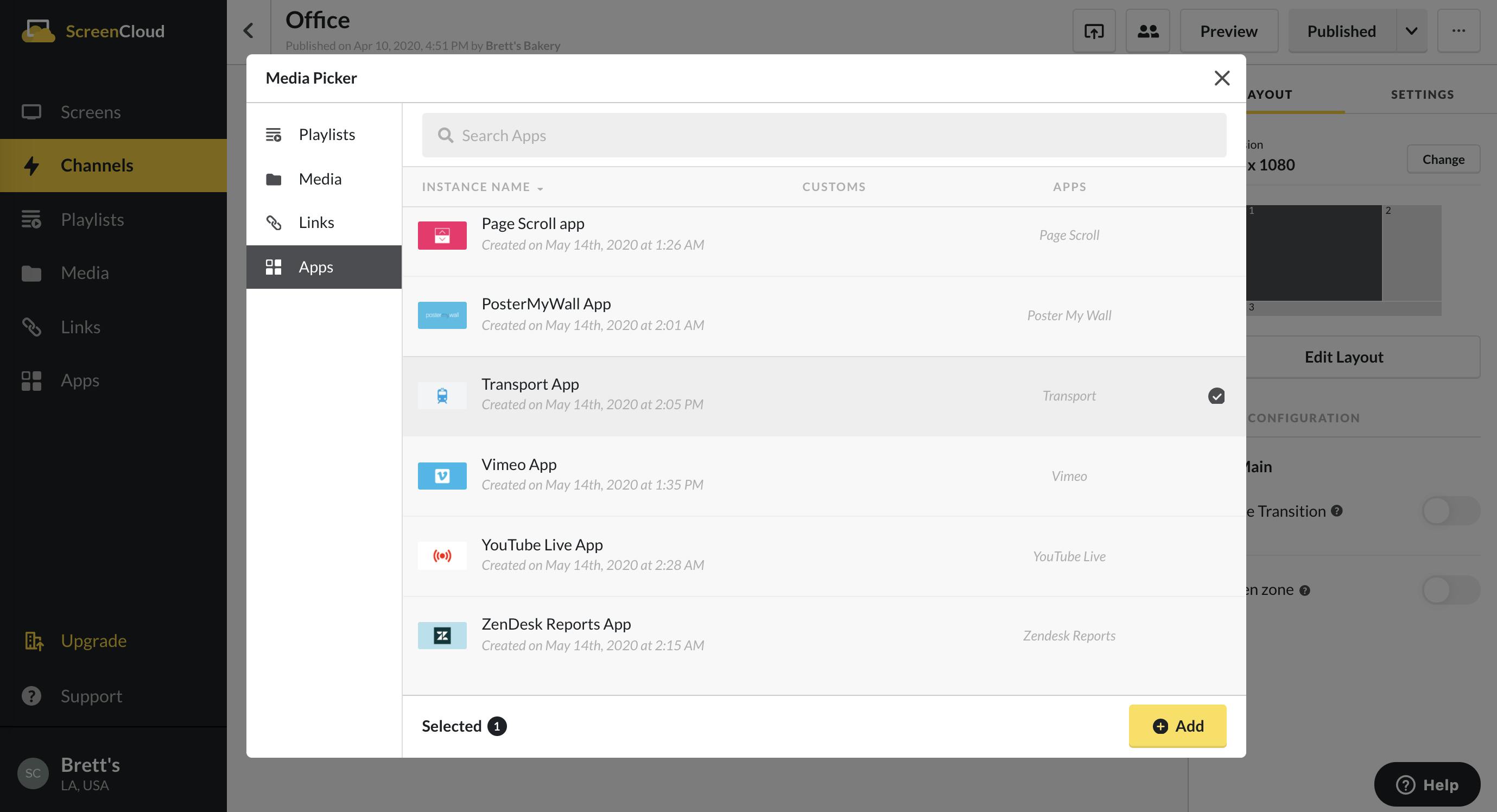 Simply select "Add Content" to open the Media Picker and under Apps, you will see all of your app instances, ready to be installed. You can also view ways you can set content on your digital screens using ScreenCloud by clicking here.
Frequently asked questions
Will the app update when there are delays or weather inclement?
The app will update in consideration of service disruptions for any cities that support real-time updates. You can refer to a full list of cities that support this for their local transports by clicking here.
Is there any way to show the time in 24-hour format (i.e. 1:00pm) instead of arrival time?
The app currently is designed to run on exact due time only. Our team will also be making updates and enhancements for the app in the near future, we recommend reaching out to support@screencloud.io if you have any suggestions or feedback.
Can I use this app as a ticker-tape for transport times?
You can use the app in a ticker-tape zone. Currently, it will display the main station first and then will scroll through all of the routes that pass through the station. In addition, it will also display the two nearest departure times.
For further questions, please contact support@screencloud.com with details.