Until we introduced the team news app, customers were manually updating templates and slide presentations for birthdays, work anniversaries, and new joiners, which was hugely time-consuming. The Team News app automates this process and ensures key events are consistently formatted for digital signage displays. With ScreenCloud's Team News app you can:
Announce employee achievements including birthdays, work anniversaries, and new starters using our pre-designed templates
Filter recognition by location to keep your content relevant
Simply upload a new CSV to the app each time there are new team members
By providing this information, we can automate the timely chore of ensuring all of your employees are aware of notable events. 
Please note that this app requires that you have upgraded to the Pro or Enterprise pricing plan. The app is a paid feature on the Pro tier and included on the Enterprise tier. In addition, the app requires an onboarding process to configure correctly for use, and the apps will not be available in your account until this is done. Please contact your customer success manager for pricing details, or our support team at support@screencloud.com if you wish to be onboarded by our team.
Here's how it works:
The Team News app pulls from existing HR systems exportable data, collected in a comma-separated values (CSV) spreadsheet. The CSV file must be exported and obtained from the user's end and handed over to our Team News onboarding team with the help of your Customer Success account manager or Support.
Here's a quick description of the process:
You use your existing HR system to export the relevant data as a CSV spreadsheet
With that CSV file, we map your system's data into the right format for your digital signage
Each time you want to refresh your data, you just export the same spreadsheet, upload it to Team News, and see the new data on your screen a few seconds later
Let's get started!
1. Onboarding
1.1. Once you've requested help from your account manager or ScreenCloud support, they will help you communicate with the Team News onboarding team. 
1.2. What you will need to have provided and prepared at this point is an email for the point of contact and a CSV file, which contains your team's names, birthdays, work anniversaries, and new joiners' information. You might be able to collect this from your company's HR platform, such as BambooHR, or you might want to create your own from scratch. If that is the case, our team will provide a template for you.
1.3. Please note that the Team News app is only currently able to display the 3 different types of events:
Birthdays 
Work anniversaries
New starters
1.4. As you hand over your CSV file to the onboarding team, you'll want to tell them which data column to pull from and optionally filter, so that different screens can show different subsets of your data, e.g. your company's office locations, teams or store ID's, etc. Please make a point to take note of the header to your data column.
For example, your CSV file could look something like this in Google Sheets, if you have taken it from BambooHR. In our case here, the data column we are sorting through has the header name 'Location', which contains four different location selections. The header name will allow you to filter between your selections, which we will get to at a later point (Point 3.3. below).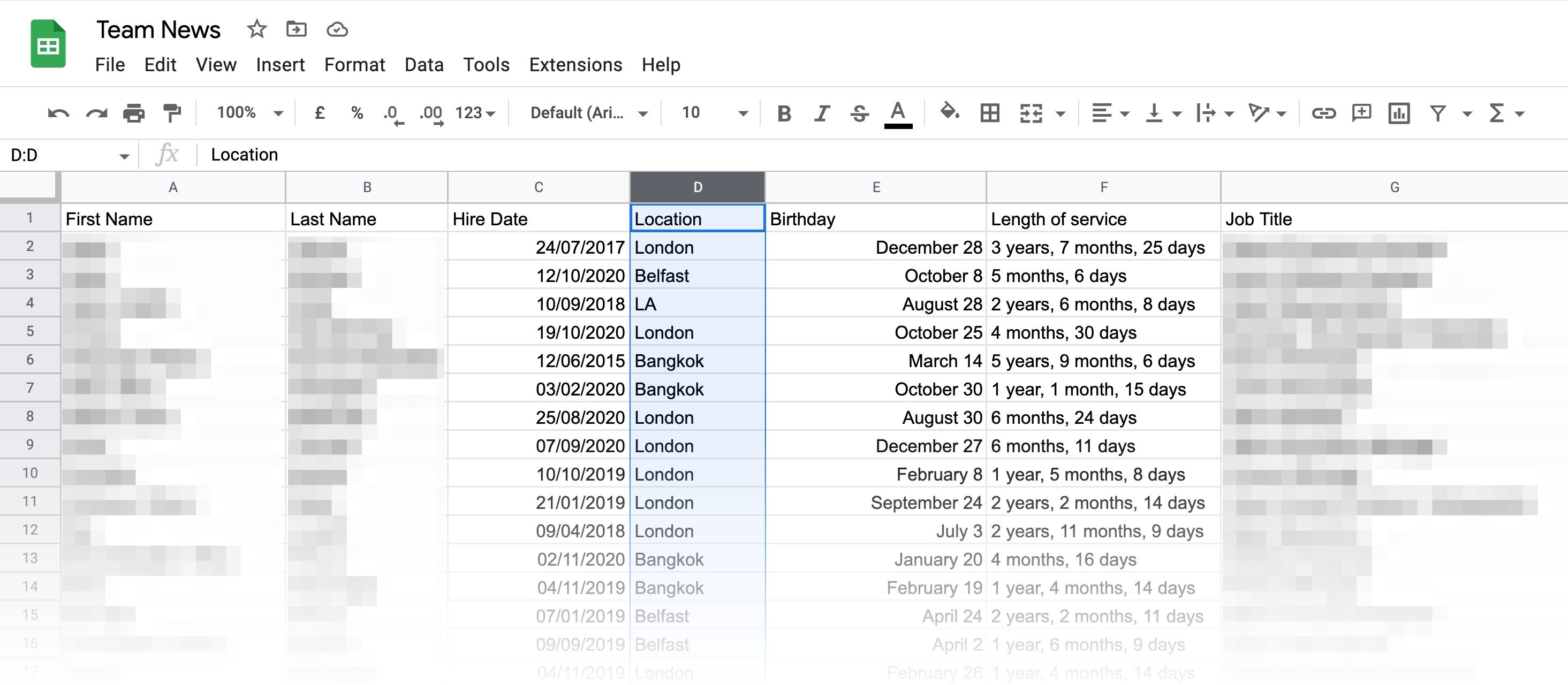 Please do not edit or change the original CSV file, as this will allow you to keep exporting the same datasheet from your HR system without needing to make any changes. 
1.5. Once the onboarding team has synchronized your CSV file with your setup of the Team News app, they will provide you with a connection ID, which will look something like this:
ab7c8fdf-3030-3030-3030-96av57fe580t
Please save this code, as you will need to use it with the next steps.
2. Set up Team News Uploader
2.1. To start, search for Team News Uploader in your ScreenCloud app store to find the Teams News Uploader app, and click Get. You will not need to add the Team News app at this moment in time.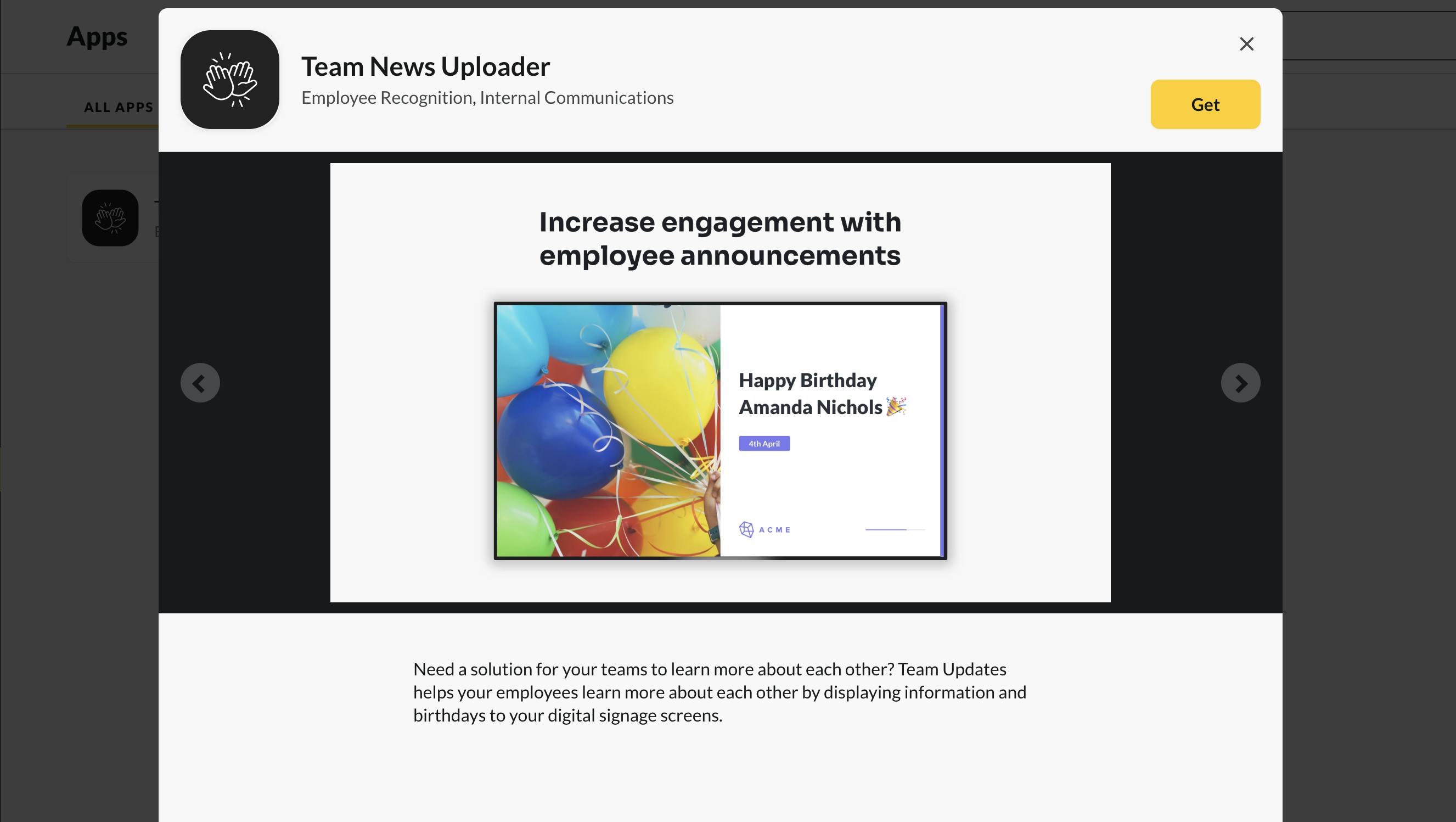 2.2. You'll be greeted by a window prompting you to Connect to a feed. Please feel free to ignore the email example, as here is where you will be adding the connection ID our onboarding team provided for you.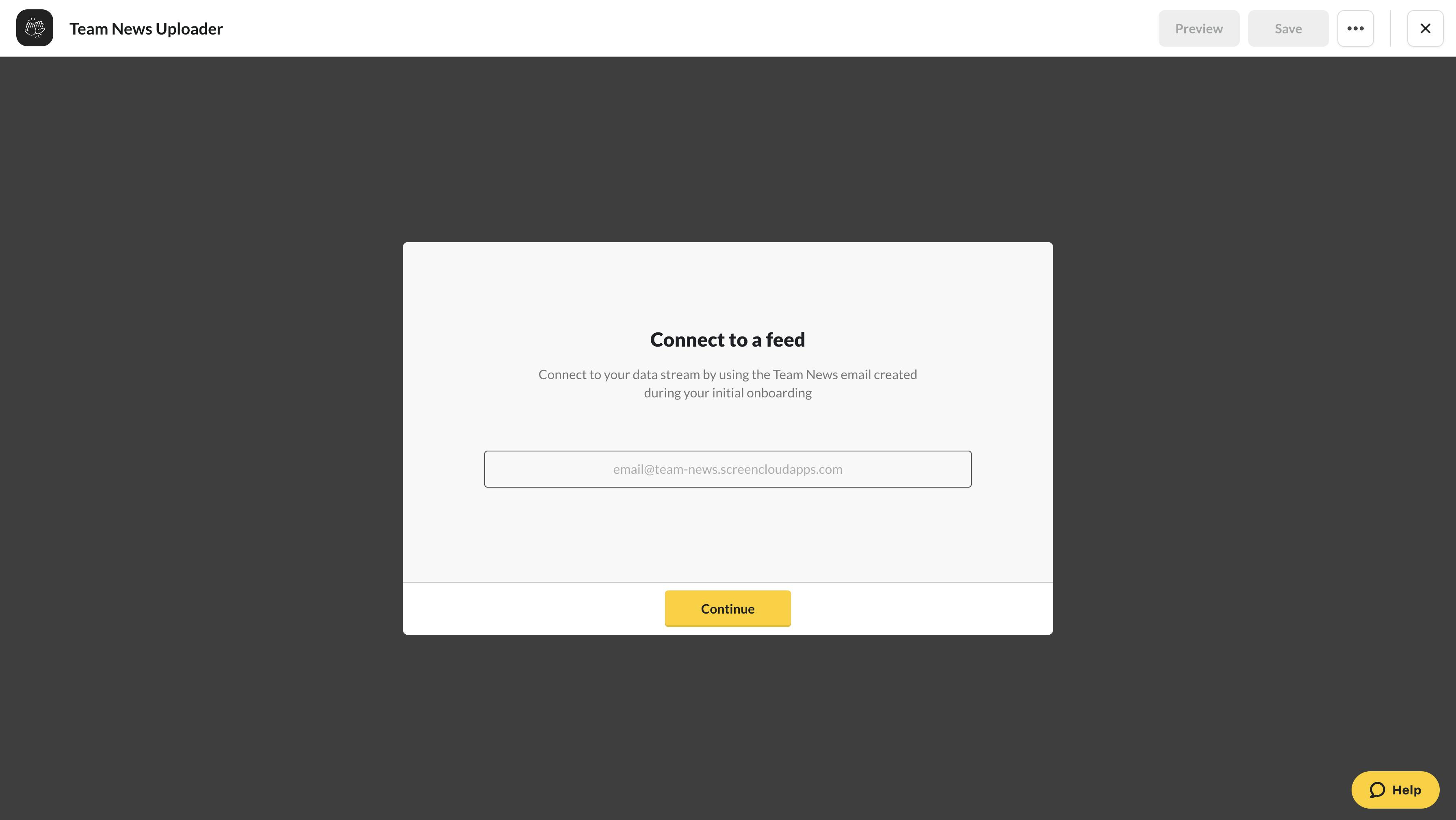 2.3. Add your connection ID, and click Continue
2.4. Clicking on Upload new data.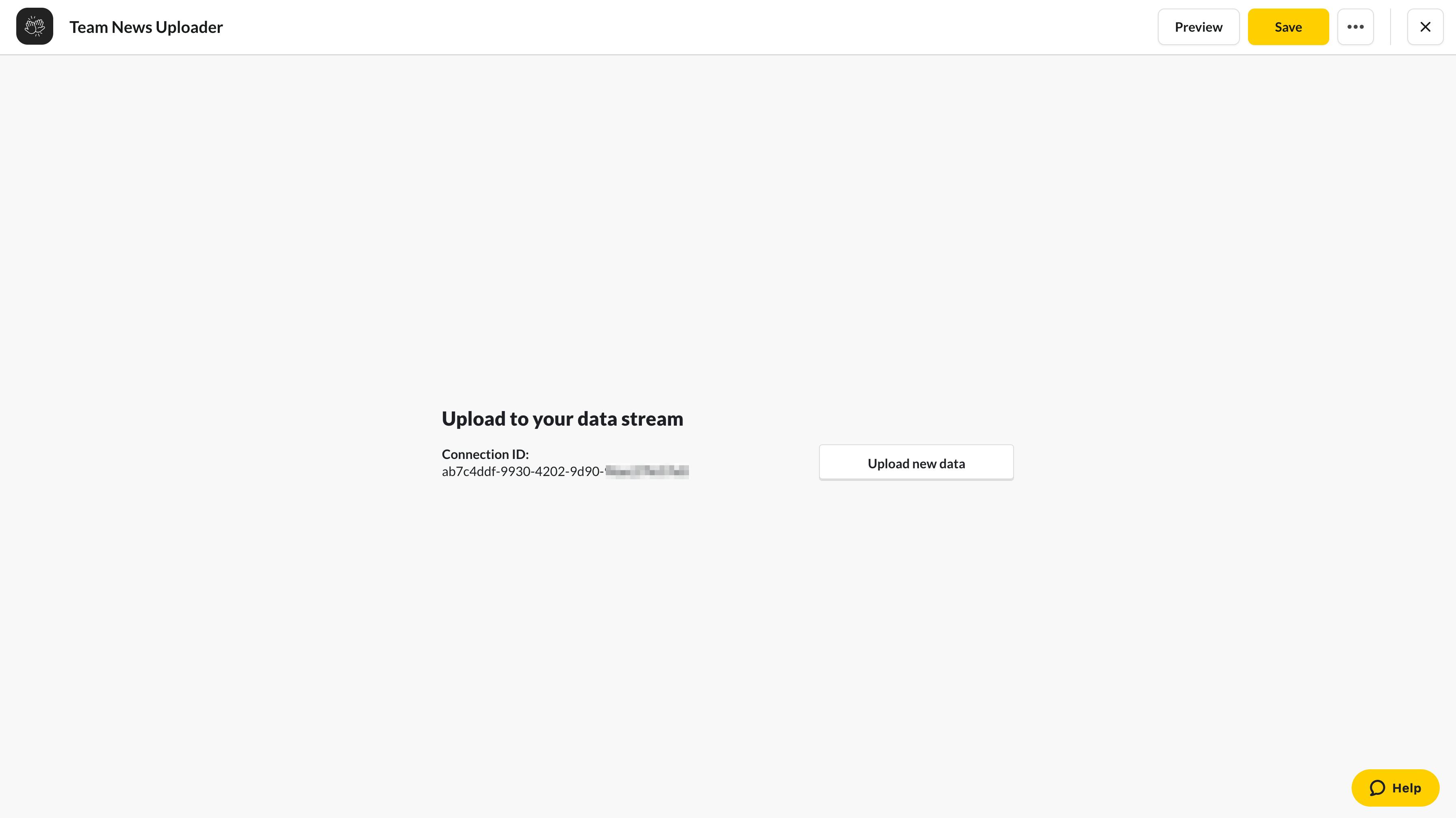 2.5. Upload the CSV file that you provided with your Team News onboarding, making sure not to have made any changes to the file. Please note that you can continue to export and upload newer versions of the datasheet from your HR system, as the mapping to the sheet will remain the same.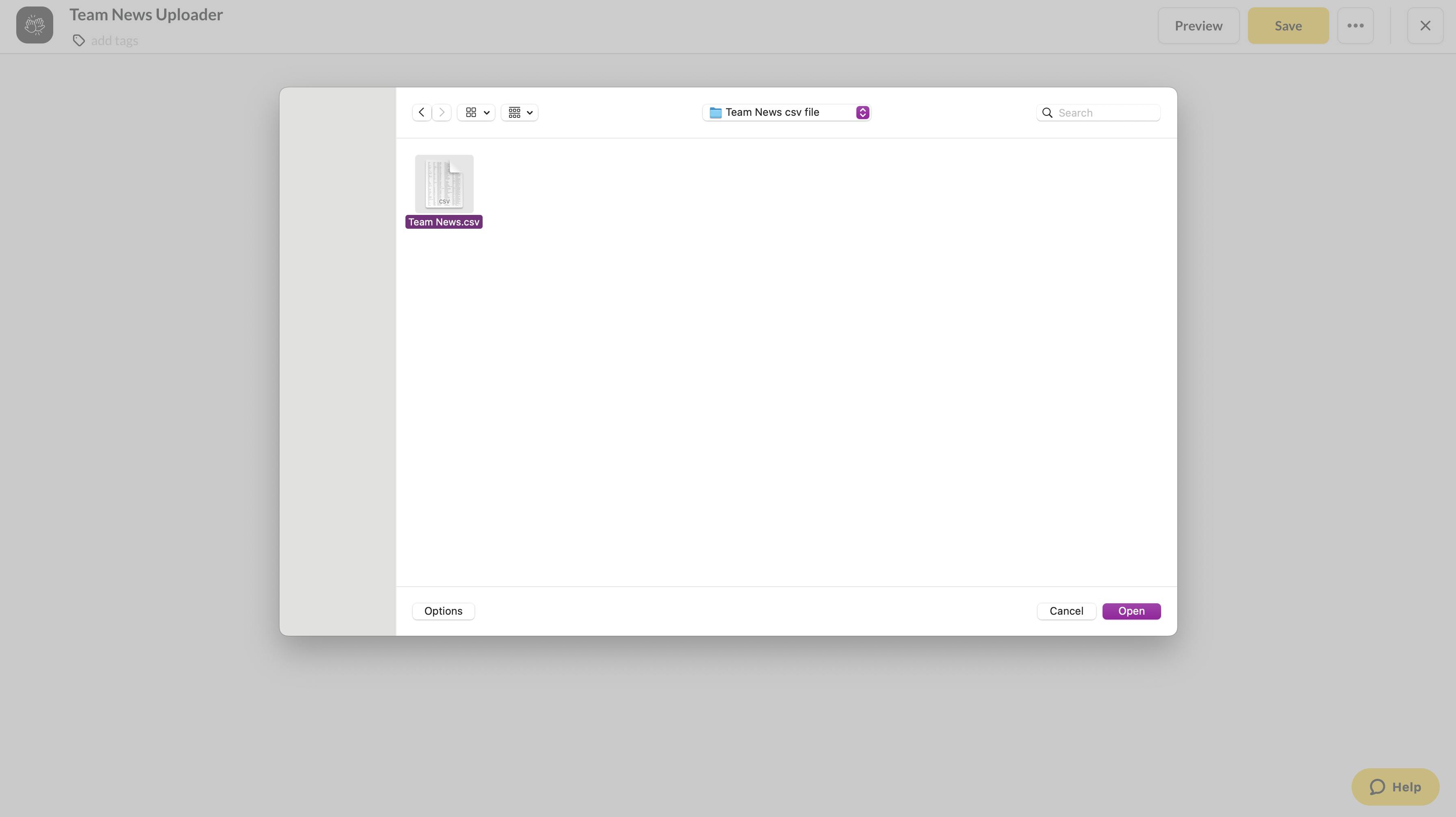 2.6. The file will take just a moment to upload. Once this is done, go ahead and click Save, and then exit the app by clicking the X button.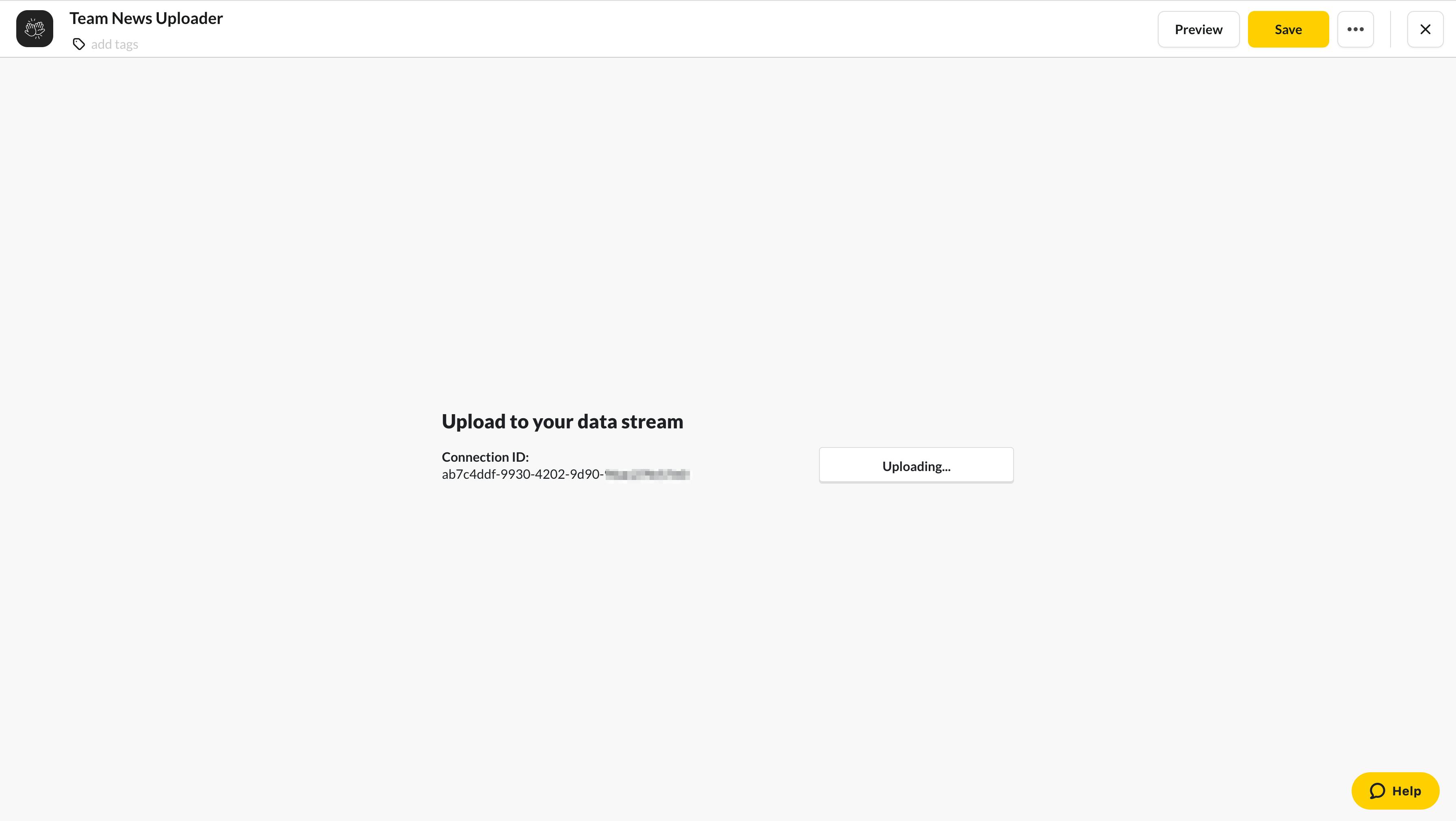 2.7. Next, you'll receive an automated message to the email you've set as your point of contact. The email address you'll receive this from is no-reply@team-news.screencloudapps.com, and it will be titled Import Successful. Go ahead and copy one of the 32-digit identical codes, making sure to cut it just before the #. If you do not receive this email, please check your junk/spam inbox folder.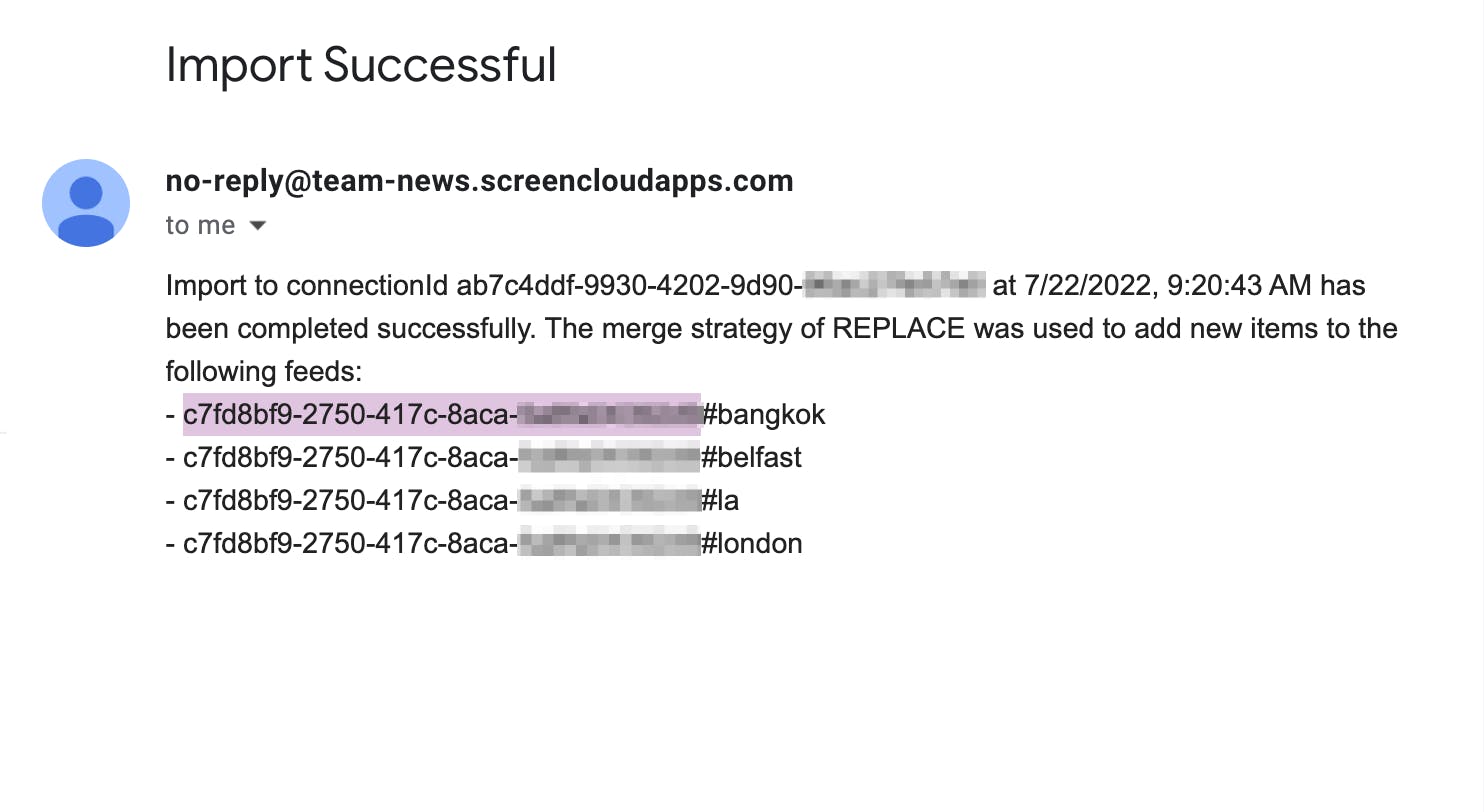 Notice how the text after the hashtags are for each of the location selections from the data column which was specified during the CSV setup (point 1.4. above).
2.8. This code is your Feed ID, which will be used to connect your uploaded CSV file with a Team News instance that can display your team's celebrations.
3. Connect Team News Uploader with Team News
3.1. Now it's time to add the Team News app! After searching for the app in your ScreenCloud app store, go ahead and click Get.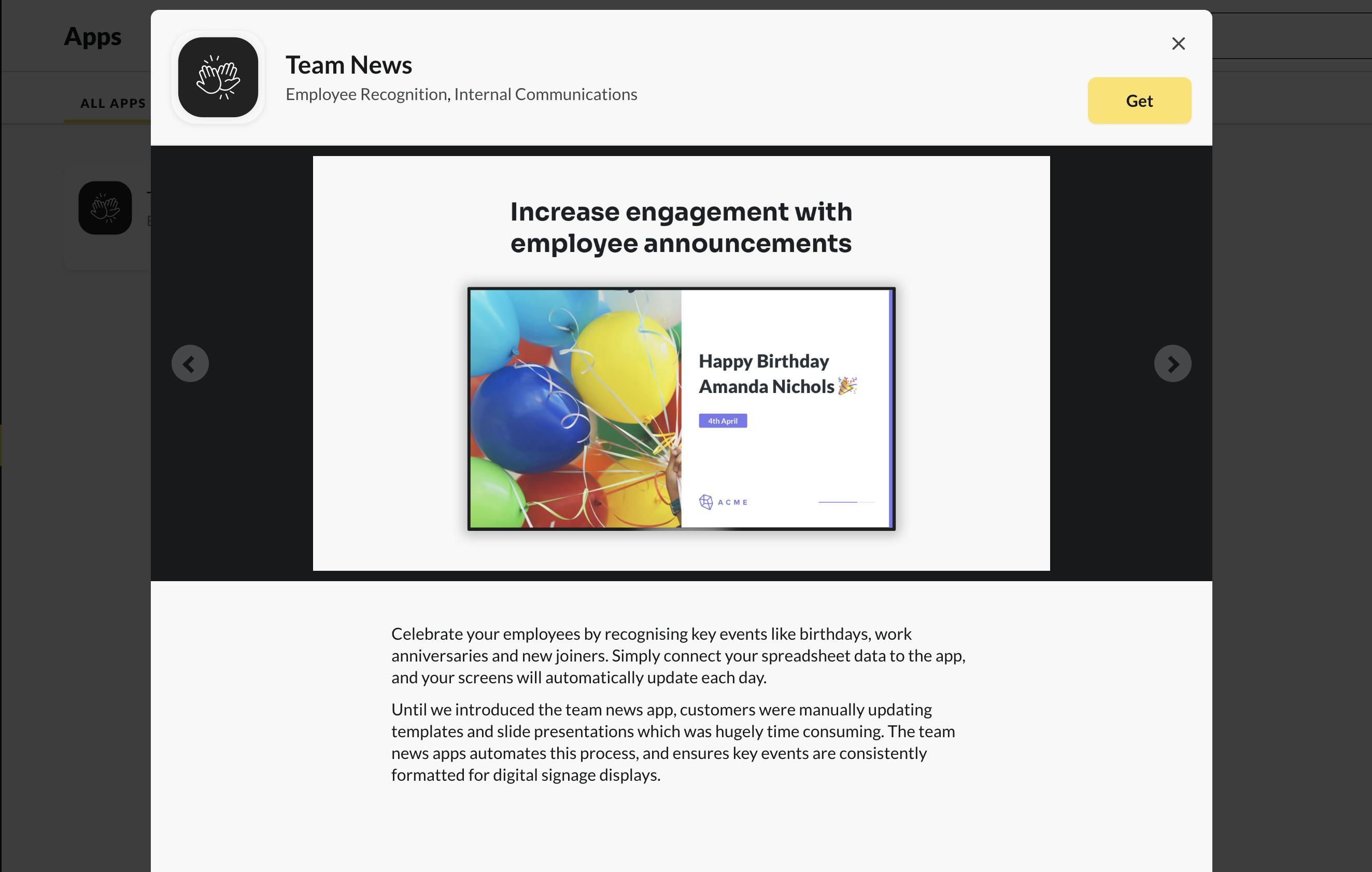 3.2. Notice the Feed ID* and Filter Key.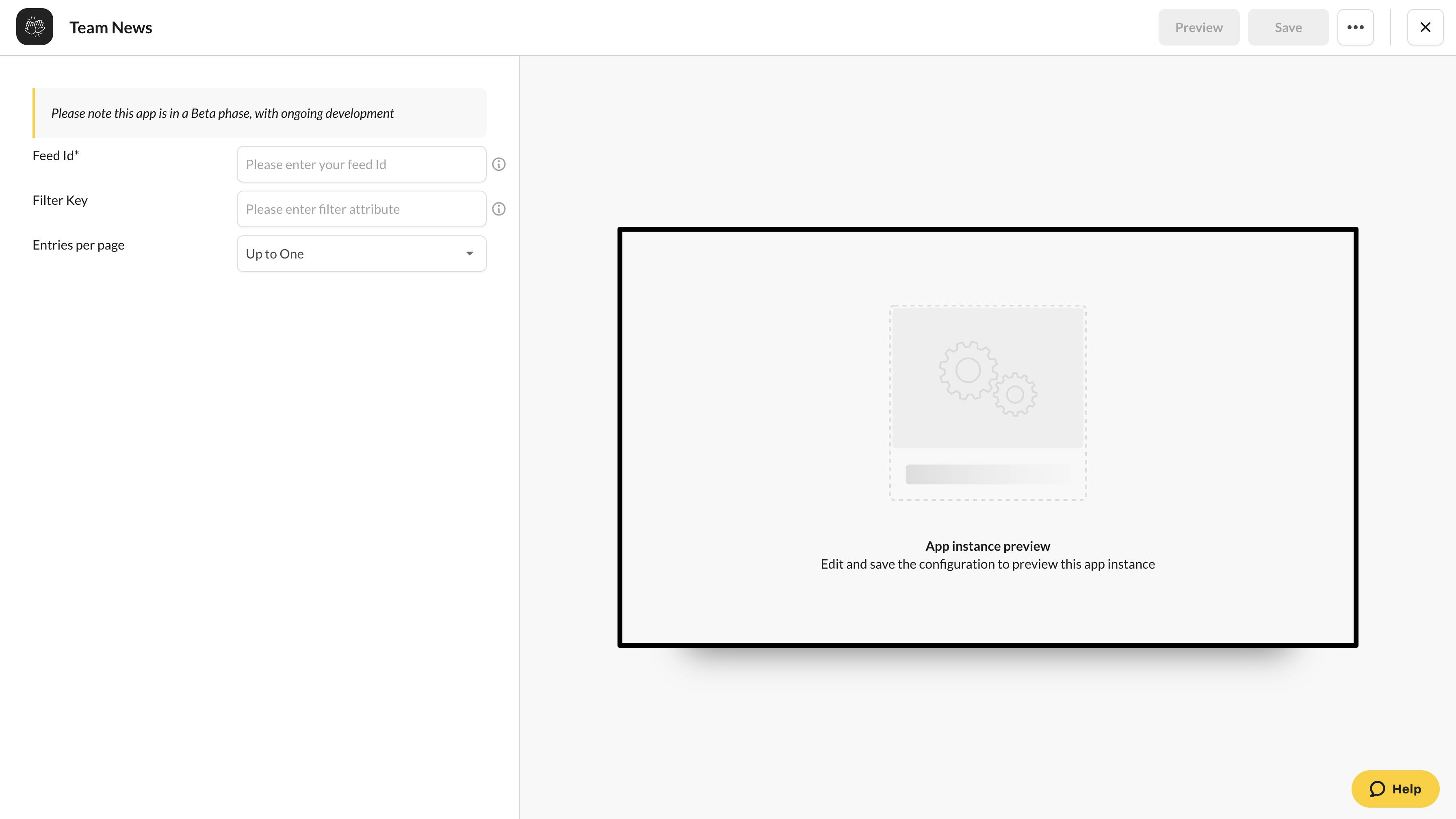 3.3. Add the Feed ID you collected earlier, and write your specified data column which you had asked our onboarding team to filter through, which in our case here was 'Location' (point 1.4 above).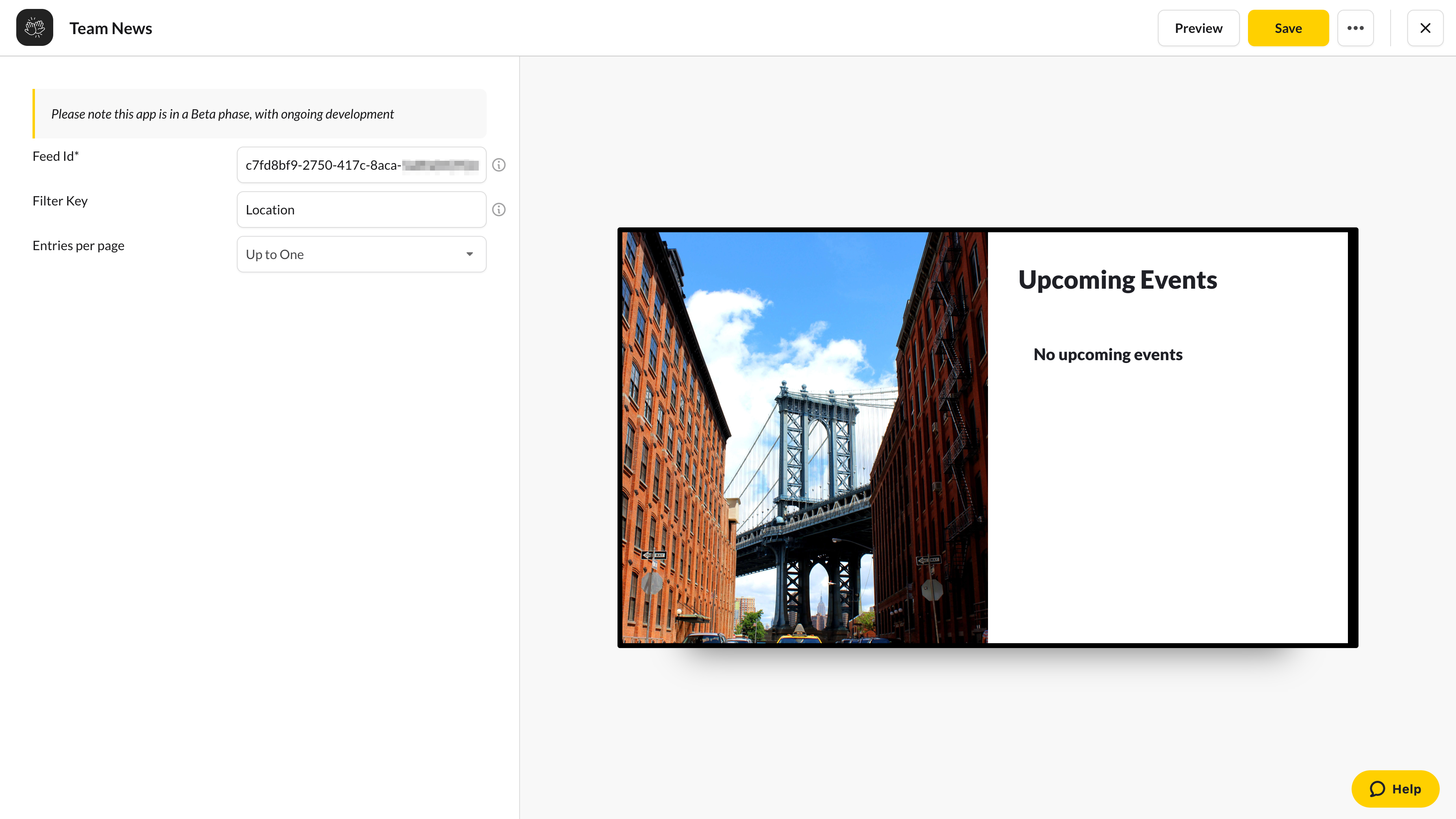 4. Set your screen data and display filtered content
4.1. Go to your screen and set your Team News app instance to it.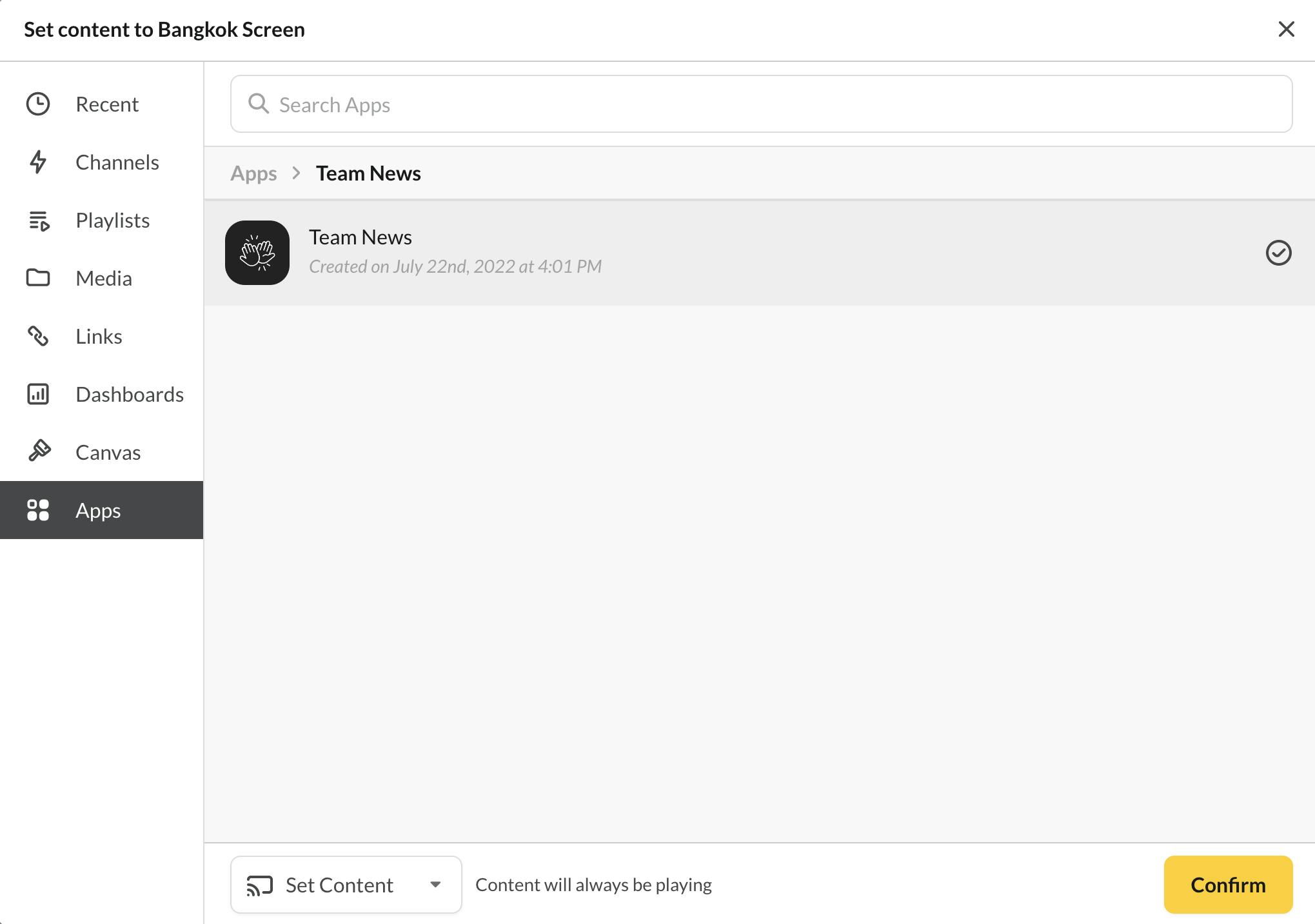 4.2. The app will continue to pick up no data and display 0 events, but you can change this by updating your screens Location & Data settings.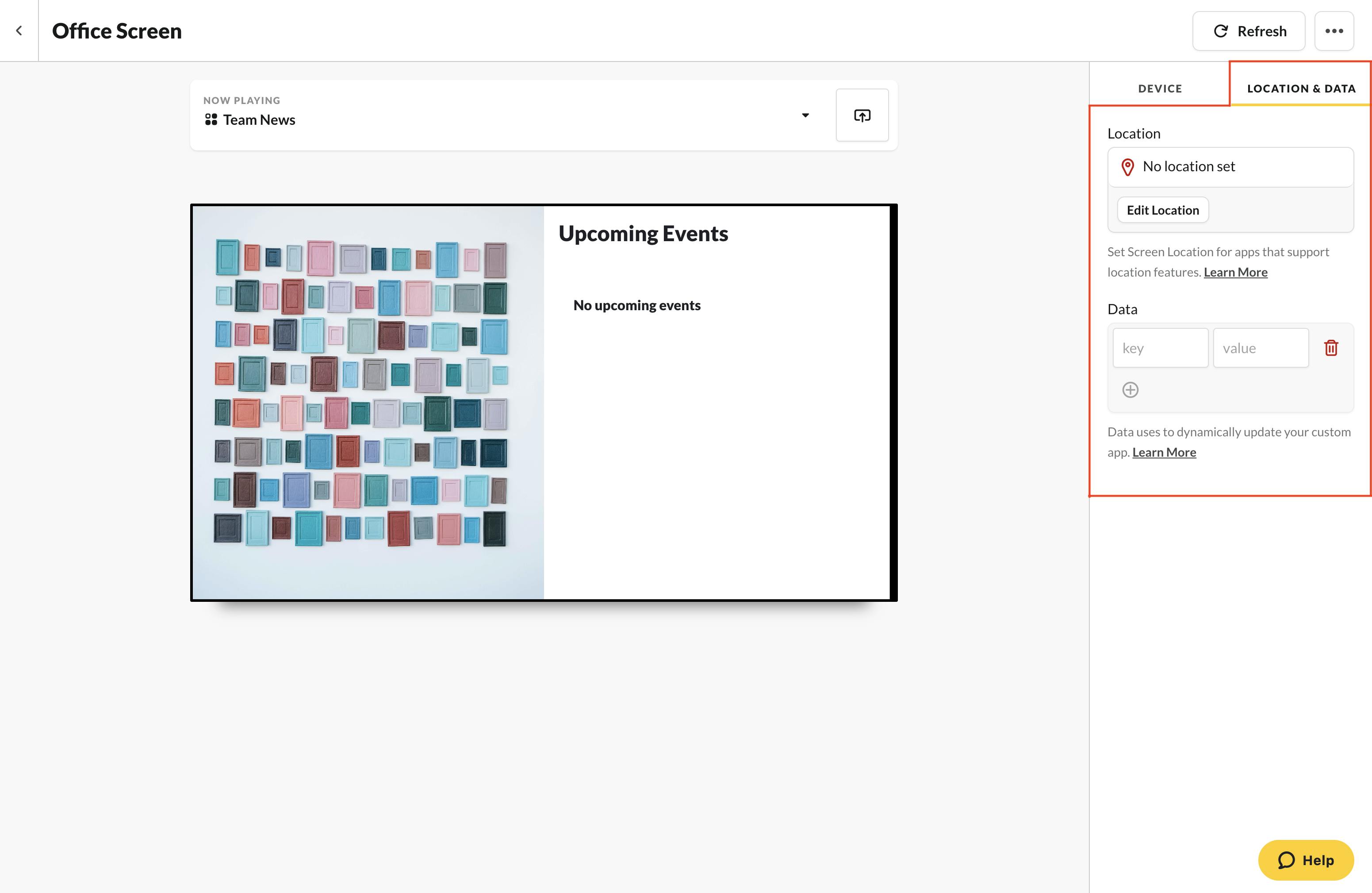 4.3. Under key, write your CSV's location column title, which is, in our example, "Location". Under value, go ahead and pick one of the locations - "Bangkok", for our sample below.
Please note that the key input is case-sensitive, but the value is not.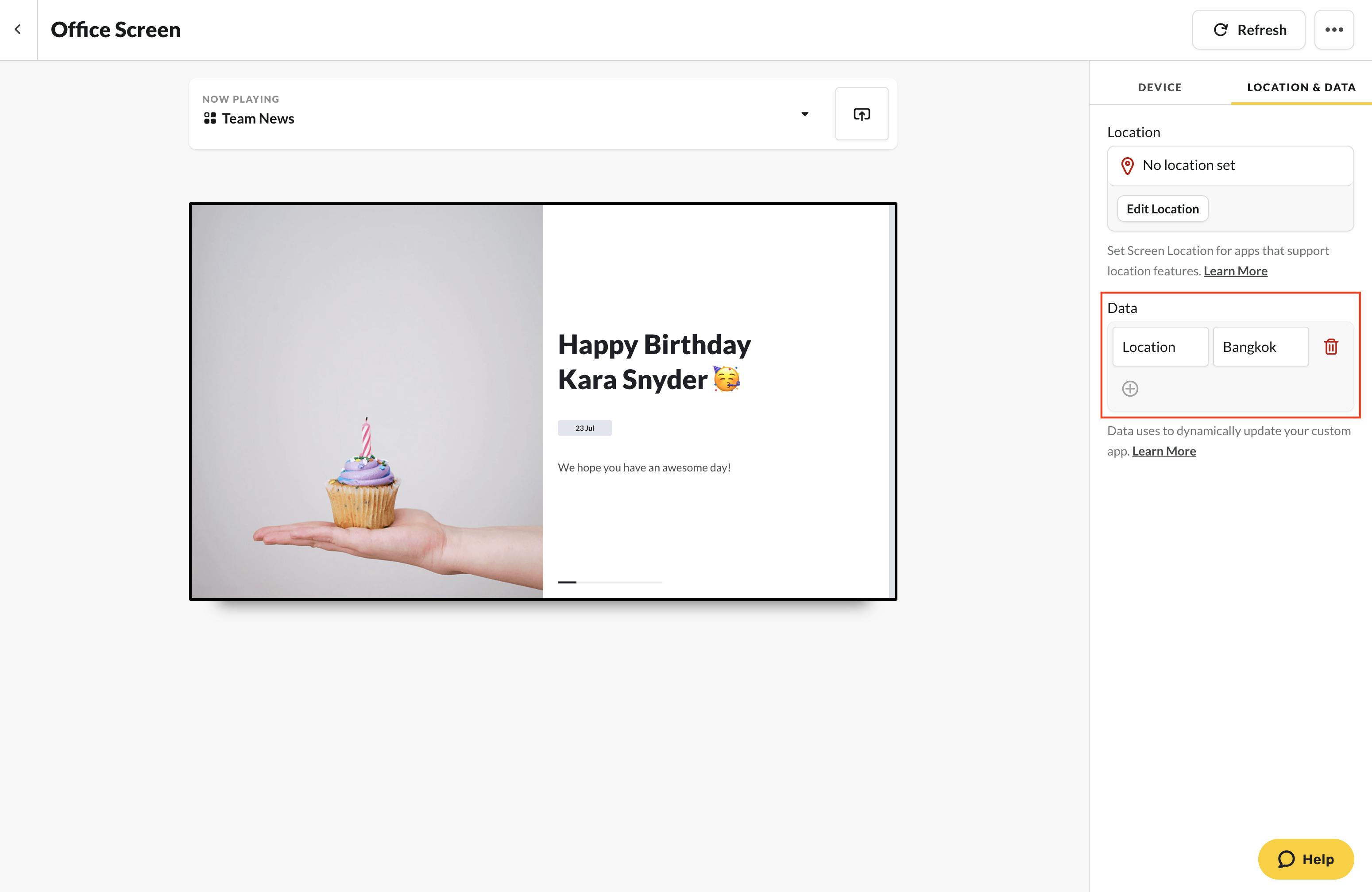 5. Add the Team News app to your digital screens
You can now add your Team News app to your screen directly by casting it, adding it into a playlist, or scheduling it into a channel, and more. You can click here to view ways to set content on your screens with ScreenCloud.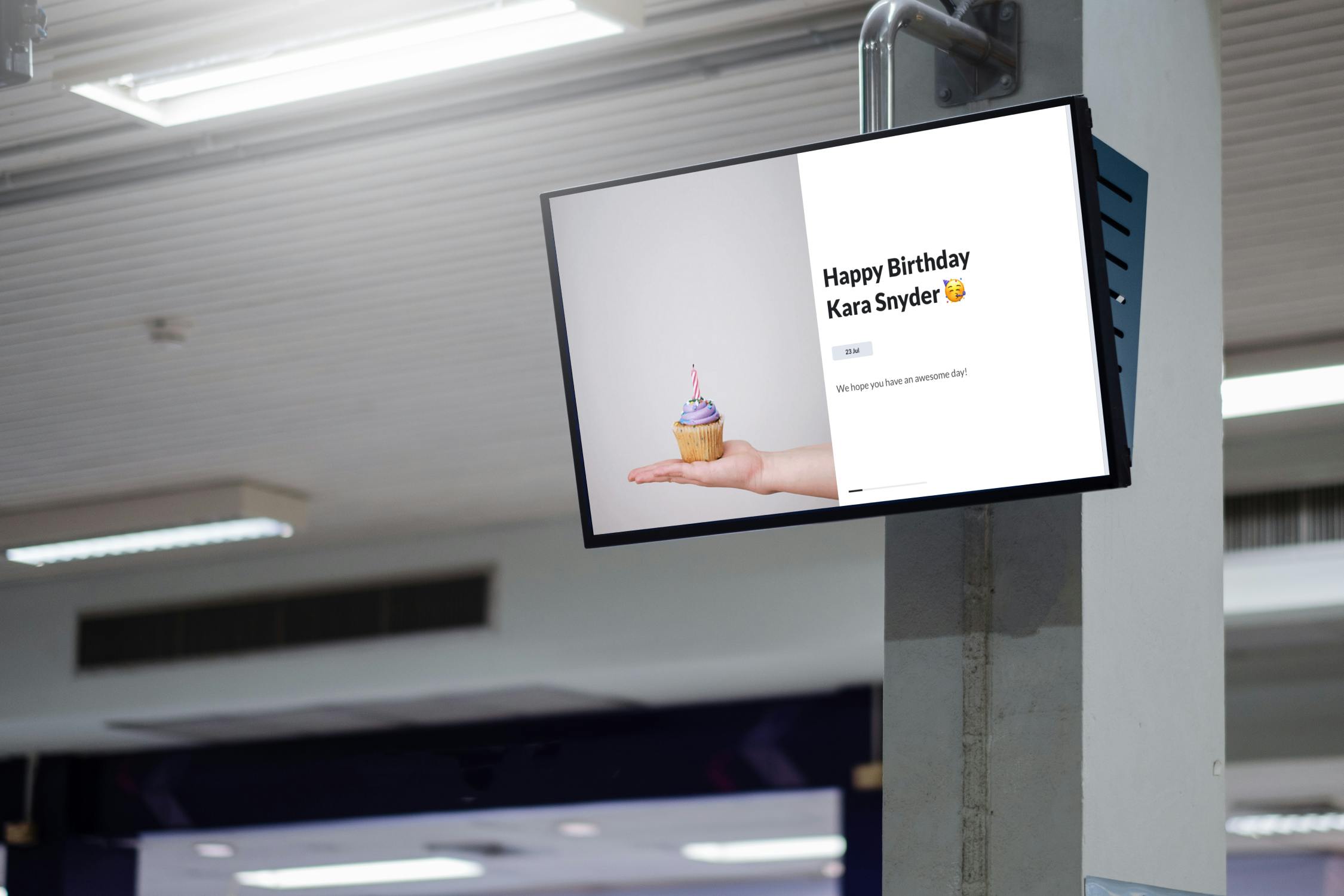 Frequently asked questions:
From within what timespan does the Team News pull data?
The app currently picks up any events on the day of and the following two days after - a three day window from the present day. If there are no celebrations, the app will display No upcoming events. This number, however, can be adjusted per request when our apps team helps setup or transfer your Teams News database.
I can't see Team News in my App Store
Team News requires an initial setup and onboarding process carried out by our team. For more information around this process please contact our Support or Customer Success teams.
Can I connect Team News directly into my HR system?
Currently Team News only supports CSV uploaded directly into the app, which you must perform manually.
Is it possible to display more than one celebration and event at a time?
Yes, you can select to display just one, four, or eight announcements at a time under the Entries per page option.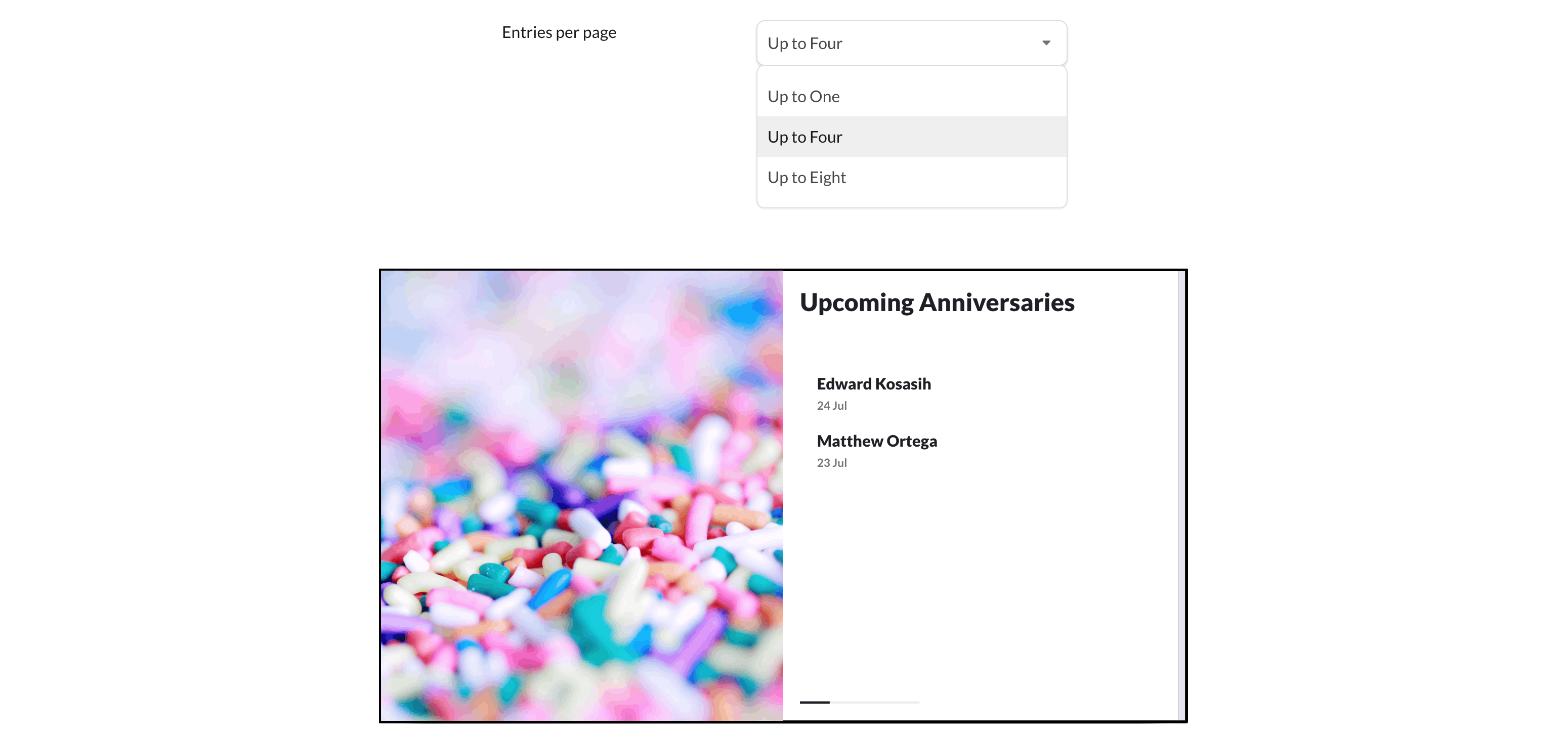 If you have any additional questions or feedback on using the ScreenCloud Team News app, please contact our support team at support@screencloud.com.