Taggbox Display is a paid-for third-party app integration; to use it with ScreenCloud, you must first create an account at taggbox.com.
Using digital signage and social media walls, brands and organizations can strategically display generated content, interactions, and experiences. Social media walls allow you to collect a diverse range of content from social media platforms together to integrate and display on your screens. Studies show that social media walls help increase engagement, conversions, and add a layer of personalization for showing user-generated content. 
Taggbox Display is a service that specializes in aggregating user-generated content from your social platforms - providing a convenient, flexible, and customizable solution for exhibiting your content masterfully. The ScreenCloud Taggbox app allows you to aggregate content from different platforms and customizes display options to showcase across your digital screens.
Using the ScreenCloud Taggbox app you can:
Manage multimedia feeds to simultaneously show content on your screens
Control filters and display options to customize the look and feel of your content
Collect diverse user-generated content from social media
Adapt to seasons, target audiences, world news, branded, or promotional content
Learn more about the benefits of using Taggbox with ScreenCloud.
Here's how it works:
1. Select and install ScreenCloud's Taggbox App
1.1. Get started by logging into your ScreenCloud account here and choosing the ScreenCloud App Store from the left-hand menu.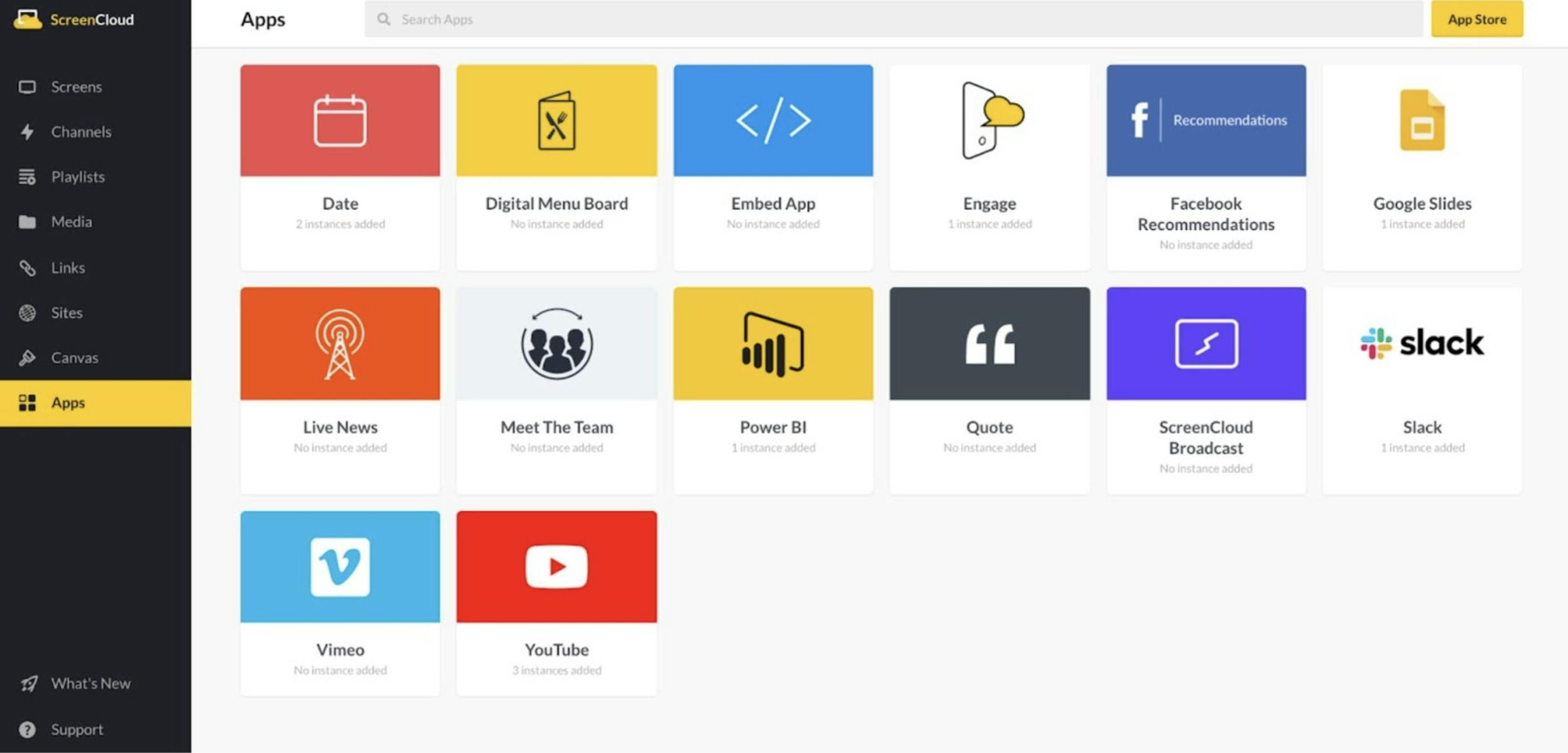 1.2. From the App Store, type in "Taggbox" in the search bar to populate the Taggbox App.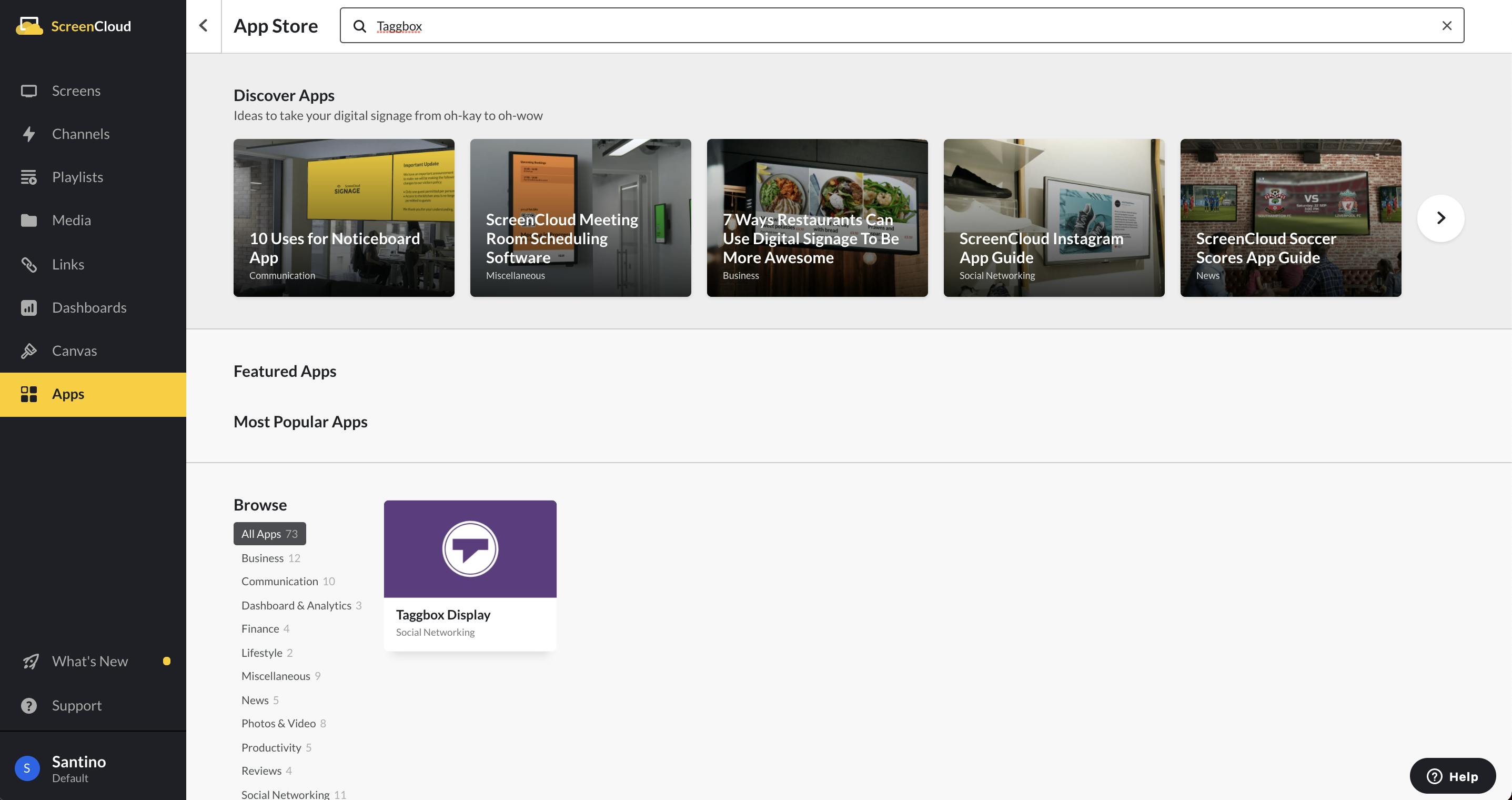 1.3. Click on the app, then select the yellow "Install App'' button to open the configuration window for the Taggbox app.
2. Log into your Taggbox Account
2.1. Next, you can use a social media wall or creative from your Taggbox account directly in ScreenCloud. This is done by using a link or URL from a social wall you've created which you can copy and paste directly into your ScreenCloud Taggbox app.
Please note, Taggbox is a third-party service that requires an additional plan for access to features and an account is required to use this app. You can click here for Taggbox pricing information and also sign up for a free trial.
2.2. Start by creating your social wall on Taggbox Display. For instructions on how to create a social wall, please click here for the Taggbox Support Center. 
2.3. Create, or log in to your Taggbox Display Account.
2.4. After Logging in you will land upon the 'Taggbox Display's Home'.
2.5. Start by clicking on 'My Walls' to create a wall.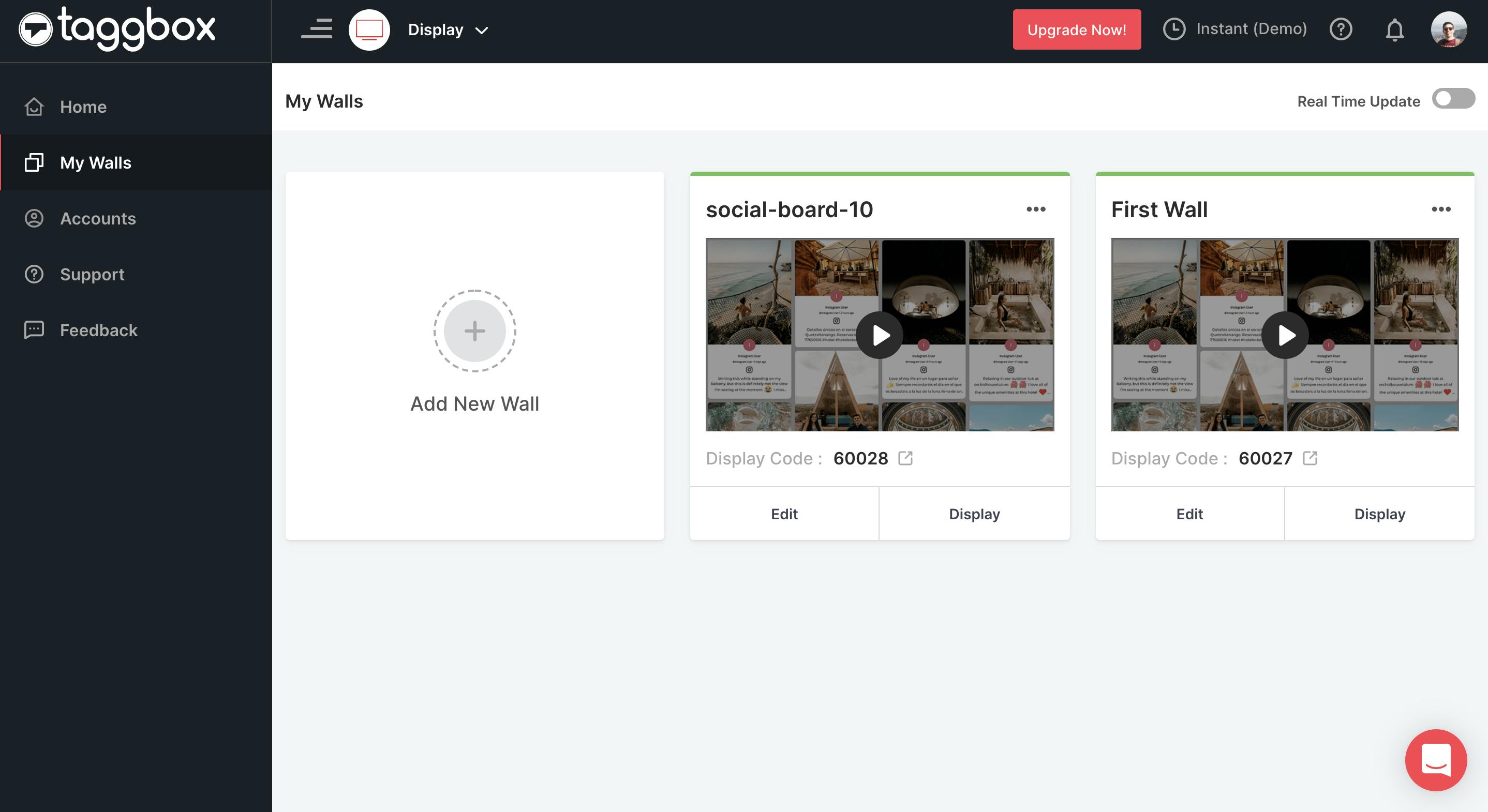 2.6. Next, give a name to your wall. A unique URL of your wall will be created depending on the name you have given to your wall. This can be changed as per your requirement.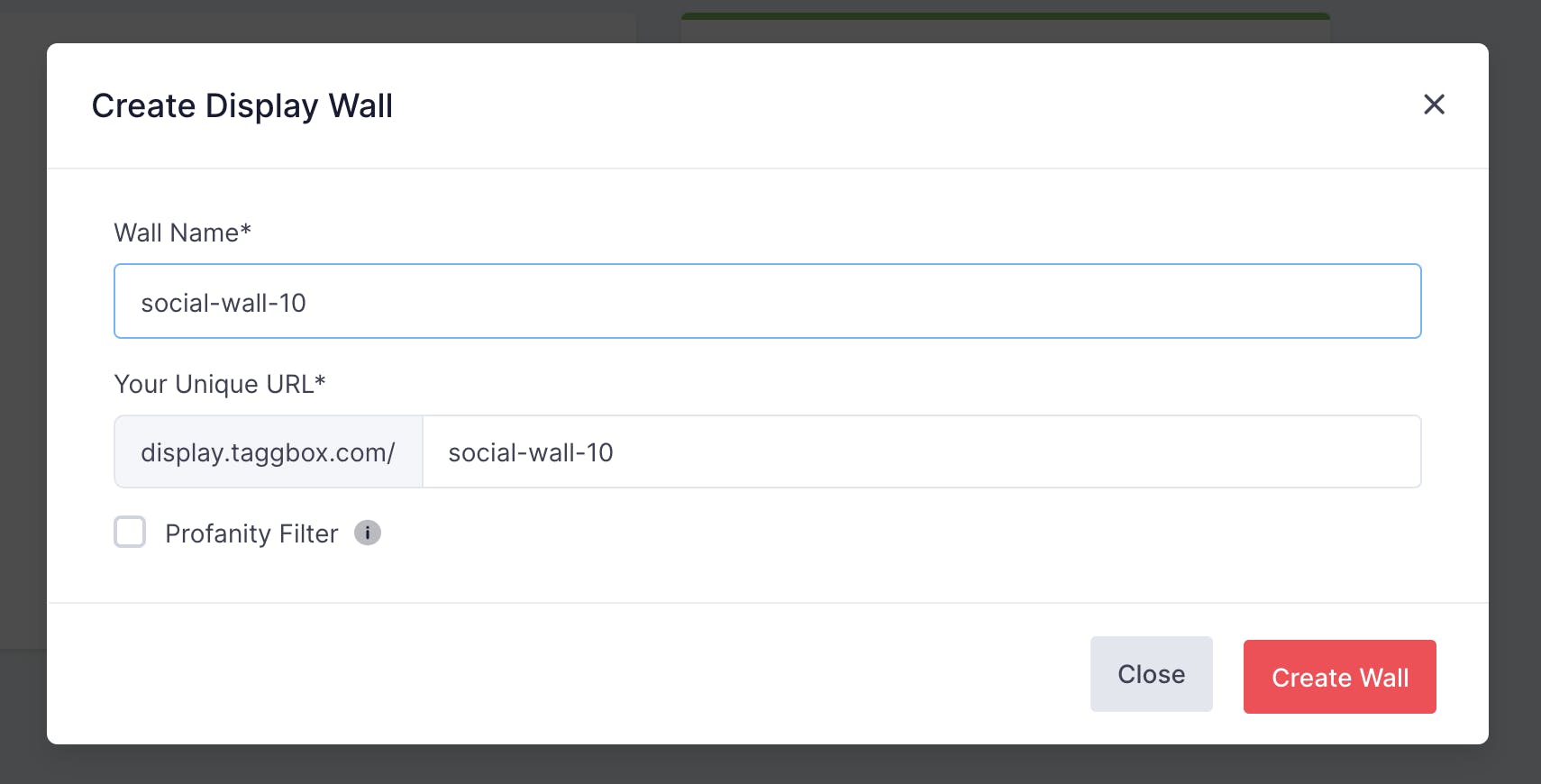 To enable Profanity Filter, select and apply it. Then click on the "Create Wall" button.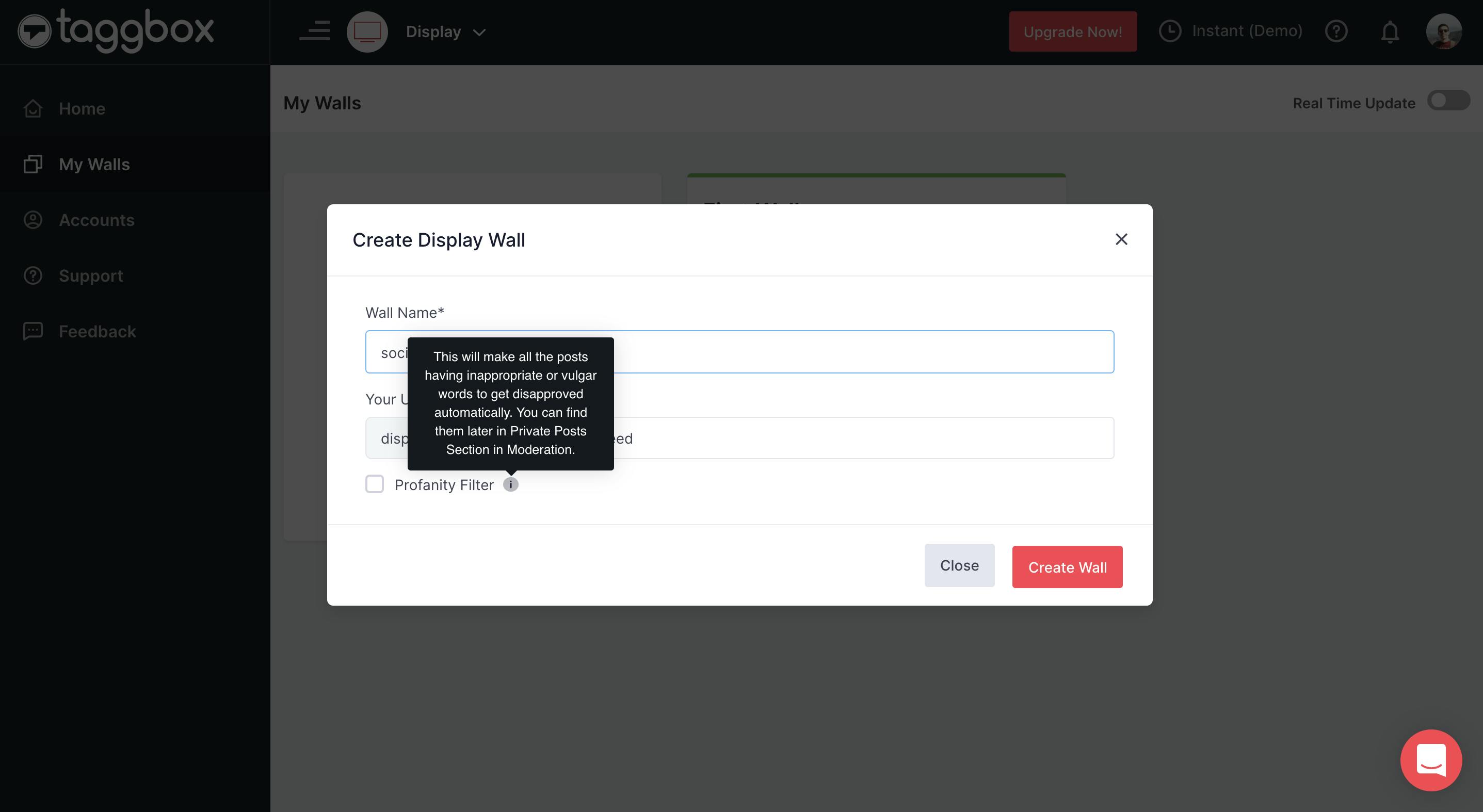 2.7. Choose the source from where you want to fetch feeds to display on your social wall.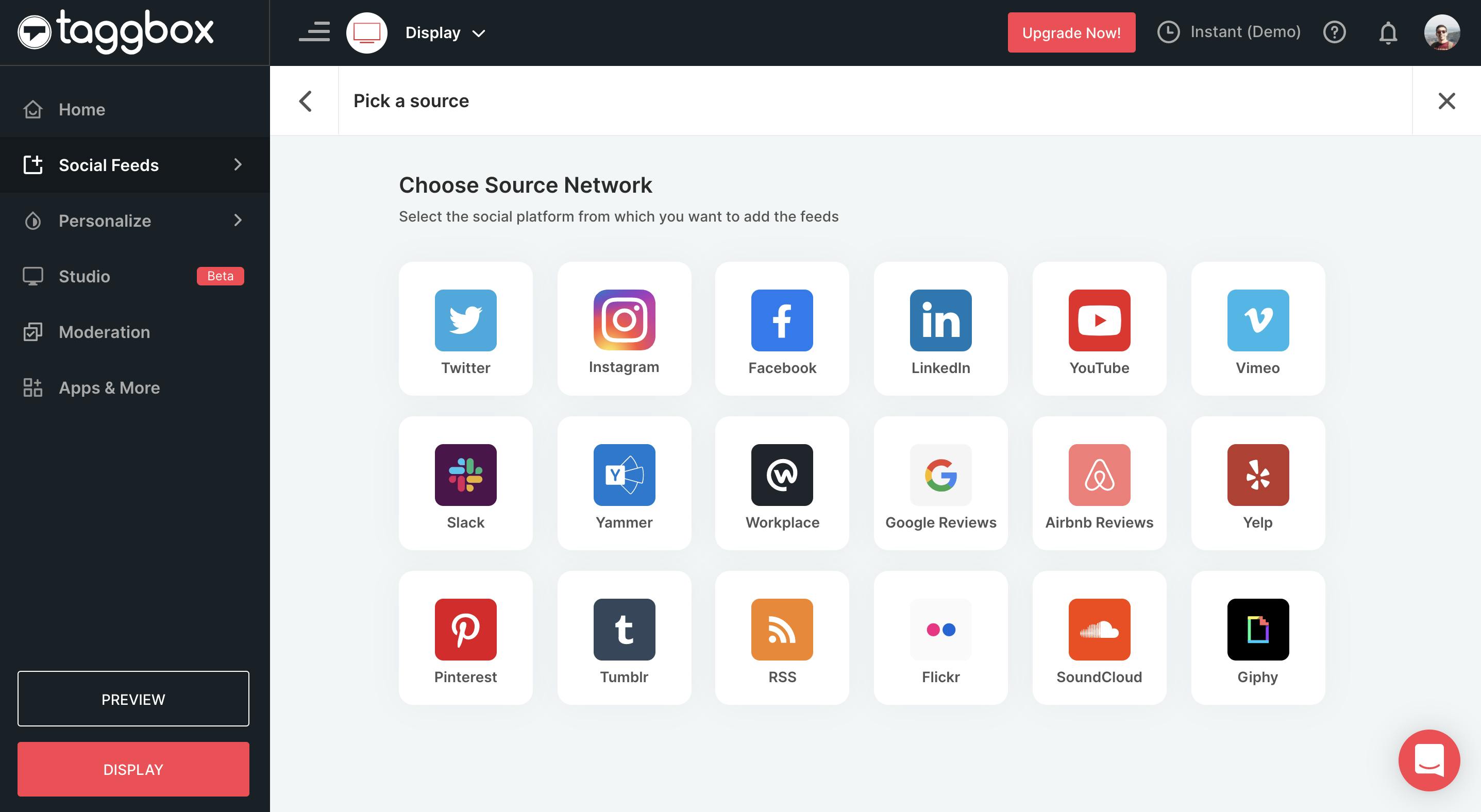 2.8. You will see the preview of the social wall from the source that you select. 
2.9. Click on the Display icon at the left bottom corner. Then you will come across 'Integrate with Digital Signage'. Choose ScreenCloud as your option. 
2.10. From here, select the "Copy Display wall URL" and this will be saved to your device clipboard automatically. This is the link that can be used to display your social wall with ScreenCloud.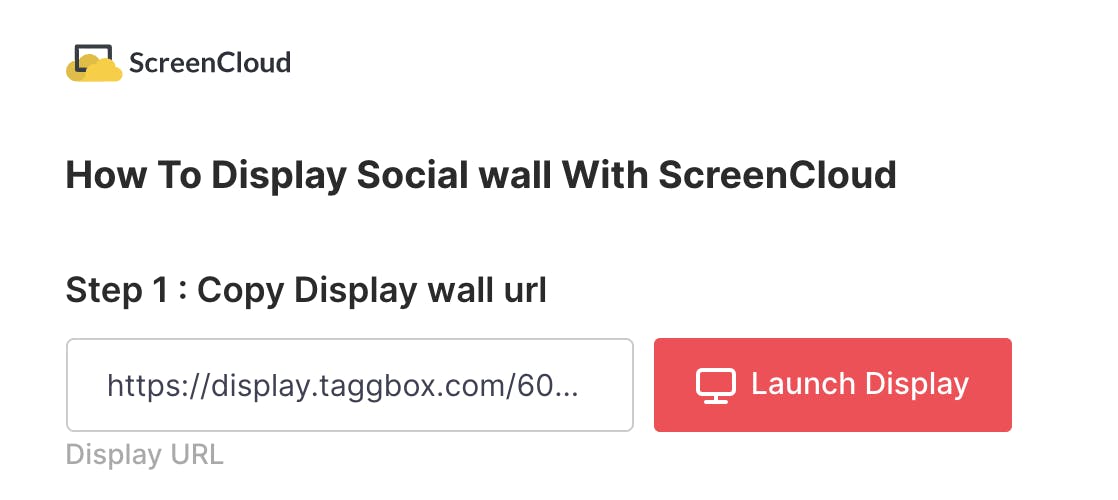 3. Configure your Taggbox settings
3.1. Once you've successfully created and copied the wall URL or link from Taggbox, you can use this directly in the ScreenCloud Taggbox app. Please copy and paste the URL directly into the "Wall URL" section.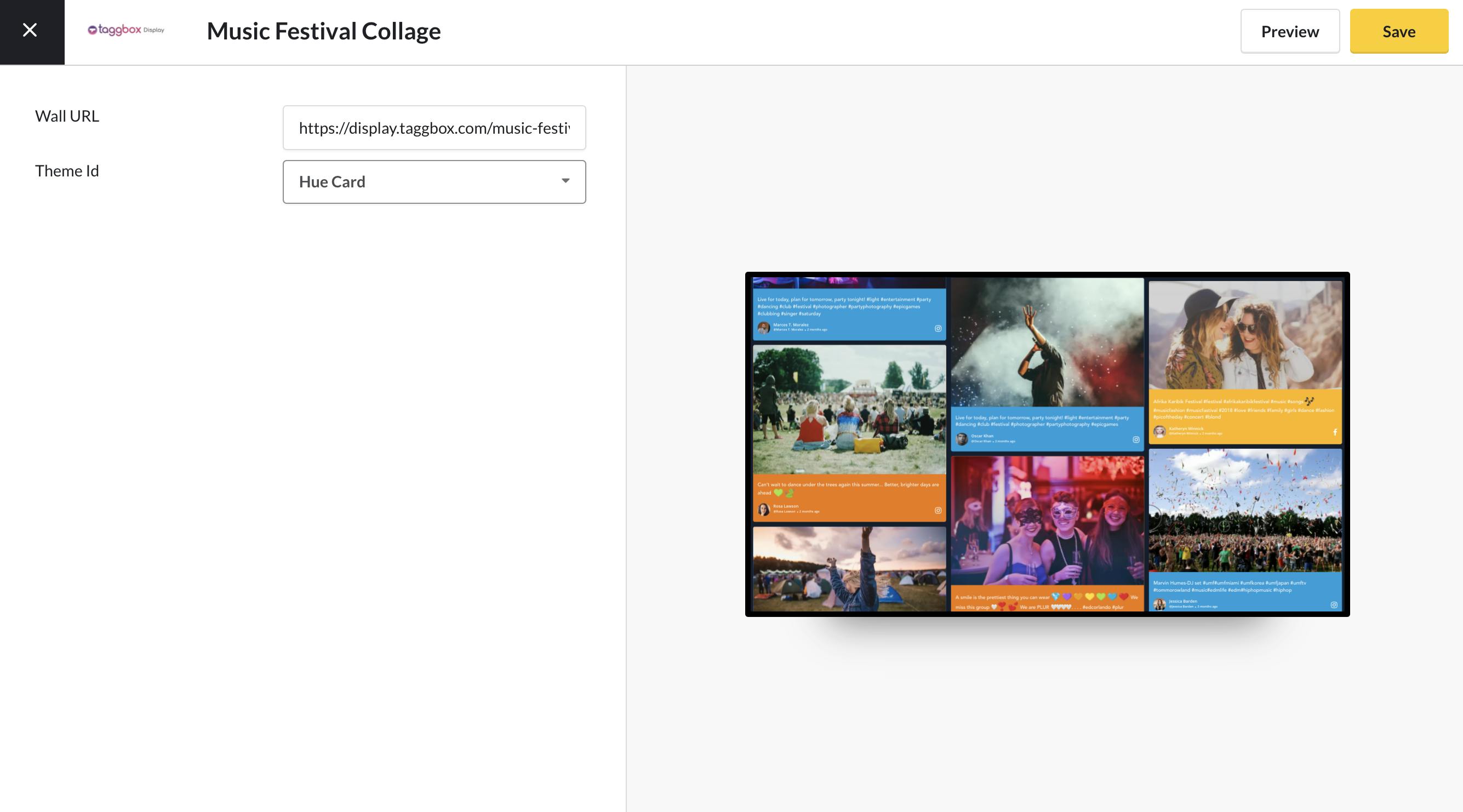 3.2. After you've pasted the link to your wall, you will see it automatically display in the right-hand preview. You can select from a number of different theme styles using the "Theme Id" drop-down menu for how your social media wall will display on the screen.
To review how each theme displays, you can view them directly while setting up a ScreenCloud Taggbox instance:
i) Modern Waterfall
ii) Hue Card
iii) Polaroid
iv) Modern Slideshow
v) Zoom Slideshow
vi) Classic Slideshow
vii) Falling Columns 
viii) Grid
ix) Mashup
x) Atmosphere
xi) Round Edge
xii) Ticker Theme
4. Preview your Taggbox App
4.1. Once you're done editing and customizing your Taggbox app, you can select "Preview" to see how it will display.
4.2. After reviewing your preview, you can add a unique name to your app instance and select "Save" to add the Taggbox app into your managed apps in ScreenCloud.
5. Add the Taggbox app to your digital screens
You can add the Taggbox app to your screen directly by casting it, adding it into a playlist, scheduling into a channel, and more. You can click here to view ways to set content on your screens with ScreenCloud.
Frequently asked questions:
How can I change or remove a Taggbox app?
You can change the URL or link for your ScreenCloud Taggbox app at any time by selecting an existing app instance. From here, you can delete and paste a new link or URL from your account. Please note, if you delete or remove an instance it will no longer be available to display content on your screens.
Does the Taggbox app work in portrait mode?
Yes, the app works in both portrait and landscape orientation.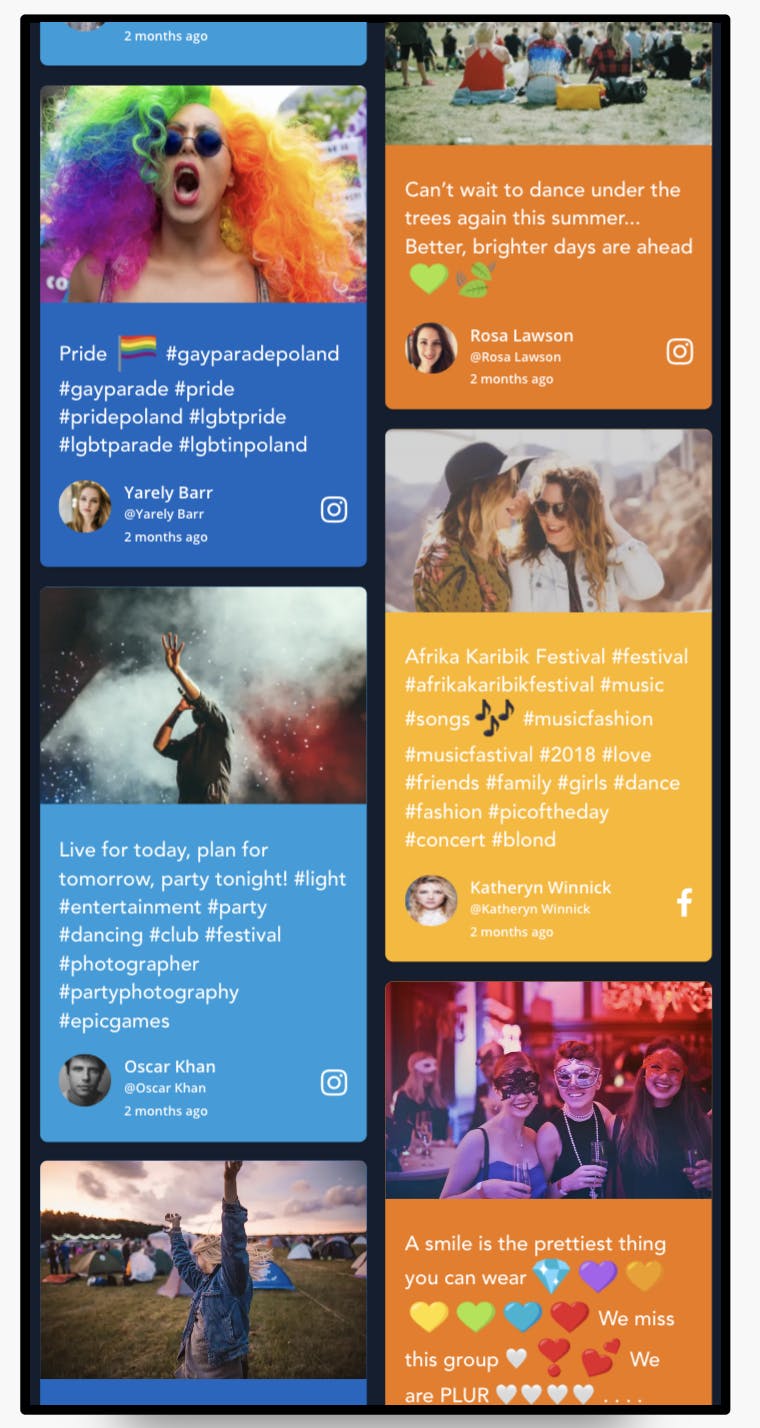 How can I change or customize the Taggbox design? 
To customize or change the design assets, other than the Theme id available in ScreenCloud, you can do this by logging in directly to your Taggbox account. From here, you can manage all changes and customization for all of your social wall integrations or designs.
Are there any similar apps to Taggbox?
ScreenCloud also has a Walls.io app available which allows you to also alternatively display or showcase user-generated content as a social media wall. You can click here to view the ScreenCloud Walls.io App Guide for more information.
Do I need an account with Taggbox to use it with ScreenCloud?
Yes, Taggbox is a third-party service that requires an additional plan for access to features and an account is required to use this app. You can click here for Taggbox pricing information and also sign up for a free trial.
If you have any additional questions or feedback on using the Taggbox app, please feel free to reach out to our support team at support@screencloud.com or give us a call at our toll-free support line at +18885575335.