Organizations invest a great deal of commitment to fostering strong internal communication strategies and branding guidelines. Innovative solutions can encourage and support employee engagement, whether the focus is information-sharing, culture, management, or cross-functional projects, ScreenCloud's digital signage can help bridge the gap in streamlining what's most important for your teams.
The ScreenCloud Staffbase News app allows you to reach your workforce with branded engagements, personalized interactions, and key data. Staffbase is recognized as a global leader in providing customized intranet services and solutions for connecting employees to the most vital insights. Using the ScreenCloud Staffbase News app you can:
Display your Staffbase News streams on your digital screens
Run Staffbase channels along with other media, apps, and scheduled content
Digitize your employee communications and experiences
Please note, Staffbase is a third-party application that includes pricing tiers to use specific services. You can click here to view the Staffbase pricing information.
Here's how it works:
1. Select and install ScreenCloud's Staffbase News app
1.1. Get started by logging into your ScreenCloud account here and choosing the ScreenCloud App Store from the left-hand menu.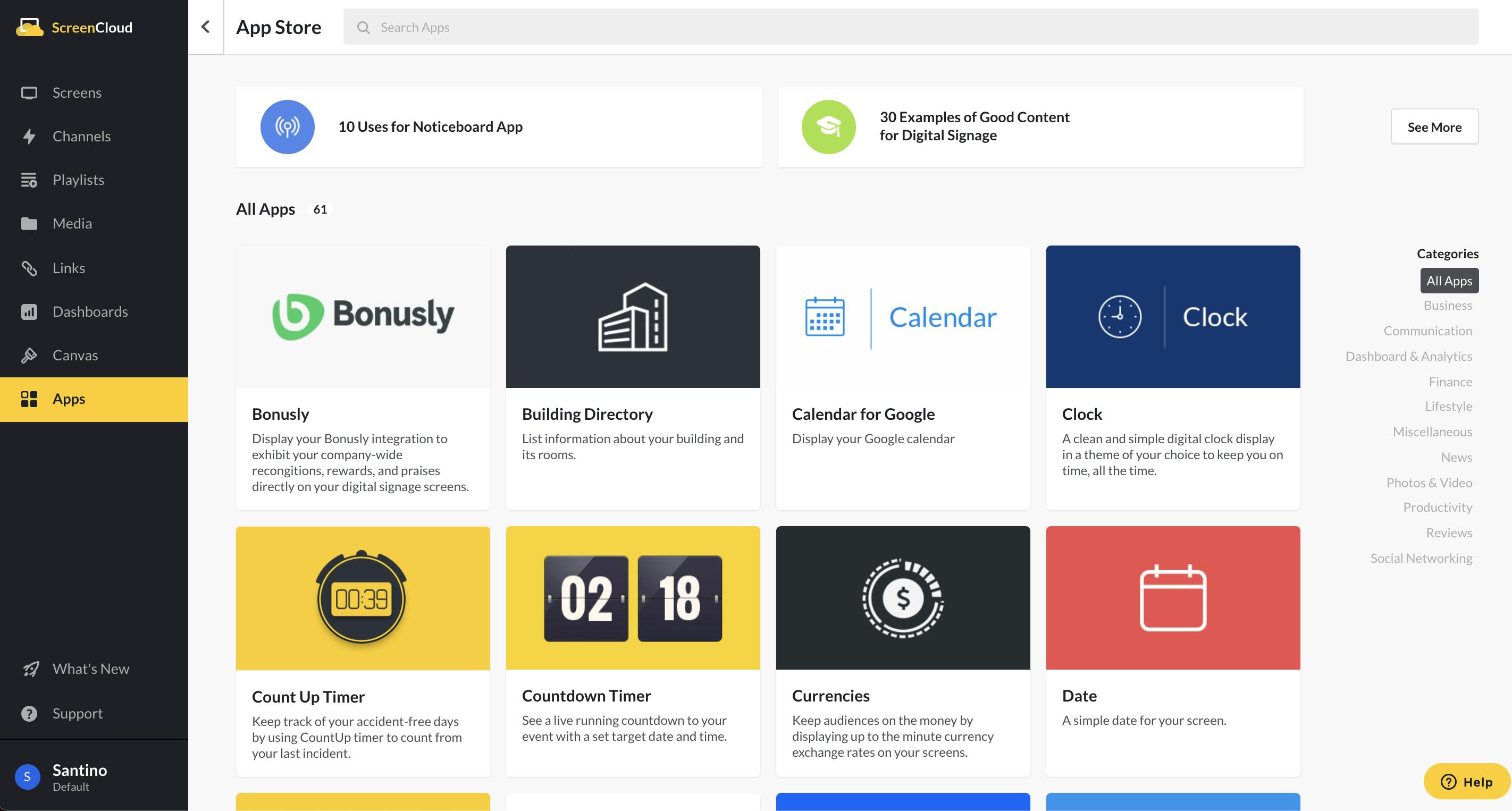 1.2. From the App Store, type in "Staffbase News" in the search bar to populate the Staffbase News app.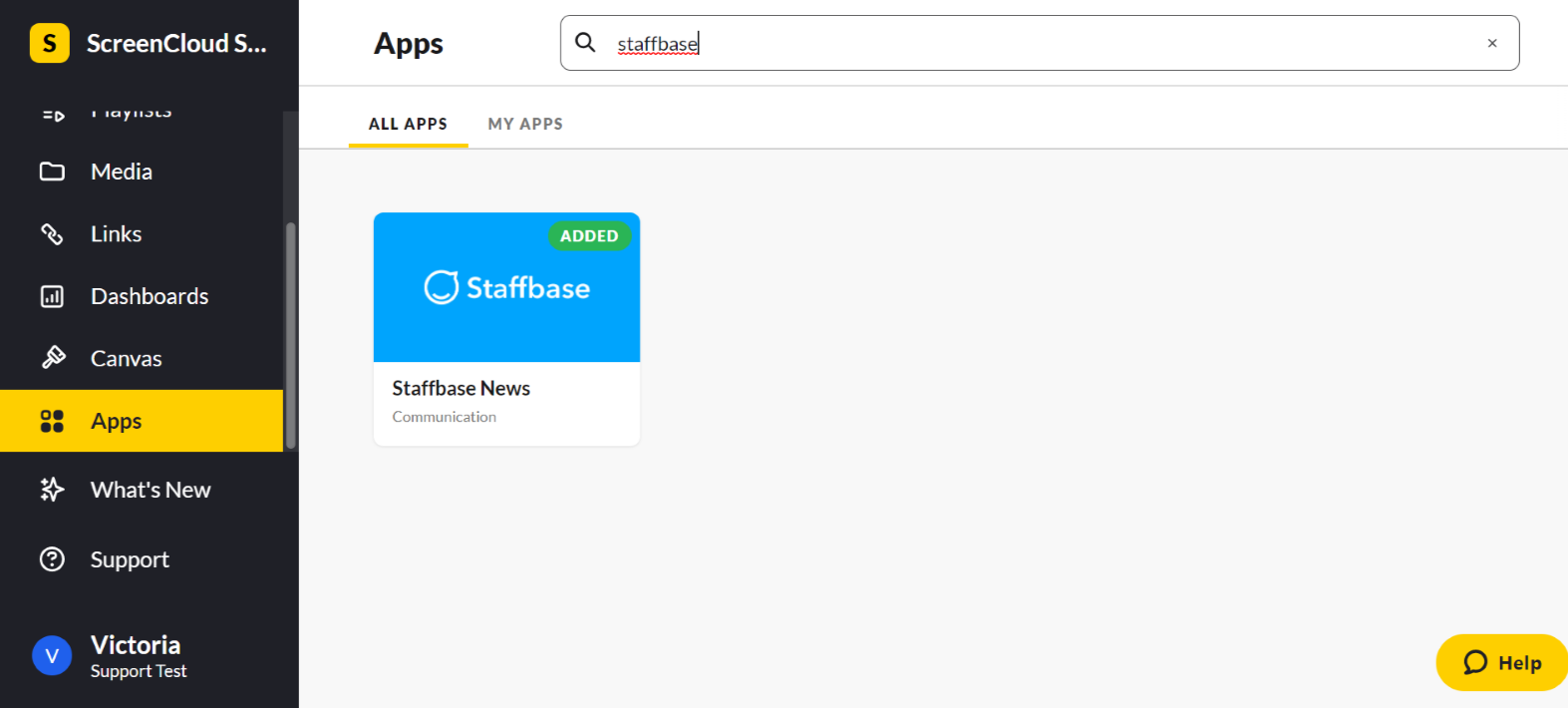 1.3. Click on the app, then select the yellow "Install App" button to open the configuration window for the Staffbase News app.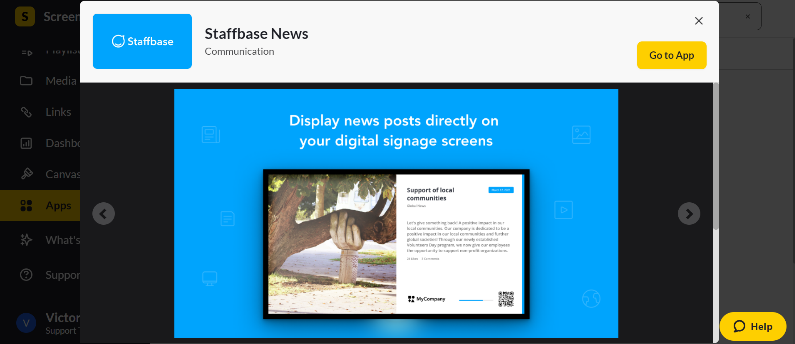 2. Set up your Staffbase credentials
2.1. Your app configuration will begin by connecting a Staffbase account. Before proceeding, you can change the name of your app instance to easily find it later in your account. Select the "Connect a Staffbase account" option.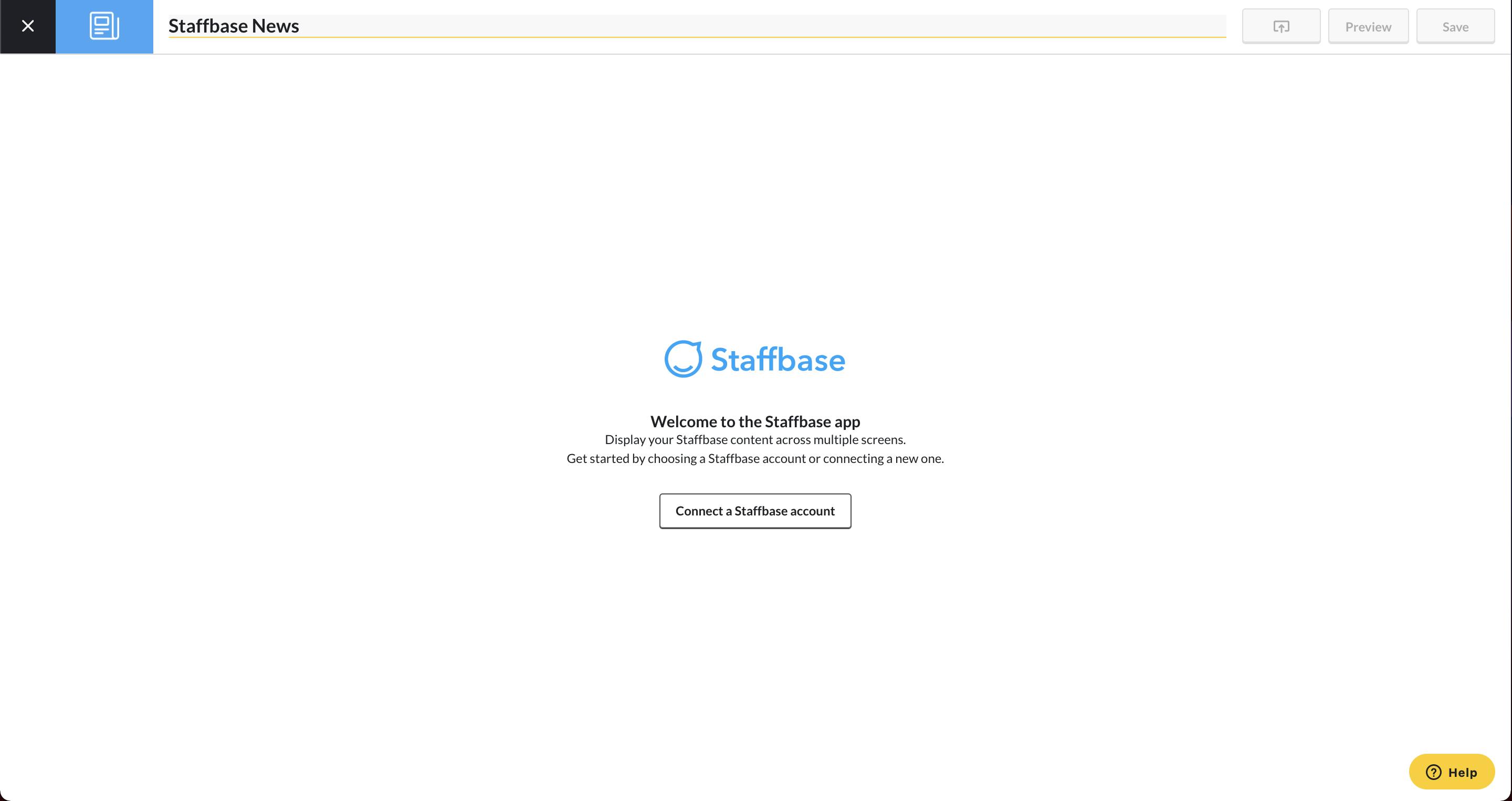 2.2. You can get started by selecting a "Staffbase Environment". Please note that the environment was selected when you first created your Staffbase account. If the incorrect version is selected then you'll be unable to connect your Staffbase account content:
LiveDE - Germany
LiveINT - Everywhere else
Test - Staffbase employees
2.3. Next, you can copy and paste your Staffbase account API key. This is a unique key that connects to all of the data and channels from your Staffbase account.
2.4. You can find or create an API token directly from within your Staffbase account. Click on "Experience Studio" while logged into your account.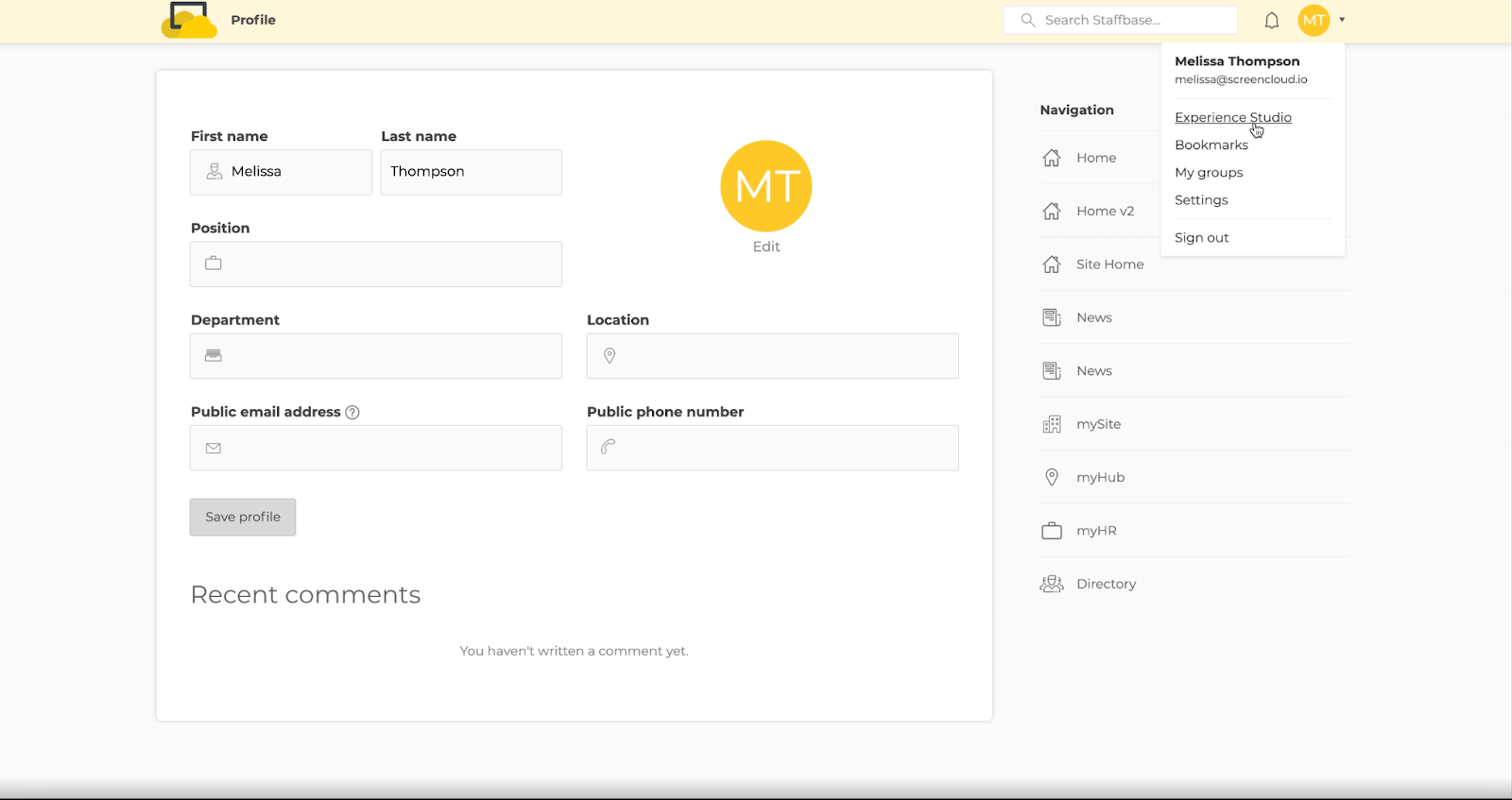 2.5. Next, you can navigate to your "Settings" and click "API access". From here, select "Create API token".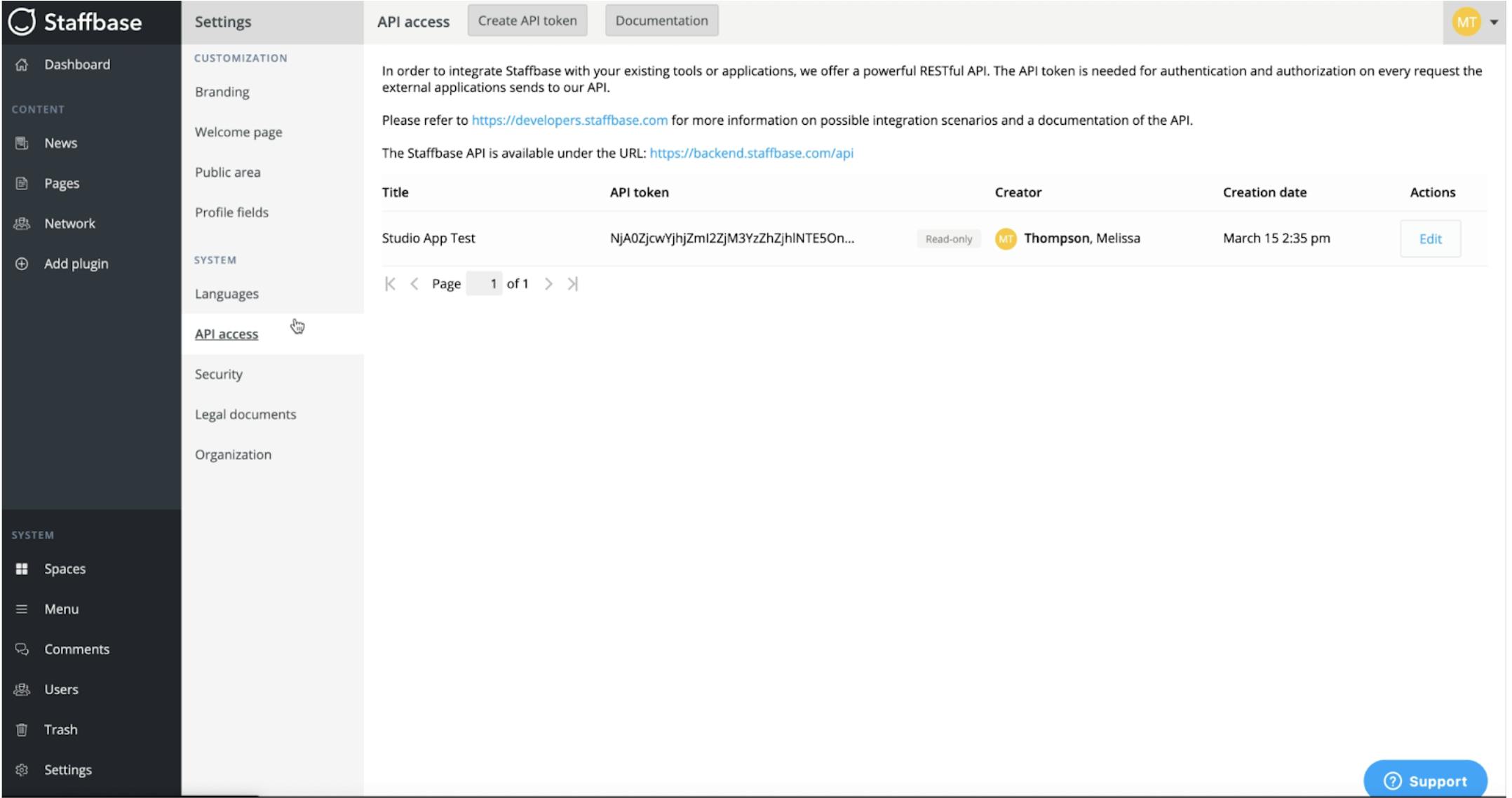 2.6. You can name your unique token and select the access level for your API token. Please note that you must set your API token to "Read-only access" to keep the API locked down for administrative purposes and for content to be displayed on other services, such as ScreenCloud. Once you're done, you can create your access token.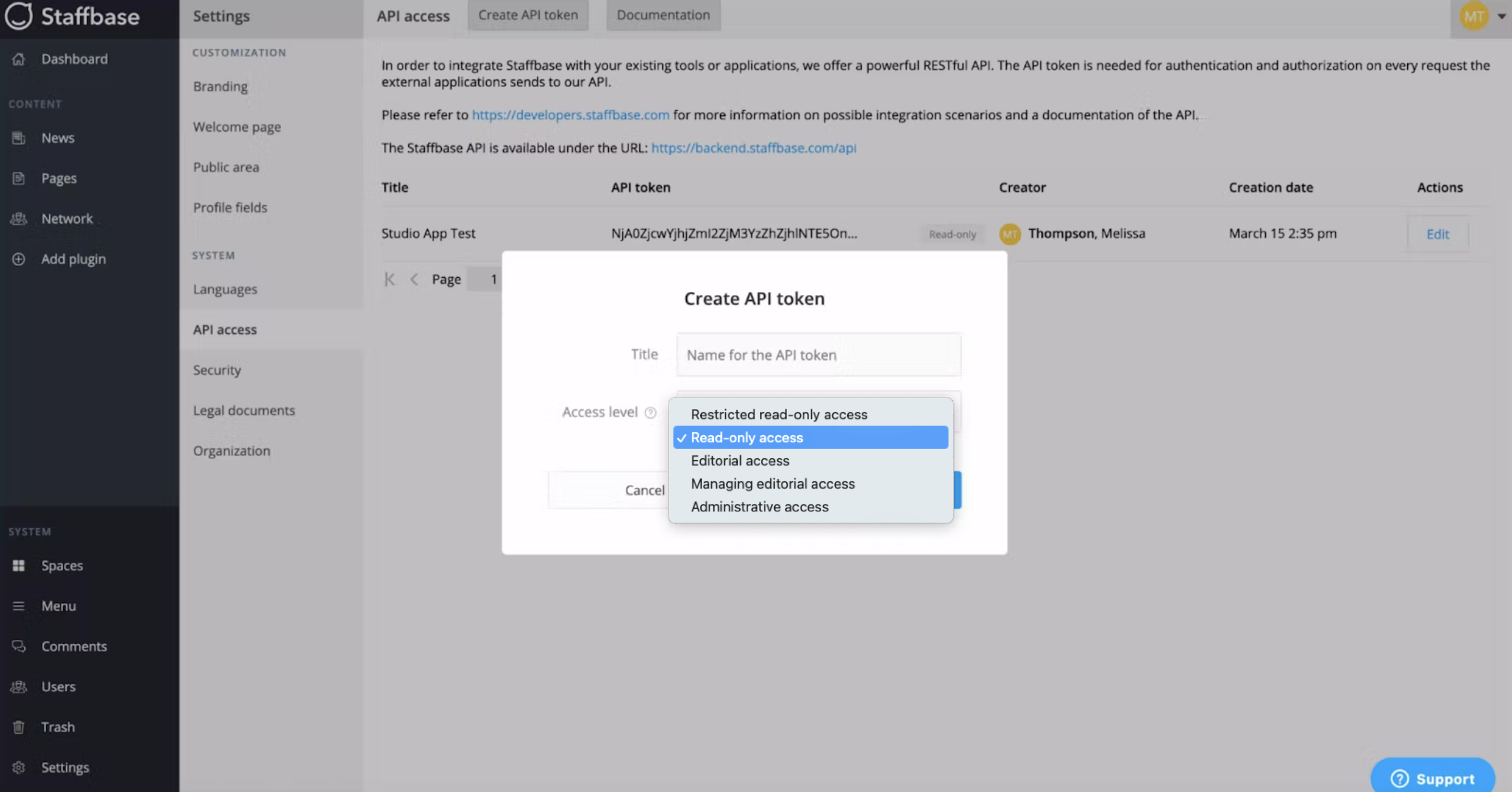 2.7. Copy and paste the API key created into the Staffbase app instance setup. You can also add any "Credential Name" to keep track of the account you're connecting with ScreenCloud.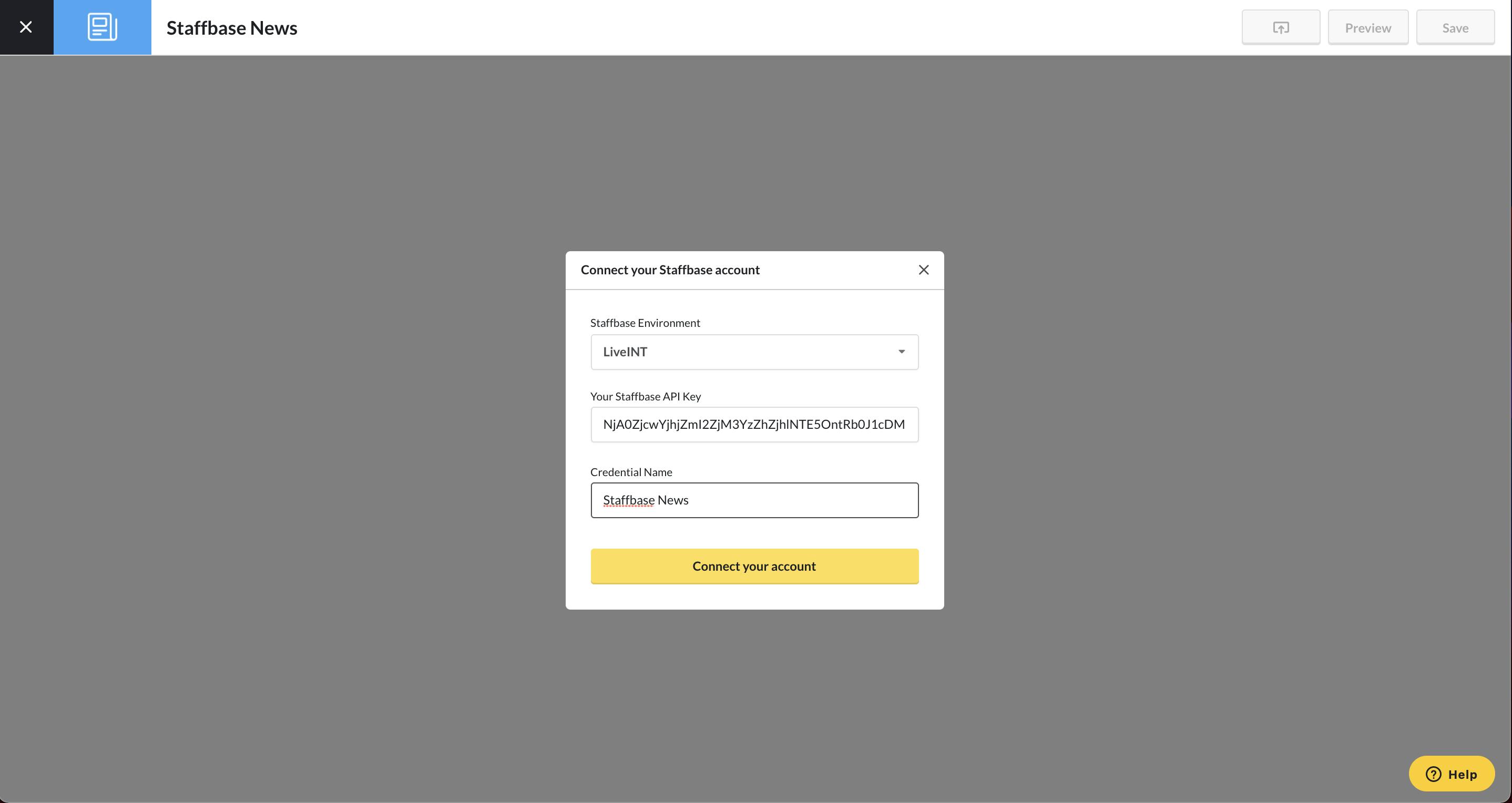 2.8. Select "Connect your account" and you'll be able to begin selecting a Staffbase channel.
3. Select your Staffbase channel and settings
3.1. Once your account is connected, ScreenCloud sorts your data and content into channels that you can display based on the information from Staffbase.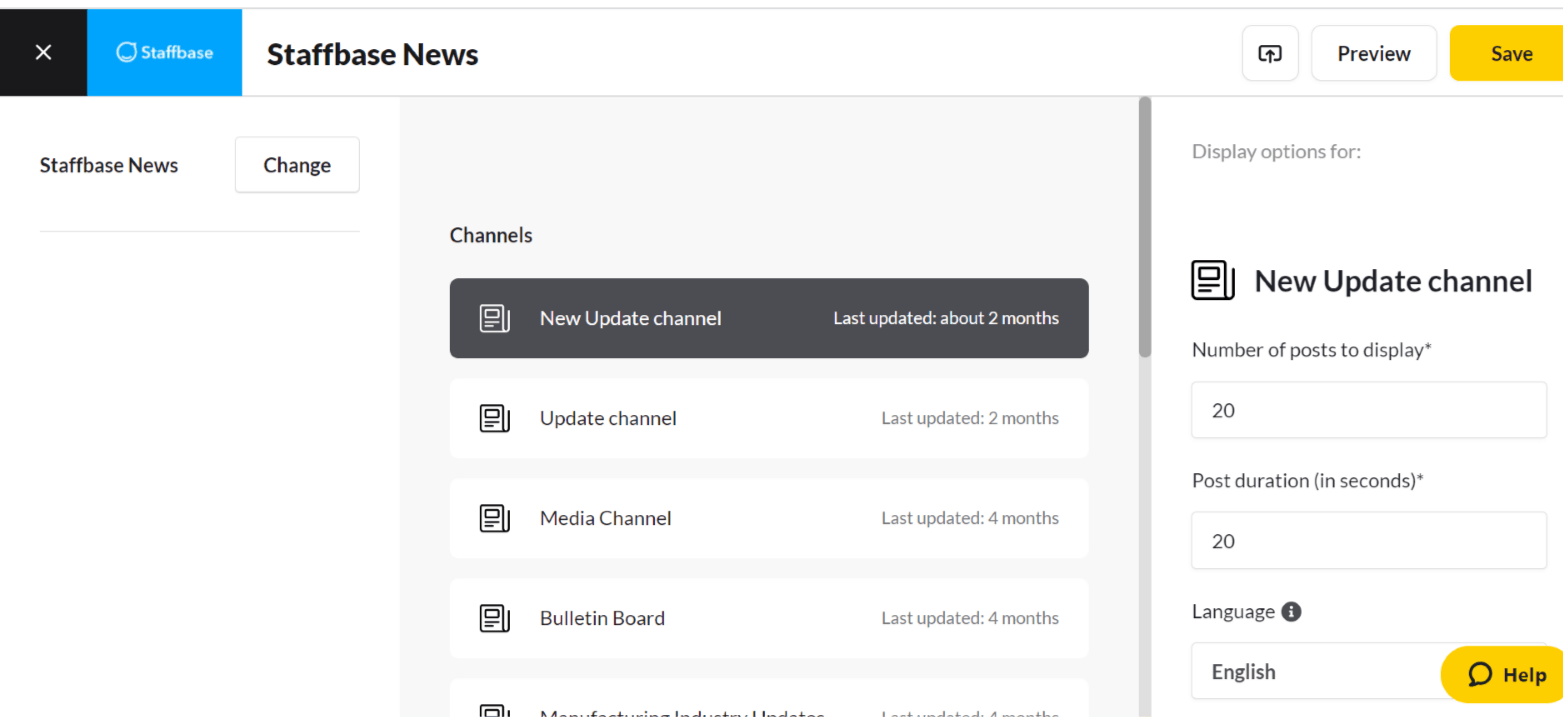 3.2. Once a channel has been selected, you can configure your options which appear from the right-hand panel. Please note, the content that becomes displayed is all managed from your Staffbase account directly.
3.3 Select the number of posts to display before looping back to the start. The minimum number of posts is 1 and the maximum number of posts is 20"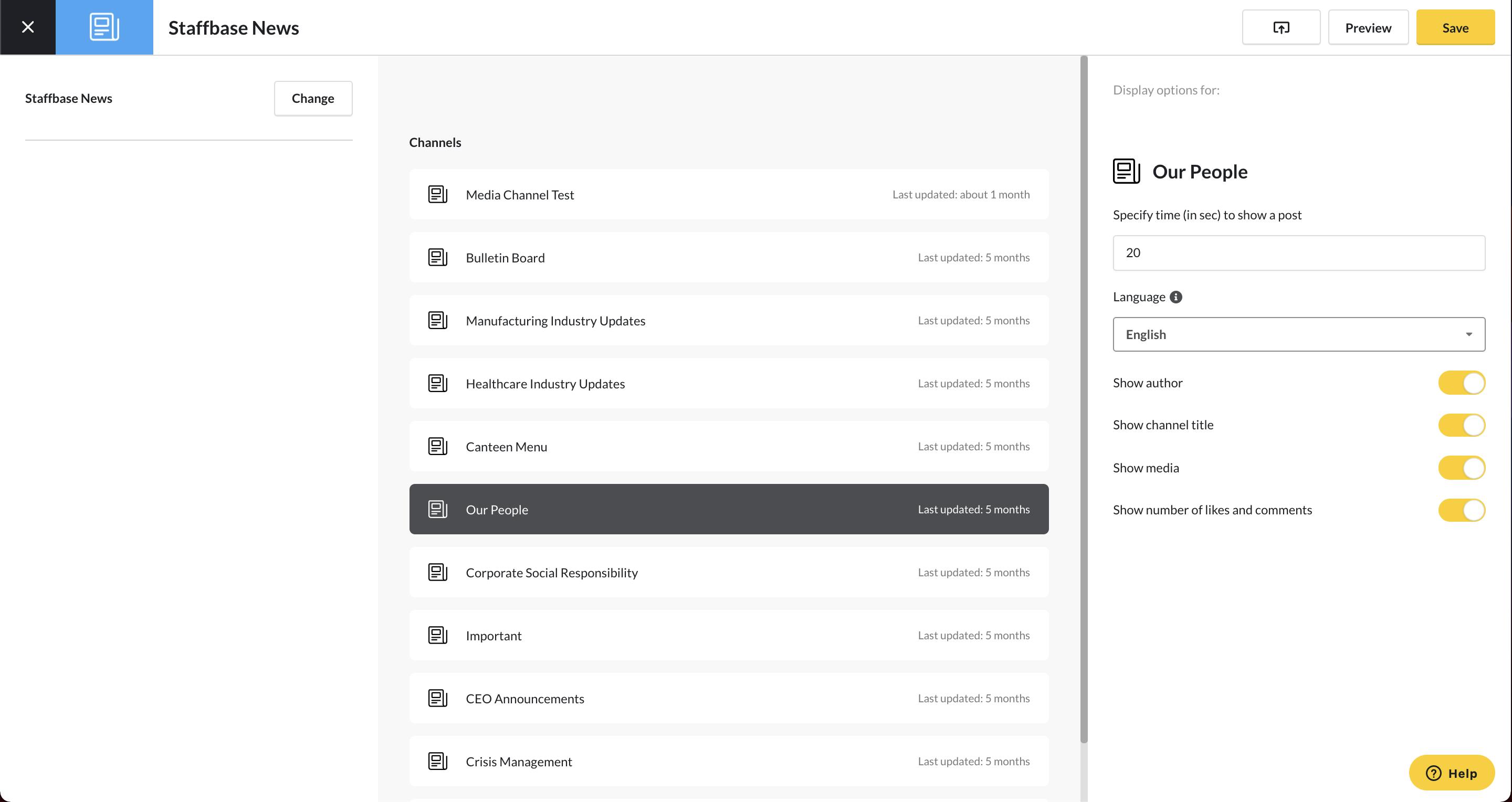 i) Specify time (in sec) to show a post: use this option to control the transition between posts from your Staffbase channel.
ii) Language: you can choose a language for your Staffbase News app. Please note, if your selected language is unavailable then Staffbase will use the first available language by default.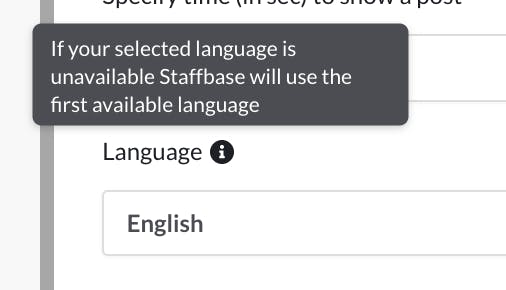 iii) Show author: you can display the original author who created or published the post on Staffbase.
iv) Show channel title: you can display the channel or feed title. For example, if your channel is "HR Communications" then this will show on your feed.
v) Show media: you can display media (e.g. images and videos) attached or shared with your posts.
vi) Show number of likes and comments: you can display the number of likes and comments for any post.
4. Preview your Staffbase News app
4.1. Once you're done editing and customizing your Staffbase News settings, you can select "Preview" to see how it will display.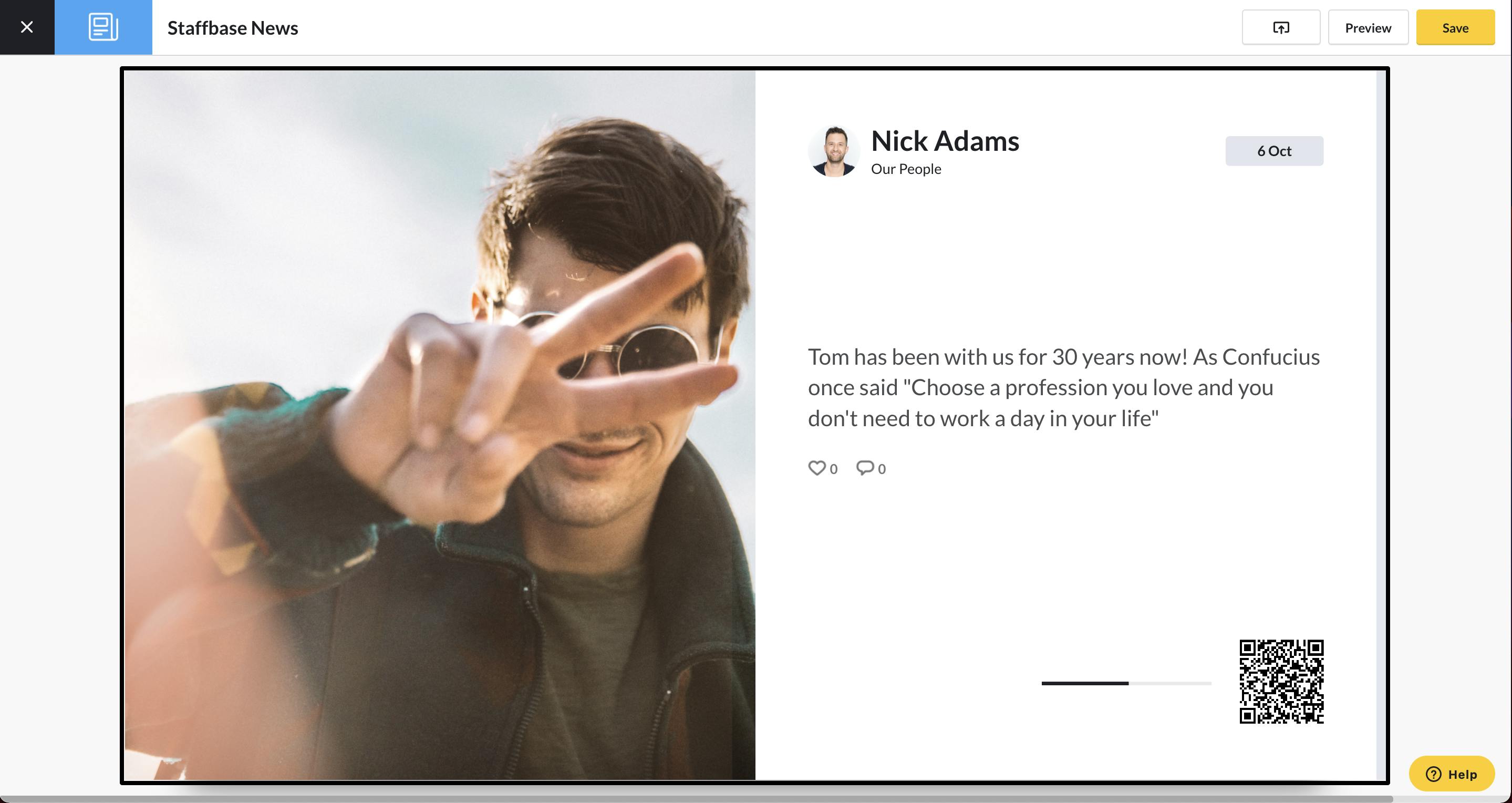 After reviewing your preview, you can select "Save" to add the Staffbase News app into your managed apps in ScreenCloud.
5. Add Staffbase News app to your digital screens
You can add the Staffbase News app to your screen directly by casting it, adding it into a playlist, scheduling into a channel, and more. You can click here to view ways to set content on your screens with ScreenCloud.
Frequently asked questions:
How can I change or remove a Staffbase account?
You can access your Staffbase News app instance at any time and select the "Remove" option to delete accounts. You can add any new Staffbase account by connecting a new account and using the API key from Staffbase you'd like to use.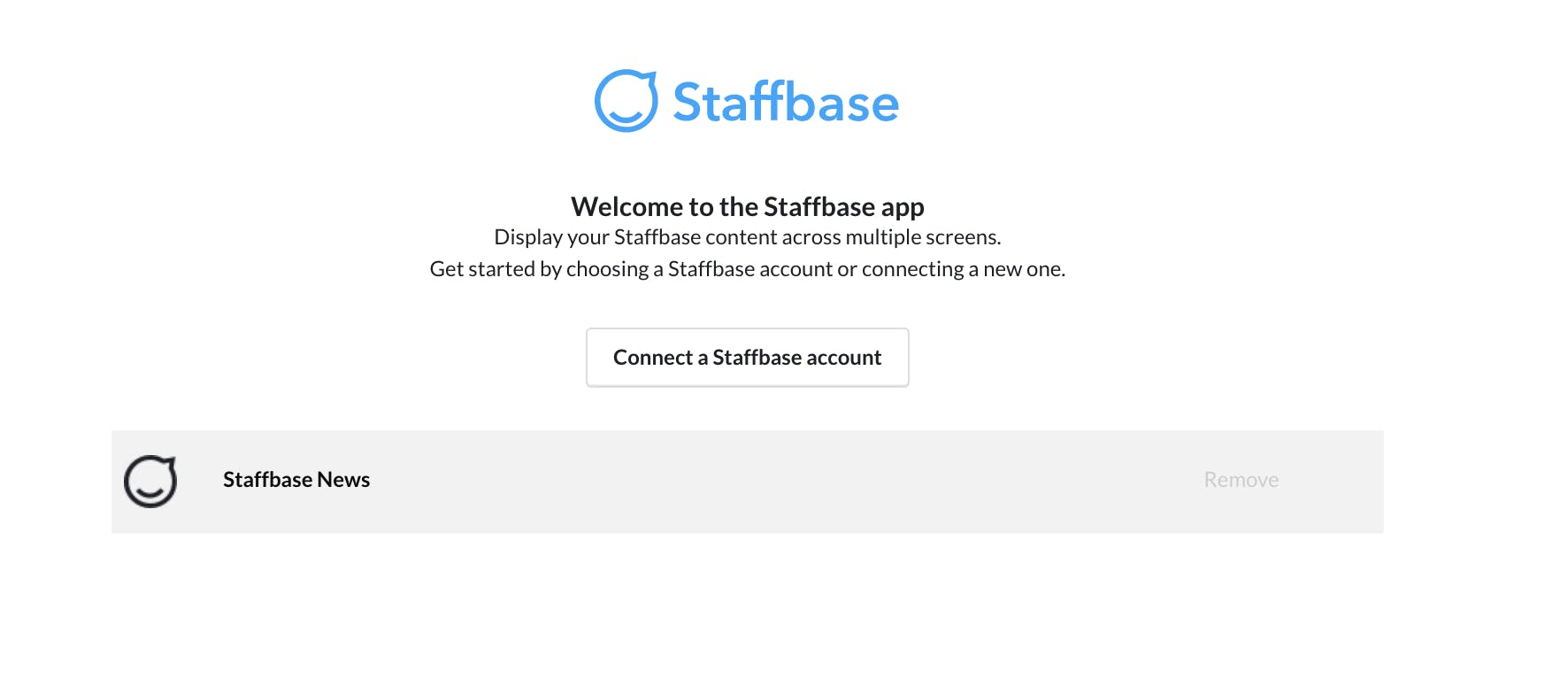 How can I change the Staffbase channel I am displaying?
You can access any existing Staffbase News app instance and simply select a different channel to display from your available channels.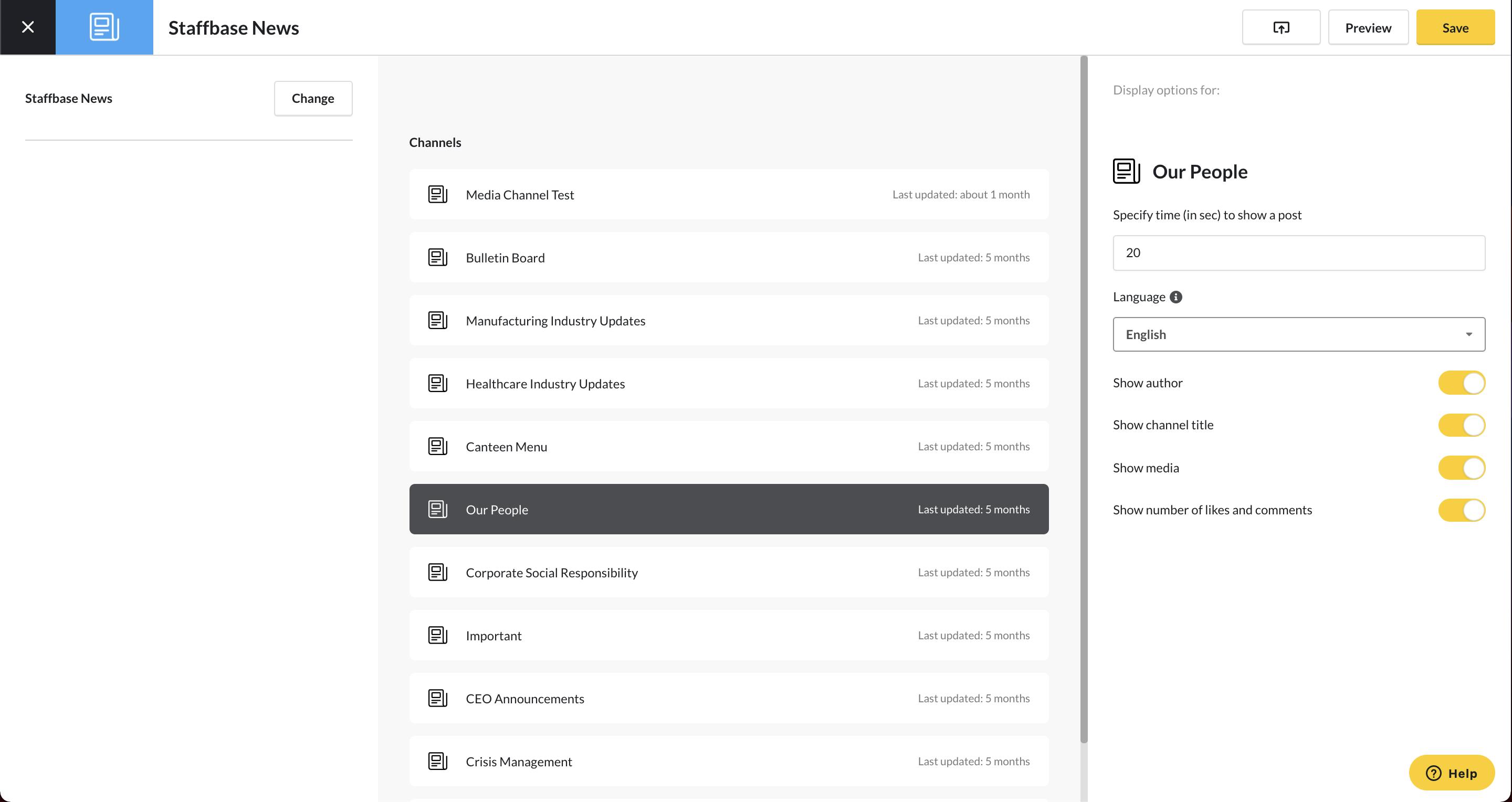 Does the Staffbase News app work in portrait and landscape mode?
Yes, the app works in both portrait and landscape orientation.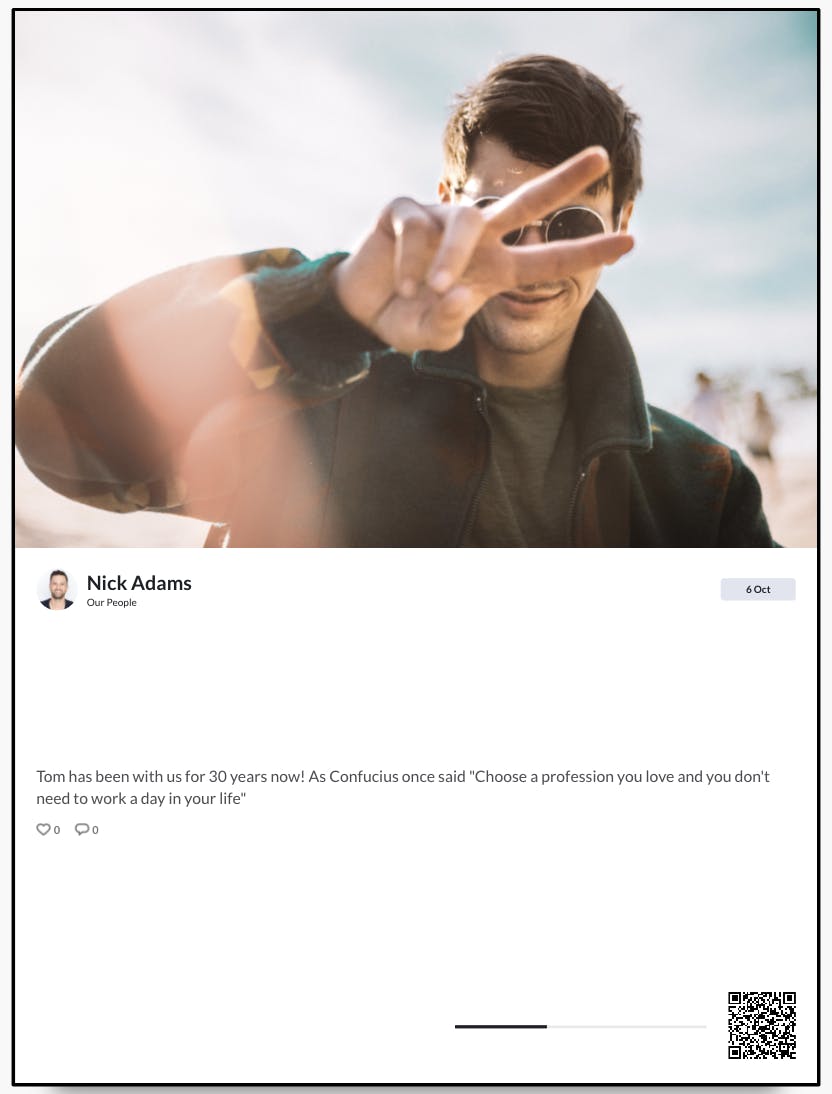 If you have any additional questions or feedback on using the ScreenCloud Staffbase News app, please feel free to reach out to our support team at support@screencloud.com.