Please note, if you are using the older version of ScreenCloud (signage.screencloud.com) you can download the alternative Sports Live Scores guide here.
The ScreenCloud Sports Live Scores app allows you to share all of the latest sports scores from your favorite teams, to your digital signage screens. From NBA scores to football and NHL, the Sports Live Scores app is the easiest way to get the latest information and display it for your audience to see. This is perfect for bars, restaurants, and cafés where your customers may want to linger over the scores and a drink or two.
With the ScreenCloud Sports Live Scores app you can:
Choose scores and fixtures from a variety of different sports
Get live information on the latest scores, as they happen
Use multiple versions to show different teams
Please note the Sports Live Scores app is only currently supported in the landscape mode.
Here's how it works:
1. Select and install ScreenCloud's Sports Live Scores app
1.1. Get started by logging into your ScreenCloud account here and choosing the ScreenCloud App Store from the left-hand menu.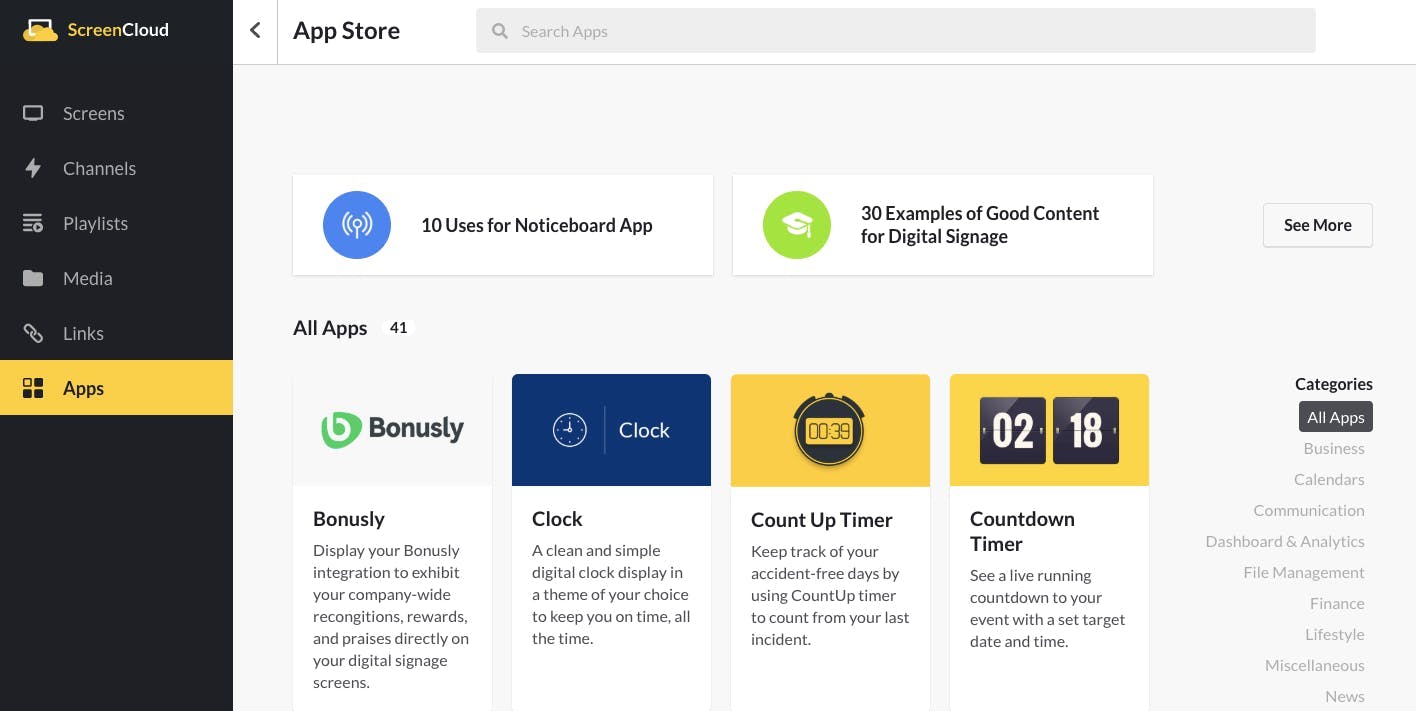 1.2. By searching "Sports Live Scores" you can find the Sports Live Scores app and choose the "Install app" button to add a new instance.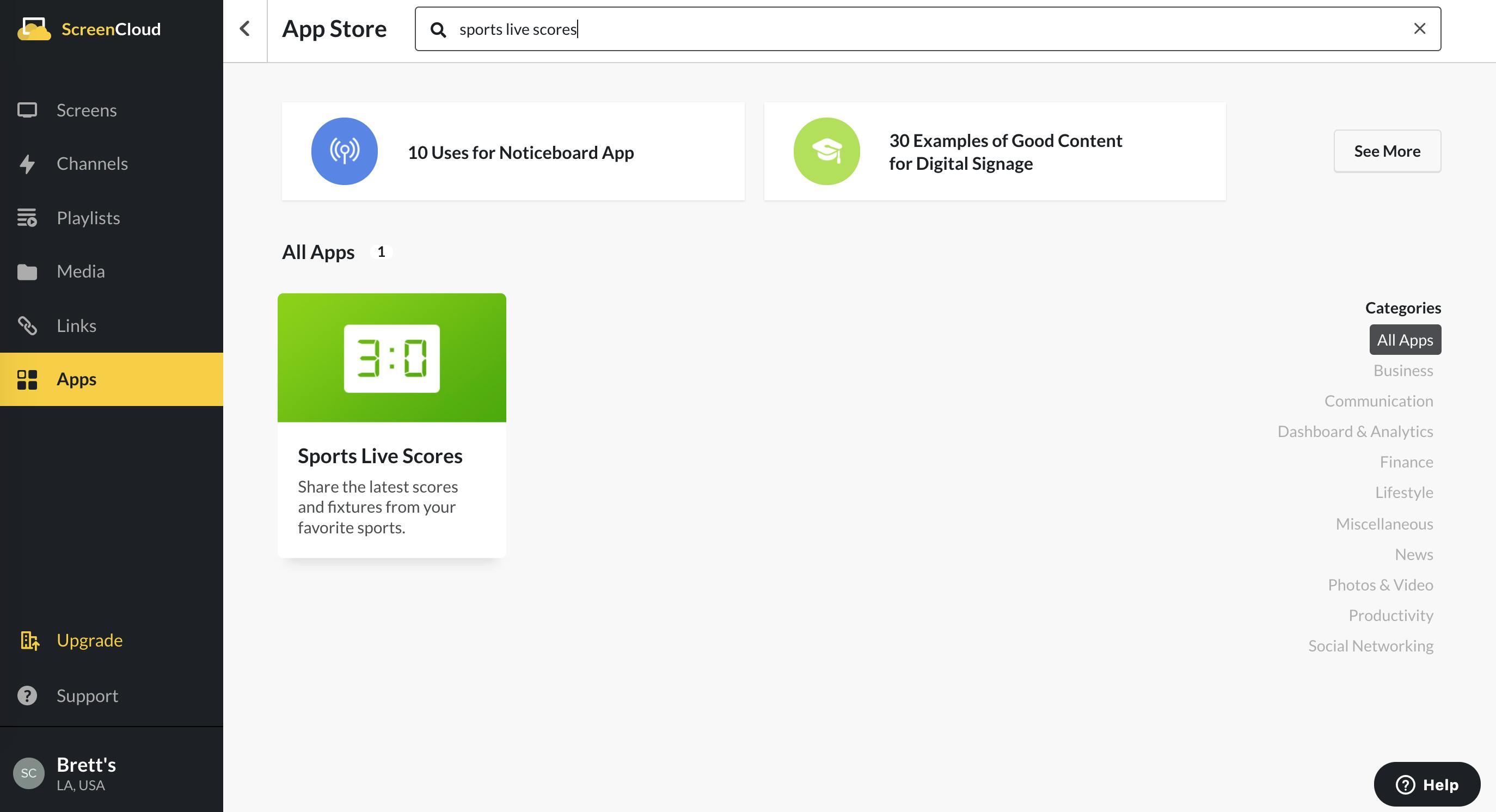 2. Choose your settings
From the dropdown, choose which sport you want to display. The current options include: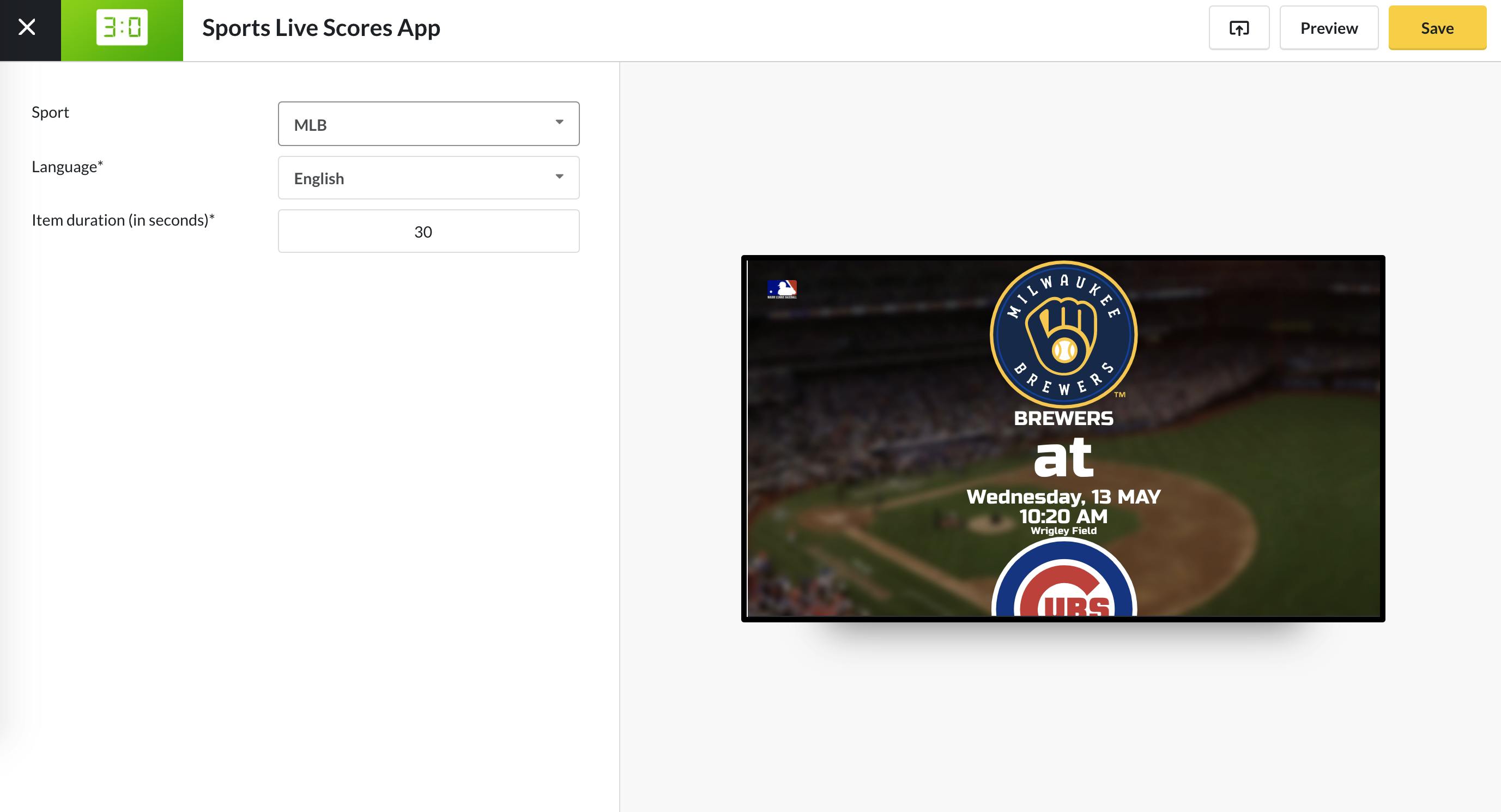 NHL (National Hockey League) scores
NFL (National Football League) scores
NBA (National Basketball Association) scores
MLB (Major League Baseball) scores
CBB (National Collegiate Athletic Association Basketball) scores
CFB (National Collegiate Athletic Association Football) scores
Next, choose which language to display your scores in from the Language dropdown. We currently support English, Spanish, German, French, and Dutch languages.
Once you have chosen a sport and your language, you can then set the duration you'd like the scores and fixtures to show for.
3. Preview your Sports Live Scores 
Once you've added your Sports Live Scores app you have the opportunity to preview it before it gets added to your screens.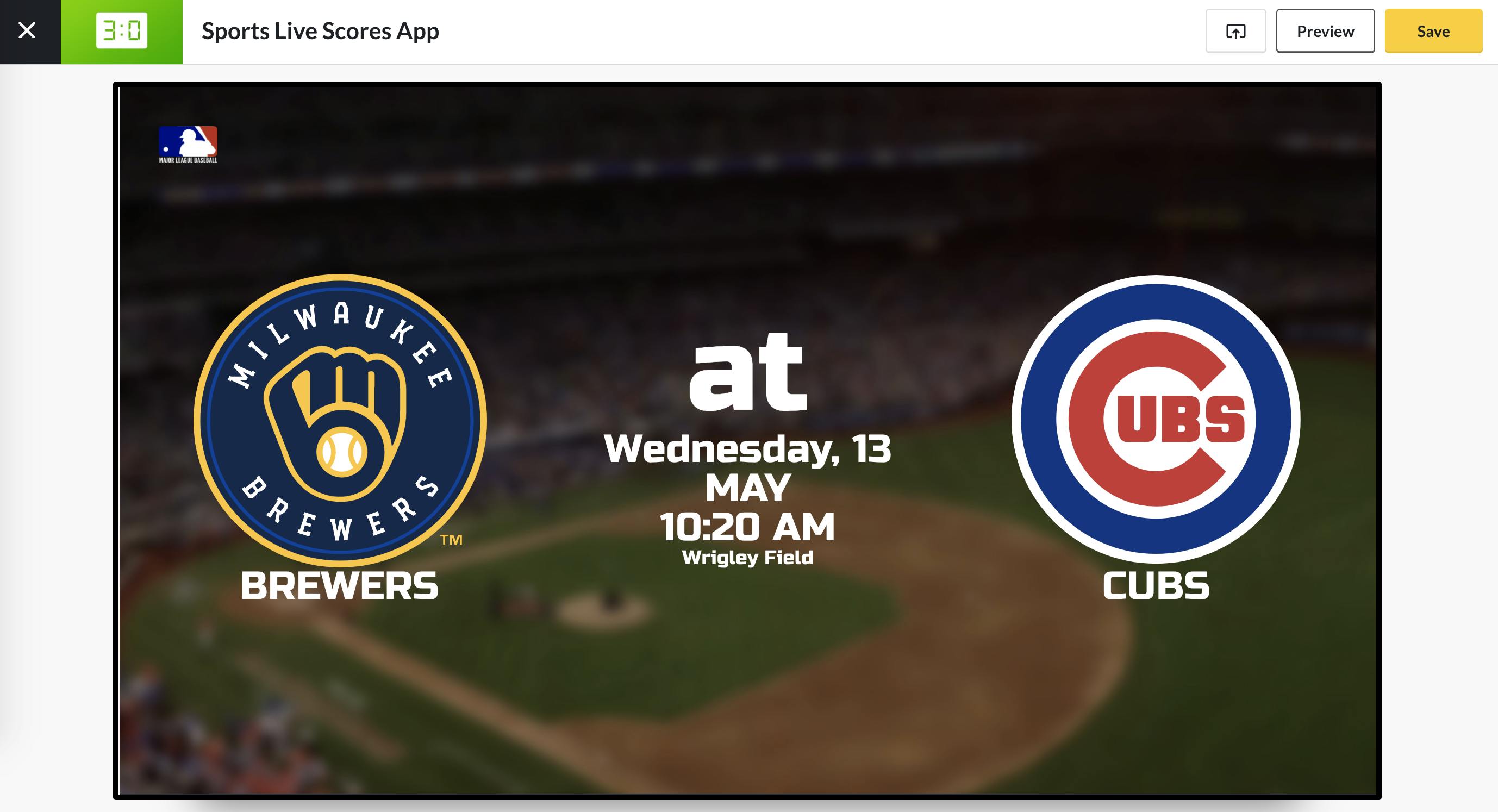 Click 'Preview' and a popup will display your Sports Live Scores app. Please note, if the sport you have chosen is out of season, you will see the "Out of Season" message as shown below. At this point, you may want to go back and choose another sport to show.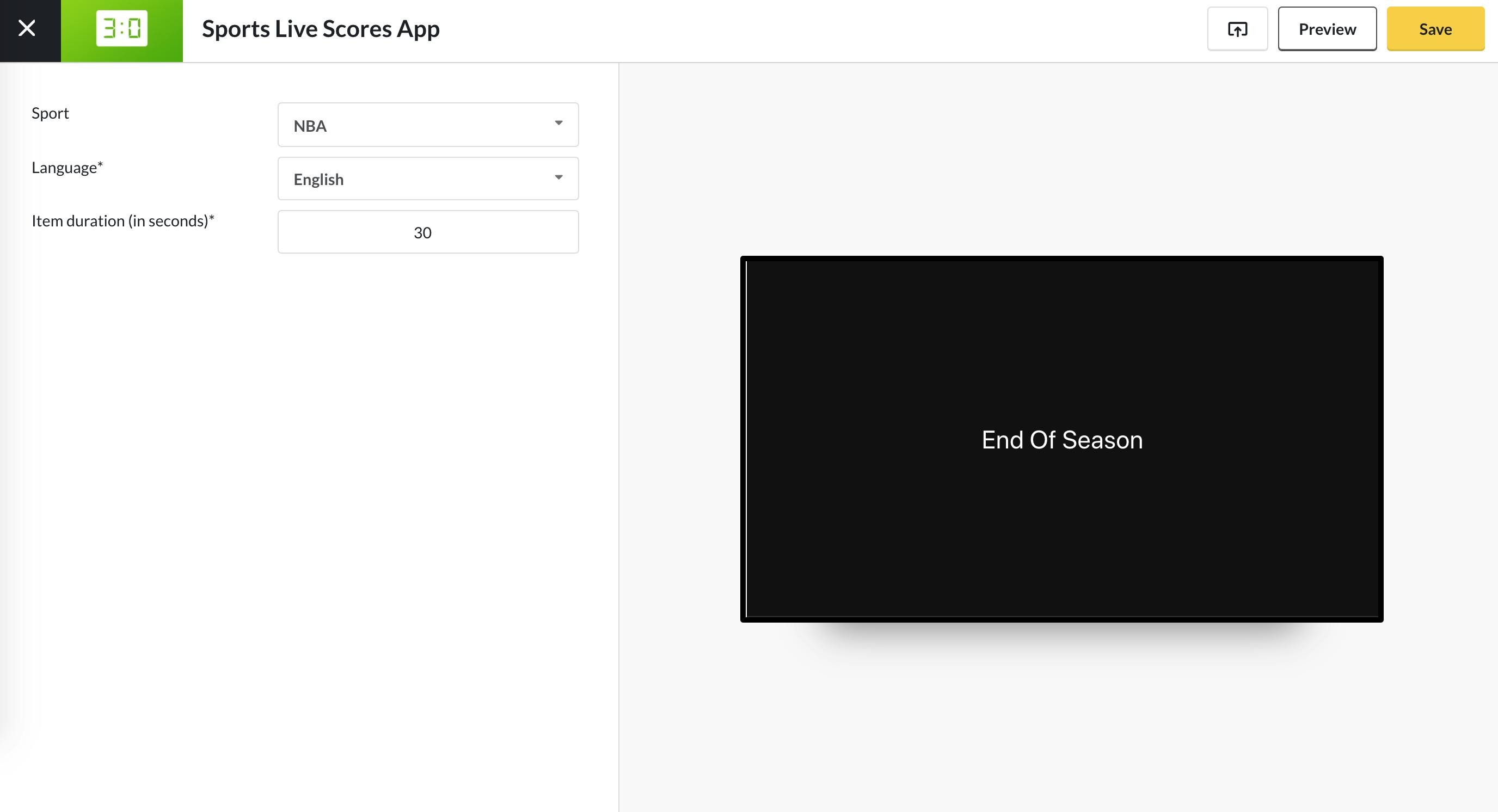 4. Add Sports Live Scores app to a Channel or Playlist
Once you have configured your Sports Live Scores app it can be easily added to a Channel or Playlist to be played on screen.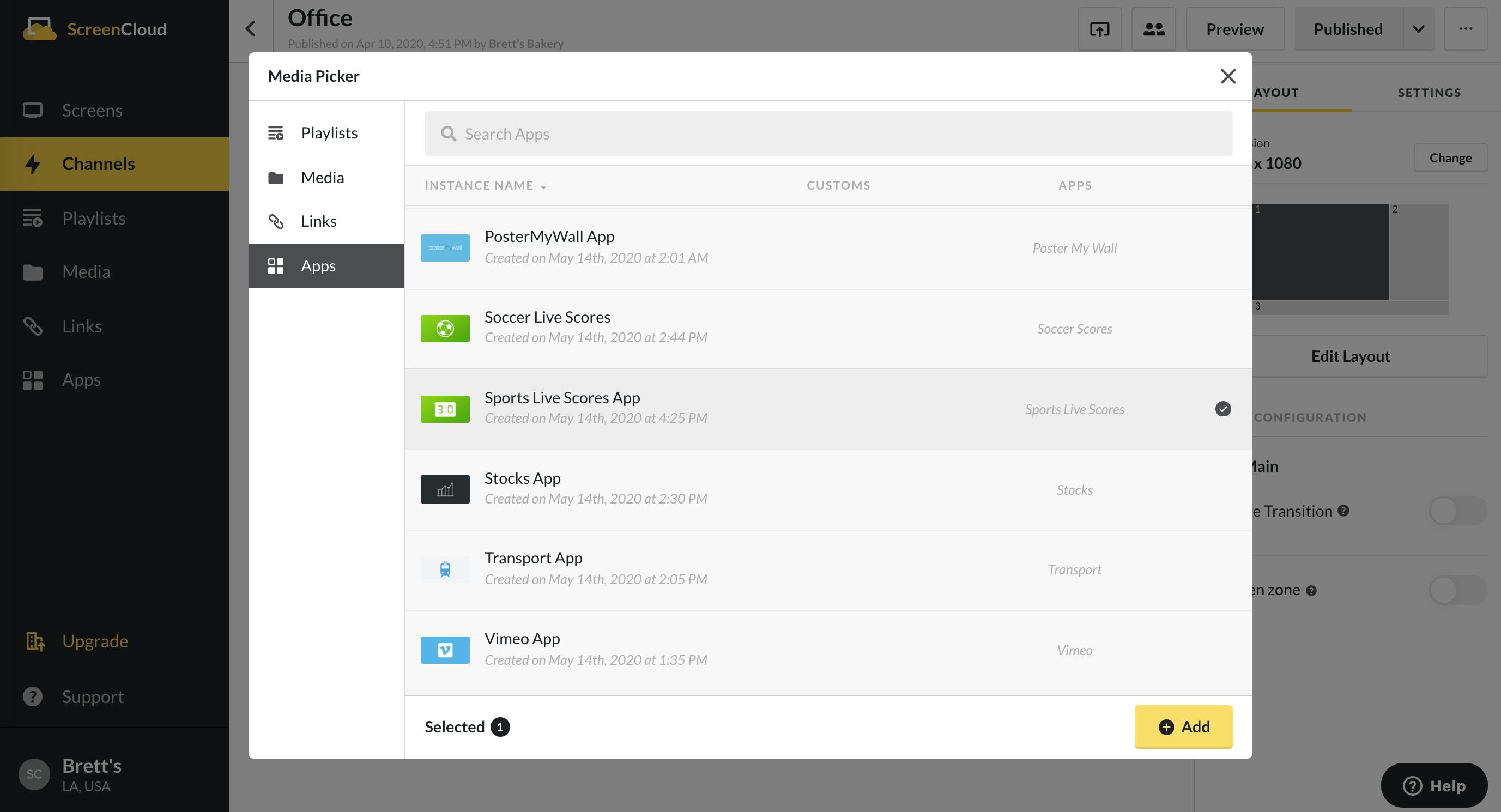 Simply select "Add Content" to open the Media Picker and under Apps, you will see all of your app instances, ready to be installed. You can also view ways you can set content on your digital screens using ScreenCloud by clicking here.
Frequently asked questions
What is the time period for scores to pull into the app?
This depends on the schedule of the season or series you are following. The app will normally pull in any scores from games yesterday (i.e. the most recent available day of scores), the current day (i.e. display any games completed or upcoming later in the day), and two from tomorrow (i.e. will display upcoming games). For example, if your series only plays games on Thursdays and Sundays, the app will pull score or upcoming game data according to their schedule.
How often do the scores refresh?
Sports Live Scores app looks for new NFL scores every four minutes and NBA and MLB scores every two minutes.
Can I get other scores to show on my screen?
Sports Live Scores only currently shows scores from the NHL, NFL, NBA, MLB, CBB, and CFB. However, if there is a sport you wish you could show please let our team know using the "Send Feedback" button.
Can I show the scores in the portrait mode?
No, Sports Live Scores app only currently supports landscape viewing.
For further questions, please contact support@screencloud.com with details.