Please note, if you are using the older version of ScreenCloud (signage.screencloud.com) you can download the alternative Soccer Live Scores guide here.
Looking to display the latest scores from your favorite soccer leagues to your digital screens? Have customers who want to keep up with major league seasons? Soccer Scores app helps you to bring the latest scores to your digital screens.
The ScreenCloud Soccer Scores app allows you to pick your favorite soccer leagues from around the world and share live scores on your TV screens. Choose from over 25 leagues in five different continents including the FIFA World Cup, the Premier League, and MLS. This is perfect for bars, restaurants, and cafés where your customers may want to linger over the scores with a drink or two.
With the ScreenCloud Soccer Scores app you can:
Choose scores and fixtures from a variety of different soccer leagues
Get live information on the latest scores, as they happen
Use multiple versions to show different teams
Please note: The Soccer Scores app is only currently supported in the landscape mode.
Here's how it works:
1. Select and install ScreenCloud's Soccer Live Scores app
1.1. Get started by logging into your ScreenCloud account here and choosing the ScreenCloud App Store from the left-hand menu.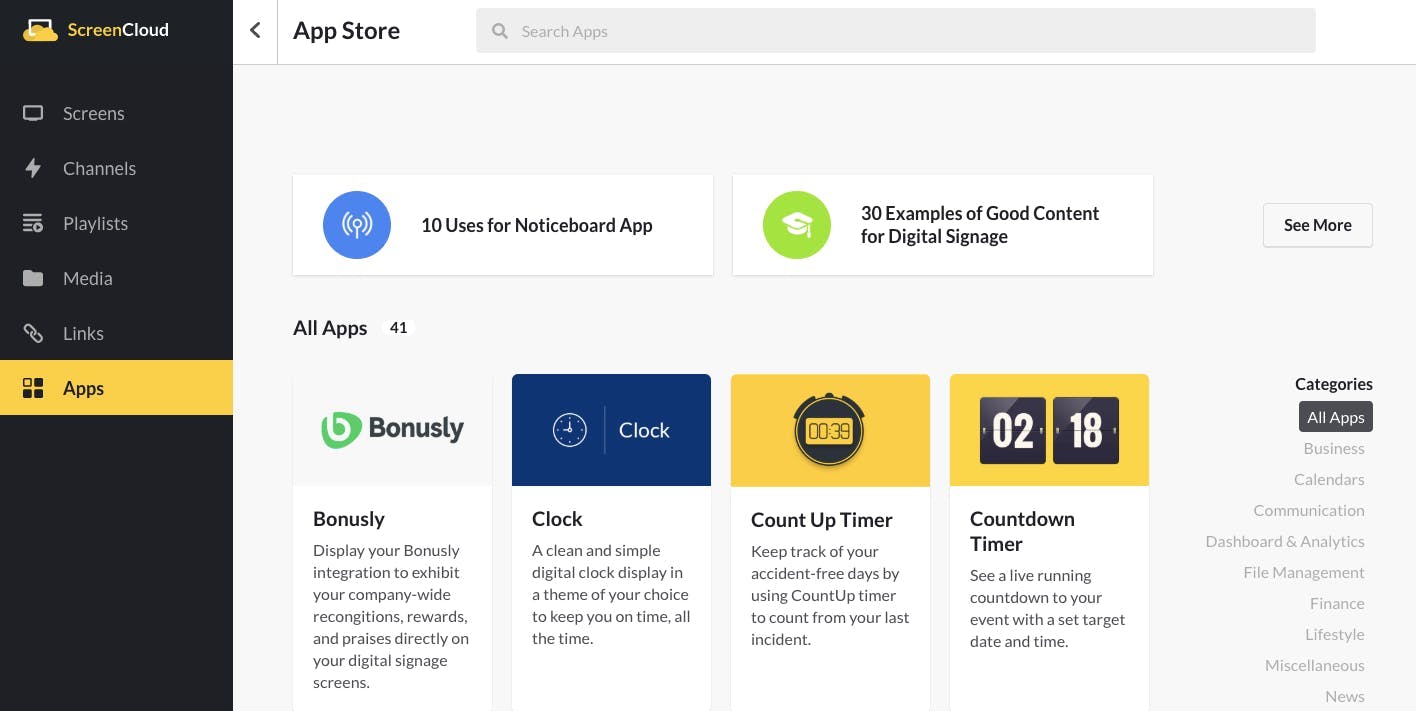 1.2. By searching "Soccer" you can find the Soccer Live Scores app and choose the "Install app" button to add a new instance.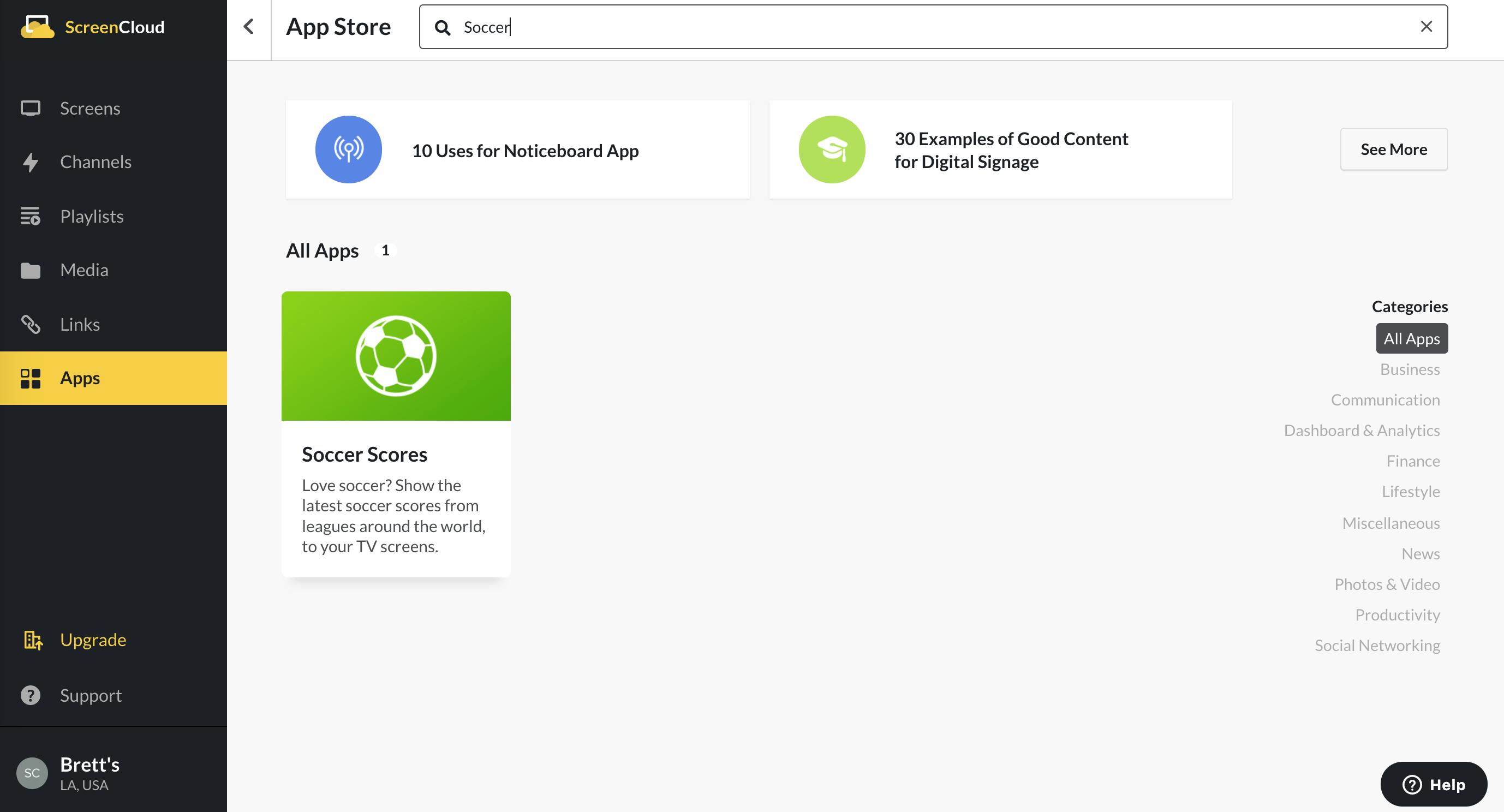 2. Choose your settings
2.1. From the dropdown, choose which sport (i.e. soccer league) you want to display. The current options include: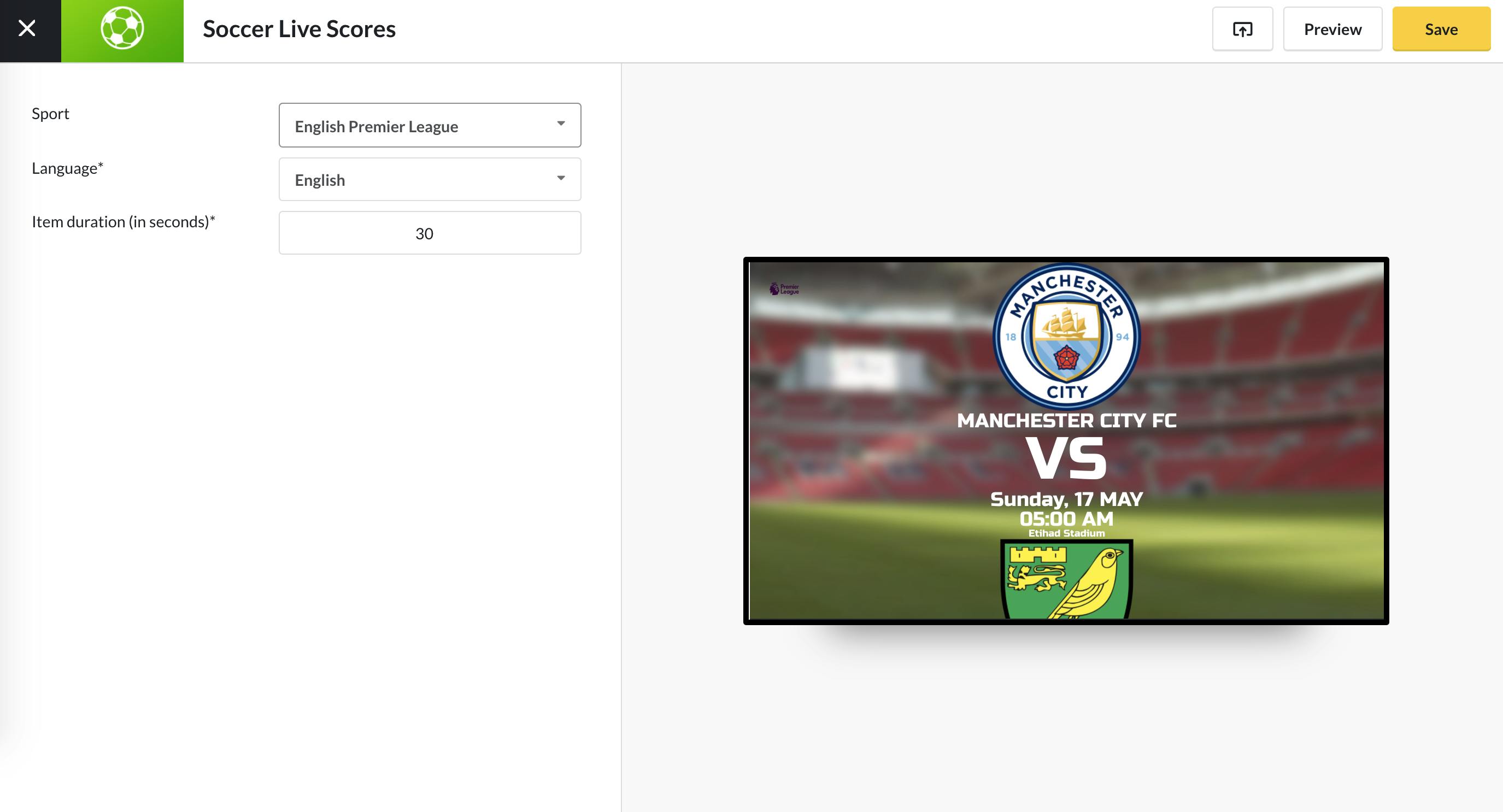 UEFA Champions League scores
UEFA Europa League scores
UEFA Euro Qualification scores
UEFA European Championship scores
FIFA World Cup scores
FIFA Friendlies scores
English Premier League scores
Germany Bundesliga scores
Spanish La Liga scores
Argentina Superliga Argentina scores
Italy Serie A scores
Netherlands Eredivisie scores
United States MLS scores
South America Copa America scores
Africa Cup of Nations scores
Mexico Liga MX scores
France Ligue 1 scores
Russian Football Premier League scores
Brazil Série A scores
CONCACAF Gold cup scores
Australia A-League scores
South America Copa Libertadores scores
South America Copa Sudamericana scores
Costa Rica Campeonato JPS scores
Indian Super League scores
Italy Coppa Italia scores
2.2. Next, choose which language to display your scores in from the Language dropdown. We currently support English, Spanish, German, French, and Dutch languages.
2.3. Once you've chosen a sport and your language, you can set the duration you'd like the scores and fixtures to show for.
3. Preview your Soccer Live Scores app
Once you've added your Soccer Live Scores app you have the opportunity to preview it before it gets added to your screens.
Click 'Preview' and a popup will display your Soccer Live Scores app. Please note, if the sport you have chosen is out of season, you will see the "End of Season" message. We recommend choosing another sport or option if you see this message.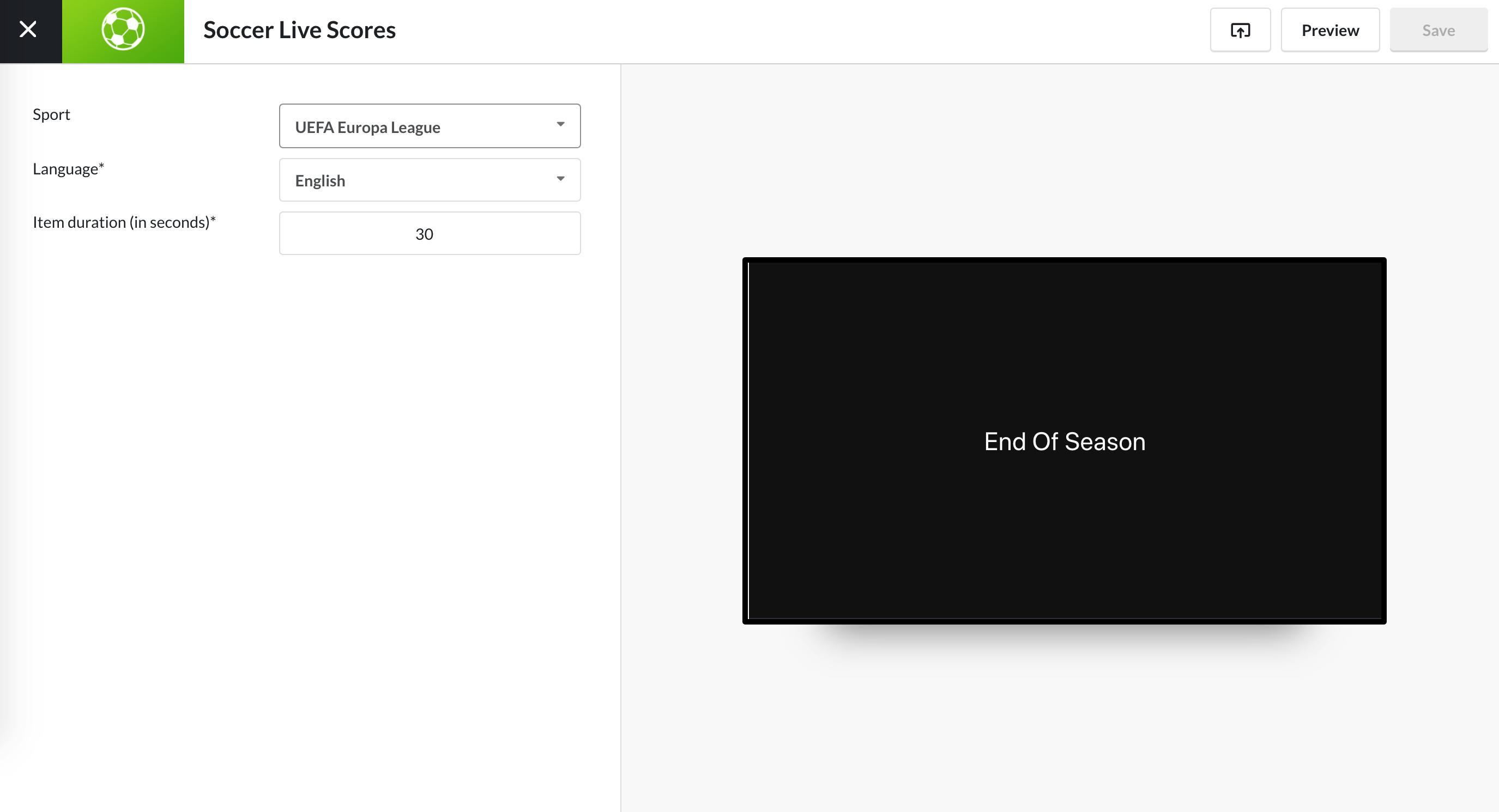 4. Add Soccer Live Scores app to a Channel or Playlist
Once you have configured your Soccer Live Scores app it can be easily added to a Channel or Playlist to be played on screen.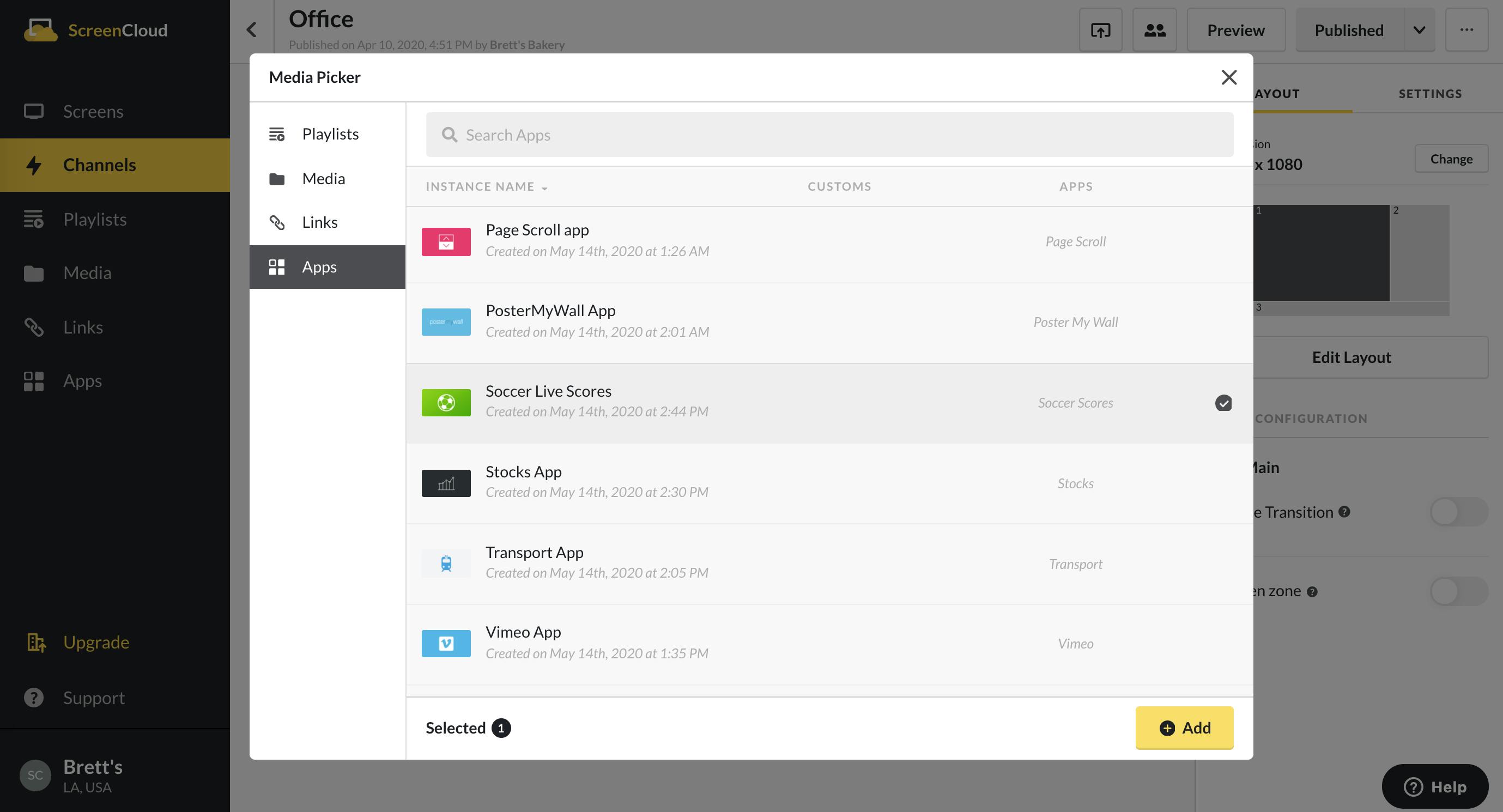 Simply select "Add Content" to open the Media Picker and under Apps, you will see all of your app instances, ready to be installed. You can also view ways you can set content on your digital screens using ScreenCloud by clicking here.
Frequently asked questions
What is the time period for scores to pull into the app?
This depends on the schedule of the season or series you are following. The app will normally pull in any scores from games yesterday (i.e. the most recent available day of scores), the current day (i.e. display any games completed or upcoming later in the day), and two from tomorrow (i.e. will display upcoming games). For example, if your series only plays games on Thursdays and Sundays, the app will pull score or upcoming game data according to their schedule.
How often do the scores refresh?
Updates will push live to the application every six hours.
Can I get other scores to show on my screen?
The Soccer Scores app currently shows scores from the full list provided in section 2 of the guide. However, if there's a sport you wish you could show you can feel free to click "Send Feedback" while viewing the app to submit a request.
Can I show the scores in the portrait mode?
No, the Soccer Scores app is only currently supported in landscape viewing.
For further questions, please contact support@screencloud.com with details.