Please note, if you are using the older version of ScreenCloud (signage.screencloud.com) you can download the alternative Quote guide here.
Need a solution to showcase the best reviews your company gets from its customers and employees?
The Quote app from ScreenCloud provides you with a convenient solution to share valuable feedback from customers to your digital signage screens. Easily add customer quotes to a copy of our Google Sheet template for your data, so that anyone can edit or add more testimonials in Sheets, without needing to log in to ScreenCloud.
The app can be displayed on your screen including an image, the customer's name, and job title. Helping your team to always stay in tune with what your customers are saying.
Here's how it works:
1. Select and install ScreenCloud's Quote app
1.1. Get started by logging into your ScreenCloud account here and choosing the ScreenCloud App Store from the left-hand menu.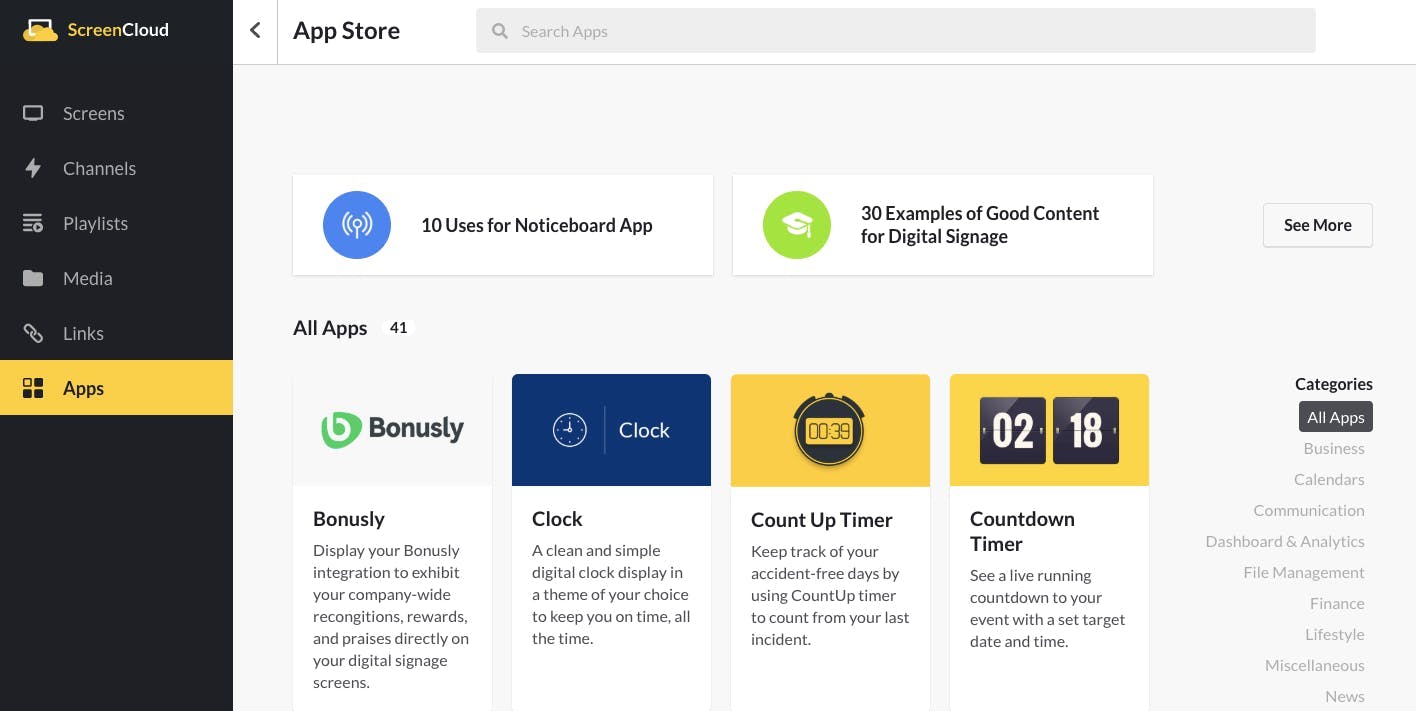 1.2. By searching "Quote" you can find the Quote app and choose the "Install app" button to add a new instance.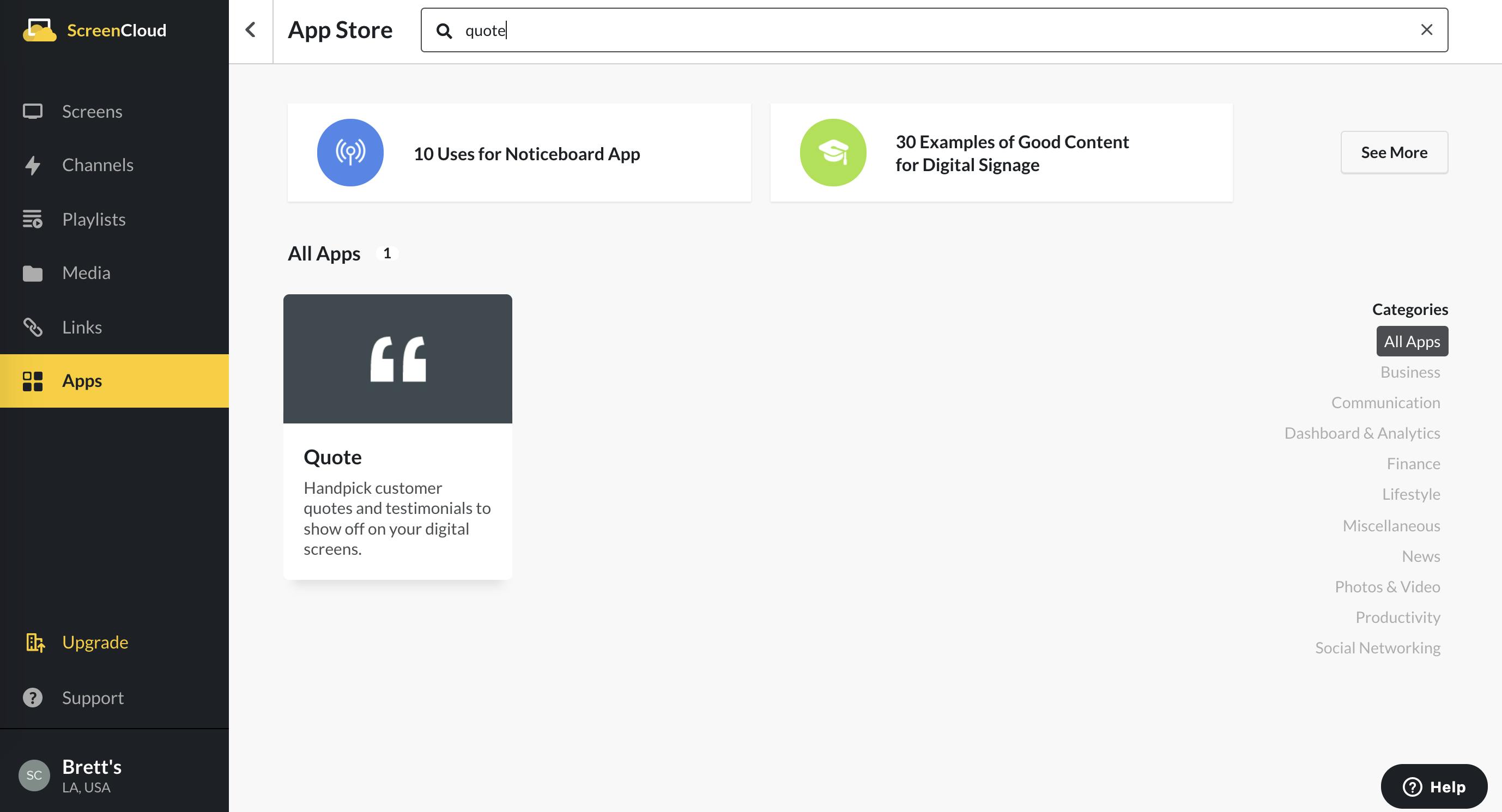 2. Connect your Google Account
2.1. Next, you will need to give ScreenCloud permission to access your Google Account to authorize access to the Google Sheet. Click "Login" to sign into Google.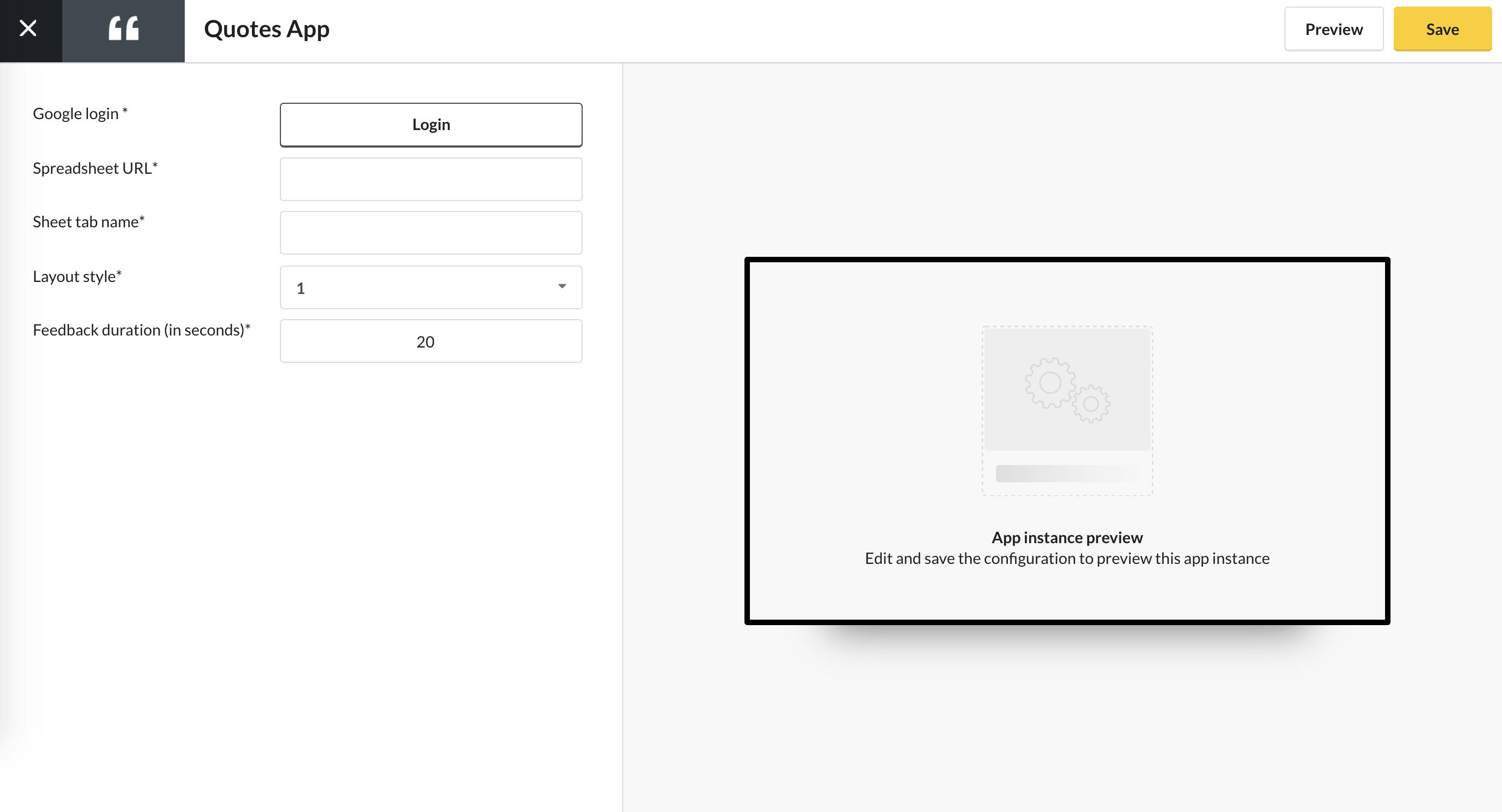 2.2. Once you have successfully logged into your Google account, this window will close and you'll see a green checkmark next to "Log in" to show that your Google account is successfully linked. Please note, You must log in with the Google Account linked to the spreadsheet.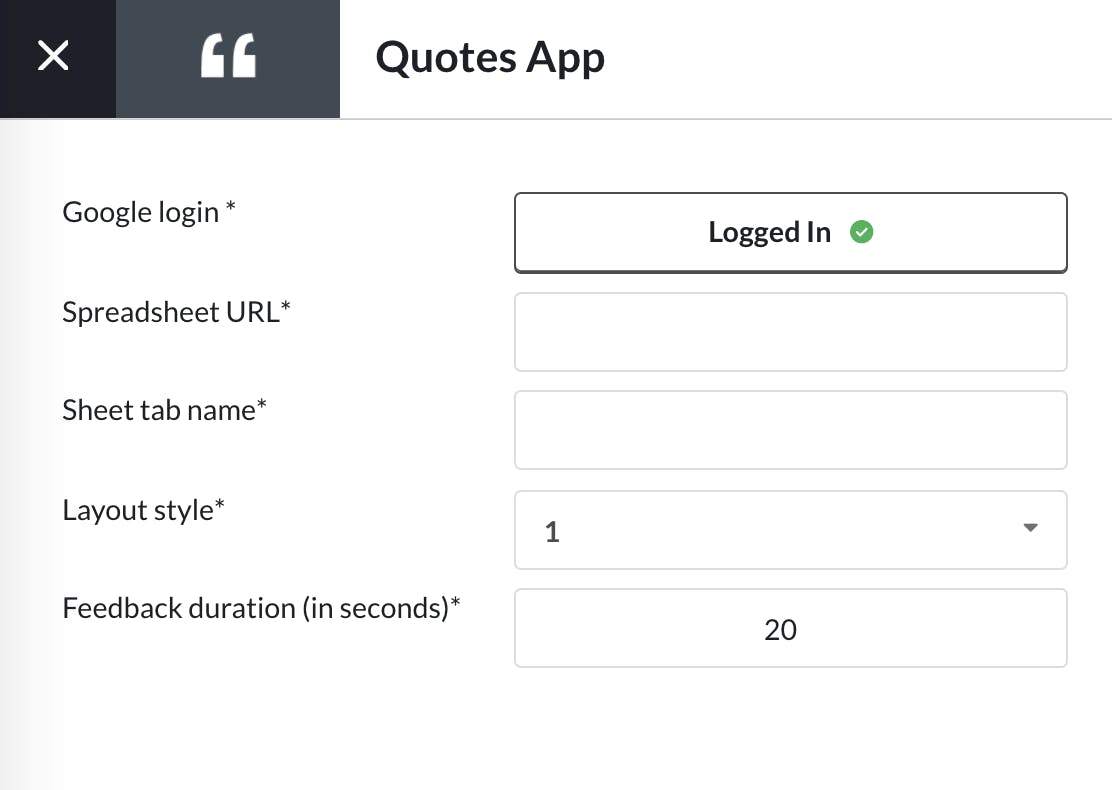 3. Insert Your Google Spreadsheet URL & Sheet Tab Name
3.1. Copy and edit our spreadsheet template: The next step is to use our Google Sheet quote template by clicking here.
Please note, you can create your own custom Google Sheet, but you must follow the exact format of our template. The app also will not work properly if the sheet tab name is named anything other than "Sheet1". We recommend simply making a copy of our template and editing it with your information as you see fit.
To edit the google template for your own use, please follow the steps below:
Navigate to the upper left-hand corner and click on "File".
Click on the "Make a copy" option.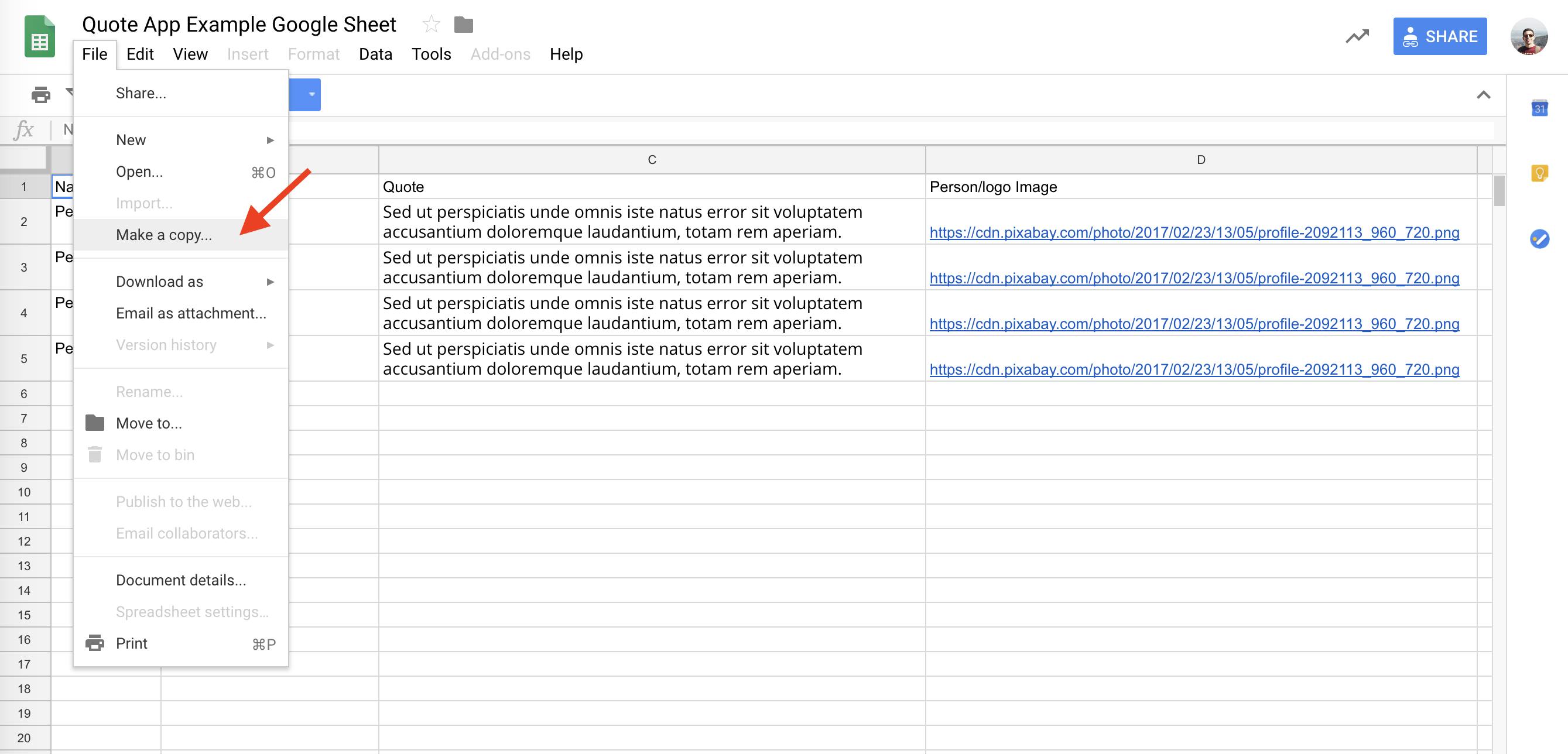 Name your spreadsheet and click on "Folder", then click "My Drive" for the file to save on your Google Drive.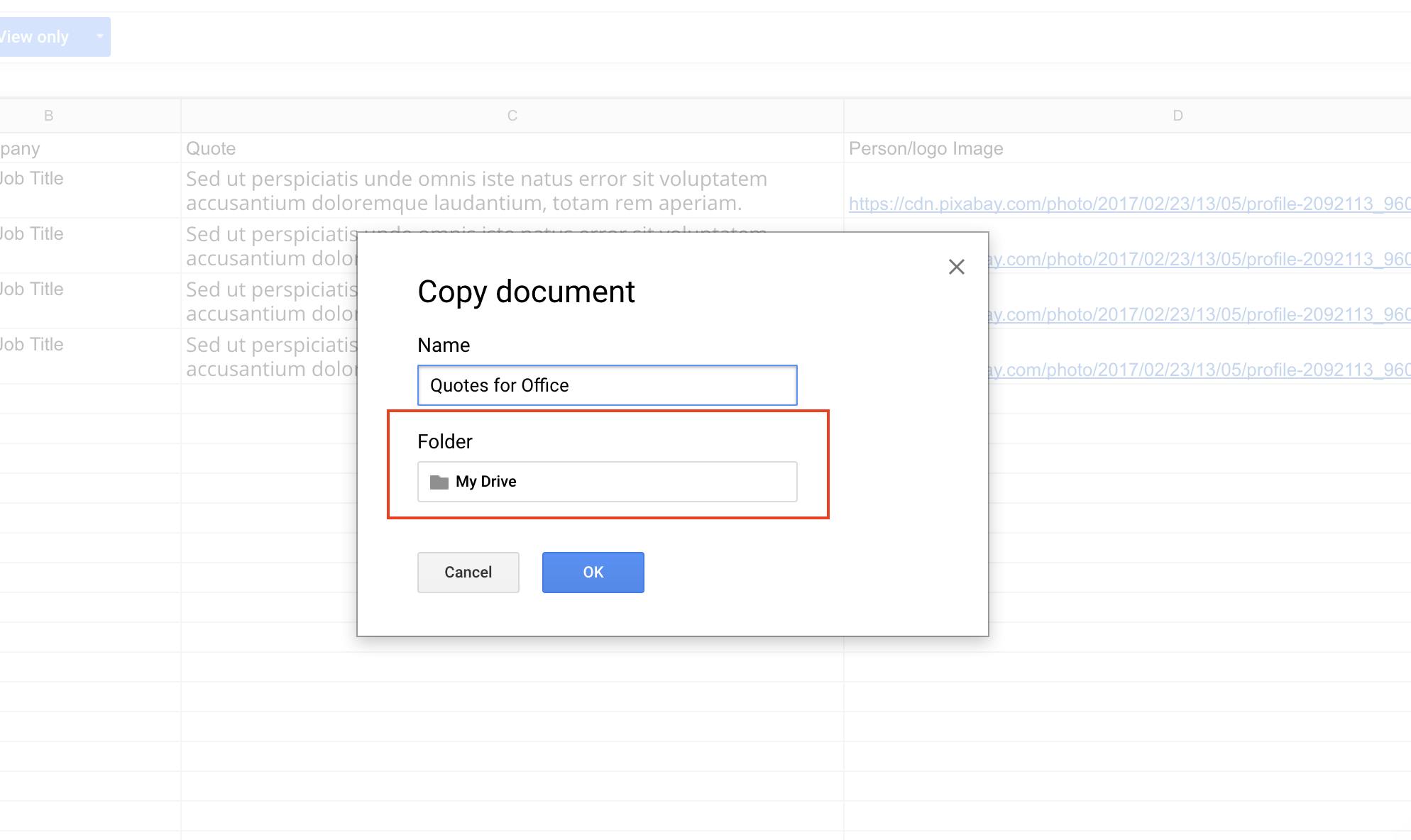 Click okay, you can now edit and access the spreadsheet copy in your Google Drive.
Copy the URL for the spreadsheet to paste into the ScreenCloud Quotes app.
3.2. Add your photos: to add photos you must use a direct public link for the pictures to load into the Quote app. For example, we recommend using websites such as https://imgbb.com/ or https://pixabay.com/. You can upload your images to these free services then use a direct sharing option for photos in your spreadsheet. The images would have a .png or .jpg string at the end, such as https://cdn.pixabay.com/photo/2017/02/23/13/05/profile-2092113_960_720.png. You can use many different free pictures hosting services with direct links to the images.
For reference, Google Photos are not able to be used due to a safety and security policy enforced by Google which disables the photos to be embedded on third-party websites. As an alternative, we recommend searching for free image hosting websites (e.g. such as https://www.pixabay.com) and creating an account to manage your photos. You can use the public-facing URLs for your image uploads in our spreadsheet template to showcase your team photos.
3.3. Add the spreadsheet into ScreenCloud: Next, paste the URL directly into the "Spreadsheet URL" section for the Quote app. Additionally, fill out the Sheet Tab Name from the lower left-hand corner of your sheet exactly as spelled from where you want the information to pull from. Please note, if the sheet tab name is misspelled or not exactly as typed on your Google Sheet, the Quote app will not pull in the information. The spreadsheet also will not work if you're not logged into the Google account that is being used to host the file.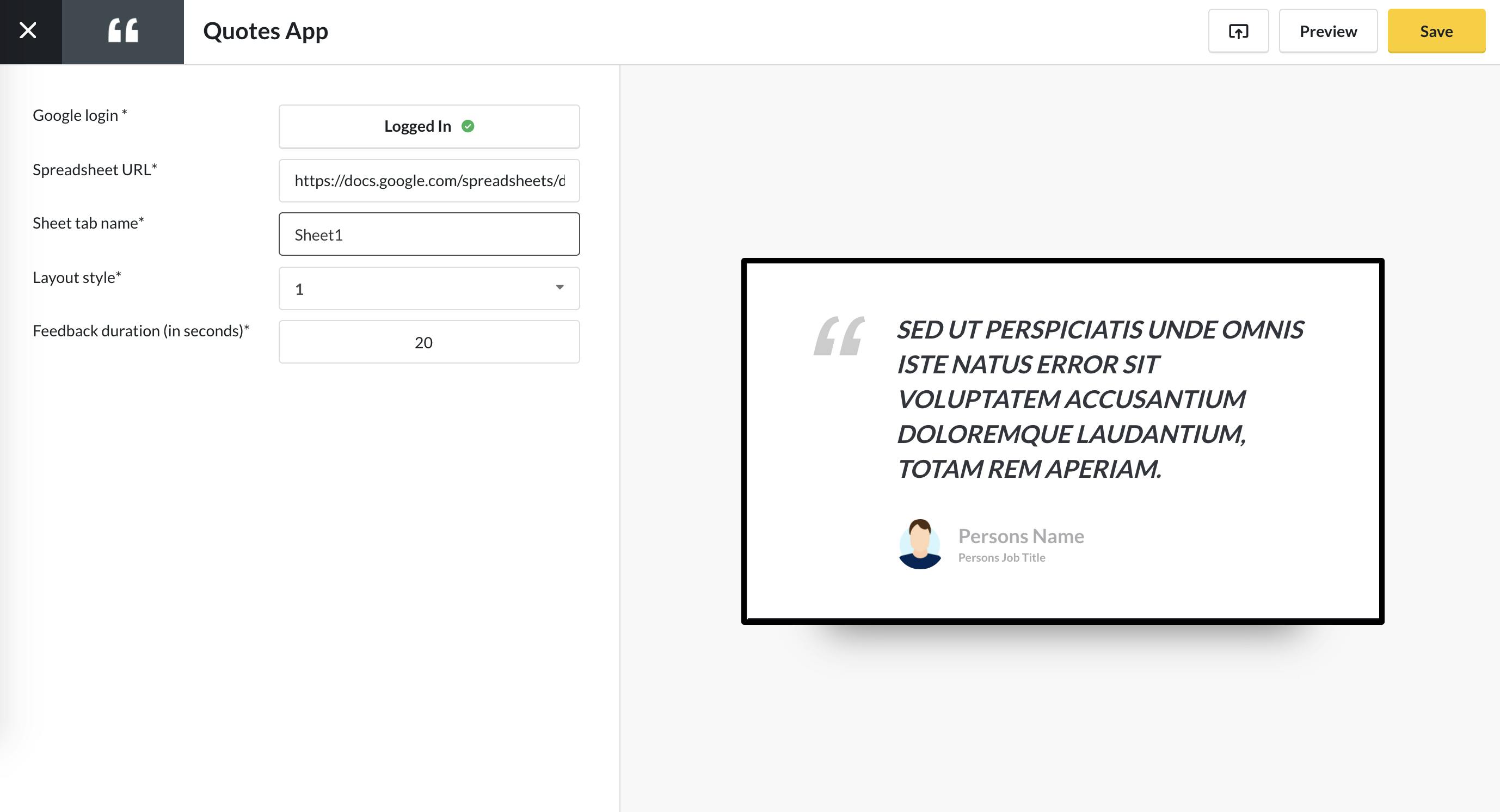 4. Select a layout style
There are three layout styles available to choose from in the drop-down menu. The app can also run in either portrait or landscape mode per the orientation settings on your device.
Please Note: Each layout style will have its own word count that will determine the font size on the display. You can review the theme options and parameters for characters/font-sizes below:
i) Style 1
Characters & Font-Size Information:
0 - 150 Characters = 75px font-size
150 - 300 Characters = 50px font-size
Landscape Mode: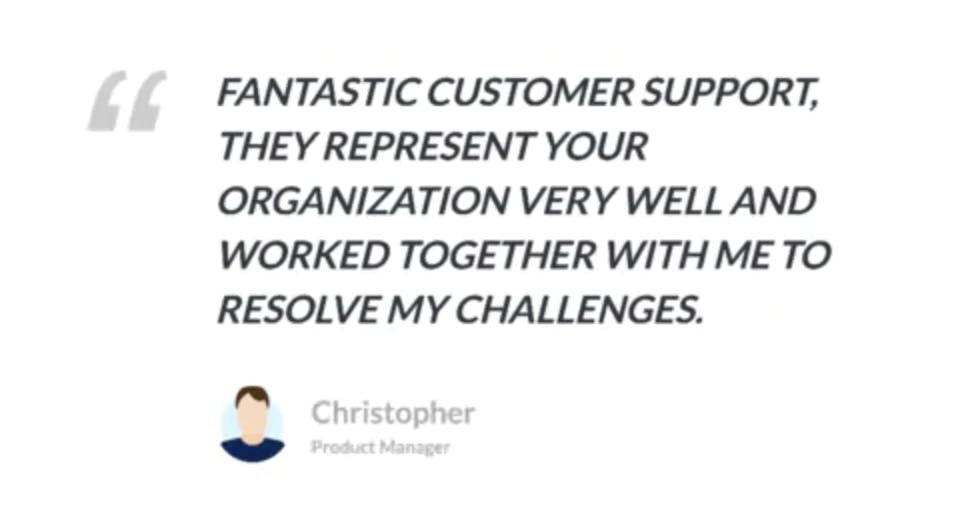 Portrait Mode: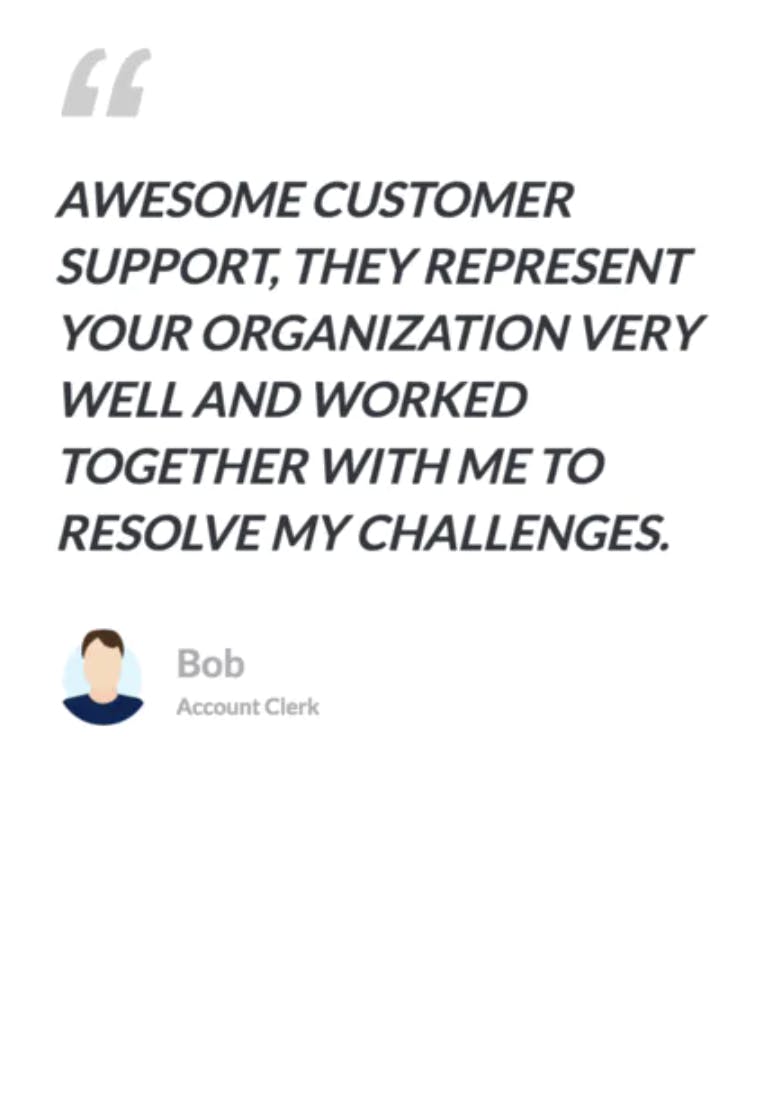 ii) Style 2
Characters & Font-Size Information:
0 - 150 Characters = 65px font-size
150 - 300 Characters = 50px font-size
Landscape Mode: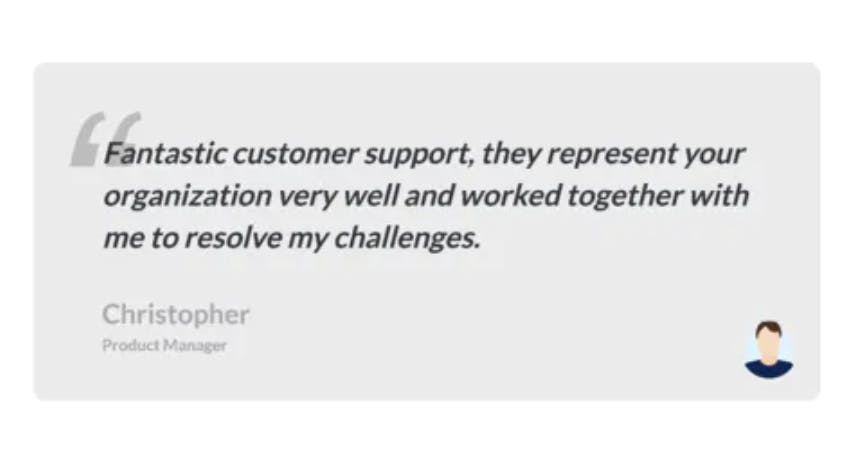 Portrait Mode: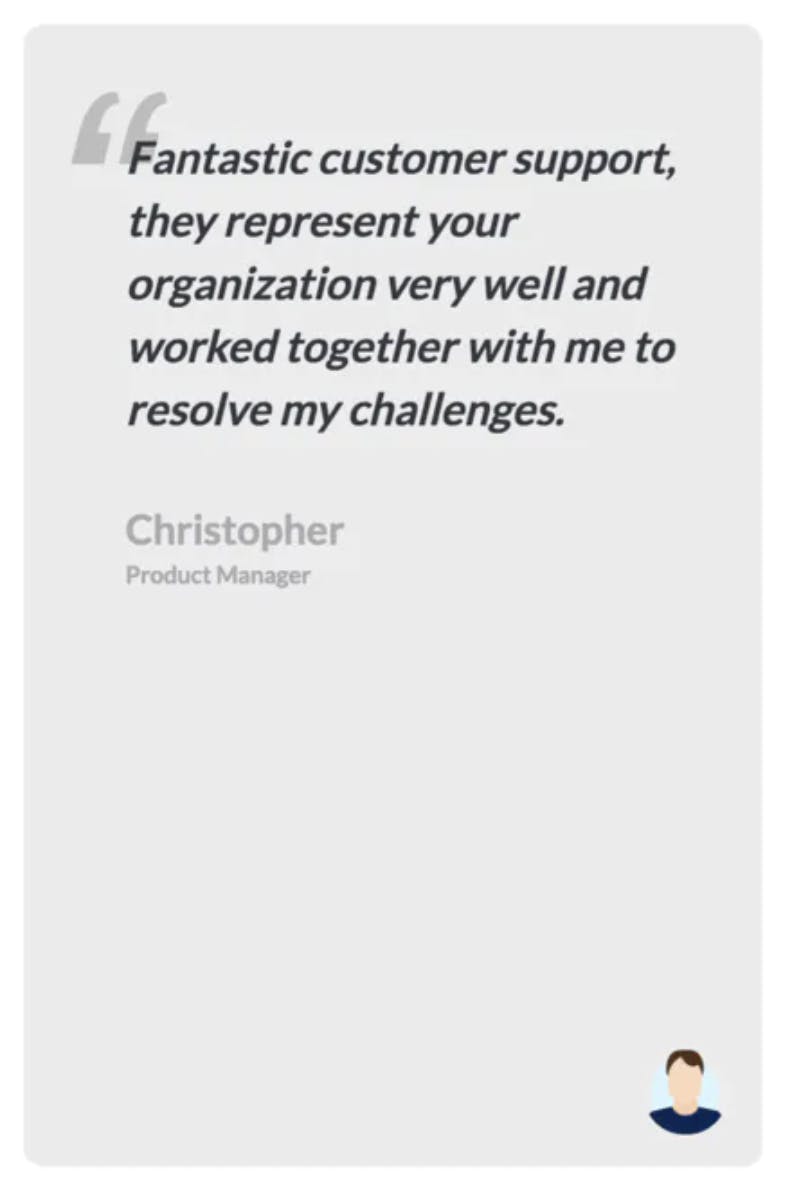 iii) Style 3
Characters & Font-Size Information:
0 - 150 Characters = 55px font-size
150 - 300 Characters = 45px font-size
Landscape Mode: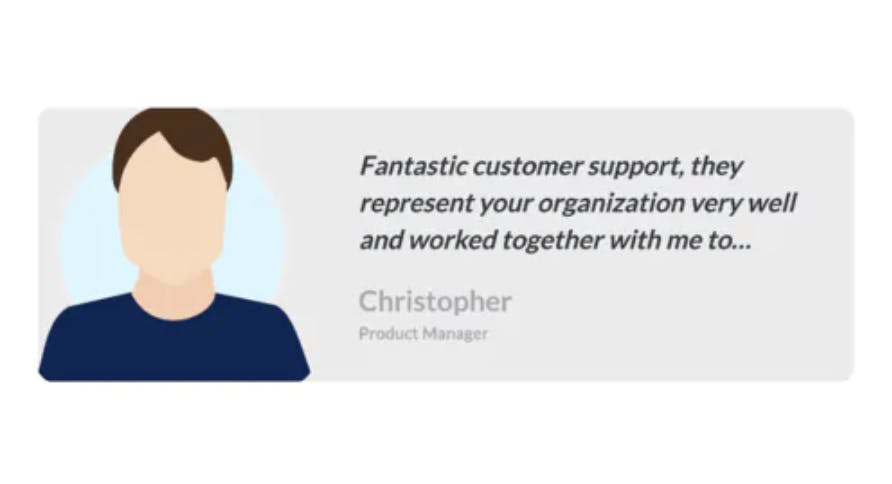 Portrait Mode: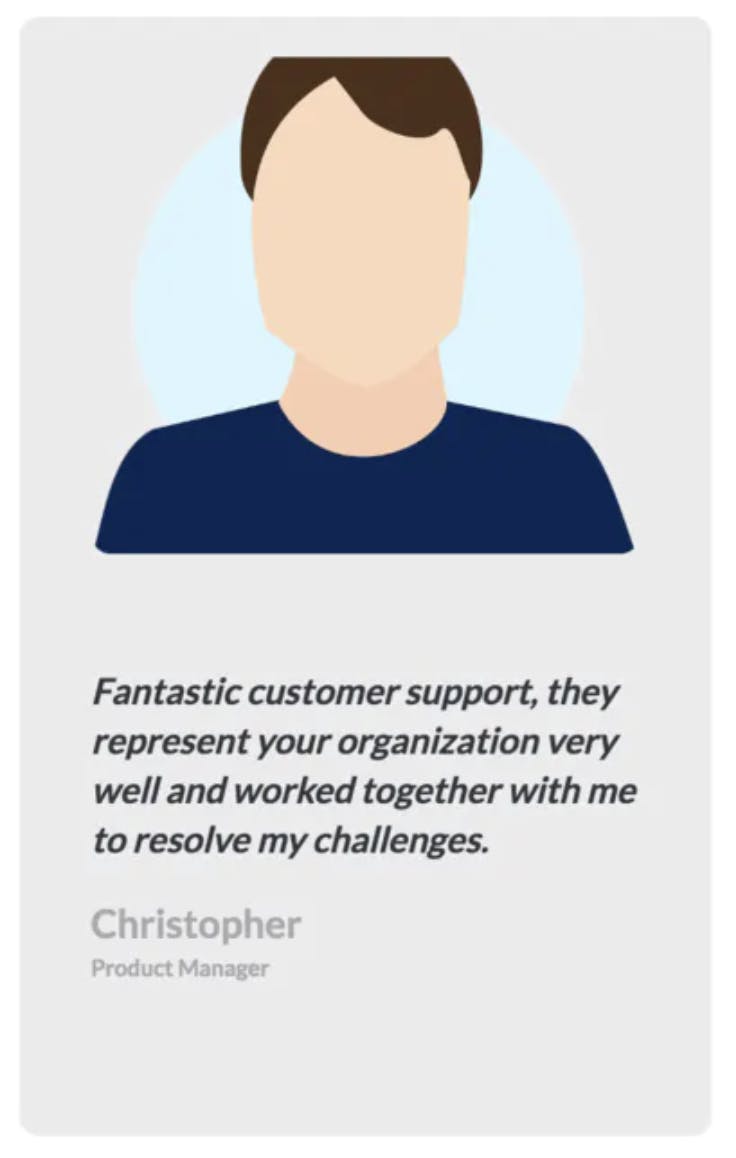 5. Adjust your settings
5.1. Feedback duration: next, you can set your feedback duration for however long you want each review to display for on your screen.
Please note, The default duration time is set to 20 seconds, this is what we recommend as it gives your viewer long enough to read the text without getting bored. The minimum time for the duration feature is 5 seconds, and there is no maximum value (but remember, in areas of long dwell time seeing the same message all day could get boring!).
5.2. Set a theme: you also have the option to create your own custom theme. To create a custom theme, check out our guide on how to use the App Theme Editor.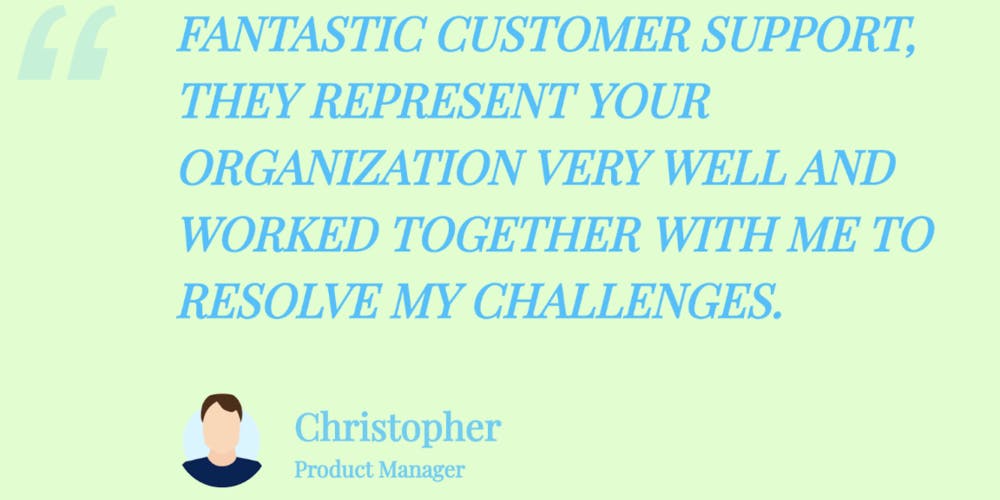 7. Preview your Quote app
Once you've added your Quote app you have the opportunity to preview it before it gets added to your screens.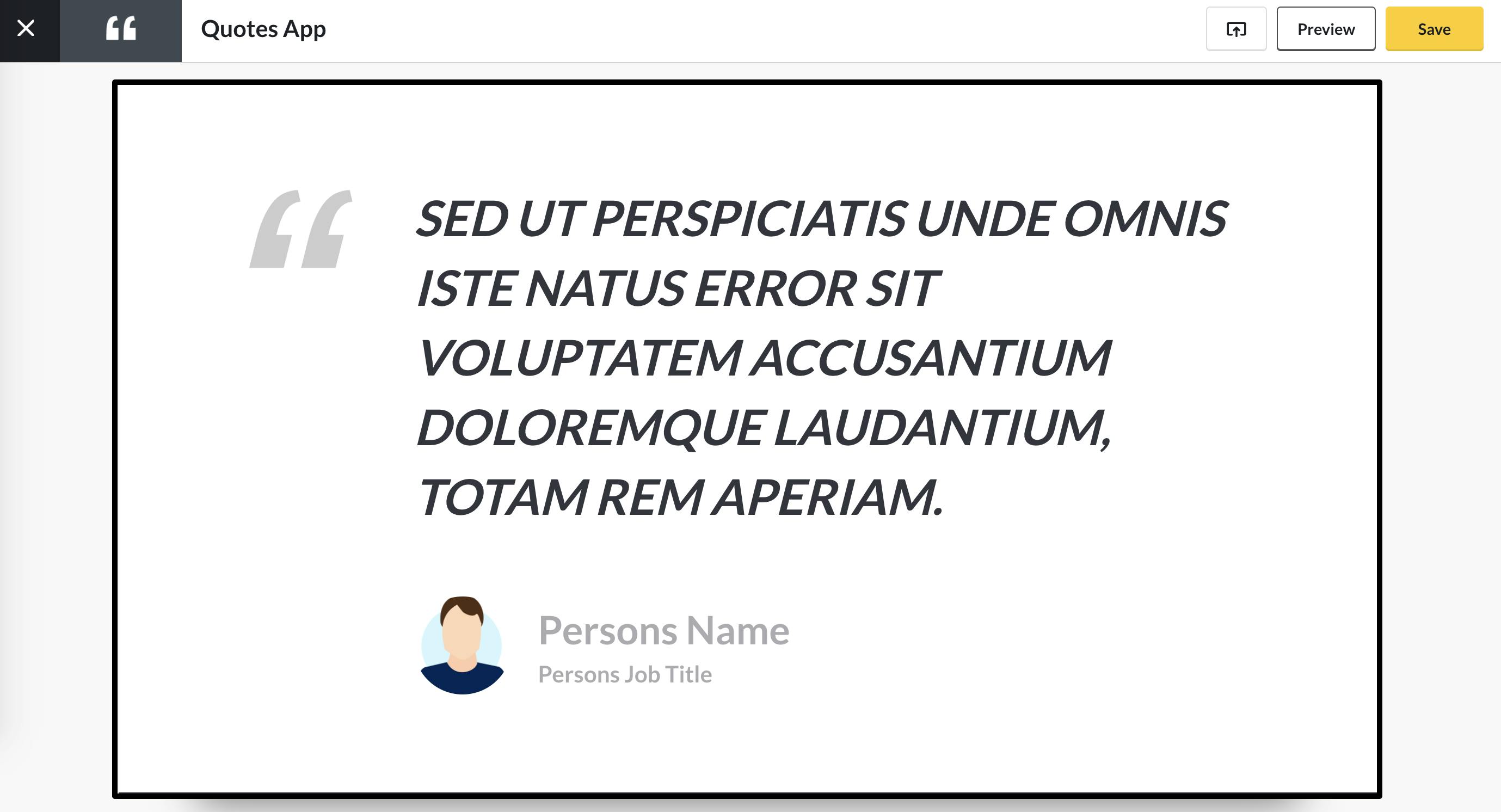 Click 'Preview' and a popup will display your Quote app.
8. Add your Quote app to a Channel or Playlist
Once you have configured your Quote app it can be easily added to a Channel or Playlist to be played on screen.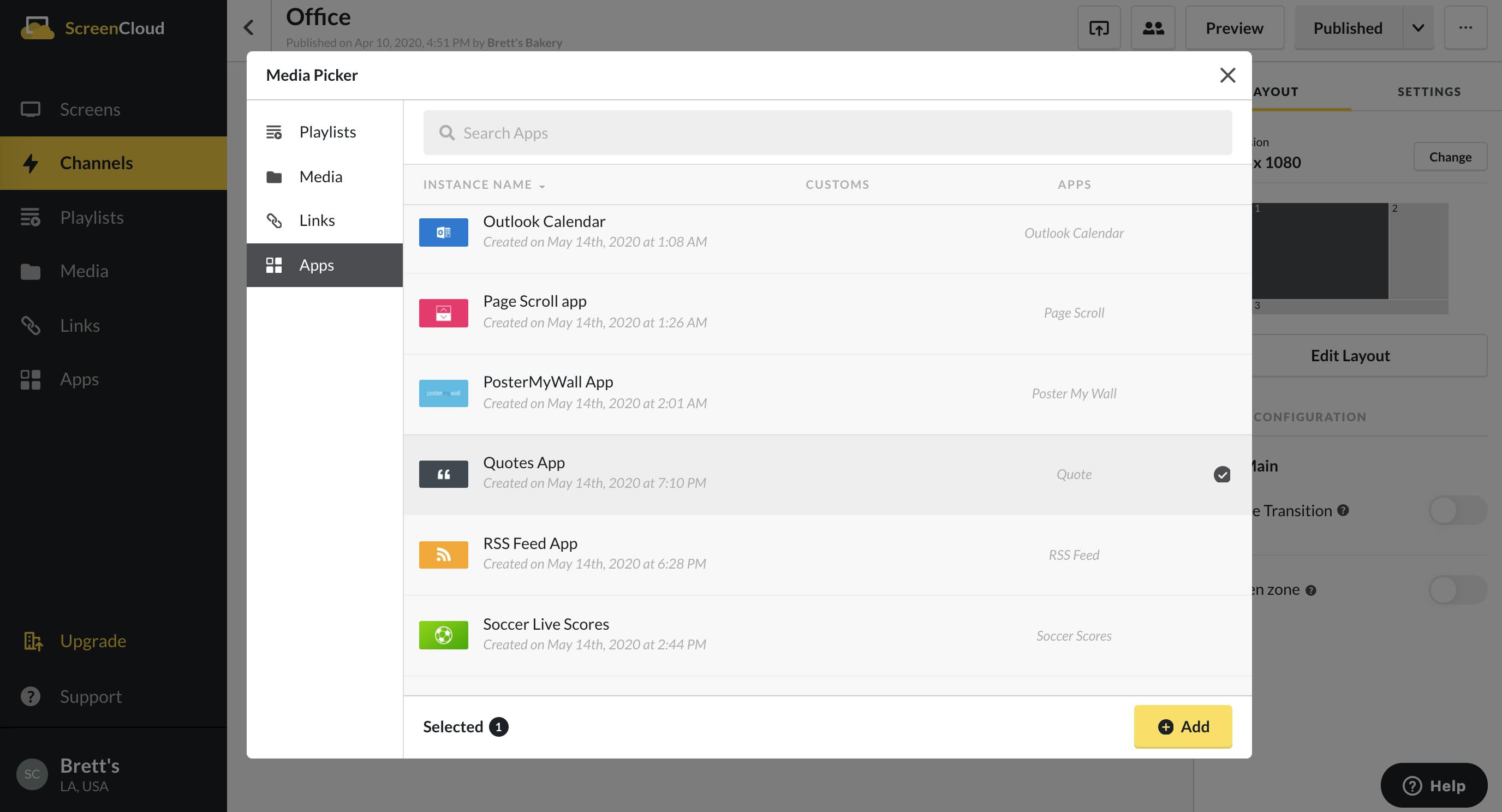 Simply select "Add Content" to open the Media Picker and under Apps, you will see all of your app instances, ready to be installed. You can also view ways you can set content on your digital screens using ScreenCloud by clicking here.
Frequently asked questions
How often will the app pull in updates from the spreadsheet?
When connected to a WiFi network, the app will vary pulling in updates (it can take anywhere from 5 up to 45 minutes for changes to display).
Is there any way to change or control the transition effect?
Currently, there is not a way to control the transition effect between your feedback being displayed. This is an enhancement our team is considering for future development of the app, for now, the duration option is available to control the timing between your content.
Can I use this in a ticker-tape zone area?
Yes, the Quote app is compatible with a ticker-tape zone. Regardless of which style you choose, the ticker-tape version will use the style example below: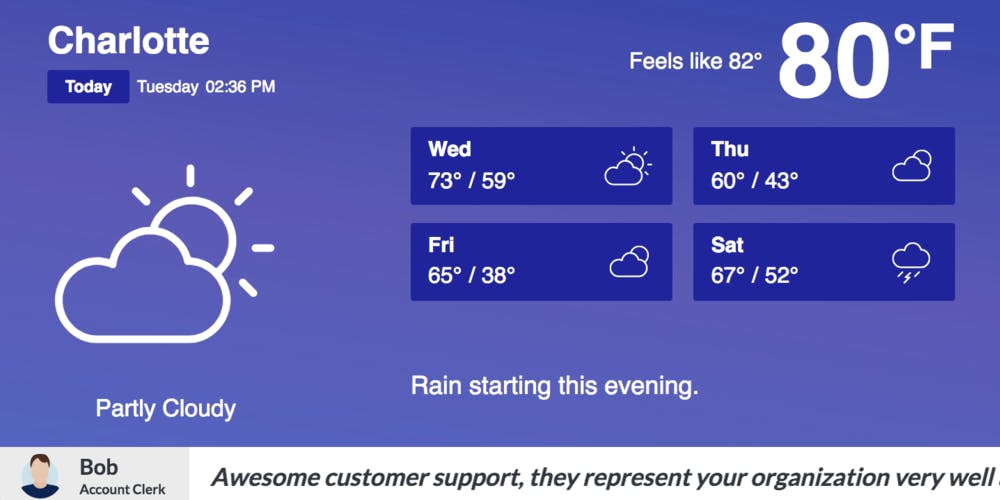 I have selected a layout style, but why is some of my content blank?
The designs will change if certain content is left blank from your Google sheet. For example, if you do not upload an image, the text will move to the left to fill this new space.
If you have not inserted a title or a name, the design will not change but no text will display. For the ticker-tape area, the design will adjust to reduce the size of that area to fill the extra space. We recommend double-checking you have filled out all of the required fields on your Google sheet and see if it matches our template.
For further questions, please contact support@screencloud.com with details.