Please note, if you are using the older version of ScreenCloud (signage.screencloud.com) you can download the alternative PosterMyWall guide here.
Take control over how your images, graphics, and text are displayed on-screen with ScreenCloud's PosterMyWall app. PosterMyWall is a third-party service that provides you with tools and templates to easily create content like posters, digital notices, and signs. You can use an embed code to get your PosterMyWall creations across your digital screens in minutes.
Here's how it works:
1. Select and install ScreenCloud's PosterMyWall App
1.1. Get started by logging into your ScreenCloud account here and choosing the ScreenCloud App Store from the left-hand menu.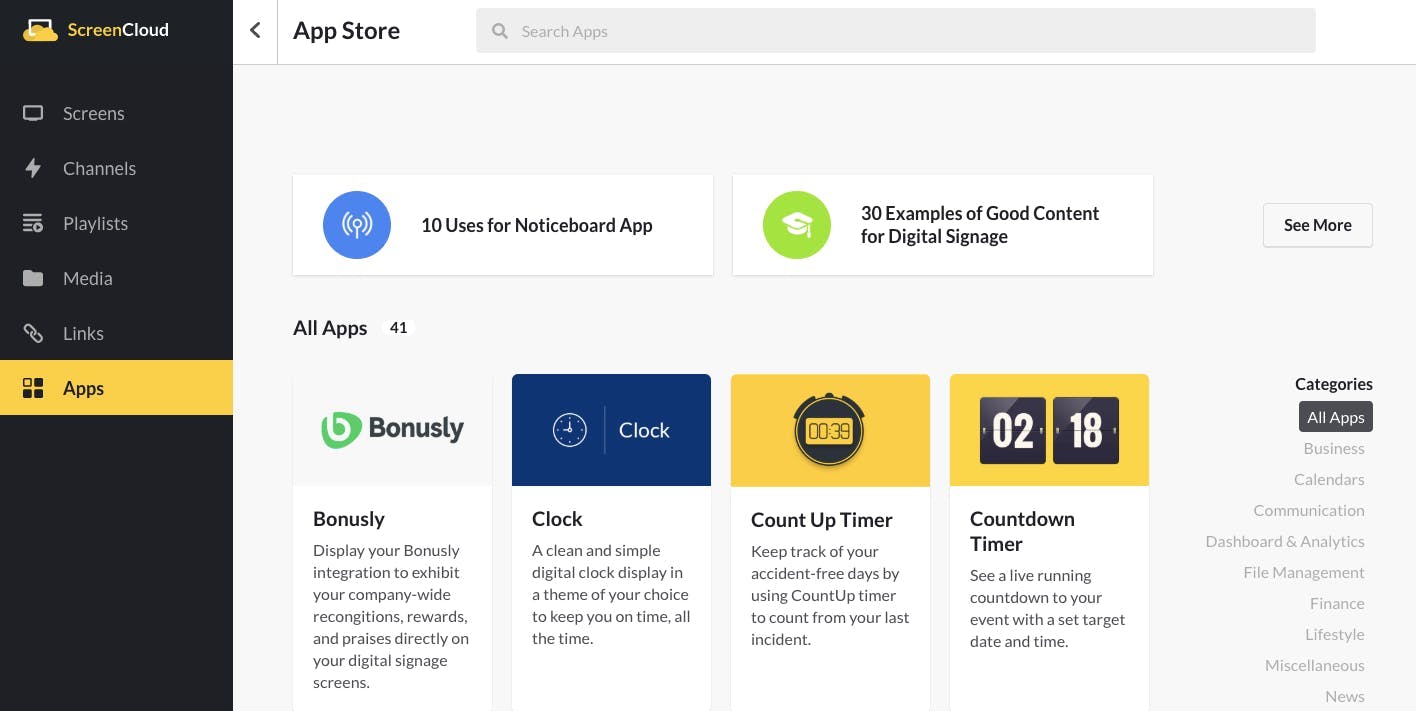 1.2. By searching "PosterMyWall" you can find the PosterMyWall app and choose the "Install app" button to add a new instance.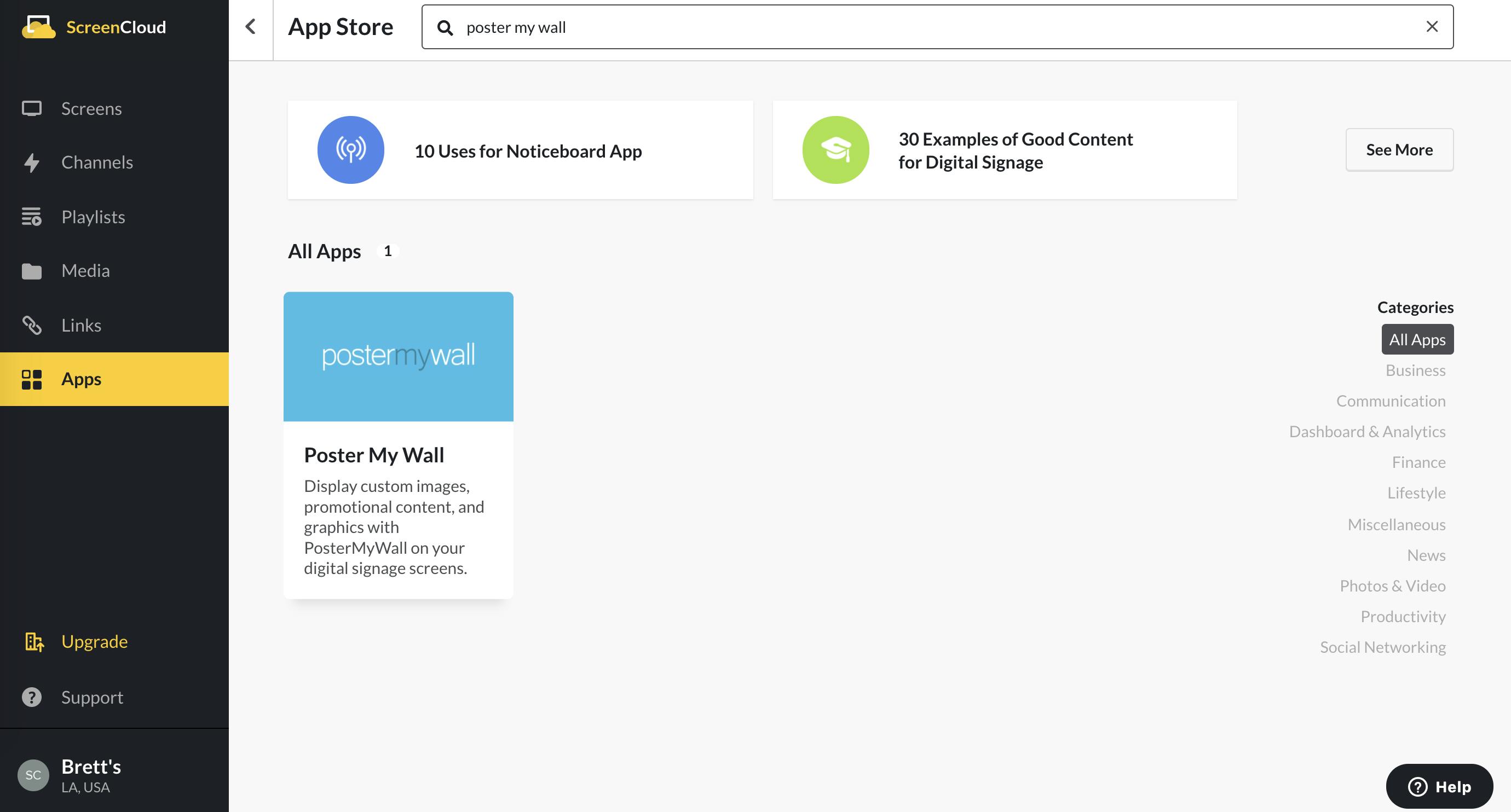 2. Configure your PosterMyWall app
Next, you'll need to copy and paste an embed code from the content you'd like to use from PosterMyWall. Here's how to find your embed code. Please note, PosterMyWall is separate from ScreenCloud and is a third-party service. You can learn more about their pricing by clicking here.
2.1. Log into your PosterMyWall account.
2.2. Click on any of your creatives.

2.3. Next, select "Purchase Downloads". Please note, pricing may depend on the type of content you'd like to share to ScreenCloud. Double-check any pricing plans or purchasing details with PosterMyWall before proceeding.

2.4. Review your purchasing items, either click "Buy Now" to proceed to your payment details or use a "Promotional Code" if you have one available for a credited purchase.
2.5. Once you complete your purchase, you'll receive the following confirmation message. This page will auto-reload with your digital downloads and options to share your content.

2.6. Your content will load and you can use the scrolling menu on the right-hand side to find the embed code for ScreenCloud. Simply navigate to "ScreenCloud" and copy the full embed code.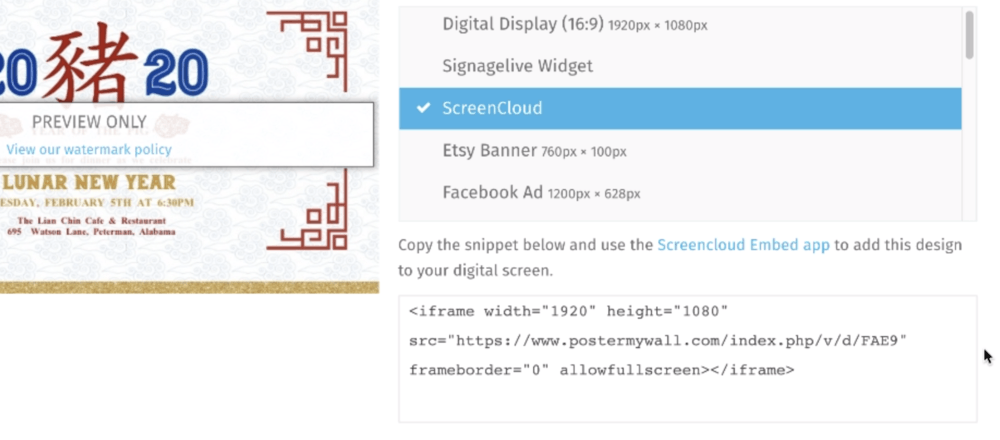 2.7. Paste the embed code directly in your PosterMyWall app configuration in your ScreenCloud account. Please note, you can only use an IFrame code to display the graphic.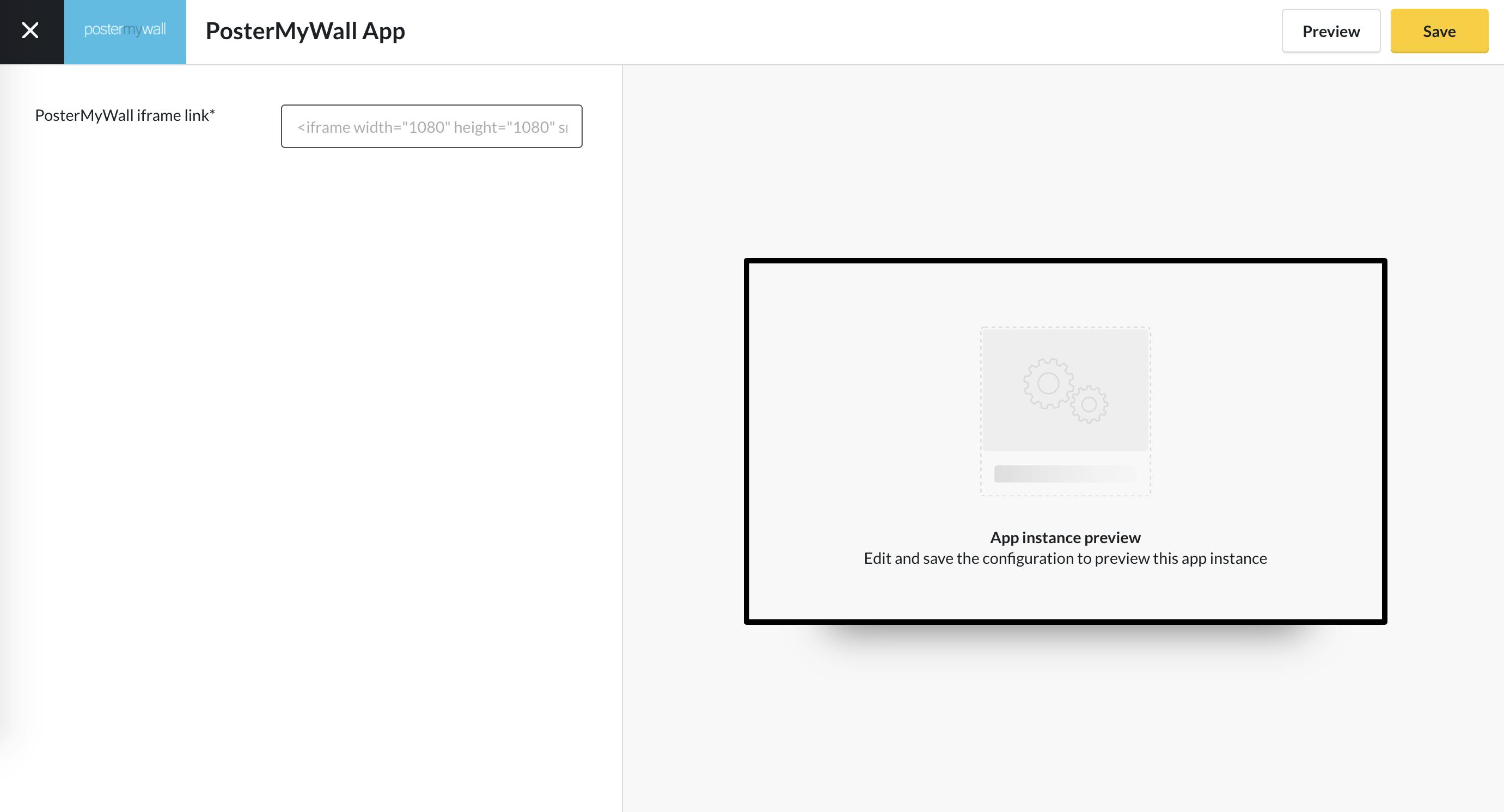 Once you've added your PosterMyWall app you have the opportunity to preview it before it gets added to your screens. Click 'Preview' and a popup will display your PosterMyWall app.
3. Editing your PosterMyWall content
If you need to make changes to your content, you can do this directly in your PosterMyWall account.
3.1. From your account, click on "My Stuff".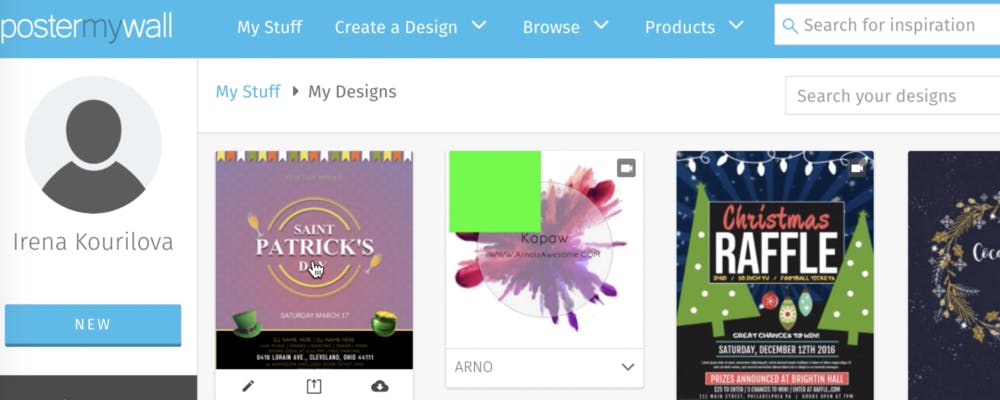 3.2. Click on any piece of content, then select the pencil icon to "Edit".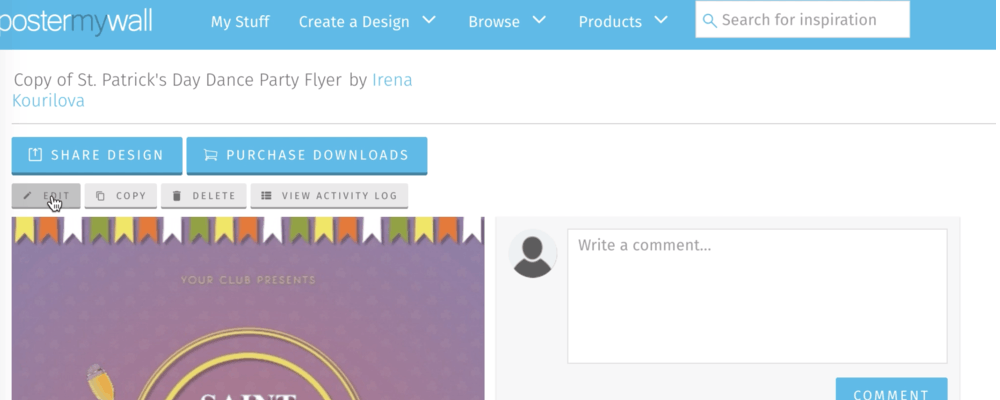 3.3. Make any changes you see fit, then click on "Download".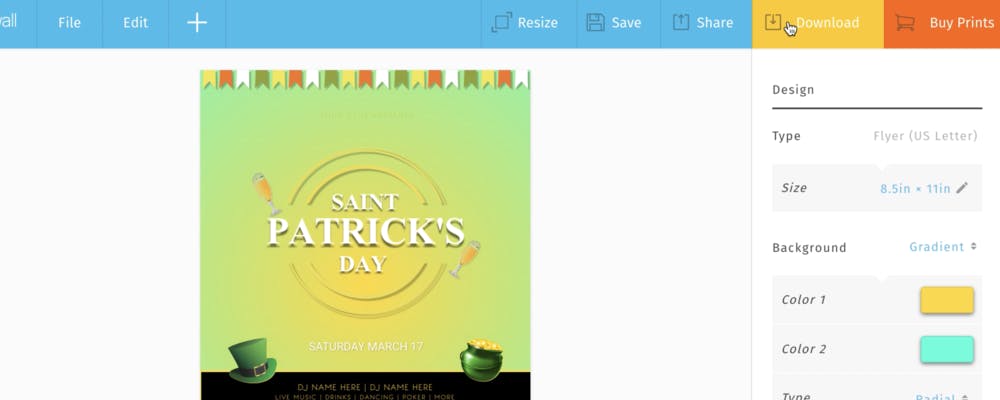 A quick tip: If you have a paid PosterMyWall subscription then you will be prompted to start sharing and downloading the content. If you don't have a subscription, you'll have to buy the downloads, however, if you've already bought the design you can make any changes for free. You can use any applicable promotional codes that apply if purchasing an order as well.
4. Add PosterMyWall app to your Channel or Playlist
Once you have configured your PosterMyWall app it can be easily added to a Channel or Playlist to be played on screen.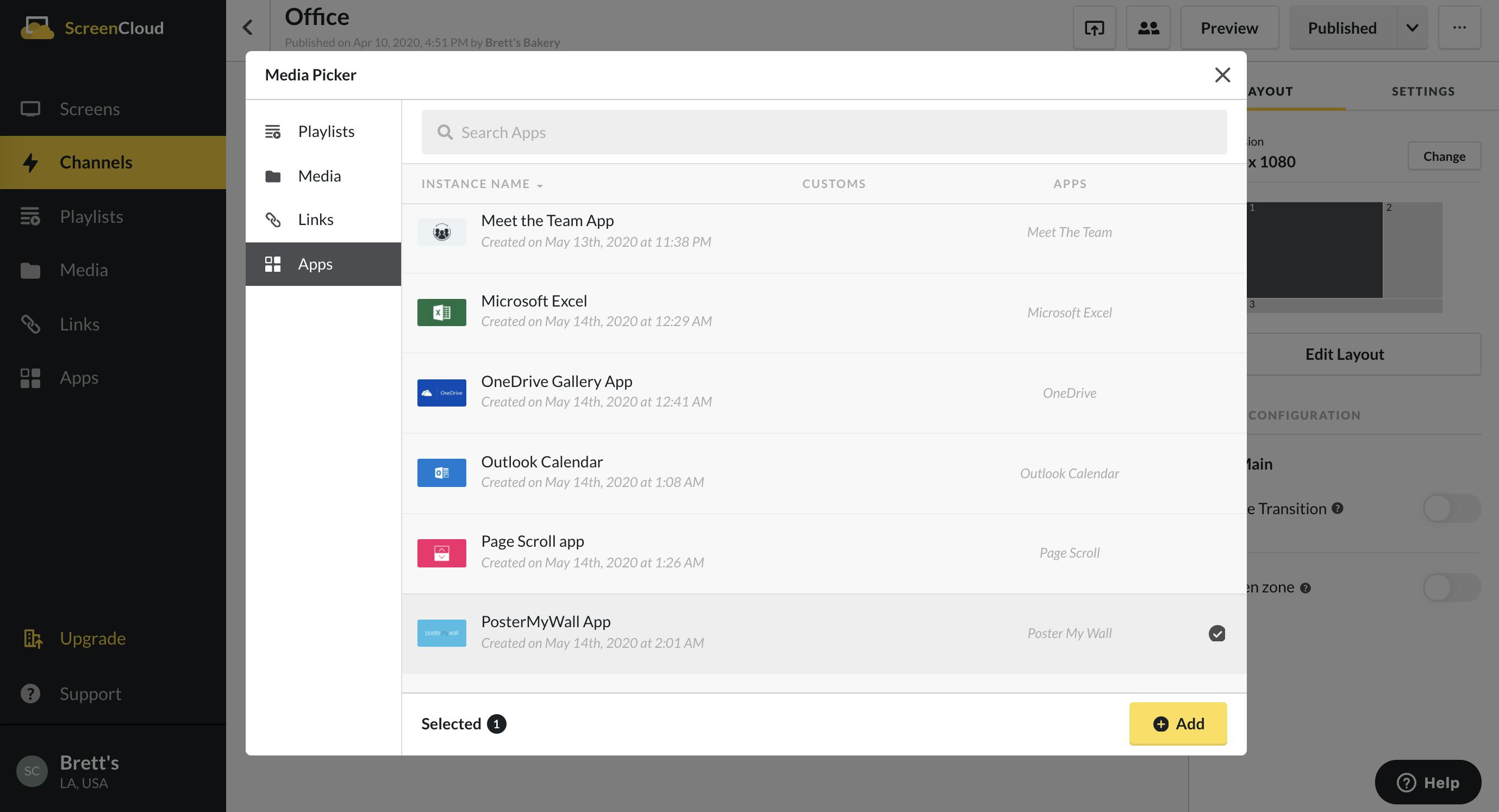 Simply select "Add Content" to open the Media Picker and under Apps, you will see all of your app instances, ready to be installed. You can also view ways you can set content on your digital screens using ScreenCloud by clicking here.
Frequently asked questions:
How long does it take for updates from PosterMyWall to show on screen?
Any updates or edits made to content in PosterMyWall will immediately show on your TV screen.
Can I use multiple pieces of content with the PosterMyWall app?
Currently, the app can only use one piece of content (e.g. embed code) per instance. You can add multiple instances of the app and use different embed codes to display new content you've created in PosterMyWall.
Does PosterMyWall app support videos?
Currently, the app does not have the ability to support video content.
What orientation and zones can PosterMyWall app be used in?
The app is supported for portrait or landscape orientation, in addition to being used in a sidebar zone layout.
Can PosterMyWall be used in a ticker-tape zone?
The app does not support the ability to be resized or used in a ticker-tape zone layout.
For further questions, please contact support@screencloud.com with details.