Please note, if you are using the older version of ScreenCloud (signage.screencloud.com) you can download the alternative Outlook Calendar guide here.
The ScreenCloud Outlook Calendar app makes it easy to take events and dates from your Outlook calendar and easily add them to your digital signage screen. Choose any calendar from your Outlook email accounts, choose whether to show dates by day, week, month or upcoming and see new events appear on the screen as you add them. This gives you an easy way to schedule meetings, a view shared calendars, and know what's going on in your office or business.
With the ScreenCloud Outlook Calendar app you can:
Sync with any Outlook calendar
Choose from a day, week or month view, or upcoming events
See new events on screen, as they're added to your calendar
Here's how it works:
1. Select and install ScreenCloud's Outlook Calendar app
1.1. Get started by logging into your ScreenCloud account here and choosing the ScreenCloud App Store from the left-hand menu.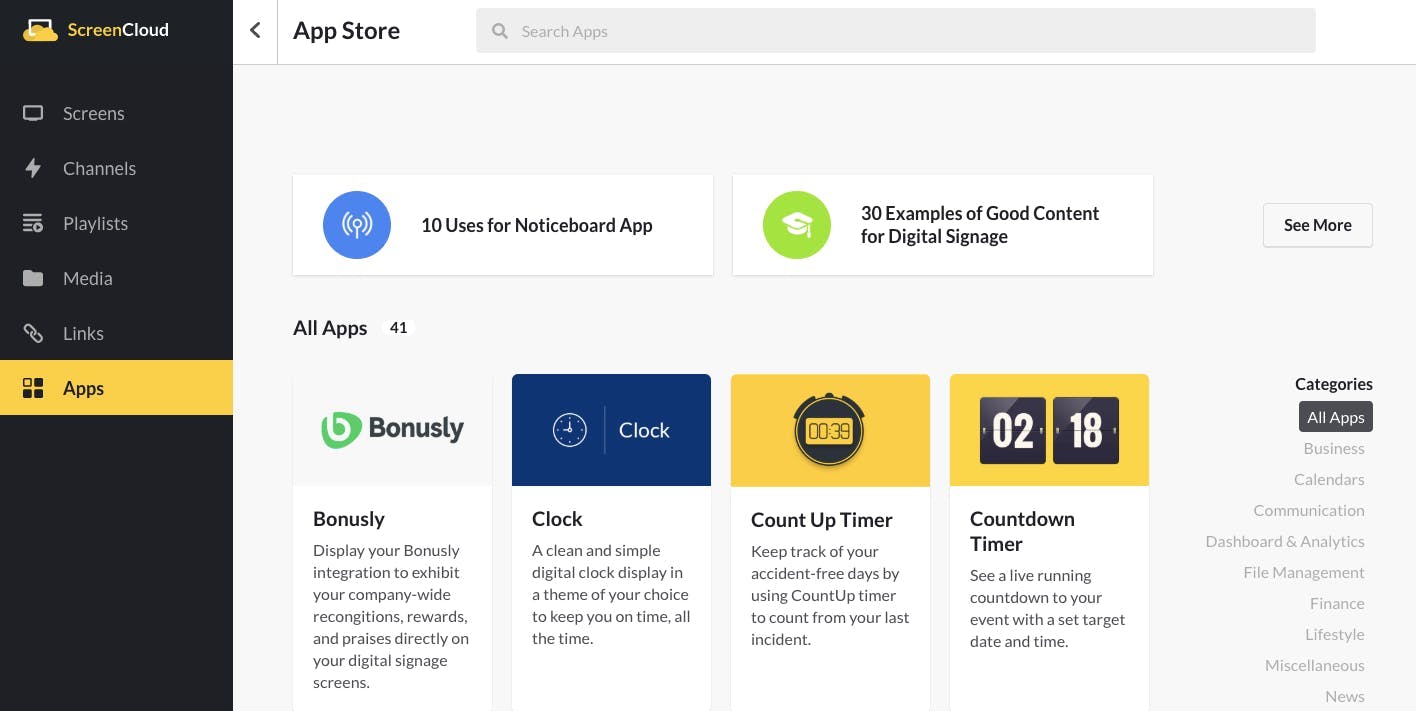 1.2. By searching "Outlook Calendar" you can find the Outlook Calendar app and choose the "Install app" button to add a new instance.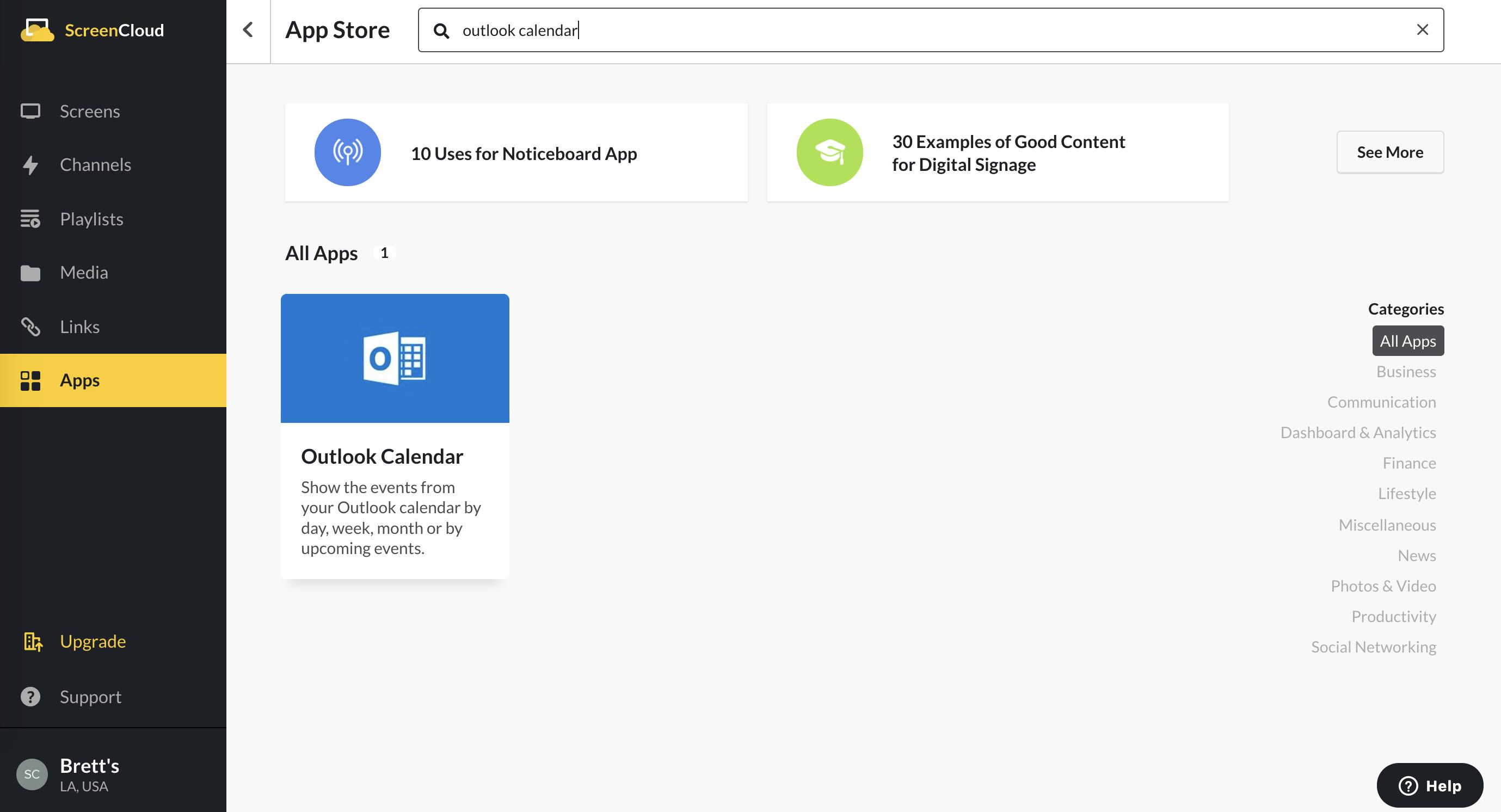 2. Add your Outlook calendar
Next, you'll need to log in with your Microsoft account in order to pick the calendar(s) you'd like to display.
2.1. Select "Login" from the settings panel.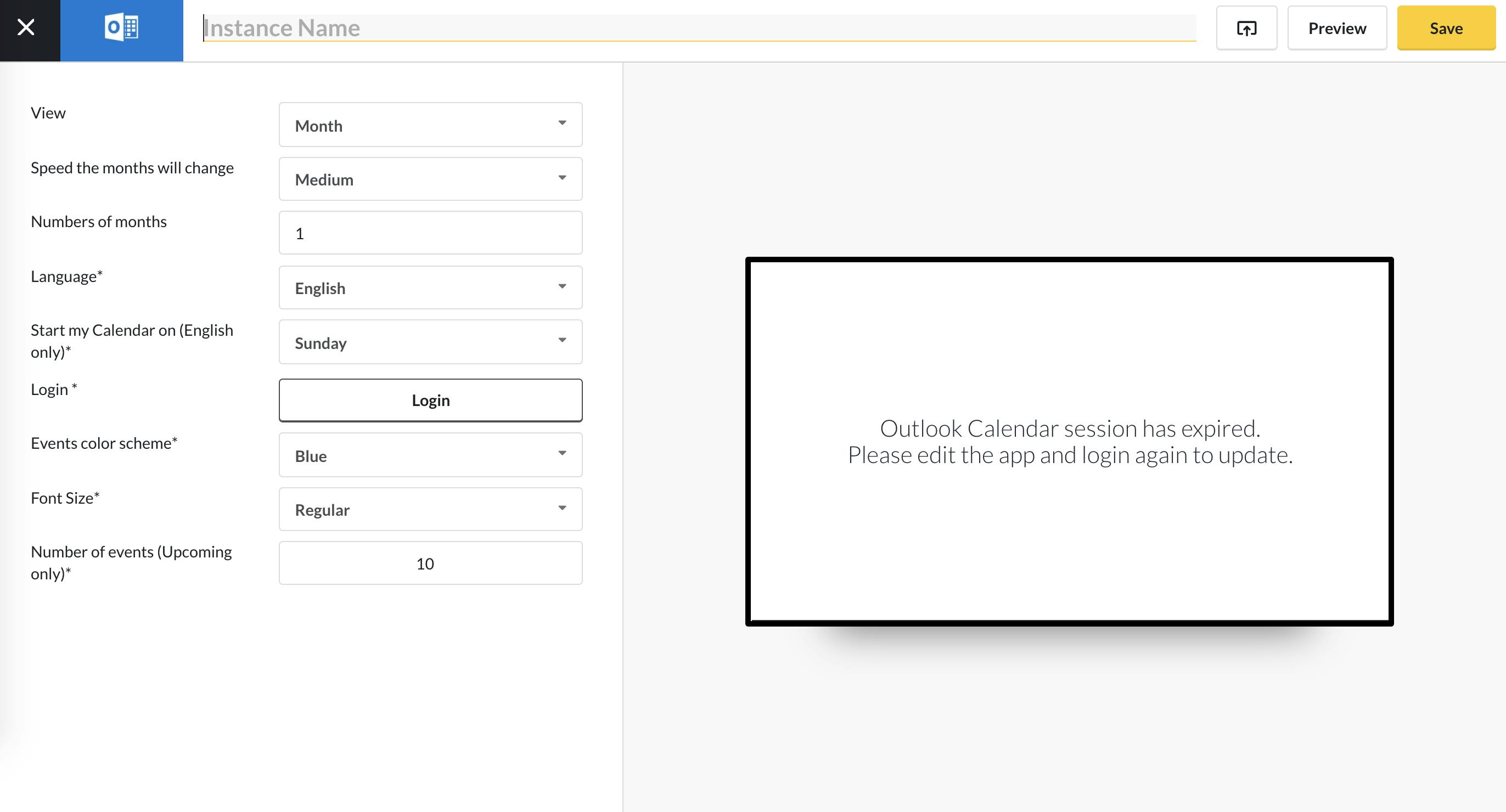 A small pop up will appear allowing you to log in with your Microsoft account details: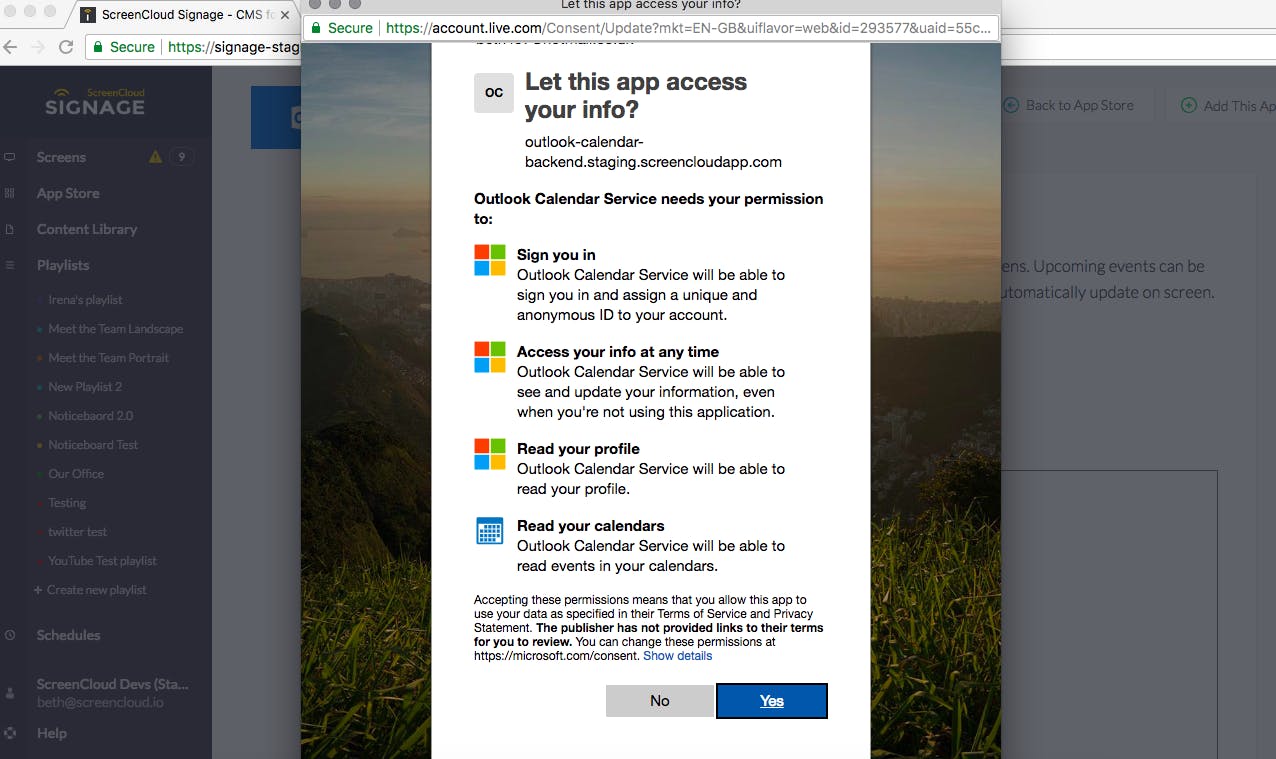 2.2. Select "Yes" to give ScreenCloud permission to pull through your calendar. Once you have logged in, you can see all of the calendars associated with your Outlook account.
2.3. Select a calendar, or multiple calendars, to show them on your digital screen. Then, click "Ok" to return to the settings panel.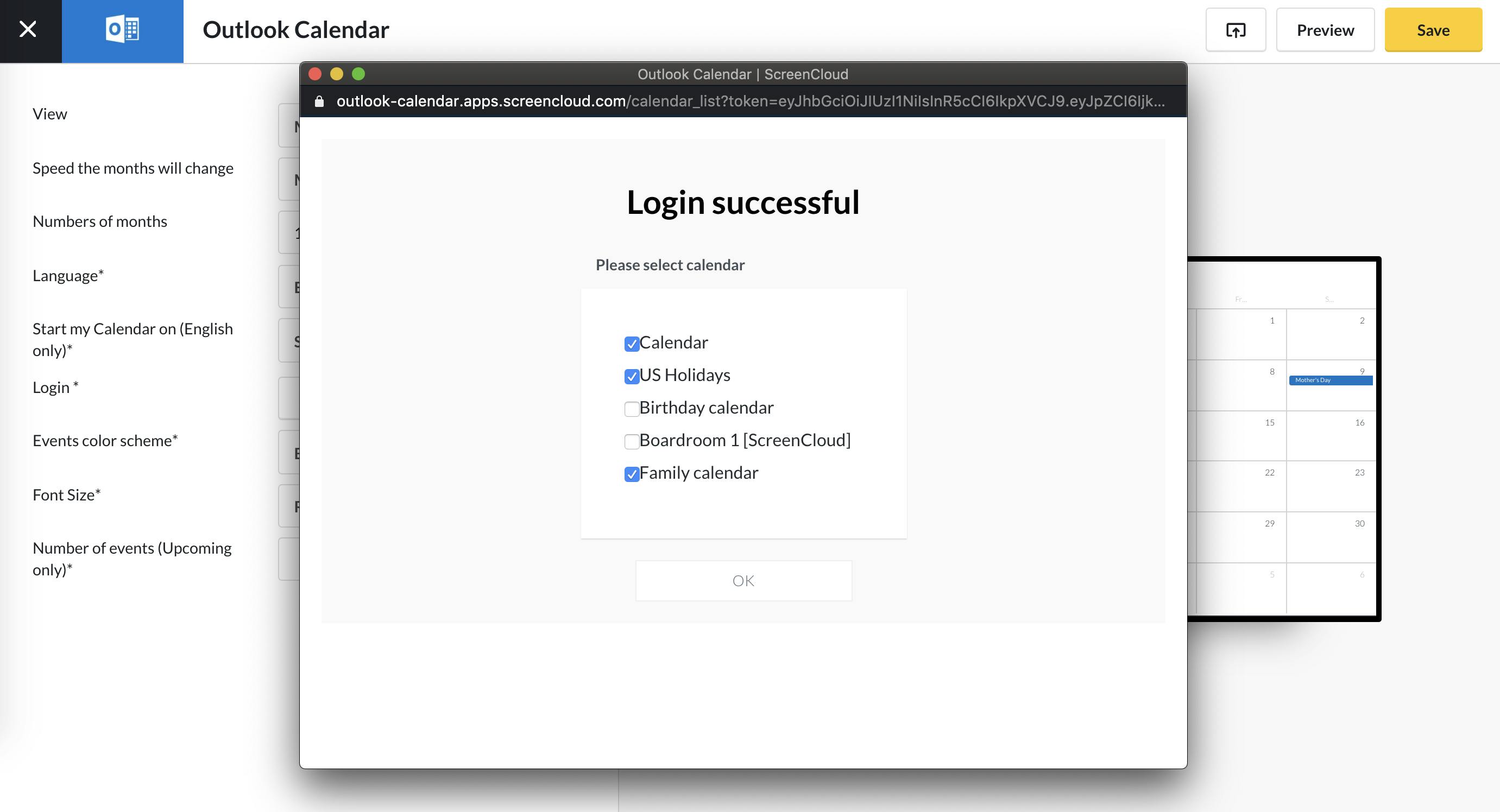 3. Choose your Outlook Calendar app settings
You can adjust your settings that will help you to customize your Outlook Calendar app. These include: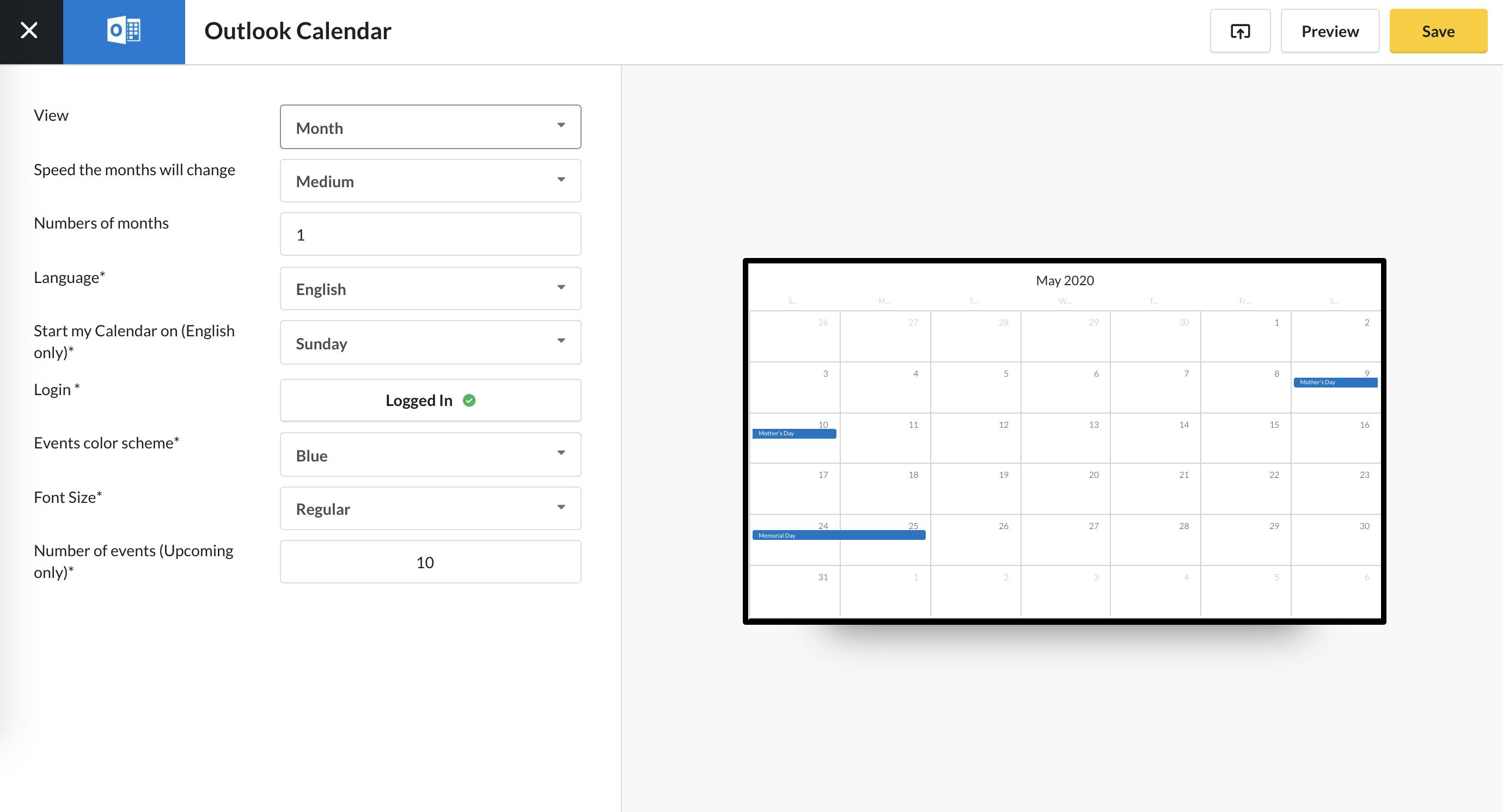 i) Language: we currently support English, Spanish, German, French, and Dutch for the Outlook Calendar app.
ii) View: this allows you to pick how your events and dates will be displayed. Here, you can choose from a "Month", "Week", "Day" or "Upcoming" view.
iii) Start my calendar on (English only): This allows you to select whether you want your calendar to start on Sunday or Monday.
iv) Font size: choose from regular or larger font size for your events.
v) Number of events (Upcoming only): if you are using the "Upcoming" view this allows you to select how many upcoming events you'd like to be shown on screen at any one time.
vi) Add Locations (Upcoming only): if you are using the "Upcoming" view, this will pull in any location(s) you have set for your calendar events.
vii) Number of months (Month-view only): Choose up to a maximum of 6 months to show on the screen at any one time. This option will display progress bars if you have multiple months set, in which the app will automatically transition from month-to-month to show events.
viii) Event color scheme and custom themes: you can select from event color schemes available for the Outlook Calendar app (e.g. Blue, Green, Red, etc). For example, you can make events display in a specific color as shown below in "Green" from the calendar app. You also have the option to create your own custom theme. To create a custom theme, check out our guide on how to use the App Theme Editor.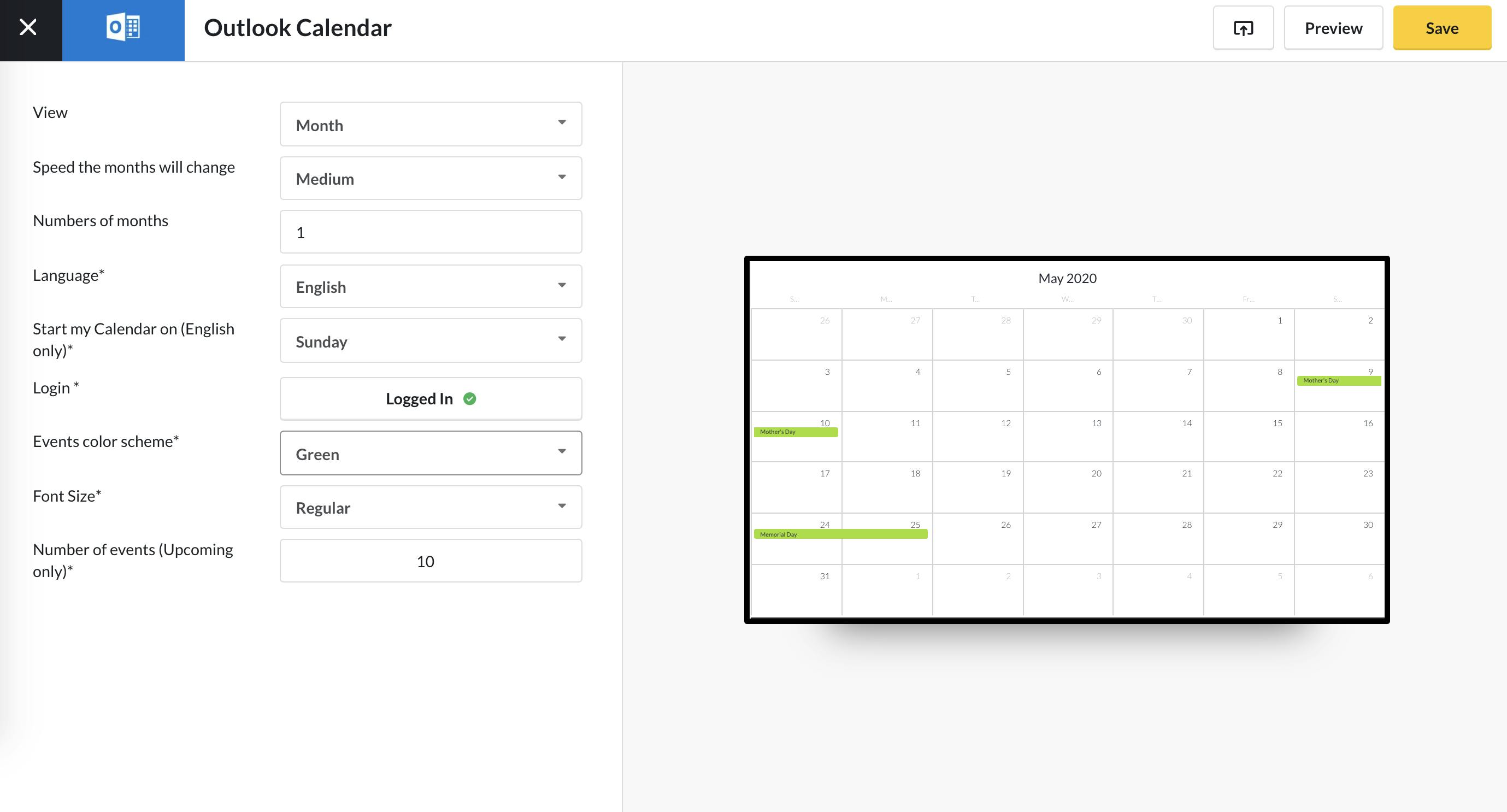 4. Preview your Outlook Calendar app
Once you've added your Outlook Calendar app you have the opportunity to preview it before it gets added to your screens.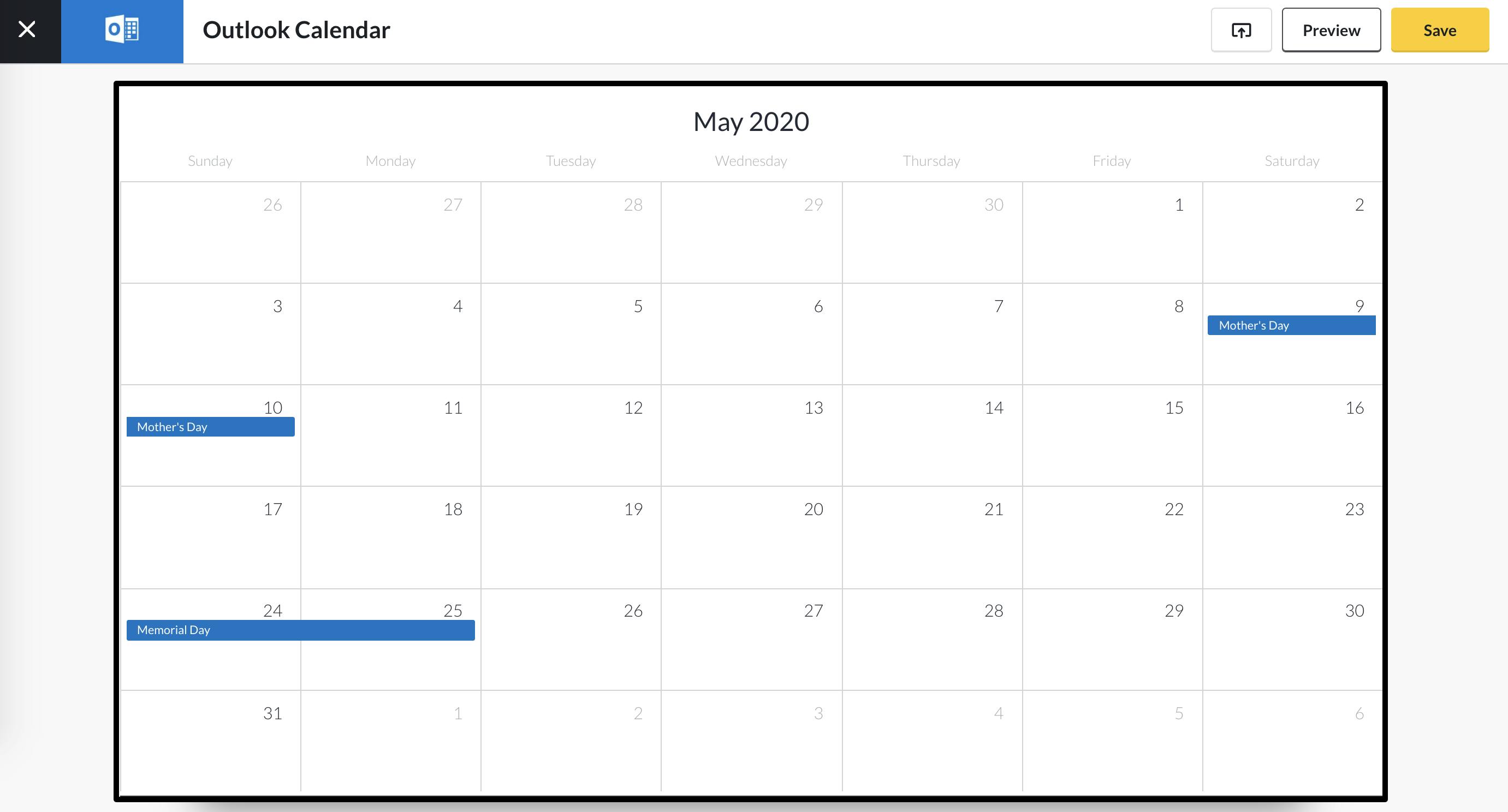 Click 'Preview' and a popup will display your Outlook Calendar app.
5. Add your Outlook Calendar to a Channel or Playlist
Once you have configured your Outlook Calendar app it can be easily added to a Channel or Playlist to be played on screen.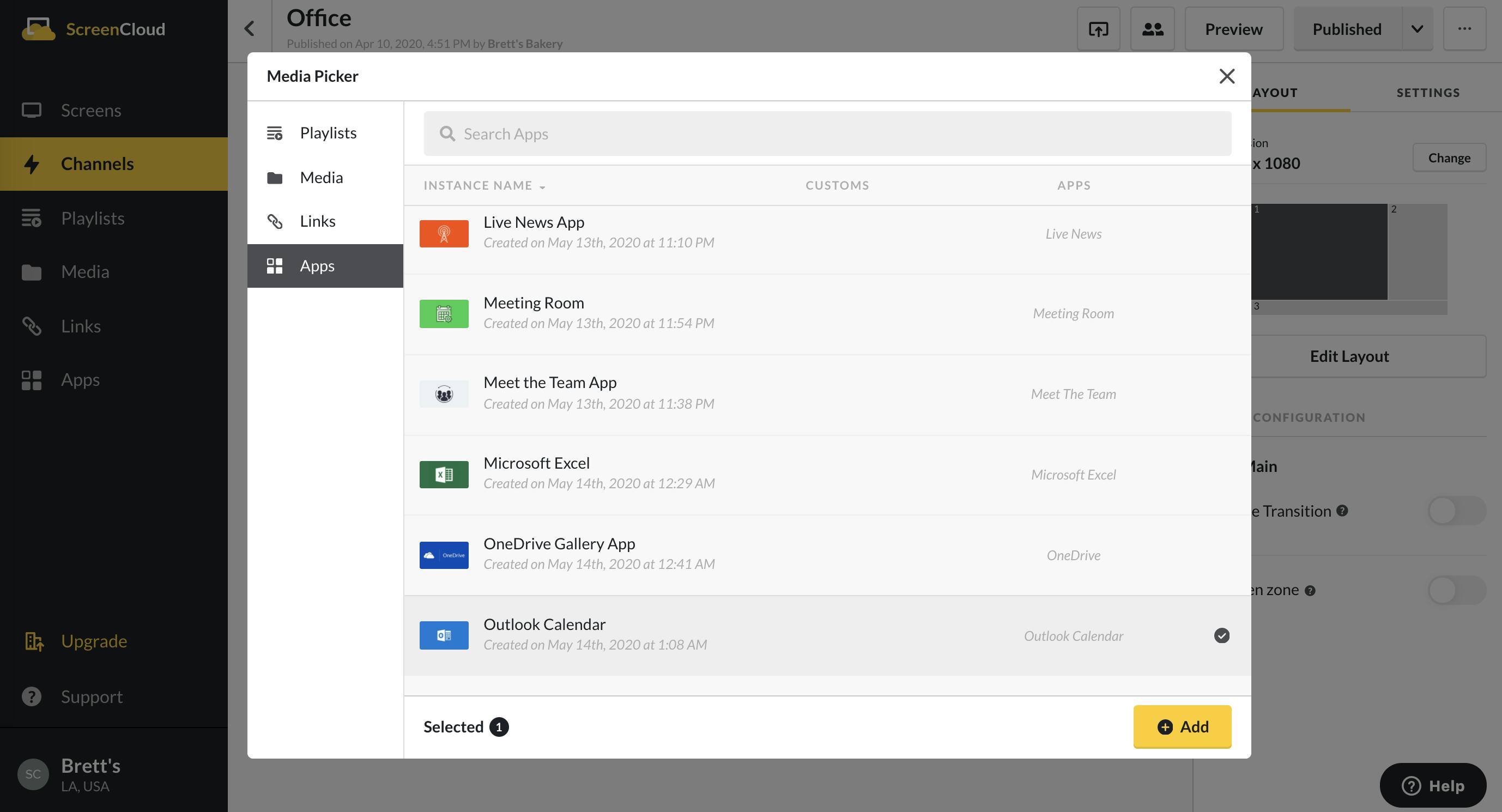 Simply select "Add Content" to open the Media Picker and under Apps, you will see all of your app instances, ready to be installed. You can also view ways you can set content on your digital screens using ScreenCloud by clicking here.
Frequently asked questions:
How often does the Outlook Calendar update?
The Outlook Calendar updates every 10 minutes. This means that once you have added or edited an event, it can take 10 minutes for the screen to update and show the latest information.
How long will the Outlook Calendar show for?
Outlook Calendar will show for the time you have set in its duration within the playlist. You can edit this by going to Playlists and clicking on the time duration shown next to the Calendar.
How can I show events from my Google calendar?
Check out our Event Calendar app for Google calendars.
Can I add multiple calendar app instances with different Outlook accounts?
Currently, the app can only be used with one Outlook login across as many app instances as you create. For example, if you create an instance of the app and login with your Outlook account then moving forward you can only select calendars from that specific login. The app does not have the ability to mix and match alternate Outlook logins to pull in calendars from more than one account while being used.
For further questions, please contact support@screencloud.com with details.