Looking to display all of the latest news headlines on your digital screens? The newly improved News App from ScreenCloud lets you access headlines from sources such as BBC News, CNN News, Fox News, and Google News to syndicate news headlines, straight to your digital signage screens. The headlines update in real-time, so you'll never be short of the news in your office, school, or store. 
Here's how to use it:
1. Select and install ScreenCloud's News app
1.1. Get started by logging into your ScreenCloud account here and choosing the ScreenCloud App Store from the left-hand menu.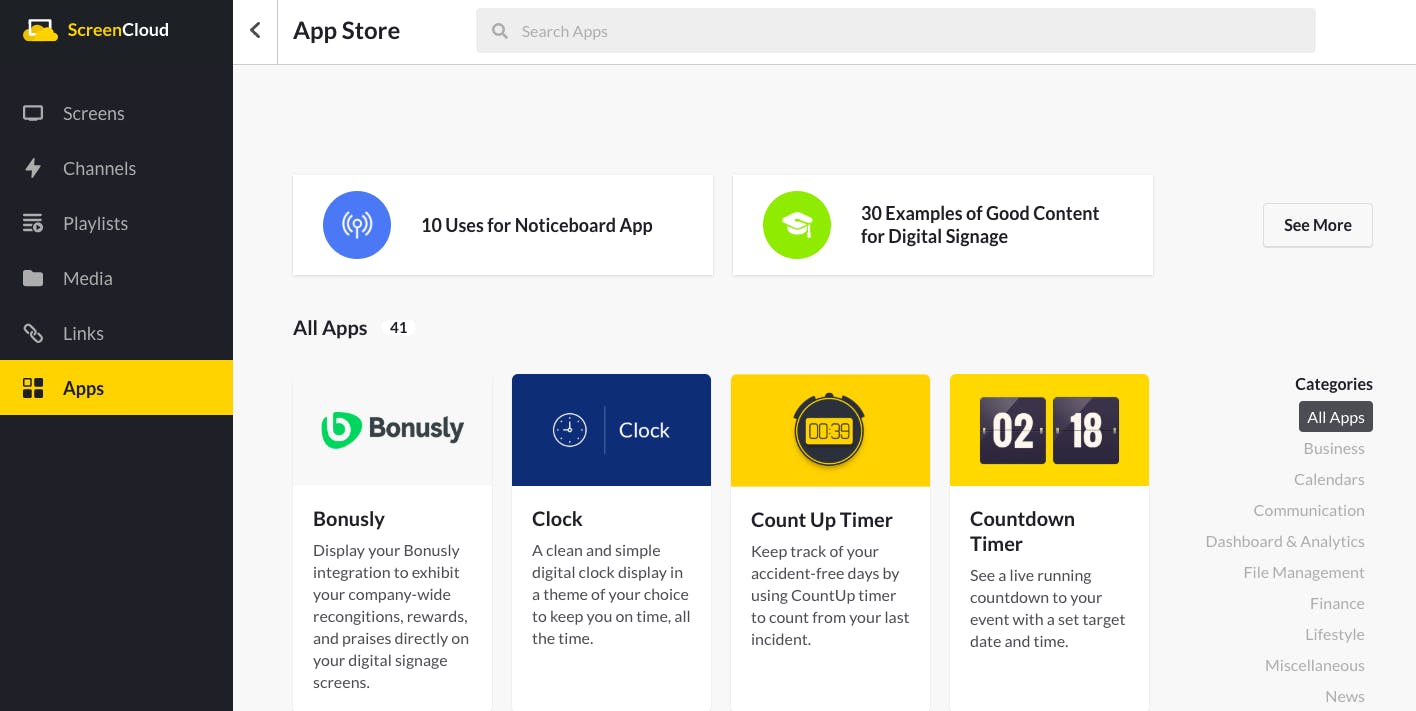 1.2. By searching "News" you can find the News app and choose "Install app" to add a new instance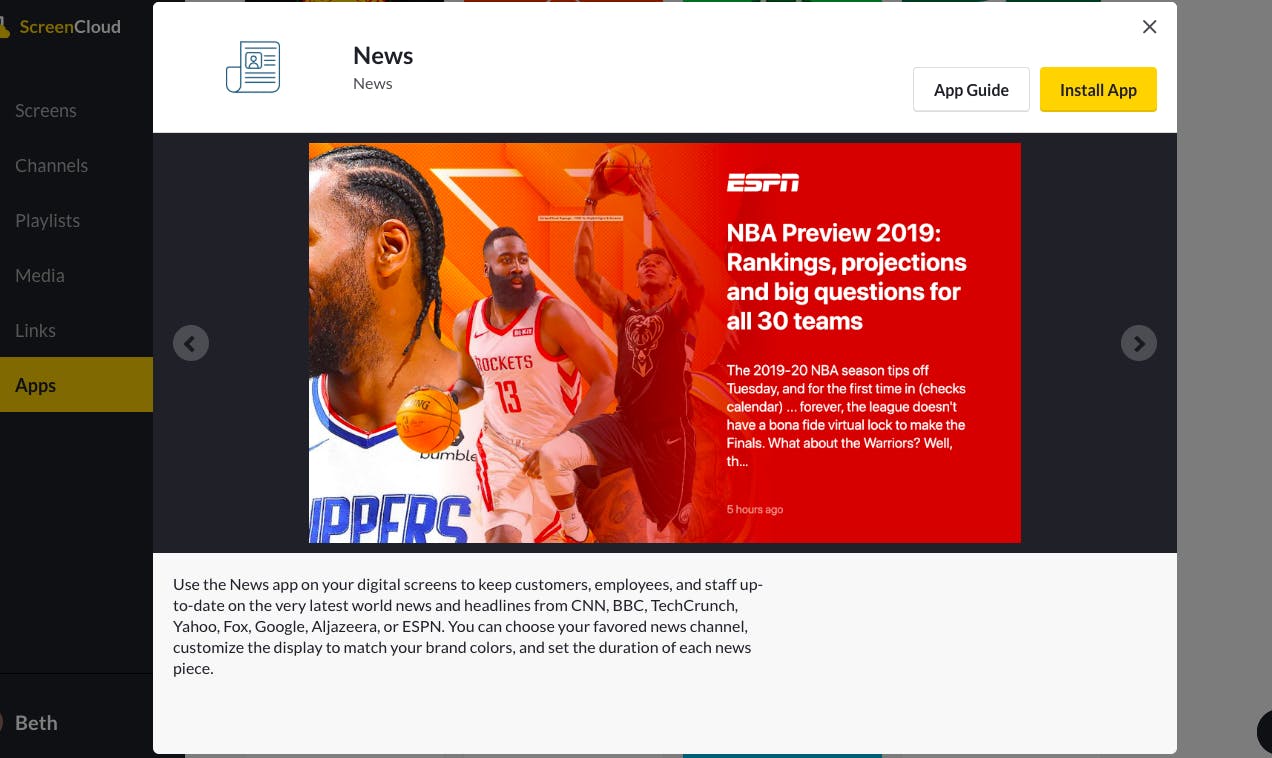 2. Choose your news sources and settings
2.1. Once you've created a new instance of the News app, you'll want to give it a name, for example, "World headlines". This is to help you to distinguish the app if you decide later that you want to add more than one instance.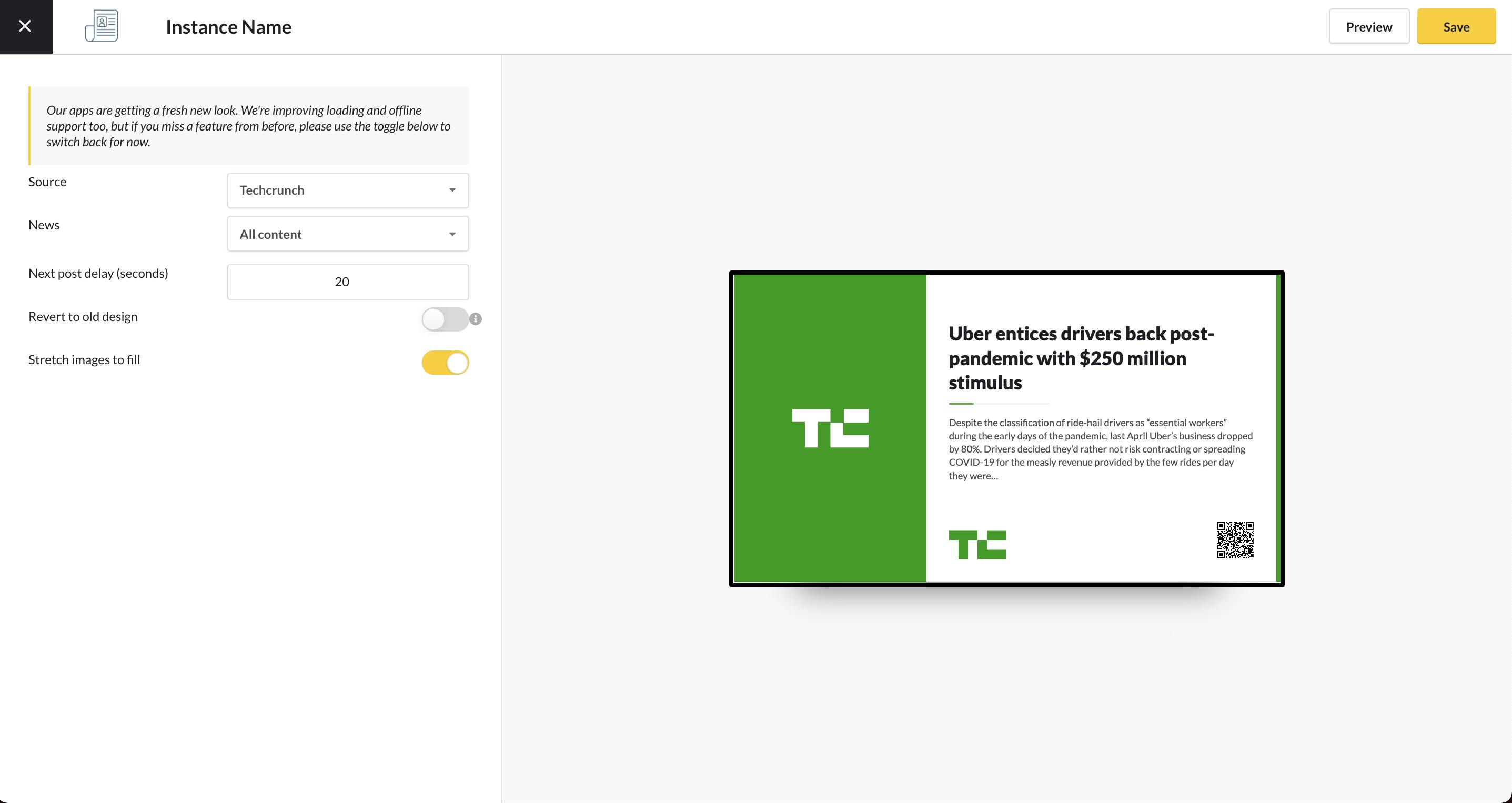 2.2. Next, you'll need to choose which news source you want to show headlines for. As you'll see from the dropdown, you can choose from a variety of real-time news sources such as:
CNN
BBC
TechCrunch
Yahoo News
Fox News
Google news
Aljazeera News
ESPN News
Once you've chosen your news source, you can then choose which category of headlines you would like to see. For example, CNN Health news headlines would display multiple options from the drop-down menu from what is available as news data. Please note, news channel or headline availability will be different between your source selection.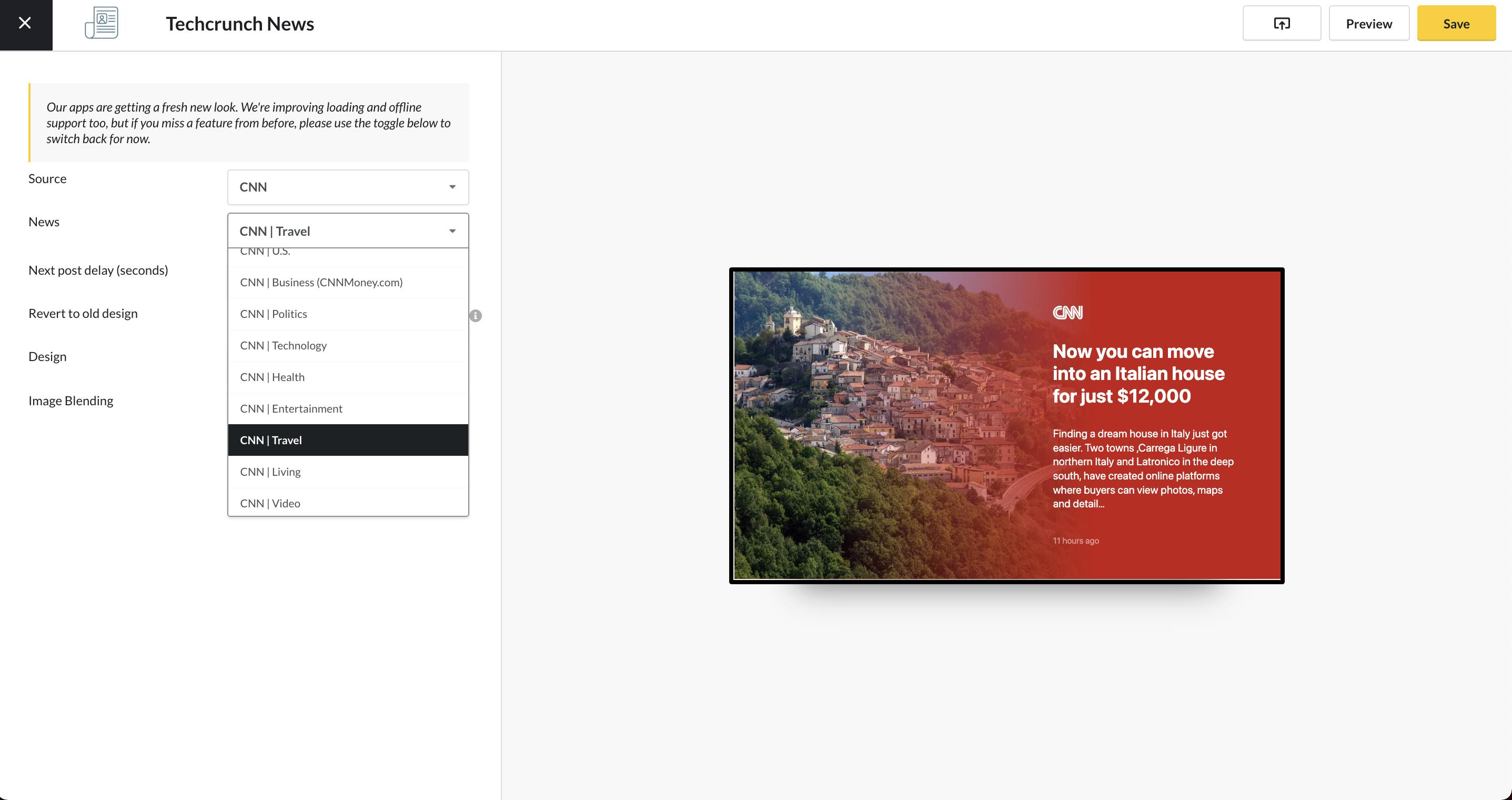 2.3. Now you can decide how much of a delay to have between each headline and the look and feel of your news display, like whether you'd like to blend the image background. Please note, if you would like to use the original design theme for the News App (pre-dating the April 2021 design released by ScreenCloud) you can select the "Revert to old design" option. This allows you to select your design view and control image blending (full, medium, or no blending) for your News App content.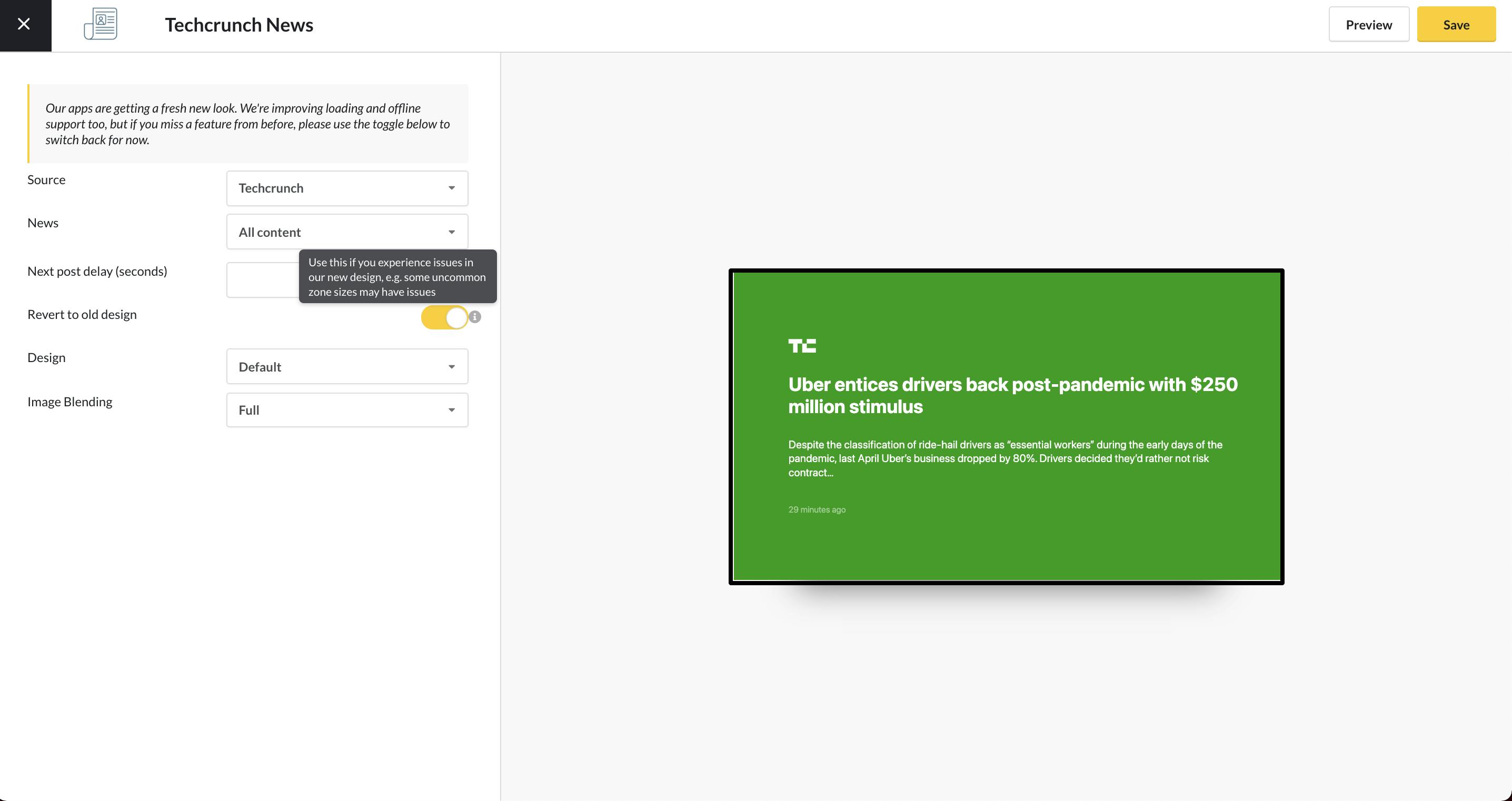 2.4. Please note, the Stretch images to fill feature stretches images halfway across the app, however, if you want to maintain the aspect ratio and avoid cropping the image you can disable this. This is only available in the new design, if you select "Revert to old design" this is no longer available.
Example of Original (Old) Design: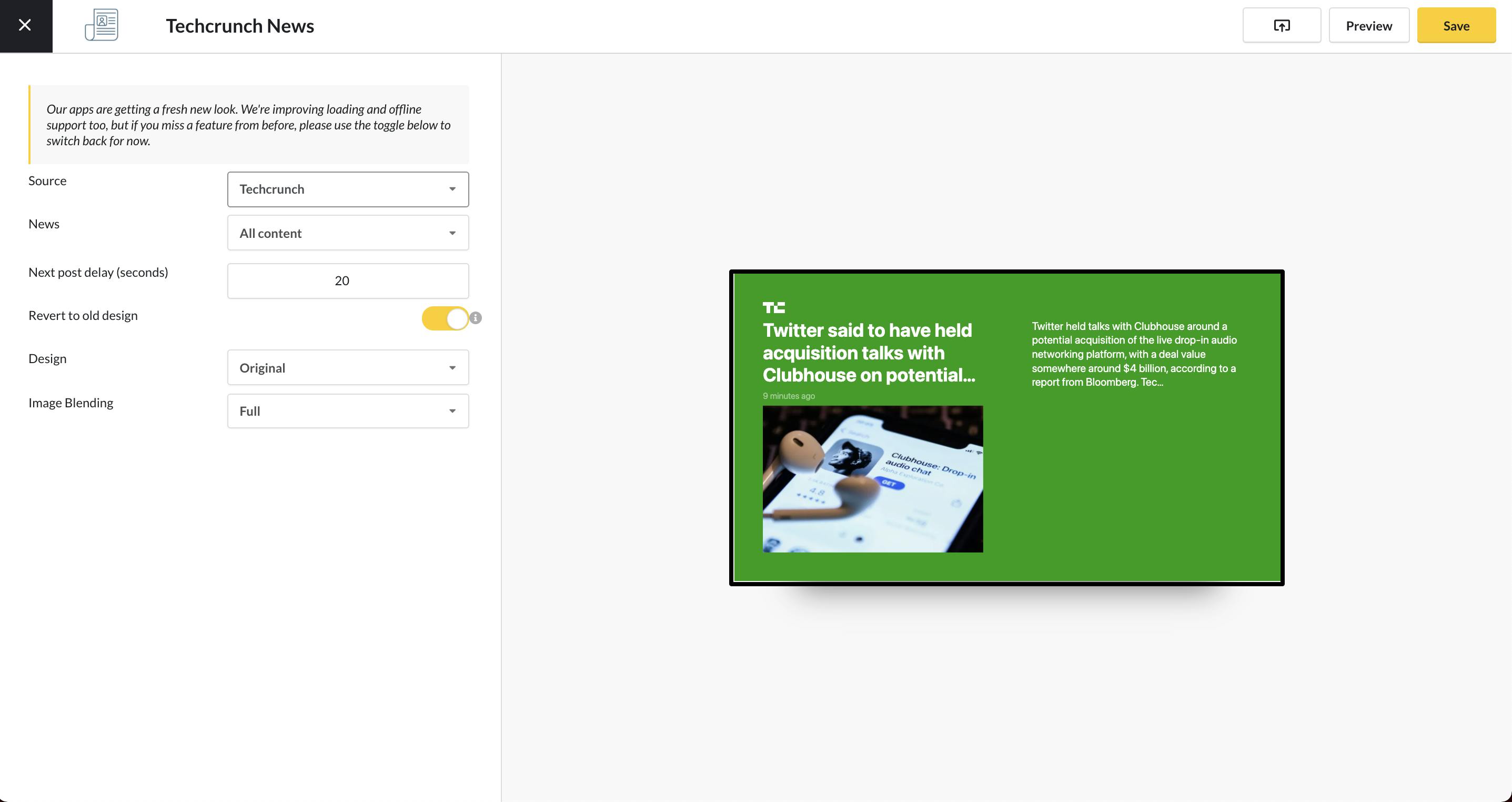 3. Add your News app to your digital screens
3.1. After you have set up your app, you can select "Preview" to see what it will look like on your displays.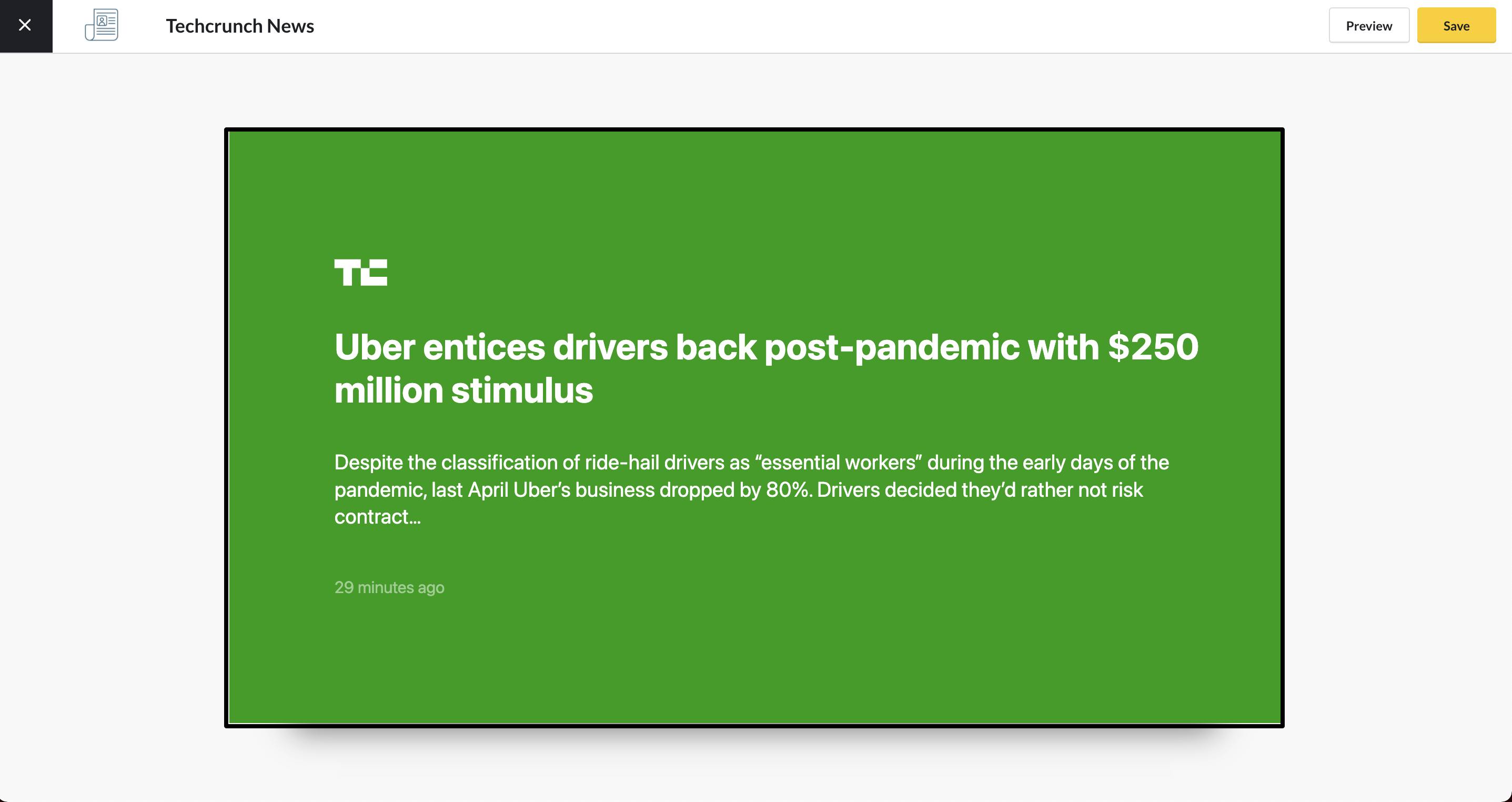 3.2. Once you have chosen your news headline and settings it can be easily added to a Channel or Playlist to be played on screen. You can view ways you can set content on your digital screens using ScreenCloud by clicking here.
4. Custom brand your news headlines
News app is one of the ScreenCloud apps that can also be custom branded with your organization's color scheme or styling. Creating a branded theme is easy and can be created within your Account Settings.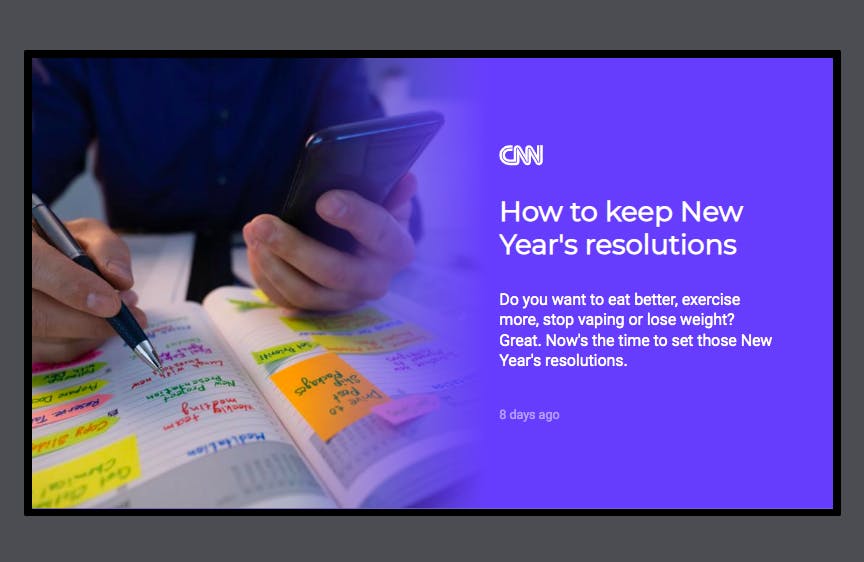 Once created, themes can be added at a Channel-level in order to custom brand apps like Twitter Timeline. Find out more on how to create custom themes with ScreenCloud here. 
Please note, if you're using an older version of ScreenCloud (signage.screencloud.com rather than studio.screencloud.com) please use the previous App Theme Editor guide to custom brand your apps, and please see this guide to find out how to add News apps with the older version.
Frequently asked questions:
Why do I not see certain news feeds within the app?
Some news feeds have recently been deprecated and therefore will no longer work within the News app. If there is a news feed you would like to show but can't see, it's worth checking if it has its own RSS feed. If it has, you can add this as screen content using the RSS feed app in ScreenCloud. 
Can I combine, or add more than one set of news headlines to my display?
You can create as many News app instances as you like in ScreenCloud, which allows you to create multiple news feeds from different sources. You cannot combine lots of different headlines in one instance, but by creating and adding different instances to a playlist or Channel, you can ensure a mix of headlines if you so wish. Just ensure that you name each set with something different so you can easily spot them in your content library later on.
Can I use the News app in portrait mode?
Yes, the News app is compatible with both portrait and landscape screens.
How often does the app update with new headlines?
The News app is syndicated by RSS so new headlines appear as they are added by the source, such as CNN or BBC.
For further questions, please contact support@screencloud.com.