Please note, if you are using the older version of ScreenCloud (signage.screencloud.com) you can download the alternative Microsoft Excel guide here.
Take control of using your Excel spreadsheets to display information, trends, and data across your digital signage screens with ScreenCloud's Microsoft Excel app. You can easily connect your OneDrive account to begin choosing any excel spreadsheet and sheet tab, input a cell range to pull in specific data, and display an optional Microsoft Excel logo and/or custom title to feature. Any updates made to your OneDrive spreadsheet will automatically update live on screen.
With the ScreenCloud's Microsoft Excel app you can:
Select excel spreadsheets directly from your OneDrive account
Quickly configure the range of data from your spreadsheet to display live on screen
Add a custom title to display at the top of your spreadsheet
Here's how it works:
1. Select and install ScreenCloud's Microsoft Excel app
1.1. Get started by logging into your ScreenCloud account here and choosing the ScreenCloud App Store from the left-hand menu.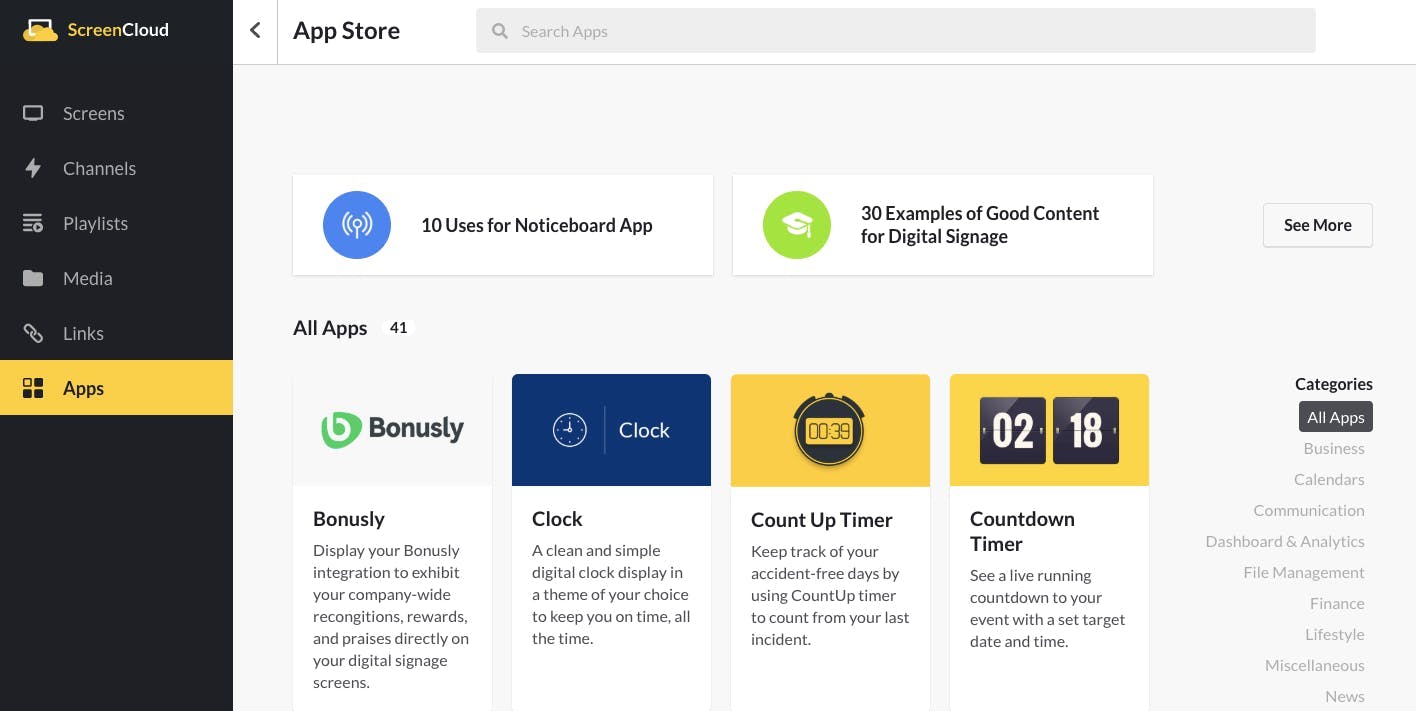 1.2. By searching "Microsoft Excel" you can find the Microsoft Excel app and choose the "Install app" button to add a new instance.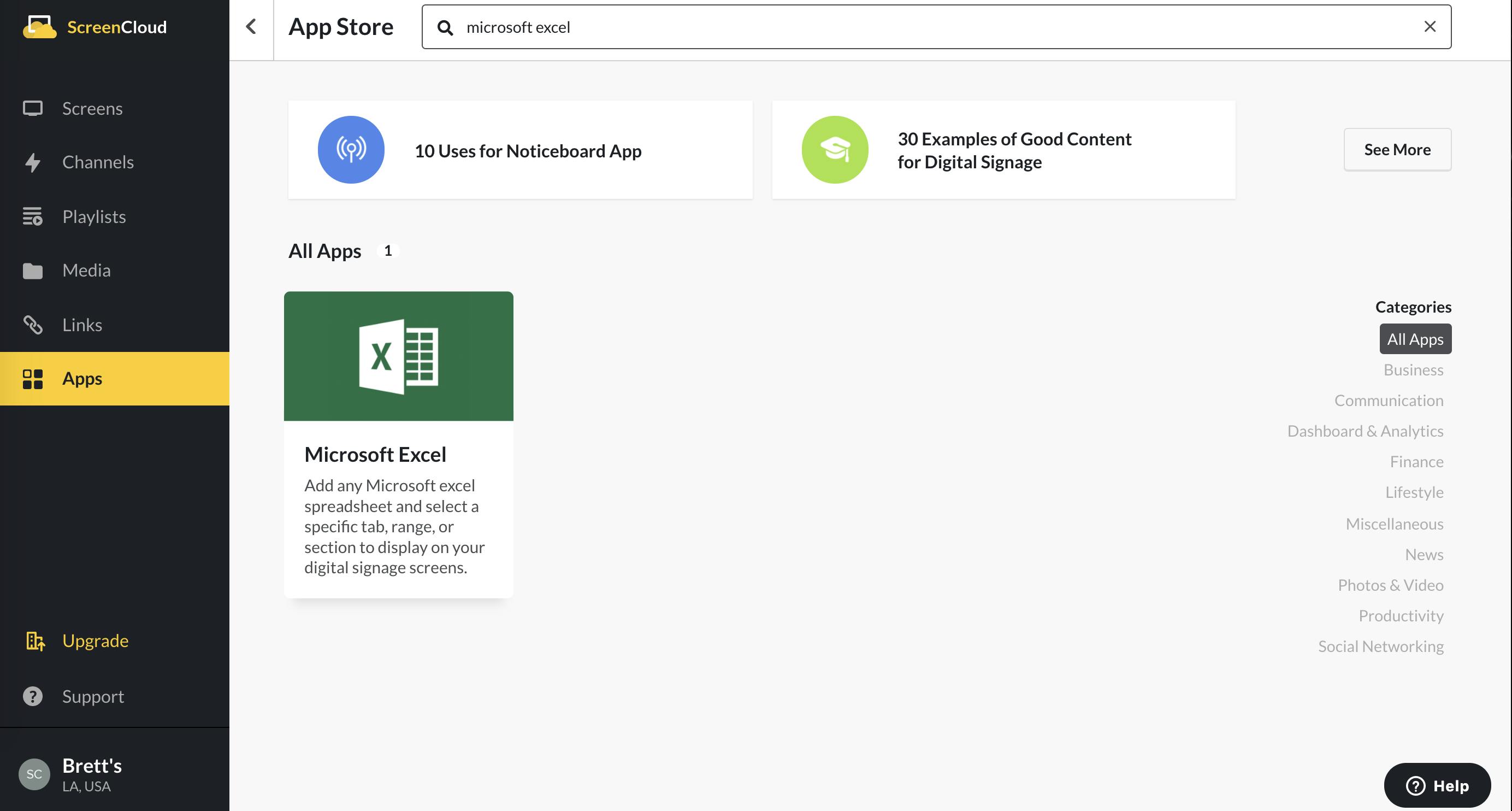 2. Log in to OneDrive to select items
2.1. Next, click "Select Items" to log into your Microsoft OneDrive account.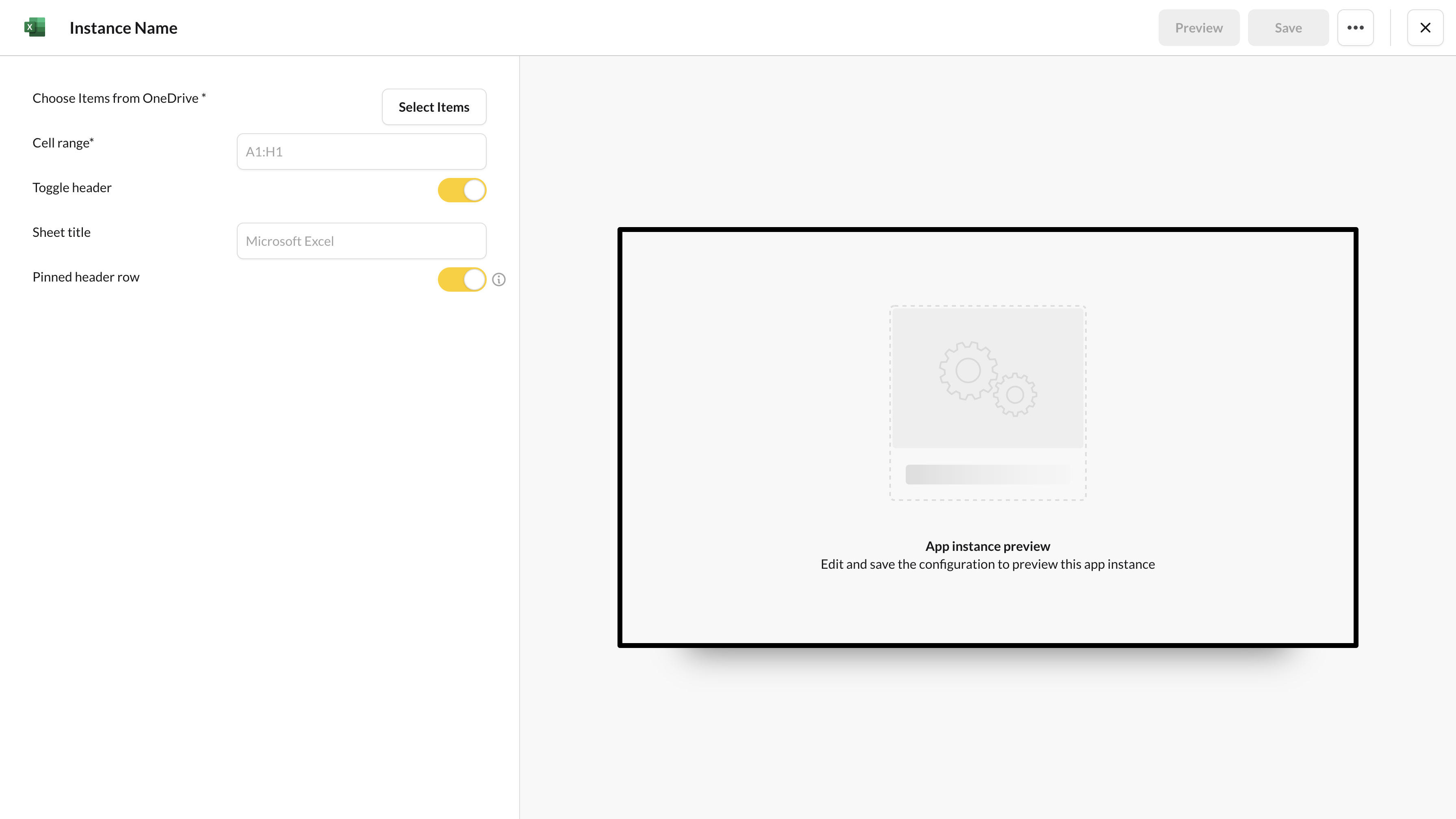 2.2. Log in using your OneDrive credentials to connect your account with ScreenCloud.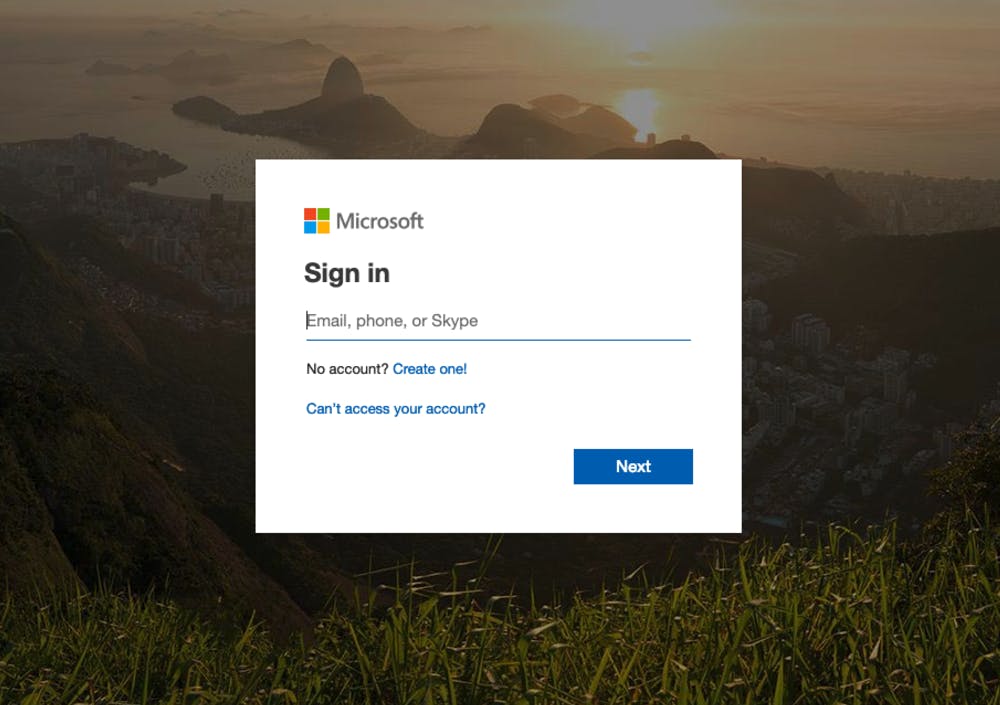 2.3. Select any Excel file from your OneDrive account. If it is within a folder, double-click to enter the folder and select the file. Then click "Select Workbook" in the lower right-hand corner to verify choosing this sheet.

2.4. Next, select the worksheet you'd like to choose from within your sheet. For example, if you have multiple tabs of data, you can select the exact tab from here you'd like to display on the screen.

2.5. Click "Select WorkSheet" and you will now be redirected to the ScreenCloud app window where a green checkmark will appear next to "Select Items". This verifies that your excel sheet is synced.
3. Configure your Microsoft Excel app
Next, you can configure the settings for your Microsoft Excel app.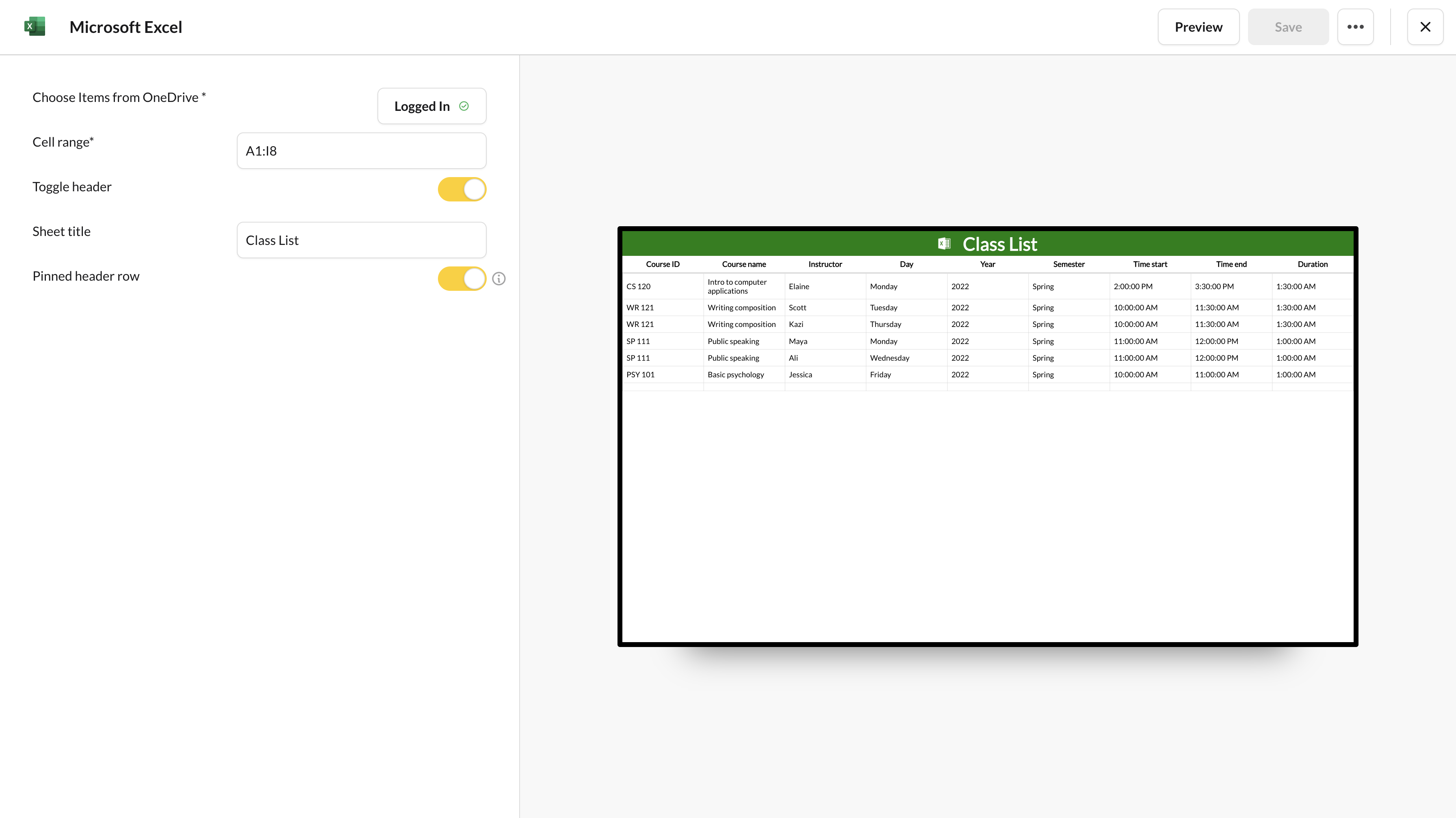 i) Cell range: input the cell range based on your sheet for data you'd like to pull in. For example, if you want to show data on a sheet from A1 (the beginning of the sheet) all the way to B45, you would type in "A1:B45" here for this information to display.
ii) Toggle header: you can switch this on and off to display a Microsoft excel logo at the top of your spreadsheet, or use a custom title to display.
iii) Sheet title (optional): type in a custom sheet title that will display when you toggle the header on. If you leave this blank, a generic Microsoft Excel logo will appear in the header. For instance, if you typed "Office Metrics" then this will display as the title to replace the logo. Please note, the sheet title should contain no more than 25 characters. You will be alerted if you go over the maximum.
4. Preview your Microsoft Excel app
Once you've added your Microsoft Excel app you have the opportunity to preview it before it gets added to your screens.
Click 'Preview' and a popup will display your Microsoft Excel app.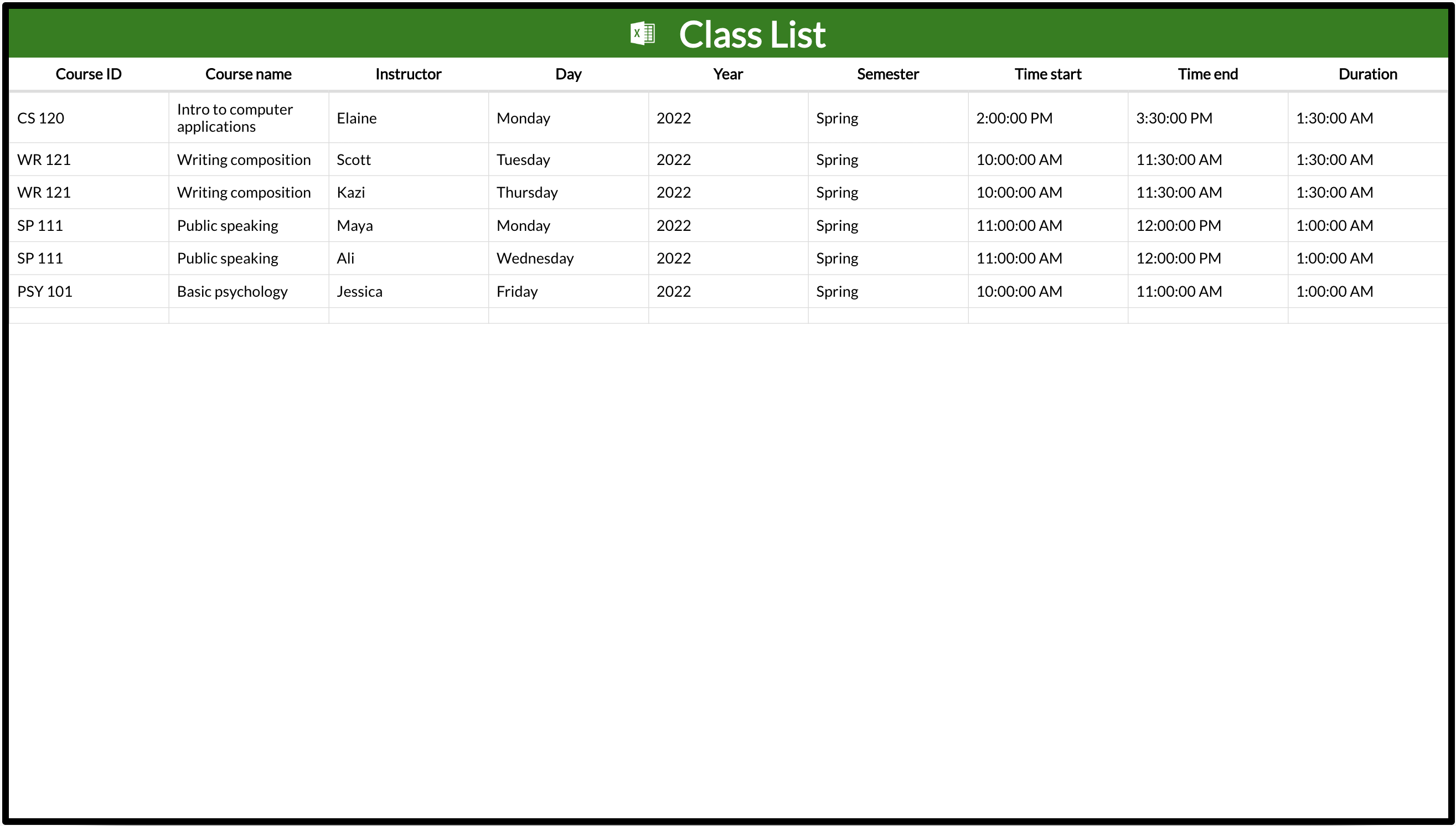 5. Add Microsoft Excel app into your Channel or Playlist
Once you have configured your Microsoft Excel app it can be easily added to a Channel or Playlist to be played on screen.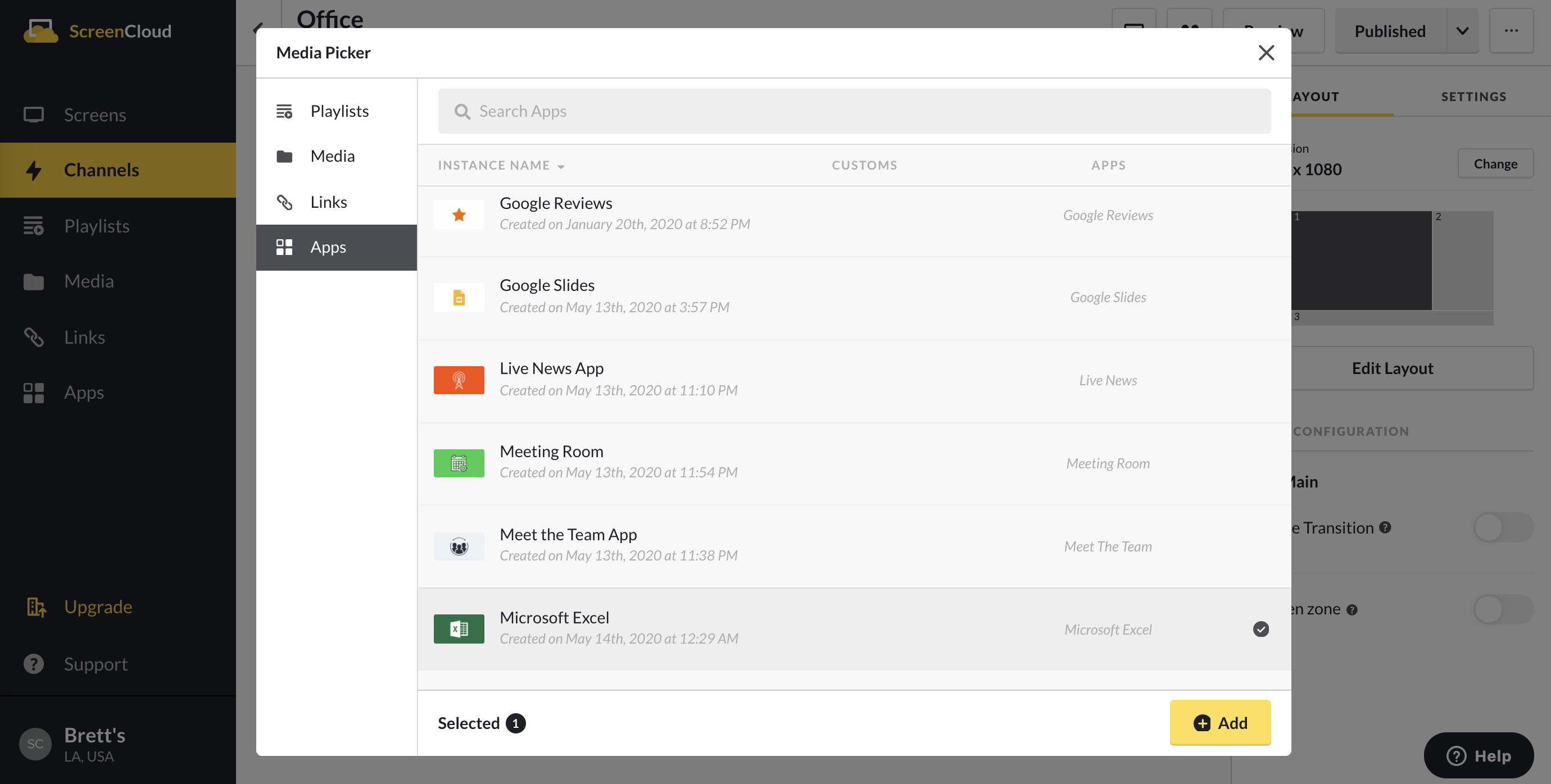 Simply select "Add Content" to open the Media Picker and under Apps, you will see all of your app instances, ready to be installed. You can also view ways you can set content on your digital screens using ScreenCloud by clicking here.
Frequently asked questions:
How often will the app pull in updates from the spreadsheet?
The app will auto-refresh and pull in new updates every five minutes.
How many results does it fetch (e.g. maximum number of content/posts)?
The app currently only supports displaying a single worksheet from a single Excel file. However, the range of data fetched from the sheet is fully customizable. You can display all used cells, or pick a smaller subset via the app configuration for "Cell Range".
Can I select multiple sheet tabs to display and cycle through the app?
The app can't support multiple tables being used, it is just one per app instance. You can add as many instances of the app as you'd like and select different sheet tabs to display for digital signage.
Can the app support charts, graphs, or any advanced formatting (e.g. colored cells)?
Currently, the app doesn't support charts, graphs, or advanced formatting.
How far do the results pull in (e.g. can it only fetch data within a specific time frame)?
There is no data fetch limit for the Microsoft Excel app.
How are the results ordered?
The Microsoft Excel app displays rows and columns in the same order as they are in the worksheet.
What zones is the app supported in?
The Microsoft Excel app supports both the main and sidebar zone layouts. It does not support the ticker tape zone.
Are there any character limits?
There is only a 25 character limit for the title created while configuring the app.
Does it support running offline?
Currently, the app does not support offline mode.
Does it support preloading?
No, the app does not support preloading as our current players do not have this capability.
Does it support custom themes?
No, the app currently does not support custom themes.
For further questions, please contact support@screencloud.com with details.