Please note, if you are using the older version of ScreenCloud (signage.screencloud.com) you can download the alternative Google Traffic guide here.
The ScreenCloud Google Traffic app makes it easy to share the latest traffic information, as it happens, to your digital screens. This allows everyone from your employees to visitors and customers to see live traffic conditions, including accidents or congestions, in your area.
With the ScreenCloud Google Traffic app you can:
Search any location to show live traffic information
Choose a bird's-eye or zoomed-in view of traffic
Select between a light or dark theme for the app
Please note that ScreenCloud customers will need to obtain their own Google Map API key and add that information to the Google Traffic app. You can access and obtain a Google Map API key directly from Google, this is required to use the service. Please see the setup guide here. Once you have obtained your API key, you can set up the Google Traffic app following the guide below.
Here's how it works:
1. Select and install ScreenCloud's Google Traffic app
1.1. Get started by logging into your ScreenCloud account here and choosing the ScreenCloud App Store from the left-hand menu.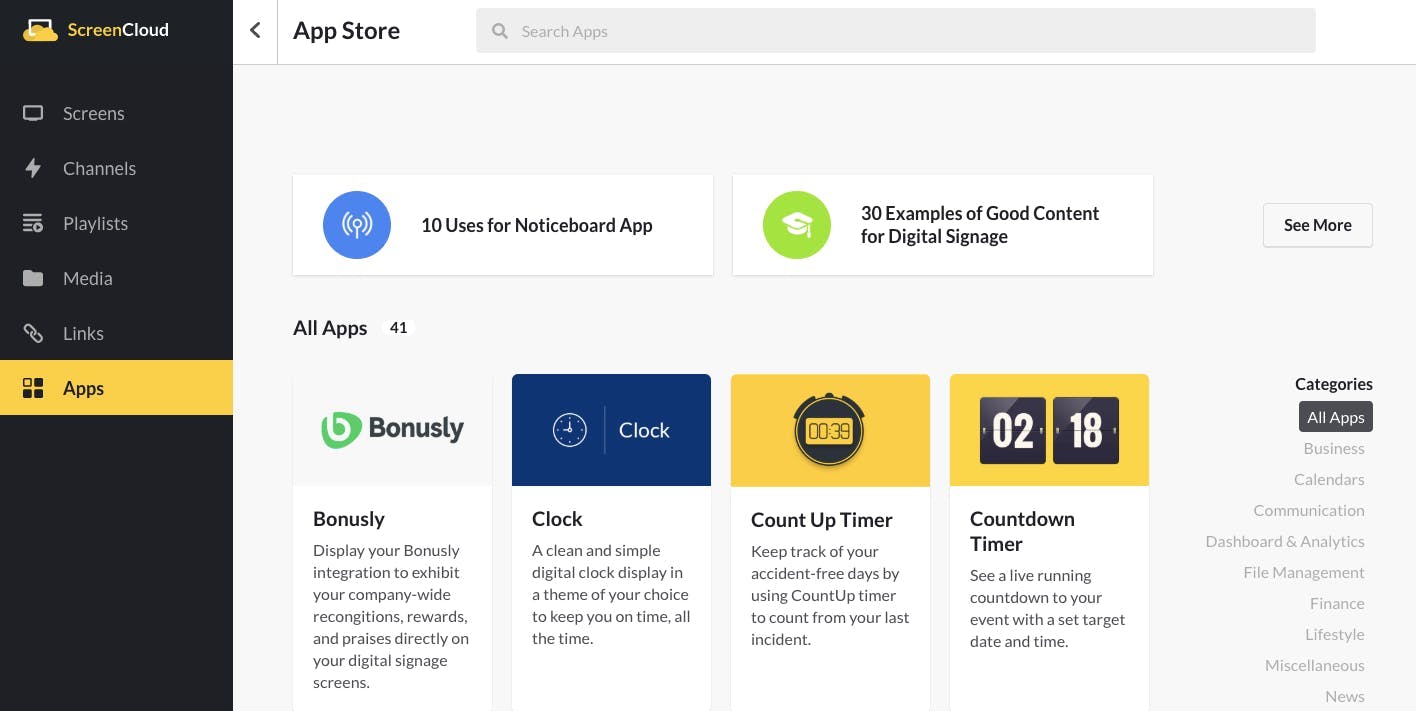 1.2. By searching "Google Traffic" you can find the Google Traffic app and choose the "Install app" button to add a new instance.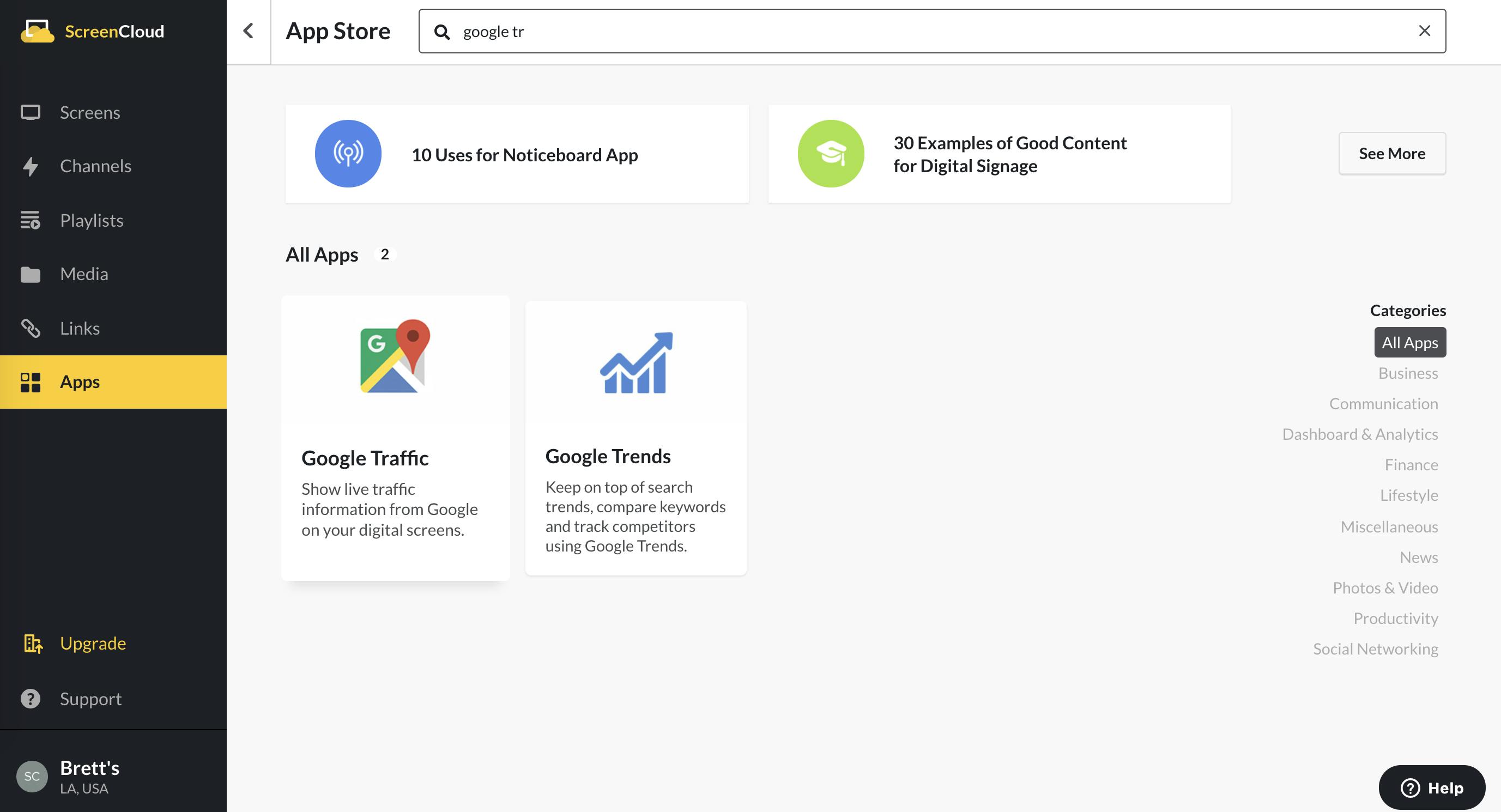 2. Setup your Google Traffic app
2.1. Next, you can configure the following settings for the app: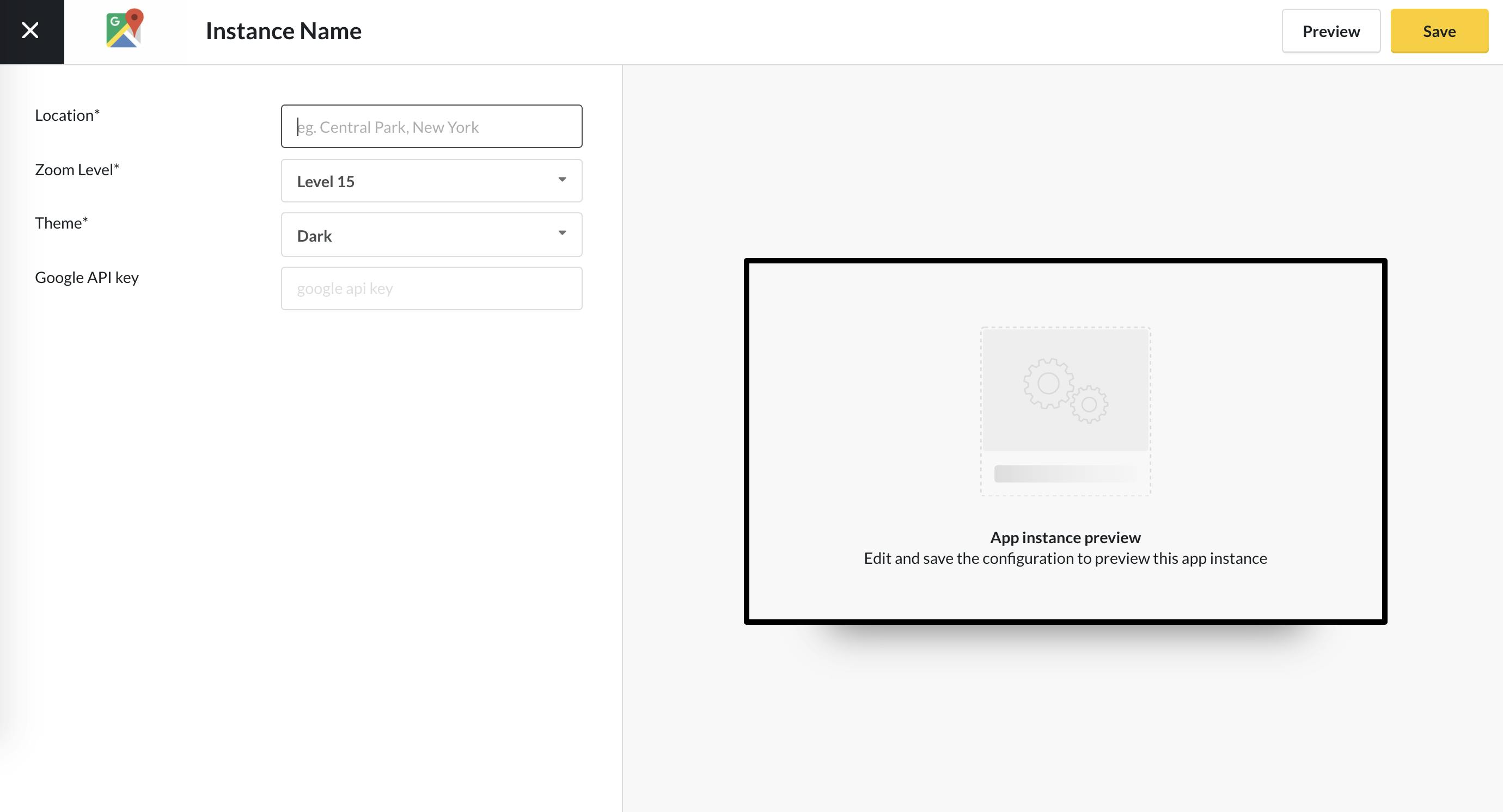 i) Location: this is required to determine which location you wish to show traffic information for. For example, you can enter "Central Park, New York" for the general location you've set up using the Maps API key. Here you can add a street, county, region, state, or country. If you are unsure whether your area can be found, type it in at maps.google.com first and review the result.
ii) Zoom level: you can also choose how far to zoom in to your chosen location by changing the zoom level. The higher the level, the more zoomed-in your view will be.
iii) Theme: choose between a light or dark theme for your Google Traffic app.
iv) Google API Key* (Required): copy and paste your Google API Key you've created to use the app. Please see the setup guide here for reference.
3. Preview your Google Traffic App
Once you've added your Google Traffic app you have the opportunity to preview it before it gets added to your screens.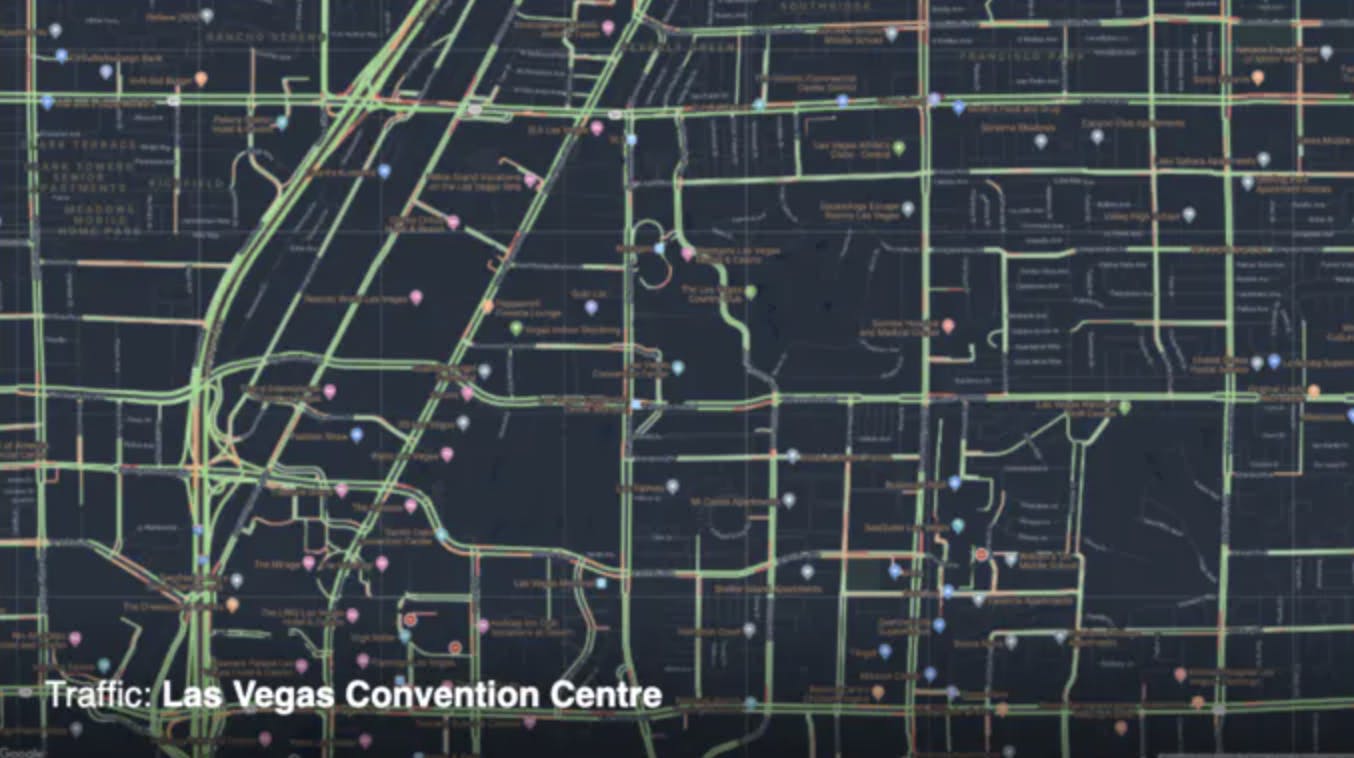 Click 'Preview' and a popup will display your Google Traffic app.
4. Add Google Traffic app to a Channel or Playlist
Once you have configured your Google Traffic app it can be easily added to a Channel or Playlist to be played on screen. Simply select "Add Content" to open the Media Picker and under Apps, you will see all of your app instances, ready to be installed. You can also view ways you can set content on your digital screens using ScreenCloud by clicking here.
Frequently asked questions:
Can I use the Google Traffic app offline?
Yes, you can use the Google Traffic app offline, but you may not see the very latest traffic data.
Can I use the Google Traffic app in landscape or portrait?
Yes. Google Traffic app supports both landscape and portrait mode.
How often does the Google Traffic app update with the latest traffic conditions?
Traffic information is refreshed frequently and at Google's request. This means that traffic conditions will be shown as close to real-time as you would see in Google Maps itself.
Google Traffic app won't display the right time, how can I fix this?
Currently, this is a known limitation with the internal clock on the Traffic app if it is being used by itself. While our development team is working towards an alternative resolution for this, you can currently keep the clock time updated by using the Traffic app in a playlist with at least one other app. This will force the clock time to auto-update.
For further questions, please contact support@screencloud.com with details.