Please note, if you are using the older version of ScreenCloud (signage.screencloud.com) you can download the alternative Google Slides guide here.
The ScreenCloud Google Slides app makes it easy to build presentations online that can be published to your digital signage screens. Create a presentation, send it live then add the URL to the ScreenCloud Google Slides app. This allows you to share and review presentations from your TV monitor using easy digital signage software.  
With the ScreenCloud Google Slides app you can:
Publish any Google Slides presentation to your screen
Set the duration per slide in seconds and the total duration to show
Make live updates, which filter through automatically to your screen
You can also review our guide for troubleshooting and optimizing your Google Slide presentations by clicking here.
Here's how it works:
1. Select and install ScreenCloud's Google Slides app
1.1. Get started by logging into your ScreenCloud account here and choosing the ScreenCloud App Store from the left-hand menu.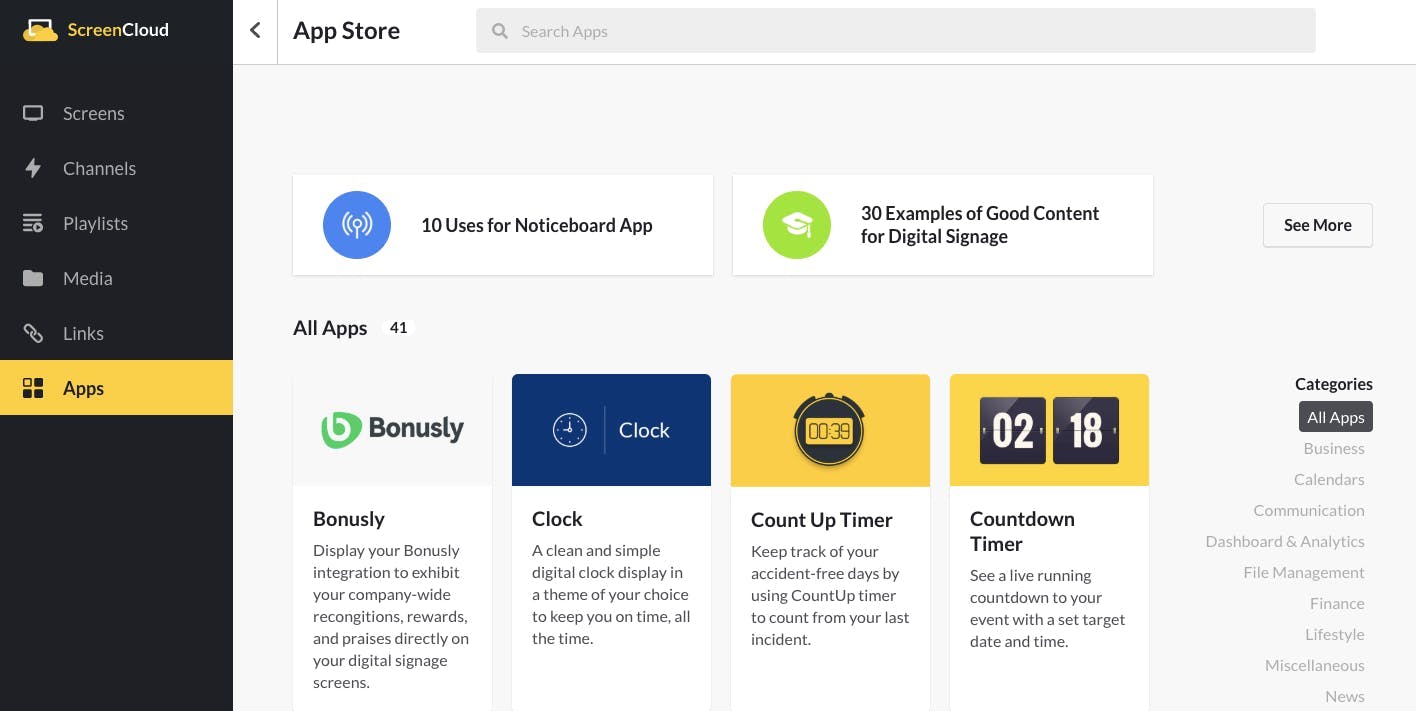 1.2. By searching "Google" you can find the Google Slides app and choose the "Install app" button to add a new instance. As you'll see, there are a few Google apps. Google Slides app allows you to connect and display your presentations right to your digital screens.
2. Create and share your presentation 
Create your presentation in Google Slides. Once you are happy with this, you'll need to grab the URL for your presentation to use with ScreenCloud and sign in to your Google account.
You can do this by following these steps:
Open the presentation in Google Slides
Grab the URL from the web browser bar
Copy this link
Paste the link into your Google Slides app in ScreenCloud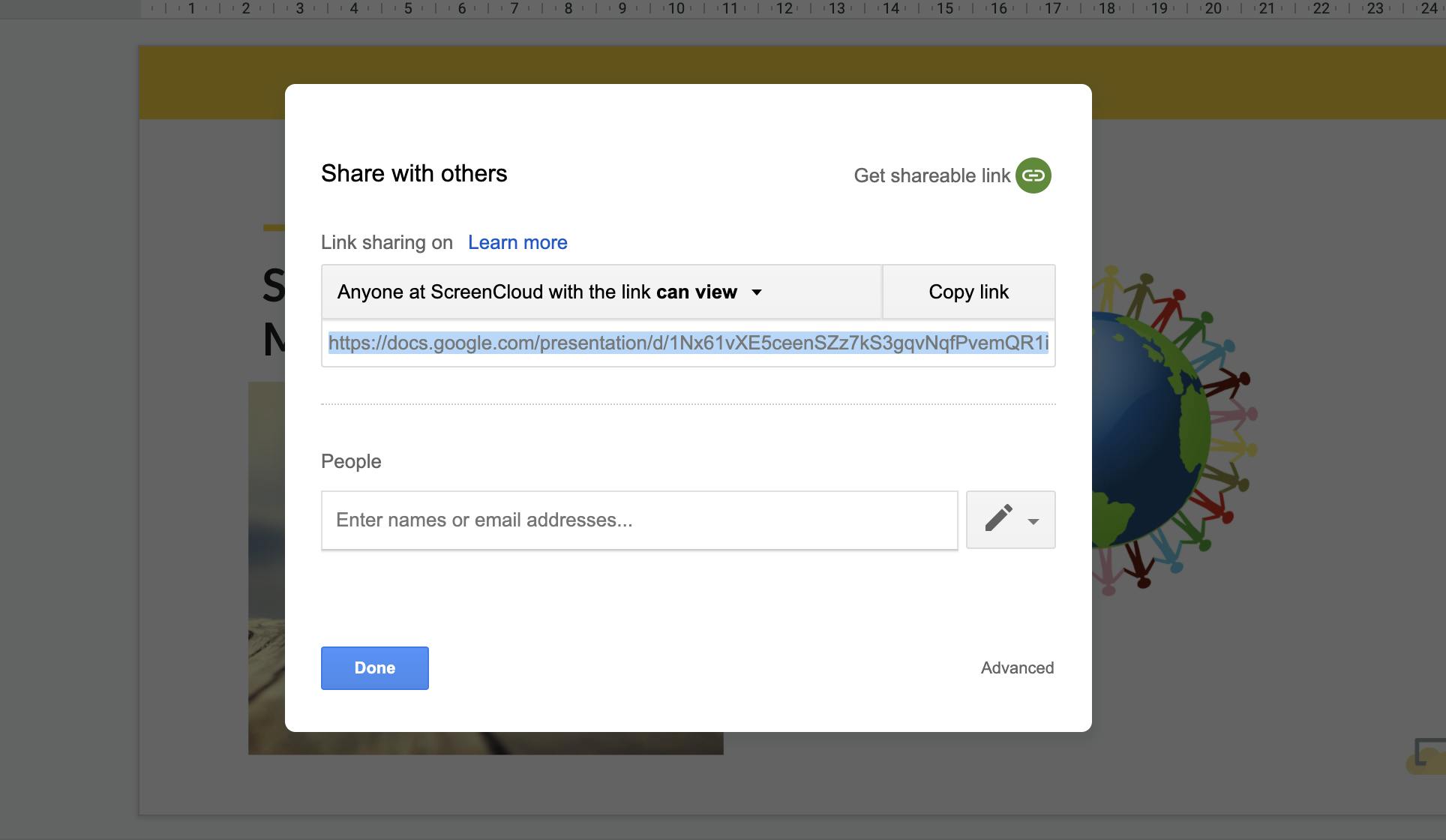 Please note, the presentation will only display if you've logged into the Google account that hosts the file. If you don't have access to the host Google account, we advise following the steps for sharing the presentation and set the sharing permissions to "Anyone with the link can view"
3. Setup your Google Slides app
Now you have your URL, you can add it to the Google Slides app in the field labeled 'Presentation URL' and log into your Google account which hosts the file.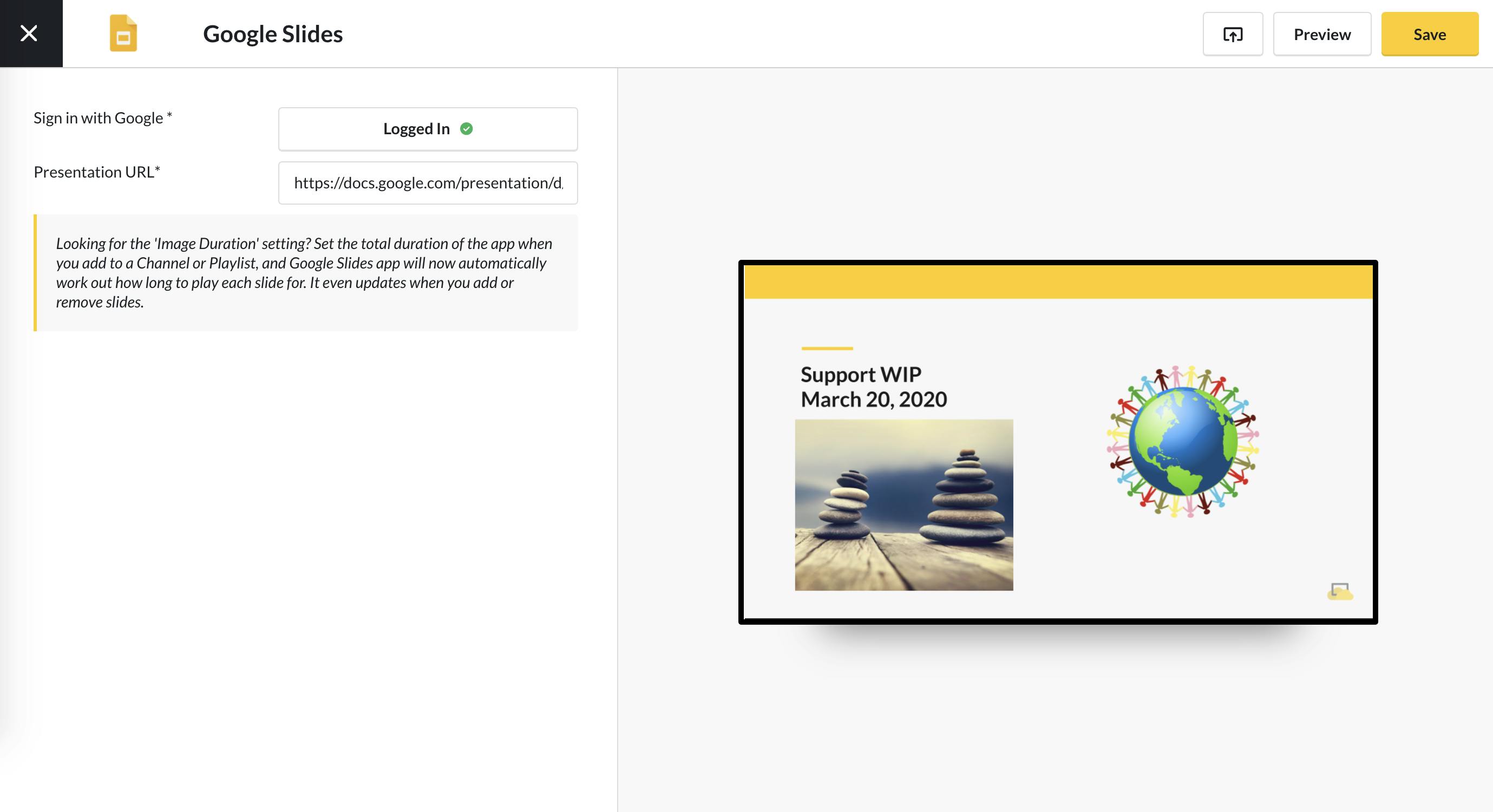 Please note, you can set the total duration of the app when you add to a Channel or Playlist, and Google Slides app will automatically work out how long to play each slide for. It also updates when you add or remove slides.
4. Preview your results
Once you've added your Google Slides presentation you have the opportunity to preview it before it gets added to a playlist. This helps you to determine the timing and positioning of your slides.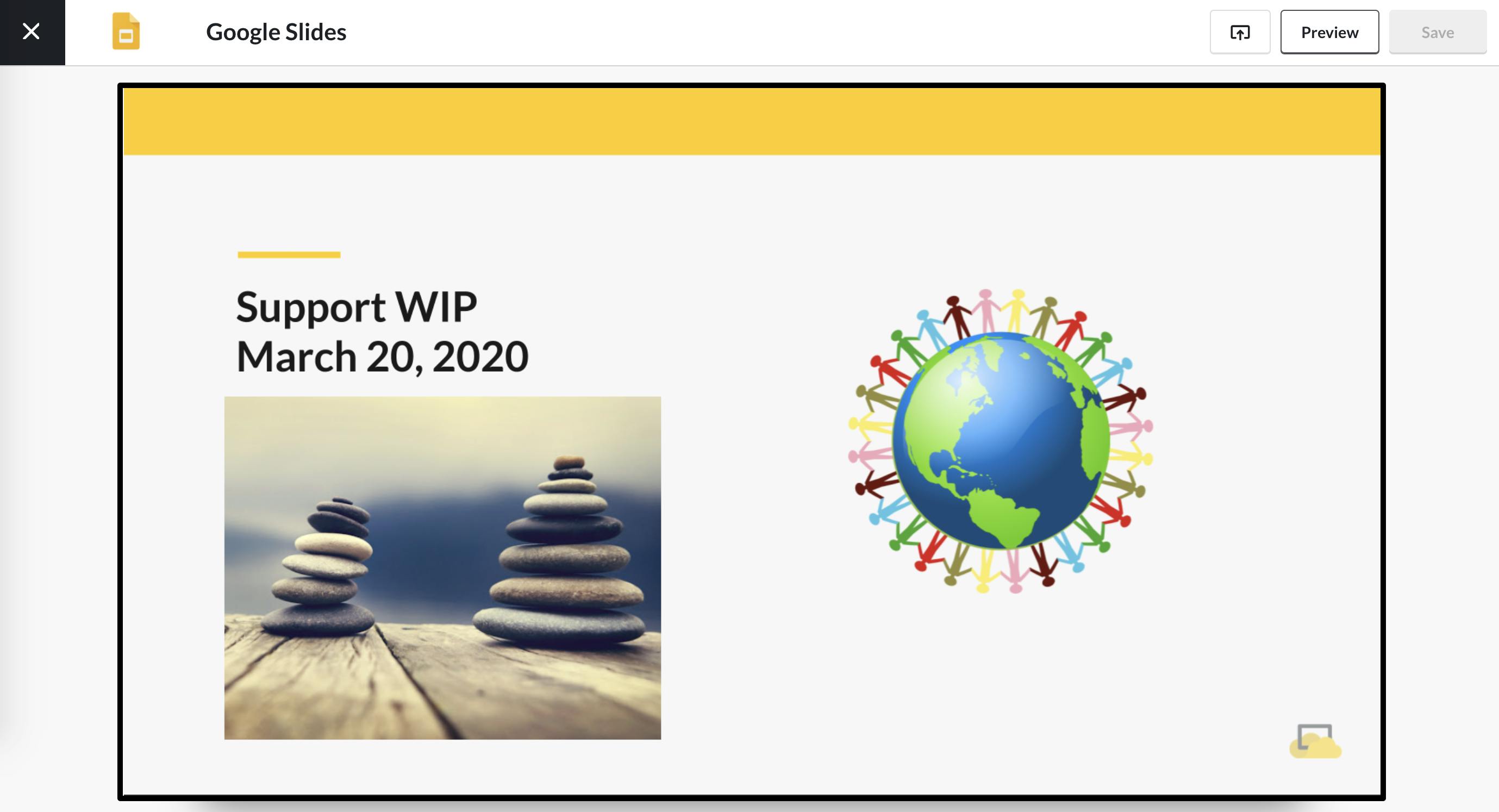 Click 'Preview' and a small popup will play the presentation you have added.
5. Add the Google Slides app to a Channel or Playlist
Once you have configured your Google Slides app it can be easily added to a Channel or Playlist to be played on screen.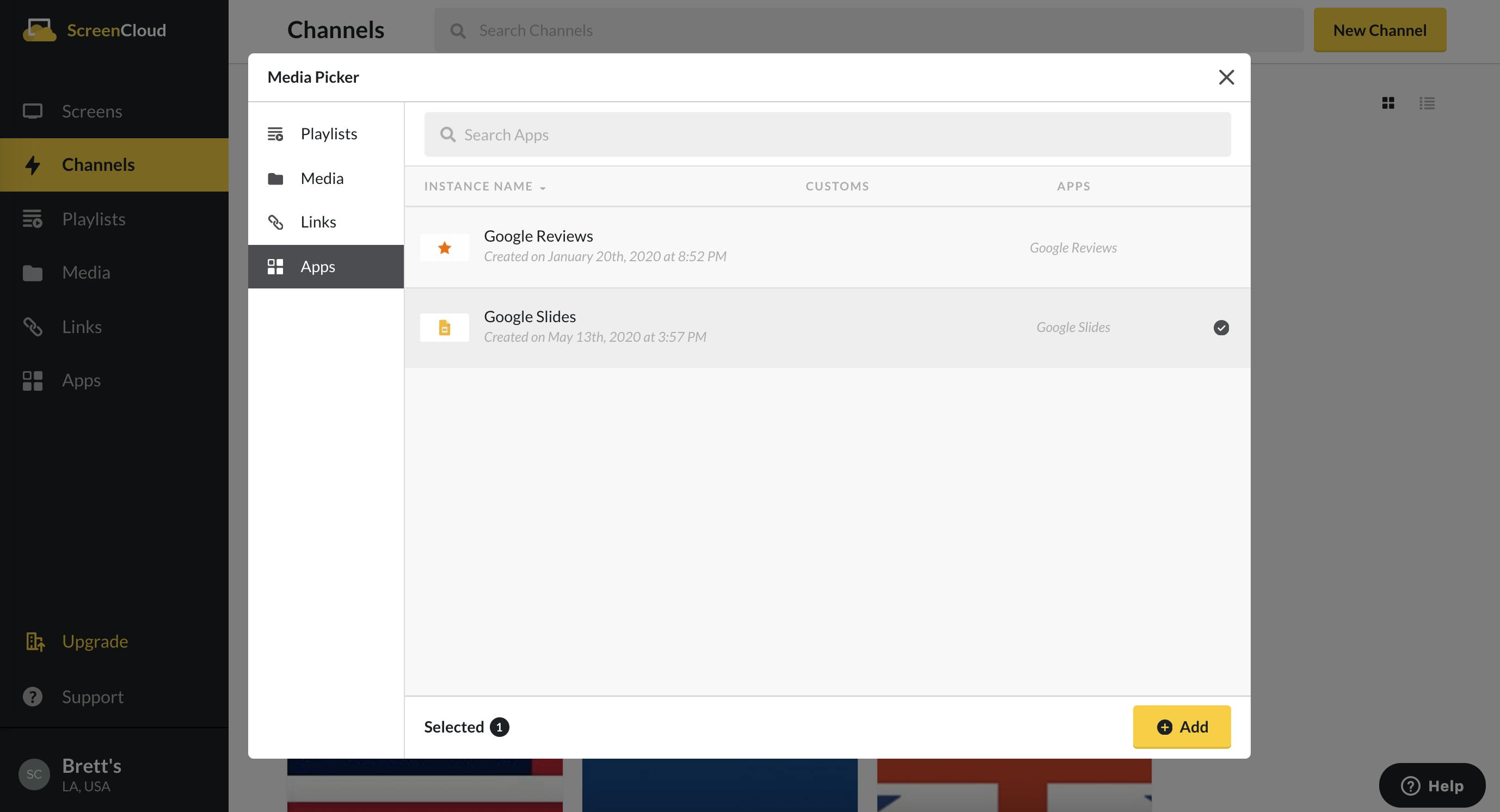 Simply select "Add Content" to open the Media Picker and under Apps, you will see all of your app instances, ready to be installed. You can also view ways you can set content on your digital screens using ScreenCloud by clicking here.
Frequently asked questions:
My presentation won't show, how can I fix this?
Please ensure that you're logged into the correct Google Account/Email that your Google Slide presentation is connected to. If you're not connected to the account which has the Google Slide file stored, you may have trouble using the presentation URL on your digital screens. This can only be resolved by logging into the Google account hosting the file, or by changing the share permissions for your Google Slide URL to "Anyone with the link can view (editor)" for public use if you don't have access to the Google login.
Can I use a Google Slides presentation as part of a zoned digital signage display?
Yes, when setting up a zoned display you will see the option to 'Add App'. Any presentations you have created will be found on this list. 
I'm not able to see slide transitions or effects, how can I fix this?
Currently, The Google Slides app (or PPT upload into ScreenCloud) does not support any transition, special effects, or additional configurations. This is a future enhancement that our team is working on. However, as a workaround, you can export or convert your Google Slide presentation from Google Drive as a video (MP4 file) and upload it into ScreenCloud. Using this method allows the Google Slide presentation to run as a video and can retain the transitions and special slide effects as you see fit.
Are slides that are set to "Skip" or "Hidden" affect playback?
Yes, if you're using a presentation with skipped or hidden slides this can affect how ScreenCloud, and other third-party sites, can play the file. We recommend if you're having any issues using your Google Slides presentation with skipped or hidden slides to remove them fully from the presentation. This should help resolve any issues you have with the presentation playing properly after the slides are removed.
How long will the presentation play for?
You can set the total duration of the app when you add it to a Channel or Playlist, and the Google Slides app will automatically work out how long to play each slide.
Can I skip a slide from the presentation?
This is not currently supported but is something we will look to implement in the future. 
How often does the app refresh? 
The app will check for updates when all of the slides have been played through. However, if there is only one slide in use it will update every five minutes. 
The slides aren't filling up the entire screen (black border above/below slides). Any ideas why?
If you are using a zoned display you will need to change the size of the slides in order for them to render correctly. It is possible to change the size of the slides if you go to File > Page setup and click 'Custom'. Then you need to enter the correct values for the specific zone of the display. You can view the correct dimensions by zoning in on the diagram below ( e.g. 1382 x 961 pixels for the main zone in a three-part zoned display).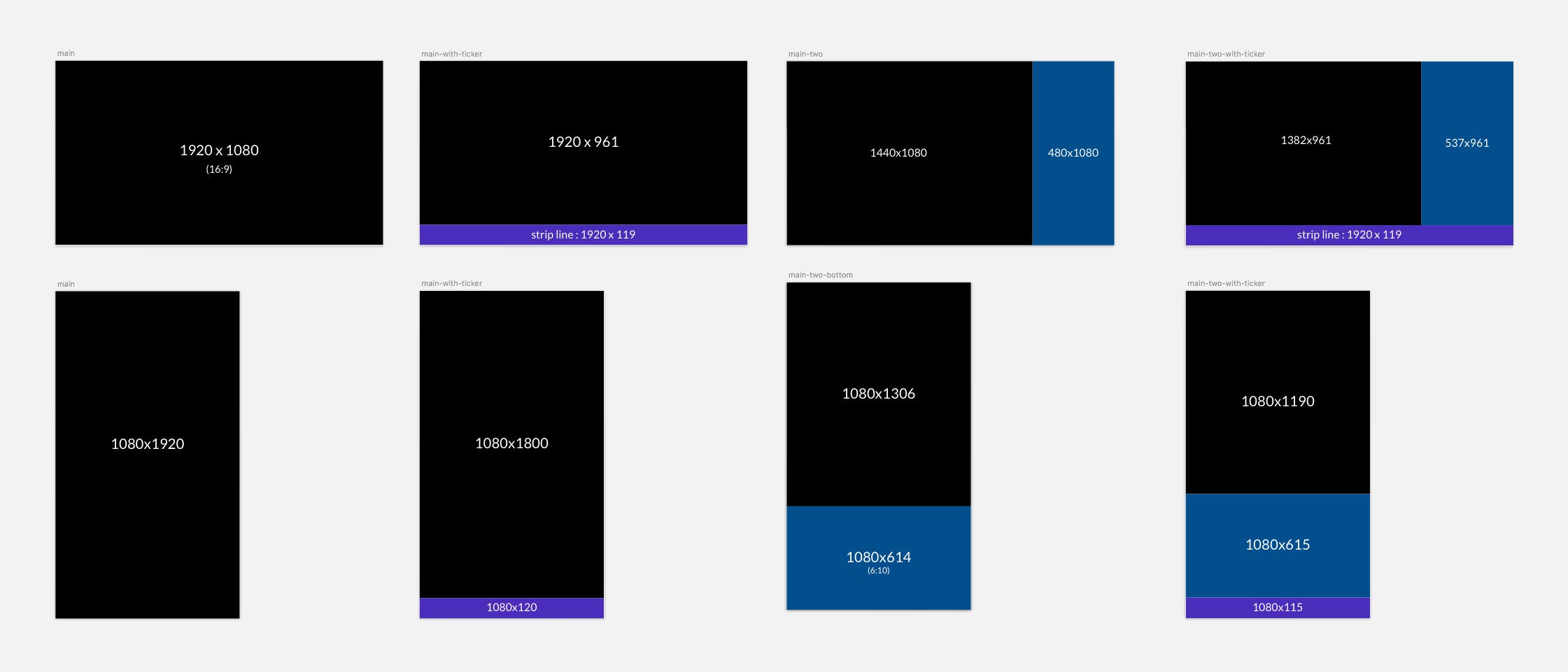 For further questions please contact support@screencloud.com with details.