Hey - did you know that this app guide and the Google Calendar Legacy app is our old way of sharing your Google calendar to screen? To check out the new Google Calendar app instead, head here.
The ScreenCloud Google Calendar app gives you an easy way to show events and occasions from your Google Calendar on your digital signage screens. This allows you to track meetings and events with an at-a-glance view and to share specific dates with your entire office or department.
With the ScreenCloud Google Calendar app you can:
Embed any Google Calendar to show on your digital screen
View your calendar by month, week or agenda
Choose how long to show each calendar for
Here's how it works:
1. Select and install ScreenCloud's Google Calendar app
To begin, follow this link and select "Install this app" in the bottom right-hand corner. This will log you in to your ScreenCloud account, or prompt you to set up our free trial in order to use the Google Calendar app and others within our App Store.
Once logged in, select "Add this app" from the top right-hand corner.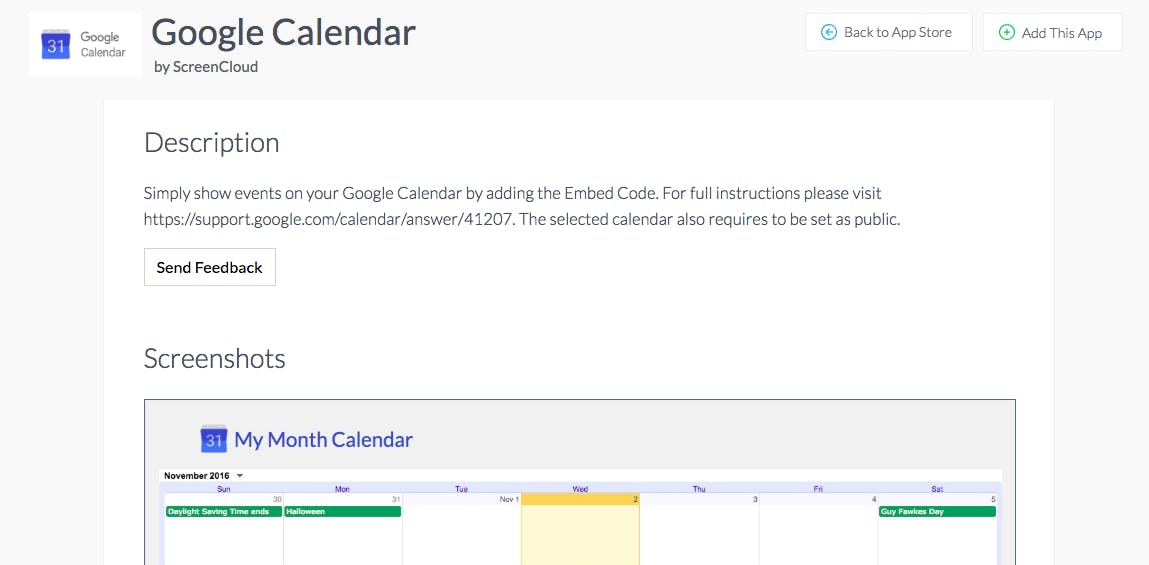 2. Embed your Google Calendar
To get an embed code that will allow you to share your Google Calendar in ScreenCloud, visit Google Calendar in your browser (and not in the Google Calendar app).
In the top right, click Settings.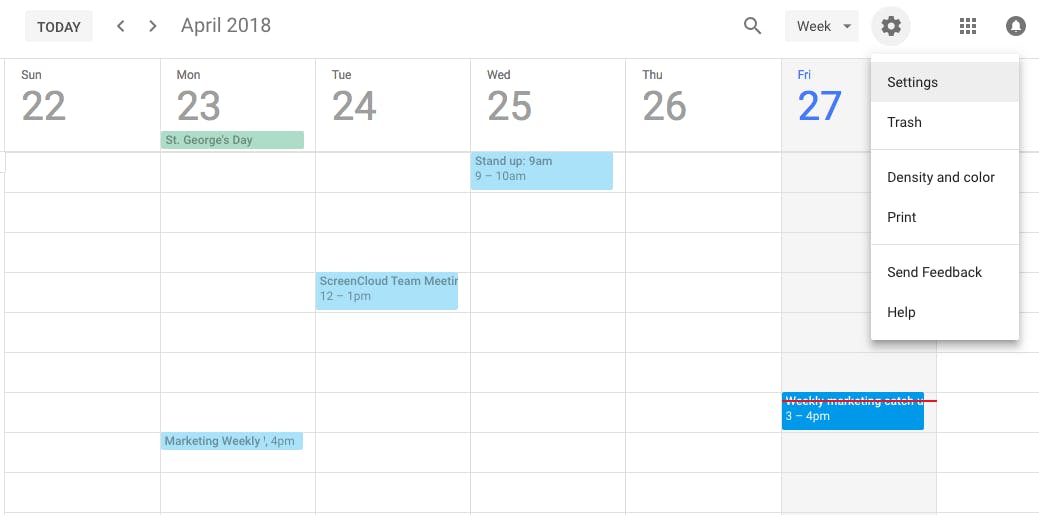 Under "Settings for my Calendar" on the left-hand side, click the name of the calendar you wish to share.
Next, select "Integrate calendar".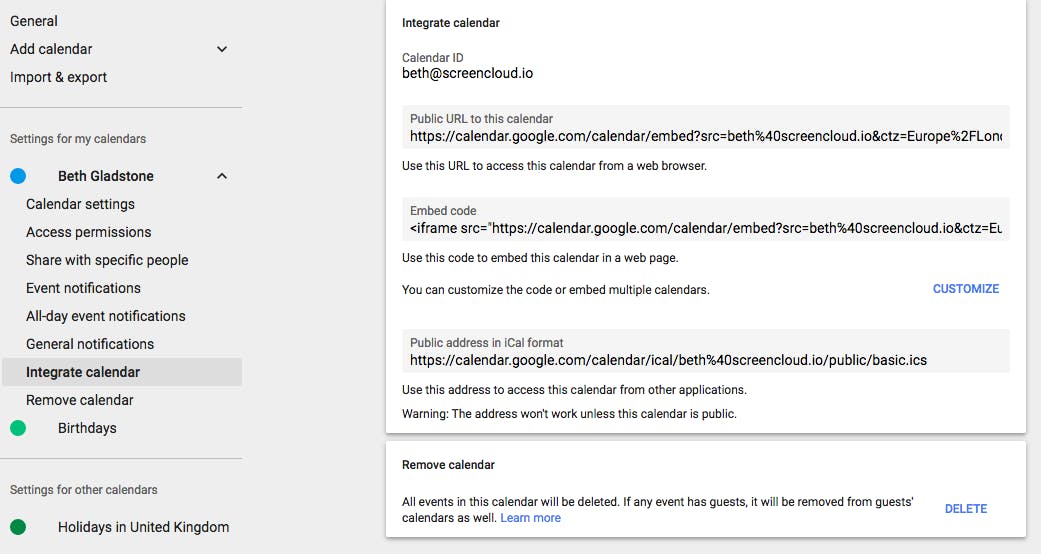 Underneath where it says "Embed code" select "Customize". This screen will open in a new tab: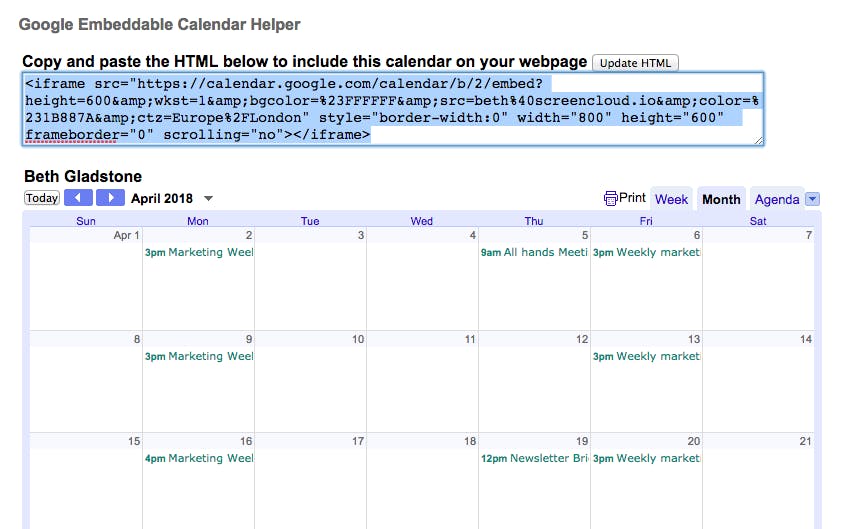 Before you copy this code, select your options from the left-hand side. For example, you can choose whether to add the title and date and other settings like changing the background color.
Once you are happy with your settings, copy this code. Now add your code into the Embed Code section in ScreenCloud as shown below.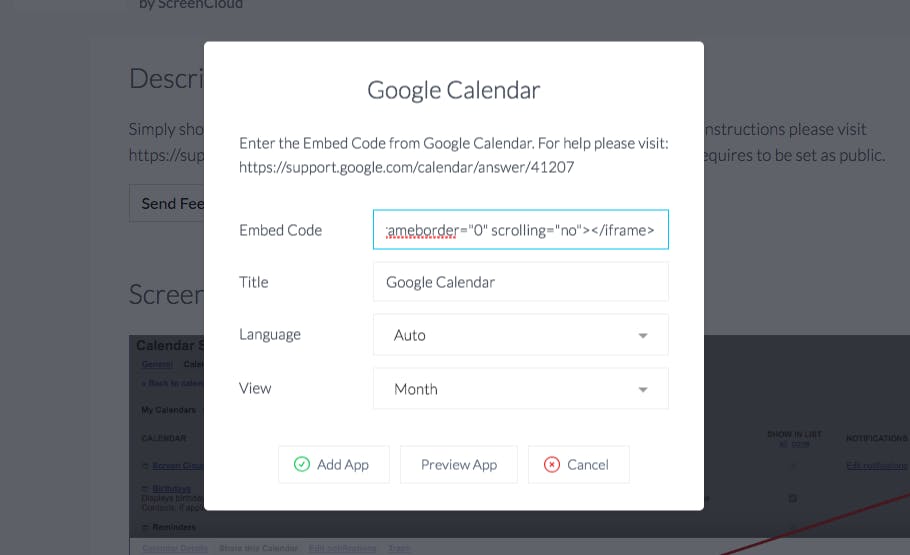 3. Choose your settings
Once you have added your Embed Code, choose your settings. This includes giving the calendar a name (this will show on screen), a language and a view (month, week or agenda).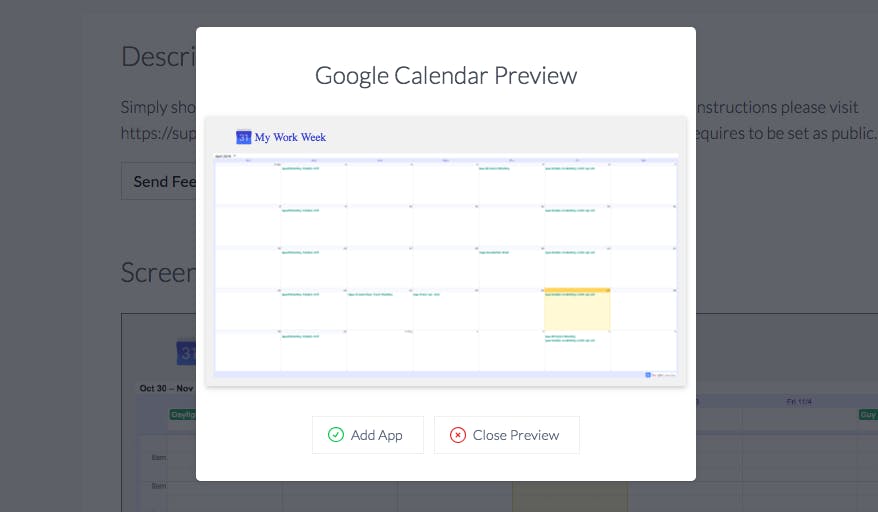 4. Preview your results
Now you can hit "Preview" to see what your calendar will look like on screen.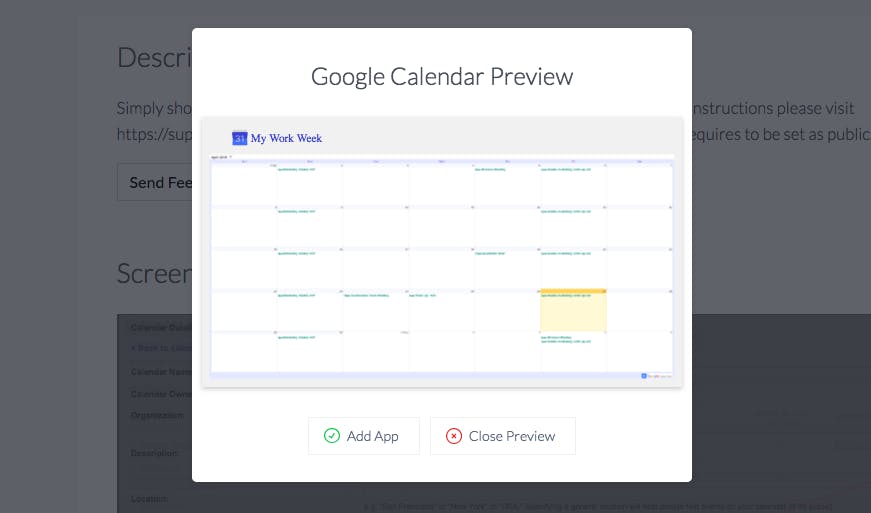 To make any changes simply click "Close Preview". When you're happy with how your calendar looks in the preview, click "Add App."
5. Add Google Calendar to a playlist
Once you've chosen to "Add App," you will need to name your Calendar. This will make it easy to find in your content library later.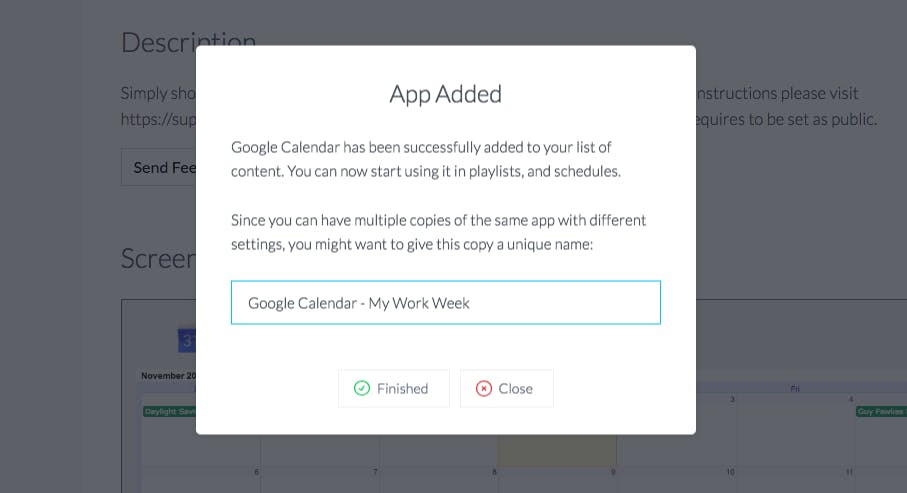 Now go to "Playlists" and drag and drop the app from the selection bar on the right-hand side to the playlist of your choosing.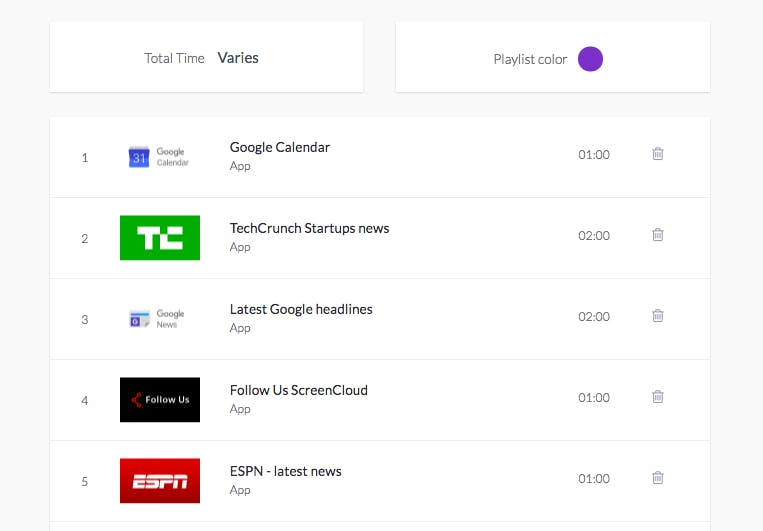 You can also choose how long to show the Calendar for by changing the time duration, currently set to 1:00 for one-minute.
Frequently asked questions:
Can I add more than one calendar view to my display?
Yes, you can add as many different calendars to your display as you like, simply repeat the process of adding the app and use the embed code from the calendar you wish to add.
How quickly will new dates I add to my calendar be shown on screen?
Google Calendar looks for new events every 30 minutes and adds these to your screen.
For further questions, please contact support@screen.cloud with details.