Please note, if you're using the older version of ScreenCloud (signage.screencloud.com) you can download the alternative Google Alerts app guide here.
Are there custom pieces of news or information on Google that are a must-see for your office, store, or café? Then the Google Alerts app from ScreenCloud is for you. Use it to add information as it appears on Google, to the digital screens on the walls around you.
With the ScreenCloud Google Alerts app you can:
Send interesting new content from the web to your screens
Customize how your alerts are shown with your own theme
Ensure everyone is kept up to date with the latest news
Here's how it works:
1. Select and install ScreenCloud's Google Alerts app
1.1. Sign in your existing ScreenCloud account and navigate to our App Store via the left-hand menu.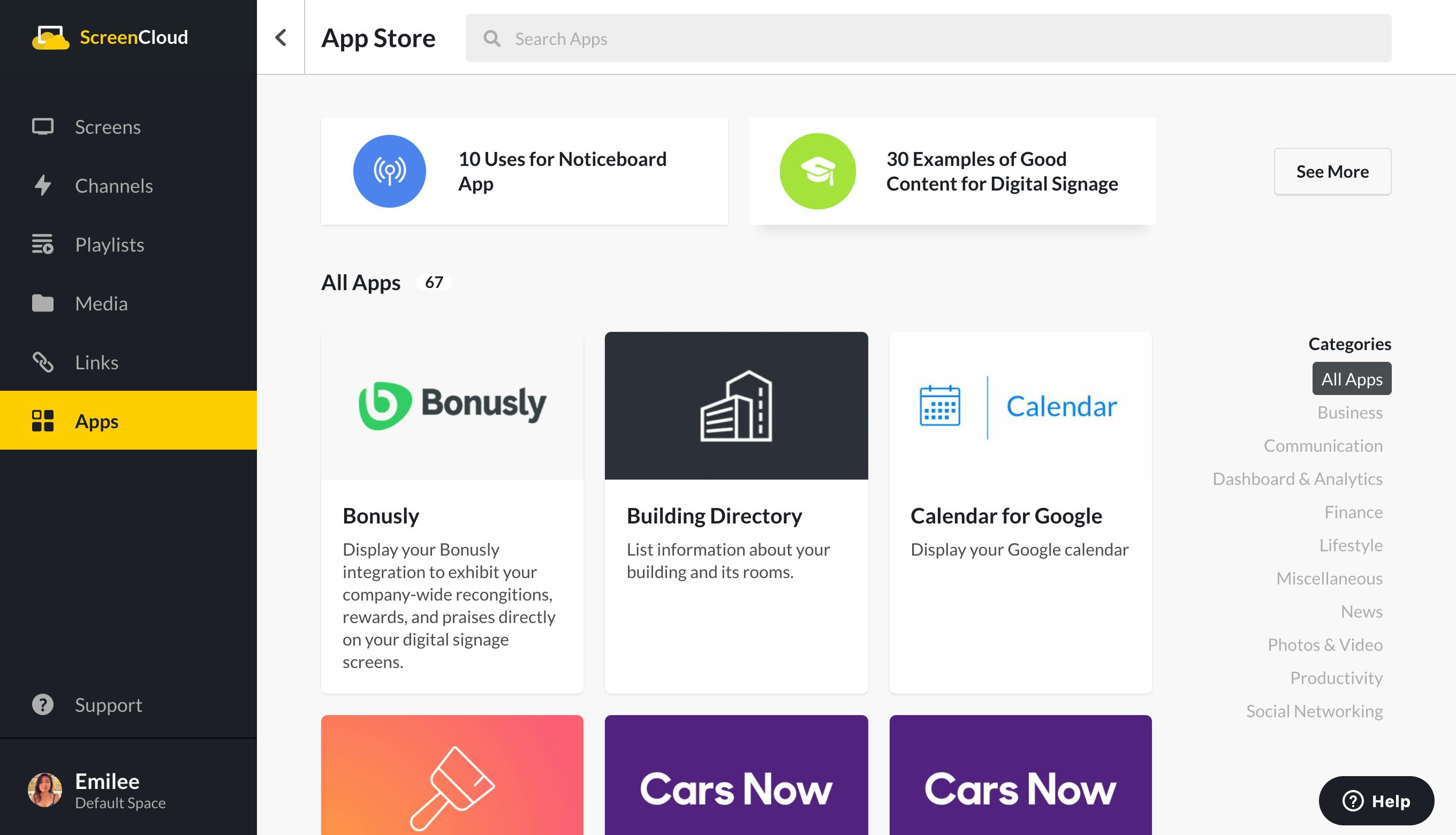 1.2. Type alerts into the search box to find the Google Alerts app. Then click Install App to create a new app instance.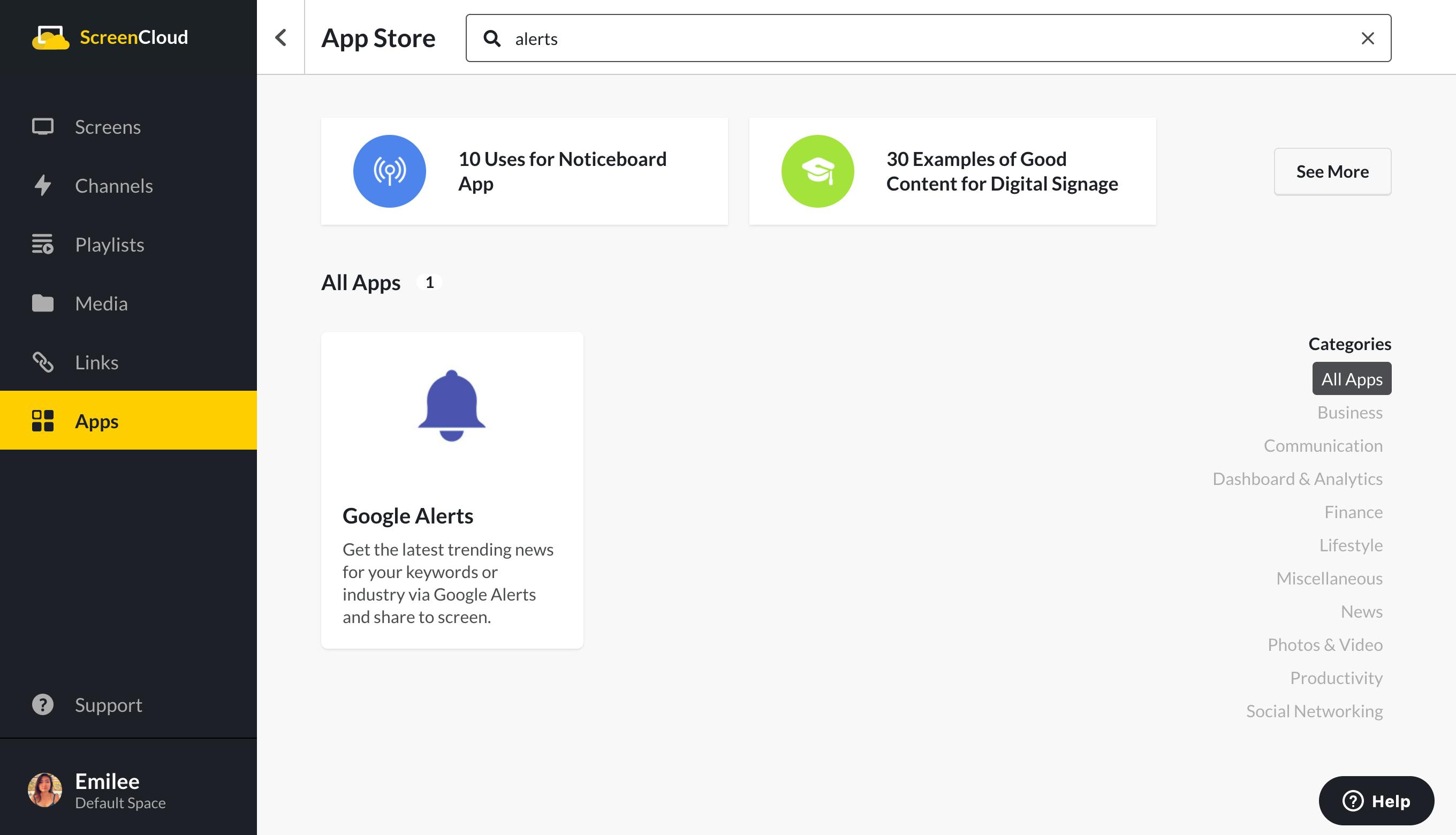 Visit www.google.com/alerts. In the box that says Create an alert about…, search for a keyword, your brand name, or anything you like and want to monitor on Google. Once you've entered your key term, you can see a preview of what your results will look like.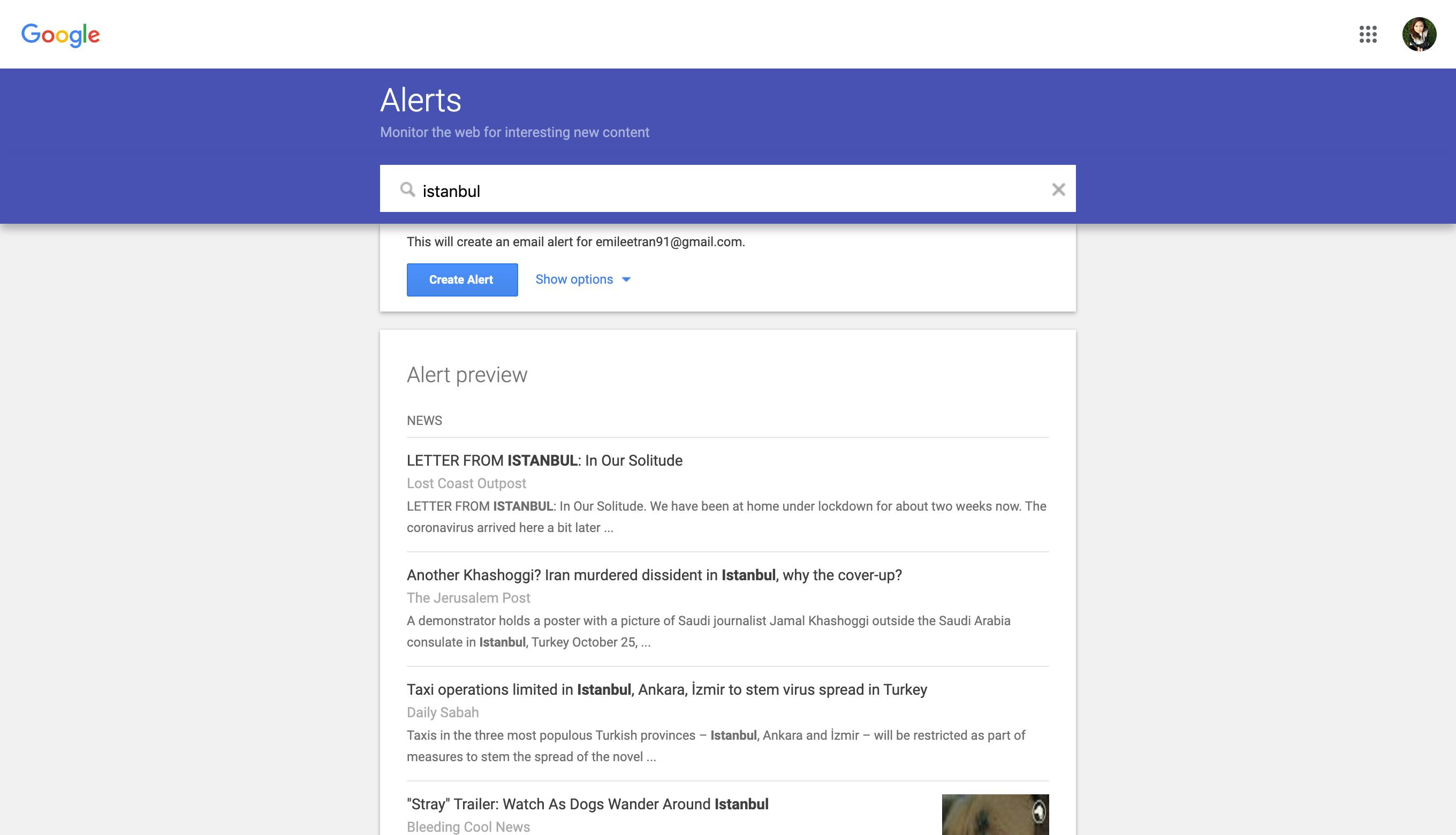 By selecting Show options you can also customize your search to only include certain sources (for example, news or blogs) and other settings such as how often and when the alerts are delivered.
Under the Deliver to option, select RSS feed. Then click Create Alert.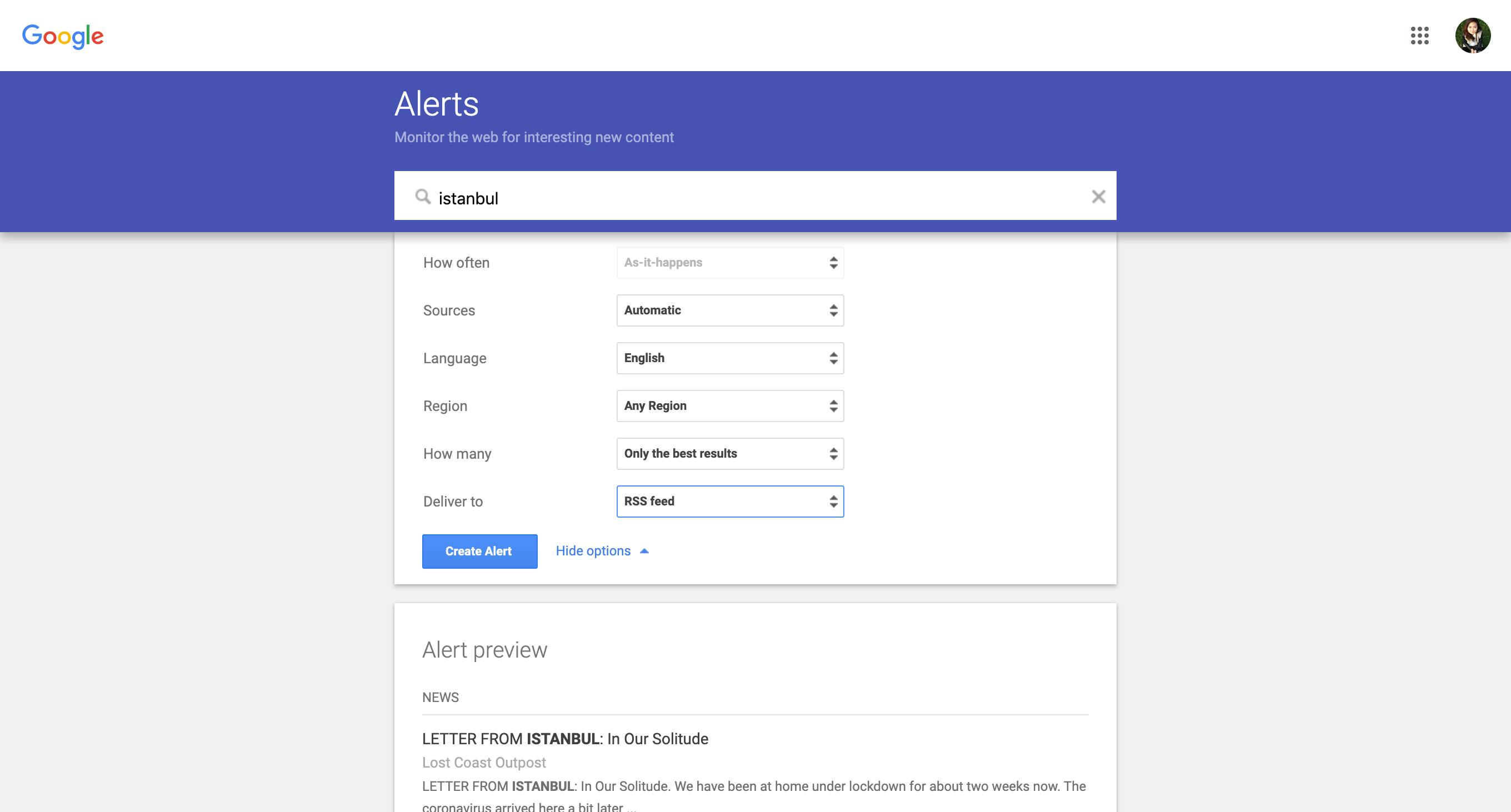 Once you've created a new alert, you'll see the RSS icon appear next to the alert. By clicking this, you'll open the RSS feed where you can copy the URL from within the browser.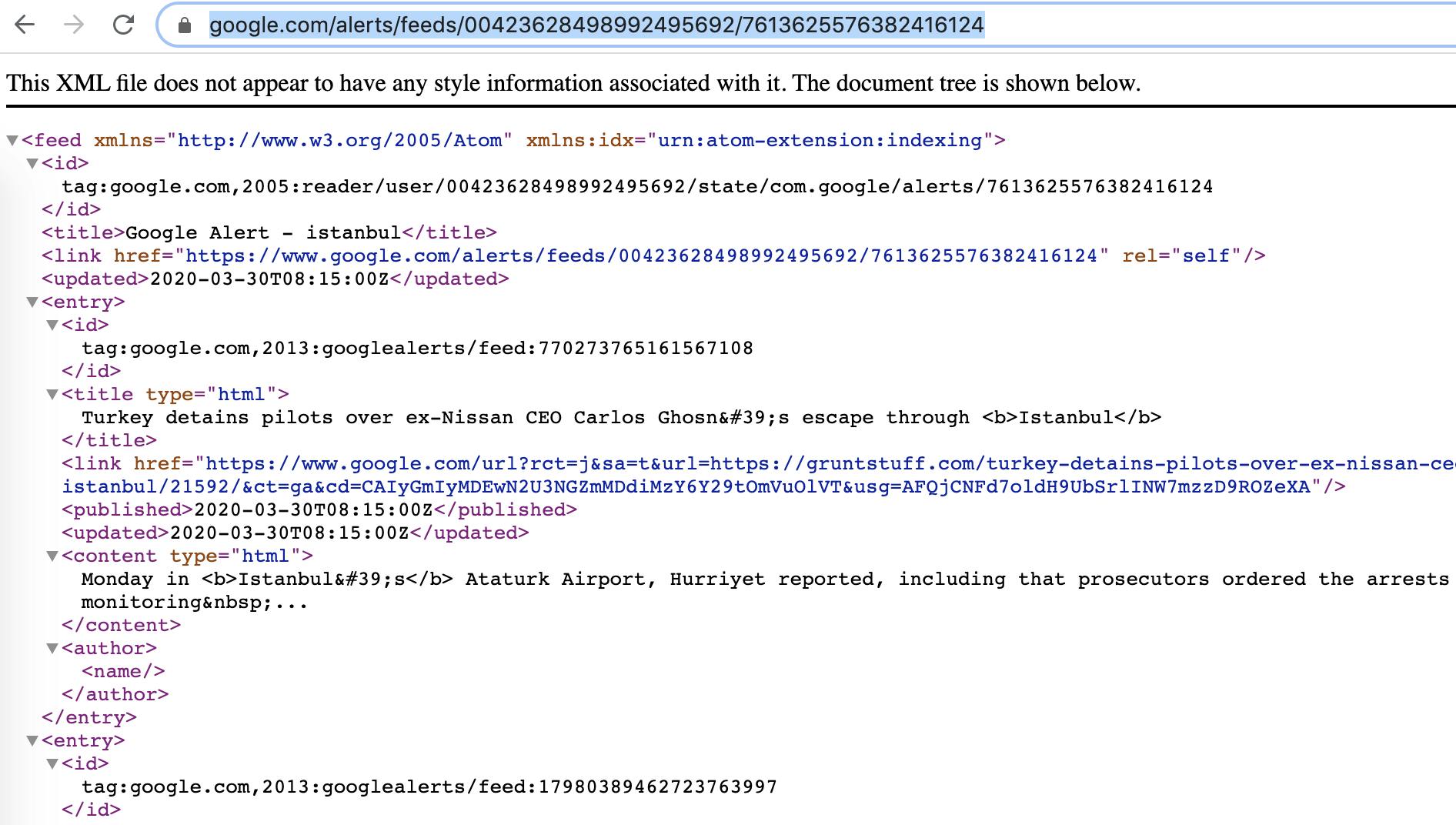 3. Choose your settings
Return to the ScreenCloud Google Alerts app. In the setting panels, paste the RSS URL to the Alerts RSS URL box. Don't forget to edit the Instance Name section (we called it Alerts - Istanbul here). This is useful as you may want to add another set of alerts to your content library at a later date.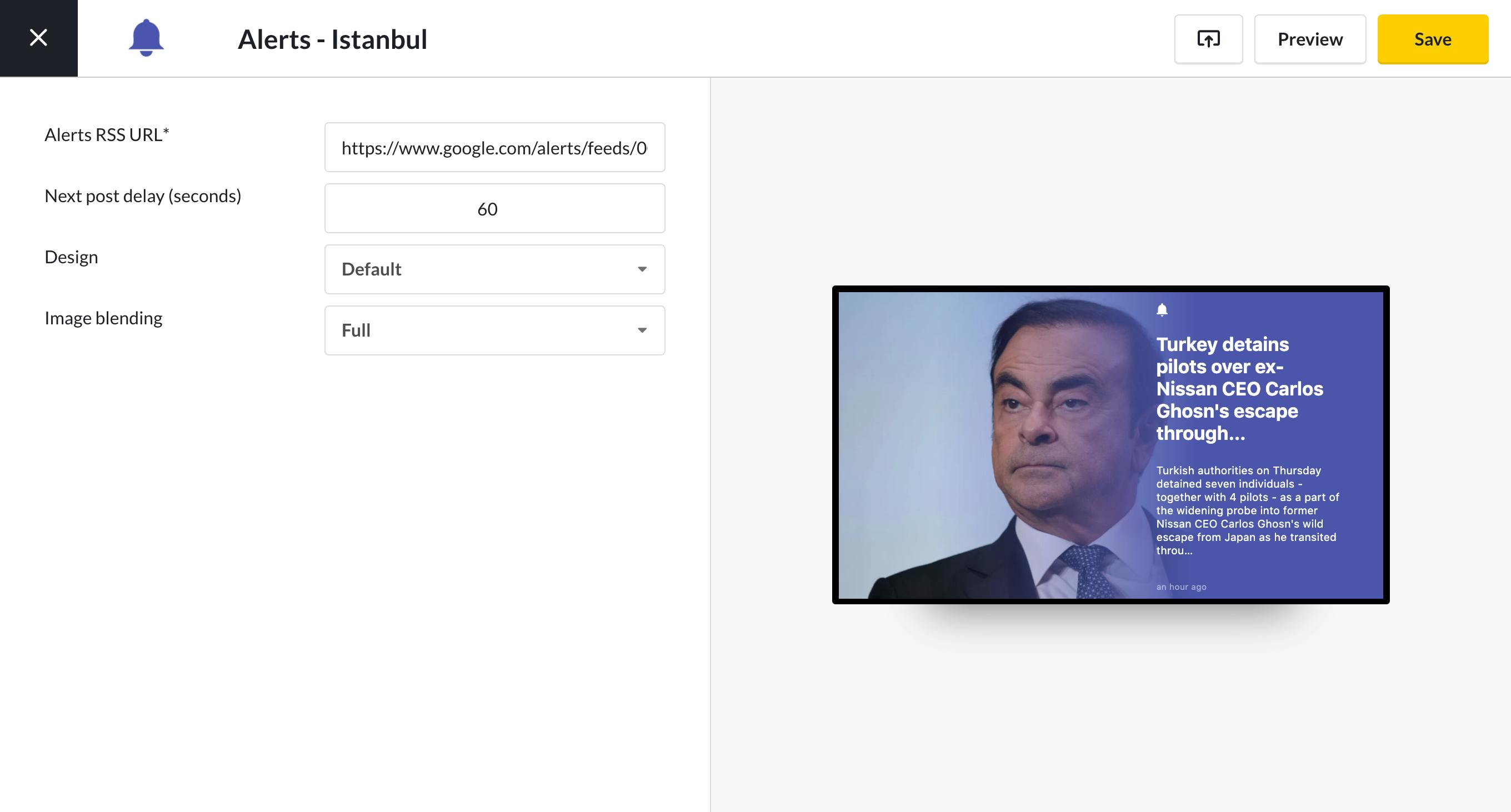 Other settings options include:
Next post delay (seconds): This is how long you want to show each article or piece of content for.
Design: Choose between the Default or Original option.
Image blending: Choose between Full, Medium, or None. This is how much you would like the headline and image to blend in your display.
4. Preview your results
Once you've chosen how you want your alerts to look on screen, click Preview. This allows you to view what your results would look like, the type of articles your audience might see, and how fast the transition is between content. Then click Save to add the instance to your content library, ready to be shared on screen.
Default design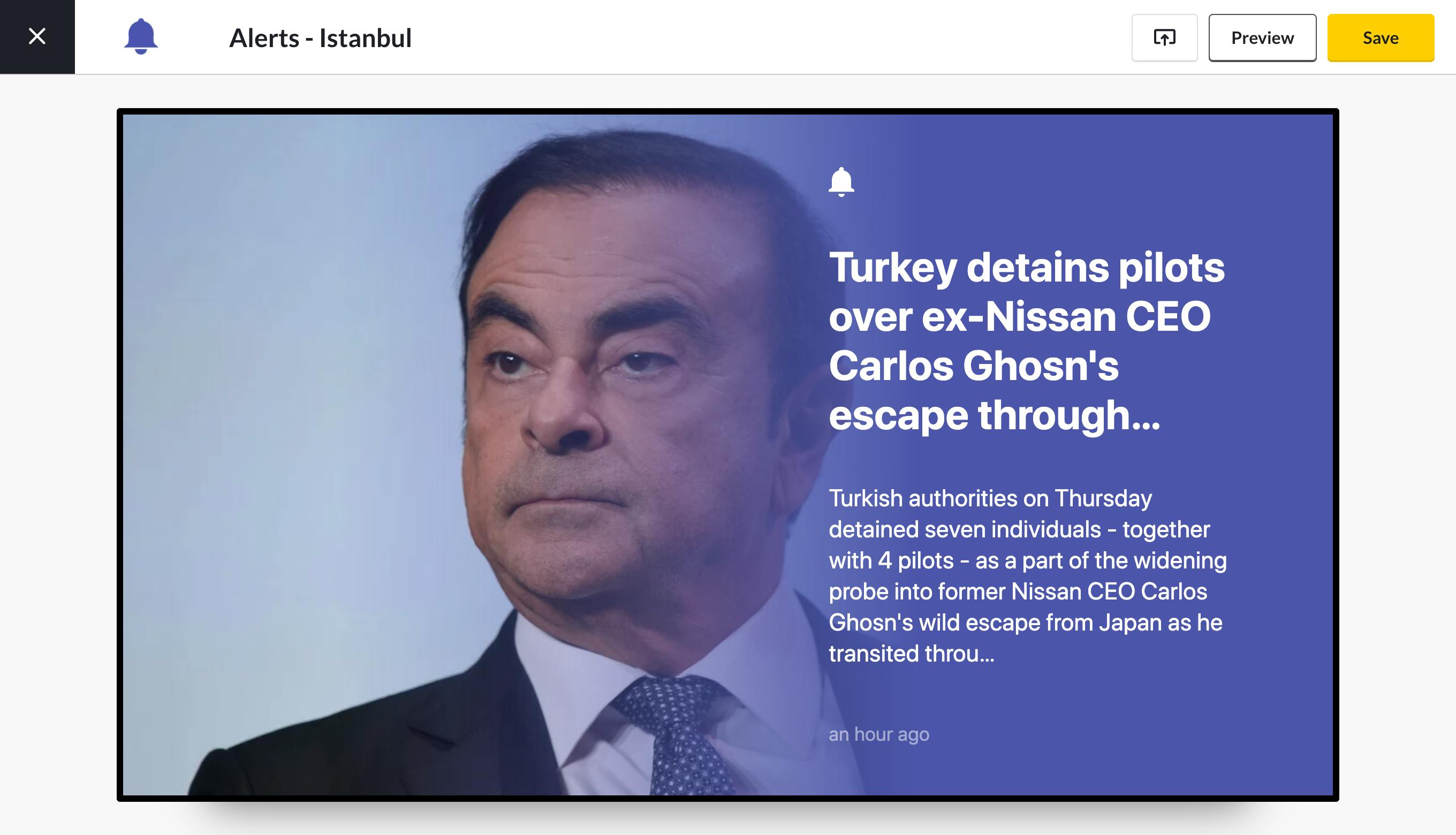 Original design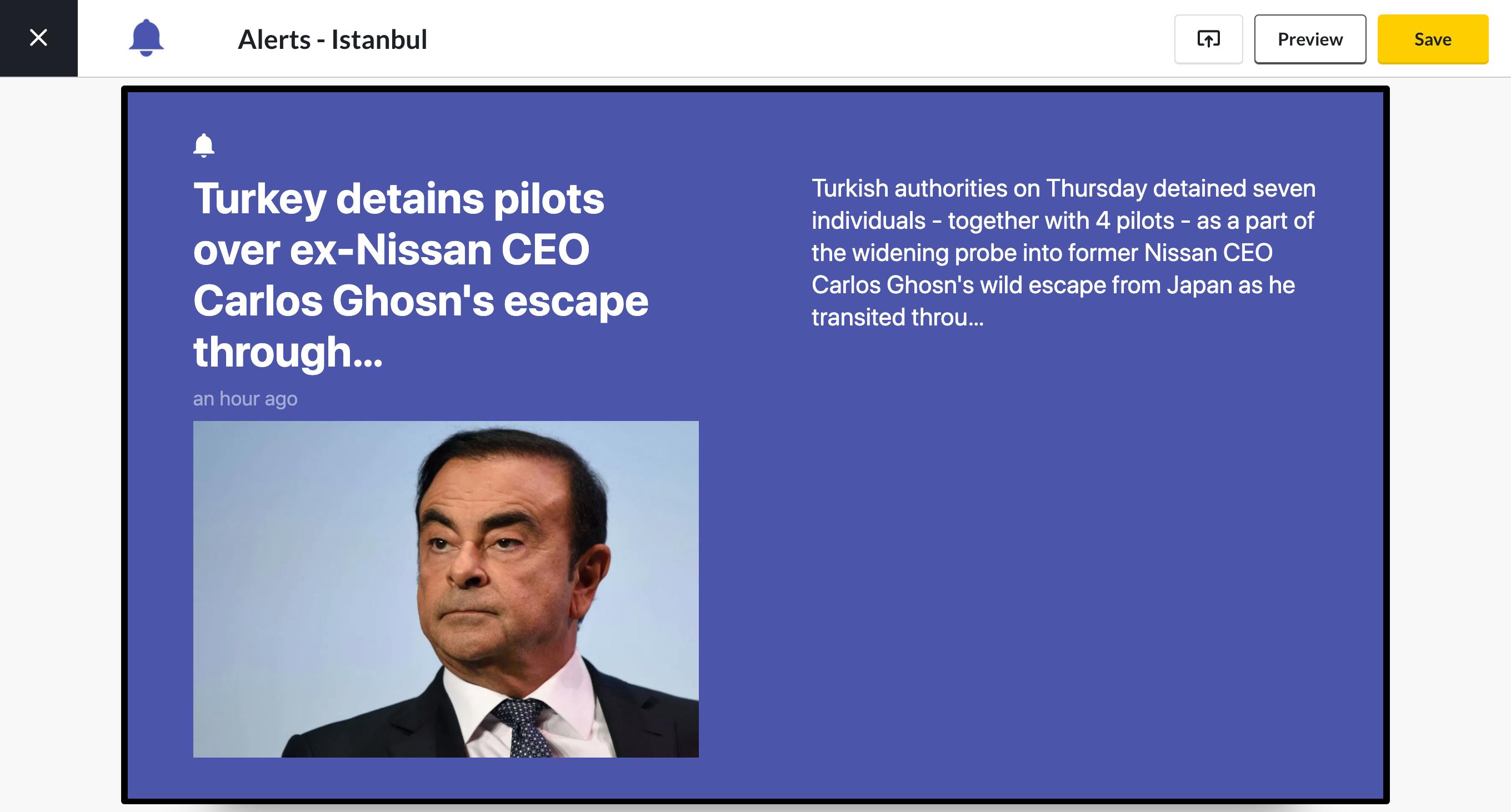 5. Add your alerts to a Channel
Adding your newly created Google Alerts app instance to an existing Channel is simple. Check out the tutorial below to find out how!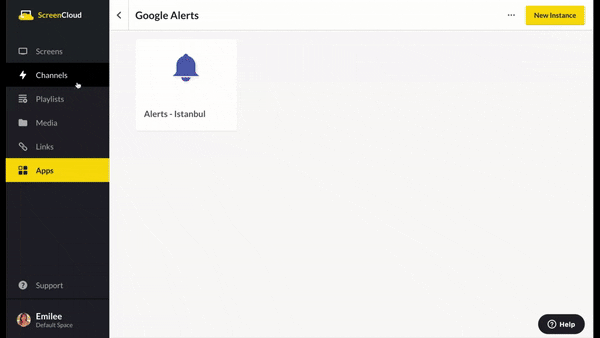 You can also set the duration you'd like your app to show for (currently set to 1:00 for one minute). This, and the duration you've set between pieces of content, will determine how many articles your screen can show.
Frequently asked questions:
How often does the Google Alerts app check for new content?
The Google Alerts app is syndicated by RSS so new content appears as it's added by Google.
Can I use the Google Alerts app in portrait?
Yes, the Google Alerts app can be used in either portrait or landscape format.
For further questions please contact support@screencloud.com with details.