As of August 31, 2020, developers using the Instagram Basic Display API will no longer have continued access to private Instagram account information without reauthorization from the account. This change will require private Instagram accounts to re-authorize at least every 60 days in order for developers to maintain continued access to their current data using the Instagram Basic Display API. This change will only apply to private Instagram accounts; access to data for public Instagram accounts will remain the same. In regard to Business accounts, please note if access is revoked from the internal account settings that you must log back into your account in order to display your content.
Do you spend ages curating great images and photos from your customers for your business' Instagram account? If you have an Instagram Business profile you can now tap into this and share it to your digital signage screens using the Gallery for Business app on ScreenCloud.
You can showcase dynamic content from your Instagram Business profile on screens during events, throughout your business, and in your offices for advertisement or raising social engagement.
With the ScreenCloud Gallery for Business app you can:
Display live photos from your Instagram business profile
Display images by hashtag
Set photos to display one at a time, or in a grid format
Here's how it works:
1. Install ScreenCloud's Gallery for Business app in your ScreenCloud account
1.1. Get started by logging into your ScreenCloud account here and choosing the ScreenCloud App Store from the left-hand menu. Select the "App Store" button to open the full App Store.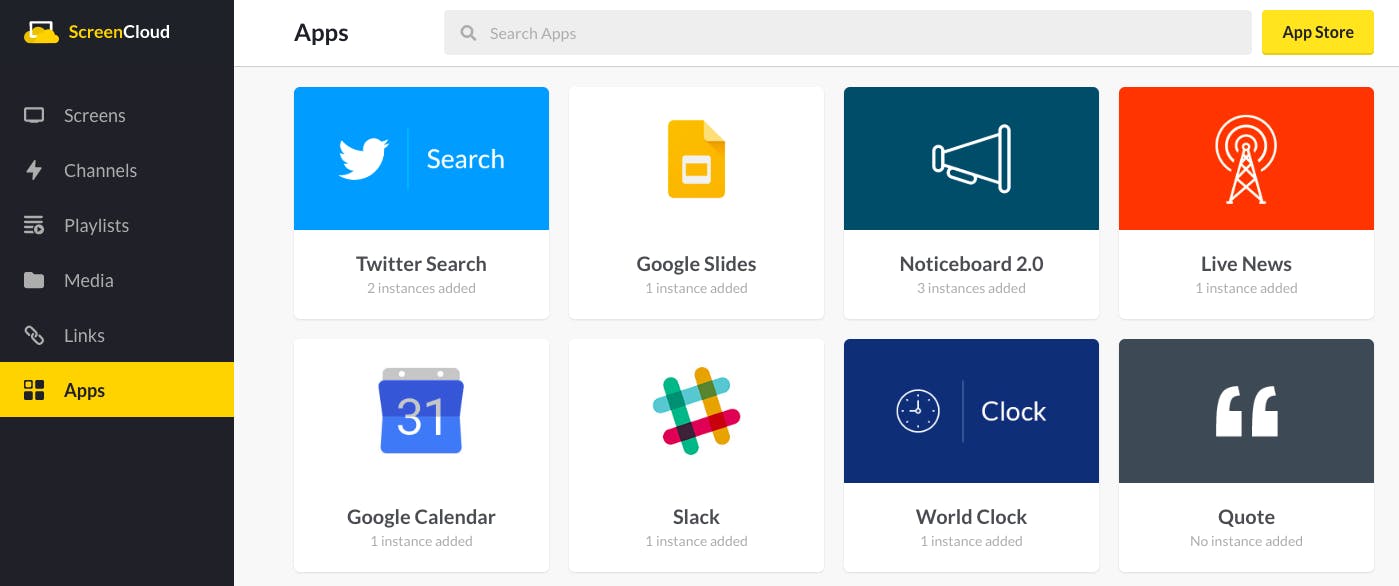 1.2. By searching "Gallery for Business" you can find the Instagram Business app and choose "Install app" to add a new instance.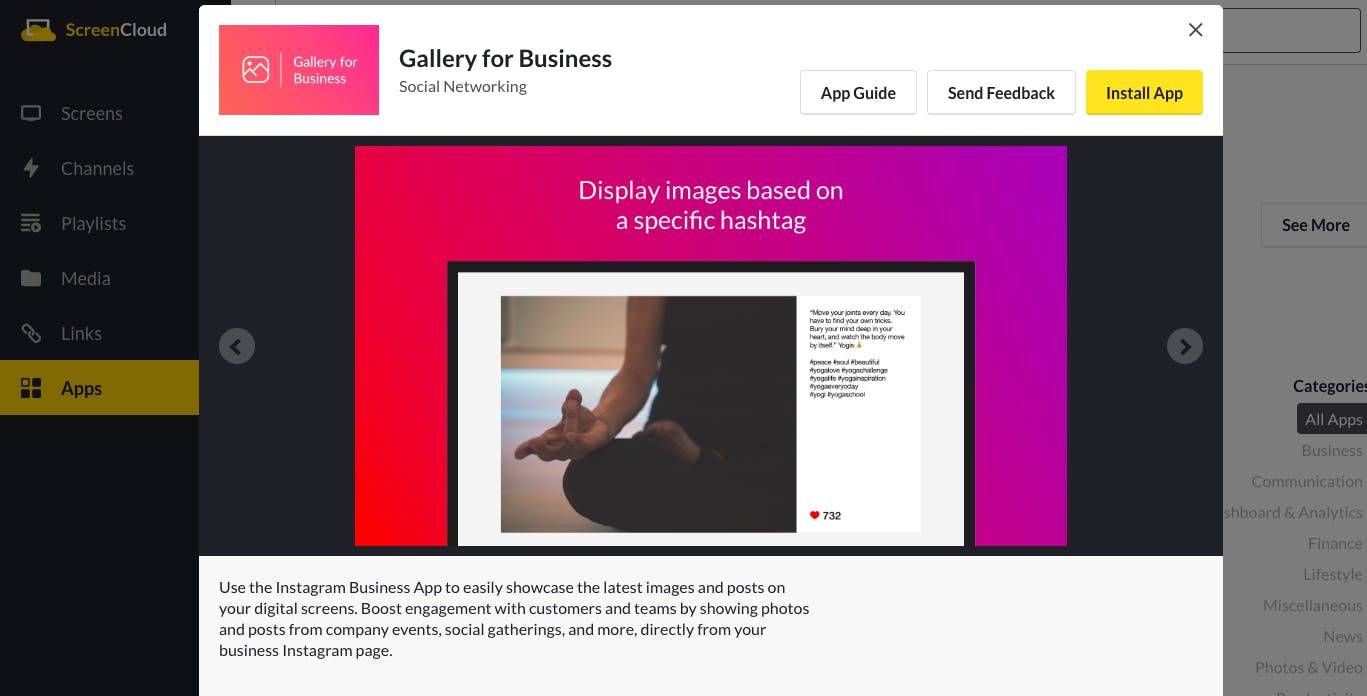 1.3. Next, replace the "Instance Name" field with a name for your Gallery for Business app instance. This will help you to easily find the app later, when adding it to a Channel or Playlist.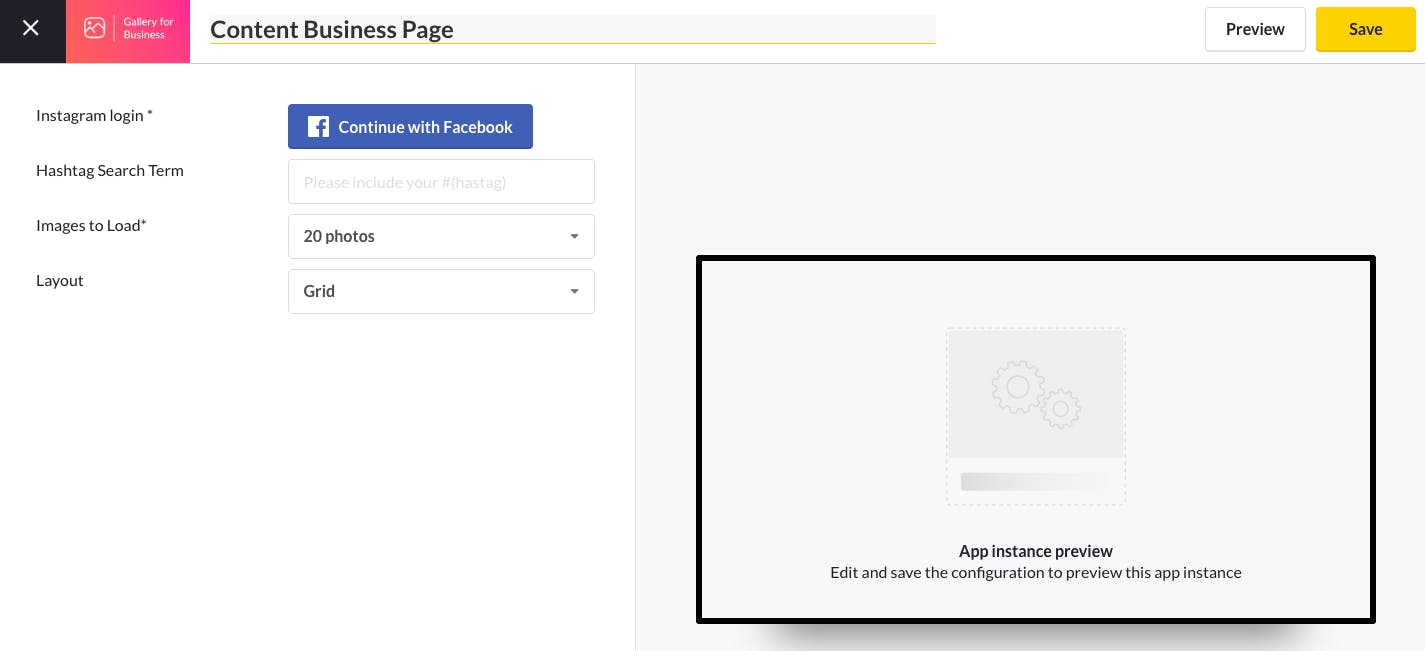 2. Log in to your Instagram Business account
2.1. Next, select the blue "Continue with Facebook" button and login with your Facebook-connected credentials. This will let you access your Instagram business profile, and share your business' photos directly to your screen.
Please note, if you have an Instagram Business account then you can move forward using this app to connect with your Instagram business profile. If you don't have an Instagram business account, you can use our regular Gallery for Instagram if you have a personal account. You can learn more about how to use ScreenCloud's Gallery for Instagram app by clicking here.
2.2. Next, log in to your Facebook account and select "Continue" to give ScreenCloud permissions to connect. Now you can choose an account and the page you'd like to use which is connected to your Business Instagram account.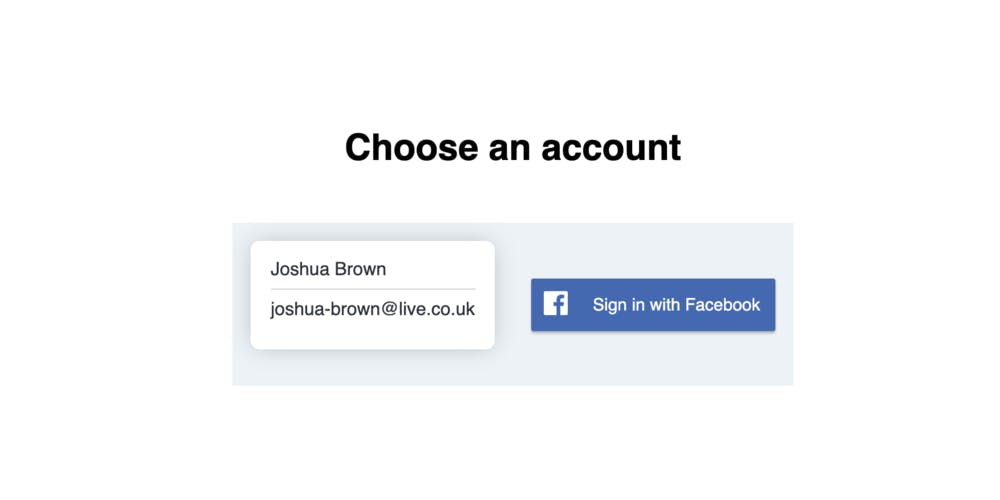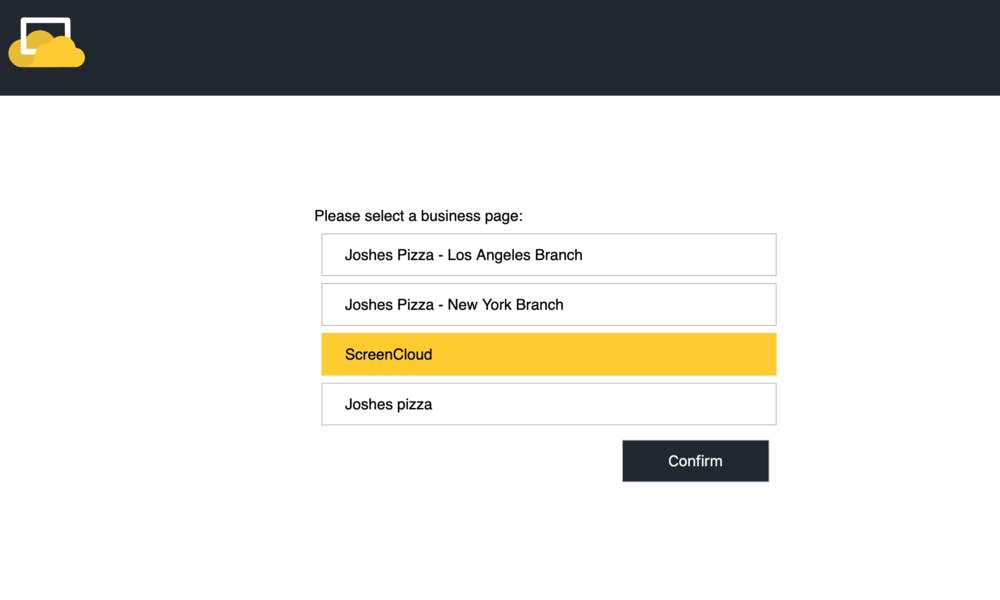 Please note, if you select a Facebook Business page that is not connected to an Instagram Business account you will receive the following message.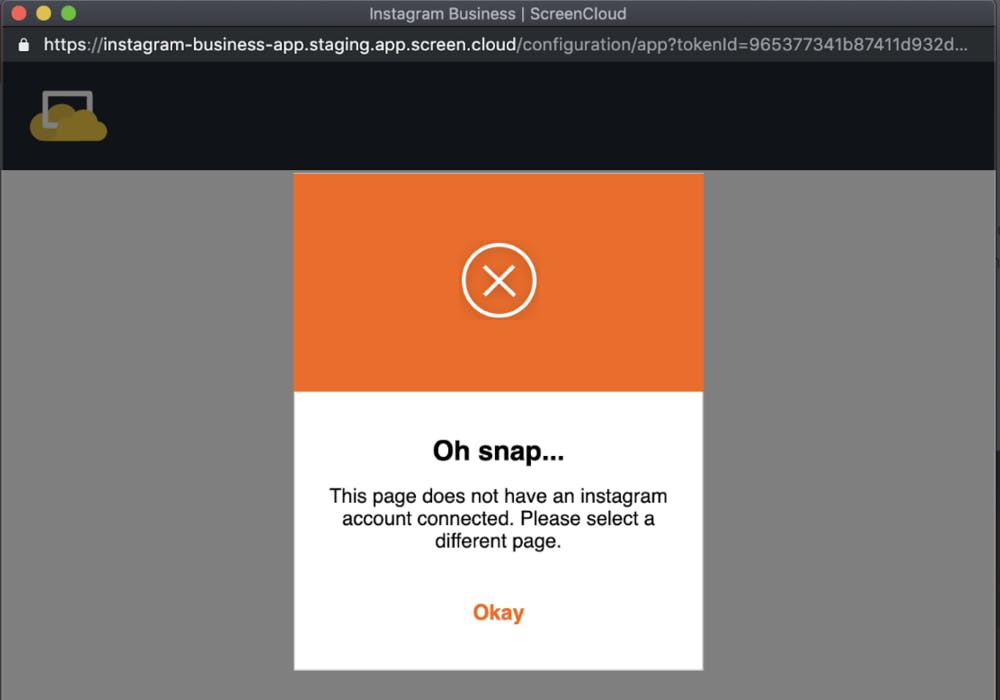 3. Choose the Instagram content you wish to show
Once you have logged in you'll see a green-check mark verifying your account is connected and you can start to adjust your app settings in the configuration panel.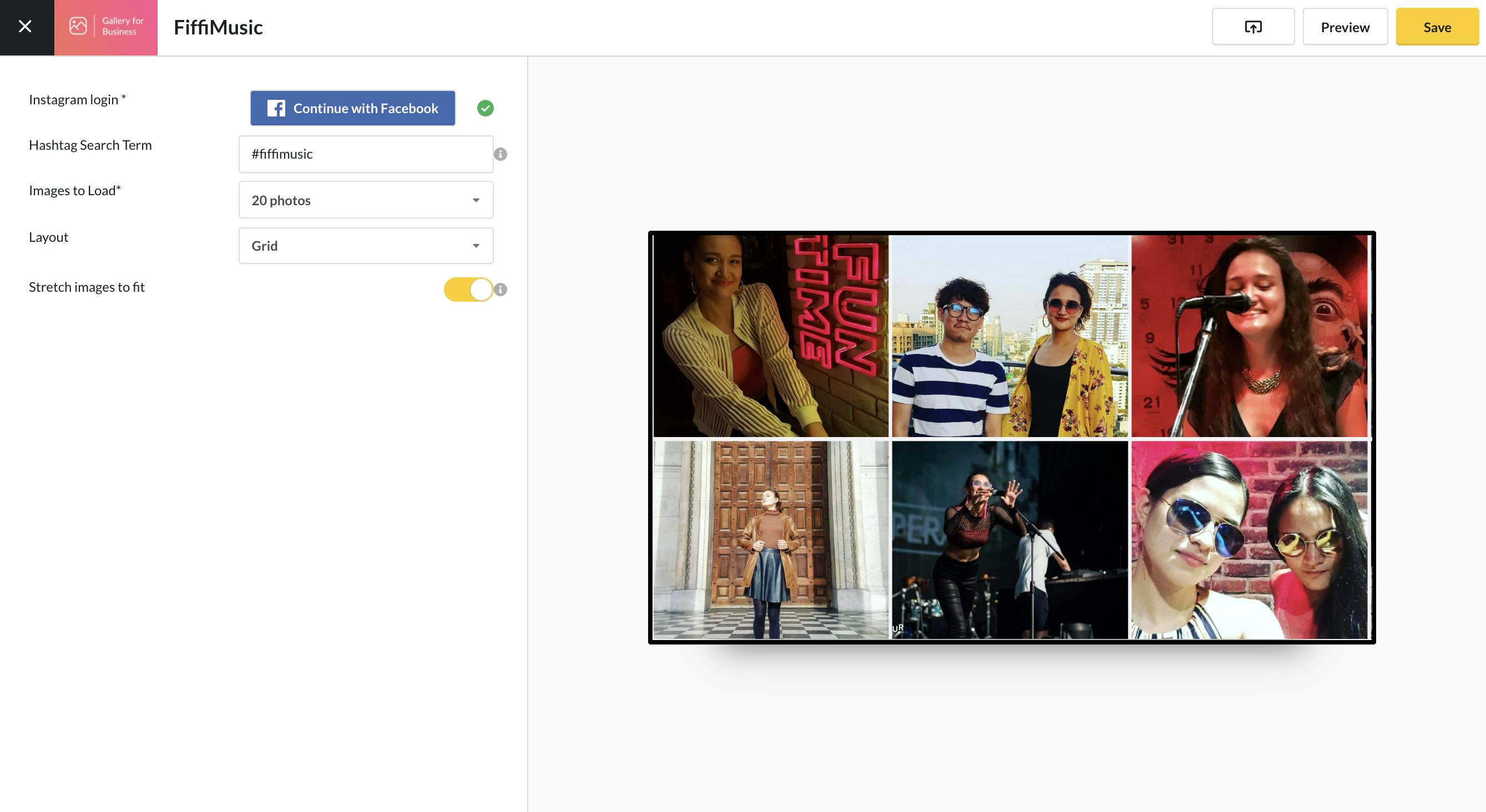 i) Hashtag search term: use this to display posts related to hashtags used from your account. The hashtag search feature allows you to get the most popular photos that have been tagged with a hashtag. You can query a maximum of 30 unique hashtags within a 7 day period. Please note, if you decide you'd rather display the posts from your own account rather than a hashtag, you can leave this field blank, and photos from your Instagram handle (@youraccount) will display automatically.
Please note: ScreenCloud does not control which hashtag content is pulled, this is determined by Instagram by the same method that content is pulled when you search a hashtag in the app or at instagram.com.
The hashtag feature also caches and saves results for hashtags you've already searched for to use in the app which lasts for 7 days. In order to get the latest results from a hashtag, you'll need to remove the ScreenCloud permissions from your Facebook account and re-authenticate our service.
ii) Images to load: if you're using the Grid layout this will determine how many images are shown at one time before the feed refreshes and starts from the beginning.
iii) Layout: Here you can choose from Grid (multiple images at once) or Single card view.
4. Preview your Gallery
4.1. To preview your content before you add it to your screen, click "Preview".
4.2. If you're happy with how your app looks, you can click "Save".
5. Add your Gallery for Business app to a Channel or Playlist
5.1. Once you've saved your Gallery for Business app instance it can be easily added to a Channel or Playlist to be played on screen.
Within a Channel simply select "Add Content" to open the Media Picker and under Apps you will see all of your app instances, ready to be installed. You can also use the search function here to find the name of your app install.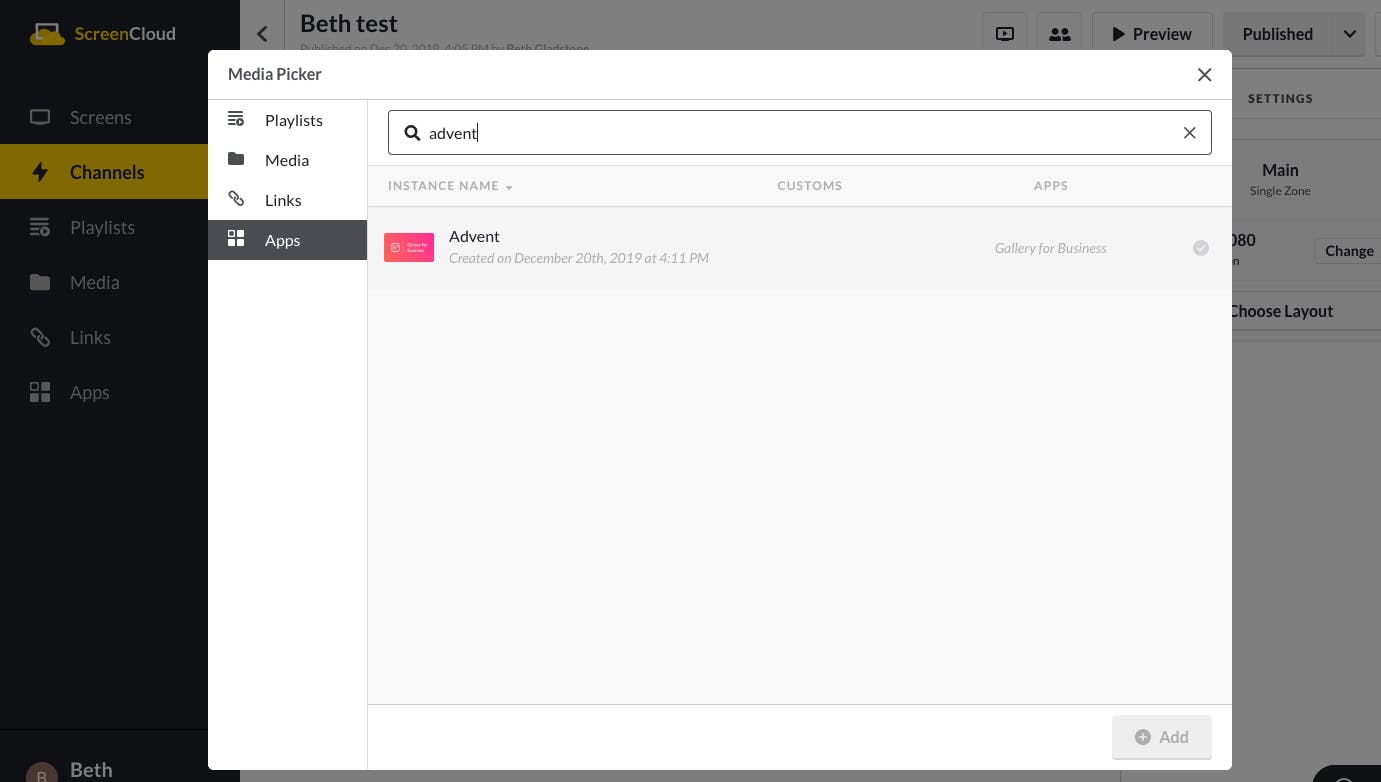 Frequently asked questions:
Can I display the Gallery for Business app in a portrait mode?
Yes, the Gallery for Business app can be used within a portrait or landscape display.
Can I display the Gallery for Business app in zone layouts?
The app does support responsive zones so it will optimize to display in multiple layouts. Though the app does not support being used in ticker-tape zones.
Why does my hashtag search or pulling in posts from my (@youraccount) Instagram only show a couple of photos?
If you use either of these features for hashtag terms or accounts that don't have a lot of content, then you will only see those images displayed on the screen. For example, if a hashtag or account only has three images and the grid layout is chosen, it will only show these three images as part of your showcase. We recommend making sure updated content is available for the hashtag or account you're using to connect with the app.
How long is each post shown for?
The wall is a live scrolling feed. You can view the timing of this when previewing the app before adding it to a playlist.
How many images can be imported when using the hashtag search feature?
This depends on the limit set while configuring how many images to load while setting up the app. For example, if you set the limit to 20 items then only 20 will display on the screen. After all of the items have displayed the app will continue to loop over the images.
What happens when the end of the feed is reached?
Once all of the posts have shown on the live scrolling wall, the posts begin to show again from the beginning. There is no break or obvious sign to the viewer, the results seamlessly flip back to the start of the feed.
Why do I have to log in through Facebook before my results can be shown?
Facebook owns Instagram and the Instagram API dictates that Instagram Business accounts must be connected through the main Facebook account. This means that to share your Business Instagram account on a digital signage wall you have to log in and prove that you are a user.
Can I log into multiple Instagram Business accounts to display on the screen?
You can do this by logging into numerous Facebook accounts. You can add multiple instances of the app to display content from different pages. For example, when you click login to Facebook, you're directed to either the login page if it's your first time using the app or an option to select an account if you've already logged in. On the select account page, you can choose an account you have previously logged in with or a new account to connect with.
Can I change the duration of how long an Instagram post stays on screen at a time?
The duration from one post to the next is 20 seconds in the Single card layout. The app runs on a fixed time and changing the duration is currently not available.
Can I remove/cancel the permissions between ScreenCloud and Facebook for this Instagram Business app?
Yes, you can remove the permissions at any time by logging into your Facebook account and visiting your "Settings". From here, click on "Business Integrations" and find ScreenCloud to remove it from your integrations list.
Please note, if you remove the ScreenCloud permissions when you click on "Continue with Facebook" in the configuration panel you might see your previously logged-in accounts. If you click on the account you removed the permissions for, an error will display that the account is unauthorized. You'll need to click on the blue "Continue with Facebook" button and re-accept the permissions for your content to display.
I don't have an Instagram Business page and am trying to convert my account. I'm having trouble connecting with ScreenCloud after converting my account, how can I fix this?
If you're planning to update your linked Instagram to a business account that is currently connected to your Facebook Business Page, we recommend removing permissions to ScreenCloud on your accounts in order to re-authenticate. You can do this by signing into your Facebook account and performing the following steps:
i) Visit your "Settings".
ii) Click on "Business Integrations".
iii) From here, search for ScreenCloud and remove it from your integrations.
iv) To re-authenticate, click on the "Continue with Facebook" blue button in the configuration panel. From here you can re-authenticate your Facebook account with ScreenCloud.
For further questions, please contact support@screencloud.com with details.