Please note, if you are using the older version of ScreenCloud (signage.screencloud.com) you can download the alternative Follow Us guide here.
The ScreenCloud Follow Us app makes it easy to share all of your social media accounts and contact details to your digital screens. This helps customers and fans to stay in touch with your brand more easily and helps you to increase your online following.
With the ScreenCloud Follow Us app you can:
Easily share all of your social media handles
Allow customers to follow you via scanning a QR code
Share your contact details to your digital screen
Here's how it works:
1. Select and install ScreenCloud's Follow Us app
1.1. Get started by logging into your ScreenCloud account here and choosing the ScreenCloud App Store from the left-hand menu.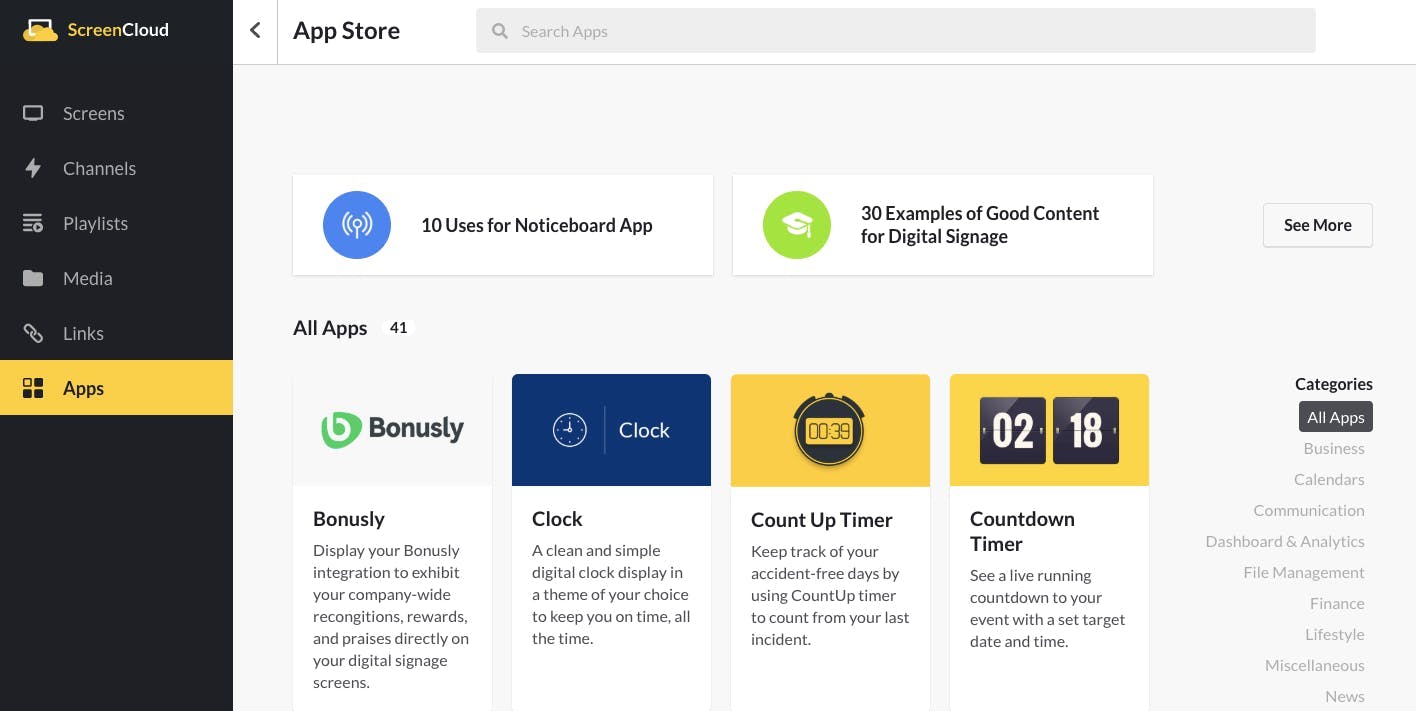 1.2. By searching "Follow Us" you can find the Follow Us app and choose the "Install app" button to add a new instance.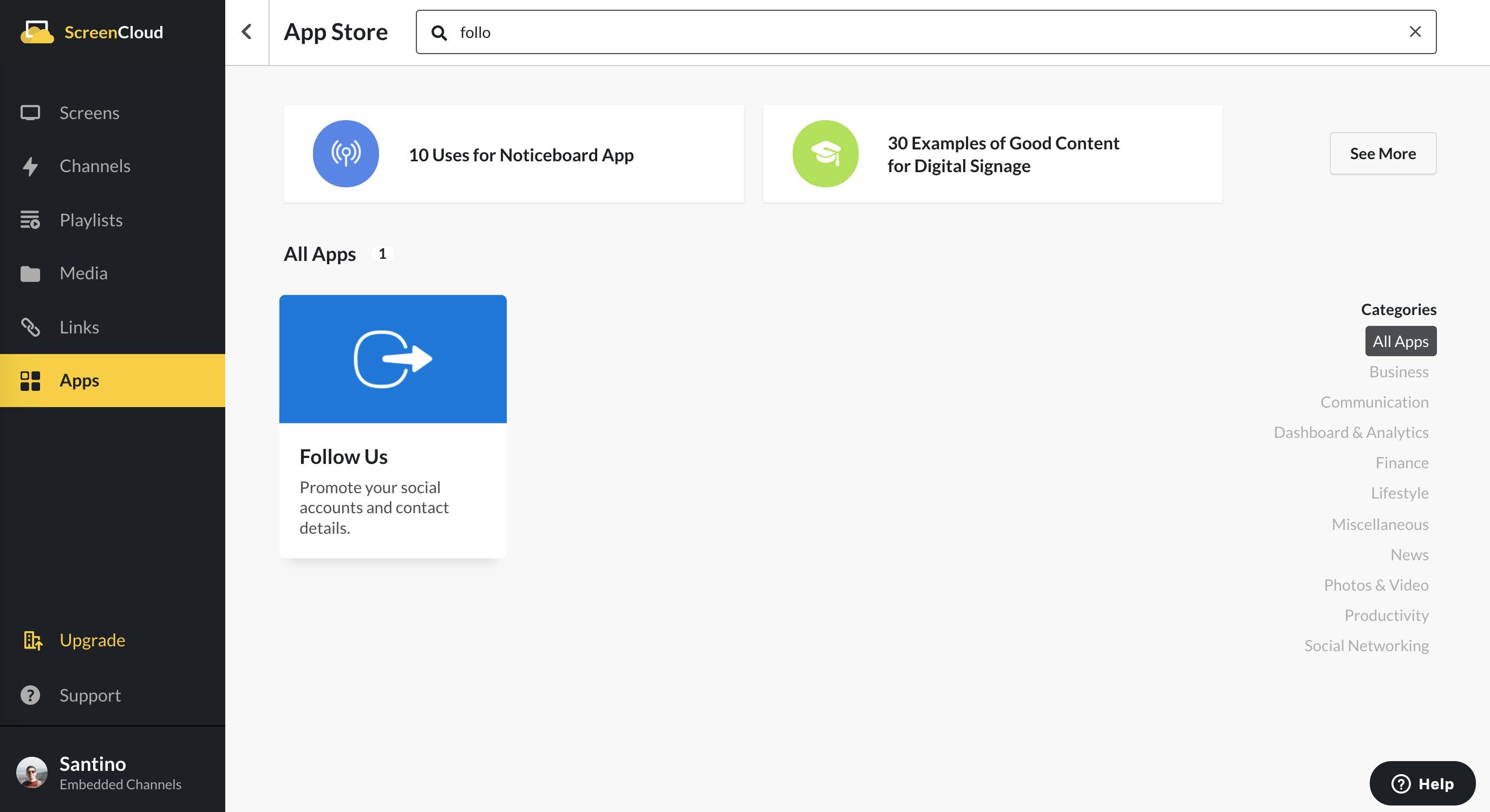 2.1. Next, you will see a list of social media accounts that you can add to your Follow Us app. This includes Facebook, Twitter, Instagram, and Vimeo as well as a list of contact details such as your website, email, and phone number.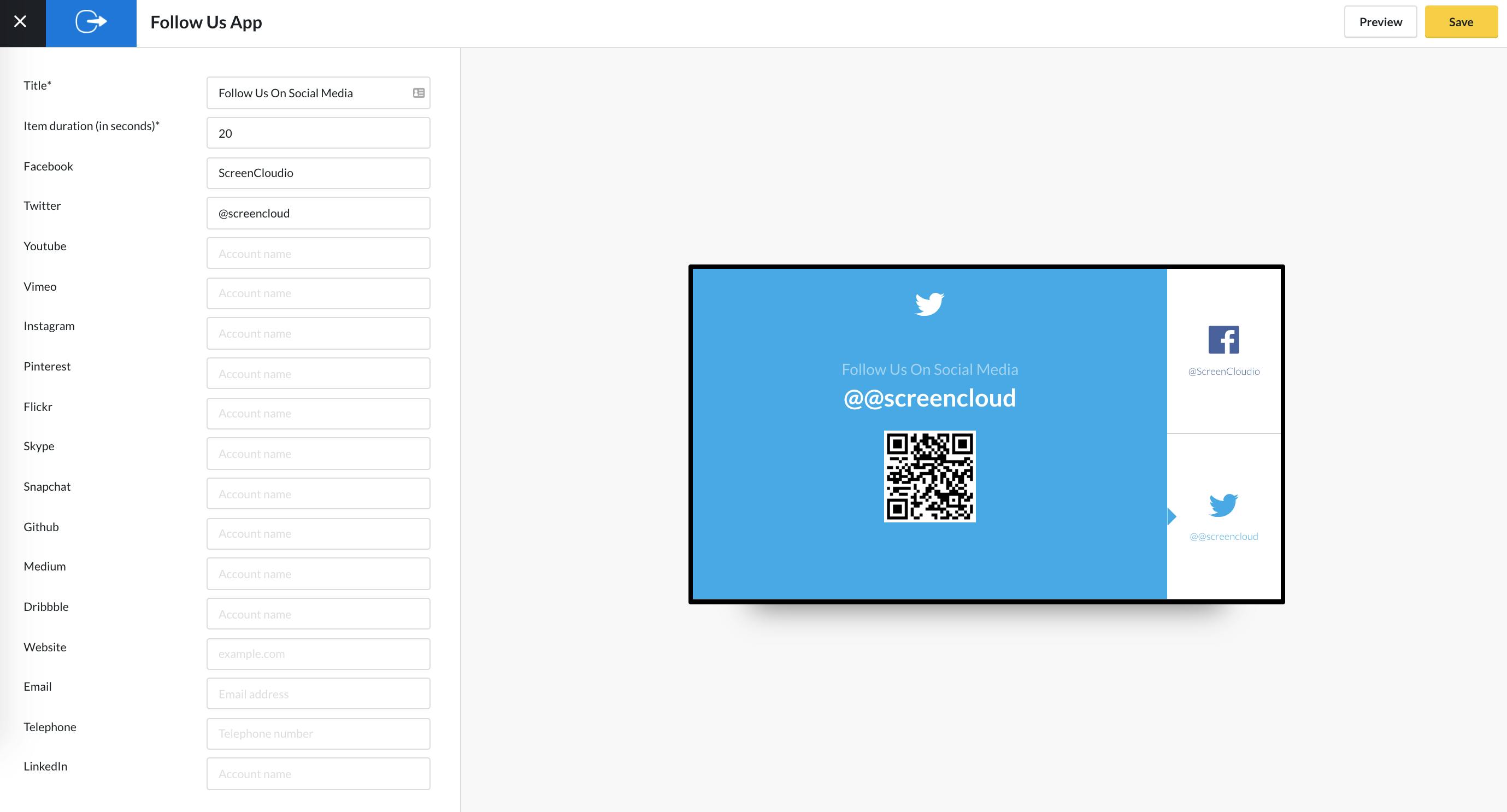 2.2. Copy and paste the name of any social media profiles you'd like to show, along with any contact details you'd like to add-in. For example, if your Facebook URL is https://www.facebook.com/ScreenCloudio/ you can copy and paste "ScreenCloudio" into the Facebook line. For Instagram where you handle is @screencloud you would put "screencloud" in and so on. You do not need to include the "@" for a handle or the full URL as the app will edit these for you.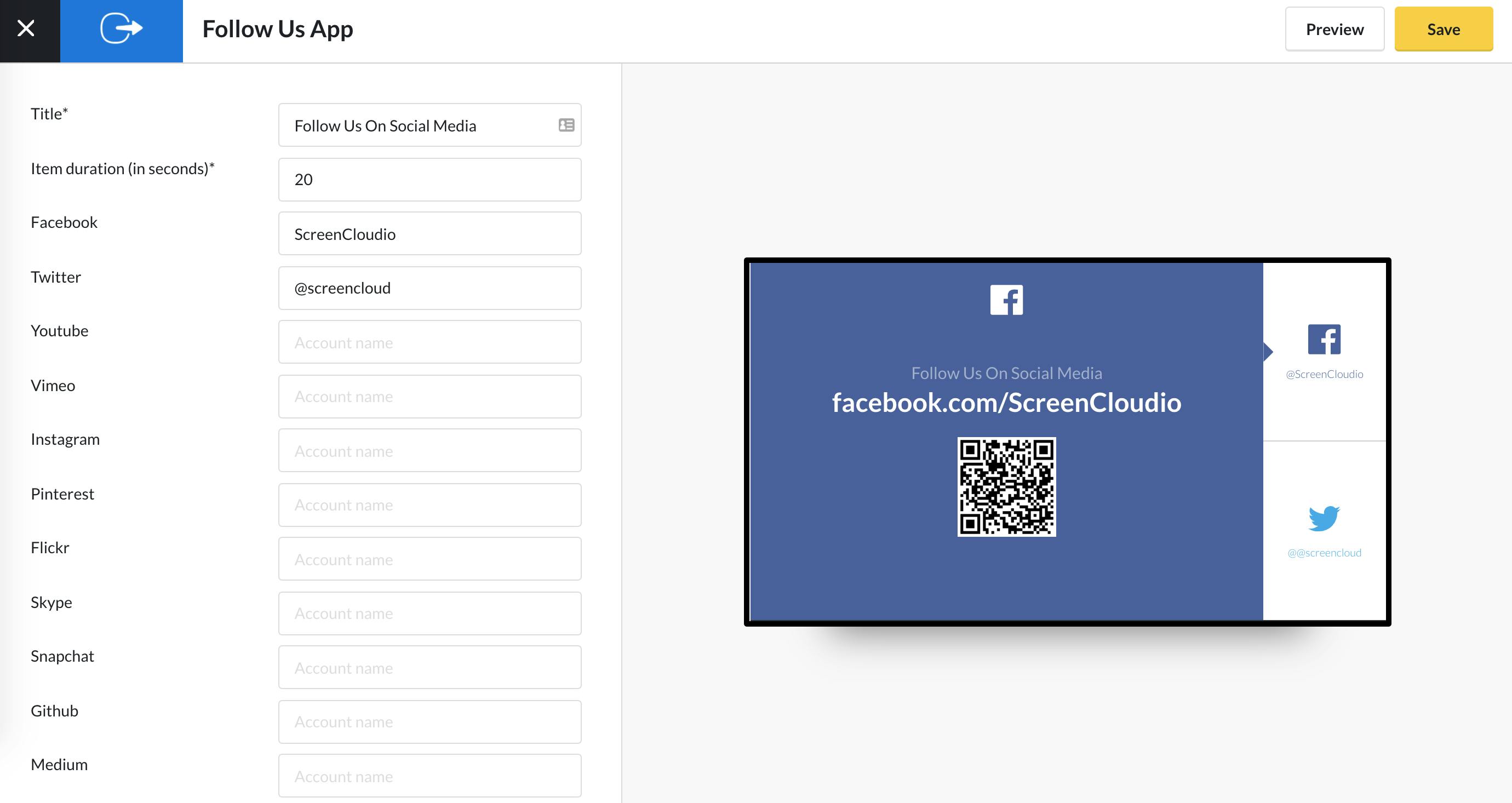 You will also see the option to add contact information like your website and email address (just remember that this will be shown on screen for all to see once added).
3. Choose your settings
With Follow Us app you have the option to create your own custom theme. To create a custom theme, check out our guide on how to use the App Theme Editor. You can also customize the text that appears in the main part of the frame and the duration you show each profile for on-screen (currently set as 20 seconds).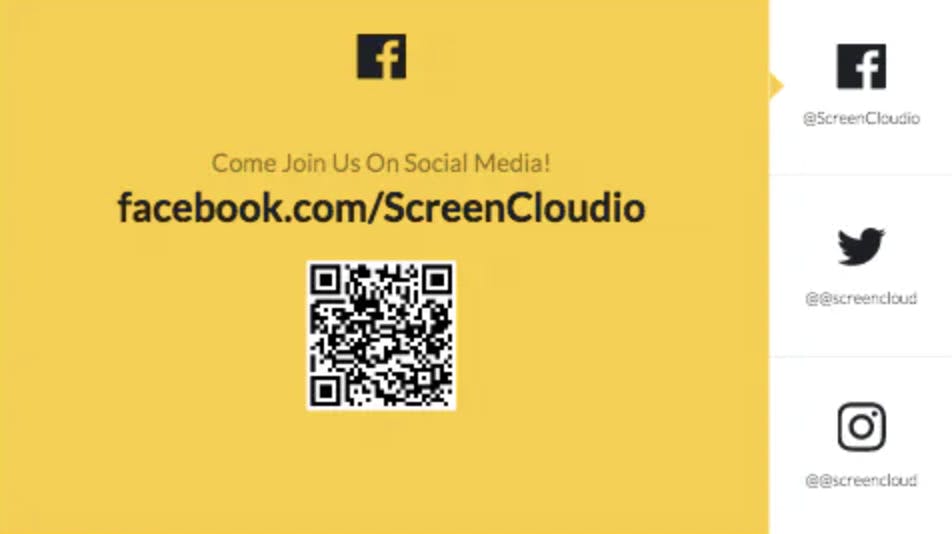 3. Preview your Follow Us app
Once you've added your Follow Us app you have the opportunity to preview it before it gets added to your screens.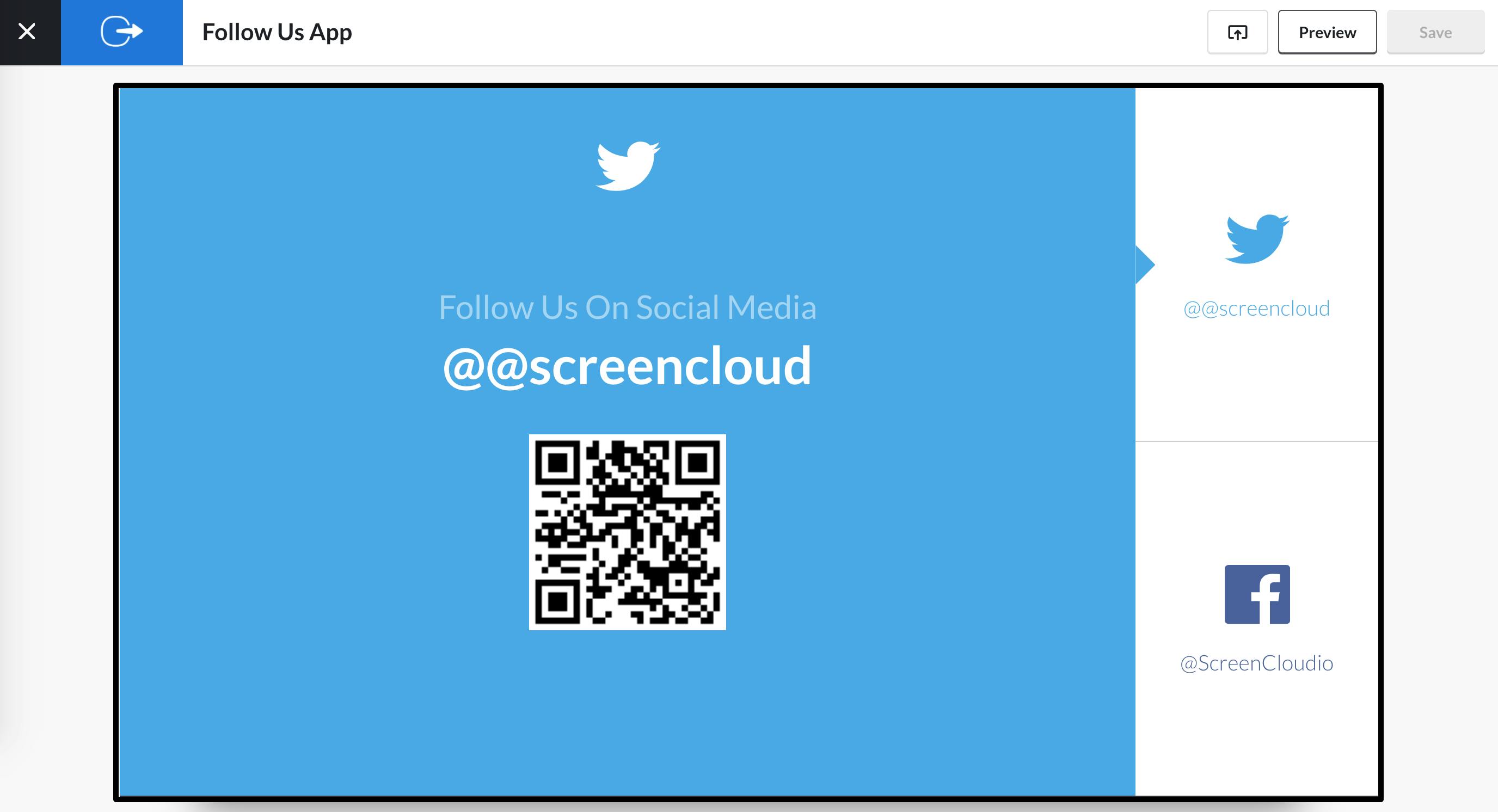 Click 'Preview' and a popup will display your Follow Us app.
4. Add Follow Us app to a Channel or Playlist
Once you have configured your Follow Us app it can be easily added to a Channel or Playlist to be played on screen.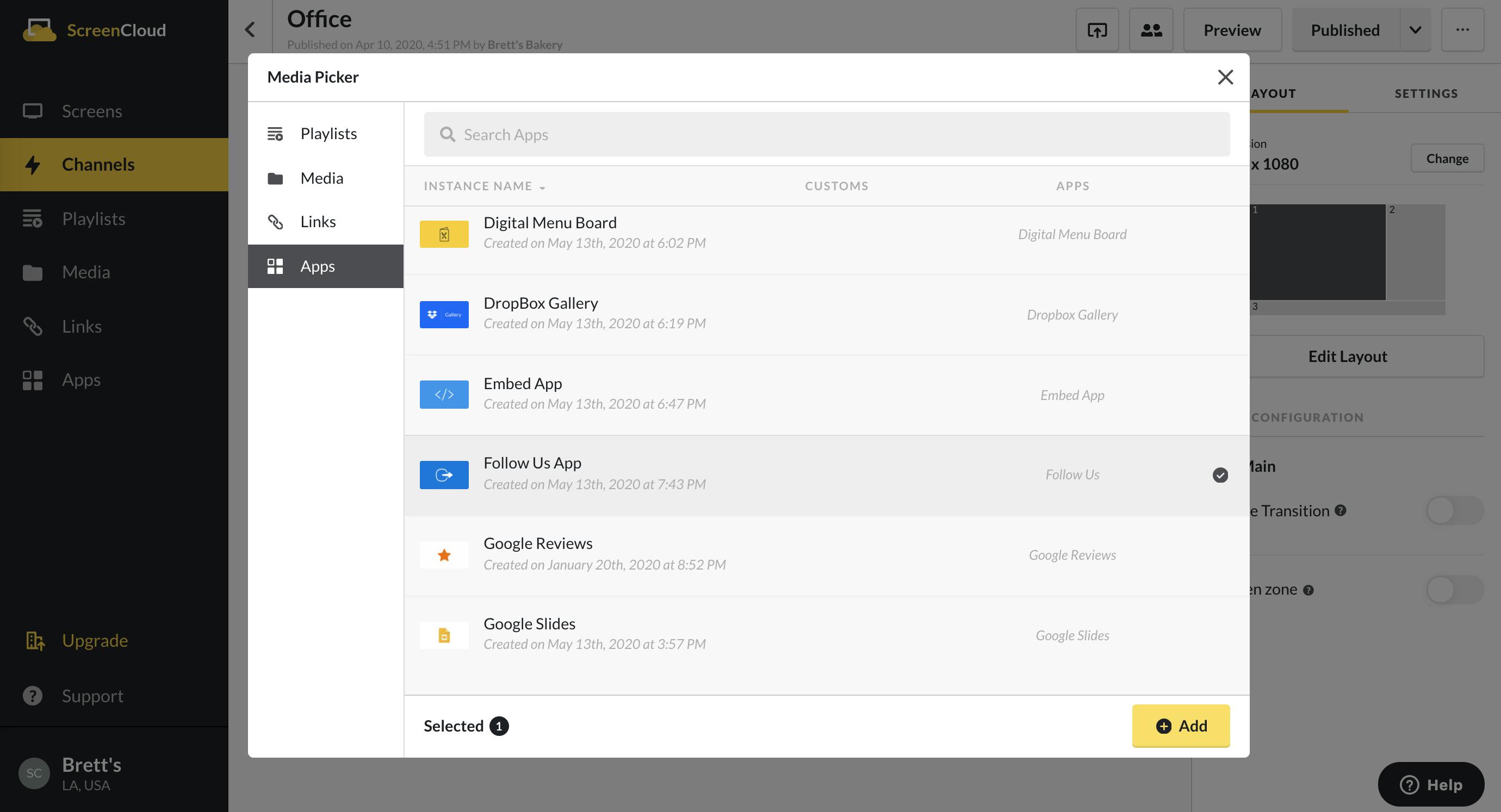 Simply select "Add Content" to open the Media Picker and under Apps, you will see all of your app instances, ready to be installed. You can also view ways you can set content on your digital screens using ScreenCloud by clicking here.
Frequently asked questions:
Can I use Follow Us in portrait mode?
Yes, the Follow Us app is compatible with both portrait and landscape screens.
How long will the Follow Us app show for?
Follow Us app will be shown for the duration you set within your playlist. You can edit this at any time by going to your playlist and changing the time duration.
For further questions, please contact support@screencloud.com with details.