Looking for a simple, yet seriously effective way of sharing upcoming flight information to your digital screens? With the ScreenCloud Flight Schedules app, you can quickly connect flight data to show on your displays and monitors.
The ScreenCloud Flight Schedules app is useful for:
Displaying real-time updates for flight status, such as departure and arrival times
Having control of the speed and transitions for your flight data
Using animations to create a real-time experience for your flight information
Access to easily manage or integrate boarding times for staff and passengers
Here's how it works:
1. Select and install ScreenCloud's Flight Schedules app
1.1. Get started by logging into your ScreenCloud account here and choosing the ScreenCloud App Store from the left-hand menu.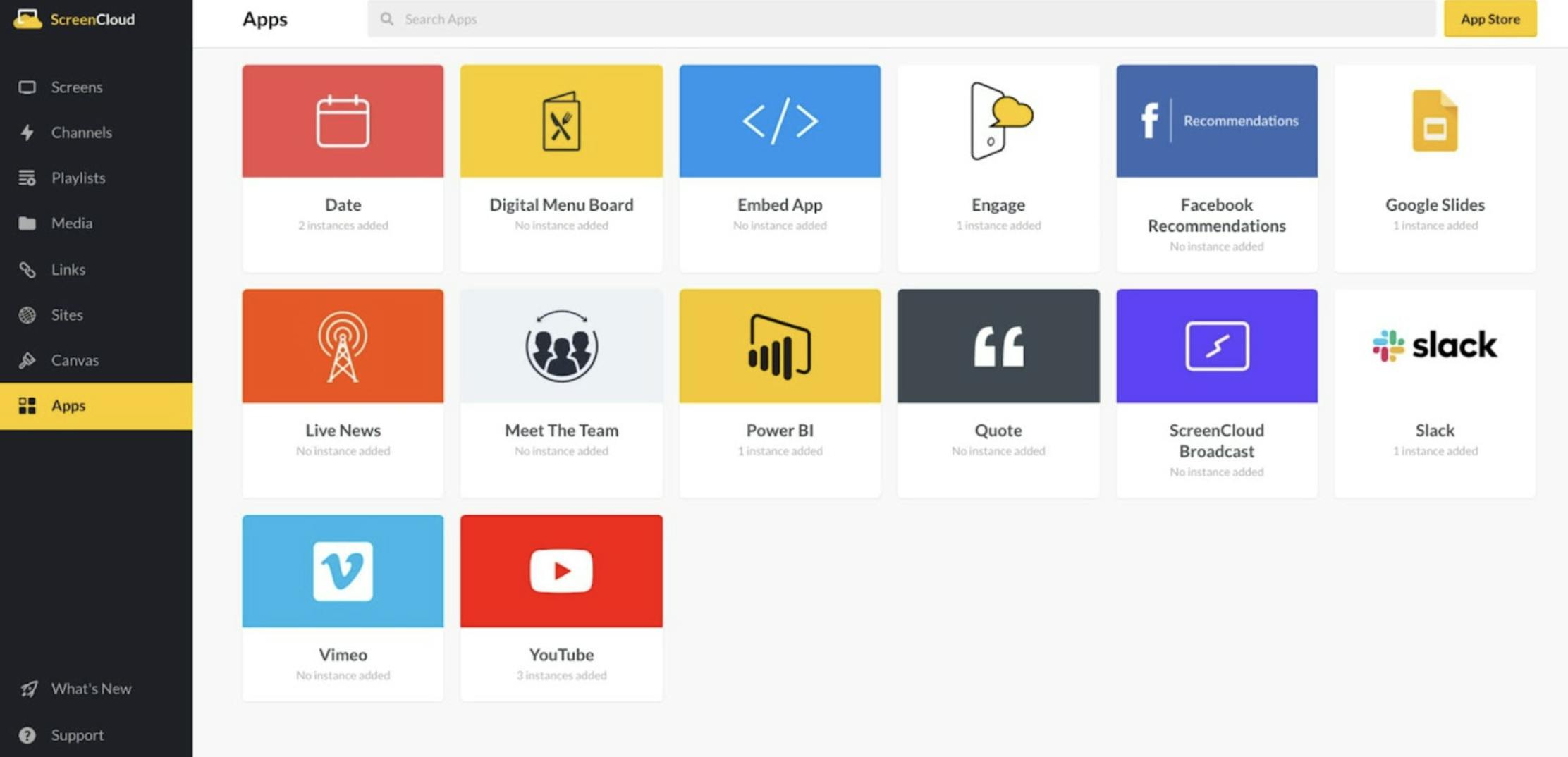 1.2. From the App Store, type in "Flight Schedules" in the search bar to populate the Flight Schedules app.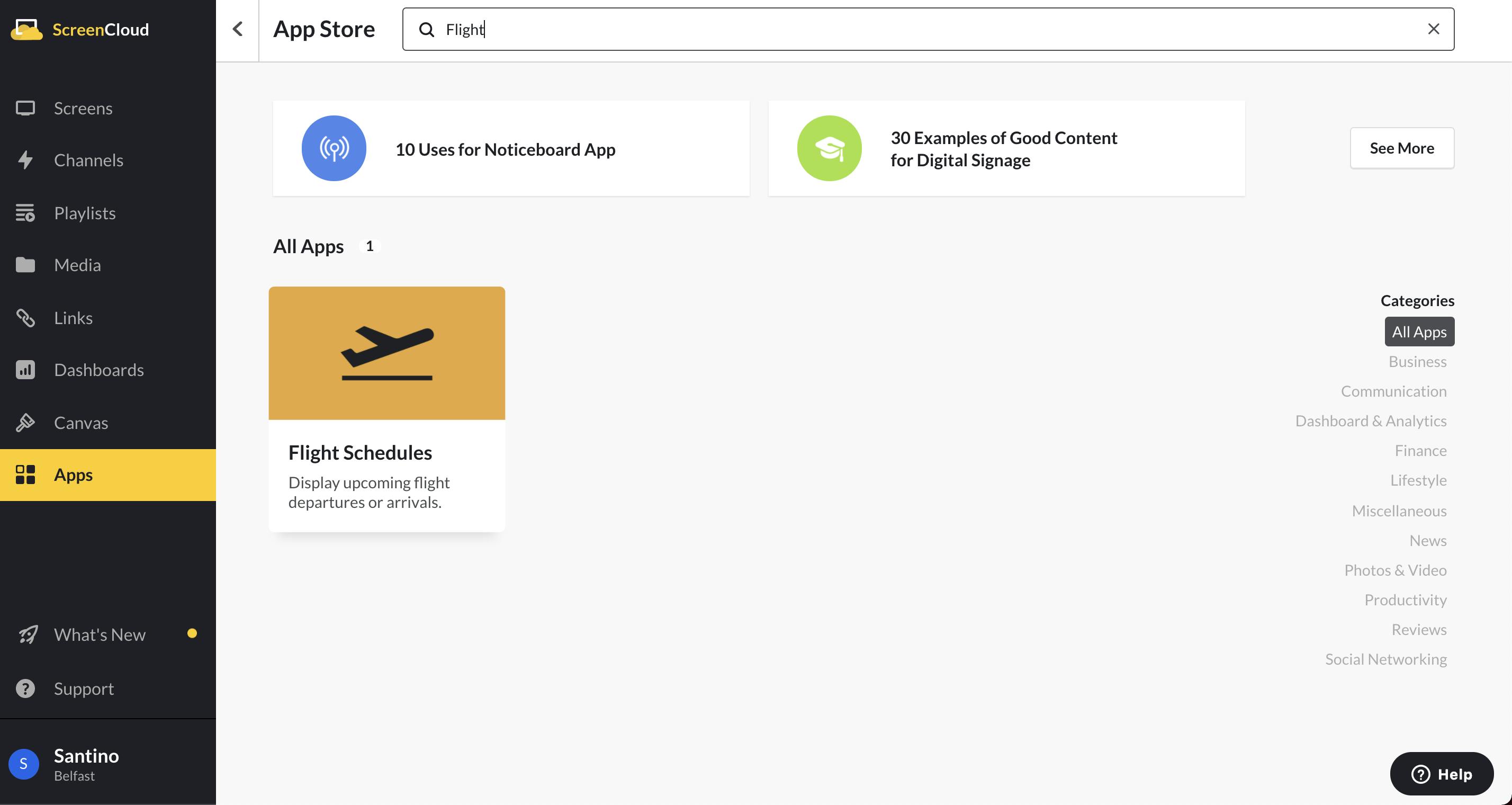 1.3. Click on the app, then select the yellow "Install App" button to open the configuration window for the Flight Schedules app.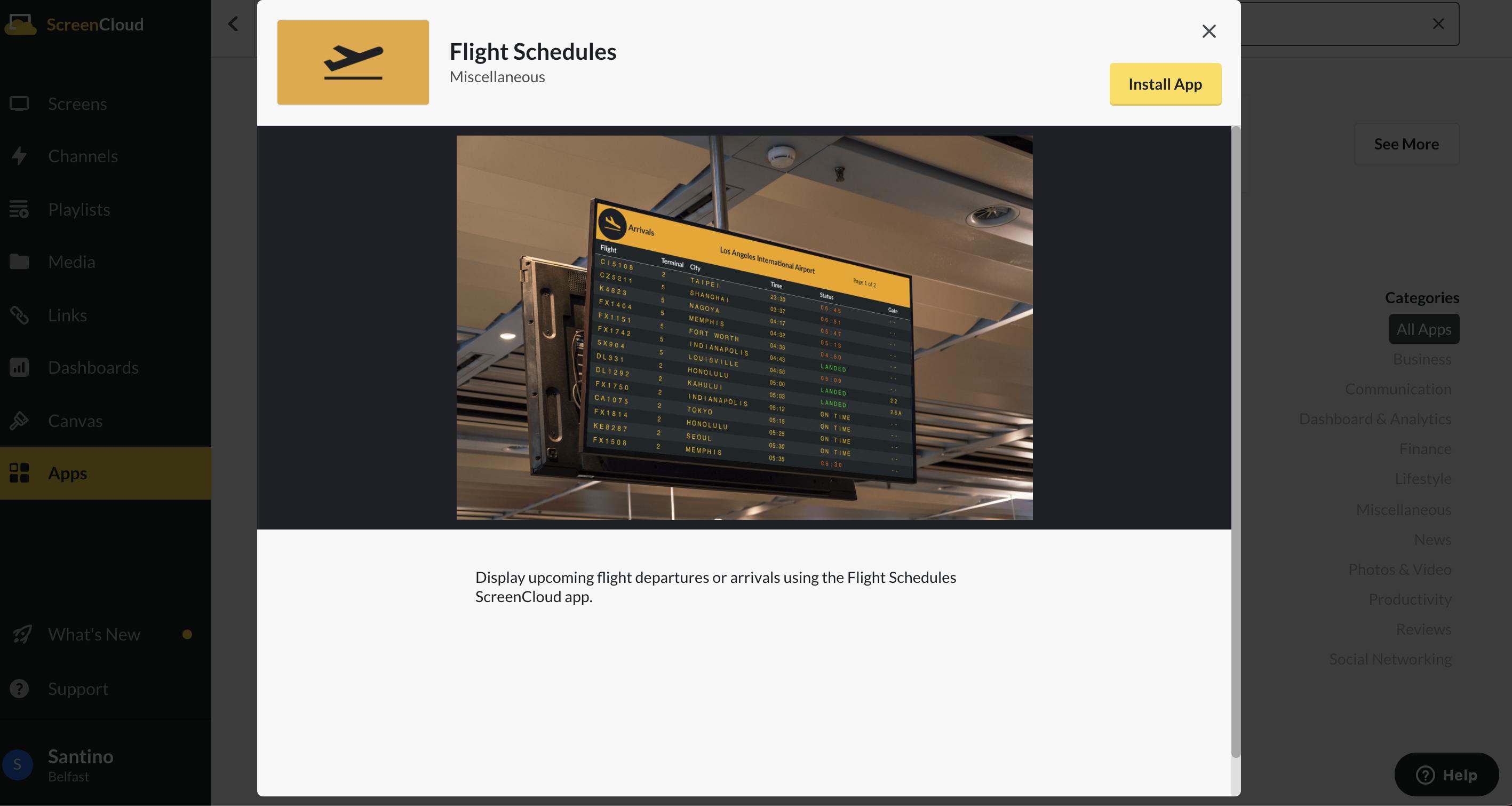 2. Set up your Flight Schedules settings
2.1. You can begin to configure the settings for your flight schedules using the options available below.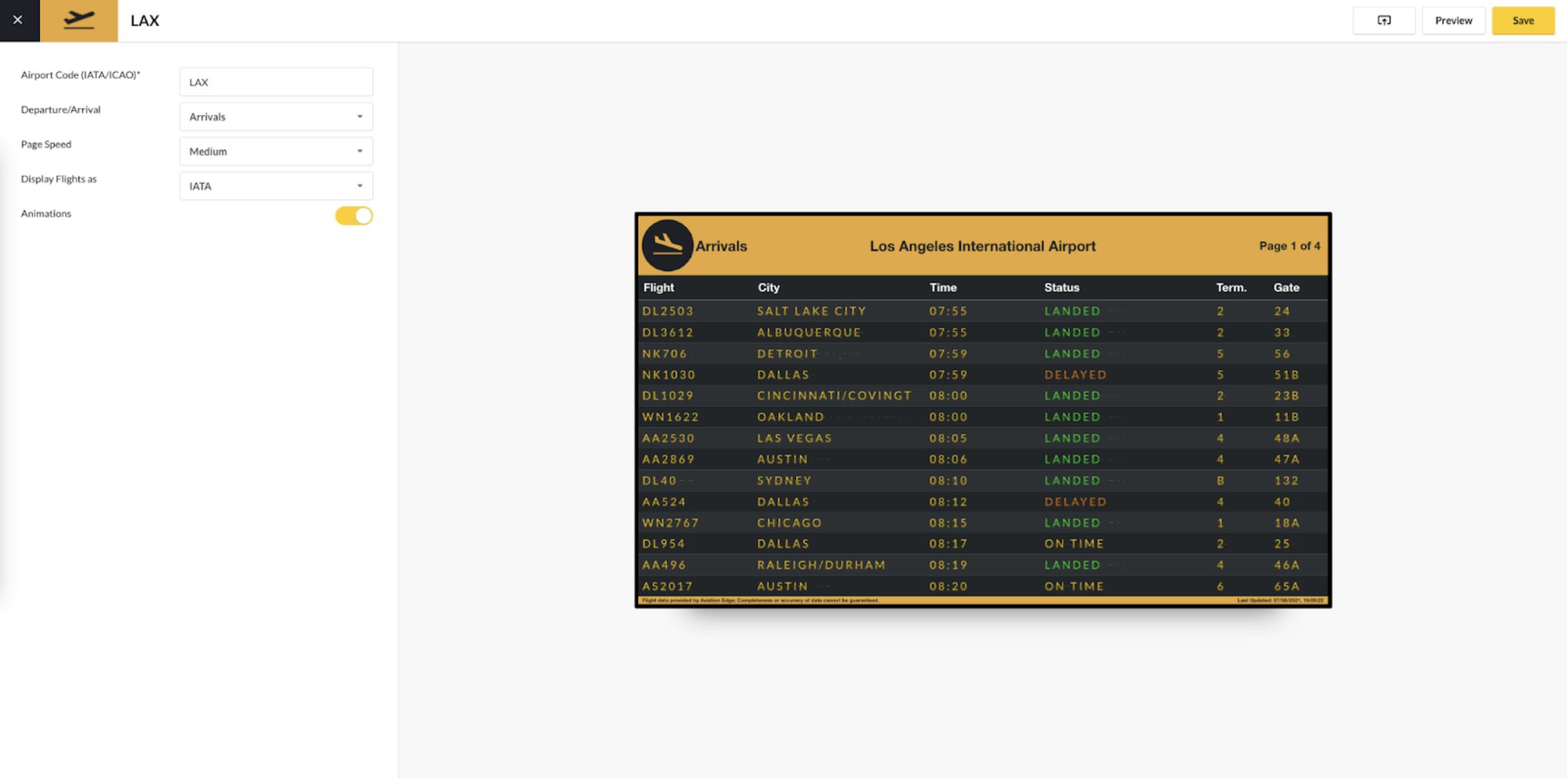 i) Airport Code: you can choose the airport code you want to display upcoming flights for. You can do this by entering the abbreviation for your airport of choice. In this example, we've used "LHR" which is an acronym for London Heathrow Airport. If you were to use an alternative airport, such as John F Kennedy Airport based in New York, USA, you can enter "JFK". The acronyms can typically be found directly on Google or by visiting the airport website of the flight status you'd like to display.
ii) Departure/Arrival: you can select if you'd like to display departures or arrivals. 
iii) Page Speed: you can use the page speed which controls how long a page of your flight schedule times remain on screen and shuffle through throughout the day. The options are slow (45 seconds), medium (30 seconds), and fast (20 seconds) per page.
iv) Display Flights as: you have the option to display International Air Transport Association (IATA) or International Civil Aviation Organization (ICAO) codes on your display. IATA and IACO are recognized as regulatory codes within national civil aviation oversight, both for international air carriers or inter-governmental use. You can select based on the type of codes your airport uses. 
According to an article from Medium, for reference, ICAO codes are four-letter codes used by the United Nations to designate international flights and govern the standards of air travel. IATA codes are three-letter codes used by a non-governmental trade organization to efficiently identify airports, airlines, and flight paths for consumers.
v) Animations: you can turn on real-time animations to show transitions for when new flights are displayed or boarding is taking place, similar to the functionality when looking at a live airport schedule board. If you keep this feature off, the schedule will still transition without displaying the trickle effect animation.
2.2. After you've set up your airport codes and settings, you can proceed to see what your schedule board will look like.
3. Preview your Flight Schedules app
3.1. Once you're done editing and customizing your Flight Schedules app, you can select "Preview" to see how it will display.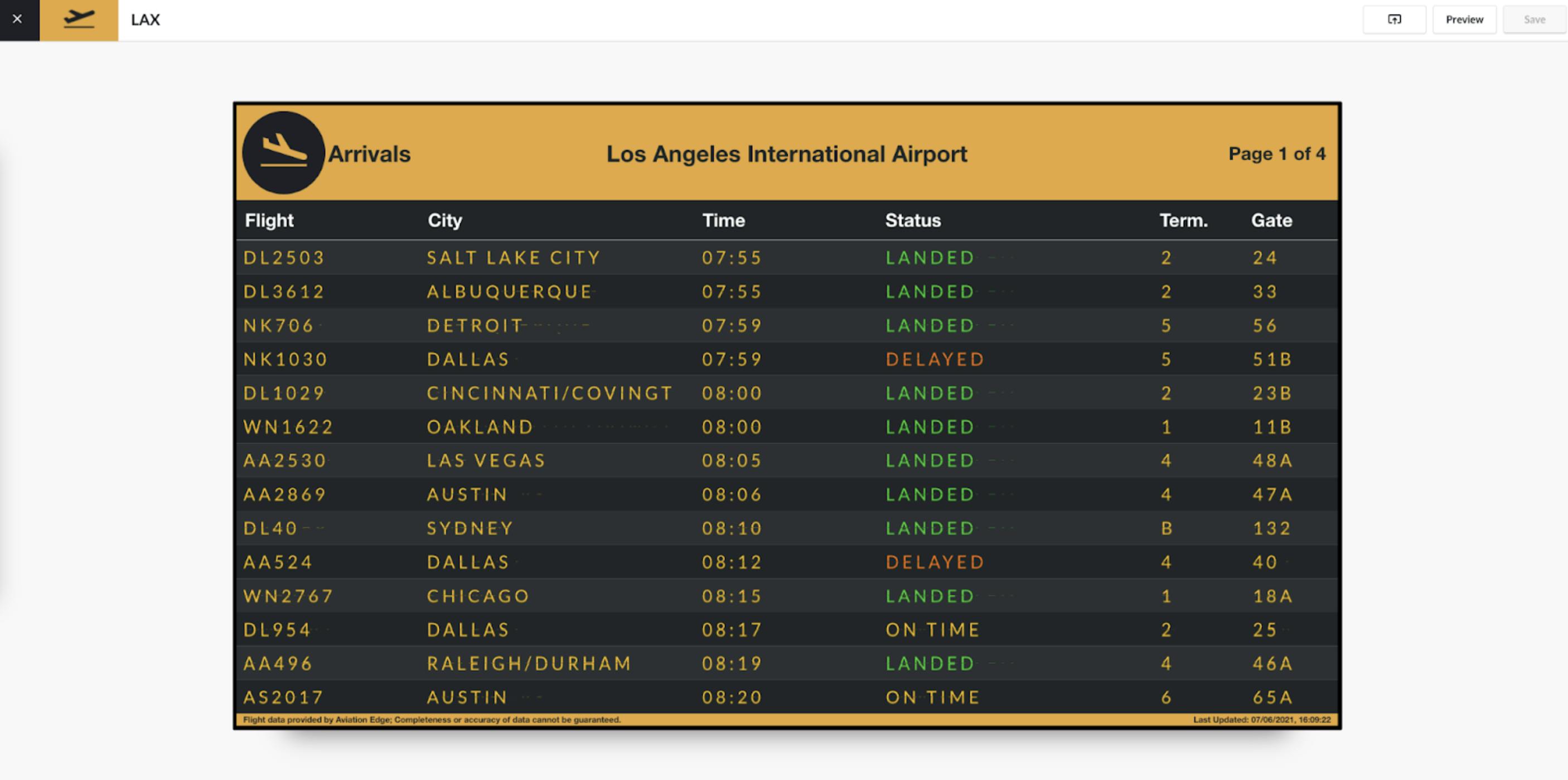 3.2. After reviewing your preview, you can add a unique name to your app instance, such as "London Heathrow" and select "Save" to add the Flight Schedules app into your managed apps in ScreenCloud.
4. Add the Flight Schedules app to your digital screens
You can add the Flight Schedules app to your screen directly by casting it, adding it into a playlist, scheduling into a channel, and more. You can click here to view ways to set content on your screens with ScreenCloud.
Frequently asked questions:
How can I change or remove a Flight Schedule app?
You can edit your Flight Schedule app instance at any time to simply change the name of the airport code you'd like to display flight information for or delete the app at any time. Please note, if you delete a Flight Schedule app this will stop displaying on any screens you have set up for it to show on.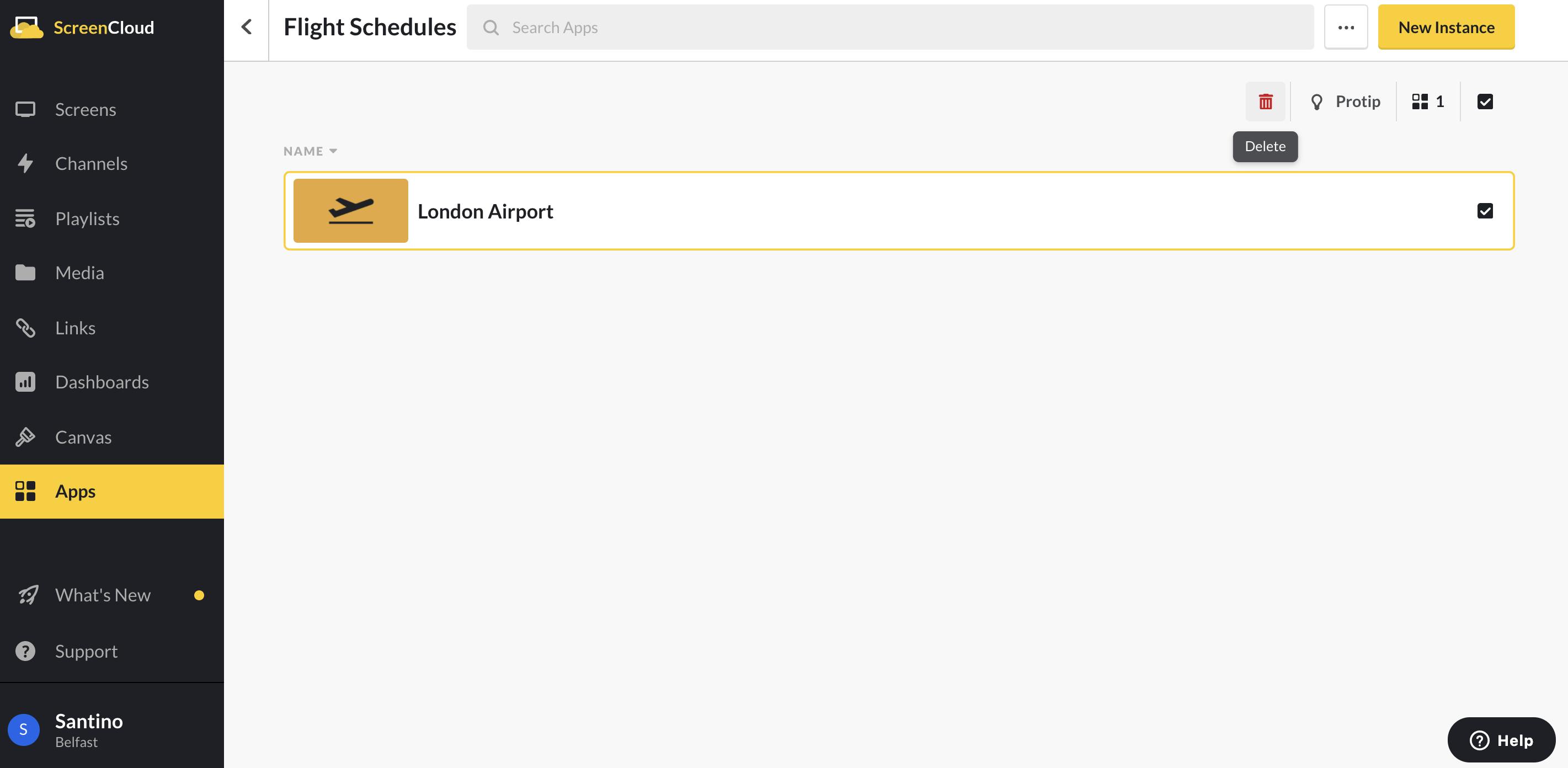 Does the Flight Schedules app work in portrait mode?
Yes, the app works in both portrait and landscape orientation.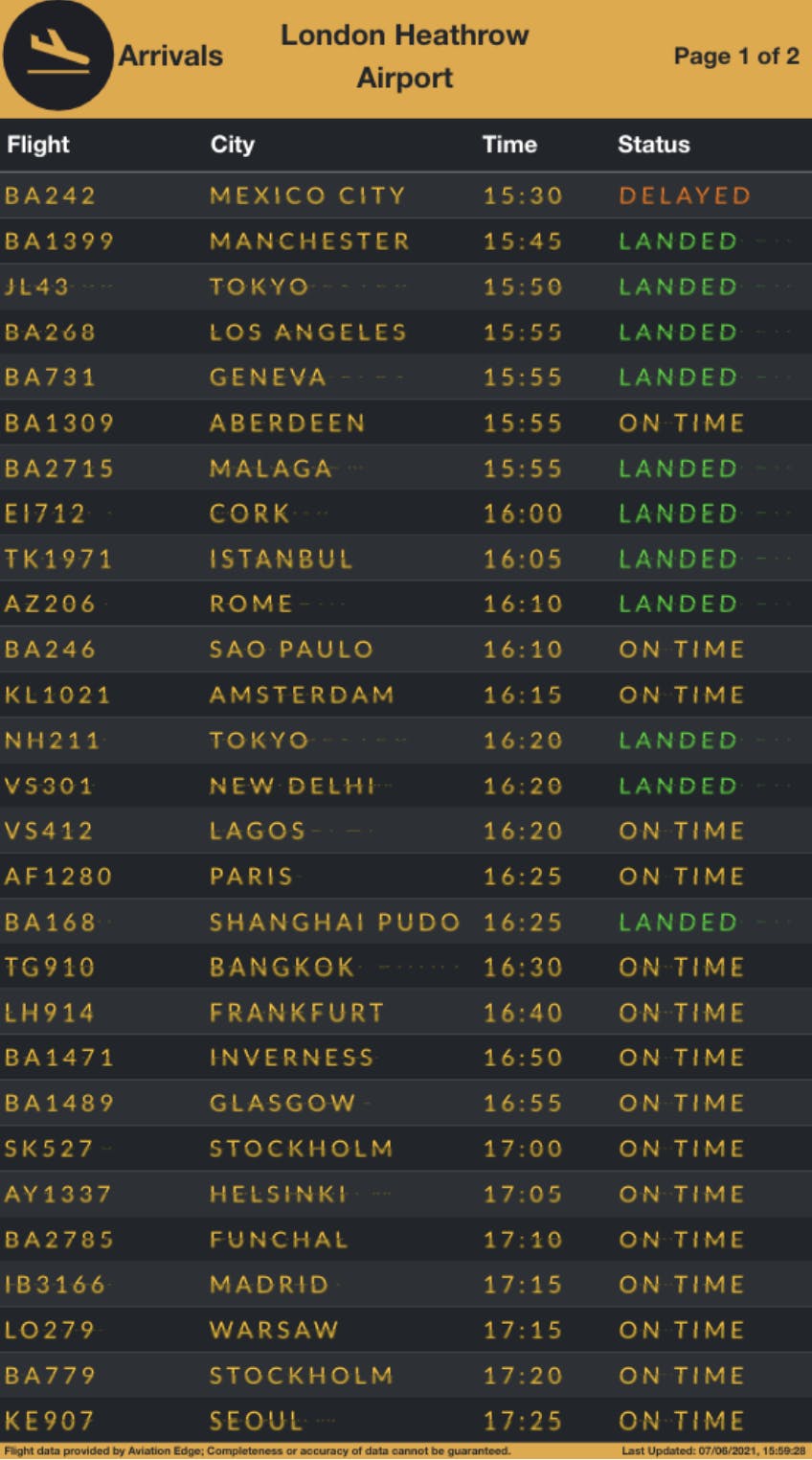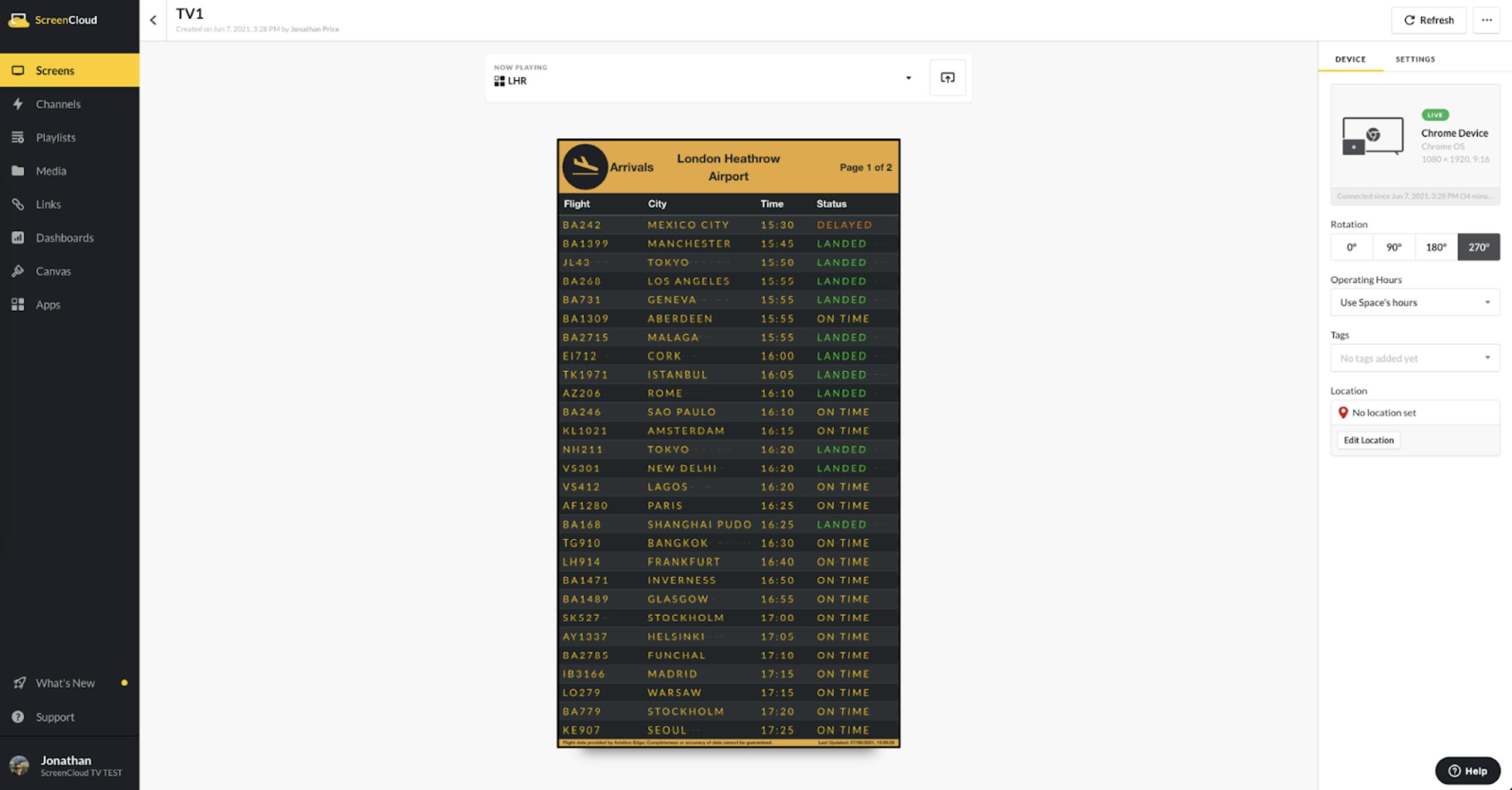 Does the Flight Schedule app show real-time data for delays or flight emergencies?
For reference, the Flight Schedule app uses the Aviation Edge Flight API to display flight information. It has delays recorded and any updates directly from the integration used to display flight recorded data in real-time. Please note, ScreenCloud relies on data from the third-party service provider, Aviation Edge Flight API, and we're only able to display the real-time flight data provided to our system.
Disclaimer
All data displayed is provided by Aviation Edge; we cannot guarantee the accuracy of the flight information shown.
If you have any additional questions or feedback on using the Flight Schedules app, please feel free to reach out to our support team at support@screencloud.com or give us a call at our toll-free support line at +18885575335.