Please note, if you are using the older version of ScreenCloud (signage.screencloud.com) you can download the alternative Facebook Recommendations guide here.
These days we don't only use Facebook to chat with friends, but also to leave quick recommendations and feedback that help others find out what's good, great and not so great. If your customers are leaving Facebook recommendations to promote your business, why not share them on your digital signage screens? Facebook Recommendations app lifts recommendations left by customers and adds them directly to your screens. You can also filter your recommendations by the type of ratings left.
Please note: as of September 2019, Facebook has changed its API for how the functionality of the Facebook Reviews app works and have removed the star-rating feedback. The app now accounts for positive and/or negative recommendations (i.e. Claire recommends ScreenCloud/Claire doesn't recommend ScreenCloud) for the Facebook business page selected while setting up the app. The following guide reflects the new updated changes for the app since this API change from Facebook took effect. The app is currently still accessible from ScreenCloud's App Store as "Facebook Reviews", and in our version two platform [in development] the app is available as "Facebook Recommendations". This guide applies to both versions of the app.
Here's how it works:
1. Select and Install ScreenCloud's Facebook Recommendations app
1.1. Get started by logging into your ScreenCloud account here and choosing the ScreenCloud App Store from the left-hand menu.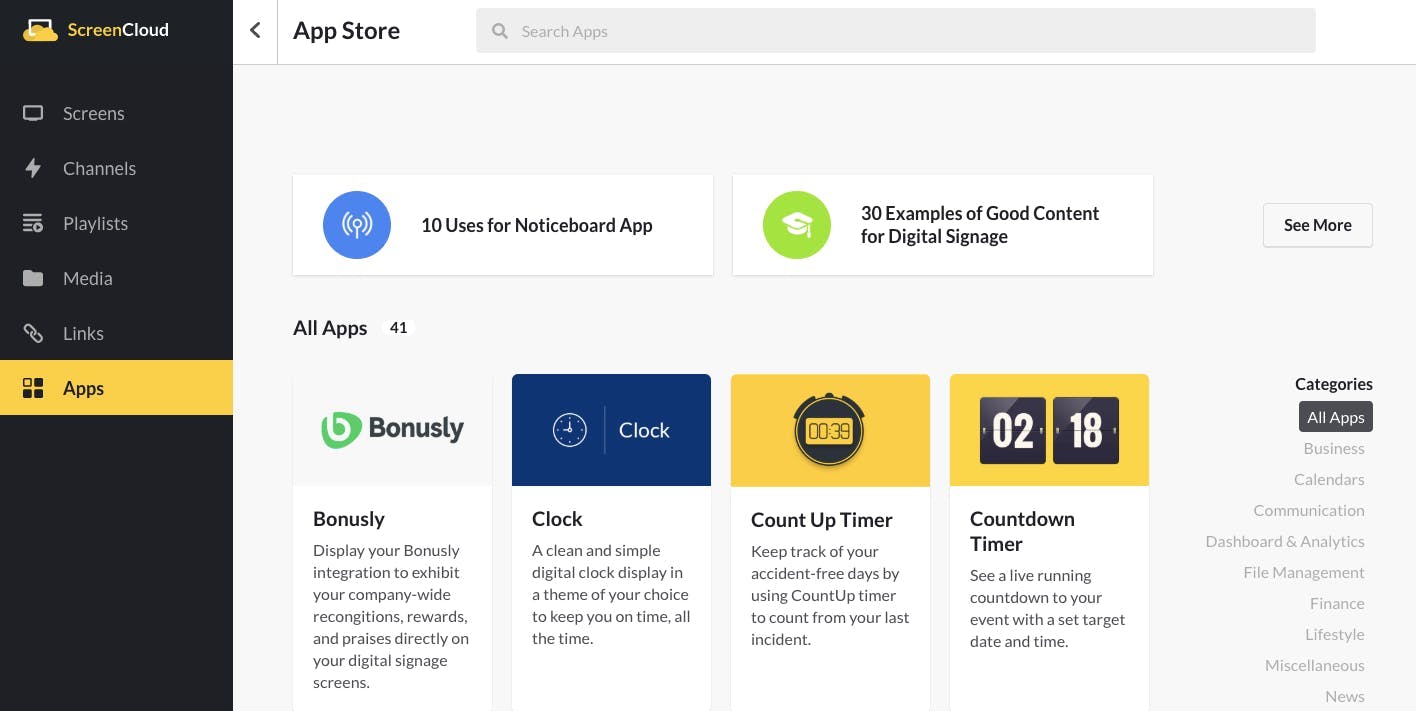 1.2. By searching "Facebook Recommendations" you can find the Facebook Recommendations app and choose the "Install app" button to add a new instance.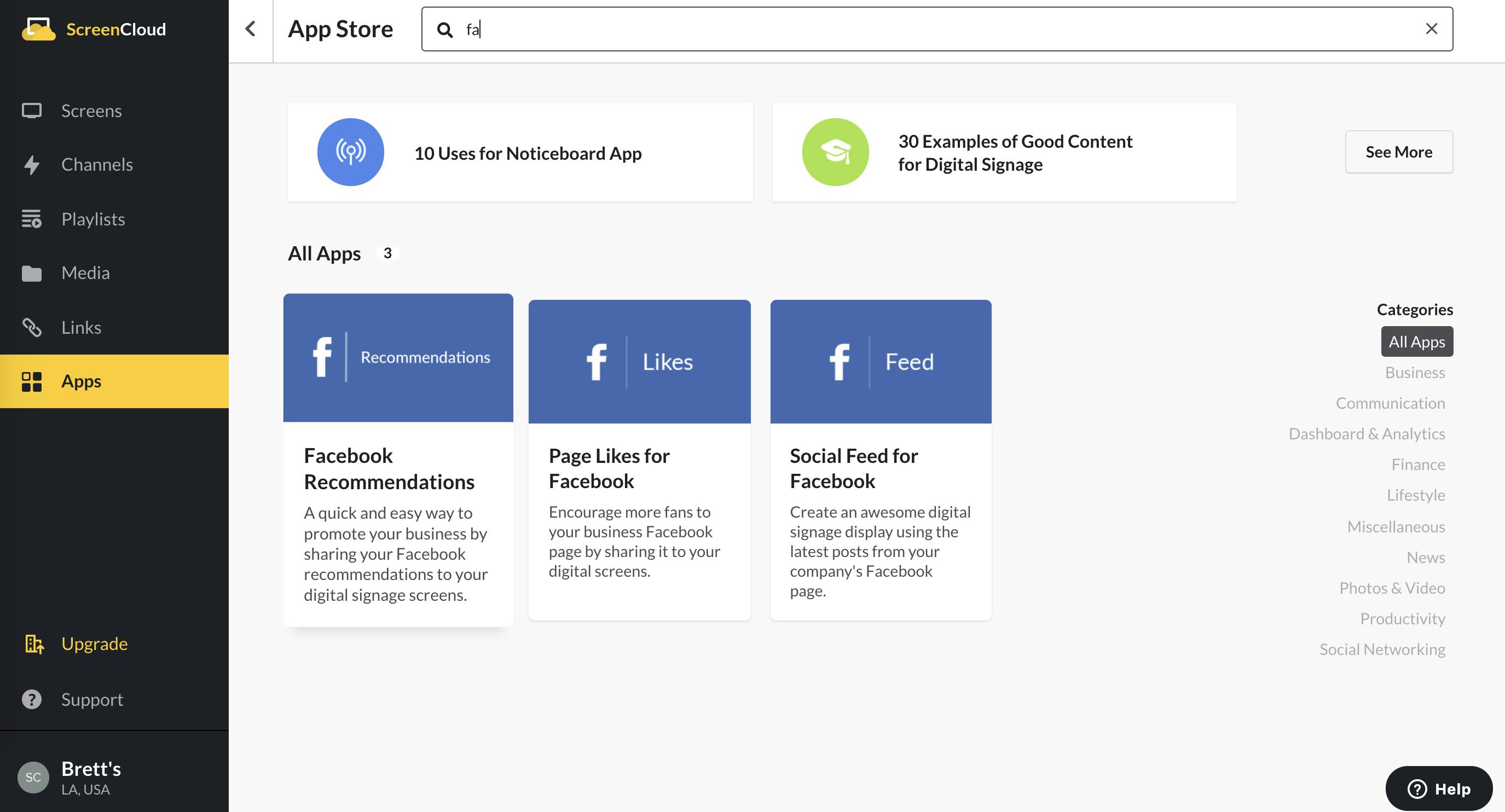 2. Log into your Facebook account
2.1.  Next, select "Login" to put in your credentials and select the Facebook business page you'd like to use.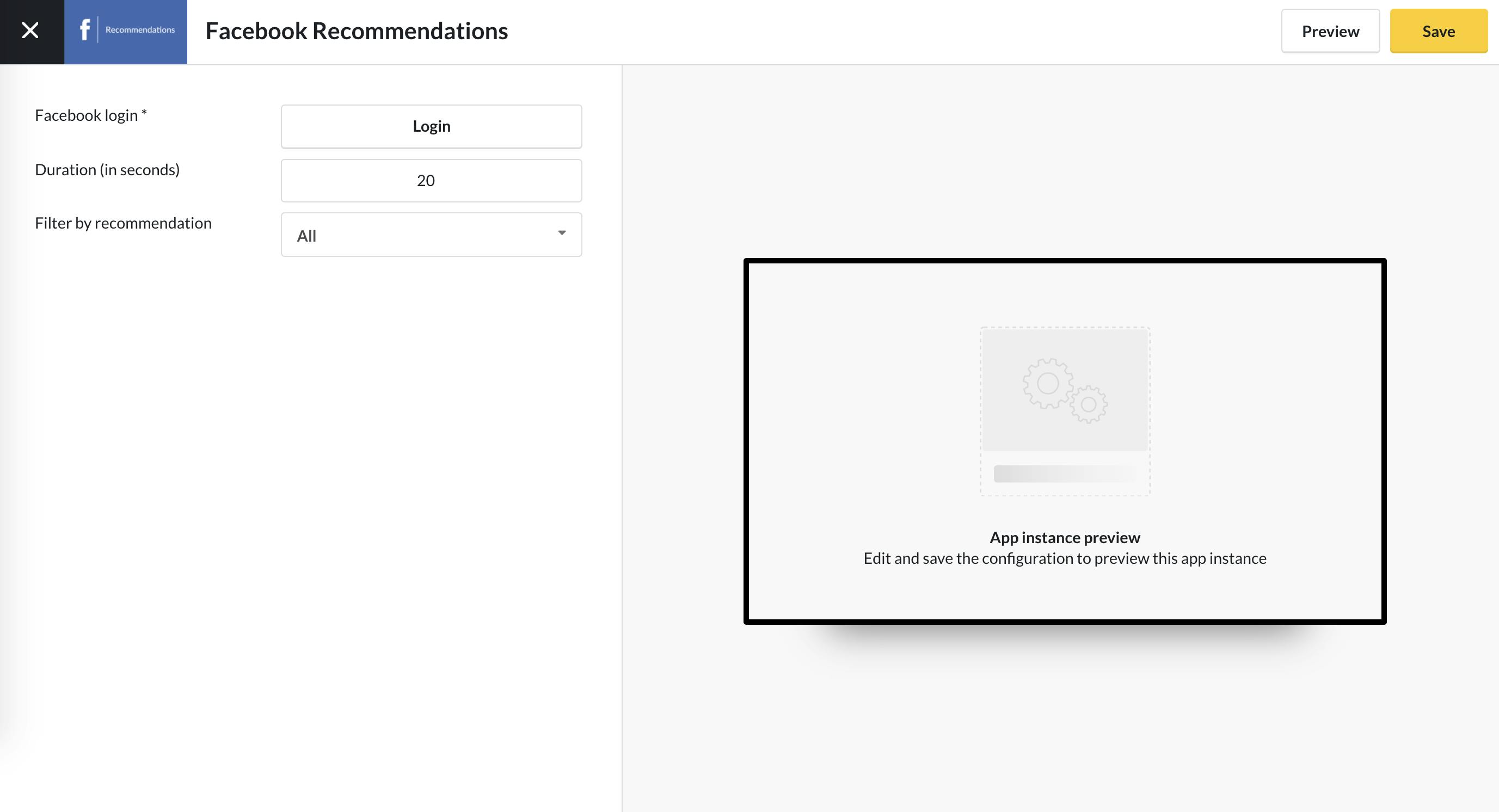 2.2. Select the Facebook business page for displaying reviews.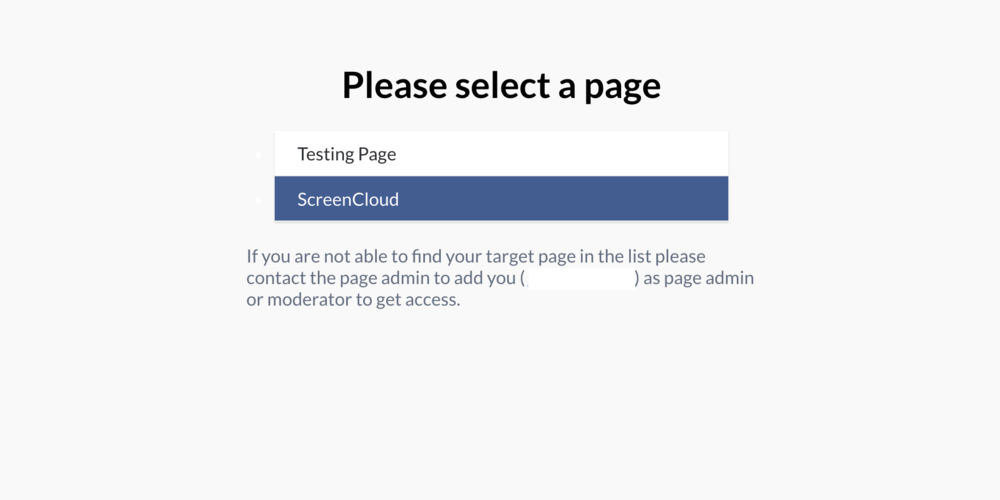 Please note: If you're not able to find your target page in the list please contact the page admin to add you as a page admin or moderator to get access.
2.3. Once your Facebook business page is selected, you will automatically be redirected back to ScreenCloud. You'll see a green checkmark next to "Log in", confirming that your business page is successfully connected.
3. Select your settings
You can set up the following options for your Facebook Recommendations app.

i) Duration: You can select the duration (in seconds) for each recommendation to show on the screen. The default is set to 20 seconds.
ii) Filter by recommendation: You can select the type of recommendations you'd like to display for the business on screen between "recommends" and "Doesn't recommend" to showcase ratings.
4. Preview your Facebook Recommendations app
Once you've added your Facebook Recommendations app you have the opportunity to preview it before it gets added to your screens.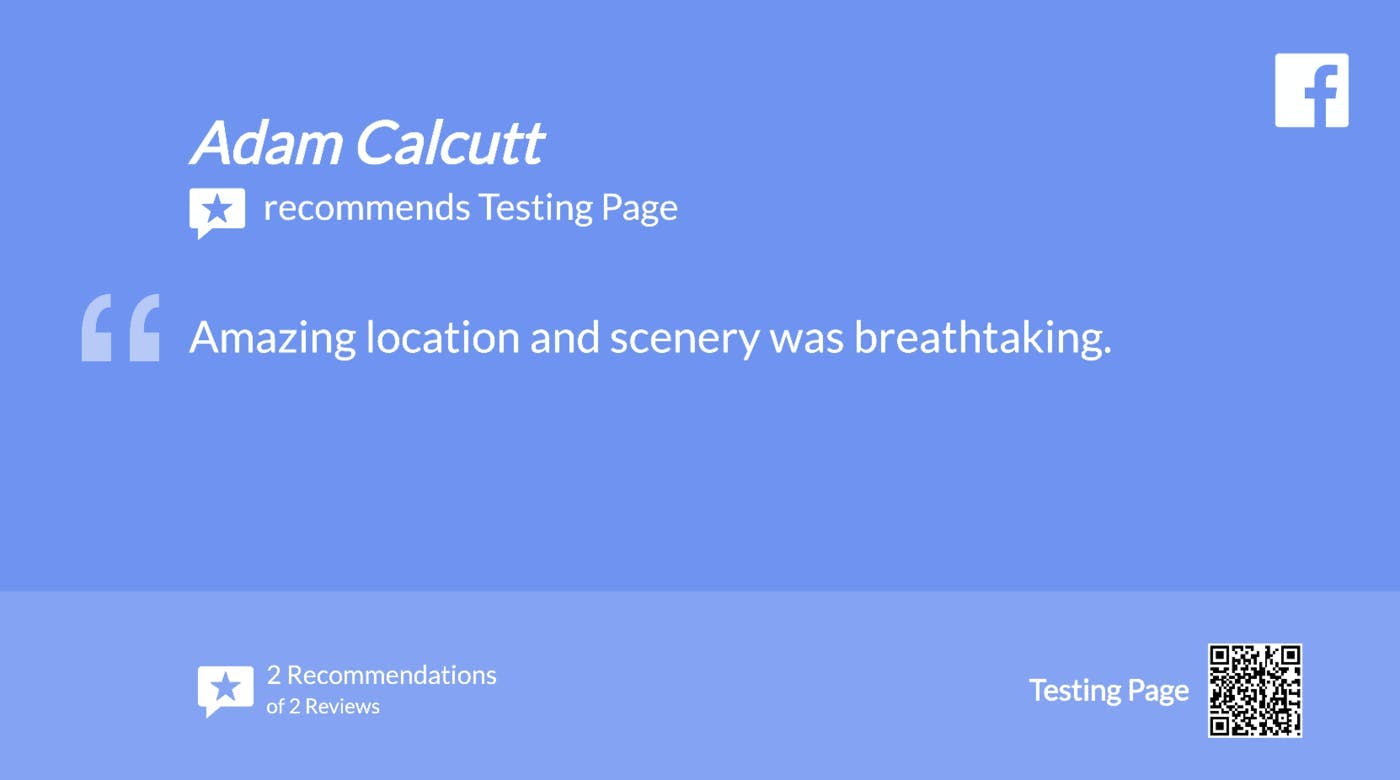 Click 'Preview' and a popup will display your Facebook Recommendations app.
5. Add Facebook Recommendations app to your channel or playlist
Once you have configured your Facebook Recommendations app it can be easily added to a Channel or Playlist to be played on screen. Simply select "Add Content" to open the Media Picker and under Apps, you will see all of your app instances, ready to be installed. You can also view ways you can set content on your digital screens using ScreenCloud by clicking here.
Frequently asked questions:
How far back does the app pull in recommendations?
The app will pull in all of the recommendations from your business page for any filter criteria selected.
Can I only select more than one rating filter for the recommendations?
You can only select one filter criteria for the app, but you can add as many instances of the app as you'd like and set a new rating filter each time.
I'm receiving a message that no Facebook Business page is available to select, how do I fix this?
If you receive a message while setting up the app that no page is available from your account, it's likely the account you're trying to connect with either does not have a Facebook Business Page available or your administrative rights to the page are limited. For example, if it's a Facebook Business account owned by a company or organization it can have restrictions set which disable third-party applications (such as ScreenCloud) from connecting with the service. You'll need to review your administrative rights to the page or check if the account you're logging in with has a Facebook Business page connected.

For further questions, please contact support@screencloud.com with details.