Please note, if you are using the older version of ScreenCloud (signage.screencloud.com) you can download the alternative Social Feed for Facebook guide here.
The Social Feed for Facebook app from ScreenCloud allows you to easily share your latest Facebook posts as a single feed on your digital signage screens. This is great for keeping employees, customers, and stakeholders engaged in your company updates and to encourage higher social interaction on your online pages. 
The Social Feed for Facebook app works with the Facebook brand pages you manage, allowing you to select a brand page and share its latest updates via a digital screen. 
With the ScreenCloud Facebook app you can:
Connect to any company Facebook page that you have admin rights to
Select a customized theme of your choice
Provide a clear view of your company profile to stand out and achieve more online engagement.
Here's how it works:
1. Install Social Feed for Facebook
1.1. Get started by logging into your ScreenCloud account here and choosing the ScreenCloud App Store from the left-hand menu.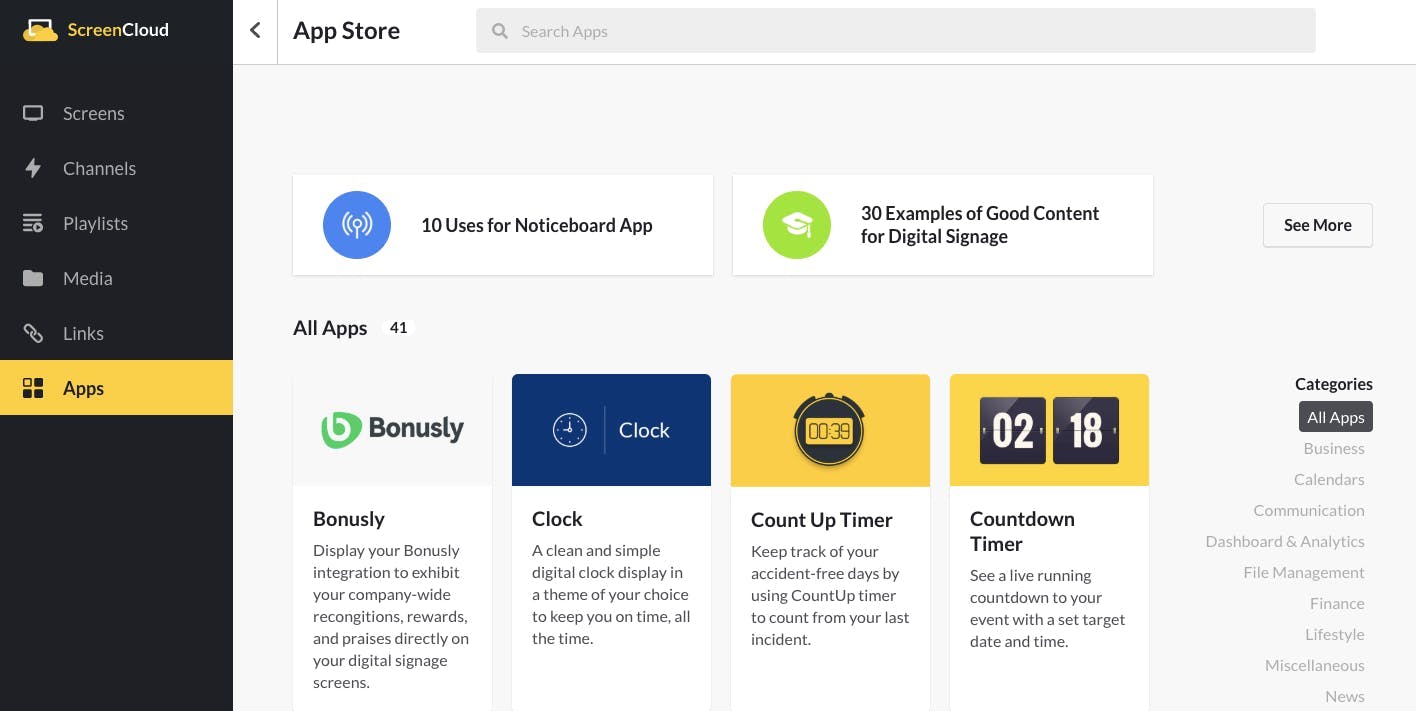 1.2. By searching "Social Feed" or "Facebook" you can find the Social Feed for Facebook app and choose the "Install app" button to add a new instance.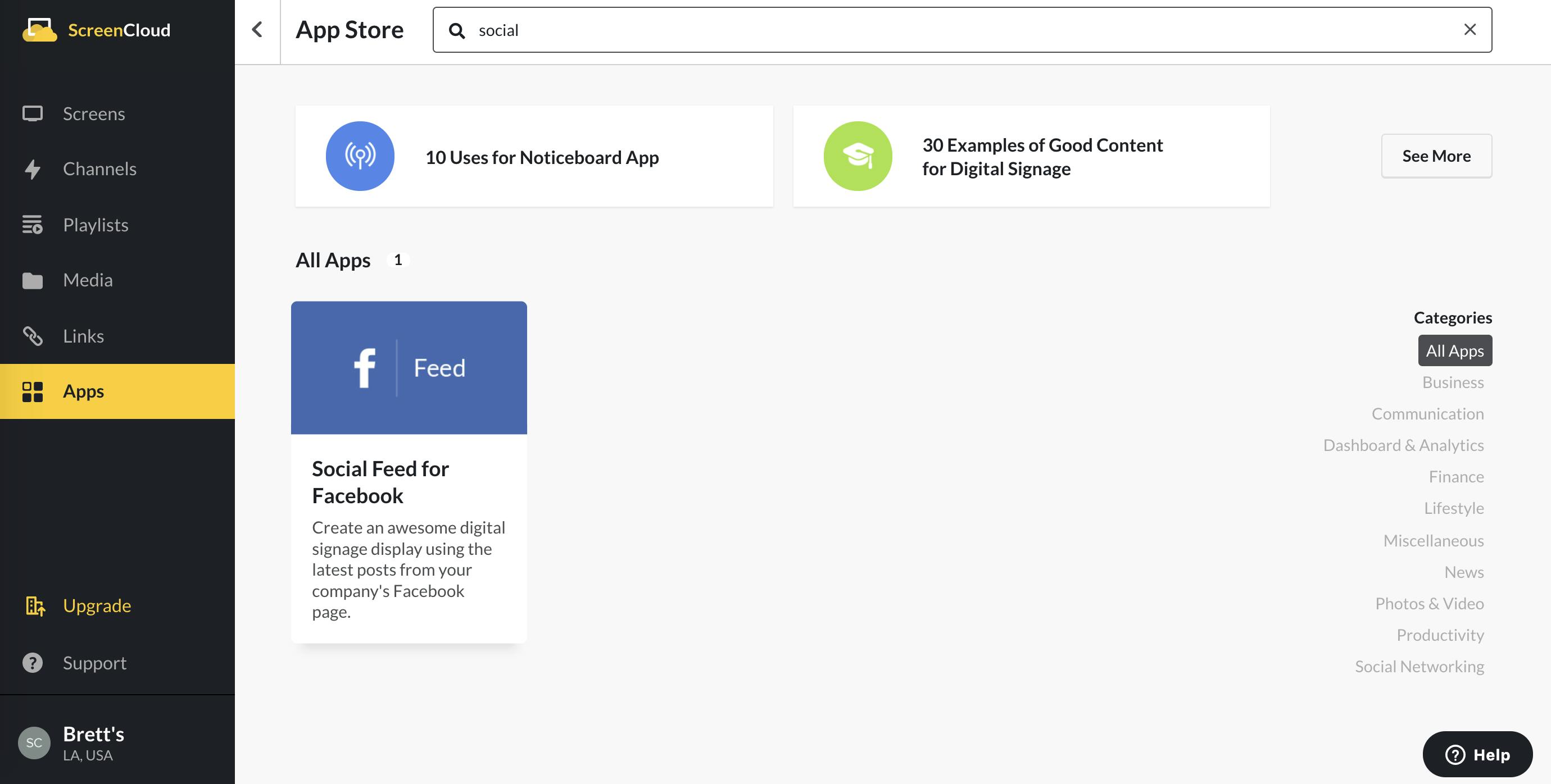 2. Choose the Facebook page you wish to show
To select the Facebook page you wish to show, you'll need to log in to your Facebook account and allow ScreenCloud access. This ensures that we can pull the Facebook feed directly from a page you manage. Please note, the app only works with Business or Brand pages and will not pull data for a personal Facebook page.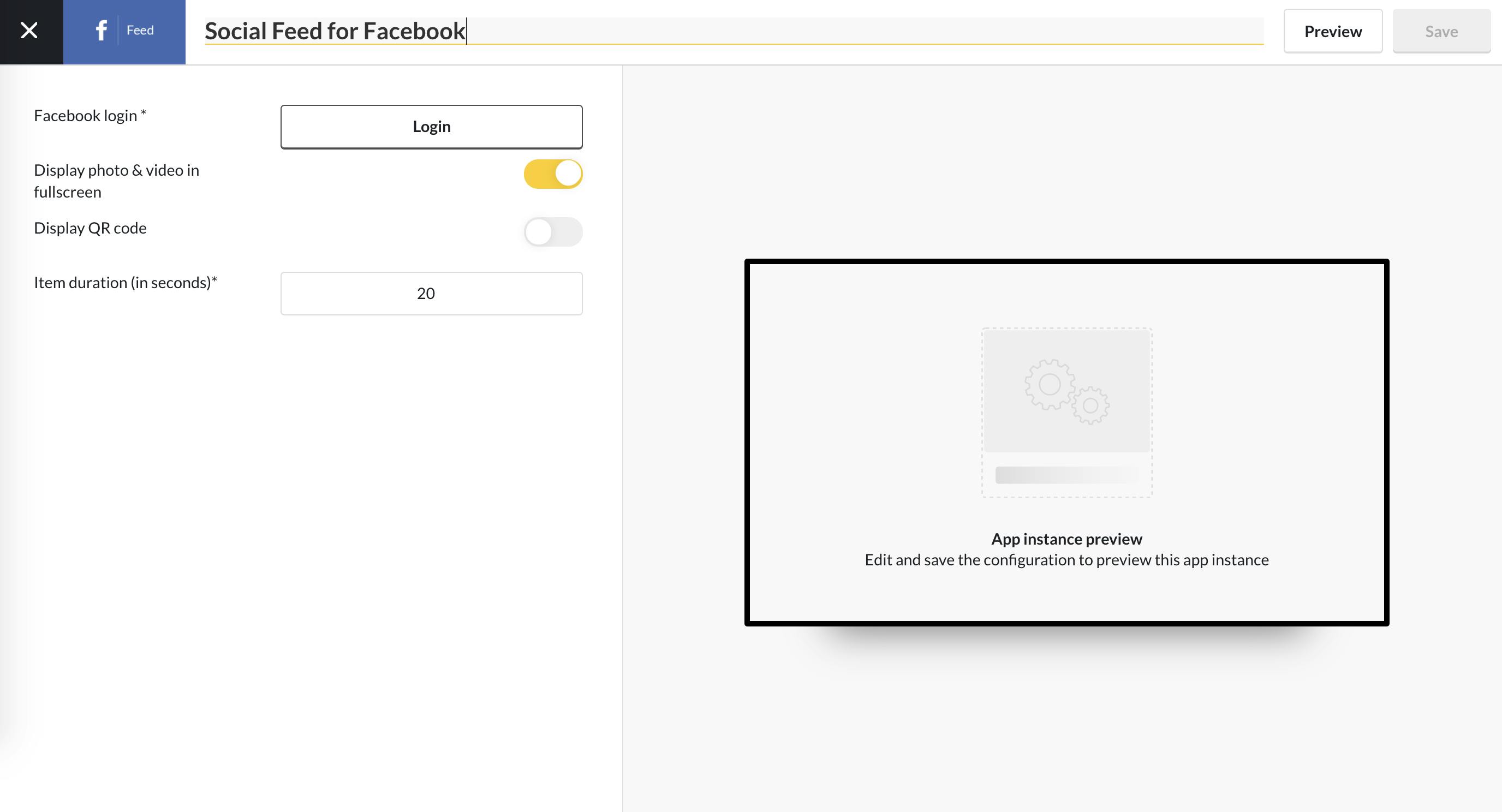 2.1. Select 'login' from the app installation panel as shown below. This will direct you to Facebook where you can either log in or approve ScreenCloud to access the account you are already logged in with.
2.2. Once logged in, choose the page you wish to show on screen from the selection offered. If you cannot see the page you are looking for within the list it may mean that you are not an admin of that page, or that you are logged in to the wrong Facebook account. In this case, you can ask the administrative manager of the page to allow you access by inviting you as an admin. If you do have admin access and still cannot see the page listed, you may wish to try logging out and logging back in at https://www.facebook.com before trying to re-add the app. 
3. Configure your app settings
With Social Feed for Facebook, you can choose from the following settings:
i) Display photo & video in fullscreen: switch this on to display any photos and videos on your feed in fullscreen. Please note, when this option is switched off you will see the ability to stretch images only to fill the screen.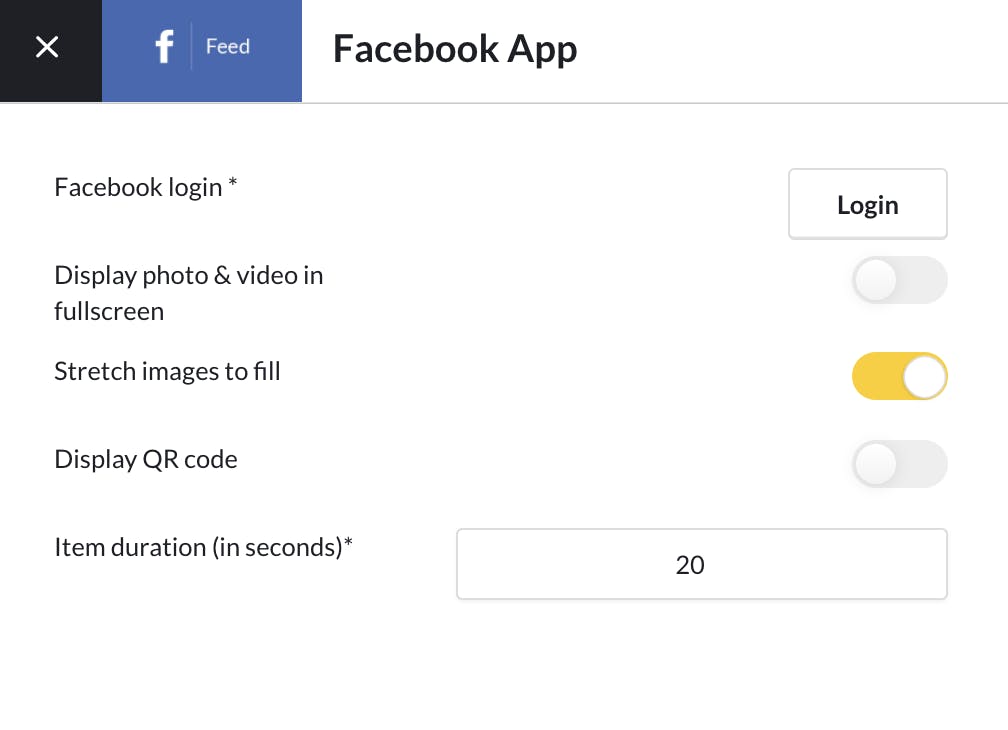 ii) Display QR code: switch this on to display a QR code that smartphones can scan from your TV screen to quickly pull up your Facebook page.
iii) Item duration (in seconds)*: control the timing between the transition of your social media posts to display on the screen.
You also have the option to create your own custom theme. To create a custom theme, check out our guide on how to use the App Theme Editor.
4. Preview your results
Once you've added your Social Feed for Facebook you have the opportunity to preview it before it gets added to your screens.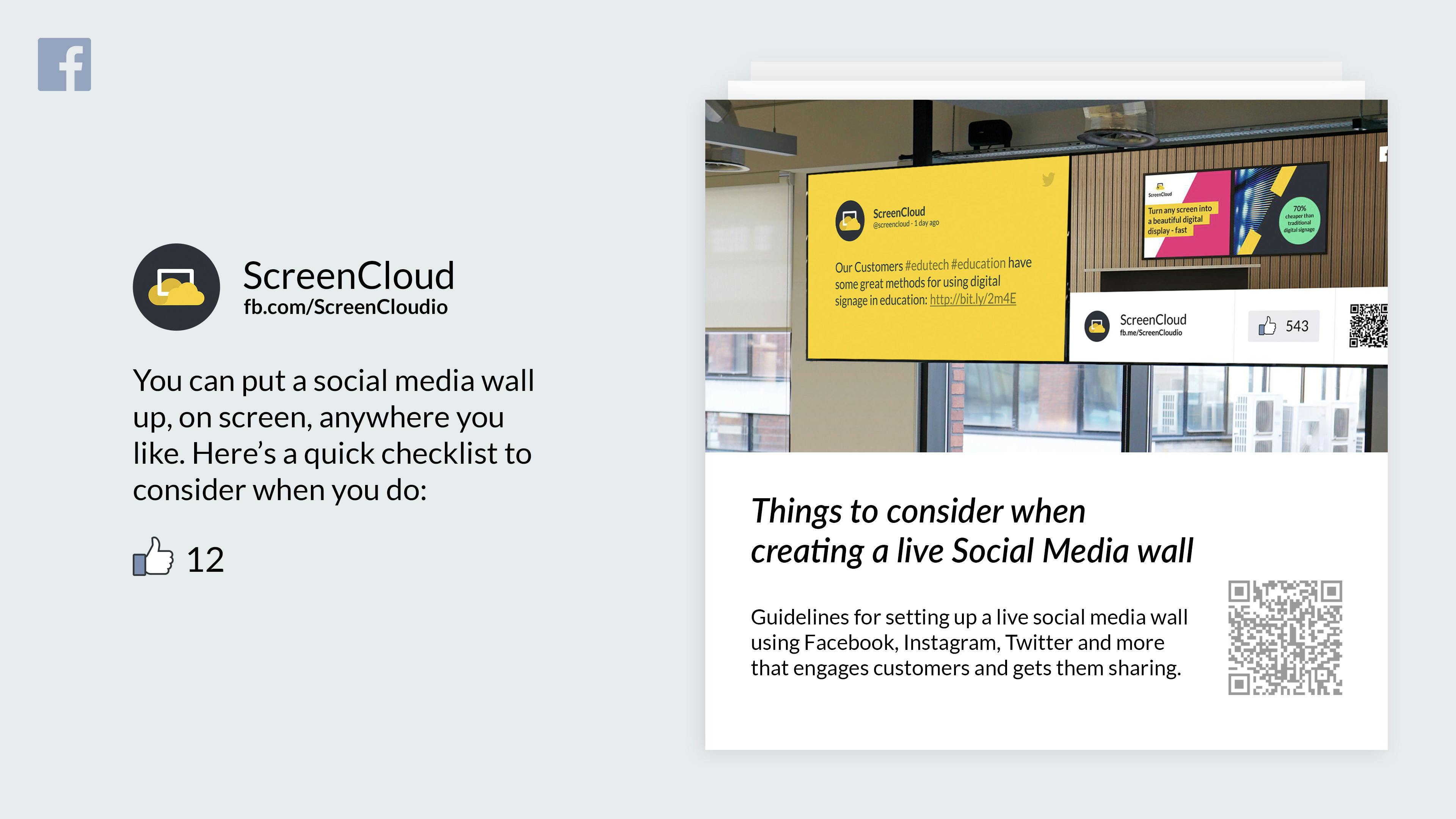 Click 'Preview' and a popup will display your Social Feed for Facebook app.
5. Add your Facebook app to a Channel or Playlist
Once you have configured your Count Up Timer app it can be easily added to a Channel or Playlist to be played on screen. Simply select "Add Content" to open the Media Picker and under Apps, you will see all of your app instances, ready to be installed. You can also view ways you can set content on your digital screens using ScreenCloud by clicking here.
Frequently asked questions
Can I display the Facebook app in portrait mode?
Yes, the Facebook app can be used within a portrait or landscape display.
Can I use the Facebook app as part of a zoned digital signage display?
Yes, when setting up a zoned display you will see the option to 'Add App'. Any Facebook feeds you have set up will be found in this list. However, within a zoned display you will need to think about where the Facebook feed is inserted to ensure that the display is optimized for audiences to see and read the updates. 
How are the results ordered?
Facebook posts are shown chronologically. 
How long is each post shown for?
Each post is shown for approximately 20 seconds.
Why do I have to log in through Facebook before my results can be shown?
In order to show a Facebook social feed, you have to verify that you have admin access to the page. This is achieved through logging in and selecting the page that you wish to share within your display. 
How often do the results update?
Approximately every 30 minutes.
Certain videos won't play on screen, how can I fix this?
If a video is uploaded on Facebook with certain permissions, then the app will not be able to play this content on screen. For example, if the uploaded removed its ability to be embedded, auto-play, set age restrictions, then Facebook will block the video from playing on all other apps and services. If you own the video and none of the above is applicable, please reach out to our support team for more information.
For further questions please contact support@screencloud.com with details.