Please note, if you are using the older version of ScreenCloud (signage.screencloud.com) you can download the alternative Embed guide here.
The ScreenCloud Embed app makes it easy to share a page from your website, a video from YouTube, or information from a site such as Google Maps to your digital screens. This makes it easy to repurpose web content in a live feed, that updates and plays on the digital screens within your office, restaurant, store, school, café, or healthcare center.
With the ScreenCloud Embed app you can:
Paste any embed code provided from your website
Embed YouTube videos or Google Maps information
Add Embed app to a playlist and allow content to update automatically
Here's how it works:
1. Select and install ScreenCloud's Embed app
1.1. Get started by logging into your ScreenCloud account here and choosing the ScreenCloud App Store from the left-hand menu.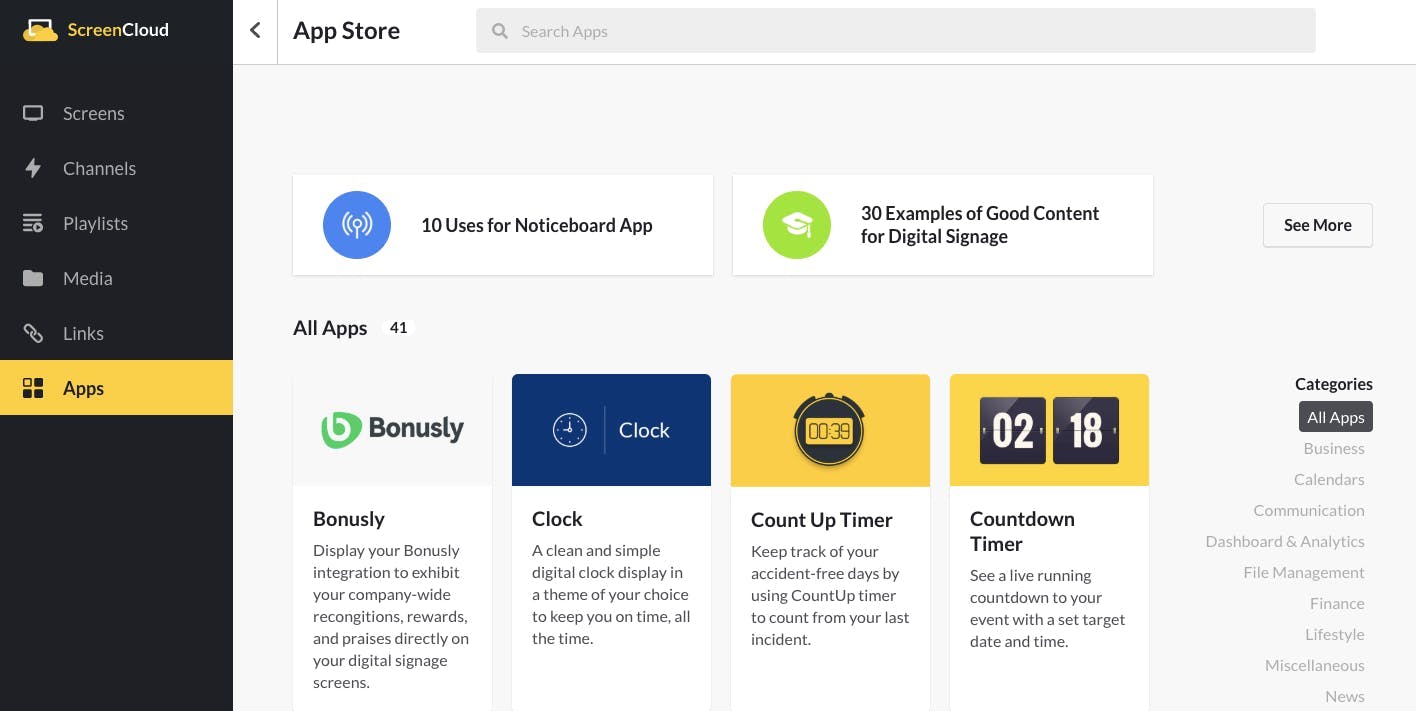 1.2. By searching "Embed" you can find the Embed app and choose the "Install app" button to add a new instance.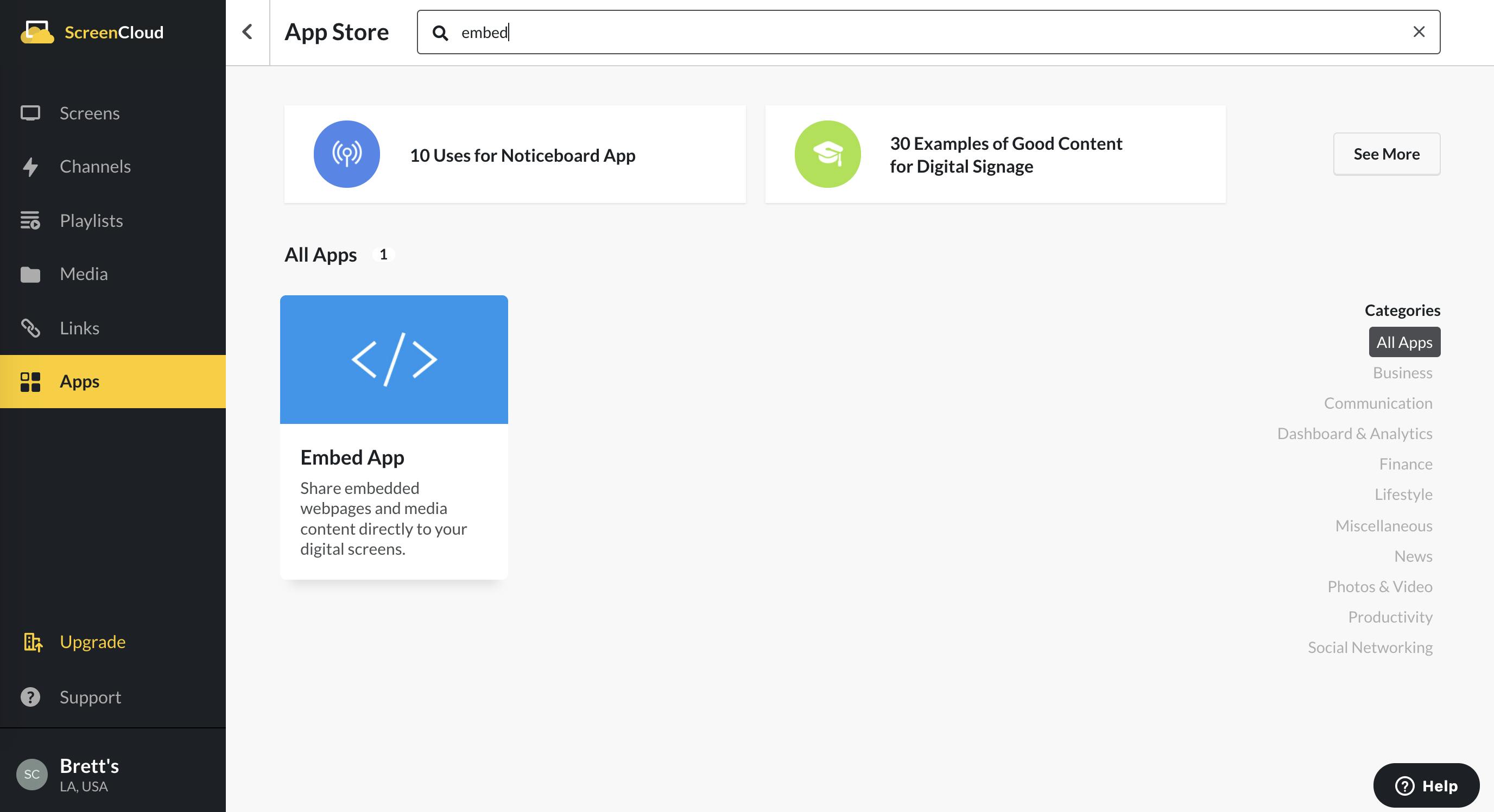 2. Grab your embed code
Next, you'll need to find the embed code from the source you wish to share from the source website. For example, you can visit https://www.youtube.com and use an embed code available to share a video using ScreenCloud's Embed app. This works by using an IFrame code in ScreenCloud to display the embedded content from another website on your digital screens. You can learn more about Embed codes by visiting Hubspot's blog post for more information.
Please note, For technical and security reasons we can only support websites in the Embed app with https:// or websites with SSL. This means that any websites with no SSL or has only http:// prefix will not return anything. Additionally, web owners and source websites might have restrictions on how content functions or performs while embedded in third-party services (i.e. such as ScreenCloud). For example, a video could play with audio by default while being viewed on the host website, but when shared the video owner could alter the embed code settings to restrict sound/audio from playing while the video is used on another website.
2.1. As an example walkthrough of how to grab an embed code, we'll visit https://www.youtube.com and use a video to get started.
2.2. Search for and select on the video you'd like to embed.
2.3. While viewing a video, look toward the lower corner of the video player and select the "Share" option. From here, select the "Embed" option and a code will in the pop-up window. You can also embed a playlist by clicking the playlist's title, choosing "Share" and "Embed" then copy the code that is shown.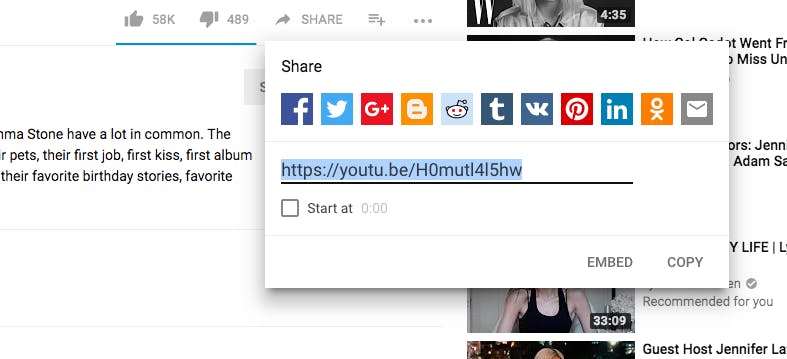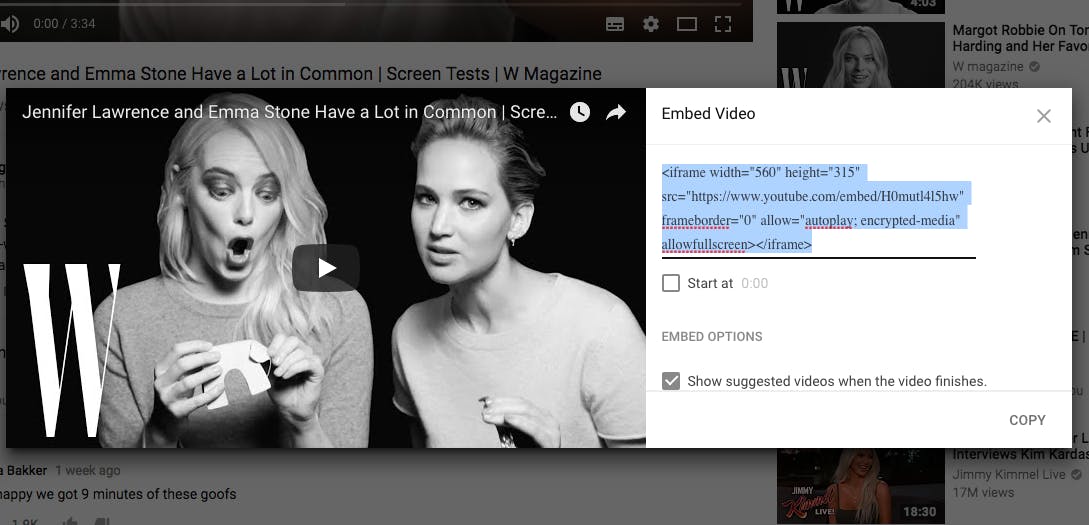 2.4. Copy the IFrame code generated and paste it into ScreenCloud's Embed app.
A quick tip: You can also embed and display content using Google Maps. If you wish to embed a Google Map display, search for your location on Google Maps and select "Share".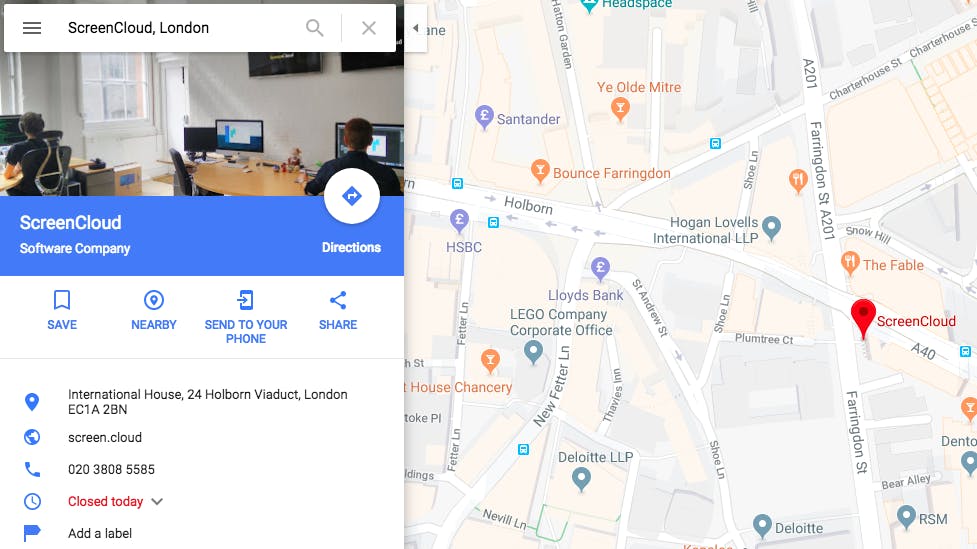 Next, select "Embed map" and copy the code that is shown.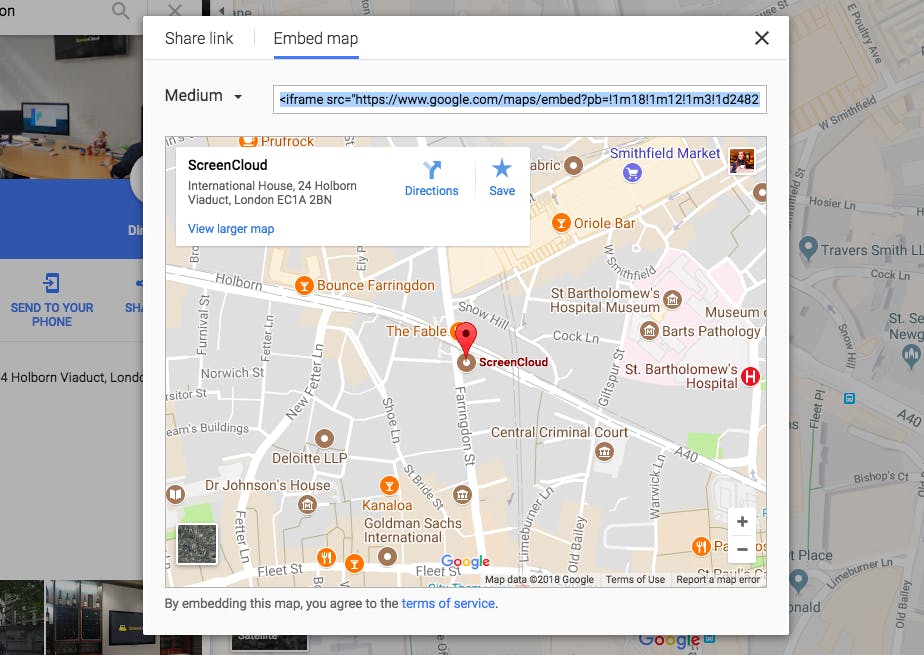 3. Add the code to ScreenCloud's Embed App
3.1. Next, Paste the IFrame code copied from YouTube (or the source site) into the Embed app console. You can start by clicking the "Install App" button.
3.2. You can copy and paste the IFrame code in the "Embed Code" field while installing the app.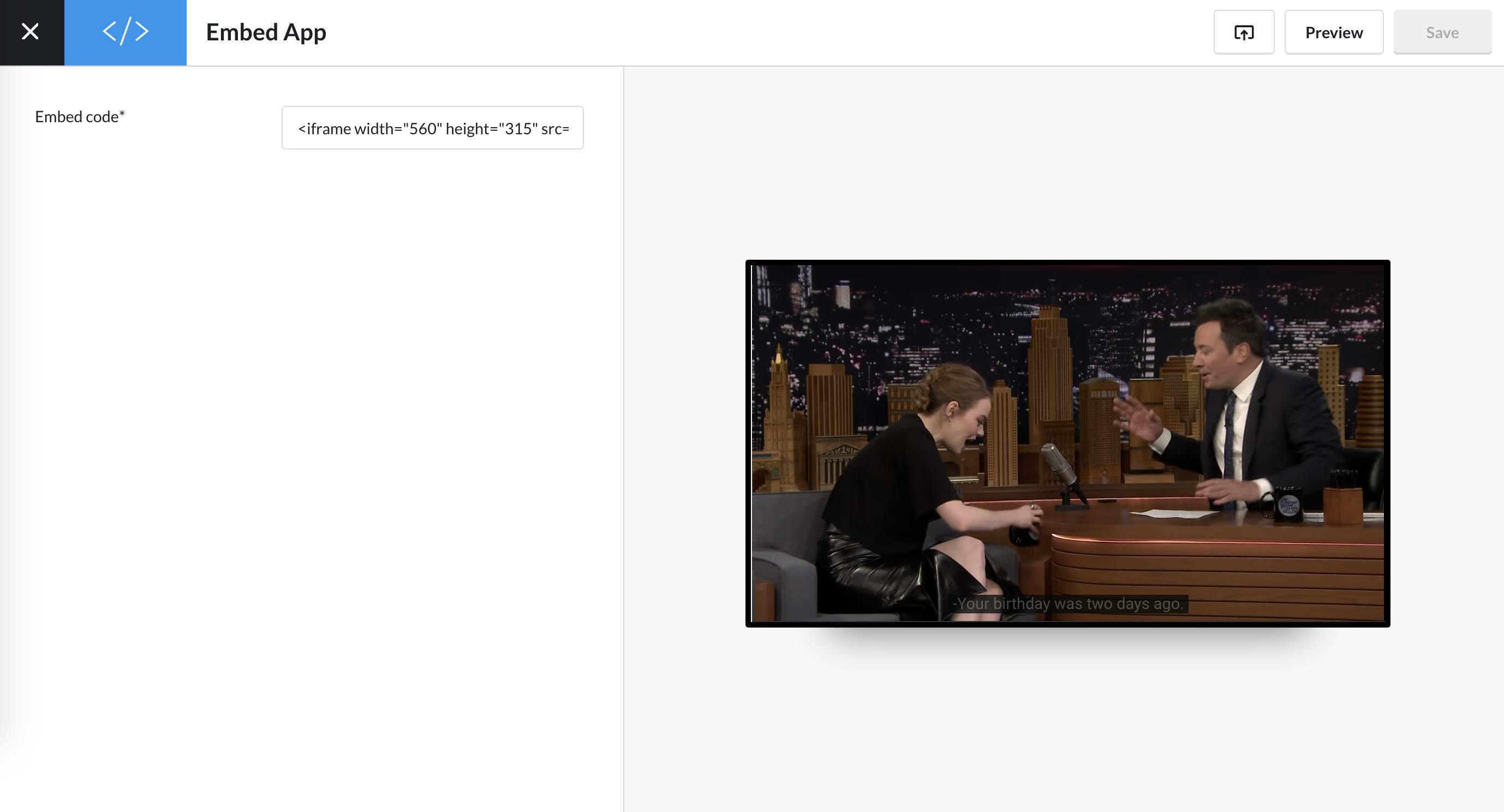 Please note, if you're using an incorrect or broken iFrame URL, or if it doesn't have the permissions to be used in a third-party service, you'll likely receive a generic error message or notice from the web browser you're using to set up the app. For example, you might receive a "404 Error" from your browser/preview of the app, or in some cases, a security restriction on the website can cause the page to not load.
4. Preview Embed app
Once you've added your Embed app you have the opportunity to preview it before it gets added to your screens.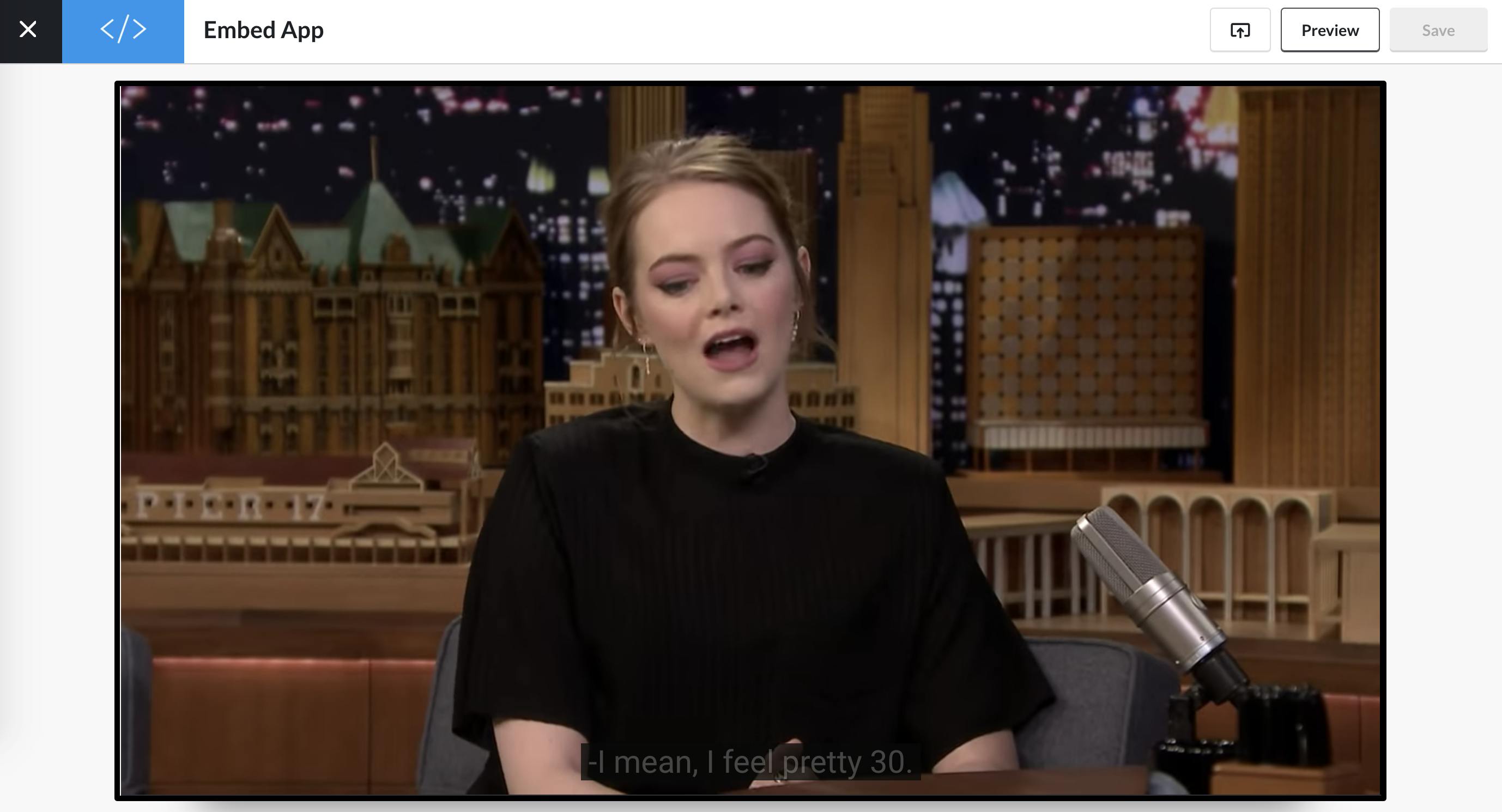 Click 'Preview' and a popup will display your Embed app.
5. Add Embed app to a Channel or Playlist
Once you have configured your Embed app it can be easily added to a Channel or Playlist to be played on screen.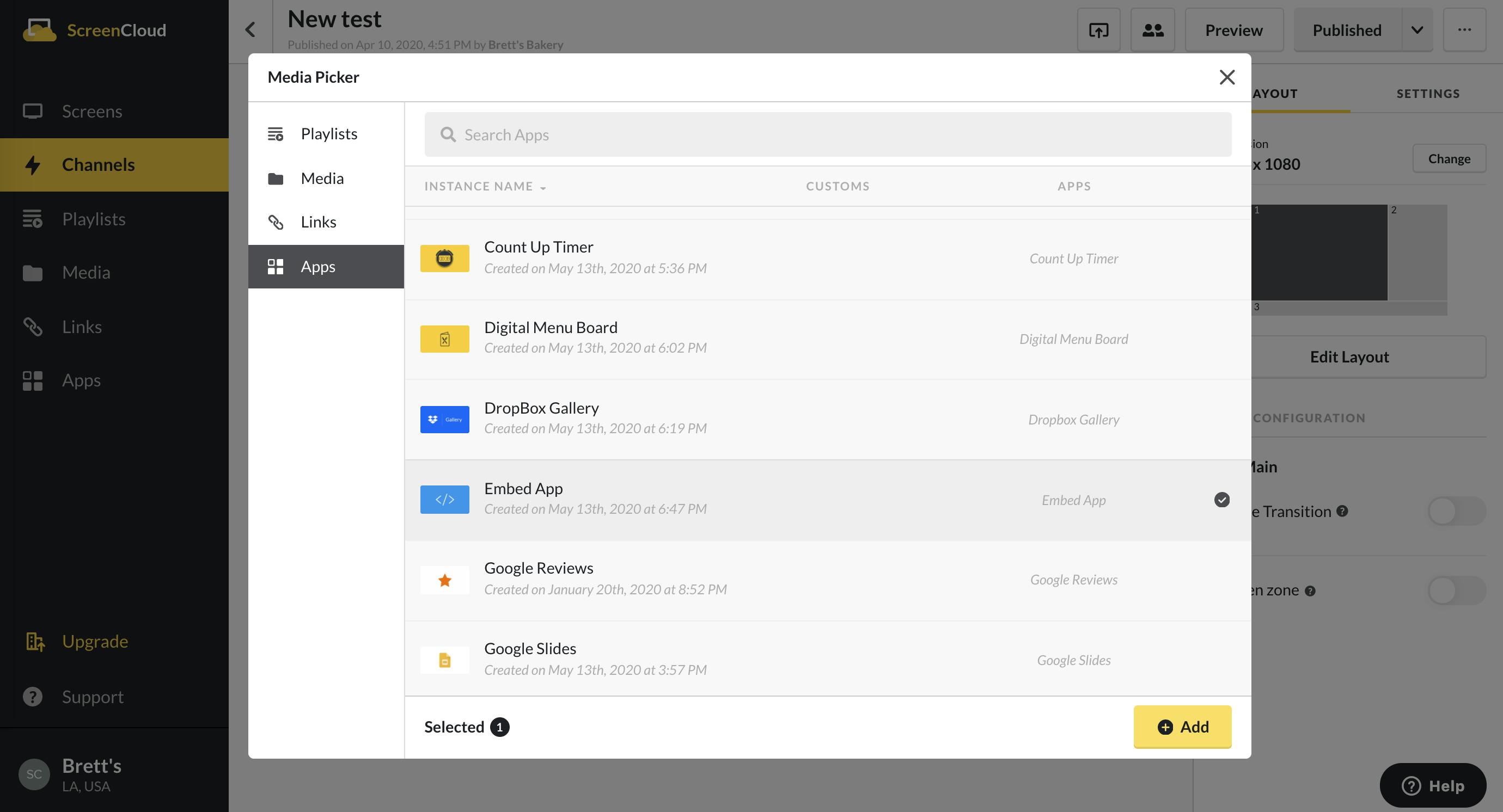 Simply select "Add Content" to open the Media Picker and under Apps, you will see all of your app instances, ready to be installed. You can also view ways you can set content on your digital screens using ScreenCloud by clicking here.
Frequently asked questions:
Can I use the Embed app to share a social media post?
No, social media channels do not allow you to display content in an external iframe so the sharing of Facebook posts, Instagram posts, etc. will show the message "site doesn't allow to be embedded into iframe". Take a look at one of our other social media apps for sharing specific posts, accounts, and channels.
What can I use the Embed app for?
Mostly, the Embed app is used to share website pages, YouTube videos, or playlists of map displays.
The embed code or link I'm using won't work in ScreenCloud, how can I fix this?
We recommend if an embed code is not working to first troubleshoot by making sure the correct IFrame code is copied. Secondly, some websites or links may have restrictions placed by the developers for security purposes restricting the link from being used in third-party services. In this case, you may notice a "404 Error" while trying to use the URL or code with ScreenCloud. If there are any security policies or restrictions placed by the website owner, then the link or embed code won't be able to display properly.
For further questions please contact support@screencloud.com with details.