ScreenCloud's Digital Signs app provides pre-set signs like inspirational or educational quotes, or Bible verses for churches to display on your digital screens. The digital signs included are already designed with backgrounds and text, for your convenience. Please note, these signs cannot be edited. If you would like to create your own signs, you might like to try our Noticeboard app, or our Quotes app. 
To keep content fresh, Digital Signs app selects from a selection of background images and pairs them randomly with different quotes, in order to help keep your content fresh at all times. 
Here's how to use it:
1. Select and install ScreenCloud's Digital Signs app
1.1. Get started by logging into your ScreenCloud account here and choosing the "Apps" menu from the left-hand side. 
1.2. By searching "Digital signs" you can find the Digital Signs app and choose "Install app" to add a new instance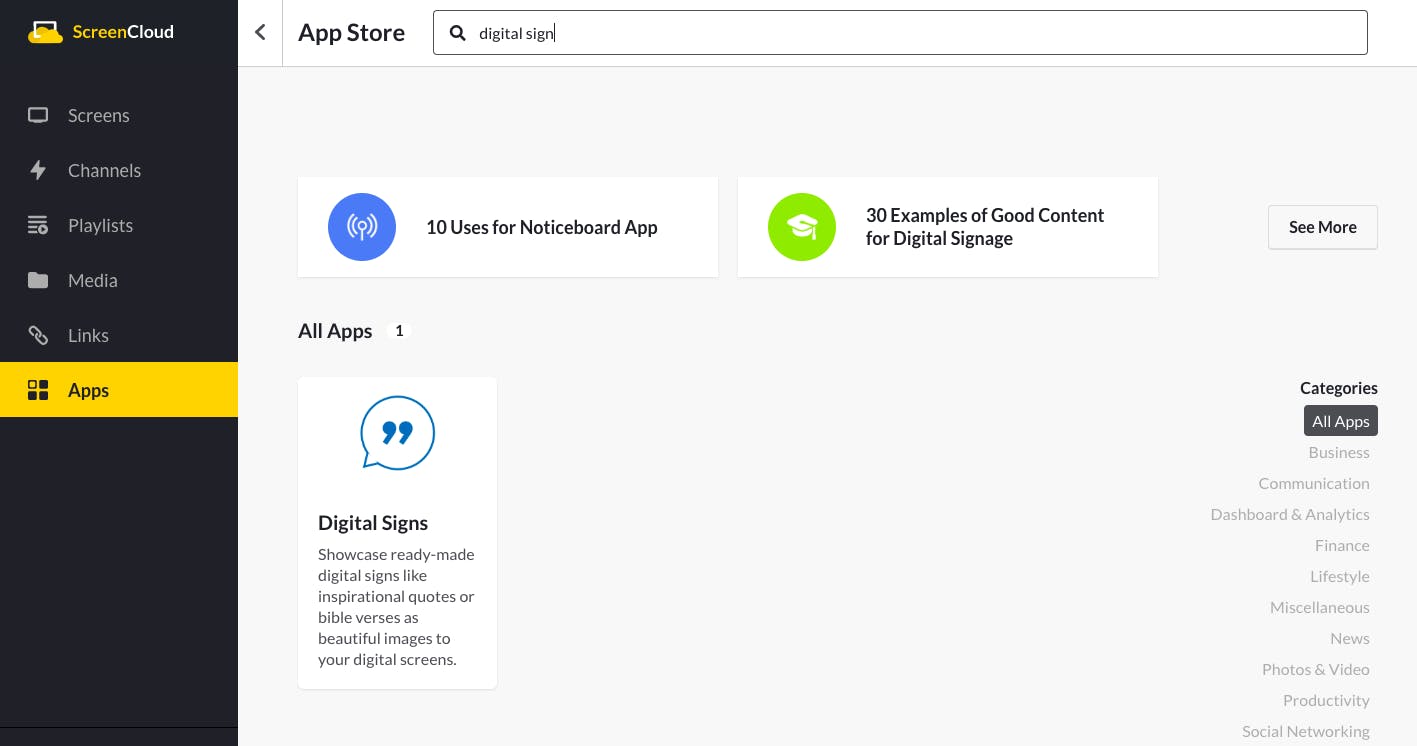 2. Choose your digital signs and settings
2.1. Once you've created a new instance of Digital Signs app, you'll want to give it a name, for example "Church quotes". This is to help you to distinguish the app, if you decide later that you want to add more than one instance.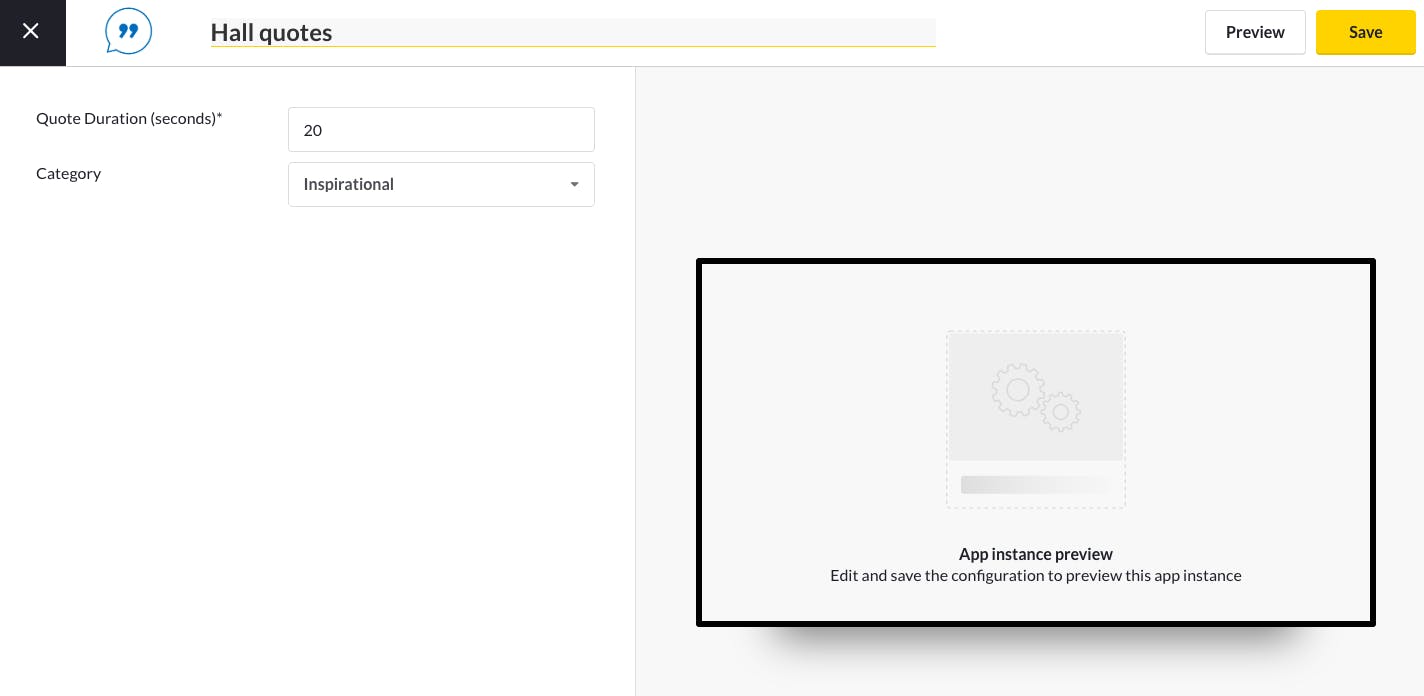 2.2. Next, you'll need to choose which category of digital signs you would like to use on your digital screens. Sources include:
Inspirational quotes
Educational signs
Biblical quotes
Once you've chosen your digital sign category you can then choose how long each quote should show for, and view what the quotes look like in the live preview.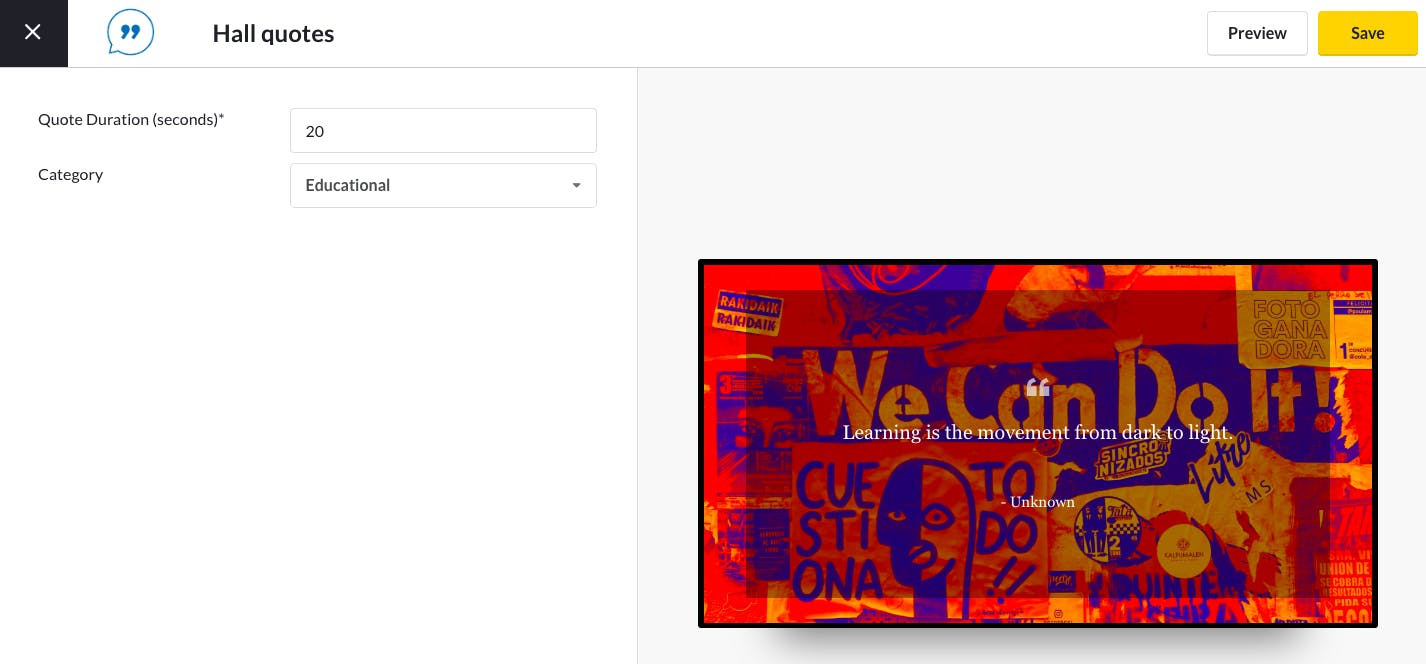 3. Add your Digital Signs app to a Channel or Playlist
Once you have chosen your digital signs category and settings it can be easily added to a Channel or Playlist to be played on screen. 
Within a Channel simply select "Add Content" to open the Media Picker and under Apps you will see all of your app instances, ready to be installed.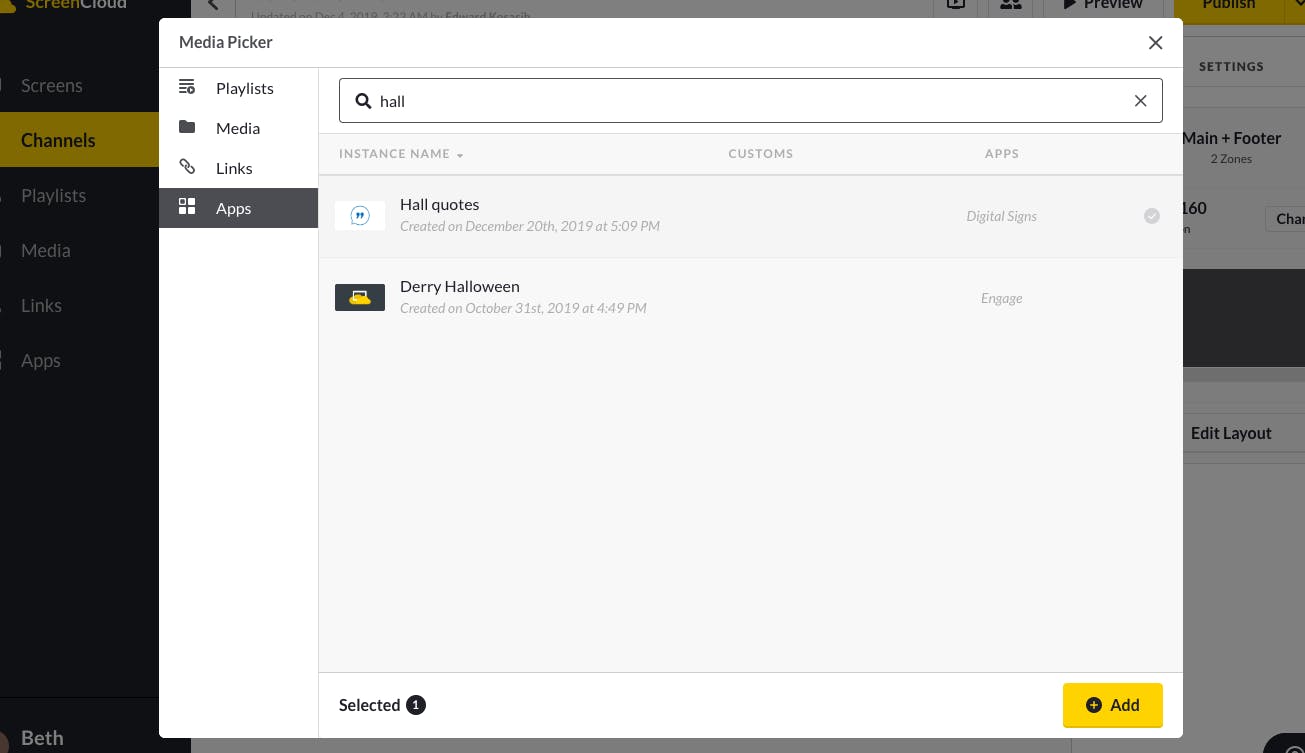 Frequently asked questions:
Can I edit or remove some of the signs from each pack?
The Digital Signs app offers content that is already created in a pre-designed and screen-ready format. If you'd like the ability to edit or create your own digital signs, you might want to use our Noticeboard app, Quotes app or a separate design tool, all of which will allow you more freedom to make changes. 
Can I combine, or add more than one set of digital signs to my display?
You can create as many Digital Signs app instances as you like in ScreenCloud, which allows you to use some, or all, of the digital signs packs. You cannot combine lots of different signs in one instance, but by creating and adding different instances to a playlist or Channel, you can ensure a mix of signs if you so wish. Just ensure that you name each set with something different so you can easily spot them in your content library later on.
Can I use Digital Signs app in portrait?
Yes, Digital Signs app is compatible with both portrait and landscape screens.
For further questions, please contact support@screencloud.com.