Please note, if you're using the older version of ScreenCloud (signage.screencloud.com) you can download the alternative Currencies app guide here.
The ScreenCloud Currencies app allows you to share the latest currency rates from around the world to your digital screens in a visual display. Share the latest Pound to Dollars rates, Euro to Chinese Yuan, and more at the click of a button. This makes it easy to keep your office, lobby, store, or school viewers up to date with the latest exchange rates through your digital screens from our integration with Twelve Data API. The API allows you to show the latest currency rates.
With the ScreenCloud Currencies app you can:
Choose from over 100 different currencies
Select a base rate to compare
Show one or multiple currencies (up to 10 per page)
Here's how it works:
1. Select and install ScreenCloud's Currencies app
1.1. To begin, sign in to your existing ScreenCloud account and access the App Store from the left-hand menu.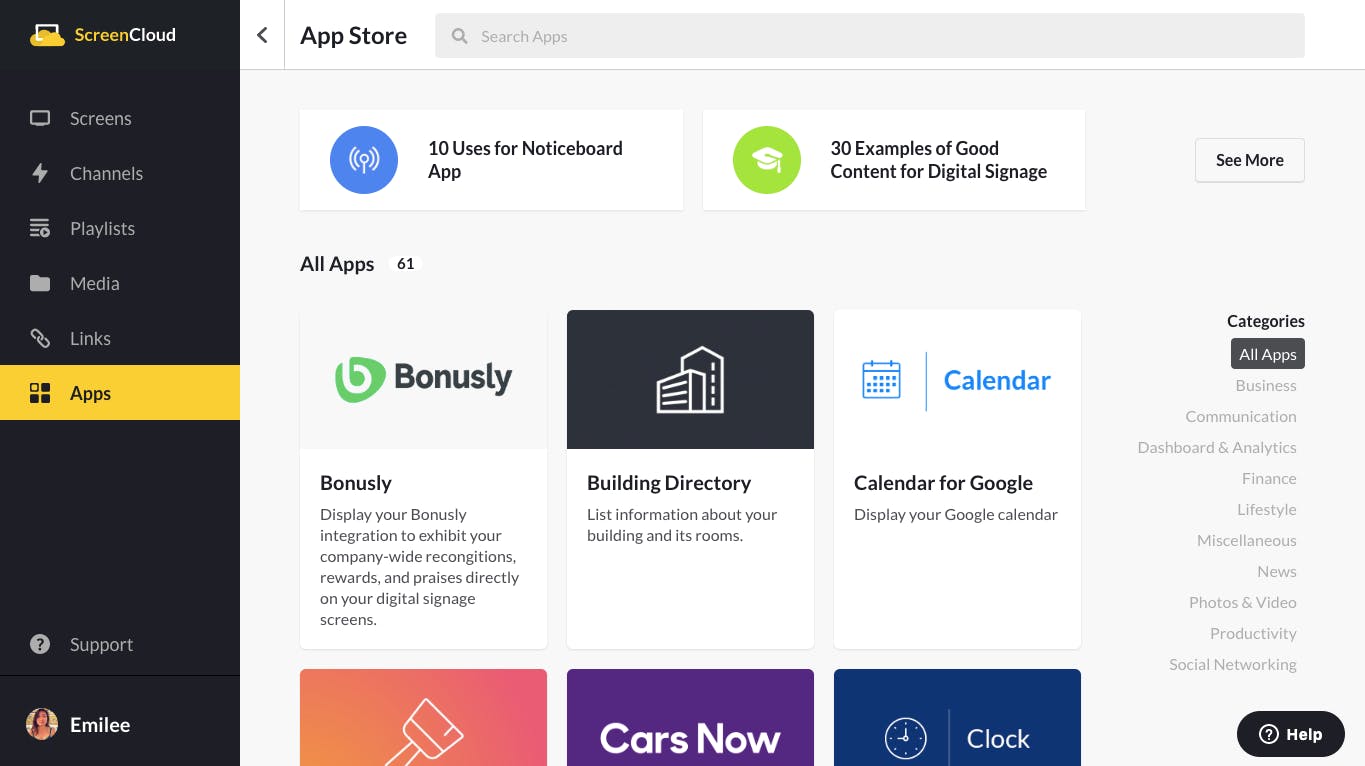 1.2.Type curr into the search box and you'll find the Currencies app. Choose Install App to create a new instance.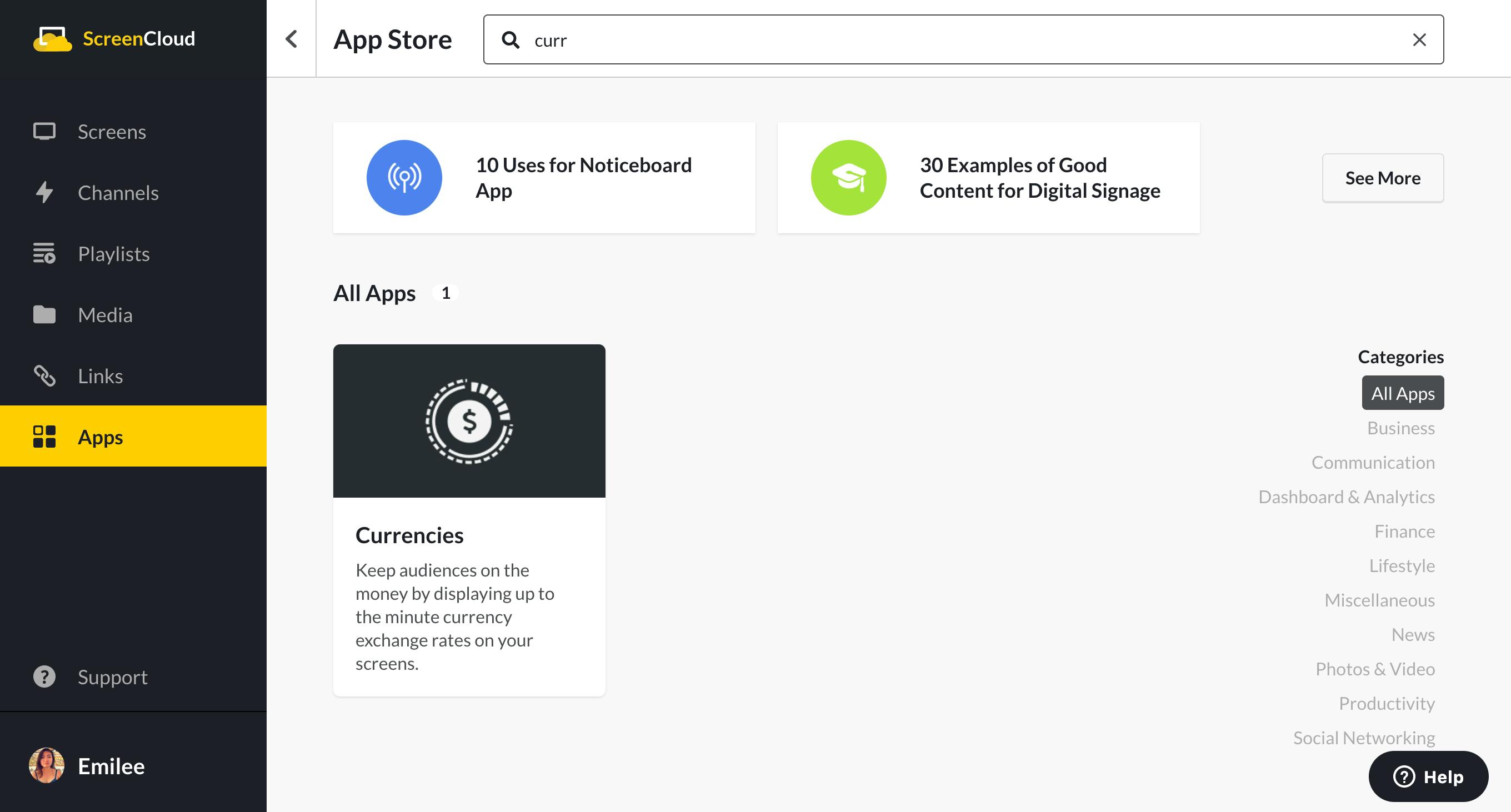 2. Choose your settings 
In the next page, you'll see a settings panel where you can add and edit an instance of the Currencies app. It's useful to edit the Instance Name section (we named it Currency - Floor 1 here) to help you spot the instance later if you're adding more than one Currencies app to your Playlist or Channel.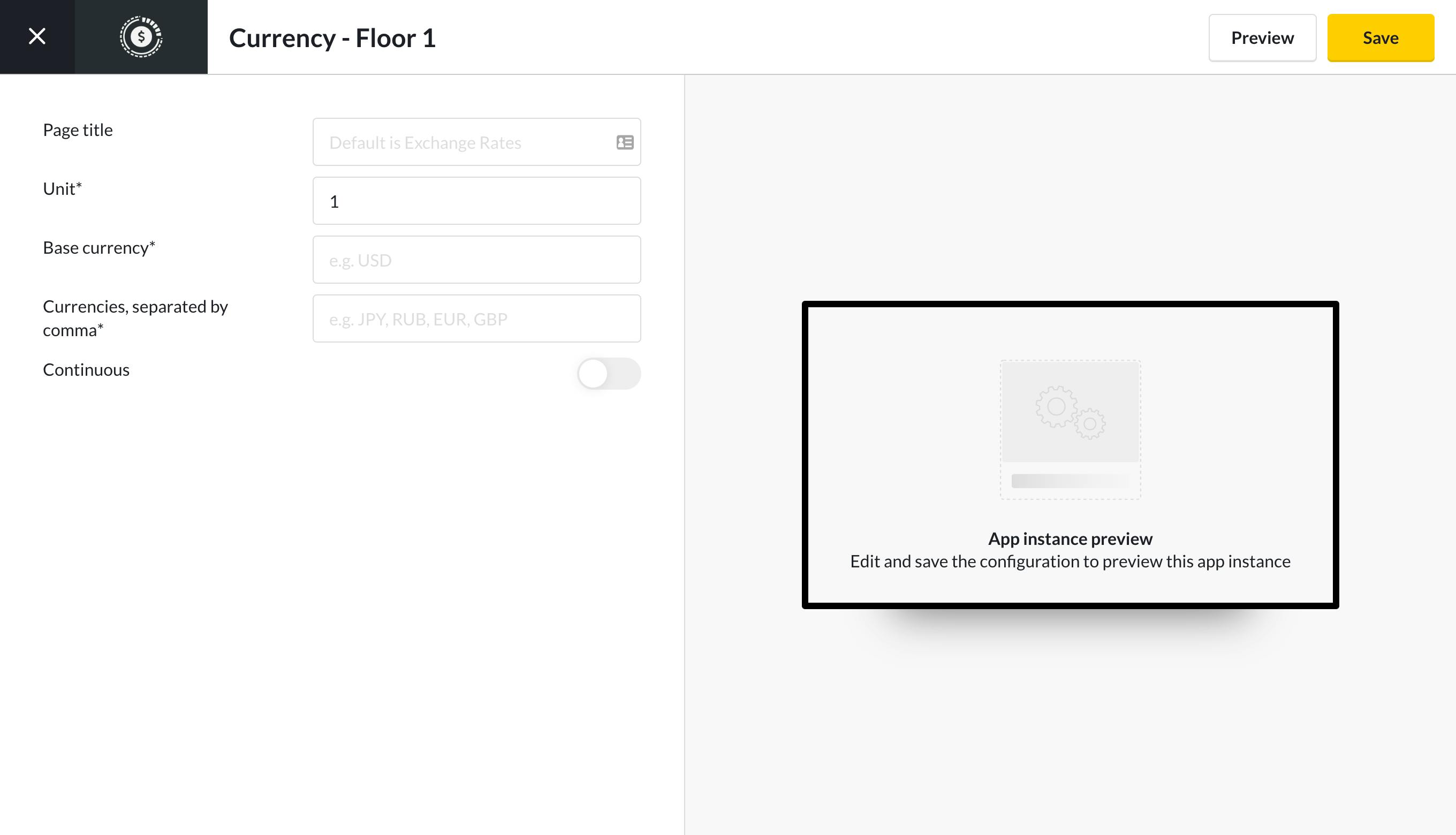 Unit will tell the app how much of each currency you would like to compare, for example, 100 US dollars to 100 Euros or 1 US dollar to 1 Euro. Base currency will determine which currency is used across all instances. You can also enter a custom page title.
Next, enter your currencies separated by non-space commas as shown in the example. Here, you can include up to 10 different currencies to compare per page.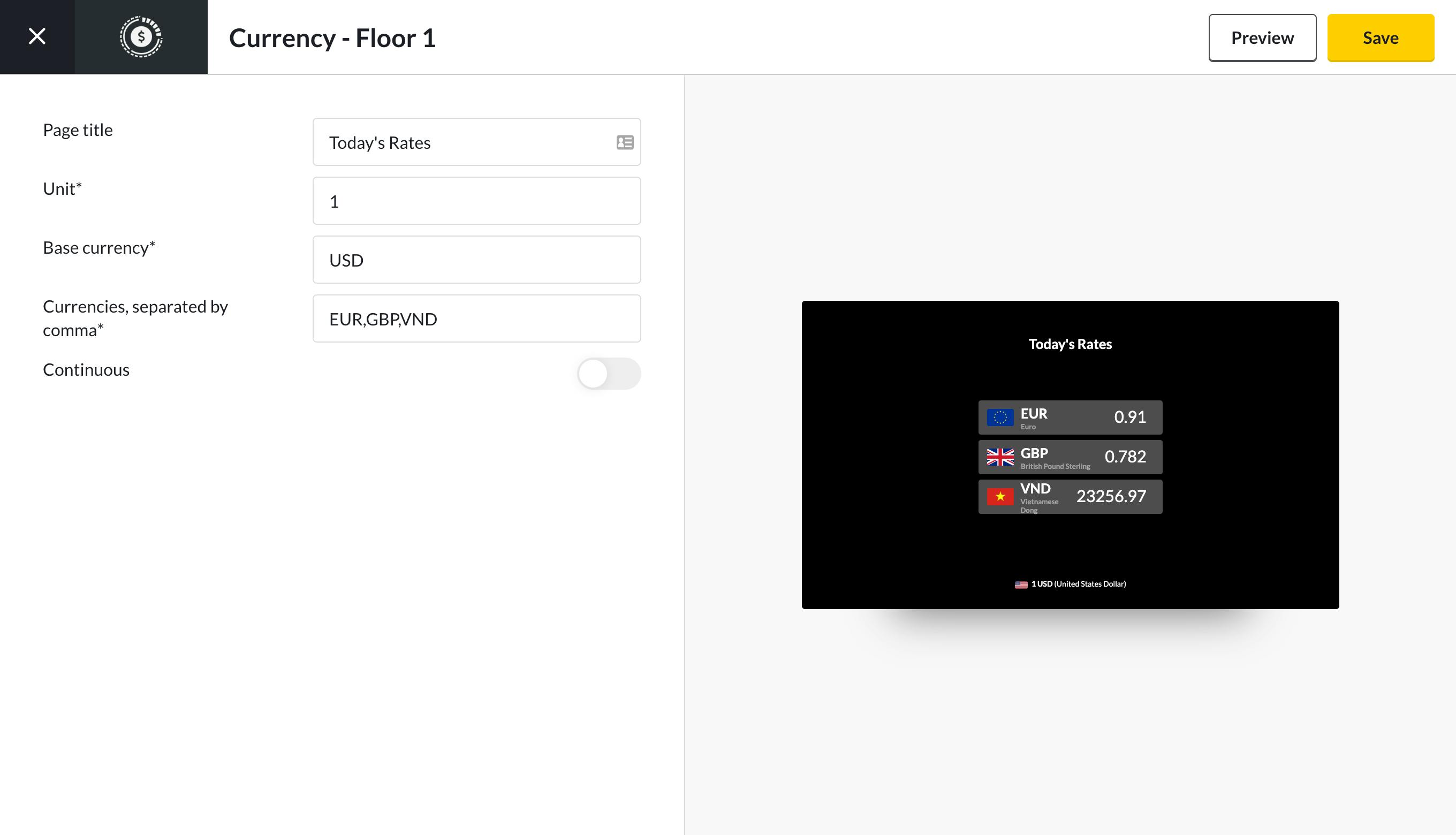 The acronym for each currency the app supports is listed as below:
AED: United Arab Emirates
AFN: Afghanistan
ALL: Albania
AMD: Armenia
ANG: Sint Maarten
AOA: Angola
AQ: Antarctica
ARS: Argentina
AUD: Australia
AWG: Aruba
AZN: Azerbaijan
BAM: Bosnia and Herzegovina
BBD: Barbados
BDT: Bangladesh
BGN: Bulgaria
BHD: Bahrain
BIF: Burundi
BMD: Bermuda
BND: Brunei
BOB: Bolivia
BRL: Brazil
BSD: Bahamas
BTN: Bhutan
BWP: Botswana
BYR: Belarus
BZD: Belize
CAD: Canada
CDF: Democratic Republic of the Congo
CHF: Liechtenstein
CLP: Chile
CNY: China
COP: Colombia
CRC: Costa Rica
CUP: Cuba
CVE: Cape Verde
CZK: Czech Republic
DJF: Djibouti
DKK: Denmark
DOP: Dominican Republic
DZD: Algeria
EGP: Egypt
ERN: Eritrea
ETB: Ethiopia
EUR: Ireland
FJD: Fiji
FKP: Falkland Islands
GBP: Isle of Man
GEL: Georgia
GHS: Ghana
GIP: Gibraltar
GMD: Gambia
GNF: Guinea
GTQ: Guatemala
GYD: Guyana
HKD: Hong Kong
HNL: Honduras
HRK: Croatia
HTG: Haiti
HUF: Hungary
IDR: Indonesia
ILS: Israel
INR: India
IQD: Iraq
IRR: Iran
ISK: Iceland
JMD: Jamaica
JOD: Jordan
JPY: Japan
KES: Kenya
KGS: Kyrgyzstan
KHR: Cambodia
KMF: Comoros
KPW: North Korea
KRW: South Korea
KWD: Kuwait
KYD: Cayman Islands
KZT: Kazakhstan
LAK: Laos
LBP: Lebanon
LKR: Sri Lanka
LRD: Liberia
LSL: Lesotho
LTL: Lithuania
LYD: Libya
MAD: Morocco
MDL: Moldova
MGA: Madagascar
MKD: Macedonia
MMK: Myanmar
MNT: Mongolia
MOP: Macao
MRO: Mauritania
MUR: Mauritius
MVR: Maldives
MWK: Malawi
MXN: Mexico
MYR: Malaysia
MZN: Mozambique
NAD: Namibia
NGN: Nigeria
NIO: Nicaragua
NOK: Norway
NPR: Nepal
NZD: Cook Islands
OMR: Oman
PAB: Panama
PEN: Peru
PGK: Papua New Guinea
PHP: Philippines
PKR: Pakistan
PLN: Poland
PYG: Paraguay
QAR: Qatar
RON: Romania
RSD: Serbia
RUB: Russia
RWF: Rwanda
SAR: Saudi Arabia
SBD: Solomon Islands
SCR: Seychelles
SDG: Sudan
SEK: Sweden
SGD: Singapore
SHP: Saint Helena
SLL: Sierra Leone
SOS: Somalia
SRD: Suriname
SSP: South Sudan
STD: Sao Tome and Principe
SYP: Syria
SZL: Swaziland
THB: Thailand
TJS: Tajikistan
TMT: Turkmenistan
TND: Tunisia
TOP: Tonga
TRY: Turkey
TTD: Trinidad and Tobago
TWD: Taiwan
TZS: Tanzania
UAH: Ukraine
UGX: Uganda
USD: American Samoa
UYU: Uruguay
UZS: Uzbekistan
VEF: Venezuela
VND: Vietnam
VUV: Vanuatu
WST: Samoa
XAF: Chad
XCD: Anguilla
XOF: Togo
XPF: New Caledonia
YER: Yemen
ZAR: South Africa
ZMK: Zambia
ZWL: Zimbabwe
3. Preview your results
Once you've chosen your currencies, hit Preview to ensure you're happy with the layout and currencies chosen, and click Preview again to go back to the settings panel.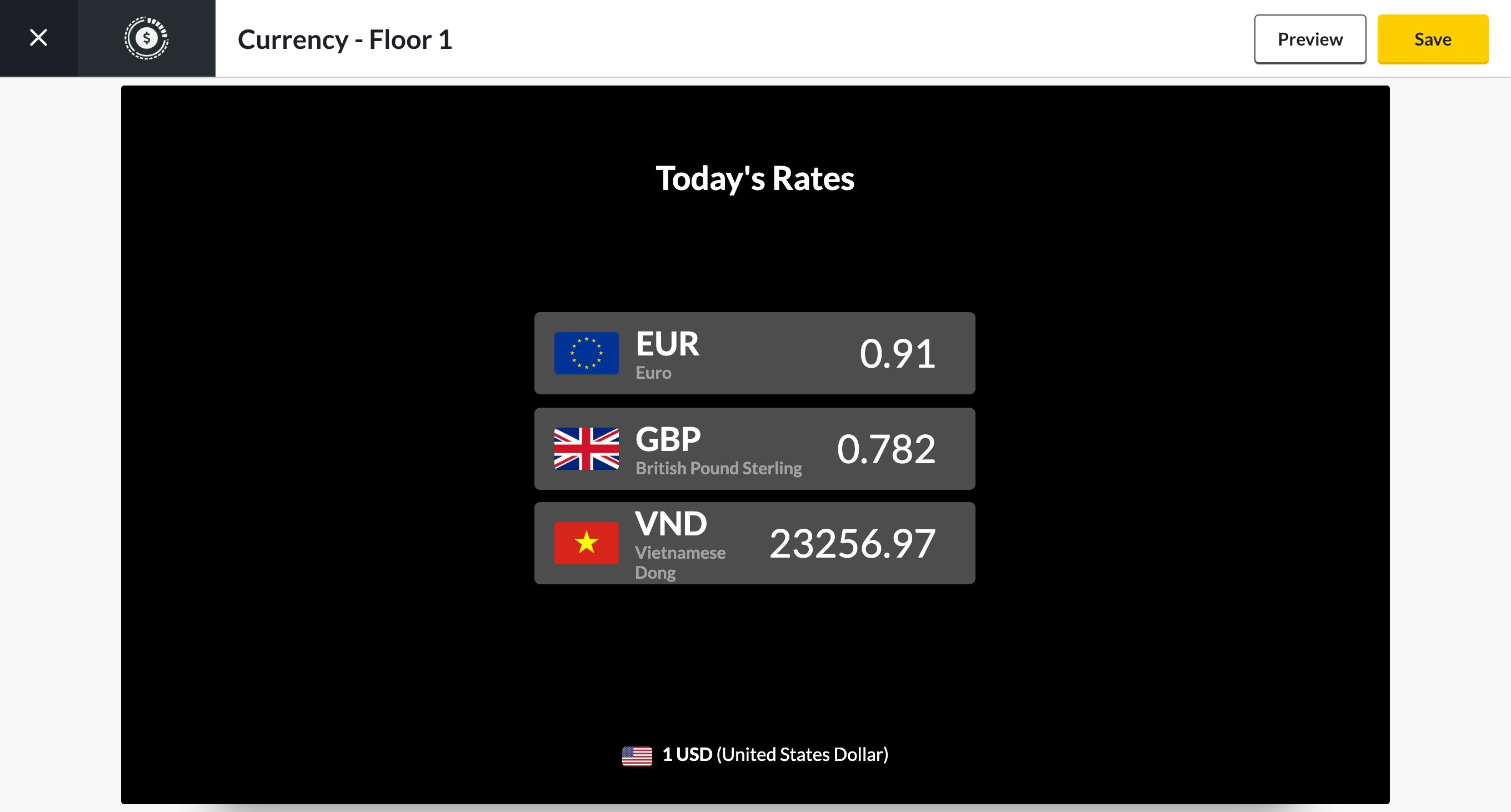 4. Add the Currencies app to a Channel
Once you're happy with your settings, don't forget to save them. Then you can add your newly created Currencies app instance to one of your Channels. Check out the simple tutorial below!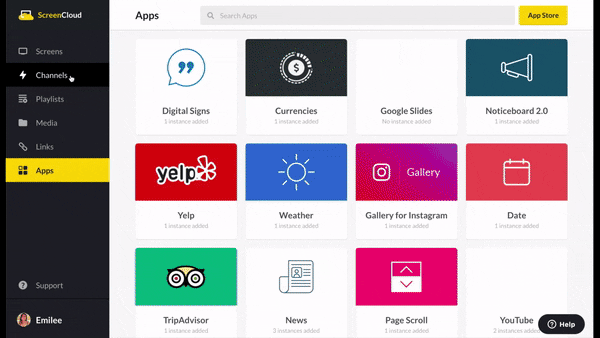 5. Create a custom theme for your Currencies app
Currencies is one of the ScreenCloud apps that can be custom branded. Head over to your Account Settings and click New Theme.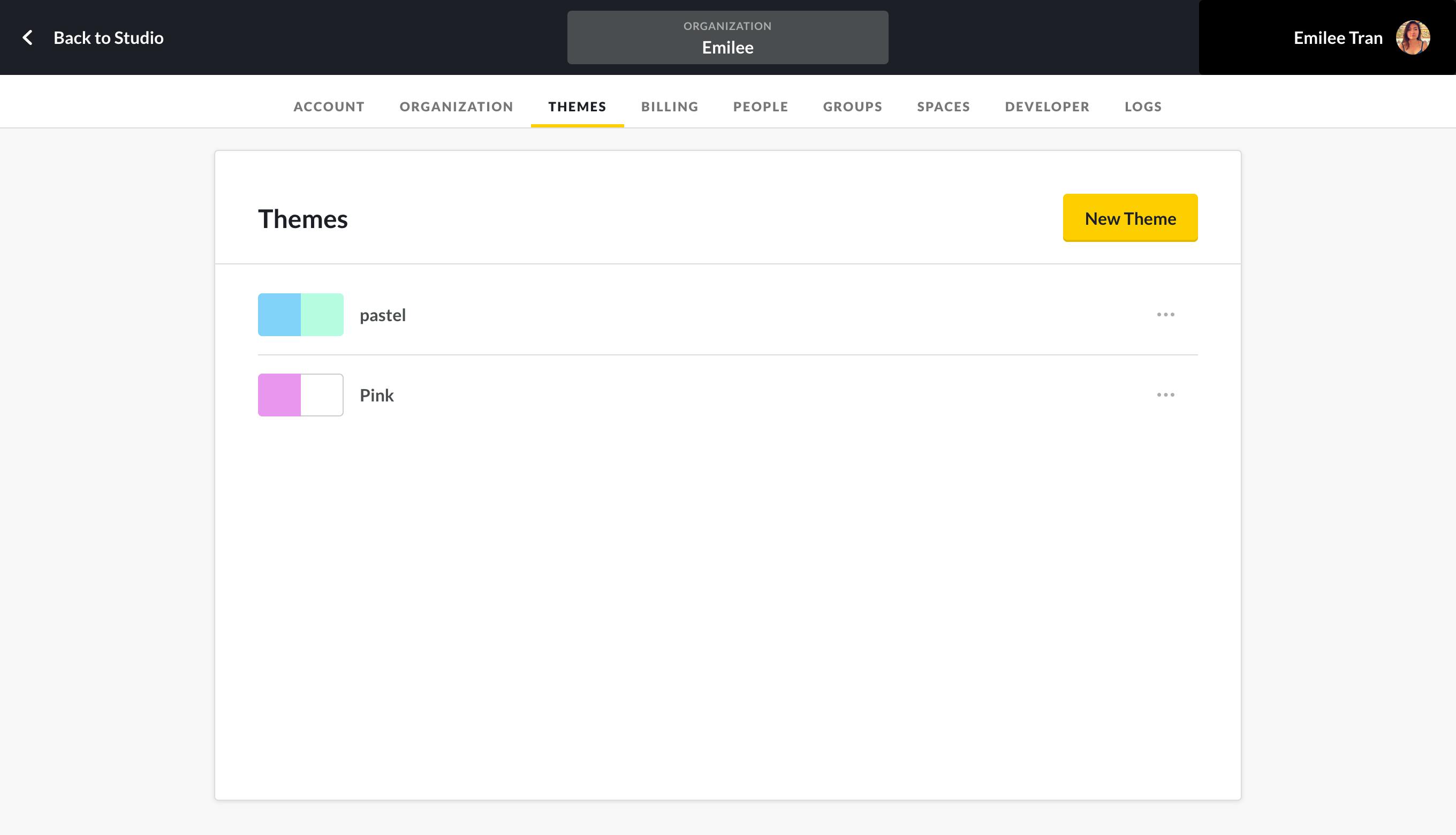 Newly created themes can be added at a Channel-level in order to custom brand apps like Currencies. Find out more on how to create custom themes with ScreenCloud here. 
Frequently asked questions:
Will the Currencies app continue to work if I go offline?
The Currencies app has a 10-minute cache. If your screens are offline, it will show the most relevant currencies from within the last 10 minutes. 
How many currencies can I show at one time?
You can show up to 10 different currencies per page within your digital signage display. If you're showing more than this amount, the currencies will go on to two or more pages.
How long will the Currencies app feed play for?
This is determined by the duration you have set within a Channel. 
For further questions please contact support@screencloud.com with details.