Publish content to your screens directly from Microsoft Teams
Learn More


Product
ScreenCloud Bonusly App Guide
Display your personal recognition and rewards program from Bonusly publicly on your digital signage screens.
Please note, if you're using the older version of ScreenCloud (signage.screencloud.com) you can download the alternative Bonusly app guide here.
Bonusly is a fun, personal recognition and rewards program that enriches your company culture and improves employee engagement. With Bonusly everyone in your organization can publicly recognize each other by giving small bonuses that add up to meaningful rewards. If you're looking for a simple way to display Bonusly points and prizes the ScreenCloud Bonusly app is the perfect fit. Create an API access token and copy your Bonusly URL from any dashboard created in Bonusly to share it on your digital screens.
With the Bonusly app you can:
Showcase employee recognition and rewards on your screens
Display a variety of employee points and prizes on your screens
Copy and paste any digital signage URL from Bonusly
Here's how it works:
1. Select and install ScreenCloud's Bonusly App
1.1. To get started, sign in to your ScreenCloud account and navigate to the App Store.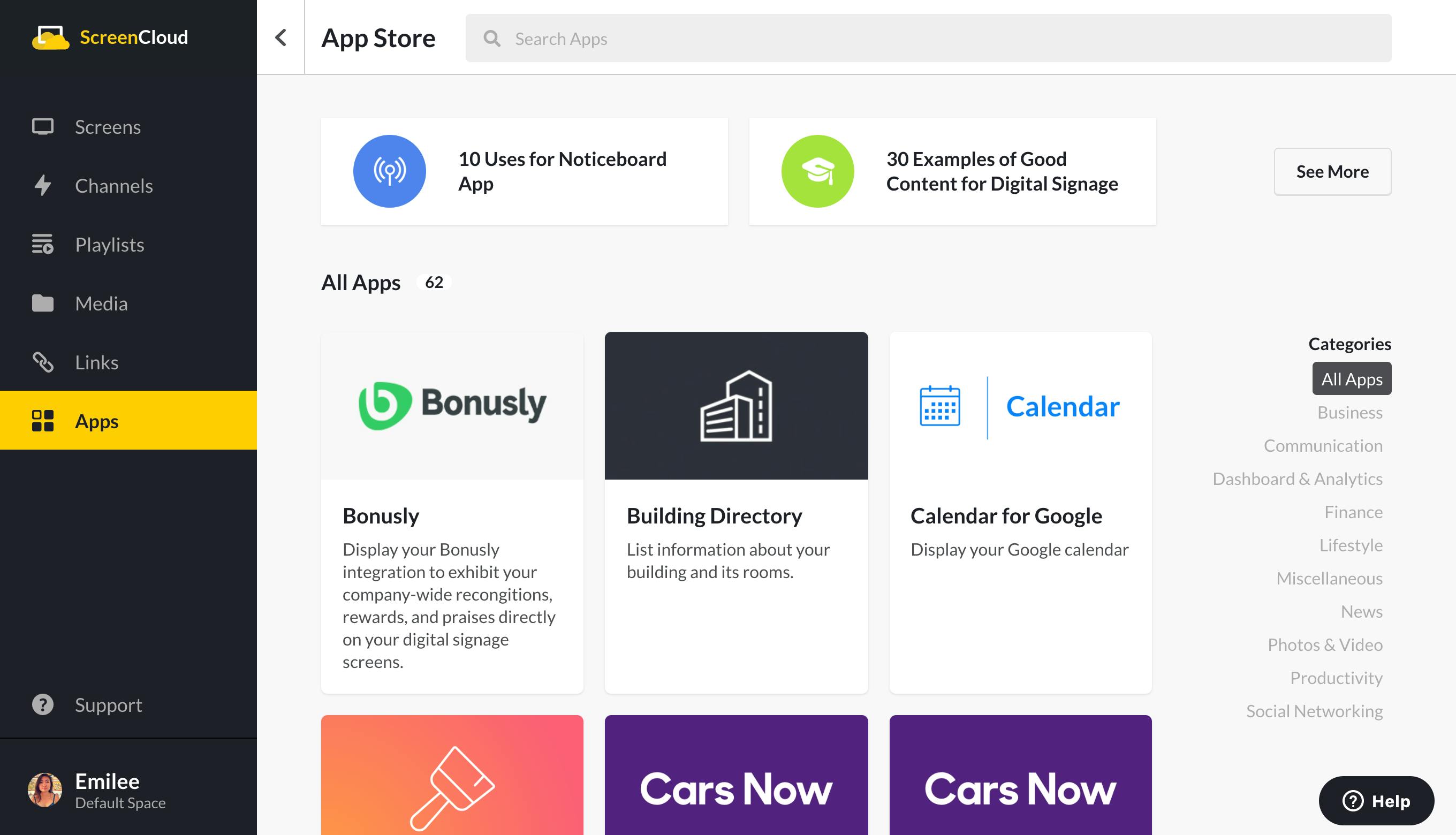 1.2. You can easily see that the first app on the list is Bonusly. Click on the app and hit Install App.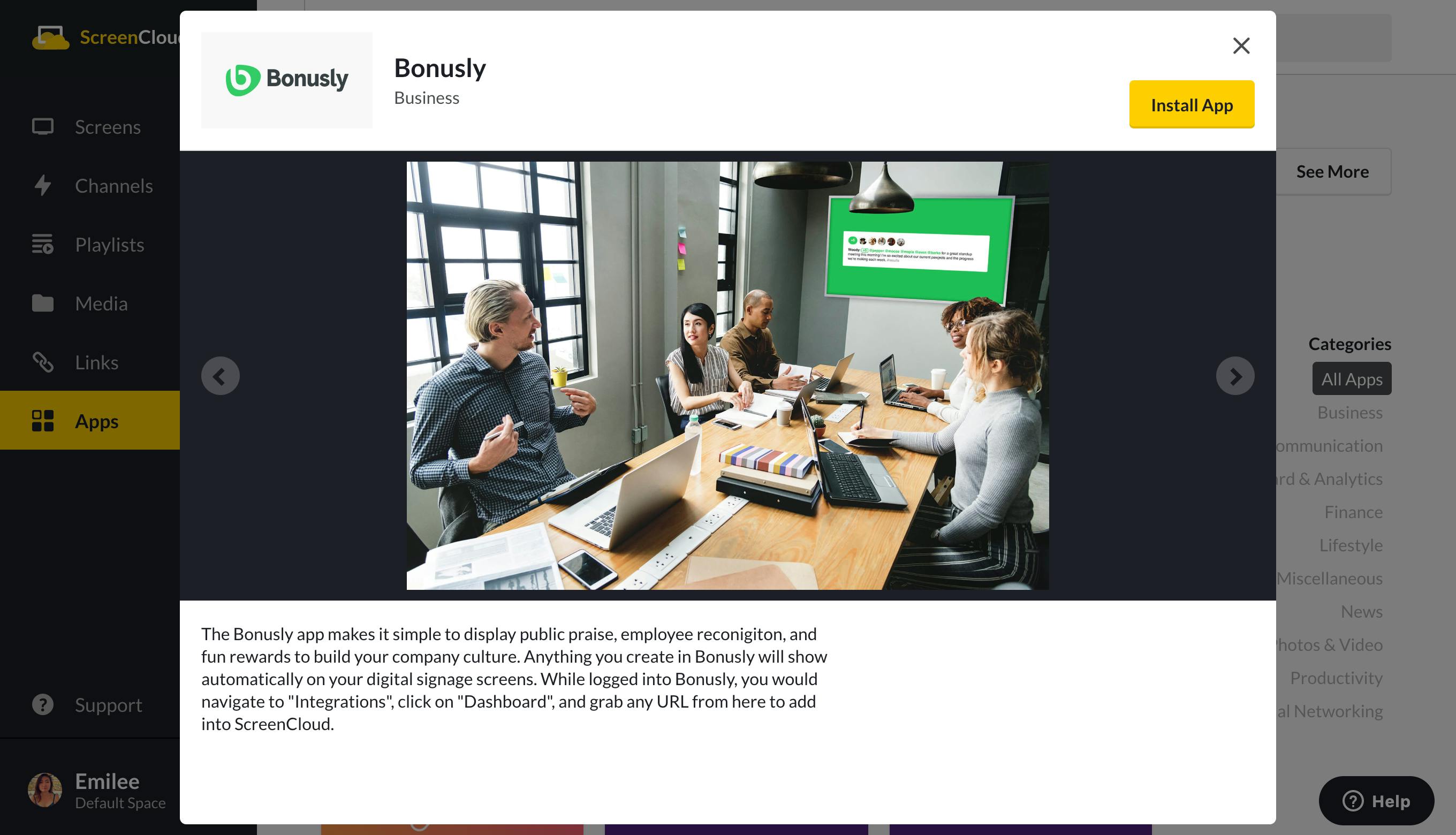 2. Configure your Bonusly App
Next, you'll need to copy and paste a dashboard URL from Bonusly. Please note: Bonusly is separate from ScreenCloud and is a third-party service. You can learn more about their pricing by clicking here. 
Here's how to find your dashboard URL from Bonusly.   
2.1. Log into your Bonusly account.
2.2. Click on your username in the bottom-left corner.
2.3. Click on "Settings".
2.4. Select the "Services tab".
2.5. From here, select "Create New API Access Token" for your Bonusly wall respectively. This access token is required to use at the end of your Bonusly URL you would like to display in order to show it on your screens. Please click here for the Bonusly instructions on how to create and manage an API token.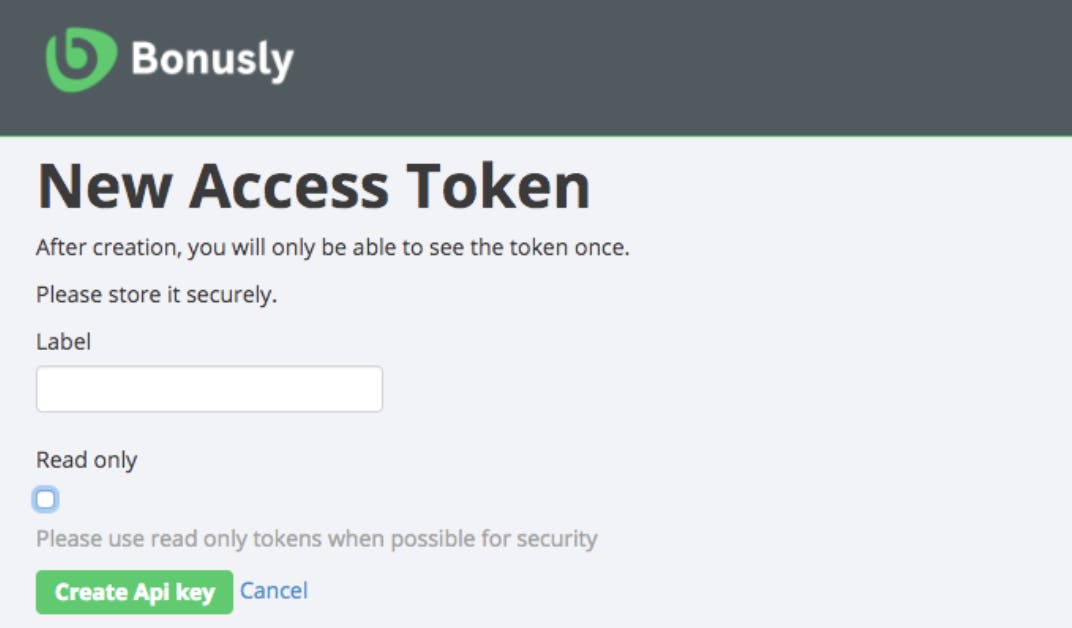 2.6. Once the key is created, copy the entire API key to paste at the end of your Bonusly URL. For example, the following below highlights where to copy and paste the key at the end of your link. Highlight the entire dashboard URL, right-click and copy the link.

Example URL:
https://bonus.ly/company/digital_signage?access_token=PASTE YOUR API KEY HERE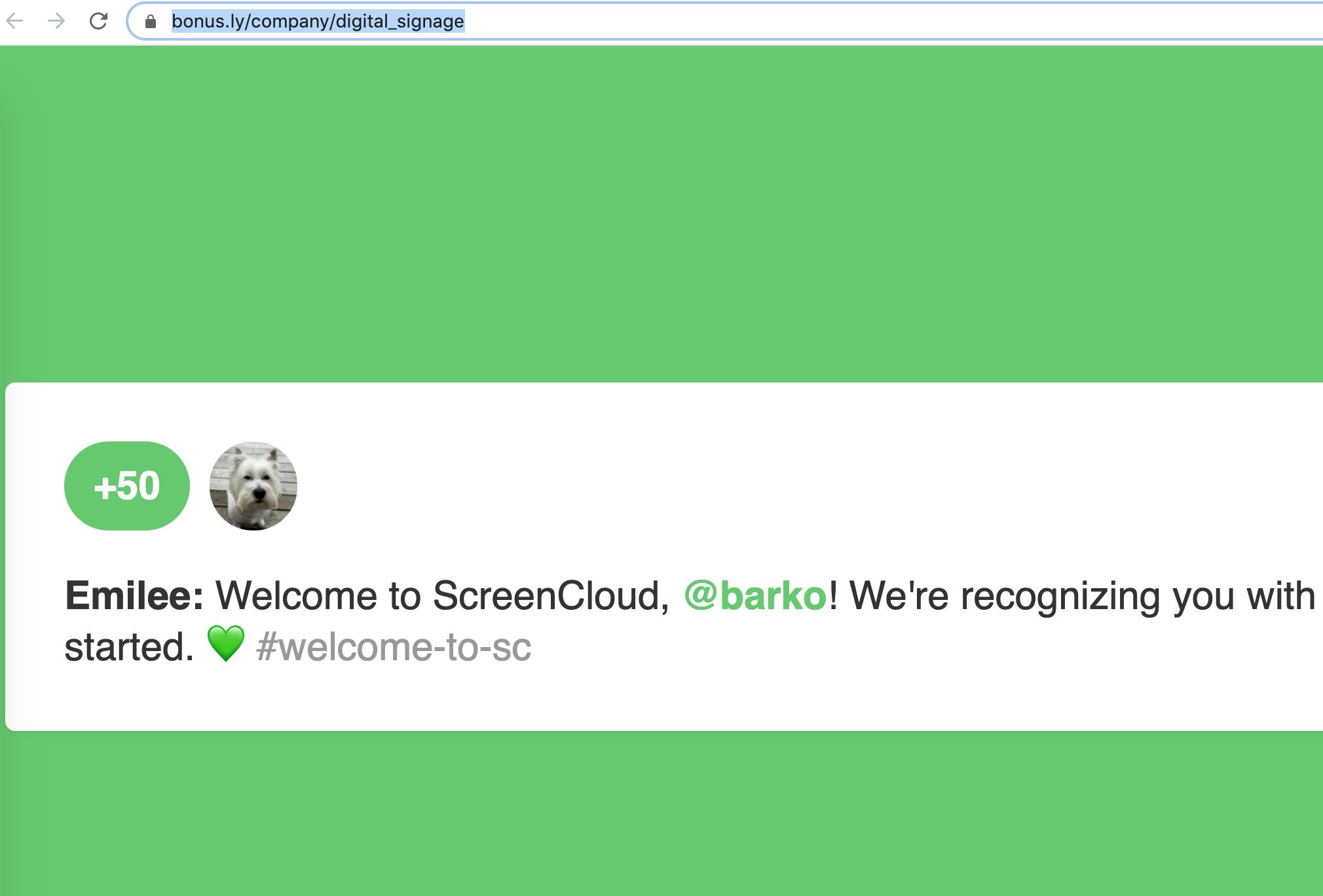 2.7. Paste the full dashboard URL, including the access token and API key at the end of your link, into the ScreenCloud app instance. You can also add a unique name for your instance, such as "Monthly Recognition" in this example, to help you spot it later in your content library. This is useful if you're planning to use more than one Bonusly app instance.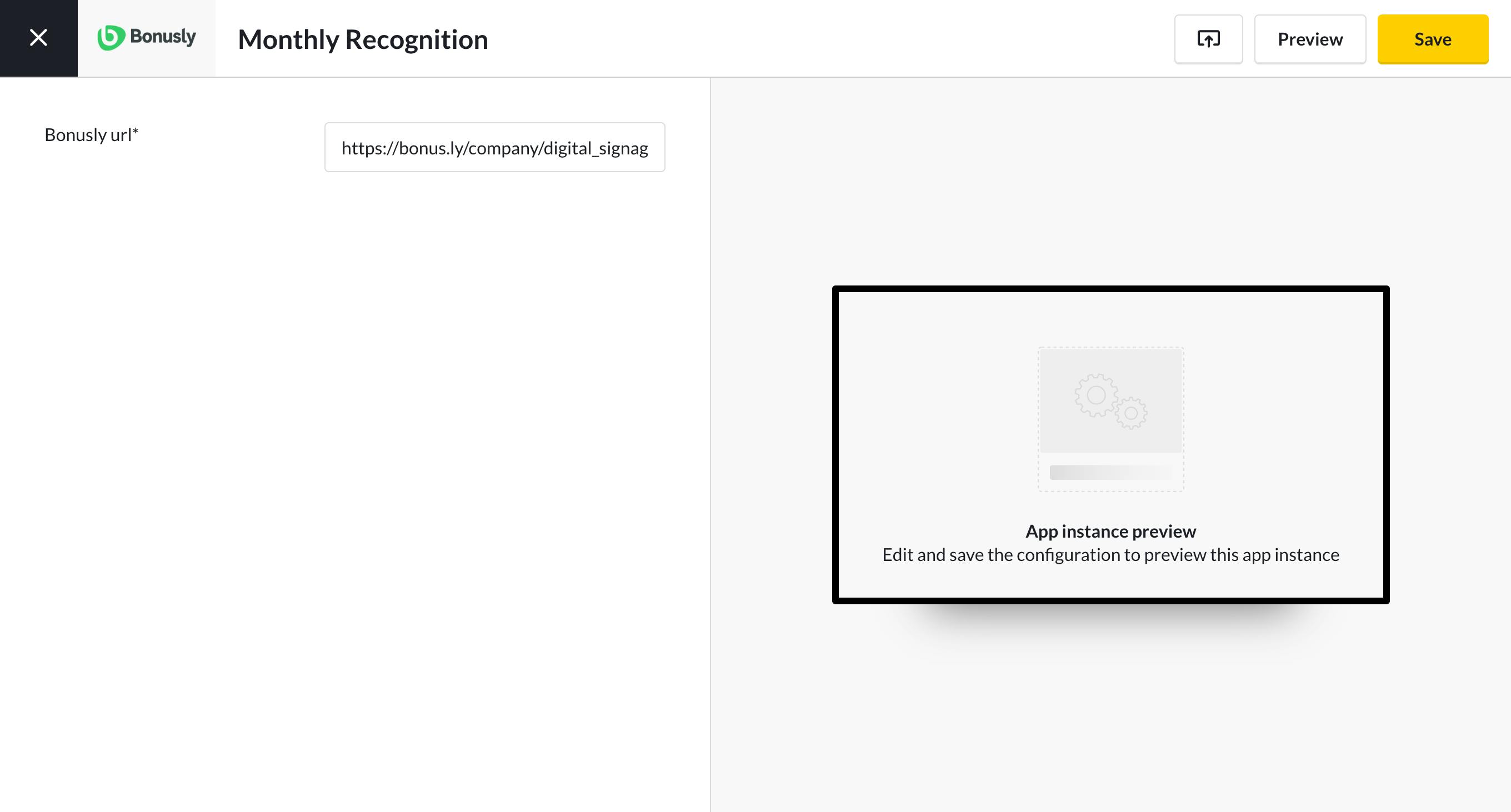 3. Preview your Bonusly App
Once you're happy with your settings, hit Preview to see what your Bonusly app will look like on a screen.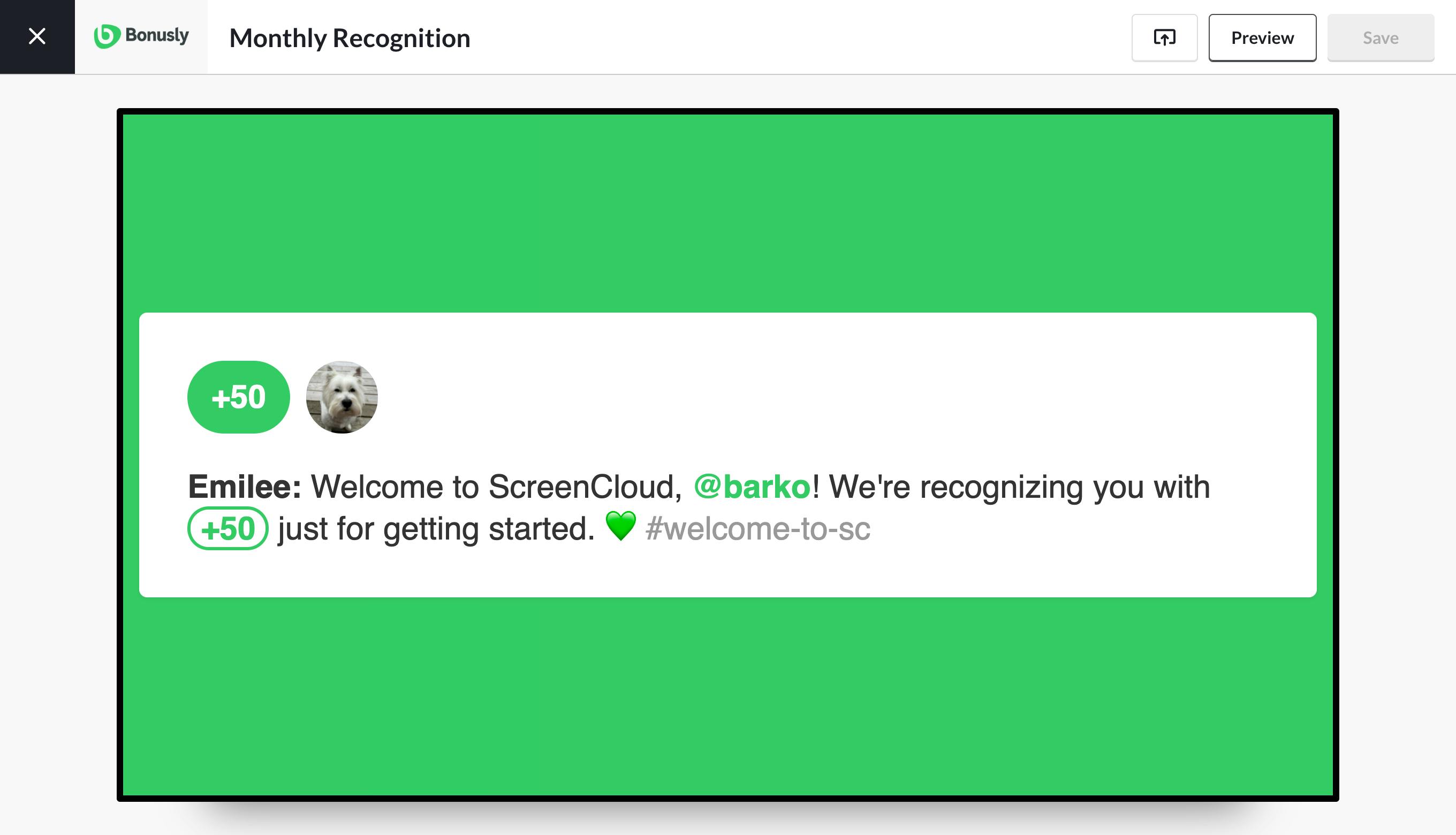 4. Add Bonusly app to your Channel
Adding your Bonusly app to one of your existing Channels is easy and simple. The tutorial below will show you how.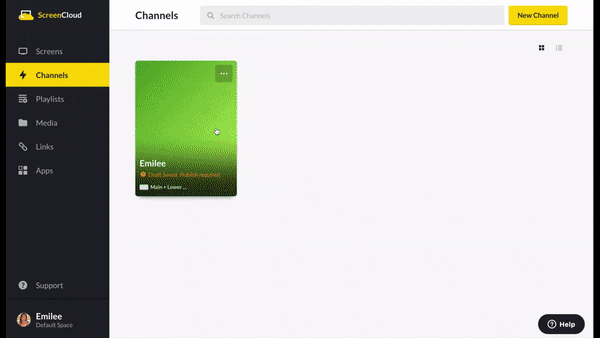 Frequently asked questions:
Can I use multiple dashboards with the Bonusly app?
Currently, the app can only use one dashboard URL per instance. You can add multiple instances of the app and use different URLs to display new dashboards you've created in Bonusly.
My Bonusly display is asking for an access token, how do I get this?
Using the Bonusly App requires that an API access token is generated for any link shared publicly or on third-party services, such as ScreenCloud, while in use. Please visit 'Section 2. Configure your Bonusly App' of this guide for brief instructions on how to create an API access token which you can add to the end of any Bonusly link you'd like to share or display.
For further questions, please contact support@screencloud.com with details.
Ready to get your organization connected?
Connect your first screen today with our 14-day free trial