Publish content to your screens directly from Microsoft Teams
Learn More


Product
ScreenCloud Ask a Question App Guide
A quick way to ask a question using your digital signage.
You can now easily provide a survey to your team without the need to send them individual forms or emails. All they need to do is lift up their smartphone, scan the code, submit their answers, and voila, the questionnaire is complete and the data has been collected!
By using the Ask a Question app, you can:
Offer easy-to-access questionnaires that simply require the scan of a QR code
Quickly write up questions to capture feedback that can be sent directly to your email
Provide an anonymous survey by linking to a webform or opinion poll, such as Google forms
Once answers are submitted, you are able to track the response data within Studio's premium QR code metrics feature.
Here's how it works:
1. Select and install ScreenCloud's Ask a Question app
1.1. Get started by logging into your ScreenCloud account here and choosing the ScreenCloud App Store from the left-hand menu.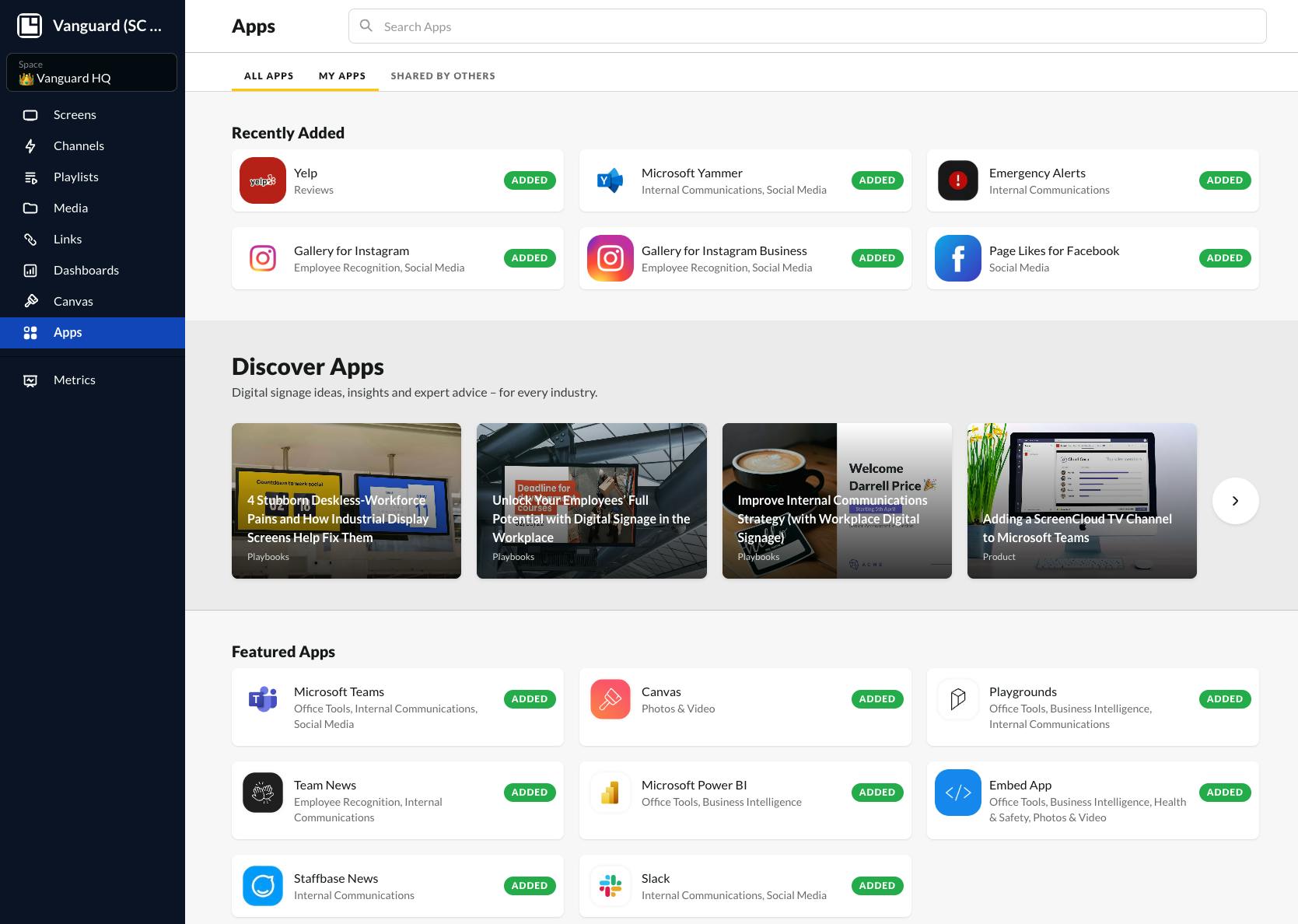 1.2. By searching for "Ask a Question", you can find the Ask a Question app and then click the "Install app" button to add an instance of the app to your account. You can also find the app under the Internal Communications, Reviews, and Employee Engagement category.
2. Choose your Ask a Question settings 
Once you have added the app to your account, you can begin by writing a question and selecting how you would like the users to respond from the drop down, this can be via a web form or email. If you've set your email as the response, please remember to paste the email address after the "mailto:" prefix, for example mailto:example@email.com.
A large QR code will then be generated.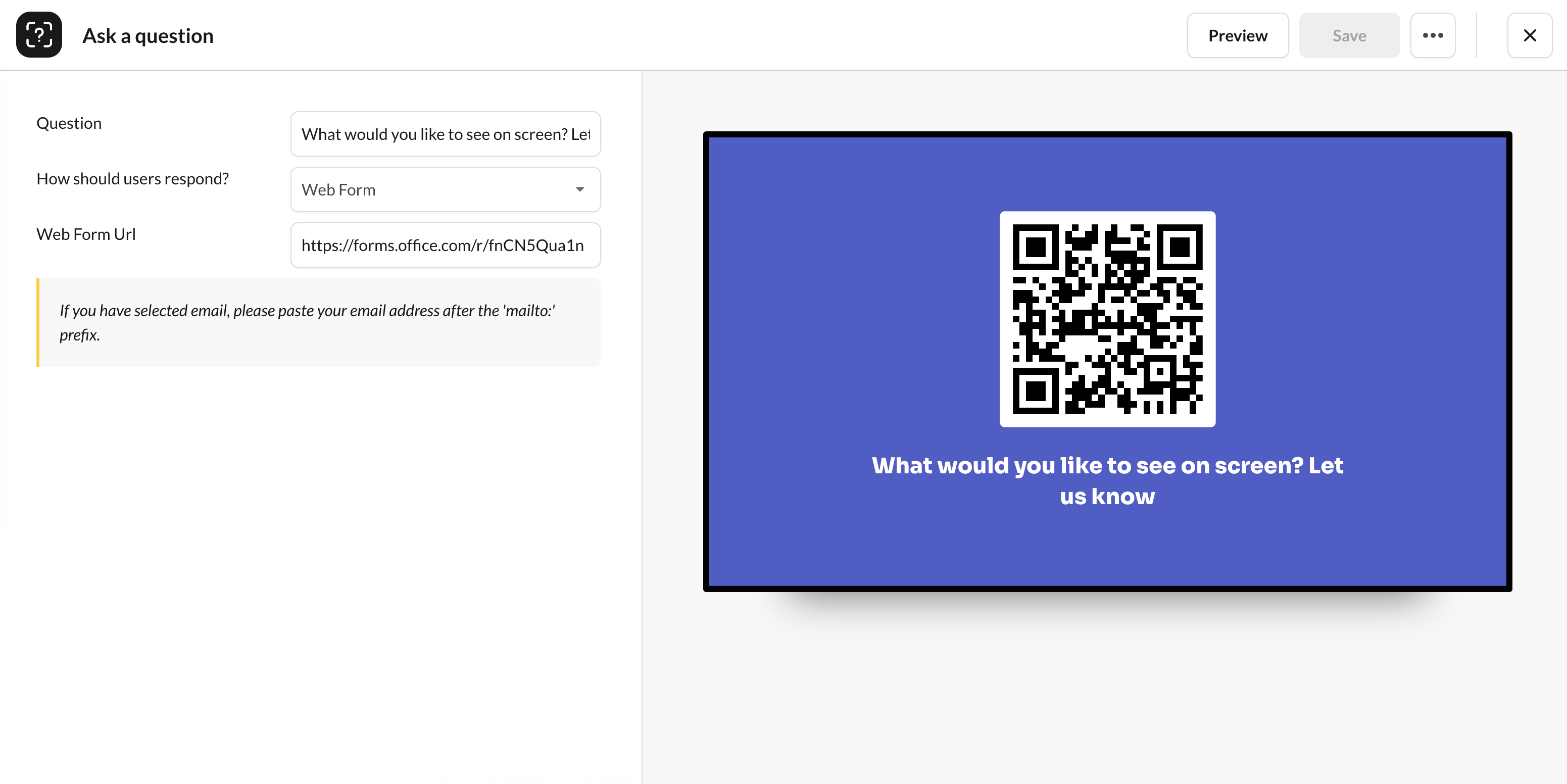 Go ahead and name your app instance, and click save.
It's a good idea to test the QR code first by scanning it with your mobile device. If it's working correctly, it should bring you to your webform, or launch the email app on your phone.
3. Preview your results and set the question app to your screen
You now have the opportunity to preview it before adding it to a channel or screen.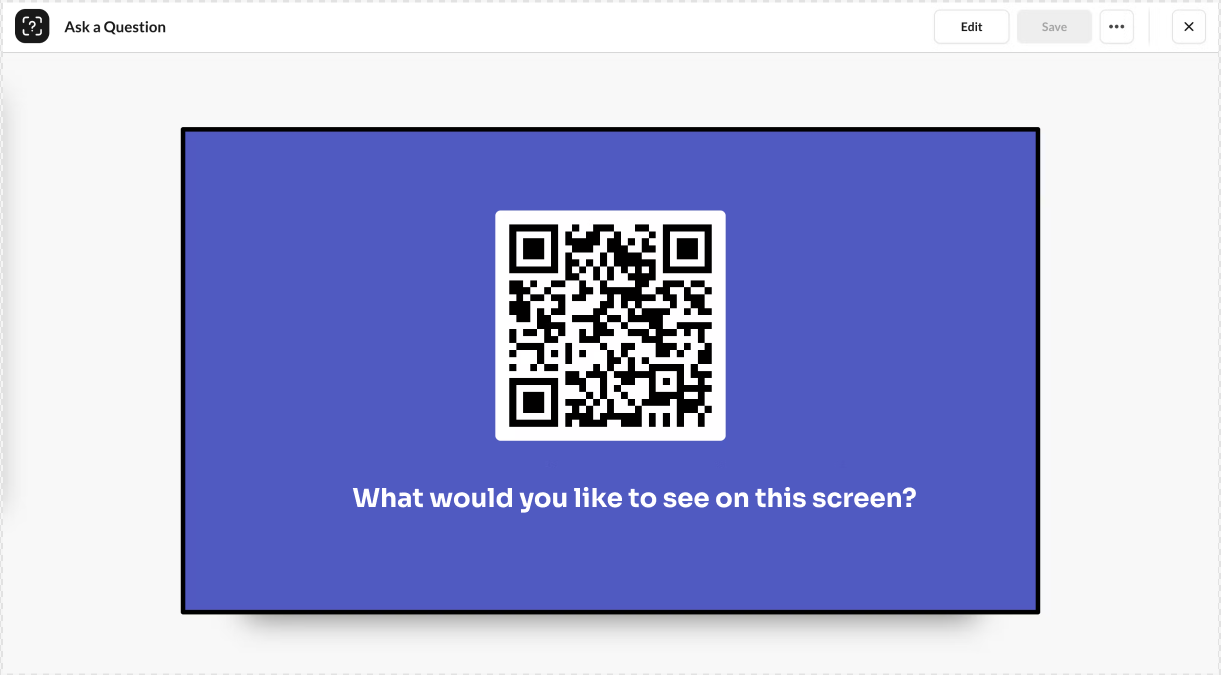 When added to a channel with your theme applied, this app will adopt your applied colors and fonts.
Don't have a theme applied to your account and screens? You can find out how to do this at how to create custom themes with ScreenCloud here.
4. Track your QR Code visits in Studio
Every time someone scans a QR Code, this is recorded in the metrics section of Studio.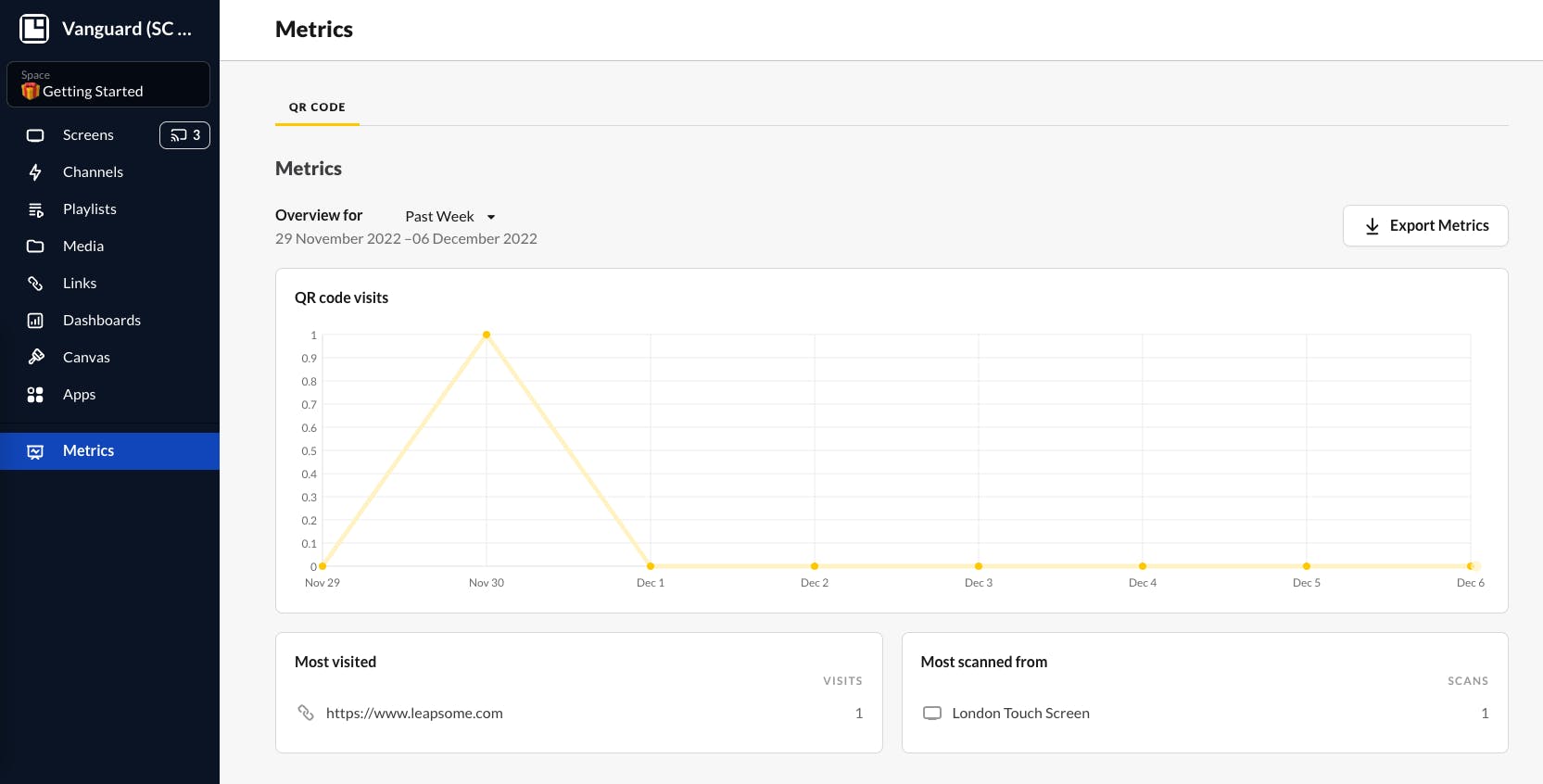 You'll be able to see which screens and which locations pick up the most traffic, and also on which day.
Frequently asked questions:
What type of QR Codes are supported by the Studio tracking metrics?
E-mail address (mailto:) example "mailto:apps@screencloud.io"
URL (http:// & https://) example "https://forms.office.com/r/fnCN5Qua1n"
Why can't I find my QR code metrics?
The QR code metrics feature is only part of the Pro or Enterprise pricing plan. Please contact your customer success manager if this feature isn't already available in your account, or contact our support team at support@screencloud.com if you wish to upgrade your pricing plan.
How long will the Ask a Question app show for?
This is determined by the duration you have set within the playlist or channel.
What orientation and zones can Ask a Question app be used in?
The app is supported for portrait or landscape orientation, in addition to being used in a sidebar zone layout. QR codes become are not easily scanned when scaled down therefore smaller zones will not display this app. We recommend that this app is placed in large zone sizes for maximum effectiveness.
Does the app support the ticker tape or footer zone layout?
Unfortunately, the app is currently not compatible with that layout.
For further questions please contact support@screencloud.com.
Ready to get your organization connected?
Connect your first screen today with our 14-day free trial