close
Book a Demo
First, we need some information so we can give you the best demo experience.
Digital menu solutions for the QSR industry
Increase sales by 38%* with a digital menu board
Offer your customers beautifully branded digital experiences with ScreenCloud, and set your QSR franchise up for success with digital menu boards that elevate dining experiences – and optimize sales.
From one spot to hundreds, we've got you covered. Without cost or complexity.
* according to research by qsrmagazine.com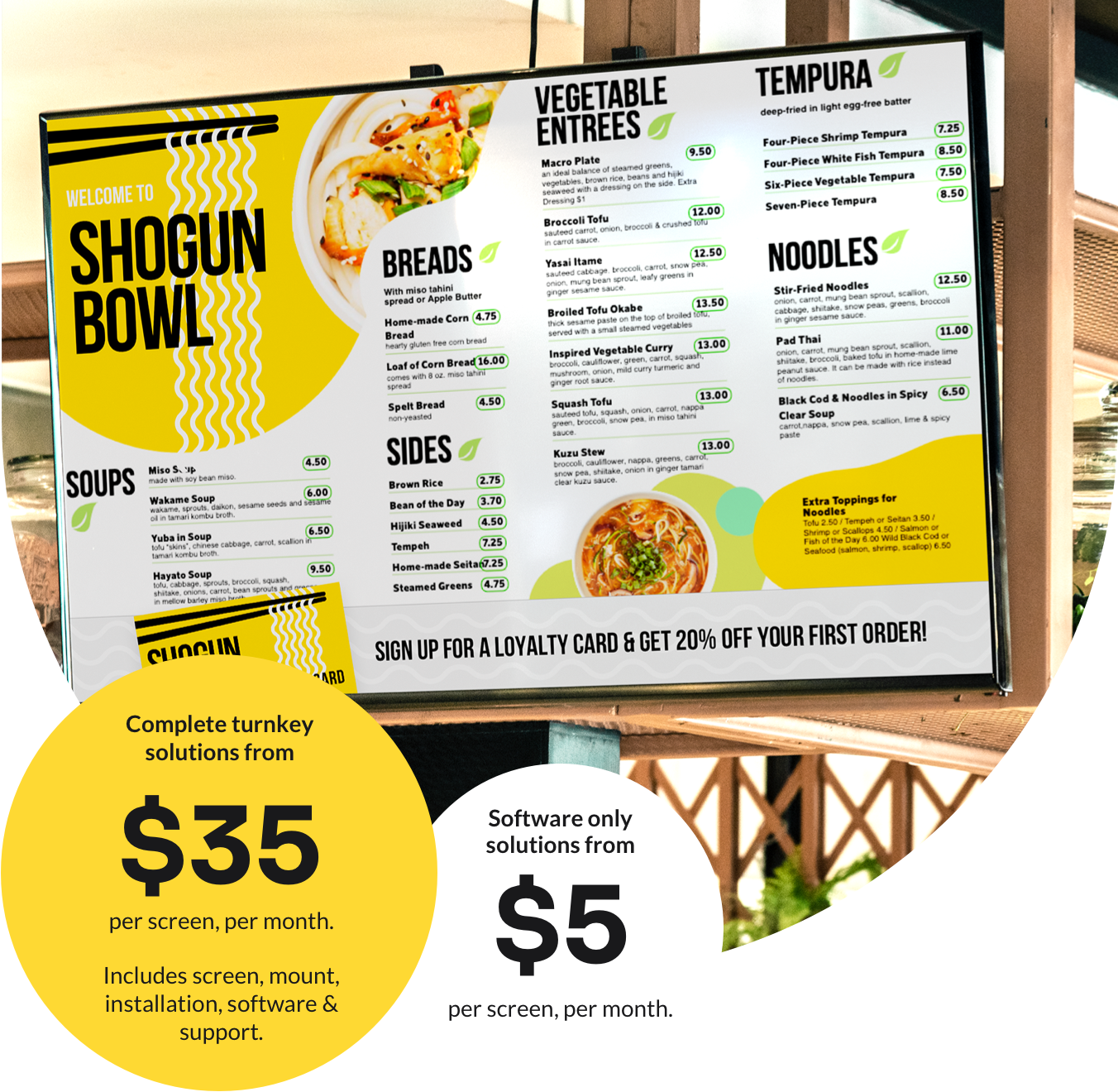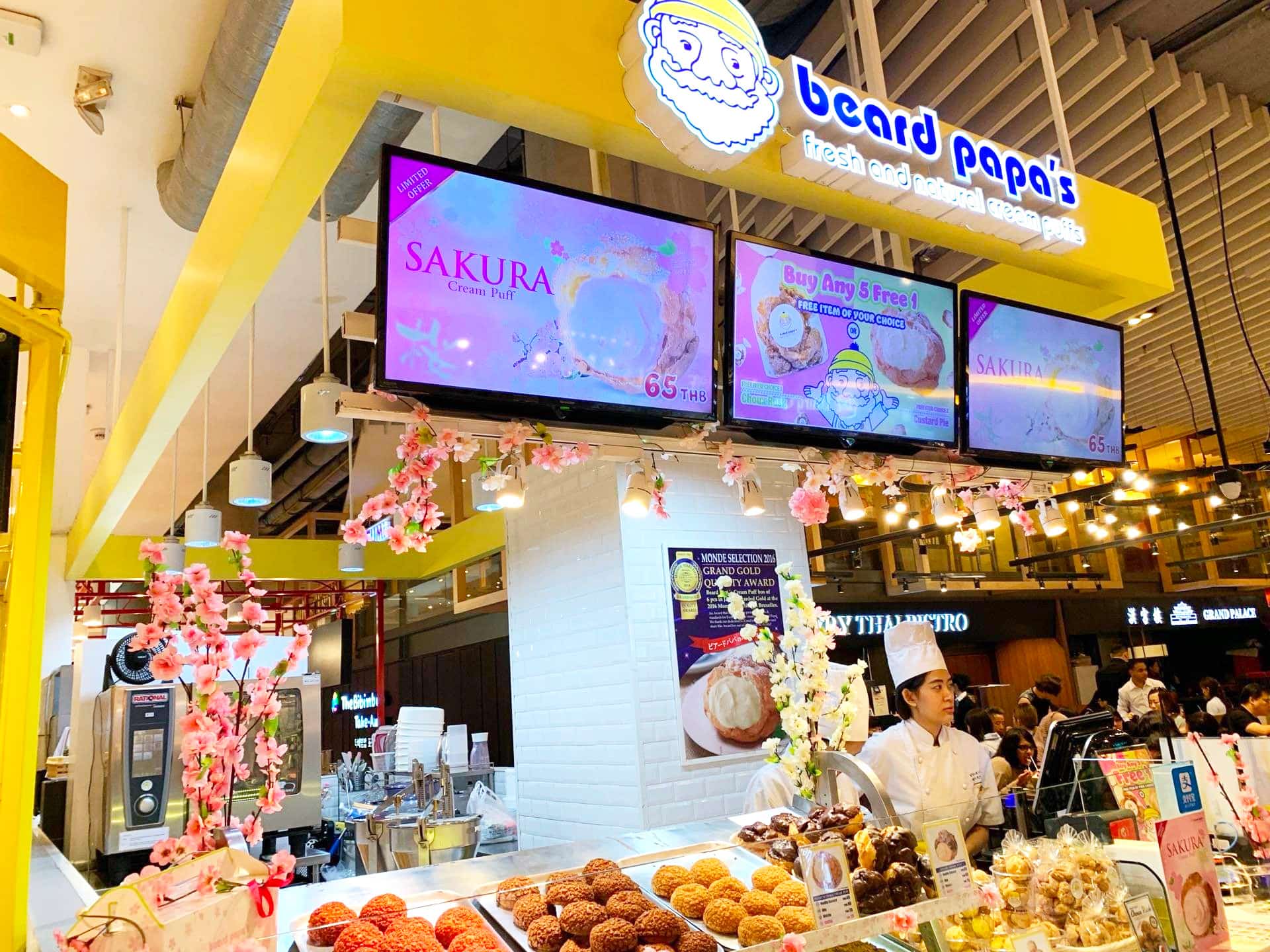 Beard Papa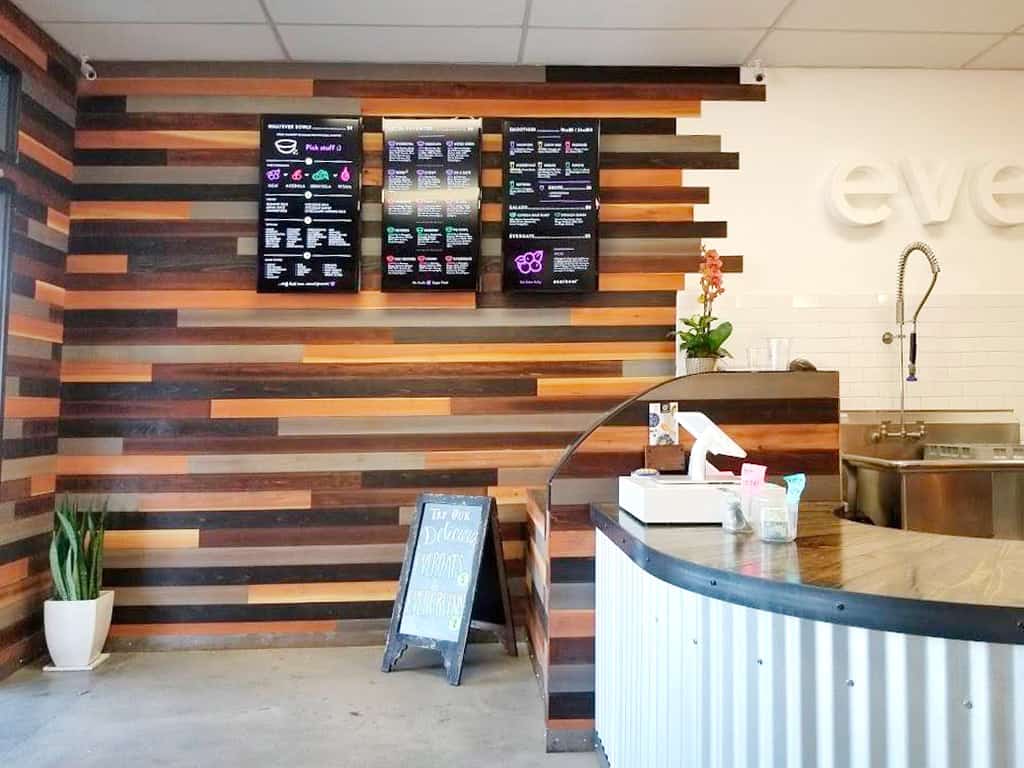 Everbowl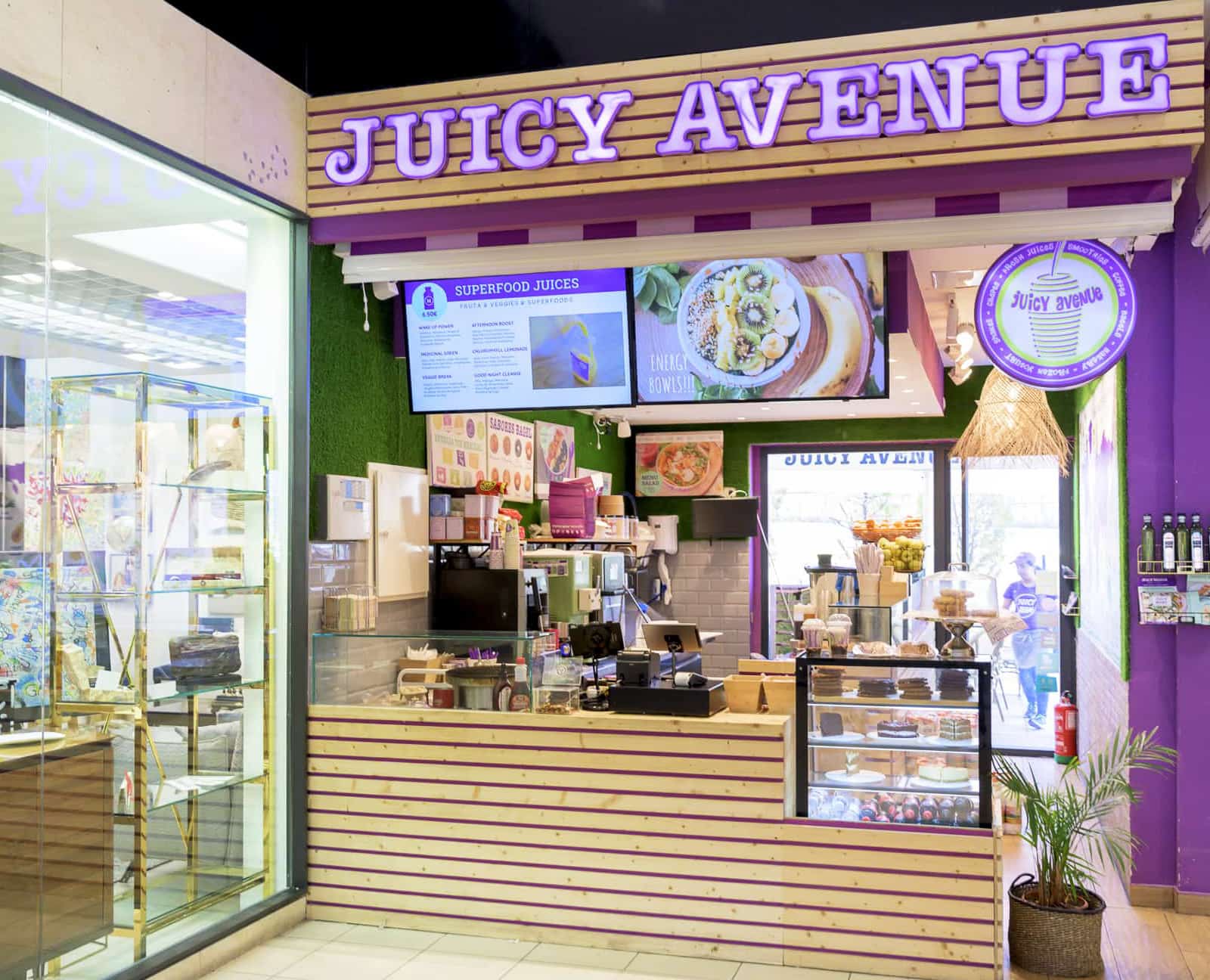 Juicy Avenue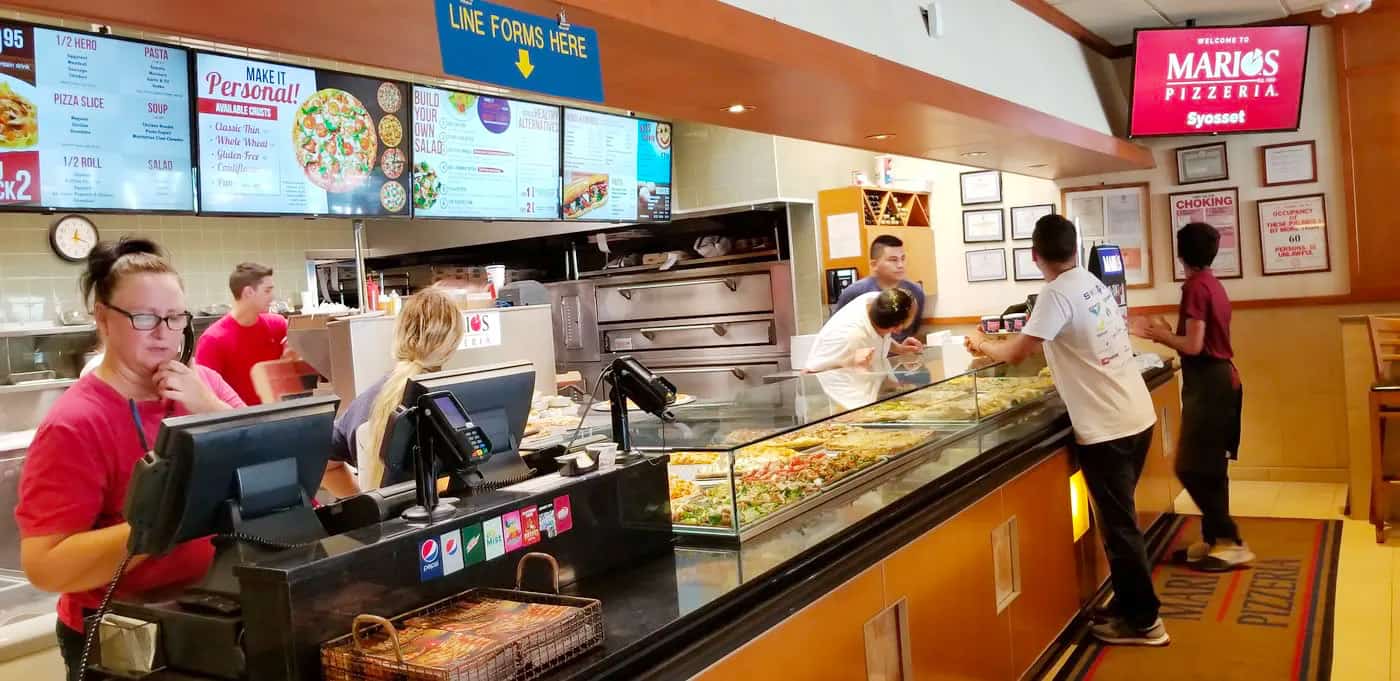 Mario's Pizza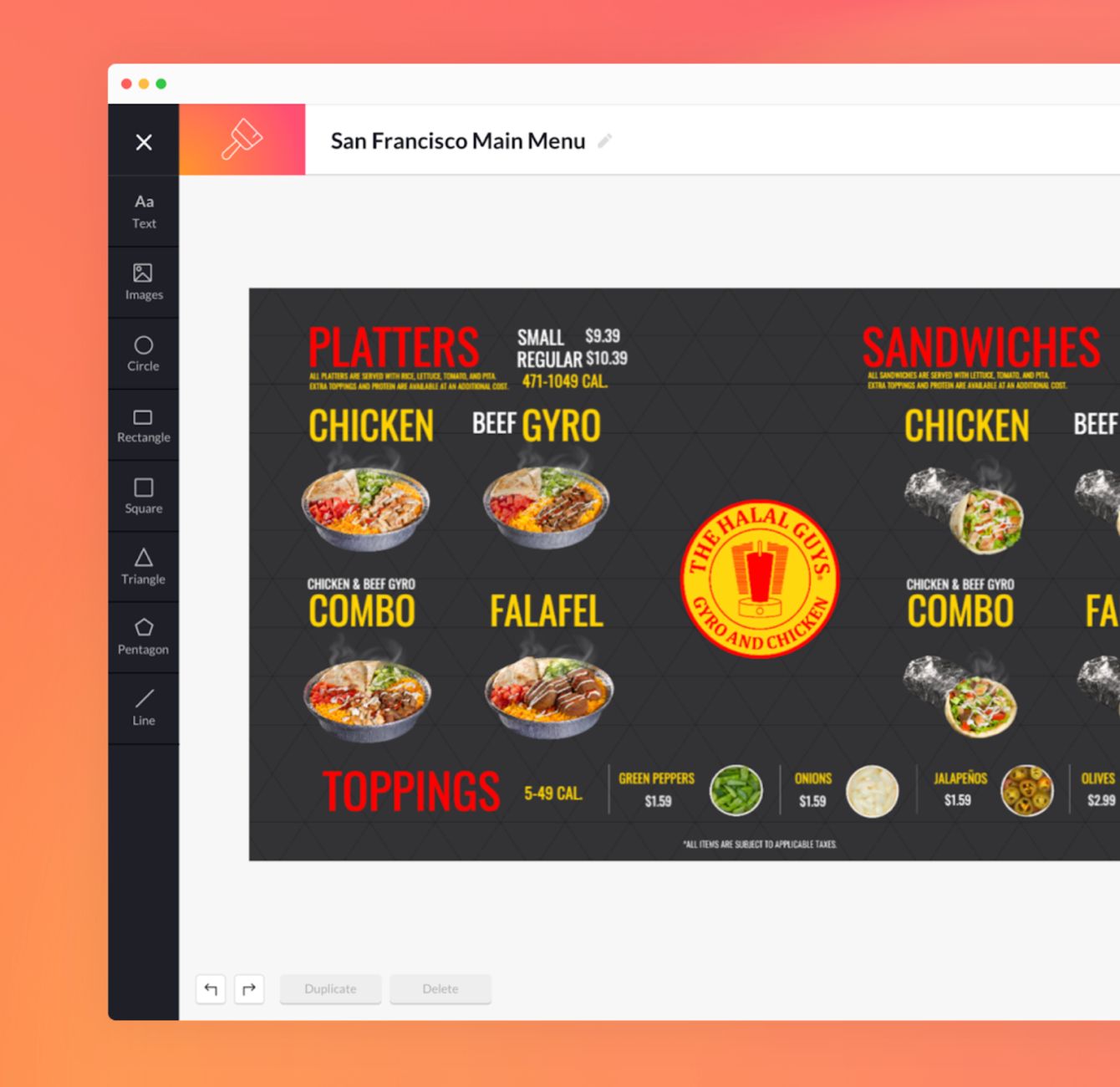 A flexible solution to suit your scale
Easily adjust menus and promotions
Homegrown solutions like printed menus or USB sticks loaded with branded JPGs aren't quick or easy to adjust – let alone scale across multiple locations.
With ScreenCloud, you can update promotions and pricing on the spot across one or every location. Create dynamic digital menu boards in minutes, and drive sales with relevant and effective content.
Group and manage screens by location, and quickly create content with 70+ customizable app integrations – including our design editor tool Canvas.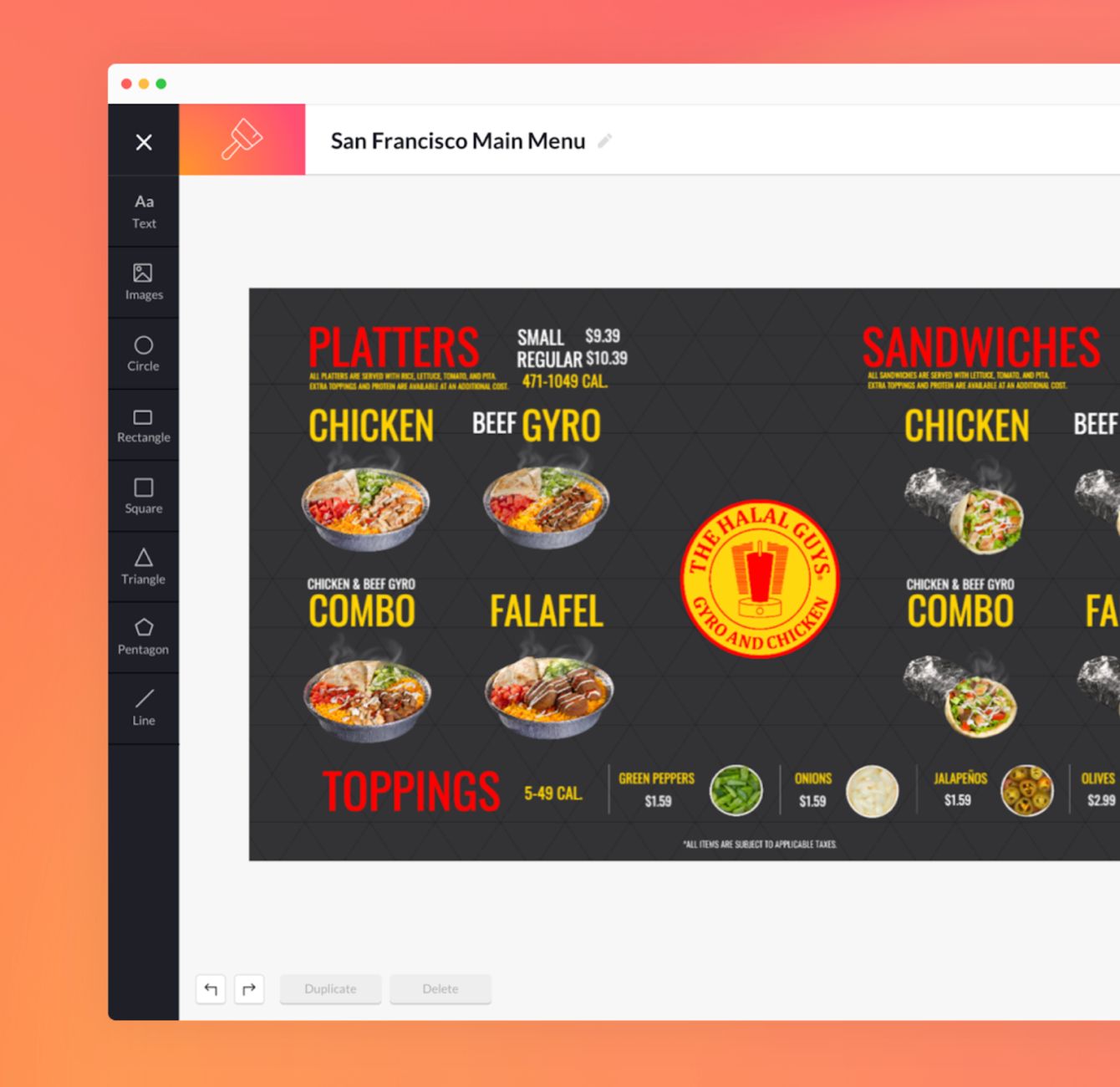 Cost effective and easy to set up
Modern solutions at an affordable price point
Customers expect a modern and digital-first experience. Which is why we have created an affordable solution with QSR-specific pricing so you can replicate this experience across all of your locations.
And with proven ROI on every digital menu screen, you no longer have to worry about printing costs every time you need to make a change.
Easily set up your digital menu boards with ScreenCloud using our purpose-built model for franchises. ScreenCloud gives you the flexibility to organize, manage and even pay for screens by location.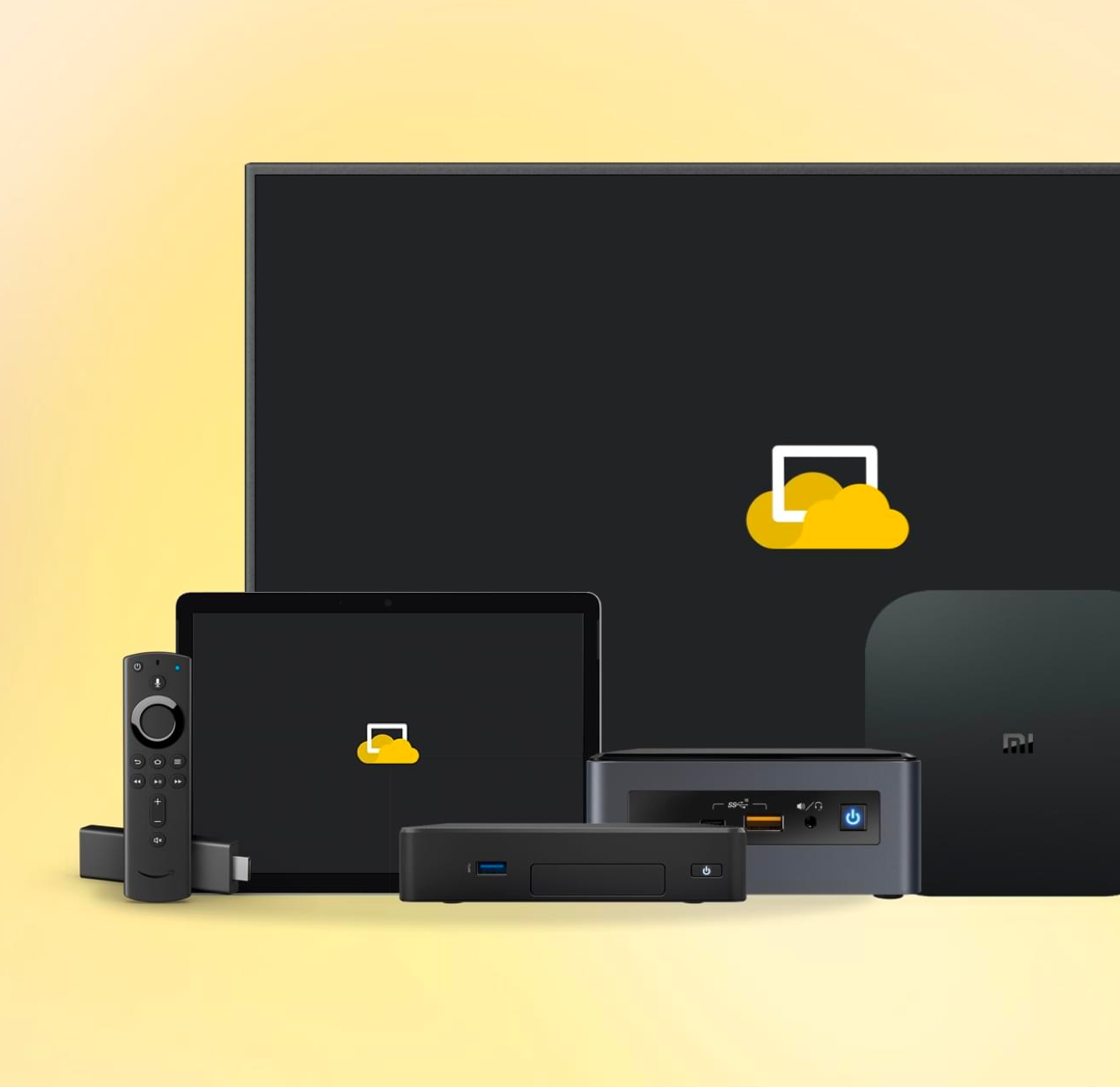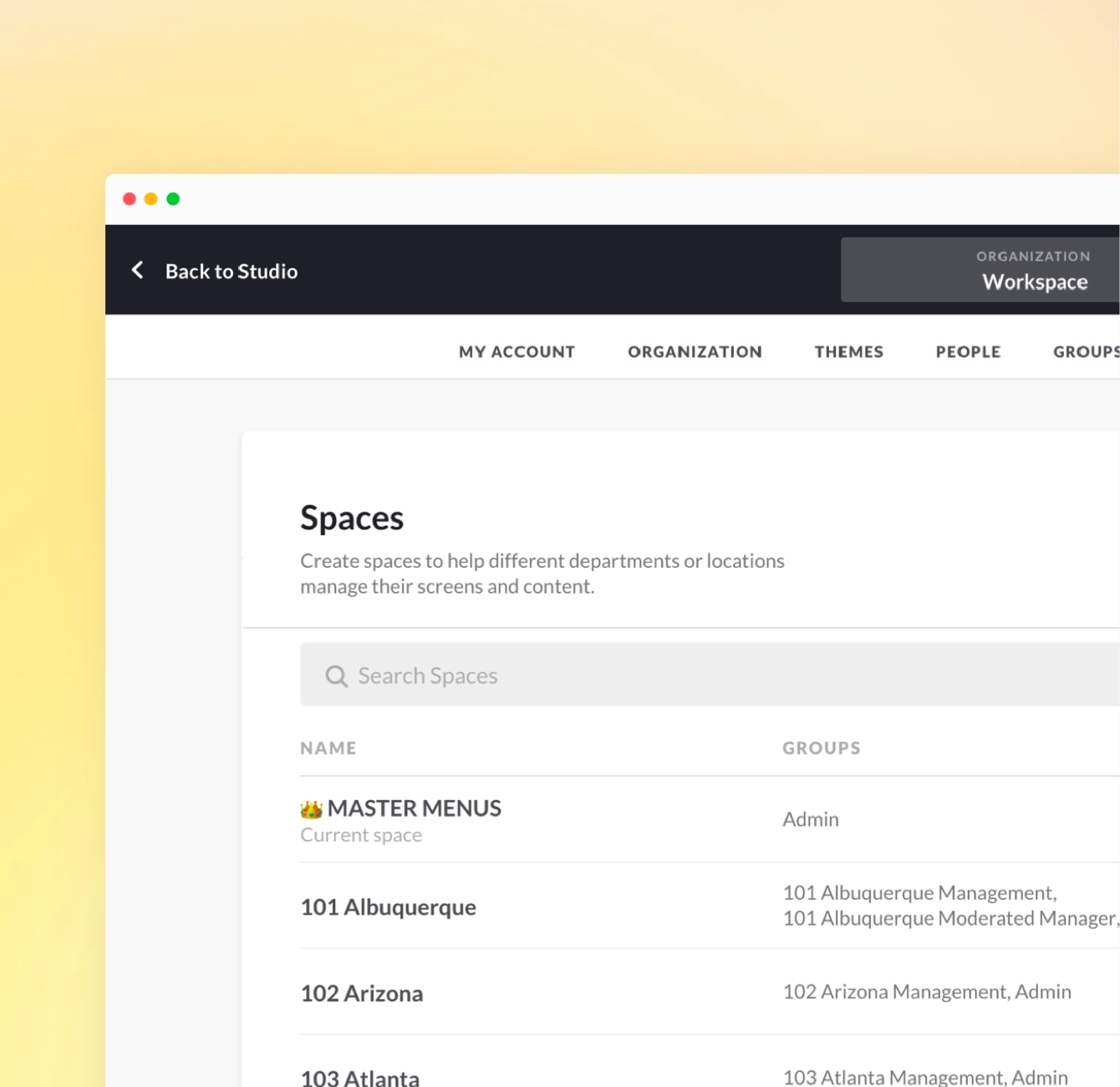 A digital tool you won't outgrow
Screen network management at scale
Manage your customer experiences centrally and standardize tools across locations as you grow, streamlining your business operations at scale.
ScreenCloud has a flexible Users & Teams structure that allows for central asset control, with local input possible for franchise owners or specific territories – giving you the flexibility you need to expand.
ScreenCloud has near-universal hardware compatibility to work with the screens you already have, or any you might buy. And with our GraphQL API, you can also build whatever custom integrations you need as you grow.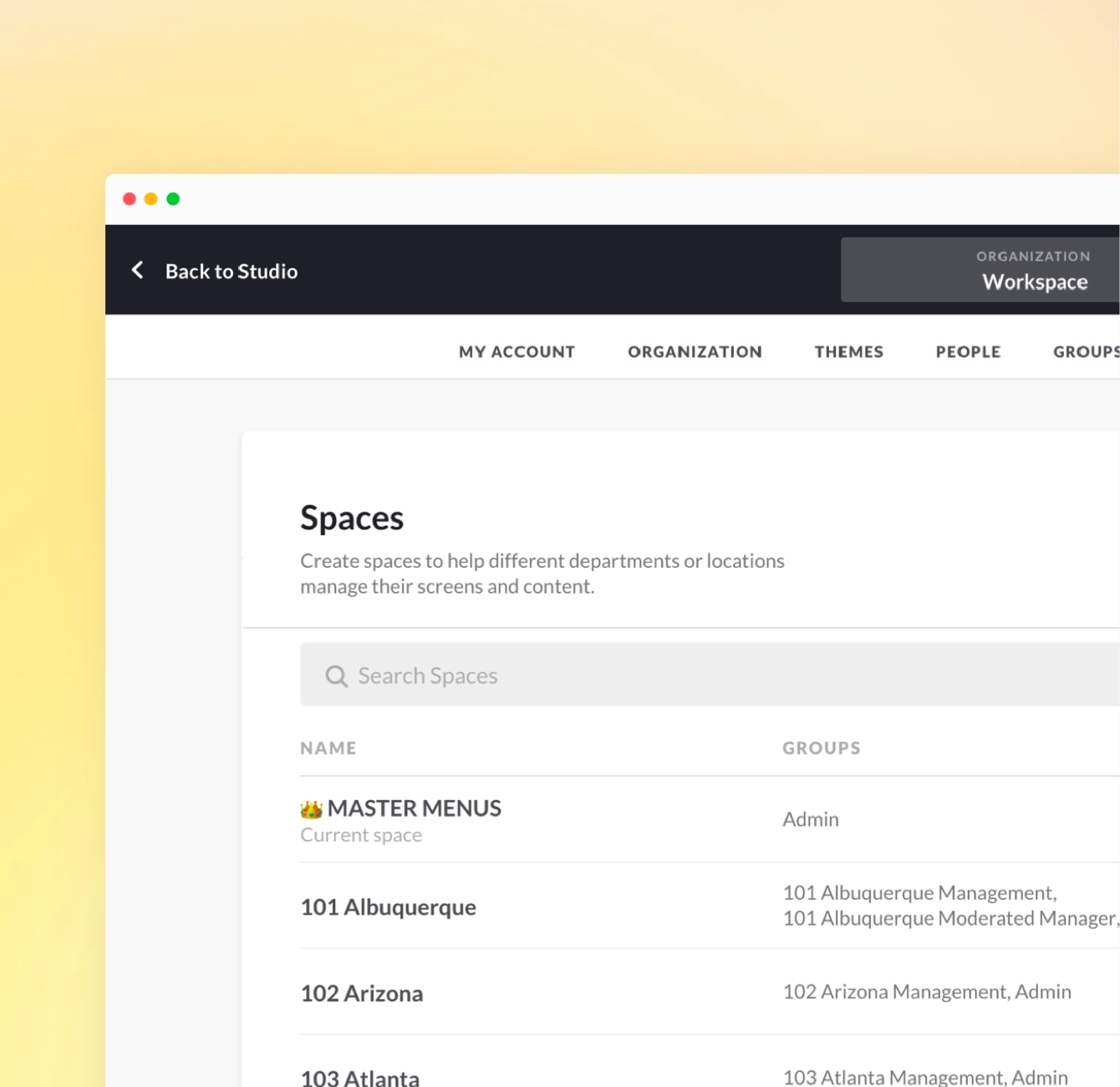 Take control of your brand
Upgrade your business with a positive brand experience
Achieve brand consistency at every customer touchpoint with a branded digital dining experience that makes them believe you're the best place in town.
Elevate and modernize your brand with consistent in-location experiences that lead to repeat business by centralizing promotion management and dynamic screen content.
Get started with one of our best-practice digital menu templates with the Digital Menu Board app, or incorporate your own designs and build branded templates within Canvas and replace your outdated printed material.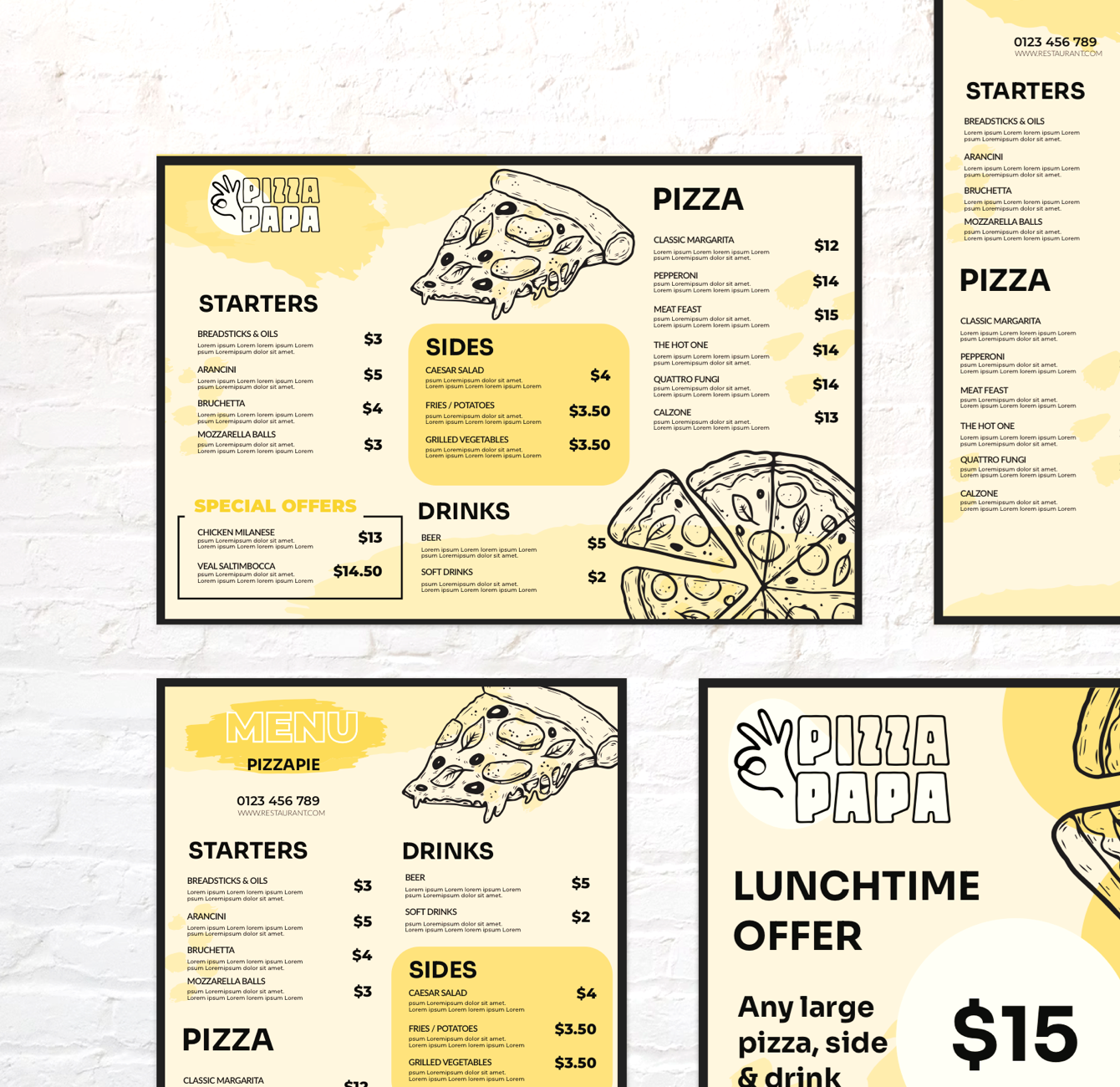 Starting from scratch?
QSR menu board bundle
We've teamed up with leading industry experts to bring you a cost-effective, full-service QSR pricing offering for your digital menu needs.
Our QSR pricing bundle includes everything you need to create a multi-location digital menu and signage strategy. And with our flexible financing options, we can deliver everything for one low monthly fee.
Includes:
- 43-55" display
- Mounting hardware
- Professional installation
- Software licenses
- Managmeent Portal
- Customized 1:1 training
- Software support
- 70+ marketplace apps
Already have screens or migrating from another platform?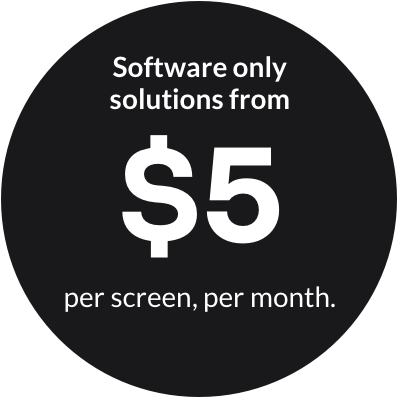 Delivering trusted solutions to multi-location QSRs globally
The Halal Guys
- powered by ScreenCloud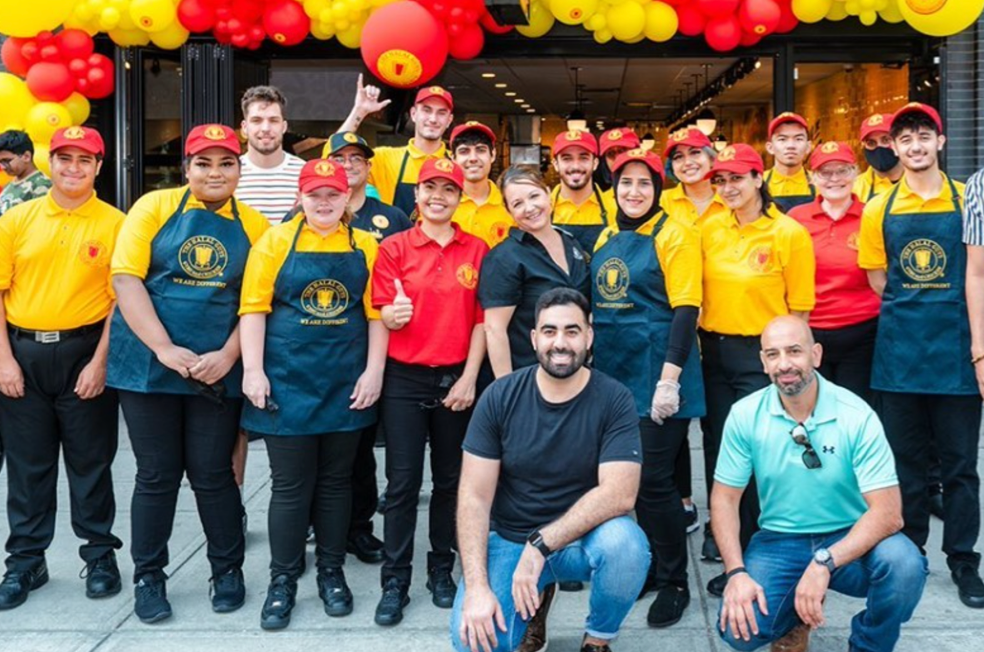 "ScreenCloud's Professional Services team has brought The Halal Guys closer to achieving their digital signage goals. With their support and guidance, we're able to seamlessly manage content on hundreds of screens. Through collaboration, we continue to identify new ways to make the user experience more efficient."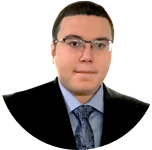 Mehdi Righi
Business Development Executive, Halal Guys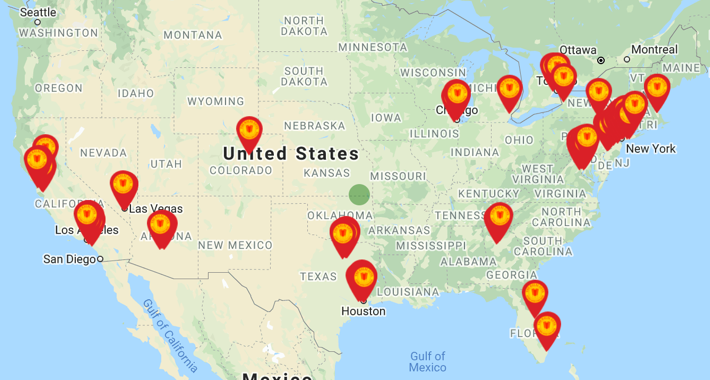 Scaled to 100+ stores nationwide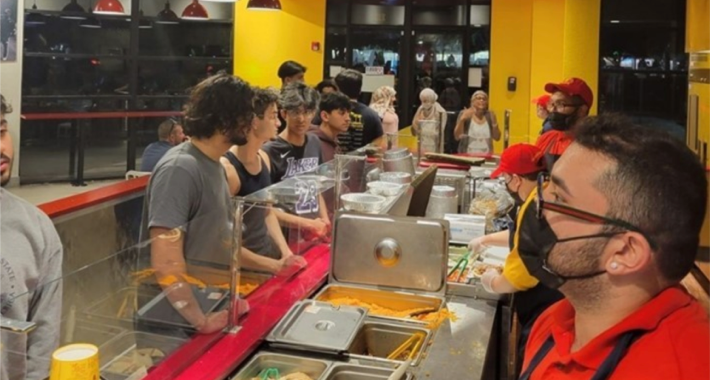 Increased sales and customer loyalty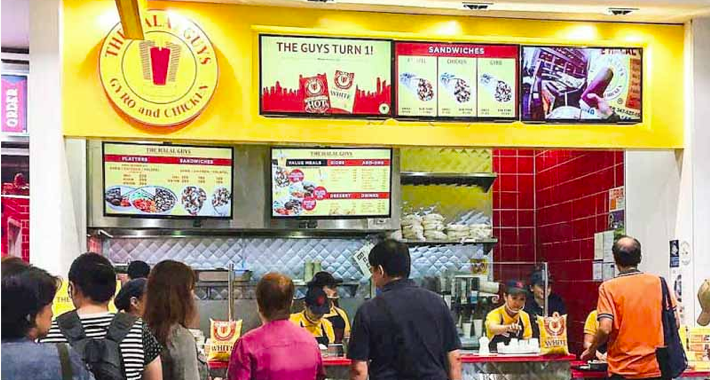 Powered by ScreenCloud
Download our free QSR eBook
Discover how and why digital signage is an appropriate and effective strategy for:
Driving sales via positively influencing purchasing decisions
Enhancing the customer experience and brand
Reducing pressure on staff with scalable solutions for menu updates
It will also include digital menu board best practices and strategies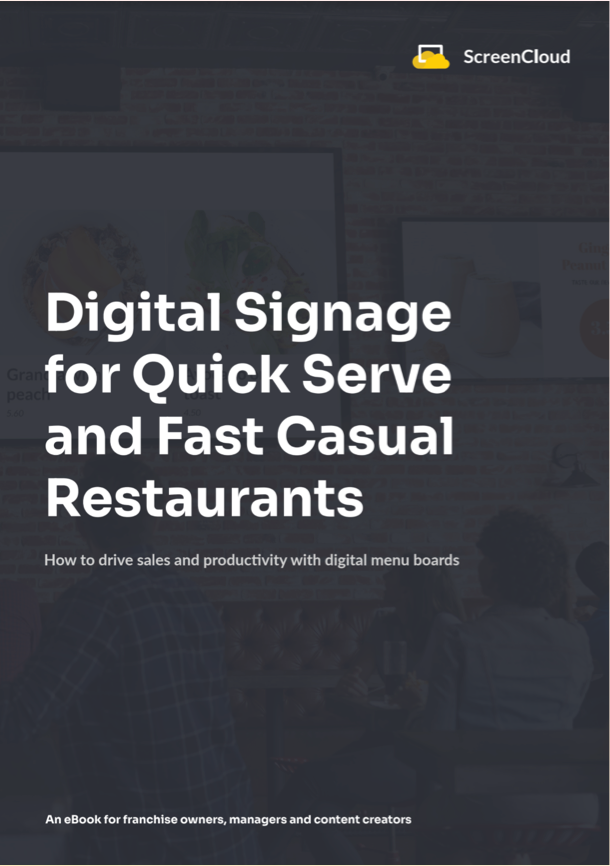 Flexible, scalable, affordable

Increase sales, decrease overheads
Use custom and granular user permissions to share access to screen controls, on local and global levels – all while retaining central governance. Shared branded templates allow you to distribute content easily while retaining consistency across locations.

Manage globally, personalize locally
Use custom and granular user permissions to share access to screen controls, on local and global levels – all while retaining central governance. Shared branded templates allow you to distribute content easily while retaining consistency across locations.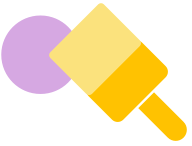 All the content and design tools you need, in one place
With 70+ apps included with your account – including the Canvas editing tool and social media integrations – you don't need to spend time or money creating the content for your screens. You can also create your own custom integrations with our GraphQL API.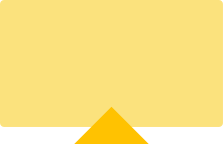 Simple screen set up and management
ScreenCloud's easy-to-use content management system helps you to manage and monitor your digital screens. Check which are live, what's playing and refresh content from your laptop or phone, wherever you are in the world.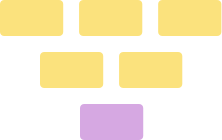 Engage customers with reliable messaging
Update pricing, promotions and menu options in real-time, or schedule content to show as and when you want it. Speed up ordering with menu visualization and keep customers entertained in the queue with branded social media displays, images and video.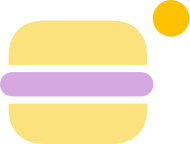 Built with brand management in mind
Ensure consistent, branded messaging across all locations and control it at every customer touchpoint. Corporate can upload the latest promos, videos, images and style sheets to your platform while you manage your customer experiences centrally, locally or with a mix.
Request a quote
Get your personalized digital menu board package quote
Fill out the form to receive a personalized digital menu board package quote. A member of the team will get back to you ASAP.