Publish content to your screens directly from Microsoft Teams
Learn More


Playbooks
Digital Signage and Social Media Walls: Taggbox x ScreenCloud
Announcing our latest app integration: Taggbox. Create user-generated content campaigns and social media walls, all from the comfort of your ScreenCloud account.
Social media is a relatively untapped superpower in the digital signage world. Sitting neatly on the borders of both sales and marketing, a social media wall is so much more than a rolling feed of your own promotional Instagram posts. 
We've written before how user-generated content [UGC] can be a game-changer for events and in retail stores; and using an app like Taggbox makes it a whole lot easier.
What is a social media wall?
A social media wall is a highly effective sales and marketing digital signage strategy. It congregates all of your social media feeds – both native and UGC – into one stream of highly-curated content.
Show UGC with certain hashtags; engage guests with real-time posts; run competitions; and even get content rights directly from users to repurpose their content for your future campaigns. Your customers are basically another member of your marketing team.
What is user-generated content? (And why you should love it)
User-generated content is a goldmine of information. It's a direct line to your customers. And it benefits everyone within your  business. 
At its very basic, UGC is a review of your product or service. But UGC on social media is different to specific review platforms like Yelp or Google. User-generated content in the realms of social media is made to be shared. It utilizes specific hashtags for other users to search – or be served – similar content. It's mostly visual, using accompanying photos or videos (which can be more powerful than the post itself). And, it can be used as free marketing. 
But that's where strategy comes in. A digital signage social media wall kind of strategy.
User-generated content and marketing
(Non-sponsored) user-generated content is unbiased.  And so potential customers view it as trustworthy. It can create a buzz around your brand or event without you needing to do anything. It's its own beast. 
So keeping a pulse on UGC is a great tactic for marketers to get real-time, unbiased feedback on products and services. Couple that with a data-driven, analytical approach and you can start to build a picture of customer behavior, brand sentiment and even measure the success of your own campaigns; this is a great element to add to your digital transformation strategy.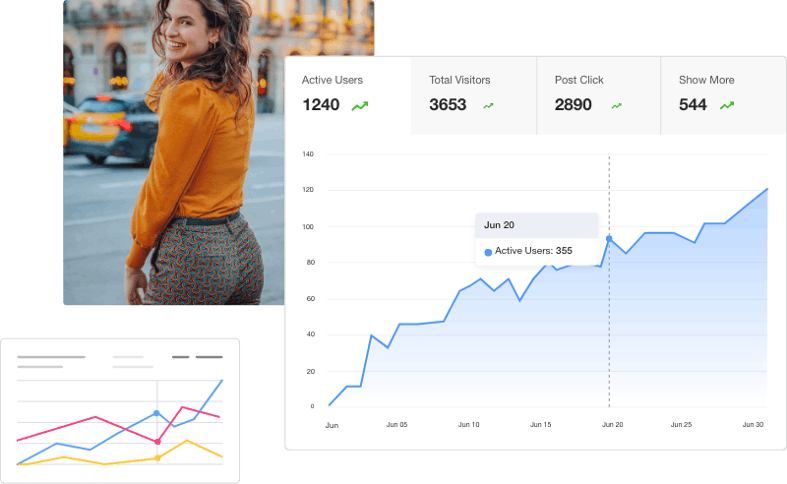 User-generated content and digital signage
As much as this content is great for the marketing and sales team to see, you need a customer-facing strategy as well; according to PwC, nearly half of shoppers said that their purchasing decisions were influenced by reading reviews, comments and feedback on social media. Couple that with another study from DataTrend.com – whose results state that digital signage made shoppers spend 30% more time in store and increased purchase amount by 29.5% – and you've got quite the potent combination.
What does Taggbox do?
As Taggbox themselves say, they provide a "simple and easy process for creating UGC campaigns and experiences.... [with] solutions that convert users' content into brand trust and success." Other features include:
Collect content: Taggbox can collect content from 15+ social platforms (like RSS, Facebook, Instagram…) and show whatever you want from wherever your brand is mentioned. This can be a mix of UGC, branded and influencer-produced. 
Customize: Create specific moderation frameworks depending on what you want to show (e.g. by blocking certain phrases, or only showing certain hashtags), then choose a theme or create your own layout for display. 
Gain insights: Manage customer insights with analytics to measure your social media display performance. Find your most active users, explore user behavior and measure brand sentiment.
Real-time updates: Manage your feed in real-time and schedule announcements to bring key posts and promotions into the spotlight. You can also set your feed to show live content updates to engage with your customers as they're engaging with you.
Rights management: The best thing about user-generated content is that it's free. And some of it can be better than your own marketing efforts. Taggbox also has UGC Rights Management, allowing you to connect directly with the creators and repurpose their content legally for your own campaigns – ultimately turning customers into brand advocates.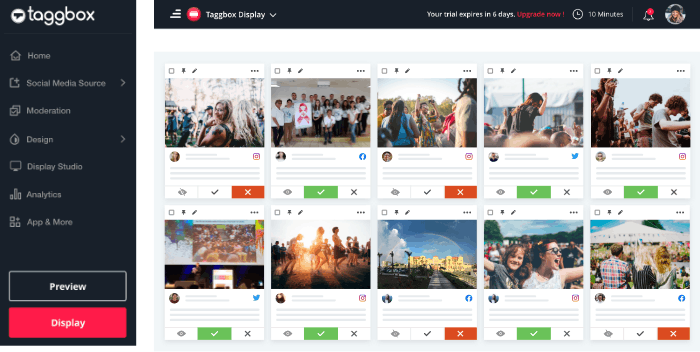 How to display Taggbox on ScreenCloud
Integrating Taggbox with ScreenCloud comes in two stages: 1) create your social media wall in Taggbox, 2) Display your social media wall via ScreenCloud. For a more in-depth guide, click here.
Create your social media wall with Taggbox
Create or log into your Taggbox Display Account
Click on 'My Walls' to create a wall
Enter a name for your wall; this will generate a unique URL 
Select and apply the "Profanity Filter" if required
Click "Create Wall"
Choose the social media feeds you want to display
Once finished, click "Display" then "Integrate with Digital Signage". Click on ScreenCloud.
How to display your social media wall with ScreenCloud
Log into your ScreenCloud account
Click "Apps"
Select (or download) "Taggbox Display"
Click on "New Instance"
Enter the unique URL of your social media wall (as per above). Click save.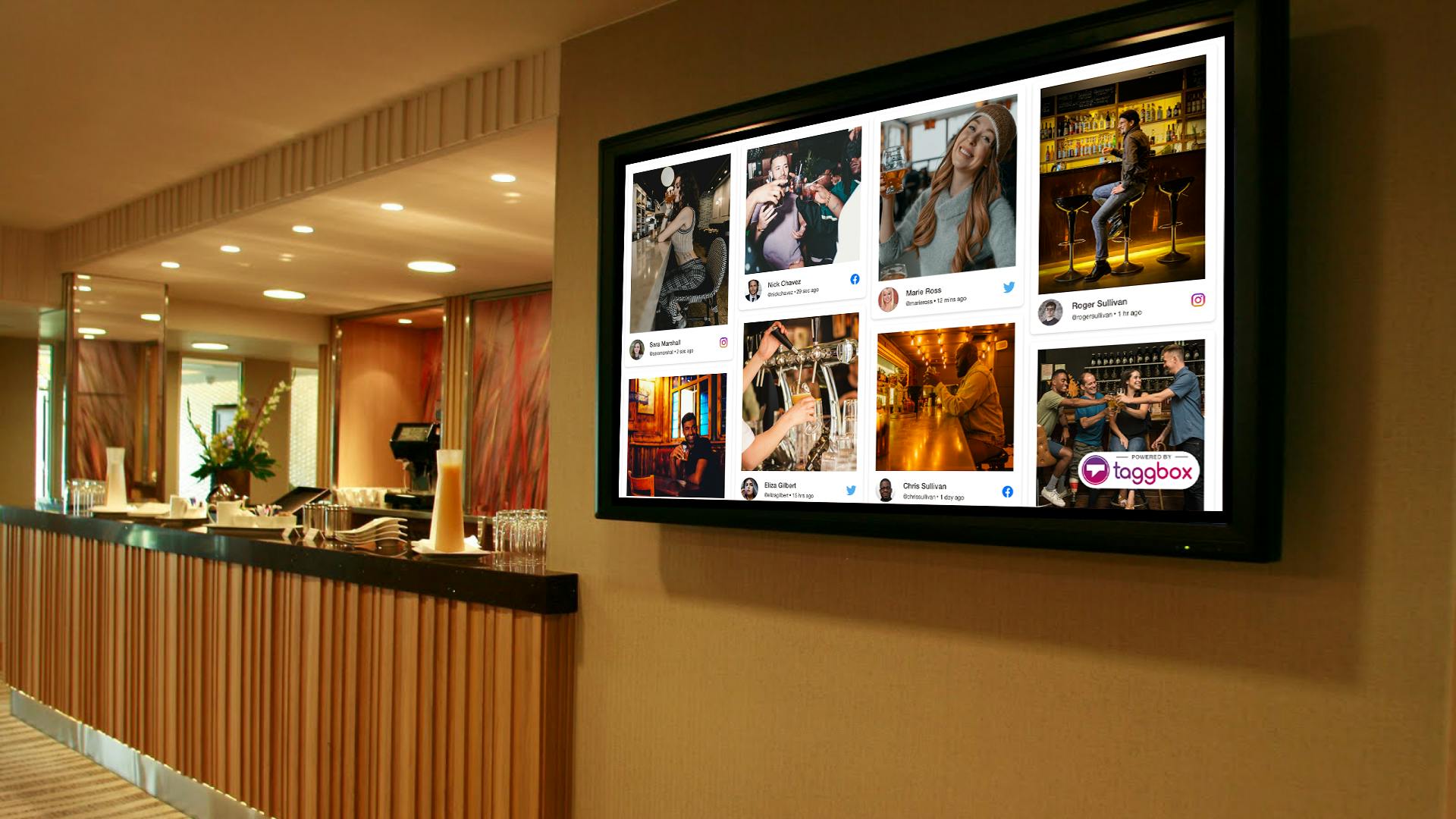 Try ScreenCloud for free
Already a Taggbox member? Try it out with ScreenCloud for free with our 14-day no-credit-card-or-screen-required trial. Or, request a demo and we can show you how a carefully executed digital signage strategy can super-boost your brand.
Ready to get your organization connected?
Connect your first screen today with our 14-day free trial
blog