Publish content to your screens directly from Microsoft Teams
Learn More


ScreenCloud vs Yodeck [updated March 2023]
Pick the best digital signage software for your setup. Comb through our detailed comparison of ScreenCloud and Yodeck's features, pricing, and user-friendliness to find out which digital signage app is best for your unique situation.
You could lay out the feature lists of two highly-rated apps and compare them line by line, but that won't tell the full story. You could sign up for free trials of each and do a hands-on comparison, but that could take hours. You could read each company's comparison of the other, but surely they're too biased to be useful…right? 
We thought we'd try to write a better comparison of our category—cloud digital signage, comparing our platform, ScreenCloud, with Yodeck, another popular digital signage tool—in something that's not just an apples-to-apples feature list, but a way to showcase how it feels to use each product and who they're best for. We can't be all things to all people, but we're confident that we've built the best digital signage app for our target market.
ScreenCloud is better for certain use cases, and Yodeck is better for others. The question is, which is better for you?
This comparison provides an honest and nuanced rundown of the advantages and disadvantages of choosing one of these two industry-leading digital signage apps. We'll be updating it as often as possible and welcome any feedback you have about how we portray the Yodeck experience (tweet @screencloud, and we'll reply ASAP). 
Alright, let's get to it!
Tl;dr: Yodeck is cheaper, ScreenCloud has more features
The core differences between ScreenCloud and Yodeck:
App Integrations and Layouts
Content Management
Device Management
Hardware
Security
Support
Pricing
Which digital signage software should you choose?
App Integrations and Layouts
Digital signage is most effective when you already have information worth putting on screens. Sure, sometimes you'll want to create one-off announcements and ad-hoc updates. But what you'll be displaying the most are pre-existing stuff, the KPI data, employee birthdays, and conference room schedules that live in software your team already uses.
The ScreenCloud Workflow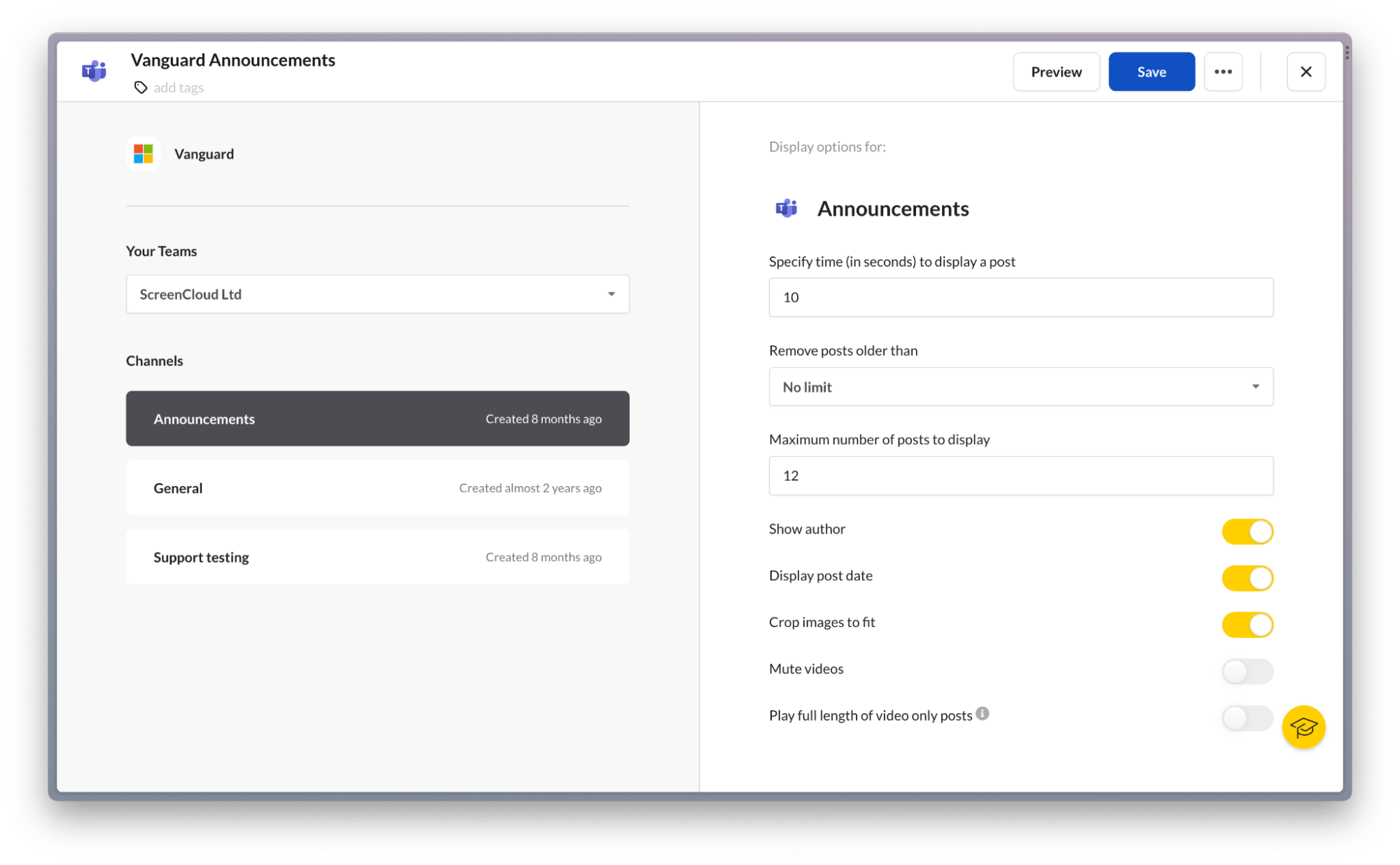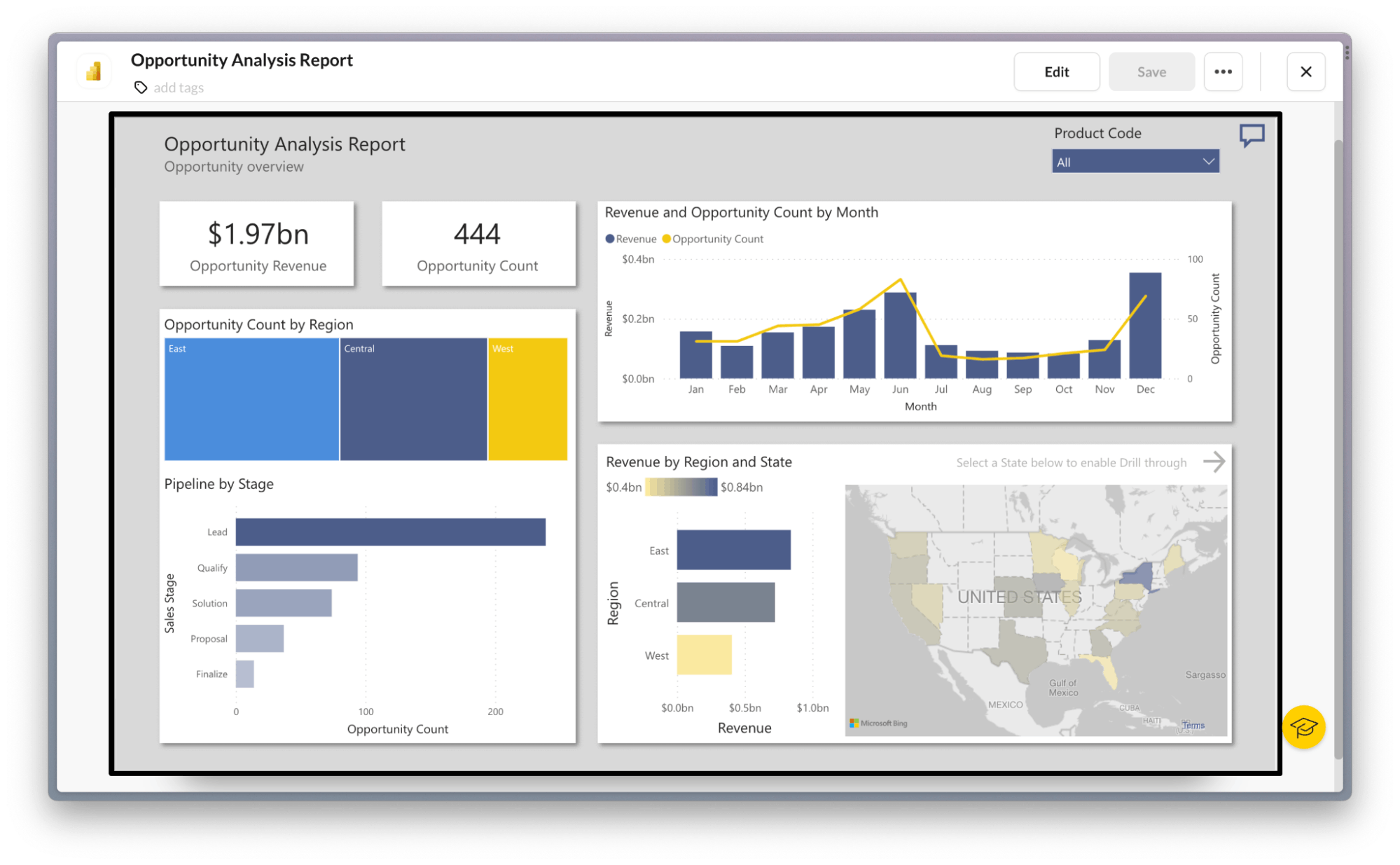 Connect your team's apps to ScreenCloud, as in the first screenshot of ScreenCloud's Microsoft Teams integrations, and you'll get pre-made dashboards and visualizations from your data, as in the Microsoft BI dashboard from ScreenCloud in the screenshots above.
ScreenCloud is built around pre-designed app integrations that make your data look great automatically. It comes with over 70 app integrations to display Google Sheets spreadsheets, YouTube videos, Twitter feed updates, Microsoft Teams chat threads, and more. Some of the best integrations are built around business communications. You can livestream Zoom meetings, showcase Microsoft Power BI dashboards, and more with minimal setup.
Select the app your team uses, add the details needed to show the data you want, and ScreenCloud will automatically turn your data into a dashboard ready for your screens.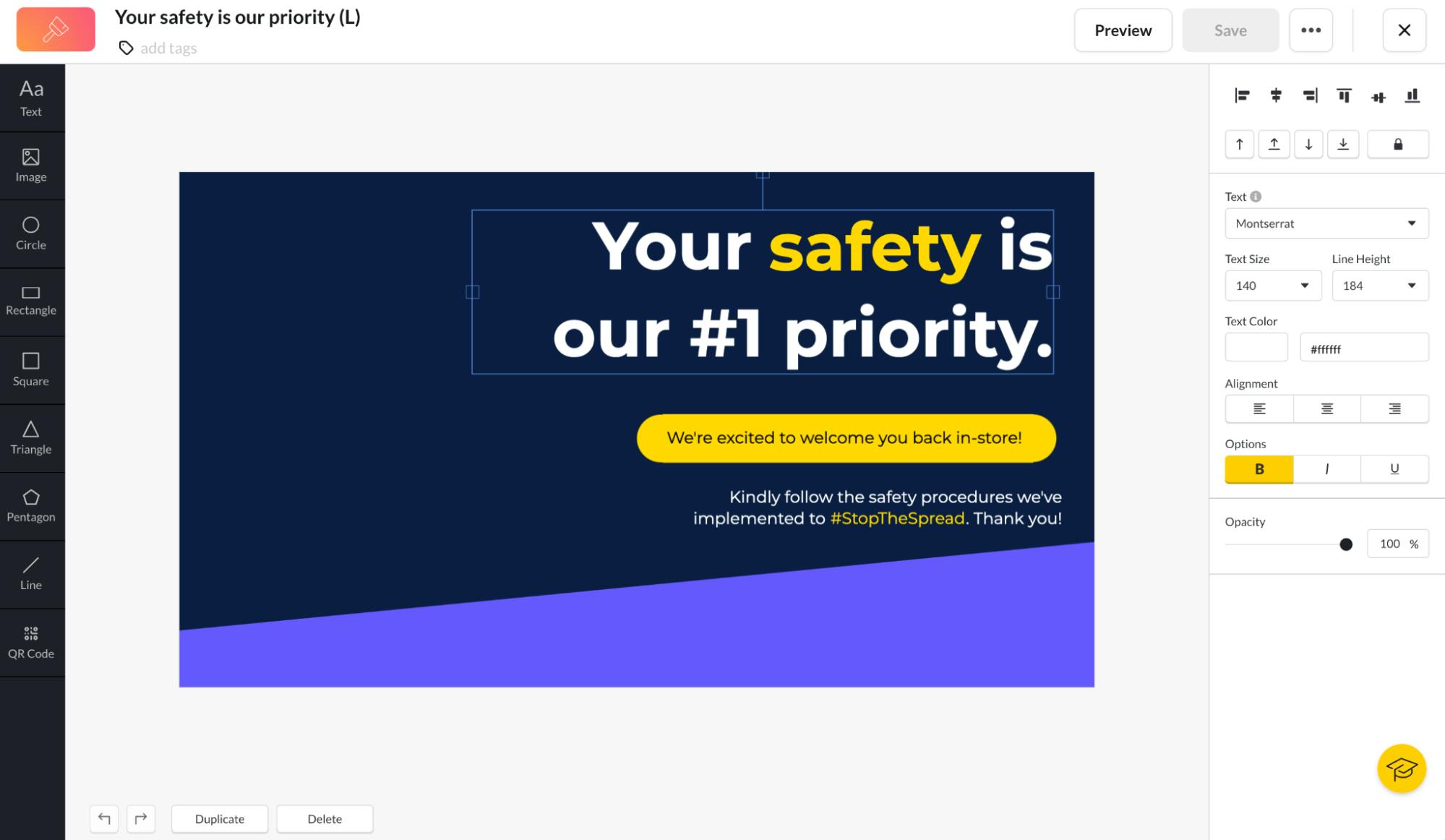 A screenshot of Canvas, ScreenCloud's snappy drag-and-drop page builder
Want to display a special announcement to your office? ScreenCloud's built-in Canvas app has a PowerPoint-style editor where you can quickly add GIFs, text, QR codes, and more to slides that play alongside your app data. Or, if you want to show photos and videos on their own, upload them to ScreenCloud's Media app to play them full-screen.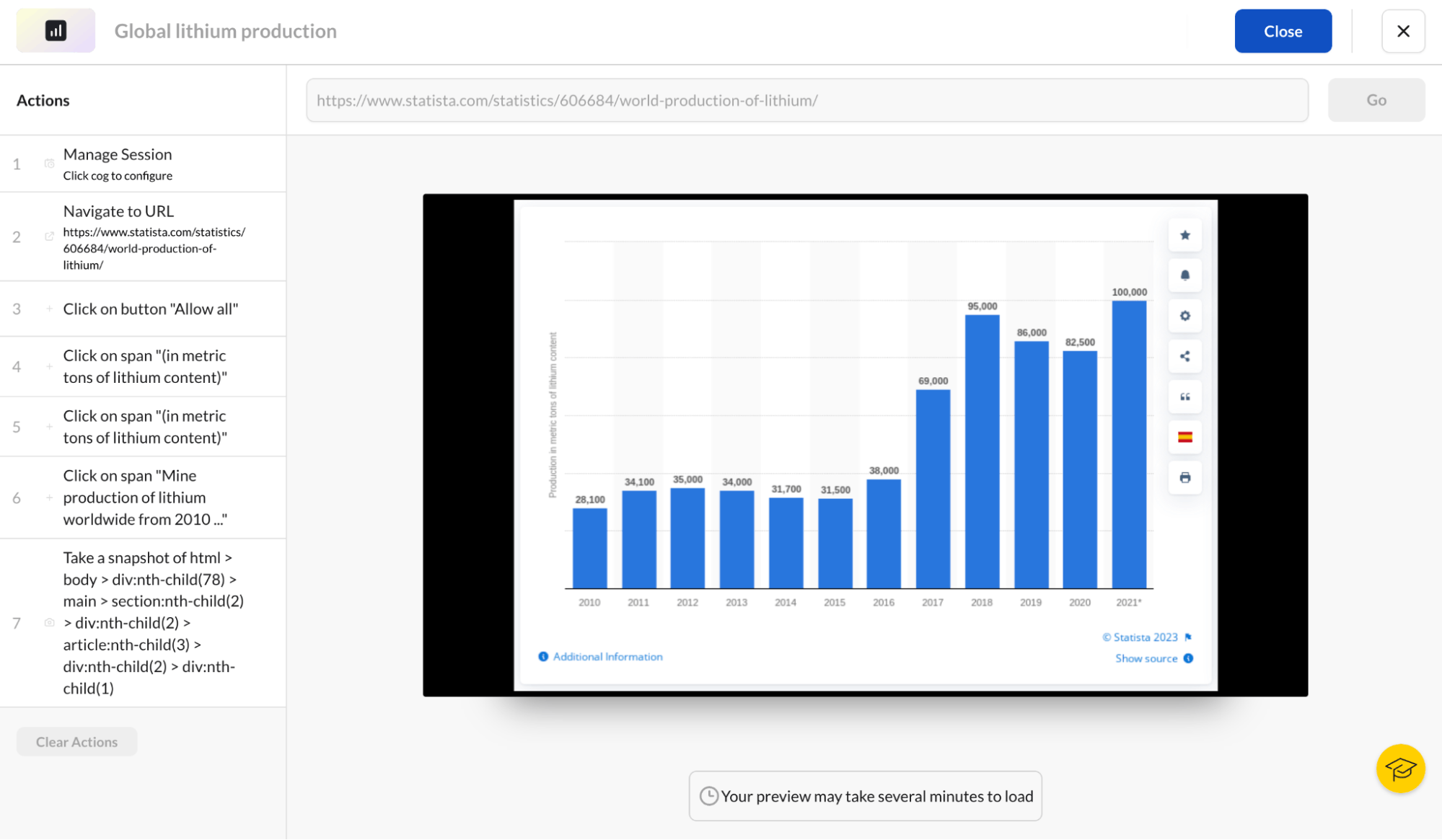 A screenshot of how ScreenCloud displays real-time data from Statista.com—or any website.
ScreenCloud's built-in apps don't cover everything—but ScreenCloud Dashboards do. They let you add data from any website or app to your screens. Open the Dashboards tab in ScreenCloud, click New Dashboard, enter a link to your app or website, then select the portion of the third-party website or app you want to show. Minutes later, it'll be up on the company screens and automatically updated throughout the day. It's a great way to put dashboards from your CRM, support desk, ERP, or any other app on your company's screens.
For more advanced dashboards, every ScreenCloud account includes access to ScreenCloud's GraphQL API. With it, your development team can build custom integrations with your in-house software, to make ScreenCloud a deeper part of your workflows.
The Yodeck Workflow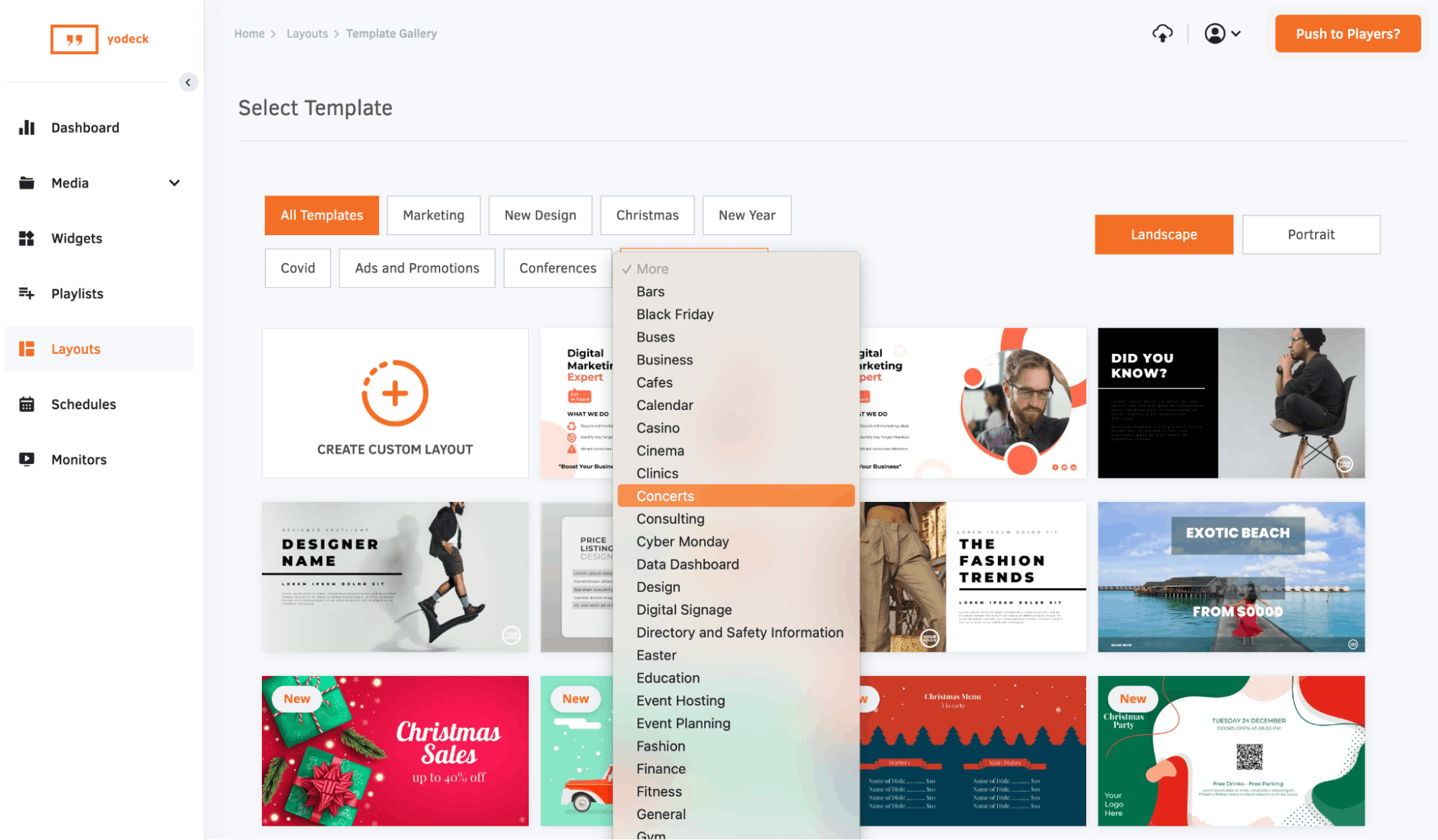 A screenshot of Yodeck Layouts templates that you can customize for your company's needs.
Yodeck is built around custom-designed slides, called "Layouts." You can pick from a wide range of pre-made designs, with templates built for marketing, data, concerts, education, and more. Or you can build new Layouts in a PowerPoint-like editor, similar to ScreenCloud's Canvas.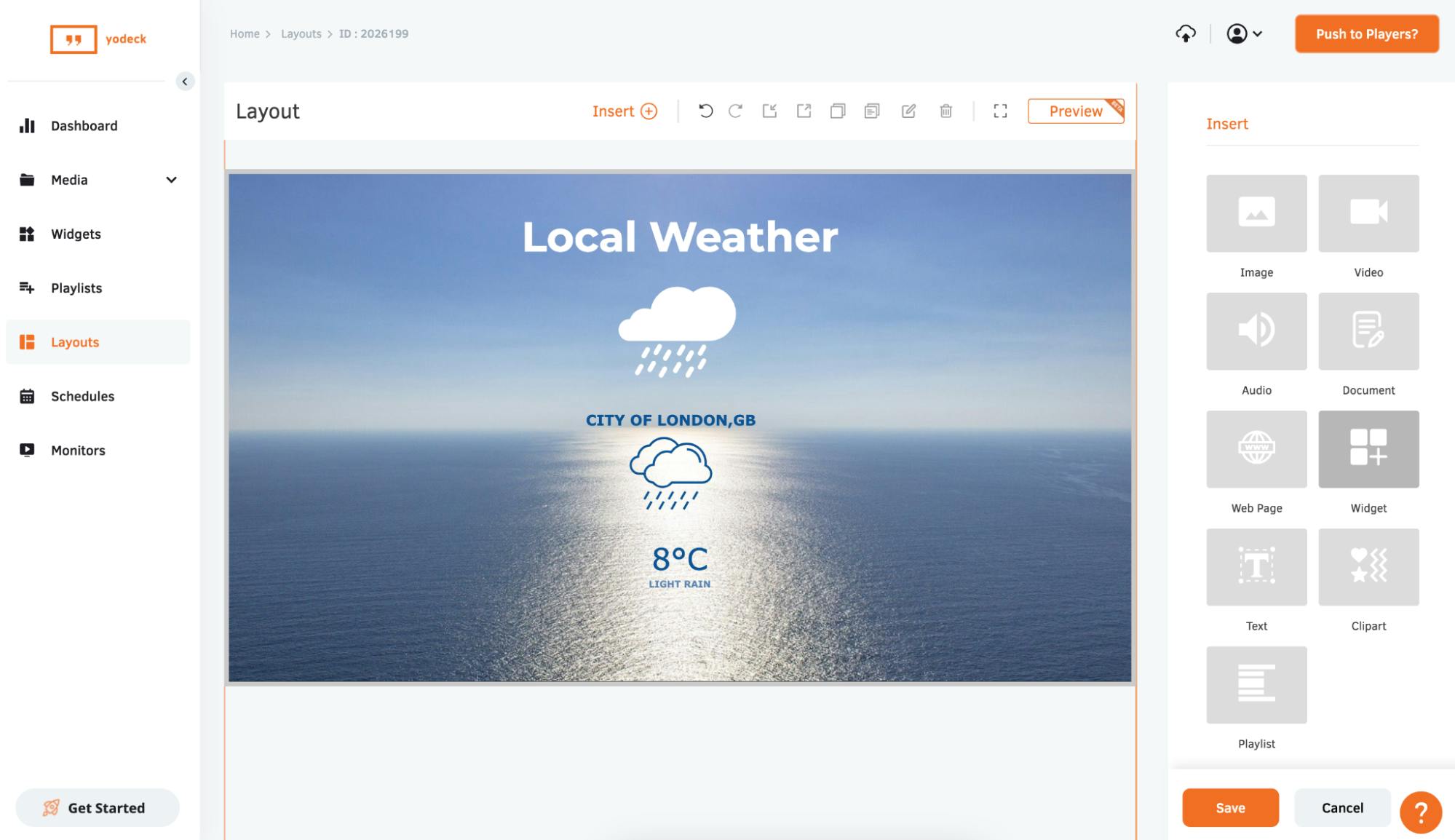 A screenshot of Yodeck's Layouts editor interface.
The core difference is that in Yodeck, everything starts with Layouts. Want to show details from your apps? First, you need to connect Yodeck to your desired data sources, such as Google Slides, Facebook, or Xero. Then, add a new Layout and customize the background, title, and rest of the design. Finally, add an app widget to display the data you connected in the first step. Each Layout can include multiple widget, to build multi-app dashboards—but you have to fine-tune the formatting, sizing, and layout of each widget by hand.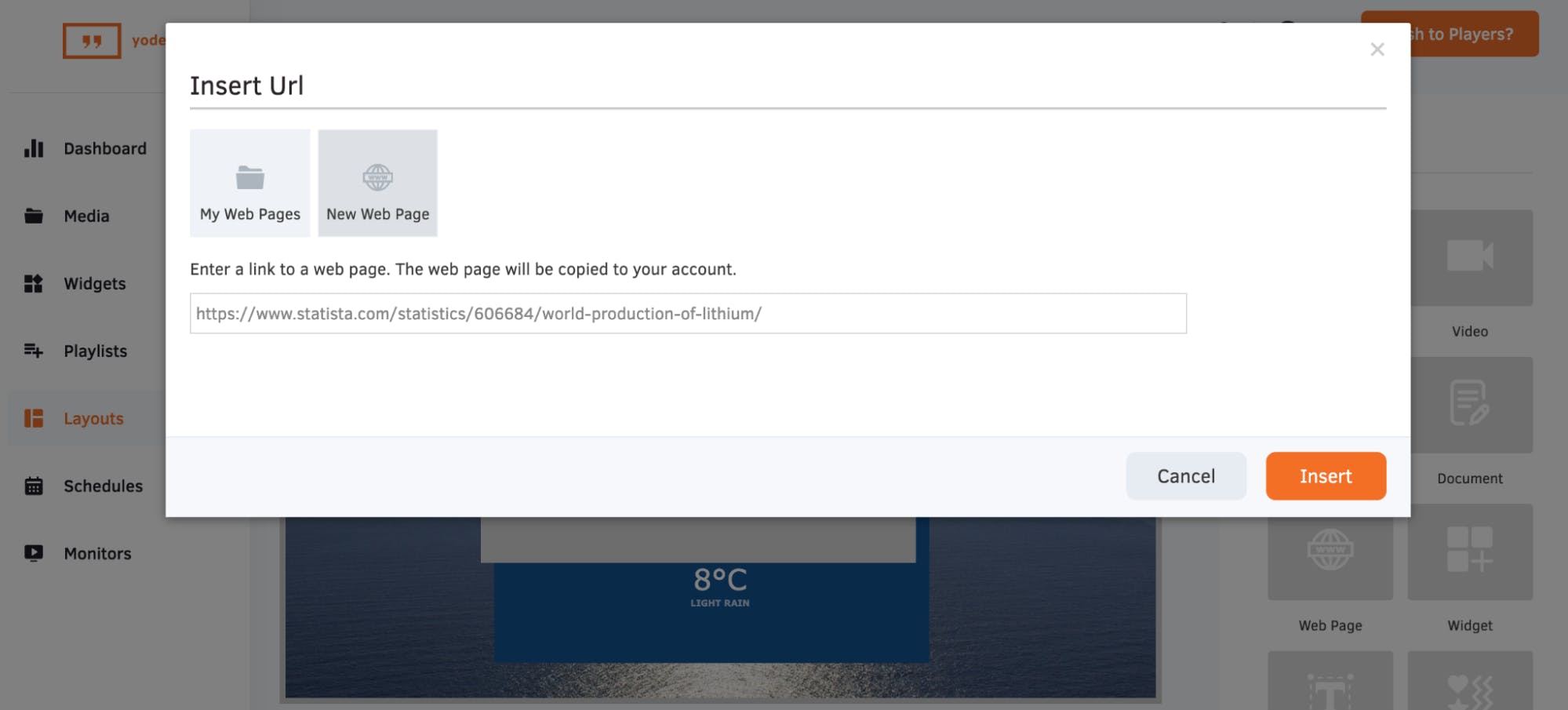 A window showing Yodeck's website embed feature.
Want to show data from websites or apps that don't have a Yodeck widget? You can do that with the Web Page widget, but Yodeck can only display the full site, not specific segments or sections of the site. It works OK for displaying full, public websites, but not for stand-alone graphs or private data from within your team's web app accounts.
In both ScreenCloud and Yodeck, you'll put your company's data on full-screen slides. ScreenCloud does most of the design work for you, while Yodeck asks you to either use one of their templates or place and adjust elements one by one.
Content Management
Once you've pulled in your data and customized it in slides, it's time to display them on your company's screens. ScreenCloud and Yodesk have similar tools for this.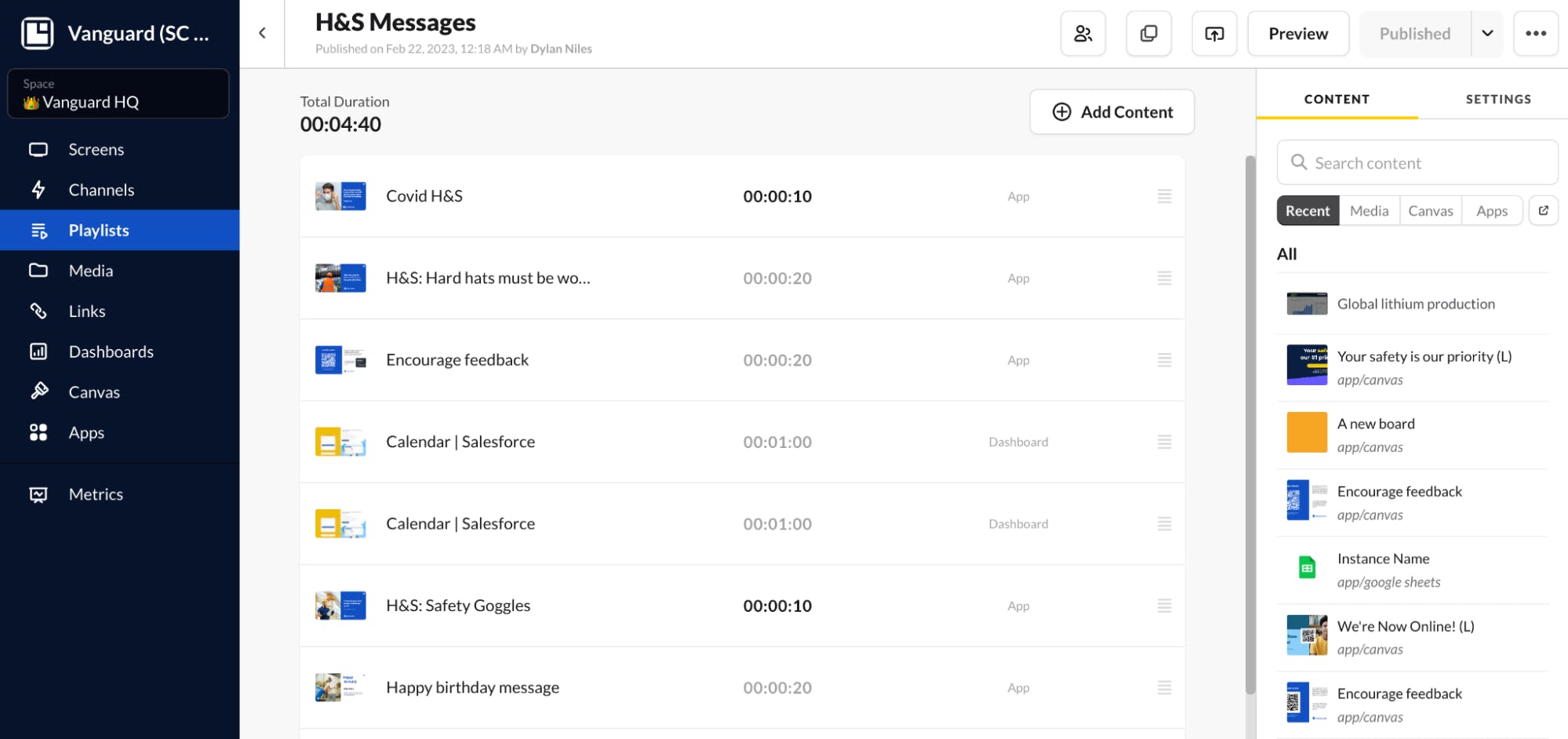 A screenshot of ScreenCloud's Playlists to manage the order in which your content's shown
ScreenCloud's target users either currently manage 5+ screens, or plan to grow to that number within 1-2 years. There are a few ways that the app specifically caters to this group. First is the Playlists tab, where you can drag and drop app integrations, existing slides, uploaded videos, or connected dashboards to play in the order you want (think Spotify's playlists) or based on certain conditions.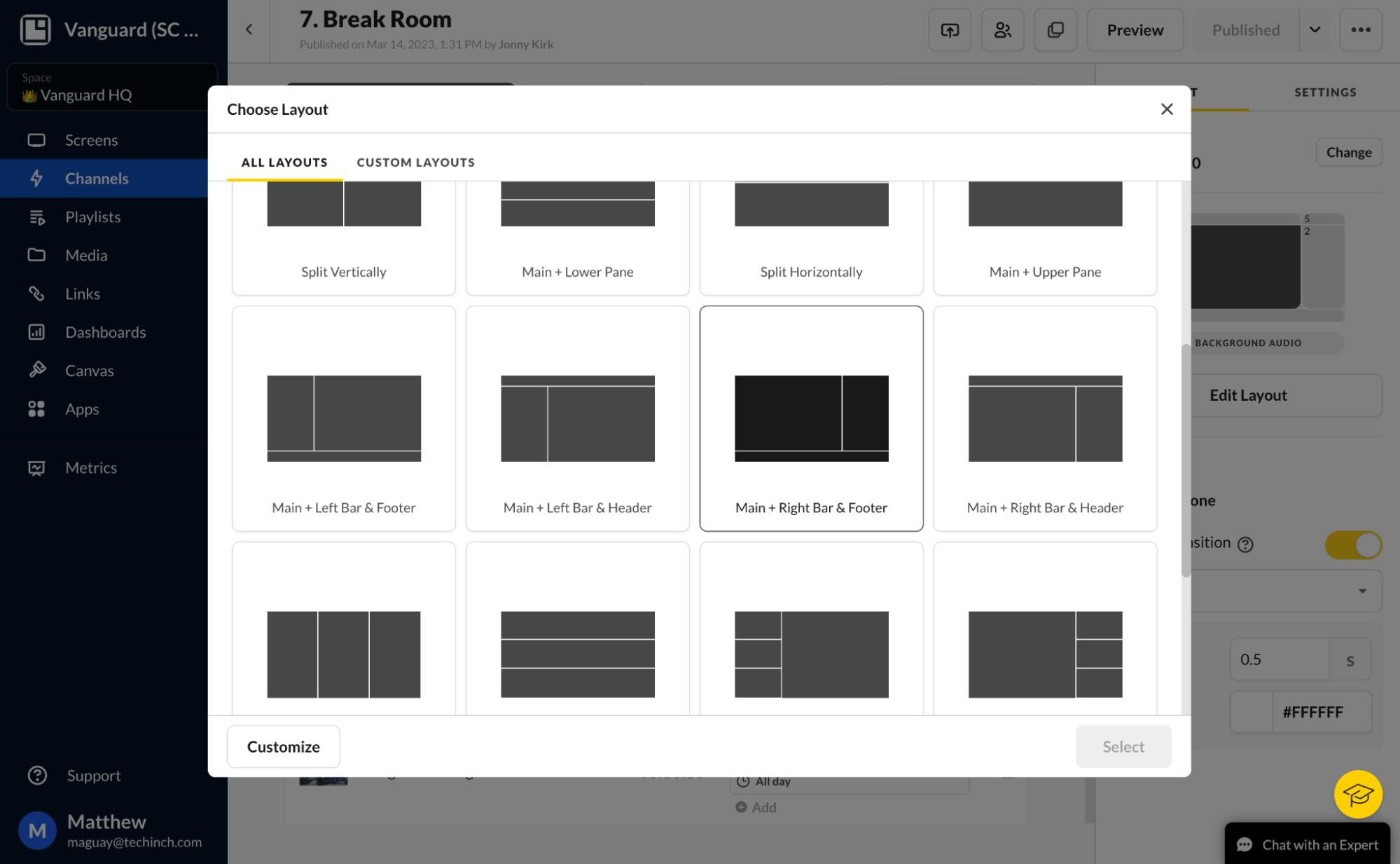 A screenshot of Channels in ScreenCloud where you can customize the layout to show data from multiple sources at once on your screens.
Then, the Channels feature lets you splice together pre-made Playlists with location-specific content (e.g., a conference room TV would show the company-wide playlist, with occasional breaks to display the meeting calendar specific to that room). If playlists let you define similar content (e.g., HR announcements), channels let you define location-specific content (e.g., a sales dashboard only shows in the sales office). Channels can also display info from multiple apps and dashboards at once, with pre-built layouts to help you arrange the information in standard configurations with a ticker on the bottom for updates or almost any other design you want. It's here that you'll pull everything together into professional signage.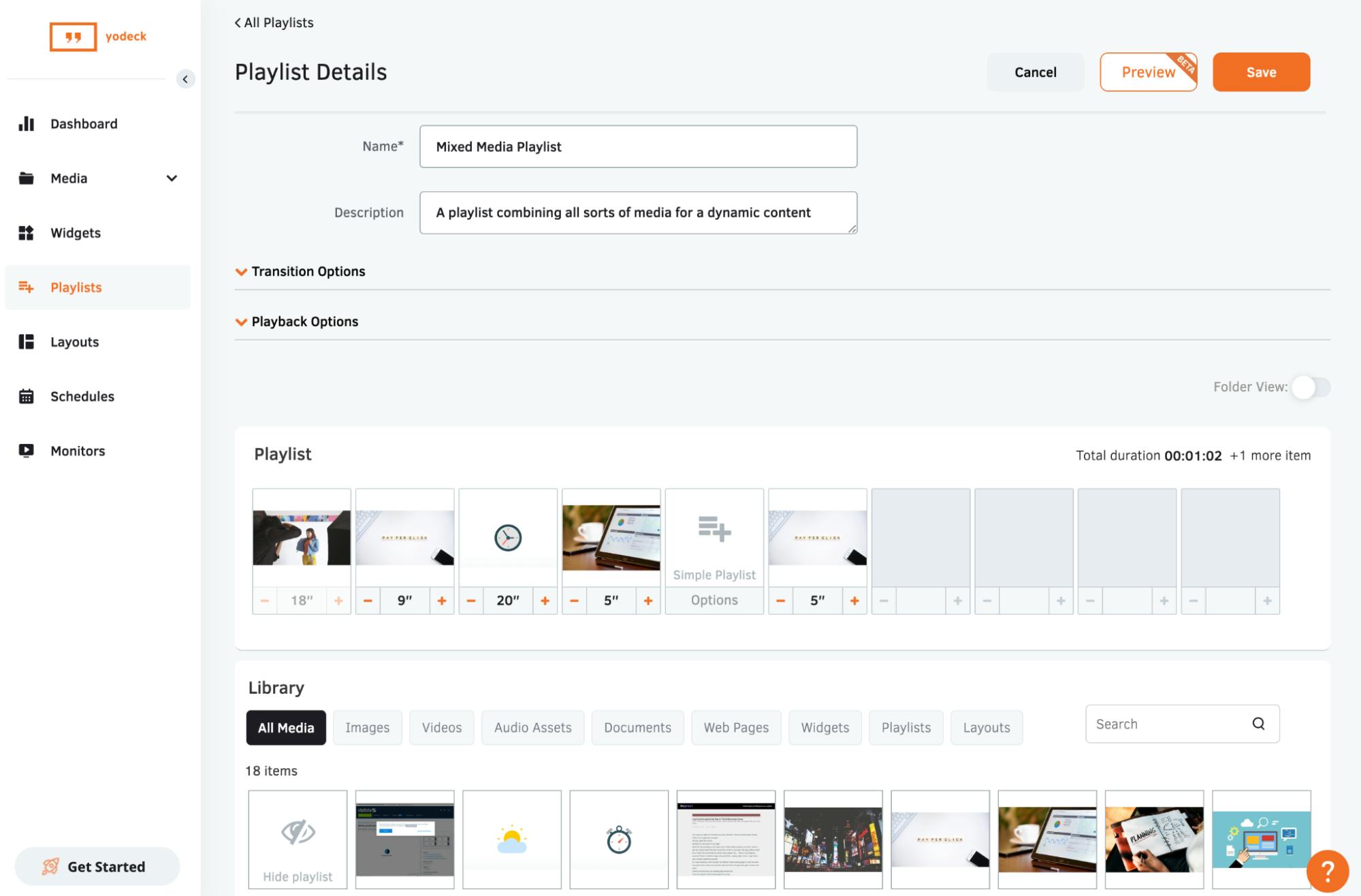 A screenshot of Yodeck's video-editor style Playlists tab.
Yodeck also includes playlists that organize your layouts to show them one after another. It uses a design similar to a video editor, and you can drag and drop media and layouts from the library at the bottom to the playlist at the middle of the page, then set how long each item should be on the screen. Yodeck doesn't have an equivalent of Channels but you can nest a 'child' playlist inside of a 'parent' playlist.
Device Management
When you first start getting into digital signage, device management is easy—you're probably starting off with just a couple of screens displaying relatively simple content. Over time, though, assales, HR, and other teams start seeing the benefits of digital signage firsthand, new screens will start popping up everywhere. You'll need to keep tabs on what's playing on each screen and for how long.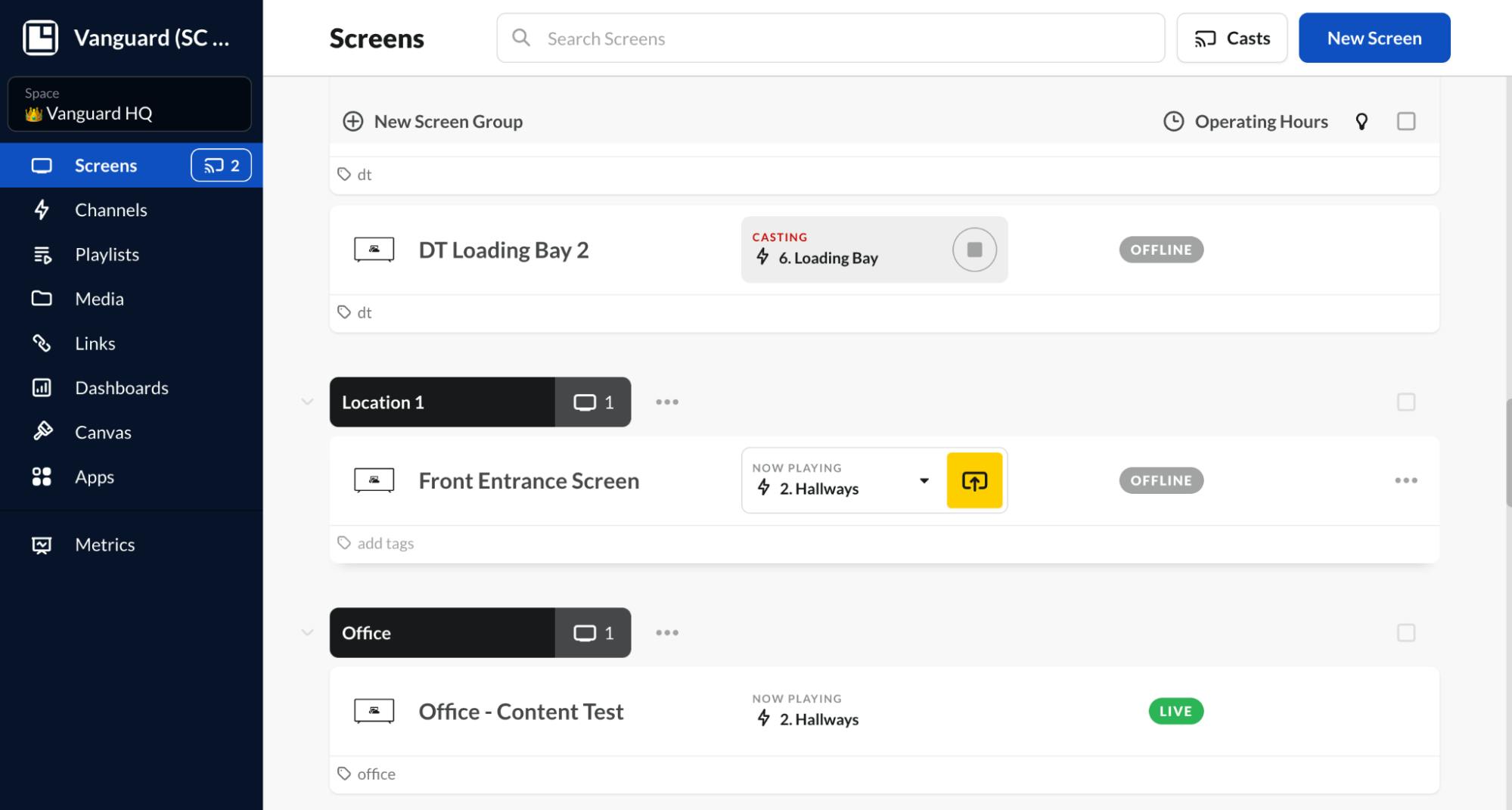 Screenshot of ScreenCloud's Screens management dashboard, with screens organized into groups.
When you open ScreenCloud, the Screens page is the first thing you'll see. It lists every screen connected to your ScreenCloud account, organized into groups. Whether you're just down the hall from the company's screens or working from home, the Screens page lets you manage every screen across your company and push specific channels, playlists, and dashboards to individual screens or groups of screens. You can also use ScreenCloud Broadcast to override the default channel and cast a playlist or a live Zoom video to a specific screen anytime, if you want, almost like a Google Chromecast.
You can also create a Group of screens to update content across a subset of screens and create Group-specific rules (e.g., turn on the break room TV at 11am and play the 'Lunch' playlist).
For larger enterprises, ScreenCloud also includes Spaces, separate sub-accounts each with their own set of screen groups, playlists, operating hours, and more.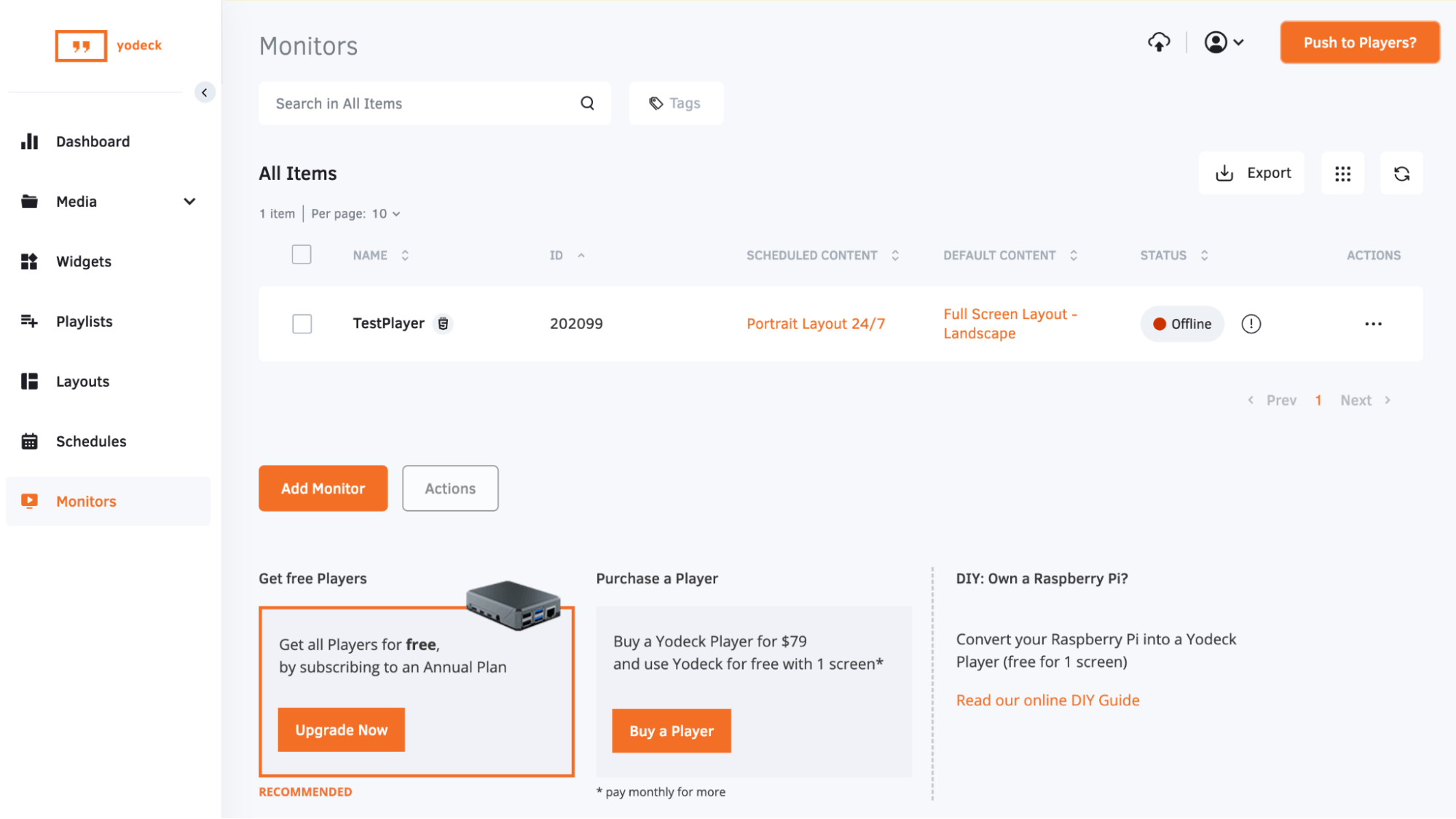 A screenshot of Yodeck' Monitors page for screen management
Yodeck calls its screens either Monitors or Players. Stats about your monitors are visible on the core Yodeck dashboard but most of the information and settings can be found in the Monitors page. Here, you can add new screens or edit settings for existing screens.
You can tag monitors as a way to group them and make bulk changes, turn them on or off, switch to a new playlist, or set their location together. There's no way to temporarily cast to a screen though; instead, you'll need to open a screen's settings, change its playlist to the new content, then manually switch back to the original playlist once you're finished presenting.
Hardware
From spare TVs in conference rooms to floor-to-ceiling LED walls, digital signage comes in all shapes and sizes. Getting an unfamiliar screen mounted and powered up is relatively easy. Figuring out its display settings and operating system? Less so. You'll need to install your signage app on the device itself or on a media player connected to the screen.
ScreenCloud is built to run on virtually any device you have. In most cases you can download and install the ScreenCloud viewer app from your signage's built-in app store, as is the case for devices running Android TV, LG webOS, Samsung Tizen, Amazon Fire OS, Zoom Rooms, and Brightsign devices. For more basic smart TVs, you can use ScreenCloud's web app to run ScreenCloud from the TV's browser.
ScreenCloud also offers iOS and Android viewer apps to turn tablets and other IoT devices into digital signage displays compatible with touchscreen gestures. Last but not least, native Mac, Windows, and ChromeOS apps let you run ScreenCloud from any computer connected to a screen—and can be used to run zero-latency video walls powered by dedicated PCs. If you'd rather go with a hardware media player, ScreenCloud OS comes on a dedicated $200 player (included free with Enterprise plans) built for large deployments of 4K screens.
In contrast, Yodeck is built around its Yodeck Player hardware, a $79 or $99 Raspberry Pi-powered device. Order one player per screen, then connect it to your account and manage each one in the Monitors tab.
Alternatively, you can run Yodeck from a web browser, with a Brightsign player, or Yodeck's beta Android app. Keep in mind that if you're not using a Yodeck player device, though, you can't use app integrations that require a login, including Tableau, Google Calendar, and others. And in some cases, you may not be able to display videos in the browser-based version. For the majority of users, a physical Yodeck device is required for essential features.
Security
Your company's digital signage software will likely have access to some of your company's most sensitive data—and will be seen by anyone who walks by. That means your screens need to be 100% secure to ensure your screens never show data to the wrong audience.
SOC2 compliance is non-negotiable for growing organizations with expanding fleets of screens. It's one of ScreenCloud's biggest priorities, and means that ScreenCloud's platform has been externally audited for security, availability, processing integrity, confidentiality, and privacy. Additionally, ScreenCloud encrypts your data at-rest, both on the server and in ScreenCloud apps and devices. Most of ScreenCloud's integrations, and its web-powered Dashboards, don't store your data on ScreenCloud, and instead display the data directly from your apps, giving you an even smaller data footprint on ScreenCloud. And with Pro and Enterprise plans, you can use SSO to check audit logs to see whenever data has been accessed or altered.
Yodeck includes ISO-27001 security certification, with player encryption included in its Pro plans, along with SSO and audit logs.
Software and Hardware Support
Both ScreenCloud and Yodeck have done their best to make setting up and maintaining your digital signage as easy as possible. But no app is perfect. If something goes wrong and you need help ASAP,  support from these two teams follow different paths.
ScreenCloud includes a number of support options to fit your needs, from the smallest company to the largest enterprise. Every ScreenCloud account tier includes support via email or chat, backed by a 99.99% uptime guarantee. And with ScreenCloud's top-tier partner list—including Microsoft, Intel, Zoom, Sony, and more—you know your signage is in good hands.
ScreenCloud Pro plans come with a dedicated success manager available over email, Zoom, or phone, with dedicated onboarding and training for teams with 35 or more screens. With an Enterprise plan, ScreenCloud's Professional Services team can help you design, plan, and roll-out your screen deployments, complete with custom app development to ensure in-house software looks great on digital signage.
Every Yodeck plan includes email and chat support (no phone or video call options currently available), with priority given to paid customers. If you need additional assistance in building out your digital signage, they have a partner network of contractors that help with larger installs.
Pricing
Cloud digital signage software is typically billed per-screen, with pricing based on the features your team needs. ScreenCloud starts at $20/screen per month, going up to $40/screen per month for Enterprise plans. Yodeck starts out free for your first screen, then starts at $7.99/month per additional screen for its standard plan, going up to $12.99 for its Enterprise plan.
Your total cost of ownership (TCO) for digital signage will depend on your hardware and software together, though. With ScreenCloud, you can get the same core ScreenCloud features on any device. That means you could run the ScreenCloud app on an Android smart TV, or repurpose a PC or Chromebook to power a TV running ScreenCloud's desktop or web apps.
If you're buying new equipment, you can get ScreenCloud OS on a standalone digital signage device for $200 per screen (or for free, with an Enterprise plan) that's custom-built to power 4k content on large-scale deployments, pre-configured for your network. With Yodeck, you'll need to buy a Yodeck player—a $79-$99 Raspberry Pi-powered device that's included with an annual plan—to use most of its widgets or streaming video.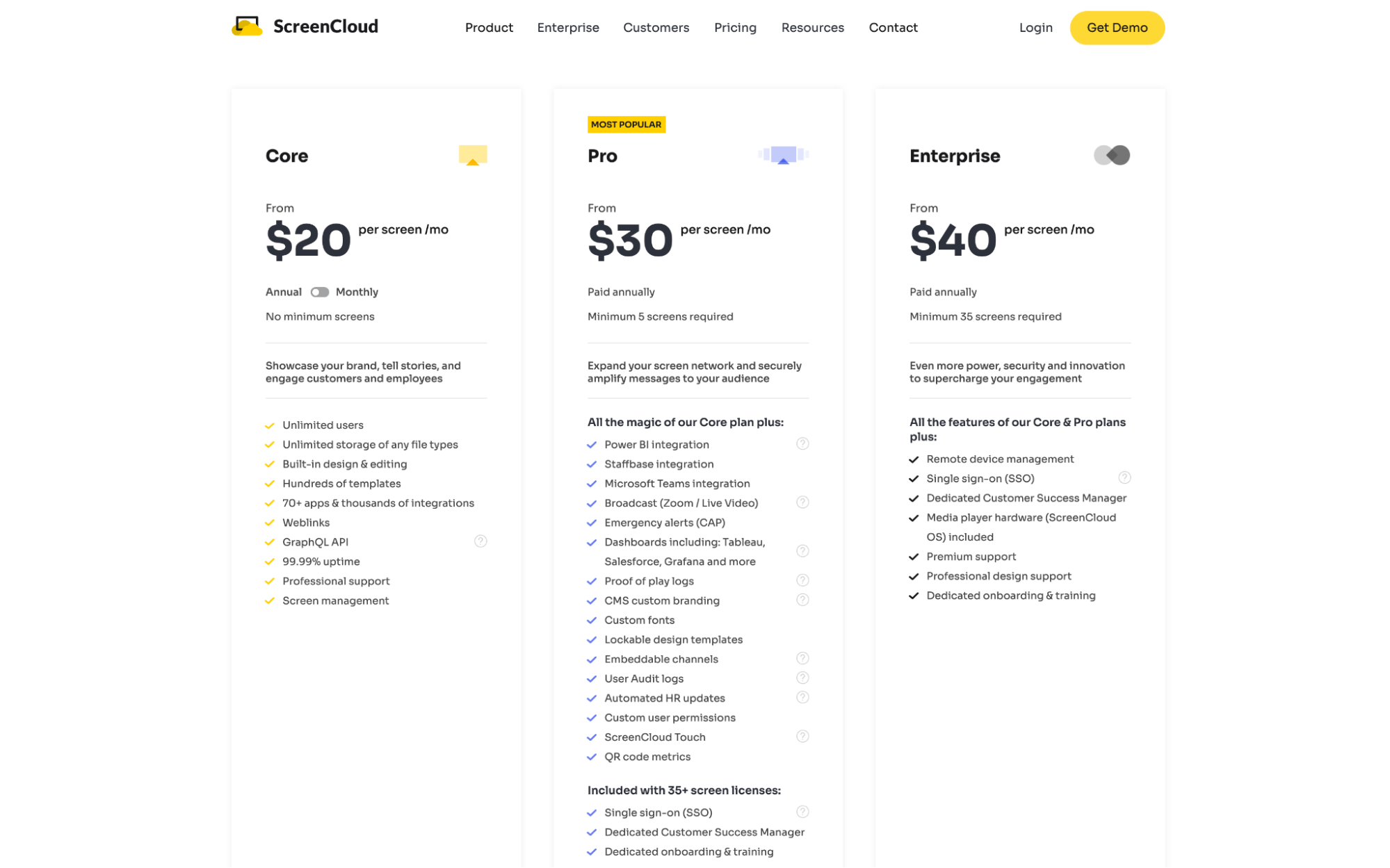 ScreenCloud Pricing
With more advanced features that let you manage large screen deployments, run on any hardware, and build dashboards that include data from any app or website you want, ScreenCloud costs more than Yodeck. After a two-week free trial, you'll need to pick a plan, ranging from:
$20/month per screen Core plan with features including ScreenCloud's built-in apps, GraphQL API, encryption, SOC2 certification, 99.99% uptime guarantee, and support.
$30/month per screen Pro plan with touchscreen support, dashboards, Microsoft BI, Teams, and other professional integrations, proof of play and audit logs, SSO, and a dedicated support manager.
$40/month per screen Enterprise plan for remote device management, dedicated success manager, design support via Professional Services, dedicated onboarding and training, and ScreenCloud OS hardware included in your subscription.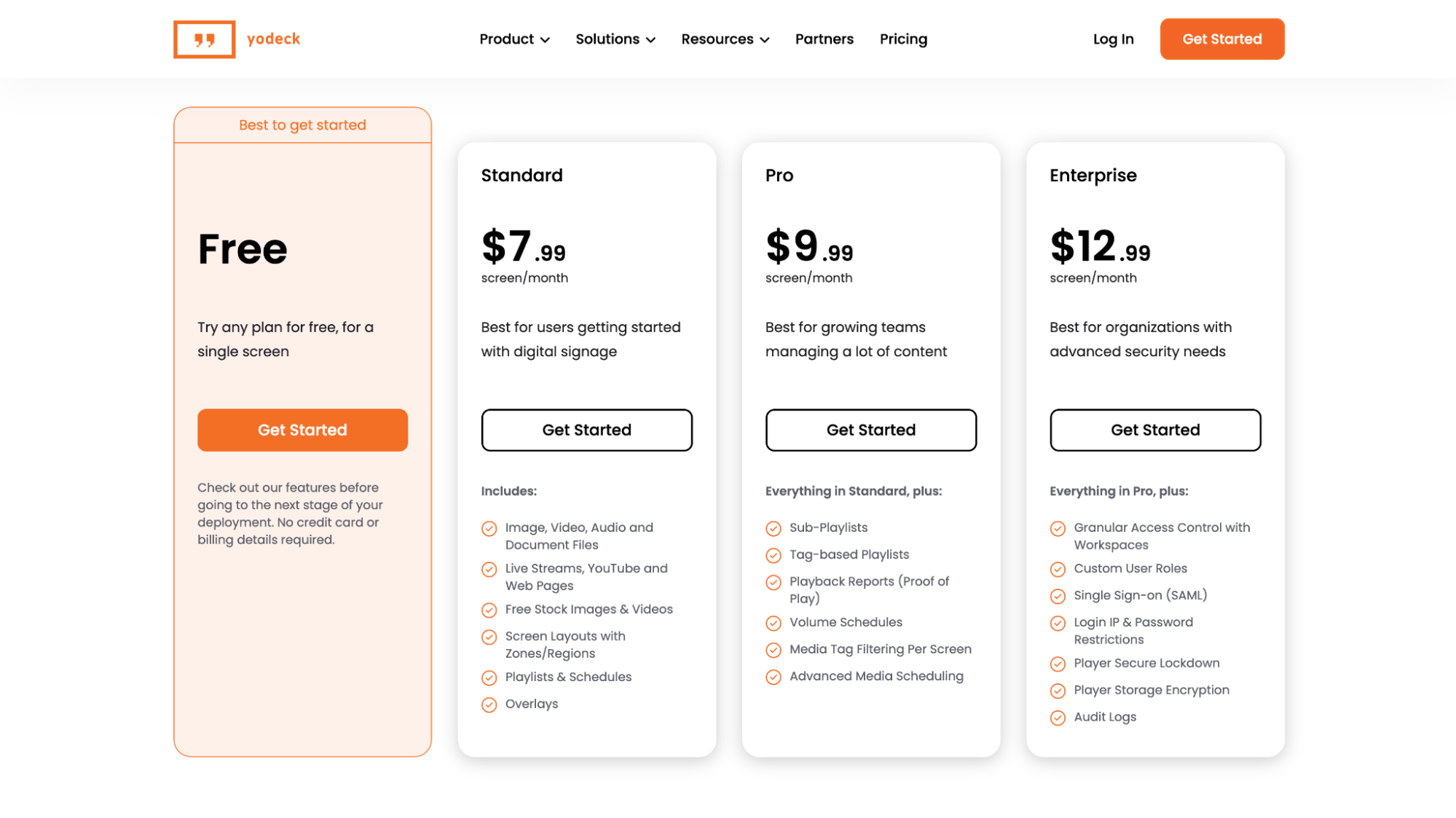 Yodeck Pricing
One of Yodeck's main selling points is that they keep plans as cheap as possible. One display is free and beyond that, the pricing options are:
$7.99/month per screen Standard plan for core features.
$9.99/month per screen Pro plan for tag-based playlists, proof of play, volume schedules (to mute screens at specific times), and other scheduling features.
$12.99/month per screen Enterprise plan for workspaces, custom user roles, SSO, encryption, and audit logs.
Paying for an annual plan doesn't discount the software itself but does get you either one free basic hardware media player per screen, or a discount on the more advanced Yodeck player that supports web dashboard widgets and multi-zone layouts.
For core screen features and small deployments, Yodeck's plans give you an economical way to start showing data on your team's displays. For more features aimed at growing startups, multi-location franchises, and global enterprises, ScreenCloud's more advanced plans include features not available in any of Yodeck's plans.
Final verdict:
Yodeck is best for price-sensitive users who prefer to edit layout designs pixel by pixel, pull apps and media together in single slides, and display them on a small handful of screens.
ScreenCloud is best for teams deploying 5 or more screens with hardware-agnostic digital signage built to combine web dashboards, in-house data, and pre-built app integrations well-designed screens that look great out of the box and work on any screens and hardware you already own. It's a professional digital signage solution that will save your team time in building screens around your data and apps, backed by industry-leading support, security, and uptime guarantees.
As Chris Evans, Head of Critical Systems at the UK National Health Service found, "We spent months evaluating a number of suppliers and found ScreenCloud to be extremely helpful in helping us get set up and integrated with our end solutions."
Or, as BASF's Multimedia Comms Specialist Baggie Krol said, "The beauty of ScreenCloud is that all of the resources we need to create good content are in one place, [even] if you're not a graphic designer."
We agree...but we might be biased.
Ready to get your organization connected?
Connect your first screen today with our 14-day free trial
blog