Publish content to your screens directly from Microsoft Teams
Learn More


ScreenCloud vs OptiSigns [updated July 2023]
Which is the best digital signage app for your use case and future needs?
The list of business-friendly digital signage apps isn't nearly as long as, say, project management apps. And the top picks will usually look similar for anyone who needs a tool that can display and remotely manage content on a fleet of TVs mounted around an office or manufacturing floor. 
ScreenCloud and Yodeck are both great options (check out our detailed comparison of those two). But another app that comes up frequently in digital signage conversations is OptiSigns. Although most of its features overlap with ScreenCloud, there are crucial differences. 
If you'd rather not sign up for each software's free trial and compare them yourself, this guide includes screenshots and objective descriptions of what it's like to use each app for digital signage. And since this article is only as valuable as it is accurate, we invite anyone with feedback on our summary of OptiSigns to tweet @ScreenCloud – we'll respond as quickly as possible.
Here's where things stand today.
Tl;dr OptiSigns has a slight edge in hardware compatibility, ScreenCloud wins when managing 5+ screens.
There are dozens of other differences, though. When looking at these two apps side by side, everything falls into one of these seven categories:
Hardware compatibility and options
Screen management
Adding content to your screens
Built-in apps and third-party integrations
Data security
Customer support
Pricing
Let's dive into the details and what they mean for your digital signage efforts.
Hardware compatibility and options
Few things will make choosing a digital signage app as straightforward as hardware compatibility. If you've got a few decent Samsung TVs lying around, and one app is more friendly to Samsung TVs than the other, that might be enough to end the debate. 
Assuming you're hoping to install a digital signage app on the hardware you already have, both ScreenCloud and Optisigns work with any device that's compatible with Google's Play Store (e.g. Android TVs, tablets, and Chromecasts), Amazon's Fire OS (e.g. Fire TVs, Fire tablets, and Fire TV Sticks), and BrightSign devices.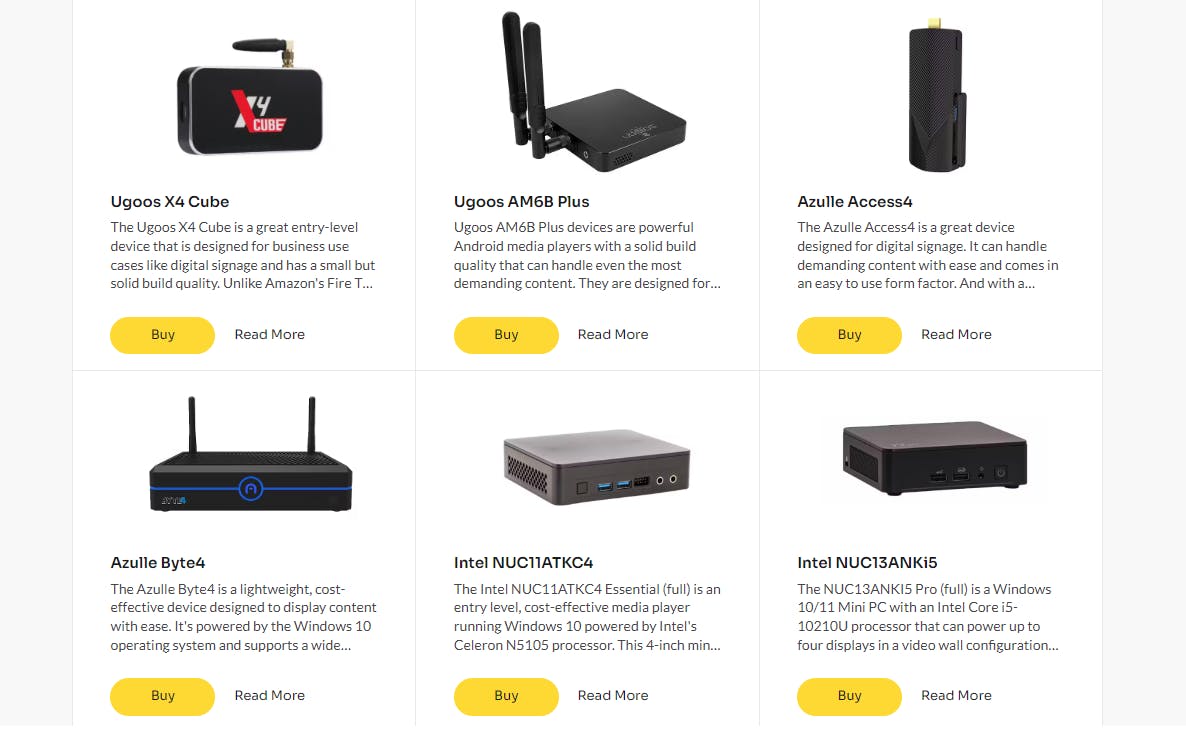 But there are plenty of reasons to invest in a commercial-grade media player for digital signage. They're built to weather 24/7 uptime and last much longer than consumer media players. That, and commercial players are much better at handling 4k video, screens with multiple display zones, and other types of power-hungry content. While that may not be important to you today, it could cause growing pains down the line.
ScreenCloud works with dozens of third-party media players. But we'll admit that OptiSigns scores a few extra points in this category. They have options for Linux operating systems, Raspberry Pi devices, and a listing on the Roku app store (although it's a significantly pared-down version of the full app). 
Ultimately, ScreenCloud is more focused on its own low-cost, high-power hardware than keeping up with third-party releases. And while OptiSigns also has proprietary media players, ScreenCloud handily wins this category. OptiSigns' Android Stick is $80 and comes with a 4-core processor, 2GB DDR3 RAM, and 16GB of onboard storage. Compare that to ScreenCloud's $95 Station P1 Pro, which runs off a 6-core chip, 4GB DDR4 RAM, and 32GB of hard drive space.  

Of course, the most powerful media player on the market won't negate a bad user experience in the app.
Screen management
Arguably, the most valuable feature of modern digital signage software is the ability to send new content or update existing signage playlists without getting up from your desk. Not to mention how easy—or not—it is to configure and deploy your fleet of displays.
First, there's the process of connecting a screen to your account, which looks almost identical in ScreenCloud and OptiSigns. Install either app's player on a TV or set up a browser-based player, open your account dashboard on a computer, click New Screen, and enter the 6-digit pairing code.

Both apps have a Screens tab that lets you customize things like the display's name, location, time zone, orientation, and syncing intervals. There are a few small differences, though. OptiSigns lets you adjust brightness and volume levels for individual screens, while ScreenCloud gives you the option to put certain screens to sleep based on custom schedules. Different strokes for different folks.
Where things really begin to diverge between the two experiences is content management.
Adding content to your screens
You've connected a few TVs to your digital signage app and want different screens to display different things based on a handful of variables. Maybe HR wants to display info on a breakroom TV about a new hire, and the sales team wants to share the latest revenue data on a monitor in the main office area.
In ScreenCloud, the easiest way to add content to a single screen is to click the Now Playing dropdown (from the Screens tab) and click Browse more. That will open a window with several content options:
Links: Enter a URL you want to show on your signage, add a QR code overlay that takes viewers to the page, and set the refresh frequency.
Media: Upload images, videos, or documents (e.g. PDFs, PPTs, DOCs, etc.) you want to display on screens.
Apps: Sync content from ScreenCloud's native apps and third-party integrations to your signage.
Playlists: Add links, uploaded media, or app instances to an ordered list and set the play duration for each item before looping back to the beginning. 
Channels: Group playlists and other content based on screen locations (e.g. a New York office channel and an L.A. channel) and segment your displays into zones (imagine a company-wide HR Playlist running in one zone and team-specific Slack feed playing in another).
Each of those has its own tab in the ScreenCloud app dashboard, and you can push content to screens that way as well. So you could upload a video in the Media tab and, from there, add it to any of your connected screens. Functionally the same, but you may gravitate to one approach or the other as time goes on.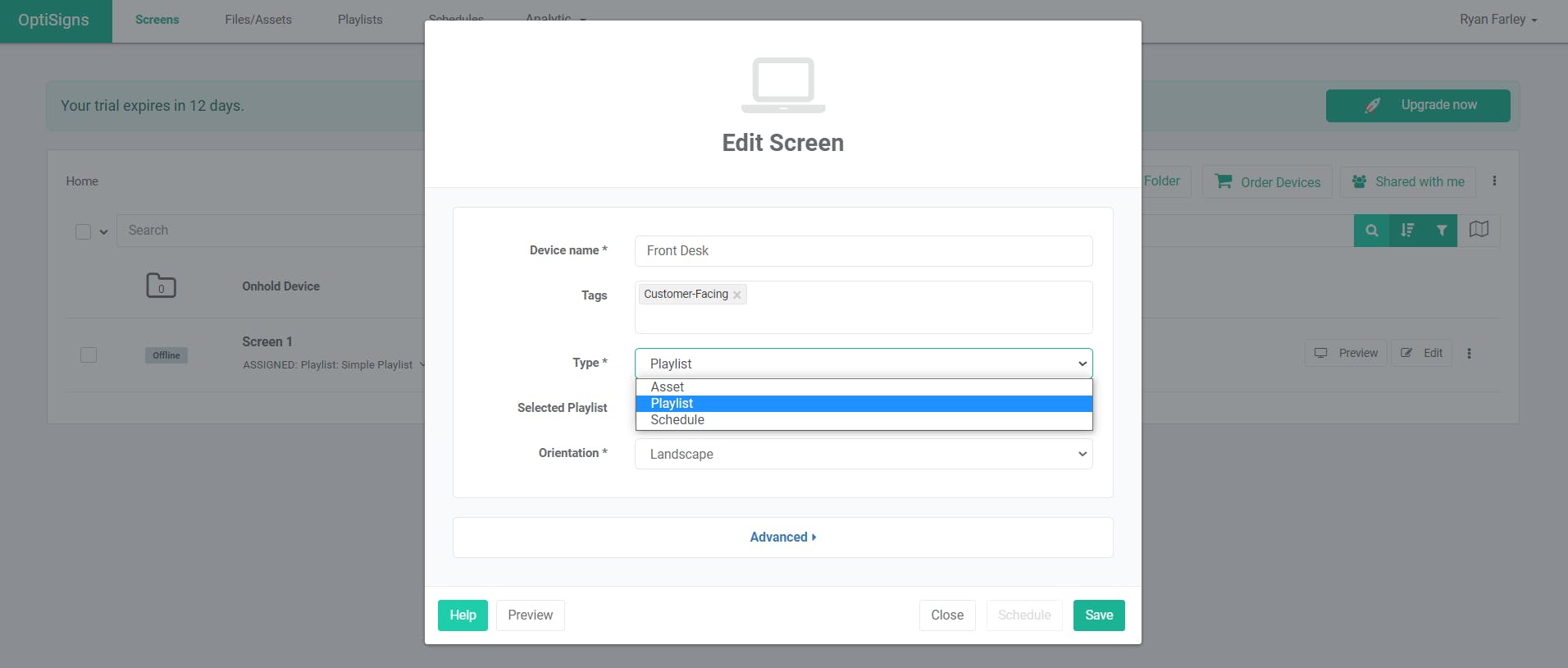 While the general workflow is similar in OptiSigns, there aren't as many options. Click on a connected display in the Screens tab and choose Asset, Playlist, or Schedule from the Type dropdown. With Assets, you'll add app integrations and upload files. OptiSigns covers the basic file types but lacks ScreenCloud's support for Adobe and Apple software ecosystems. 
With Playlists, you can drag and drop files or integrations from your Assets to order them however you like. OptiSigns doesn't have a feature akin to ScreenCloud's Channels, but you can nest playlists inside of other playlists. The Schedule tab also lets you set date and time windows for displaying Assets or Playlists on your signage.
The main difference between the two apps in terms of content management is that ScreenCloud has an extra layer of customization with its Channels feature. If you have two office locations, each with three screens (e.g. front desk, breakroom, and main office), you'll likely need six playlists in OptiSigns. Need to add an announcement for all three screens at one of the locations? That means updating content on each of the three screens. Not so with ScreenCloud, where you'd simply update the Channel.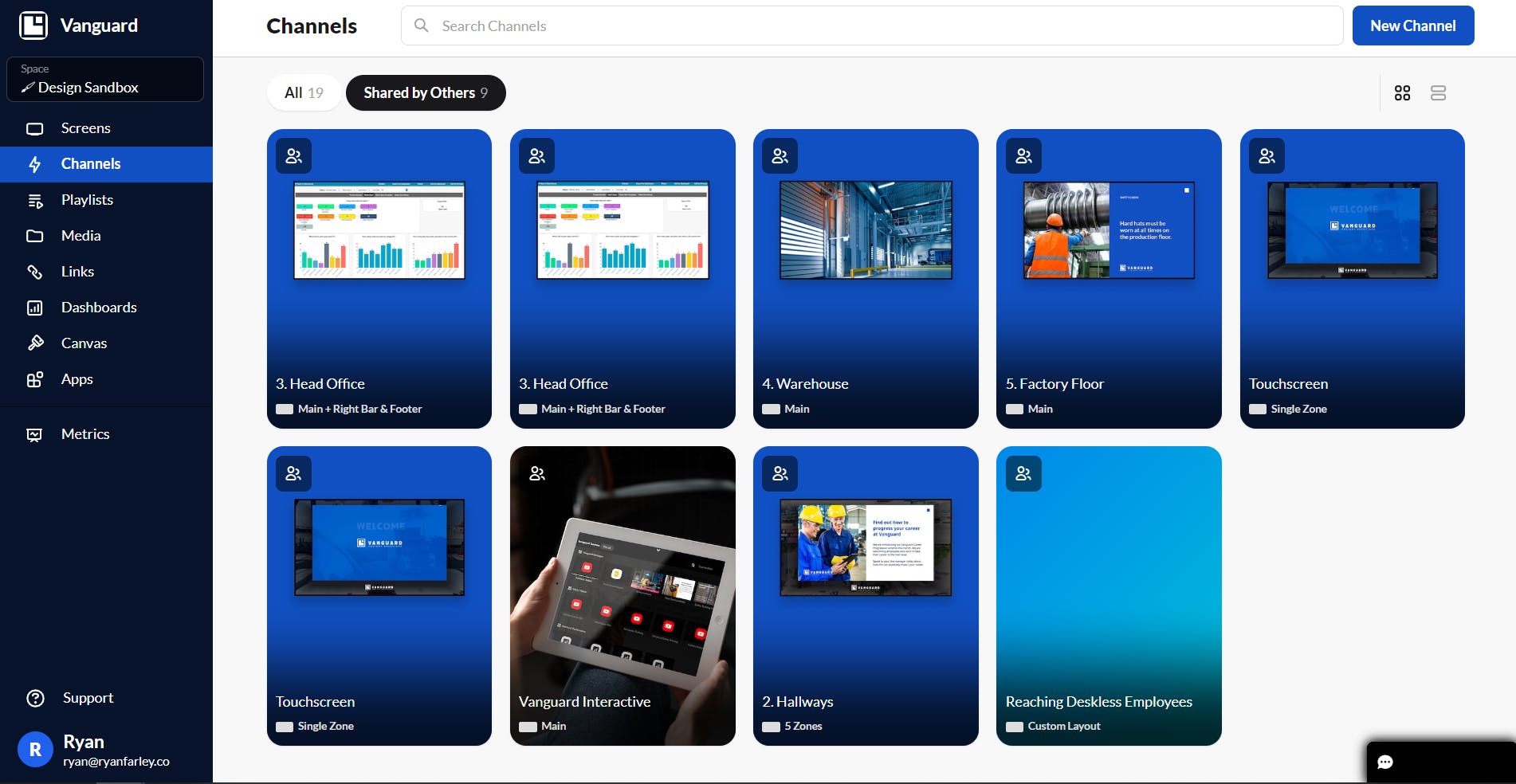 That may not be a dealbreaker depending on how many displays you manage or which apps you want to connect to your screens.
Built-in apps and third-party integrations
Digital signage has come a long way since the days of plugging a laptop into a TV and running a PowerPoint presentation on a loop. As web apps soundly squeezed local installs out of the market, vendors started building integrations for cloud-based data sources. Today, digital signage can showcase real-time information and updates on your screens without a single keystroke. Any time something changes in your CRM or database, your signage will immediately reflect that.
ScreenCloud has over 77 of these integrations in its app store, and OptiSigns has 125. But those numbers don't tell the whole story. For example, OptiSigns has an Airtable integration, but it's nothing more than a place to paste an embed code. ScreenCloud has an Embed App that does the exact same thing for Airtable, and for that matter, any app that generates iframes.

That's not to say that OptiSigns doesn't have any unique integrations. Take the Calendar Mix app, which combines multiple calendars, from multiple platforms, into a single view. So you could show both a Google Calendar and an Outlook calendar in a consolidated view of the week ahead. Social Mix does something similar with Facebook, Twitter, and Instagram content. You could accomplish the same things in ScreenCloud, but it would take some hacking.
Similarly, ScreenCloud's Building Directory and Transportation (for local train/bus schedules) save a bunch of time when setting up specific types of content, but you could build a workaround in OptiSigns. And in terms of getting either software to do exactly what you want, you've got a few technical avenues. ScreenCloud and OptiSigns both have a GraphQL API, for example, as well as some in-app development tools.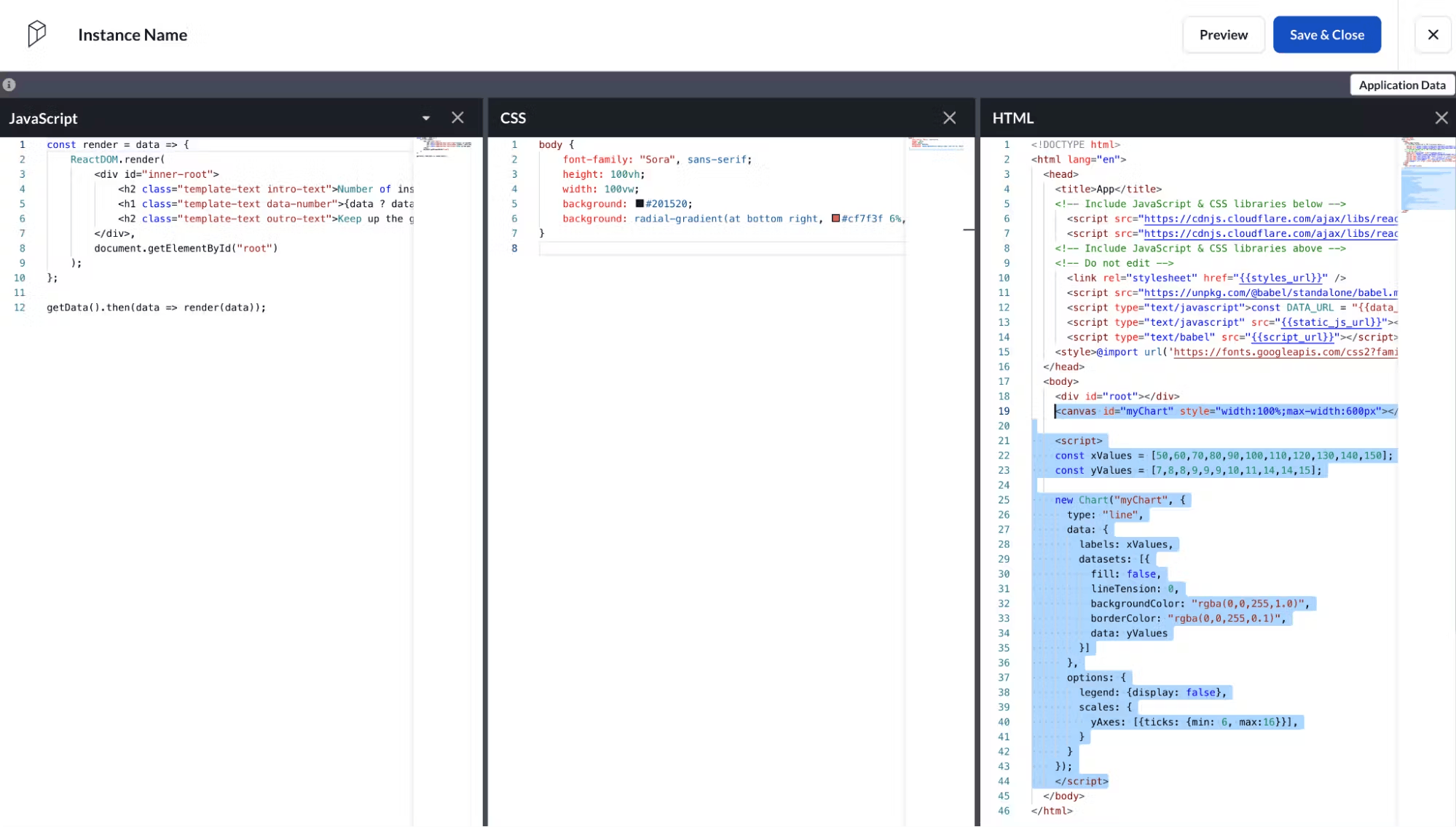 If you've got a technical background, your best bet for hacking together custom signage might be writing a bit of code. Both apps have a built-in tool for hosting and running HTML, JavaScript, and CSS (Playgrounds in ScreenCloud and Hosted Website in OptiSigns), but Hosted Website includes the option to code in React, which is pretty cool, admittedly. 
But for those who don't have a programming background, ScreenCloud's built-in Dashboards tool gives you the option of logging into almost any web app and selecting individual elements, and adding them to your screens as live-updating widgets.
Sometimes, it's not an integration, a bit of custom code, or uploaded media that you need. It's a quick and dirty way to create new visuals, dragging and dropping some text and shapes onto a blank page or template and adding a bit of company branding. With ScreenCloud, you'd use Canvas, and in OptiSigns, you'd use Designer.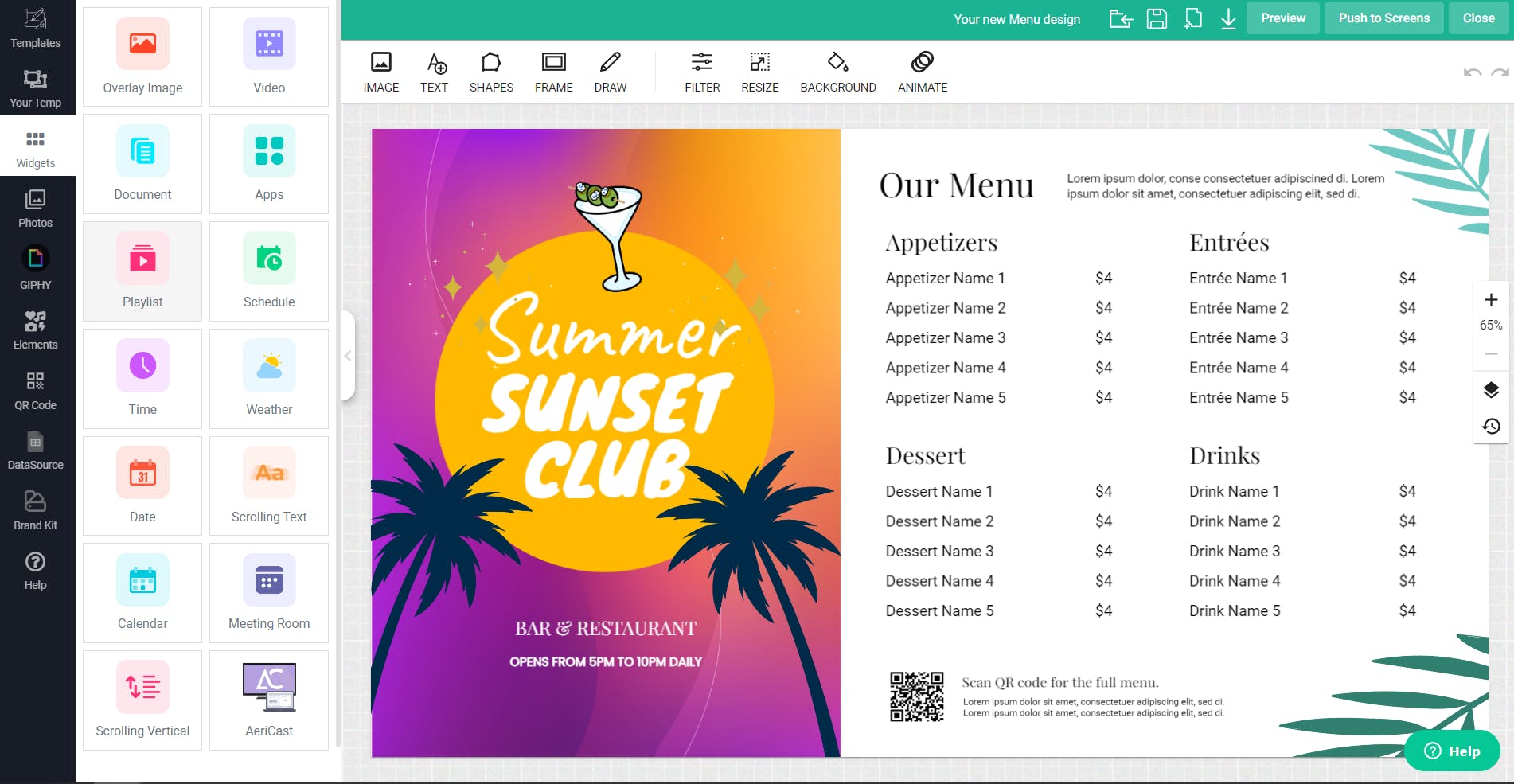 It's worth mentioning here that divvying up a single OptiSigns screen into multiple, independent display zones involves the somewhat limited Split Screen app. Where ScreenCloud Channels let you set content duration in each zone, the only way to do the same thing with Split Screen requires a new Playlist or Schedule for that instance.
At the end of the day, 80% of your digital signage will probably utilize only 20% of an app's integrations. Figure out what those are for you, and pick your software accordingly. Everything else is icing on the cake – except maybe data privacy and security.
Data security
Even if you aren't legally required to meet certain cybersecurity minimums, connecting company data to a cloud-based app demands due diligence. You need to know that your HR data isn't accessible to a poorly configured server halfway across the globe or that your client data is encrypted using the latest standards. Here too, these two apps score mostly the same.
ScreenCloud and OptiSigns are both SOC2 Type II certified. Both encrypt your data in transit using HTTPS/SSL protocols and at rest using 256-bit AWS KMS encryption. Both unlock single sign-on and audit logs in their higher-tier plans.
Again, credit where it's due, OptiSigns does claim that their Enterprise customers can request to have their data limited to either US- or EU-based servers. Region locking isn't required by any major data security regulations, but it does mean OptiSigns takes data security seriously.
Customer support
You probably don't want to think about it: asking a stranger for help with a software feature or integration. You hope that day will never come, maybe because you've had bad experiences in the past. All the more reason to factor support availability into your next software decision, right? 
Well, if chat support is your preferred avenue for support, ScreenCloud includes that in all three of its plans. Optisigns does not currently offer chat support. ScreenCloud offers phone and Zoom support, plus a dedicated success manager, for its middle and highest tiers, while OptiSigns only adds Zoom support for Pro-Plus users and dedicated support for Enterprise customers. 
Whether you factor it in or not, ScreenCloud has a clear advantage here. And with that, we finally arrive at the all-important conversation on the total cost of ownership.
Pricing
ScreenCloud and OptiSigns both charge per screen, per month, in line with most digital signage apps. And now that we've covered all of the branded features and integrations, the difference between Canvas and Designer, Zones and Split Screen, the plan breakdowns are much easier to wrap your head around.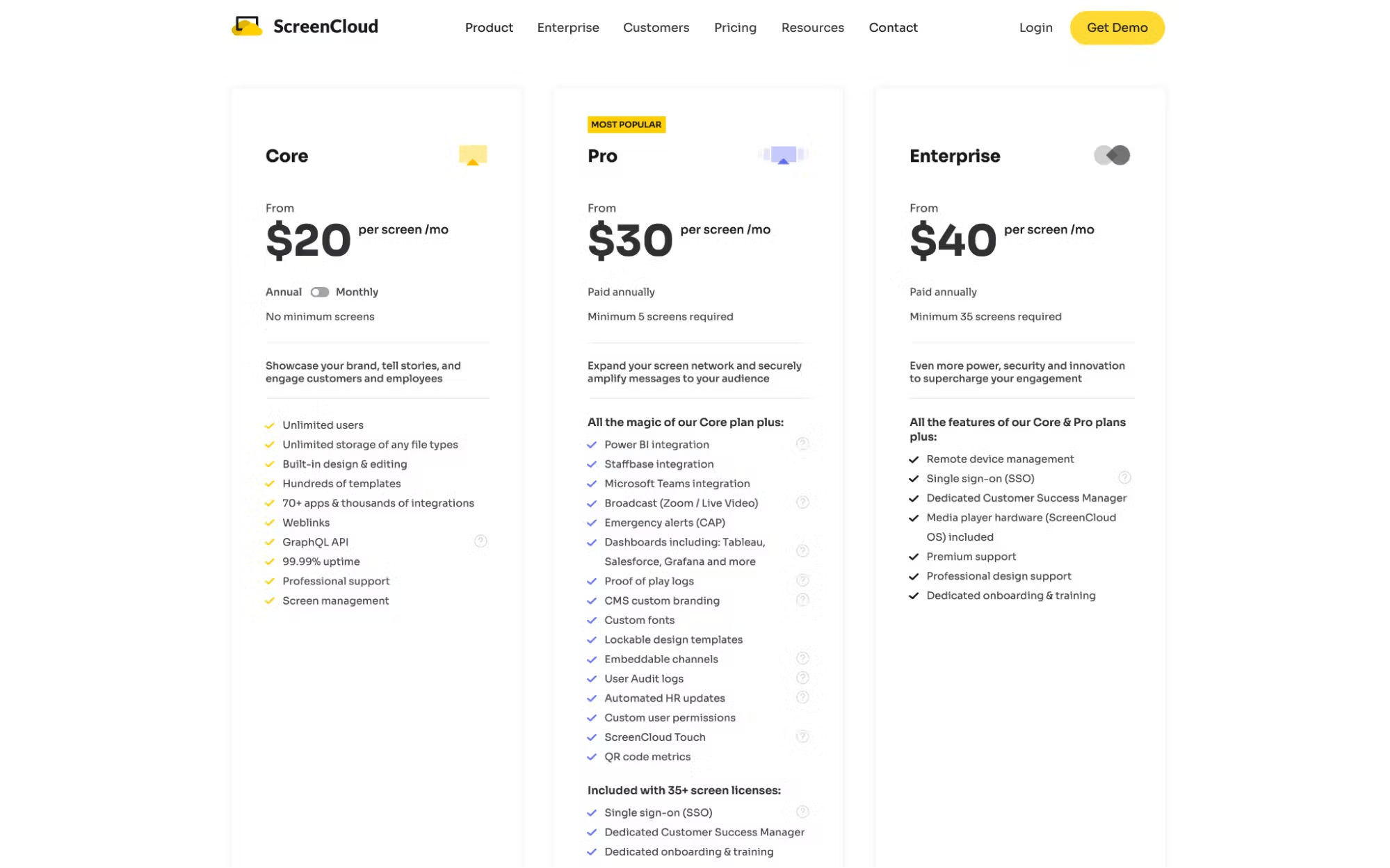 With ScreenCloud, the base-level Core plan gives you most of the integrations and content management features for $20/screen per month. Go one step up to the $30/screen per month Pro plan, and you get premium Microsoft integrations, live broadcast tools, Dashboards, touchscreen compatibility, and a few other nice-to-haves. Lastly, you can add single sign-on, professional design help, free media player hardware, and additional support by paying $40/screen per month for an Enterprise Plan.
The OptiSigns tiers are a tad more complicated. There are four tiers, with several niche features added each time you go up a level. Standard and Pro are $10 and $12.50 a month per screen, respectively. The former includes all of the basic content management features plus email support, while the latter adds phone support, custom fonts, and a few user provisioning options. Pro-Plus adds Zoom support, single sign-on, and dynamic data mapping for $15 a month per screen. Enterprise plan pricing is based on sales negotiations and adds the option to integrate proprietary apps and region-lock your OptiSigns content server.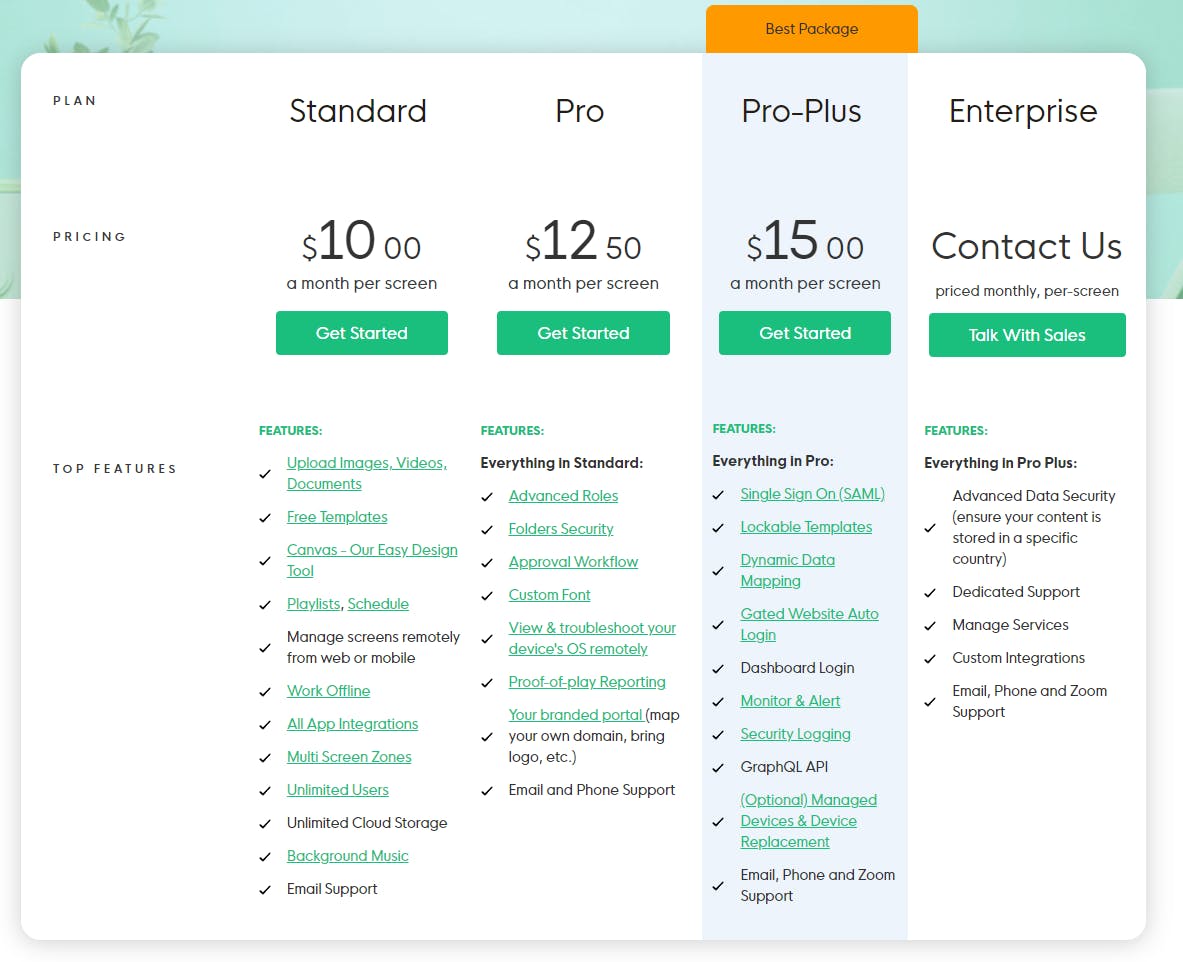 There are also two add-on options for OptiSigns plans: Screencasting and AI-powered content changes. The first simply mirrors a computer screen on your signage and requires a paid account with AeriCast. The second is an extra $5 a month per screen and claims it can capture and analyze camera data to create conditional content scenarios, such as showing a menswear ad when a man walks by and women's clothing when a woman walks by. 
Verdict
On paper, ScreenCloud and OptiSigns are remarkably similar. It might be easier to get up and running with OptiSigns if you've got a Linux machine or Roku player lying around. If you know how to program in React, that might also factor into your decision. But if none of those things apply to you, ScreenCloud is a more polished, intuitive user experience. There's more support coverage, its Channels and screen management features are more advanced, the Dashboard tool makes it a piece of cake to scrape data from other apps, and ScreenCloudOS devices are nearly twice as powerful as OptiSigns players.
Our main focus is to make ScreenCloud the best digital signage app for companies with five or more screens – regardless of whether they're mounted in a manufacturing warehouse or luxury retail chain, like Cristina Estrada's COS Bar:

"I'd recommend ScreenCloud to any retailer. The digital signage is an elegant communication tool that fits perfectly with our shop design, and it's enhanced our customers' retail experience while providing us with an effective channel for marketing."
Ready to get your organization connected?
Connect your first screen today with our 14-day free trial
blog