Publish content to your screens directly from Microsoft Teams
Learn More


Unveiling the New ScreenCloud
Why we rebuilt ScreenCloud and what the new version will offer our customers, and future category.
Feb. 19, 2020  – Today we have announced new capabilities to ScreenCloud to the world, based on a completely re-engineered product thatwe have been building in the background since 2017. Based on feedback from our strong customer base (over 8,000+ of you now - wow), ScreenCloud's new features are in response to the changing needs of those who are looking to communicate better.
If you joined ScreenCloud at the beginning of 2020, you may already have seen, and be using, these features already.
The new ScreenCloud includes:
Smart scheduling: Managers can schedule content in advance and choose expiration dates for automatic content removal to ensure better content governance.
Screen takeovers: Users can now cast content to one screen nearby - or hundreds of screens around the world before returning to a regular program schedule.
Full remote control: Users can now upload, edit and change content directly from their smartphone, as well as their PC, from wherever they are.
Surface more voices: Five levels of granular user permissions and the new Channels/Playlists formula means every team can contribute to content.
Create branded content: Managers can use the new Canvas app to design screen-ready content like posters and notices inside ScreenCloud, with brand images, logos and colors. 
Security: ScreenCloud now offers the ability to integrate with major identity providers, alongside two-factor authentication and user audit logs.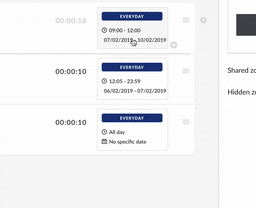 We have focused on innovating and optimizing our core product in response to maturing digital signage use cases, where the need has extended further than just a simple way to send content to screens. One example is where we are helping organizations to engage teams of "deskless workers" who operate outside the traditional confines of a desk, laptop, or smartphone, by surfacing important organizational data in an ambient format. 
As our CEO Mark McDermott has commented:
"As we learned more about the challenges our customers face while building and running a communications network of screens we knew it was difficult to solve them all in the existing product. With the new ScreenCloud, we've taken a ground up approach to building the most flexible platform possible, one that can bend and morph to fit a whole range of complex enterprise needs, whilst staying true to our values of simplicity and ease of use. We can't wait to see what our customers do next with it, as they unleash their creativity via screens!" 
To access the new ScreenCloud visit: https://screencloud.com/freetrial
Ready to get your organization connected?
Connect your first screen today with our 14-day free trial
blog