Why is it Important to Introduce a New Team Member?
Onboarding can be more important than you think. Research shows that a strong onboarding process improves new hire retention by 82%. Not only that, but the positive onboarding experience could also improve productivity by over 70%.
An excellent onboarding experience thoroughly educates your new hire about the company and their role on the team. Role clarity is pivotal in employee success; 60% of organizations don't set objectives or benchmarks for new hires, which in turn hinders overall company productivity. 
Excellent onboarding experiences also include solid communication plans, such as one to introduce a new CEO or entry-level employee. Communication plans will also inform the existing staff of a new hire or restructuring of a role, team, or department; this is especially important when the change involves hiring a senior employee like a manager or an HR specialist. 
Fun Ways to Introduce a New Team Member
Since 20% of worker turnover happens within the first 45 days of employment, and replacing an employee (especially one you just invested time and money into to bring on!) can cost anywhere from 50% of an employee's salary, it's important to make the onboarding process as friendly and memorable as possible.
Here are some fun ways to introduce a new team member at your company.
Create a Buddy Program 
A buddy program is a great way to get new team members to interact with each other and learn more about the company's culture. By partnering a new employee with a more experienced team member, the senior member can teach the new hire about company values and how their job roles fit into higher organization objectives. Not to mention, a buddy program automatically creates a connection between the new member and senior member, relieving them of introductory social stress.
Organize a Meeting with Other Team Members
You can also hold a meeting with other staff members to introduce your new hire. 
Some tips on how to introduce a new team member include:
Provide a brief introduction about yourself and the new hire.
Ask other team members to introduce themselves and their roles in the company.
Talk about the new employee's past job experience and skills.
Discuss goals and expectations for the new employee's team member.
Encourage questions and opinions from the attendees about the new hire's role in the company. 
When planning a meeting to introduce a new team member, ensure you schedule it at an appropriate time to verify that everyone attends. Your team member will be able to see the moving parts of your organization in its day-to-day and jump comfortably in to their role.
Employ Digital Signage
Digital signage is an engaging and effective way to broadcast small amounts of information, as it's easily understood and retained, according to science. YouTherefore, it makes sense to introduce your new hires in style via digital signage. It is a cost-effective way to inform staff members of company news. When using digital signage to welcome new team members on-screen, keep in mind the following tips:
Keep the message simple – include the new hire's picture, title, and a short description of their background.
Display information on how to reach the new hire, like their email or phone number.
Ensure everyone in the company can access the digital signage. Put it in an area with high foot traffic where people will be able to see it often.
Digital signage has the benefit of being personalized to broad needs – you can create a slide about the new hire and another specifically to welcome them, like in the examples below.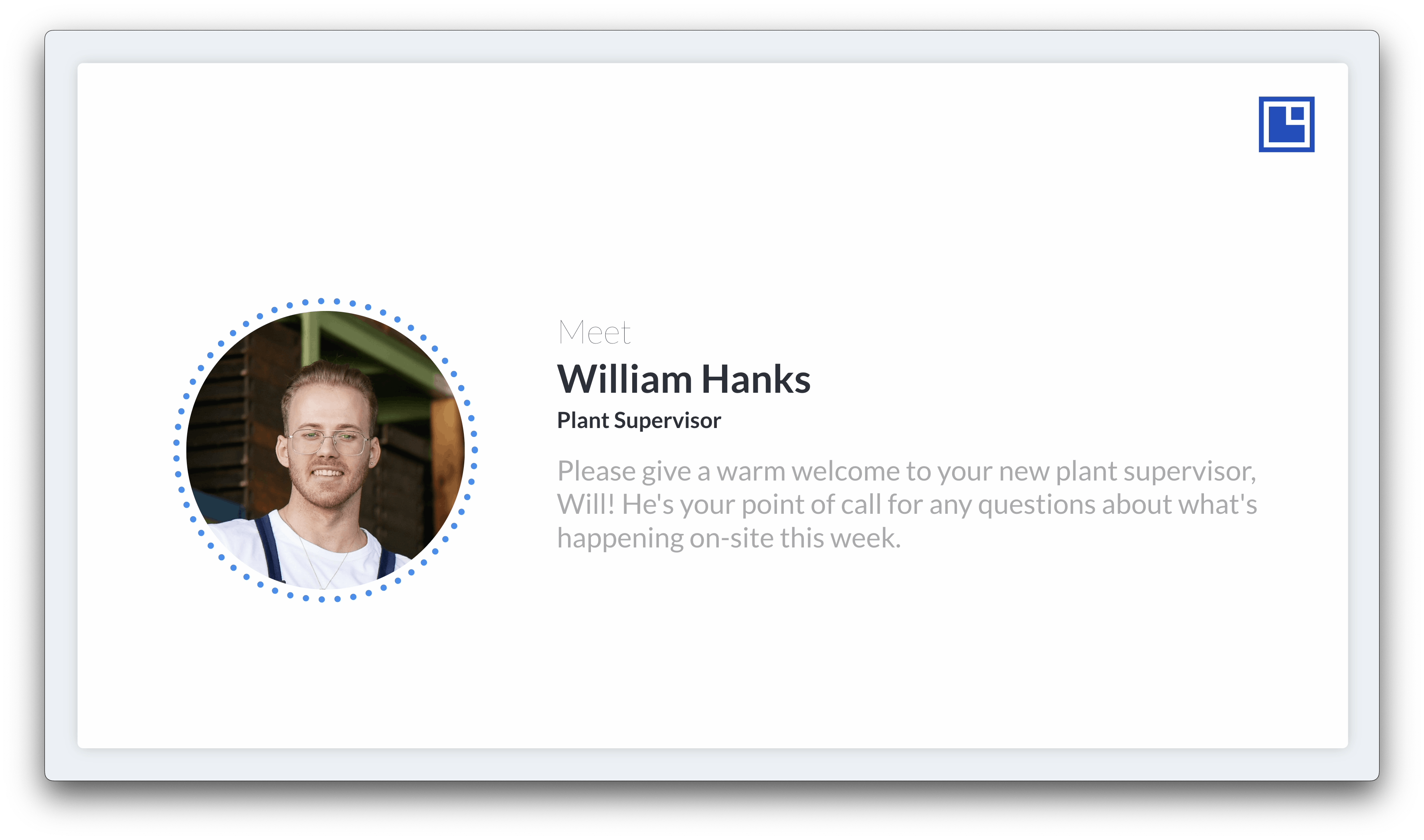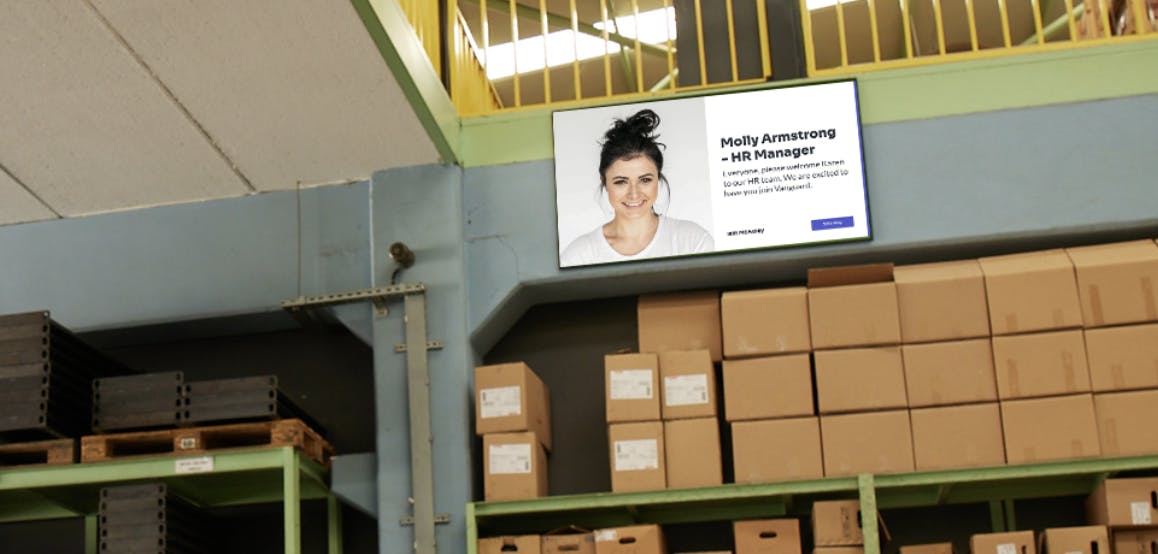 Use Welcome Emails
Emails are still one of the most reliable ways to share information and announce essential news in a company for desk-based employees. 
If you introduce a new team member in an email, you can consider the following template:
Hi everyone,

We are thrilled to welcome [name] as our new [role title]! They have a background in [relevant industries] and we know they'll be a great asset in our organization's [quarterly/yearly objectives]. 

Just a reminder, our new CEO will join us on [start date], so let's prepare to give them a nice experience in our atmosphere. [name] brings [experience] to the company and will oversee [role/responsibilities].

Please join me in welcoming them.
In your email, avoid jargon or acronyms that your new hire may not yet know. Keep it brief and packed with informative background and skills points to enable your team members to quickly understand your new hire's objectives. 
About ScreenCloud
ScreenCloud helps teams in 9,000+ organizations around the world communicate with those who matter most, using the screens on their walls and the content already in their systems. 
ScreenCloud's digital signage can inform employees on information like social media feeds, data visualizations, emergency alerts, and live broadcasts – or even simply the news, sports scores and weather. 
Sign up for a free demo and see how digital signage can work for you today.