Internal communications. Employee engagement. Employee communications… Whatever you call it, odds are that it involves numerous emails that you may or may not take any notice of. 
We've written before about creative ways to communicate with employees, but the method in which you communicate is equally as important; present your content in the right way – and to the right people at the right time – and you're well-placed for maximum impact. 
With accelerated changes happening within many businesses due to the disruptions of COVID, good communication is essential. After all, digital transformation is as much about a cultural transformation as it is technological. And if you don't communicate this effectively to your employees then that cultural shift will never happen. 
But what is the right way to communicate? For so long internal comms has relied on methods like emails, instant messaging and physical noticeboards that we are almost blinded to them. Engagement is so much more than the content. Which is why digital signage is such a great tool.
Digital signage for internal communication
The benefit of using digital signage for internal communication is that we are so used to looking at screens for information – be it our phones or laptops. A digital TV screen is just an extension of this. It is also highly visual.

Screens grab attention
Your eye can't help but be drawn to a screen that has moving images on it – it's said that digital signage has a recall rate of 83%.  And unlike an email, digital screens can show things like video, live feeds, copy-driven posters and real-time social media posts. Couple this with a flexible digital signage software solution like ScreenCloud, and you can keep all of this content updated and relevant from anywhere. 
Screens communicate important information easily
Digital signage content is ambient. It's not constantly disturbing you with pop-ups or pinging inboxes. It's just there, hanging out on the wall, providing constant content. With ScreenCloud, this can be arranged via a series of curated Playlists shown on your screen's specific Channel (we call this Company TV). Even if you have remote employees, this Channel can be embedded within their internet browser or your own intranet. 
Help employees understand "why"
Without these two crucial pieces of information your employees are set adrift.
Good communications anchor them in, helping them to see the company mission and to live it. This is one of the founding principles of employee engagement: transparent communications are more likely to help employees feel like they know what's going on.
Of course, internal communication strategies are only worth the effort if your employees are actually seeing them. Digital signage benefits internal communication as it takes information out of silos and makes point of entry (looking up at a screen) really low. This type of digital internal communication can also be extended to remote employees easily.
Share information with the "one to many" approach
Unlike an internal communication tool where you have to pay per user, digital signage is a one-to-many approach. A screen in your office can be shown to dozens of employees. And you can also have multiple screens across locations showing the same content – managed from one centralized CMS. Whereas tools like Slack and email send information to a few select people, digital signage opens up the communication and increases transparency.
Share information with the widest reach
However, there is another benefit of using digital signage in corporate communications: being able to broadcast to workers in hard-to-reach places.
80% of the workforce is deskless, meaning that their position requires them to be away from digital devices like their phone and computers, therefore taking them away from regular communication apps such as email or Slack. With digital signage, you can reach your employees who are outside of the office, such as those on the manufacturing floor, in a restaurant, or even in healthcare.
6 examples of digital signage for better internal communication
Using digital signage to infuse your internal communication strategy really depends on what you're trying to achieve. Here are six examples of internal communication digital signage displays:
1. Improve meeting room booking systems
Setting up digital screens to showcase meeting room bookings will ease internal communications with small screens located outside meeting rooms. These can let people book rooms and see who's using a room at any one time.
2. Share company dashboards
At ScreenCloud we've built our own internal data dashboard that focuses on just the important numbers for our business. It's updated automatically each day and generates graphs which track our progress against our forecast. This is one of the reasons why we spent two years building and developing our latest feature – secure Dashboards. 
We use our dashboards to create a data-driven work culture; by showing valuable data sets to our teams, we are all empowered to make data-driven decisions. Dashboards can integrate with business-intelligence tools like Tableau, Microsoft Power BI, Grafana and Splunk, and is great for numerous industries, like manufacturing.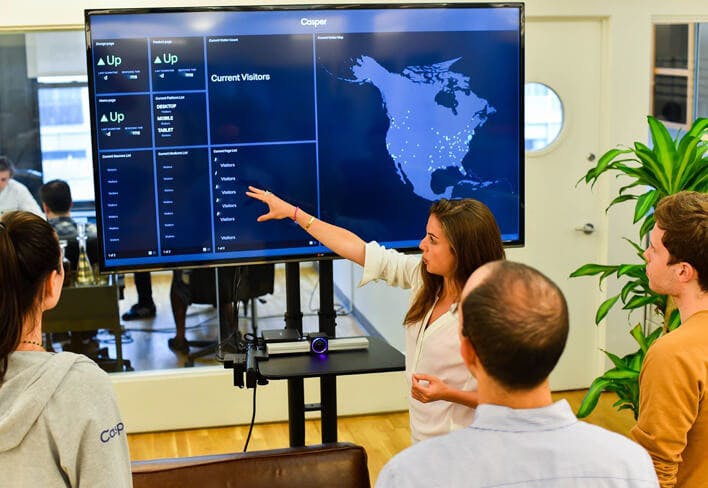 3. Create social media feeds
You can also turn your digital signage screens into social media walls. This can be great for keeping a pulse on brand engagement or customer issues. Tools like Walls.io or Taggbox can show a rolling real-time feed of user-generated posts mentioning your company, or even from your employees themselves. They can even show you analytics for your own social media performance.
You can also use the Twitter Search app and enter your company handle. This will show exactly what people are tweeting to your company. Add in Yelp reviews and TripAdvisor ratings. Create a Slack channel for customer feedback and have this playing on screen. Pop up that month's customer testimonials by creating a quick digital sign or image and celebrate all your hard work. 

4. Increase employee engagement
Digital screens can also be used for employee engagement, on as much a personal level as professional. Add collateral from the latest company events, congratulate promotions and celebrate birthdays. Use transparency and announce company updates, figures and visions for the future. Google Slides is a quick, and easy, way to do this.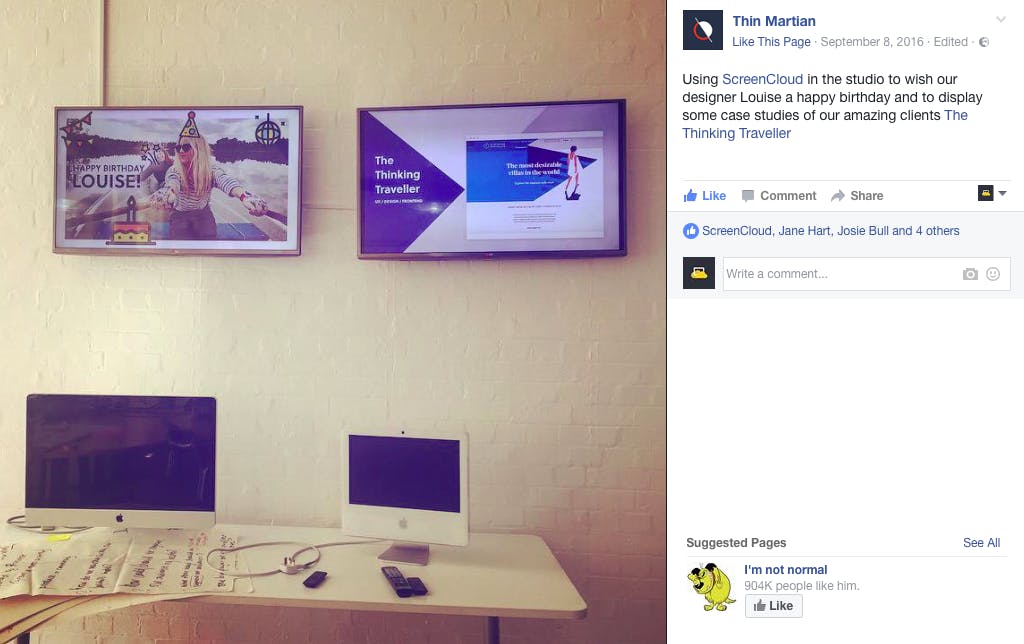 5. Share digital noticeboards
A study from McKinsey Global Institute discovered that productivity improves by 20-25% in organizations where employees feel connected. 
One of the ways employees can feel more connected is through their input. 
In the ScreenCloud App store our noticeboard app does just that. Simply add text, choose the theme and within seconds you have a digital noticeboard that you can add to your playlist. (Read more about digital noticeboards here).
You could even set up an "ideas board" and allow employees to send in their ideas, a nice way to let everyone have their say and build more conversation within your office space.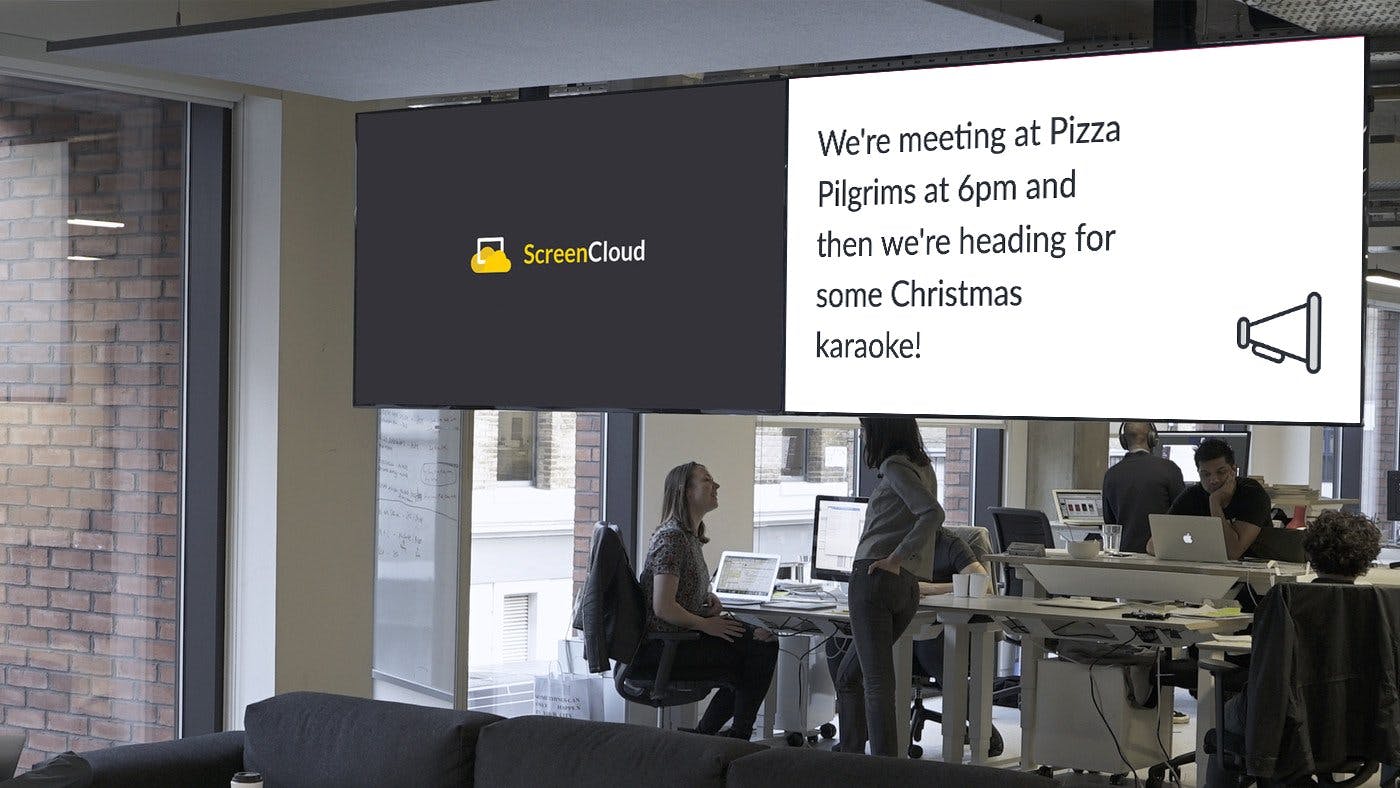 6. Communicate across all internal offices
Having more than one office doesn't mean you need to multiply your internal communications strategy; with ScreenCloud you can upload and manage content from one login. Of course when you start to reach 100+ screens, this can get a little daunting. Take a look at our guide for Enterprise businesses here. 
You can also strategize different content for different locations, joined up under one network. Show a centralized Playlist with a location-specific one within that location's Channel. 
Perhaps the sales figures and social feeds will differ, but the central themes and notices can remain the same. Making the communications you show personalized to your employee audience, wherever they might be working.
Best practices for employee digital signage
When it comes to creating an internal communications plan and rolling it out onto a screen there are a few best practice tips that can help.
Change content regularly 
Read the full breakdown of a perfect Playlist here, but remember that in internal communications your employees may see the same screens a lot. This calls for a much faster content turnover period than in a store or restaurant, for example. One of the ways around this is to create multiple Playlists containing different snapshots of content (one for meetings, another for company updates and so on), or to use content that updates itself such as social media and automated dashboards.
At ScreenCloud for example, we have three core playlists for our Company TV channel. One contains customer-facing metrics, another staff and team updates and a third is information that helps us to get to know the team better. Like photo galleries, team facts and Meet the team profiles.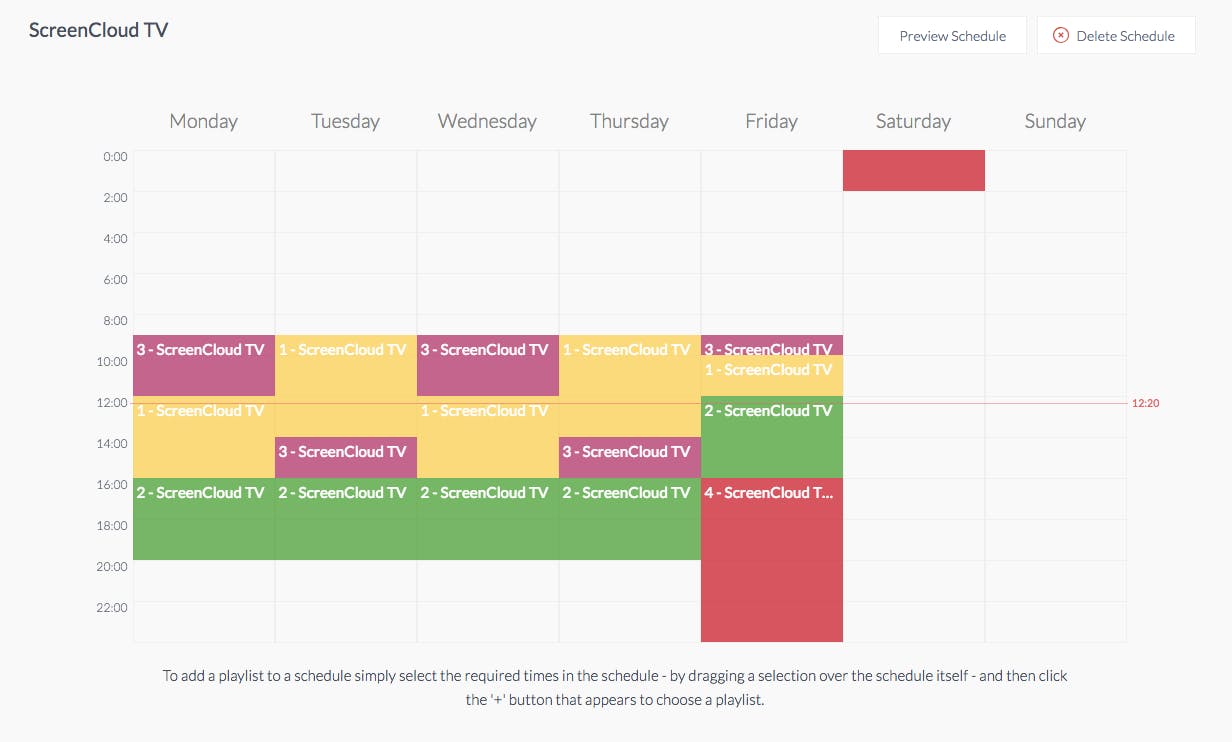 Gage feedback
One of the questions we get asked a lot is, how much should I infuse company content with generic content in order to keep my employees interested? On one hand, blending company figures with live news or YouTube videos, could ensure your employees don't get bored with the screens at hand. On the other hand, perhaps this detracts from the communication strategy and makes it easier for employees to zone in on the content they want to see, rather than the stuff they need to see.
This is something to get feedback on. How engaged are your employees with the screens - are they using them regularly? Do they notice when new content is added? Do they like using them as a reference point for metrics and company communications? A few quick questions could help you plan the divide between what content you show. 
Use the screens regularly
To make employees buy in to your digital screens as a method of communication make them a part of your brand DNA. Holding a meeting? Use the screen to illustrate your examples. Talking about sales figures? Get them up on the screen for everyone to see.
The more you use your screens and draw attention to them, the more your employees will adopt them too. 
Digital signage in internal communication - Get started
To set up your digital signage for employee communications we have all of the tools you need. Sign up at screencloud.com/getstarted and begin changing the way your company communicates in minutes.