What is Compliance Communication?
Compliance means following the industry-wide standards that dictate the guidelines, procedures, and policies of an organization's operations. Compliance communication is the process of passing this information between a company and its stakeholders, such as employees, investors, customers, and suppliers. 
An effective compliance communication strategy can help an organization avoid expensive mistakes that could put their reputation on the line. This article details the tips and best practices of compliance communication for you to implement in your own strategies.
Why is Compliance Communication Important?
Think of all the procedures set up within your organization — why are they there? What would happen if they were all broken?
The panic you might feel is a large reason why compliance communication is so important.
Compliance communication helps organizations adhere to legal, regulatory, and ethical standards. A business with an effective compliance communication plan can avoid the risks associated with any violations, such as damage to their reputation, financial/legal penalties, or even potential lawsuits. 
In addition, compliance communication enables businesses to stay updated with the constantly changing industry standards and regulations, reducing the likelihood of non-compliance issues. It also equips employees and other stakeholders with the knowledge to identify and pathways to report possible violations, which can prompt intervention and remediation.
Examples of Compliance Communication in Frontline Industries
Compliance looks different in every sector. Here are some examples of compliance communication in various sectors with frontline and deskless workers:
Healthcare
The healthcare industry is highly regulated and compliance communication is essential to ensure healthcare facilities operate within industry standards. For instance, healthcare providers must follow the Health Insurance and Portability Accountability Act (HIPAA) regulations. That means they must liaise with patients about their privacy rights and protect their customers' health information. 
Construction
The construction industry is among the riskiest sectors, contributing to about 60,000 cases of work-related fatalities annually globally. As a result, the Occupational Safety and Health Organization (OSHA) provides building codes and regulations that companies must follow. These codes and regulations include training and communicating with workers about safety protocols and workplace hazards. 
Manufacturing
Manufacturing companies are supposed to comply with several safety regulations for the sake of their employees and the public. Compliance communication in this setting would entail communicating relevant safety precautions and policies to employees and offering training on correct safety procedures.
How to Develop an Effective Compliance Communication Strategy
Compliance communication can take multiple forms like training sessions, newsletters, and written policies. The following are ways to initiate an ideal compliance communication strategy. 
Know Your Audience
When creating a compliance communication plan, recognize the needs and interests of your audience. It would help to consider your employees' attitudes, understanding of compliance issues, and preferred communication channels. Customize your message according to your team's needs to make it easy for them to appreciate and comply with relevant regulations and policies. 
Establish a Clear Message
For your strategy to be effective, your message must clearly outline the company's expectations and policies. It should be concise, easy to understand, and grab the viewers' attention. You can use infographics, audio recordings, and visual aids to pass your information. 
Use Multiple Channels
Your employees use varied channels to communicate, like Slack, email, or video calling. To ensure your message reaches a broader audience quickly, consider using the omnichannel approach with multiple communication mediums. This can include emails, in-person training, digital signage, social media, and more. 
Offer Ongoing Training and Support
Compliance policies and regulations can change from time to time, so make sure you offer regular training sessions, updated compliance manuals, and support to concerned employees. Better yet, set up a compliance hotline or other communication channels to encourage employees to report possible violations.  
Incorporating Digital Signage into Your Compliance Communication Strategy
Digital signage employs screens to broadcast vital company messages. You can incorporate this technology into your compliance communication plan by putting compliance information on screens in heavy foot traffic areas of your organization. 
For the best outcomes, design your digital signage to grab the viewers' attention quickly and remind them of the compliance requirements. It should also be precise, relevant, and easy to understand. Lastly, make sure you routinely update your signage to show any compliance policies or regulations changes.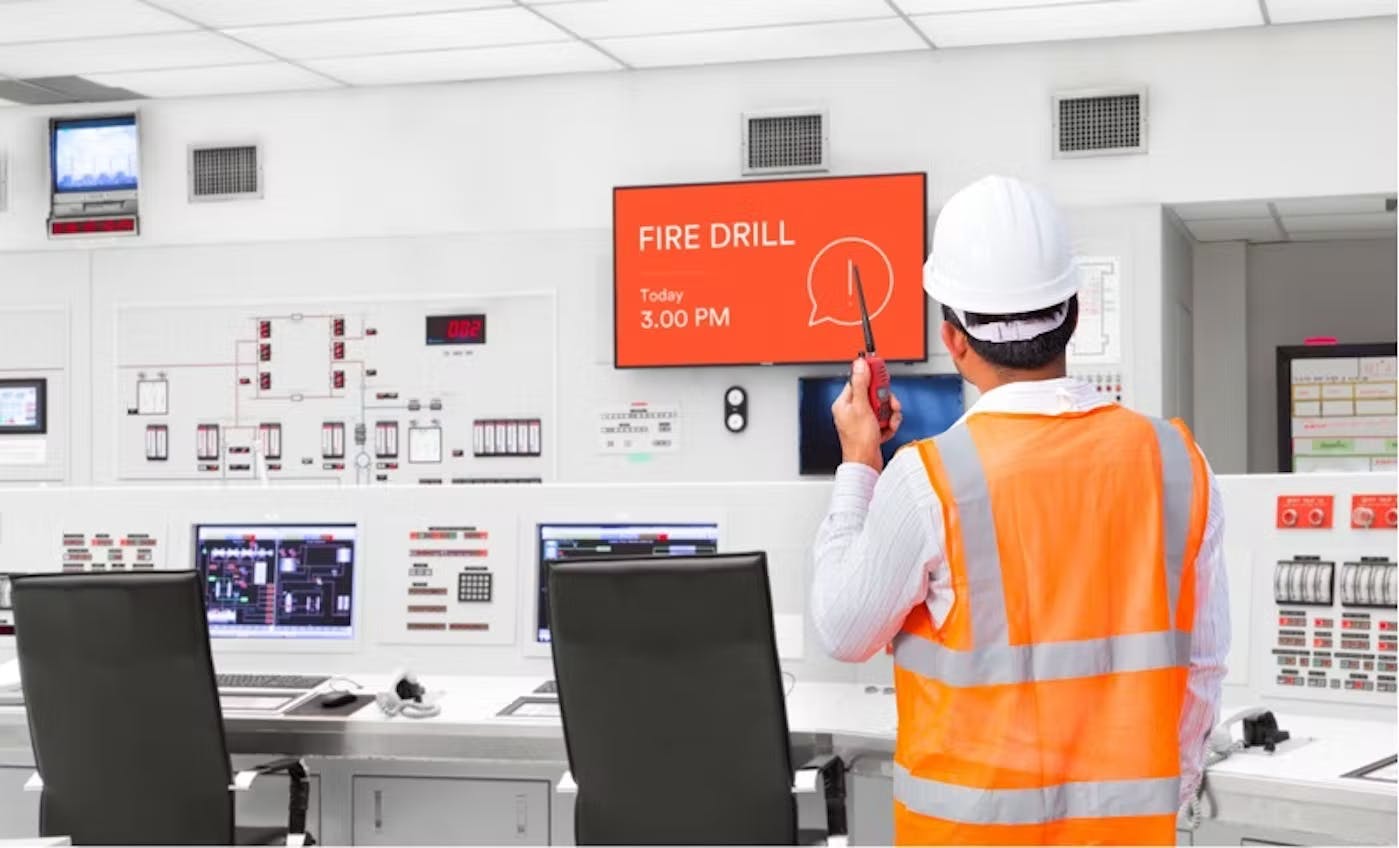 Creating content for your digital signage may seem daunting, but it doesn't have to be. Check out our article of digital signage ideas and examples and how to create your own digital signage content.
About ScreenCloud
ScreenCloud helps teams in 9,000+ organizations around the world communicate with those who matter most, using the screens on their walls and the content already in their systems. 
ScreenCloud's digital signage can inform employees on corporate information like social media feeds, data visualizations, emergency alerts, and live broadcasts – or even simply the news, sports scores and weather. 
Sign up for a free demo and see how digital signage can work for you today.