Publish content to your screens directly from Microsoft Teams
Learn More


Zapier vs Microsoft Power Automate: Automation for Signage
Want to automatically send new data to your signage? Here's how Zapier and Microsoft Power Automate stack up.
Automation is the difference between spending hundreds of hours on repetitive tasks and magically getting it all done in your sleep. That's why automation platforms are so great. These cloud-based services make your software interoperable, keep you from copying and pasting, and enable your team to act faster.
Say you run an ad campaign on Facebook to promote your latest product and collect potential customers' email addresses. An automation platform can subscribe those addresses to your MailChimp email newsletter, add them to your Salesforce CRM so your sales team can follow up, then update your ScreenCloud digital signage so your team can see at a glance how the ad campaign is going. All that, a moment after the lead clicks the ad.
Automation platforms are your digital signage's best friend. They keep your signage fresh and updated so it's a heads-up display for your team. You can display sales opportunities from your CRM tool in a live ticker, celebrate new clients or team members, or take over your signage for critical, time-sensitive announcements.
Zapier and Microsoft's Power Automate are two of the most popular platforms to automate work. Zapier's user-friendly automation is built for startups and SMBs whose tech stacks consist largely of web-based apps. Power Automate targets larger enterprises, integrating seamlessly with Microsoft software to streamline complex workflows across supply chain management, business intelligence, and IT administration.
Let's take a closer look at Zapier and Power Automate for a better sense of which service is right for your needs.
How do automation platforms work?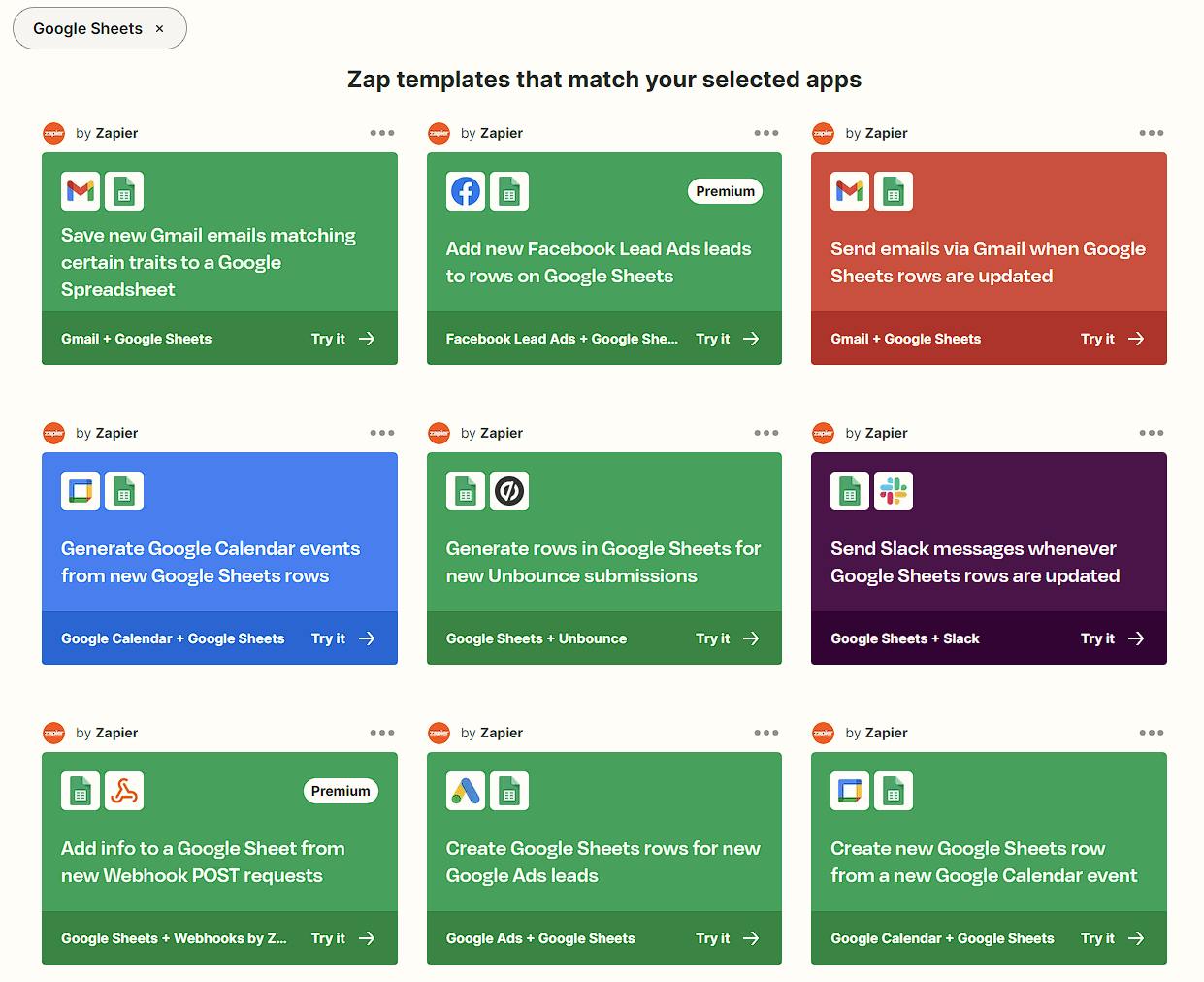 Automation platforms connect apps and move data between them to streamline your workflow
Automation platforms perform repetitive tasks and workflows inside the software you already use. Create a workflow by defining a trigger, or an event in one app such as a new customer, order, subscriber, or error message. Then set up as many actions—to send an email or Slack message, add the customer to a database, and more—as needed in other apps to follow that trigger.
For example, a new Gmail message landing in your inbox could be a trigger; your automation platform could then send your sales rep an SMS notification and add the sender's details to your Salesforce CRM—those would be actions.
Or, a colleague uploading a document to Dropbox could be a trigger; your automation platform could then convert the file to PDF using CloudConvert—that'd be an action. 
Once you've set things up, these actions take place automatically. You can build workflows to automate anything you can imagine, without coding. Most platforms come with pre-built workflows to quickly automate everything from IT administration to sales operations. They also include filters to create conditional workflows—perhaps to only add contacts with a company email address, not a Gmail or Outlook address, to your CRM.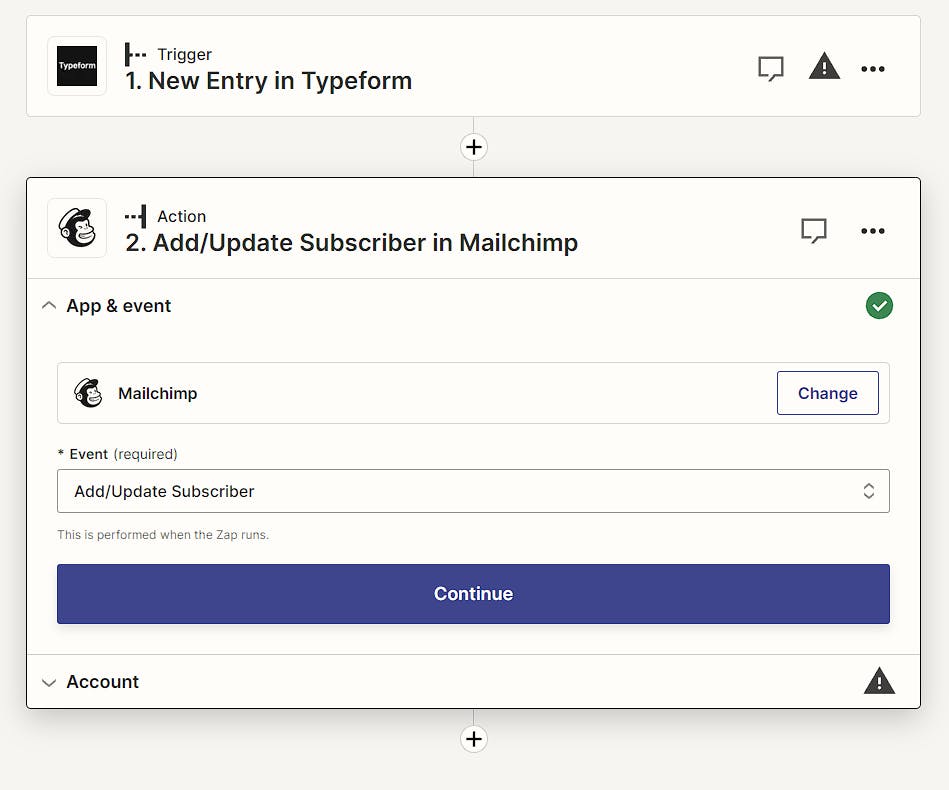 Workflows consist of triggers or conditions, and actions that follow those triggers. They can also include filters for more specific tasks based on incoming data.
Your workflows can also be far more complex than the example above. Let's look at another:
Describe your trigger: A new email arriving in your inbox. You can do this by searching for your email service (like Gmail or Outlook) or by searching for the event ('receive email').
Add a filter to this trigger: Look for '.edu' in the sender's email address.
Add an action to follow this trigger: Send a Slack notification to a specific salesperson on your team who handles universities and schools to connect with this lead about their interest in your product.
Add a second action: Reply to the email with a pre-written message using your email service, along with an informative brochure attached in PDF form.
Now that you have a broad idea of how these automation platforms work, let's look at the specifics of these two leading services to learn which one might be a better fit for you.
Zapier: Best for Web App Automation
For over a decade, Zapier has been a leader in the task automation space. It supports more than 5,000 apps, including popular web apps like Google Sheets, Slack, and Salesforce. It's designed to be approachable even for beginners.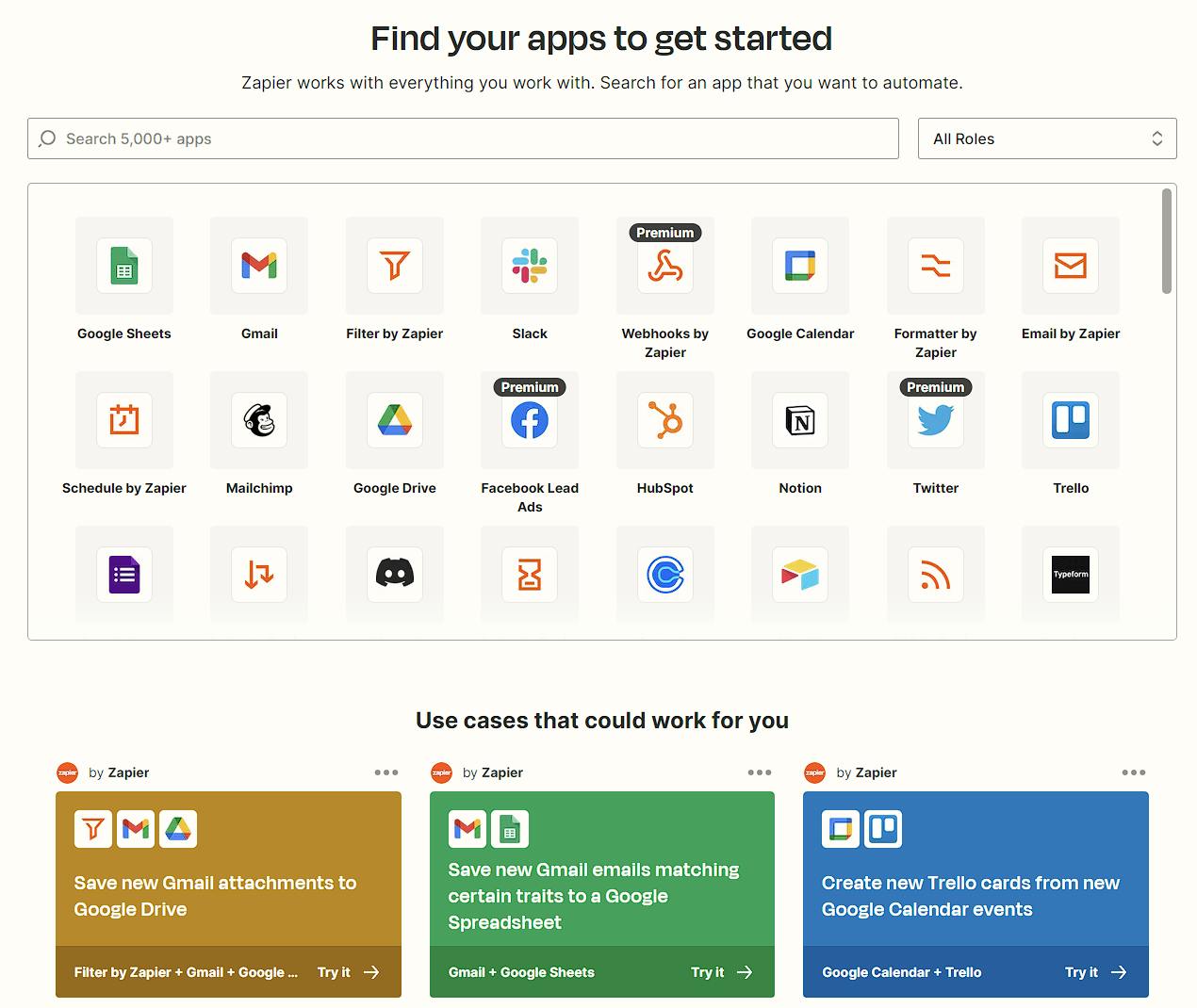 Zapier supports over 5,000 web apps
The cloud-native platform works only in your browser. It features thorough documentation to walk you through creating your own workflows, as well as an extensive library of pre-built ones that you can filter by app.
If you want to configure your workflows just so, Zapier makes it easy to add filters, conditional logic, delays, and even data formatting rules. The platform also supports writing code or posting data to webhooks to build custom workflows.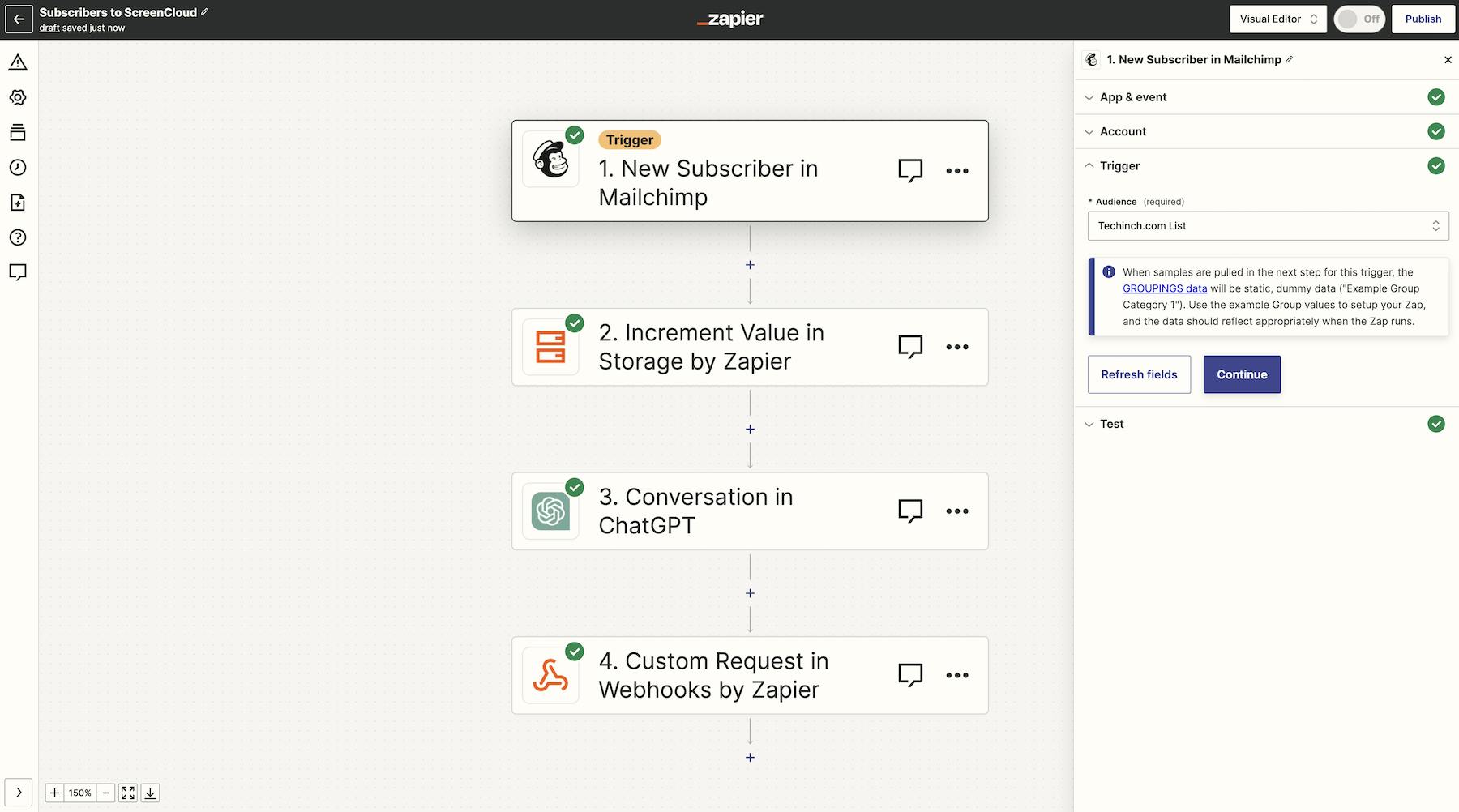 Zapier's editor makes it simple to build detailed workflows—and send data to your ScreenCloud signage with webhooks
Zapier has recently introduced a range of powerful AI-powered features. These enable you to automatically reply to emails with business context, generate content for social networks, and create workflows by simply describing them in plain English.
It also includes a basic no-code database tool to capture and work with data, to do things like generating status reports from your records, and estimate risk from tabulated figures.
You can get started for free, with 5 workflows and 100 tasks per month. Zapier's $19.99/month Starter plan allows up to 20 multi-step workflows, adds support for filters, and a formatter to adjust text and numbers as they come in.
A Professional plan for $49/month unlocks unlimited workflows, as well as branching to run different actions based on conditions you set. If you need to bring more users on board or require priority support, you can opt for either of Zapier's pricier plans from $69/month.
Power Automate: Best for Desktop and Enterprise Software Automation
Microsoft Power Automate, originally launched as Microsoft Flow in 2016, is built around the same principles of task automation as Zapier. There are a few differences to consider before choosing one over the other.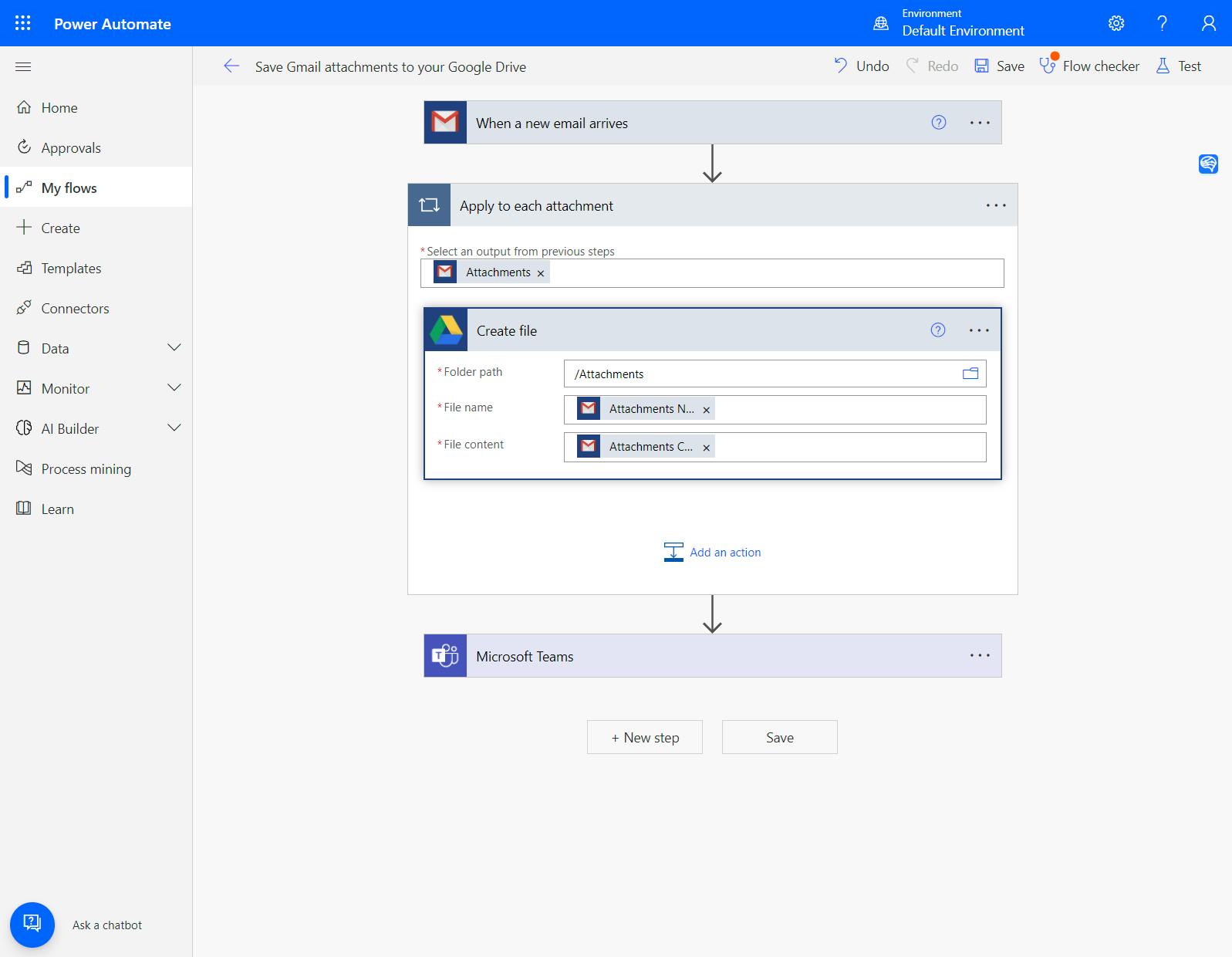 Power Automate can automate web apps similar to Zapier
Perhaps unsurprisingly, Microsoft Power Automate includes deeper integrations in the Microsoft ecosystem. While Zapier supports core Microsoft apps like Excel and Teams, Power Automate also includes support for Microsoft Word, Forms, Translator, Bookings, StaffHub, Kaizala, and more, as well as a wide range of Azure services.
While it does support consumer and SMB-focused tools like Word and Teams, Power Automate is primarily built to help large-scale businesses streamline operations, while enabling adoption at scale with enterprise-grade security and detailed approval workflows.
While Zapier supports more than 5,000 apps, Power Automate's significantly smaller directory lists a little over 700 apps. But, one major difference between the two services is that where Zapier is built fully around web APIs, Power Automate also offers a desktop app that supports robotic process automation (RPA). You can 'teach' the Power Automate app by recording keystrokes and mouse clicks so it can repeat tasks you do on your computer. This automates repetitive tasks on both cloud-based and legacy desktop software.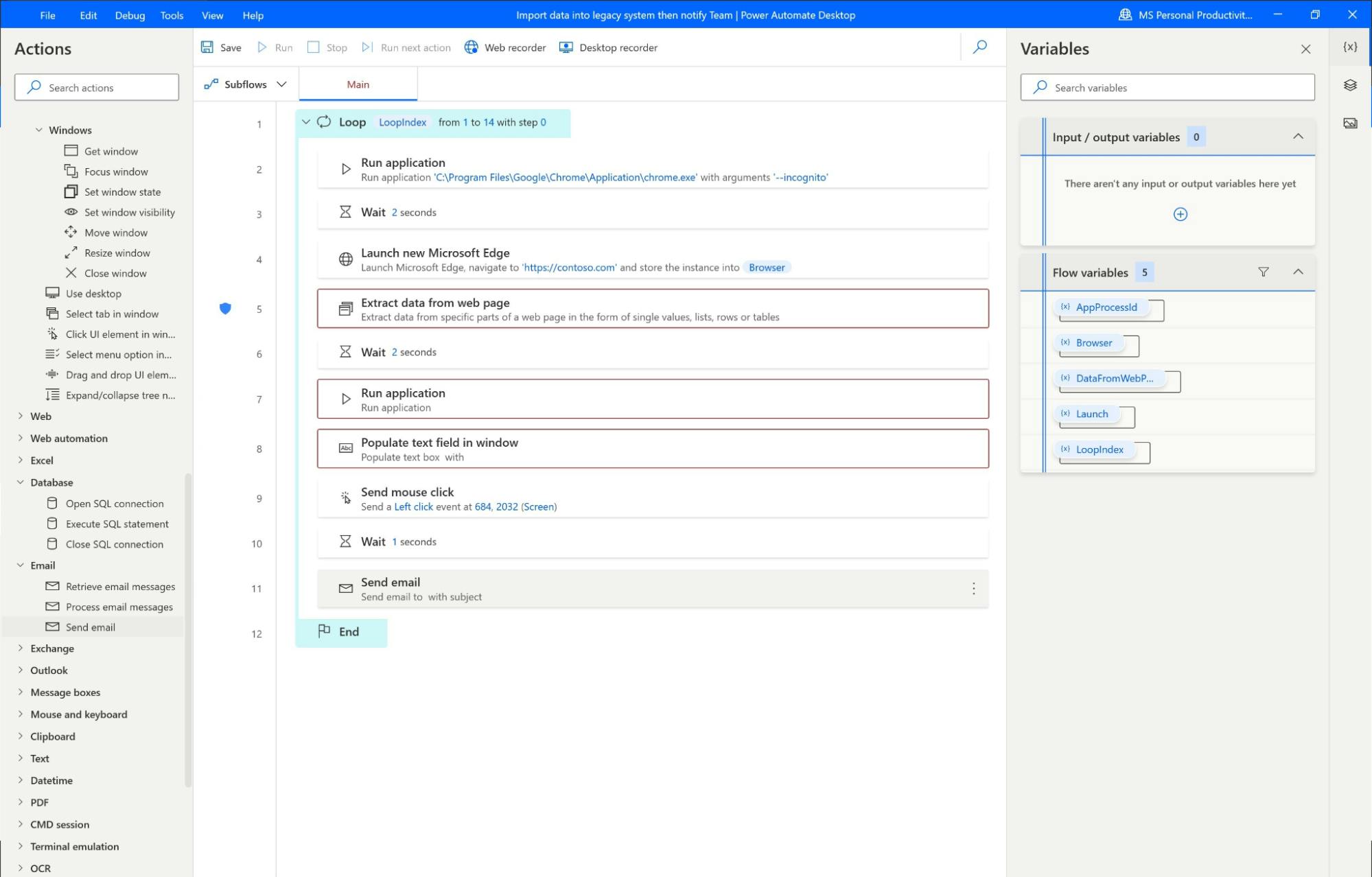 Power Automate's RPA lets you work with data from legacy systems and desktop software
For example, say your company runs an old accounting tool that doesn't make its data available via an API. You can use Power Automate's RPA feature to record your actions as you collect data manually using your mouse and keyboard, and then paste that data into a Google Sheets spreadsheet so it's accessible to anyone in your team via the cloud.
Power Automate also offers mobile apps to manually trigger workflows from your device, and oversee workflows from anywhere. It also connects to various Microsoft data storage services and works with on-premise data gateways for the hybrid workflows enterprises are most likely to need. It's also big on AI-powered functionality, an obvious fit since Microsoft's an OpenAI investor. You can automations from your natural language descriptions, summarize textual information, and draft responses all powered by GPT.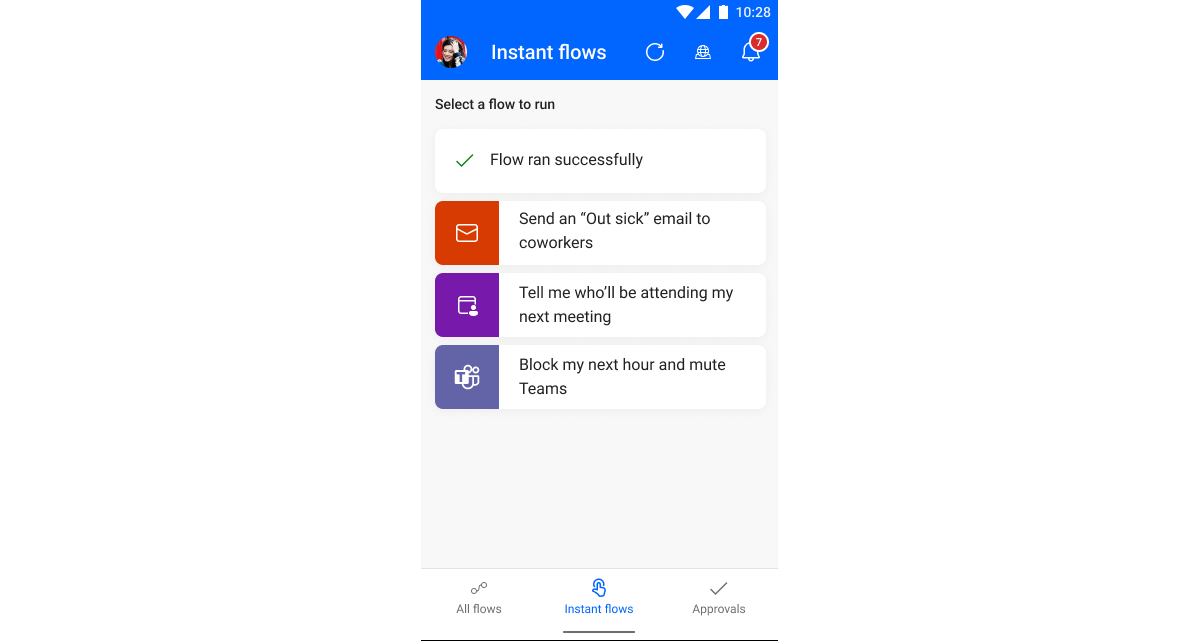 Power Automate's mobile app lets you trigger workflows from anywhere
Plus, if your organization already has Microsoft cloud app licenses, you can easily introduce Power Automate into your company's toolkit. Its basic plans are included with subscriptions to Microsoft 365 and Dynamics 365.
Power Automate's pricing starts at $15/user/month with unlimited cloud workflows. If you're looking to use RPA with desktop apps as well as AI-powered features, you'll need to upgrade to a $40/user/month plan.
You can also opt to pay per flow with unlimited users running it for $100/month, or go with a pay-as-you-go plan for the number of times your workflows run. There are also options to add on AI features and RPA to your subscription. These plans make sense if you're aware of exactly how much automation your organization needs, and if there's money to be saved by optimizing your spending there.
Zapier vs. Power Automate
If you're trying to decide between Zapier and Power Automate for your organization, it might help to think about the apps you'll use them with. When it comes to displaying information on digital signs, you'll want to think about what sorts of apps you will need to connect with your signage.
Automation Capabilities
Zapier supports a much larger number of modern web apps. If your work revolves around newer tools like Notion, Airtable, Slack, and Google Sheets, Zapier is the better choice. But if most of your data lives in Microsoft's ecosystem or in legacy desktop software, Power Automate will be easier to set up and maintain.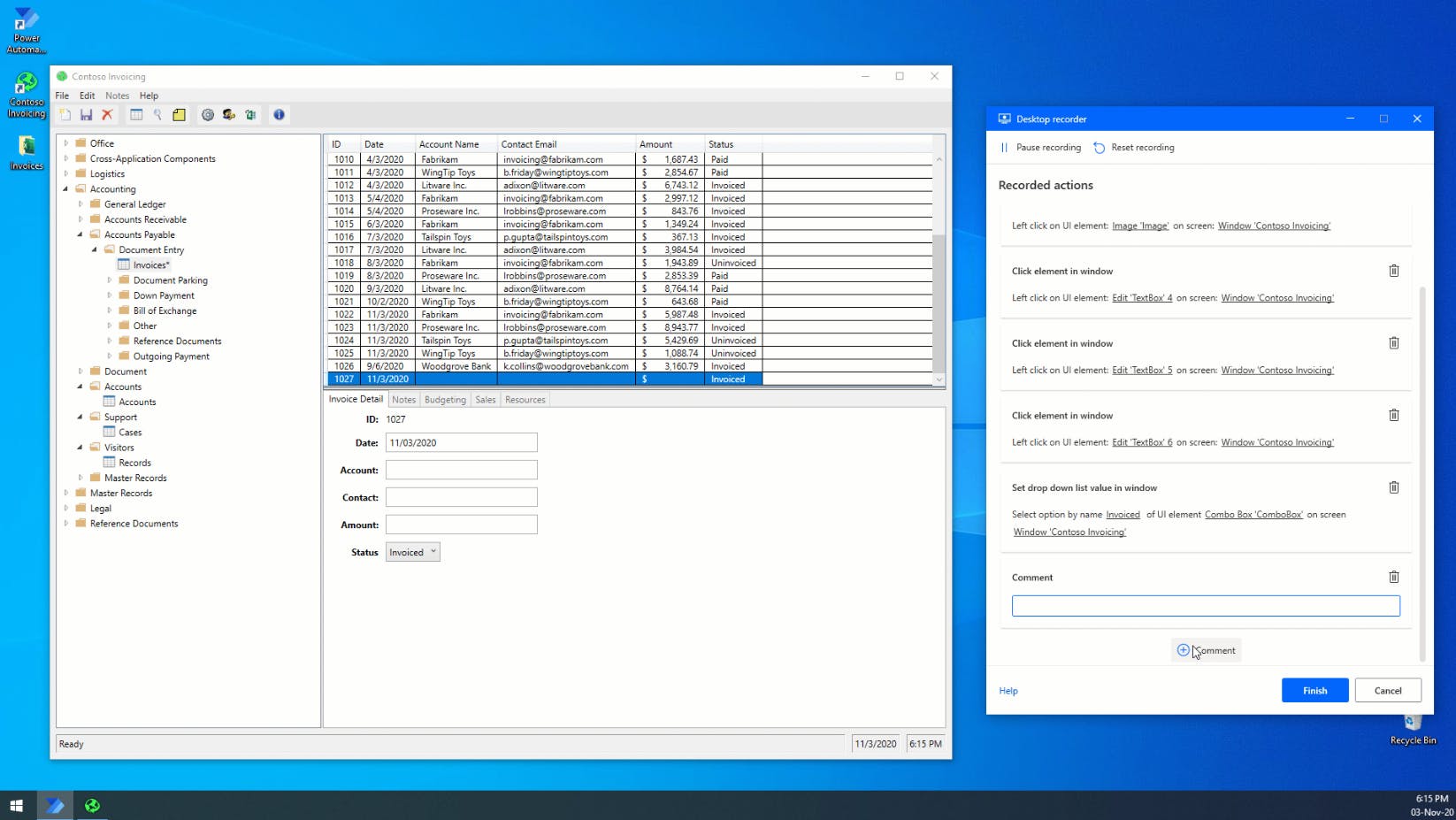 Power Automate's RPA tool lets you capture data from desktop software
For example, while Zapier connects to thousands more apps than Power Automate and even supports webhooks for near-infinite extensibility, it doesn't offer RPA to incorporate data and triggers from desktop software. It also doesn't offer mobile apps that will let you trigger workflows manually from wherever you are (though you can get Zapier to work with Siri via Apple Shortcuts). Power Automate checks both boxes, so if those use cases are important to you, it's worth considering Microsoft's offering.
If your needs are centered around displaying sales, support, and product performance on your ScreenCloud signage, Zapier can easily handle that by connecting to dashboard tools like Geckoboard. Power Automate can do that too, but you may find yourself limited by the range of third-party apps it can connect to and pull data from.
Building workflows
You'll find Zapier and Power Automate fairly similar in the way you build workflows. Both start with a trigger, use conditions to filter out data, and use actions to set up workflows.
Both services also have vast libraries of pre-made workflows that you can customize, and tools to test workflows before deploying them.
While both services are fairly approachable, Zapier is more intuitive and easier to grasp early on. Power Automate is designed to help you build robust workflows to meet complex business needs; you'll get more mileage out of it if you have technical professionals in charge of setting it up.
Digital Signage with Automation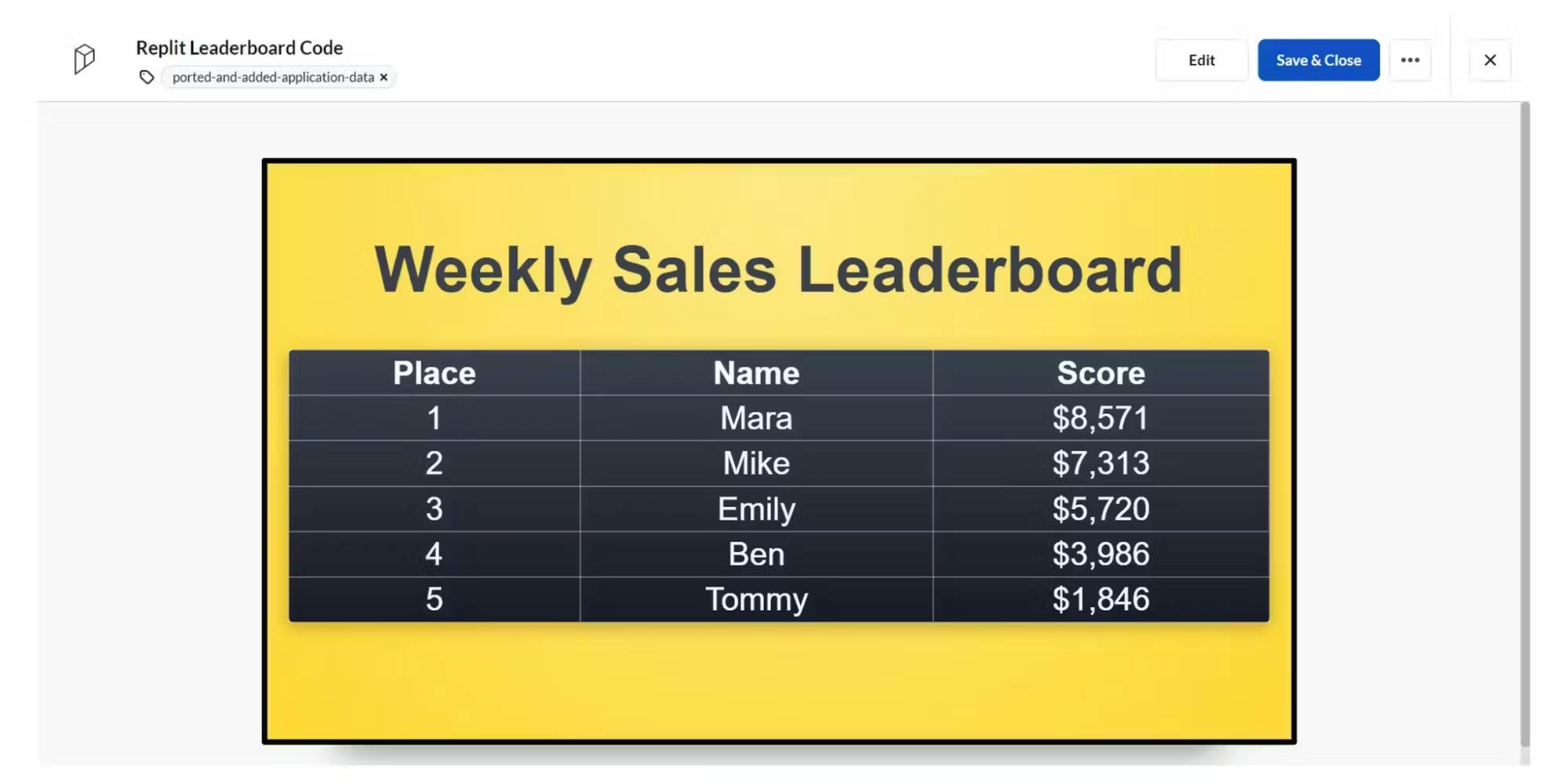 Zapier and Power Automate can both push new data to your signage automatically
Both automation platforms can enhance your digital signage by making it easy to bring up-to-date content to your business' internal displays and public-facing screens. ScreenCloud integrates with a wide range of web apps to present information, so if your automation platform pushes data to apps like Google Sheets and Slides or Slack, then it'll show up on your signage automatically. Or, with ScreenCloud Playgrounds, you can push data from any app to your signage with webhooks.
Smart signage is great to keep your teams aware of their achievements with dashboards. An easy option is to build a dashboard in Geckoboard to display key performance indicators (KPIs), analytics and success metrics in easy-to-read numbers, graphs, and charts. 
In this instance, Zapier wins over Power Automate by a mile. It supports thousands more apps to beam data to your on-screen dashboards, and connects directly to Geckoboard — unlike Power Automate. You could cobble a solution together using Power Automate, but that would take a lot more elbow grease, in terms of custom connections to send data to Geckoboard.
Or, say you're using digital signage in retail. Automation platforms can track your inventory levels then push that to your signage to inform your customers about what products are currently in stock or running out fast. Zapier is easier to set up if you're using modern cloud-based inventory management services like Square or Lightspeed. However, if you're using legacy desktop software, Power Automate's RPA features will come in handy, and make the latter a better choice.
Pricing
Both services offer limited free tiers for simple automations. Zapier's free plan includes up to 5 workflows running 100 single-step tasks a month, and doesn't allow access to select apps like Shopify and Twitter; Power Automate's free limits are more nebulous.
Zapier's starter plan for individuals is a little more expensive at $19.99/month compared to Power Automate's $15/user/month rate. However, you can bring unlimited users onboard a Zapier setup for $69, whereas Power Automate's per-flow plan with unlimited users costs $100/month. 
That said, Power Automate offers a wider range of subscription options, and might make more sense for companies with existing Microsoft Office 365 licenses.
Security
Both Zapier and Power Automate are built with security in mind, both in terms of keeping your data protected, and ensuring you have control over who can access your automation setup.
Zapier offers secure access for users in your organization using SAML 2.0 IAM providers, as well as granular control over what apps and connections your team can use. The company says it secures user data with  256-bit AES encryption, and conducts independent SOC 2 audits annually.
Power Automate on the other hand lives in Microsoft's Azure cloud, and so it offers the same level of security as Zapier with additional compliance capabilities. The company says it employs more than 3,500 security staff focused on safeguarding data in transit and at rest with industry-leading practices, so its customers will be in good hands. And of course, you'll have full control over permissions and access for your team.
If you're concerned about bringing sensitive data in your automation setup, it's worth noting that Zapier has a cloud-based data transfer tool, while Power Automate offers a robust desktop app to handle this task.
Start automating your work and signage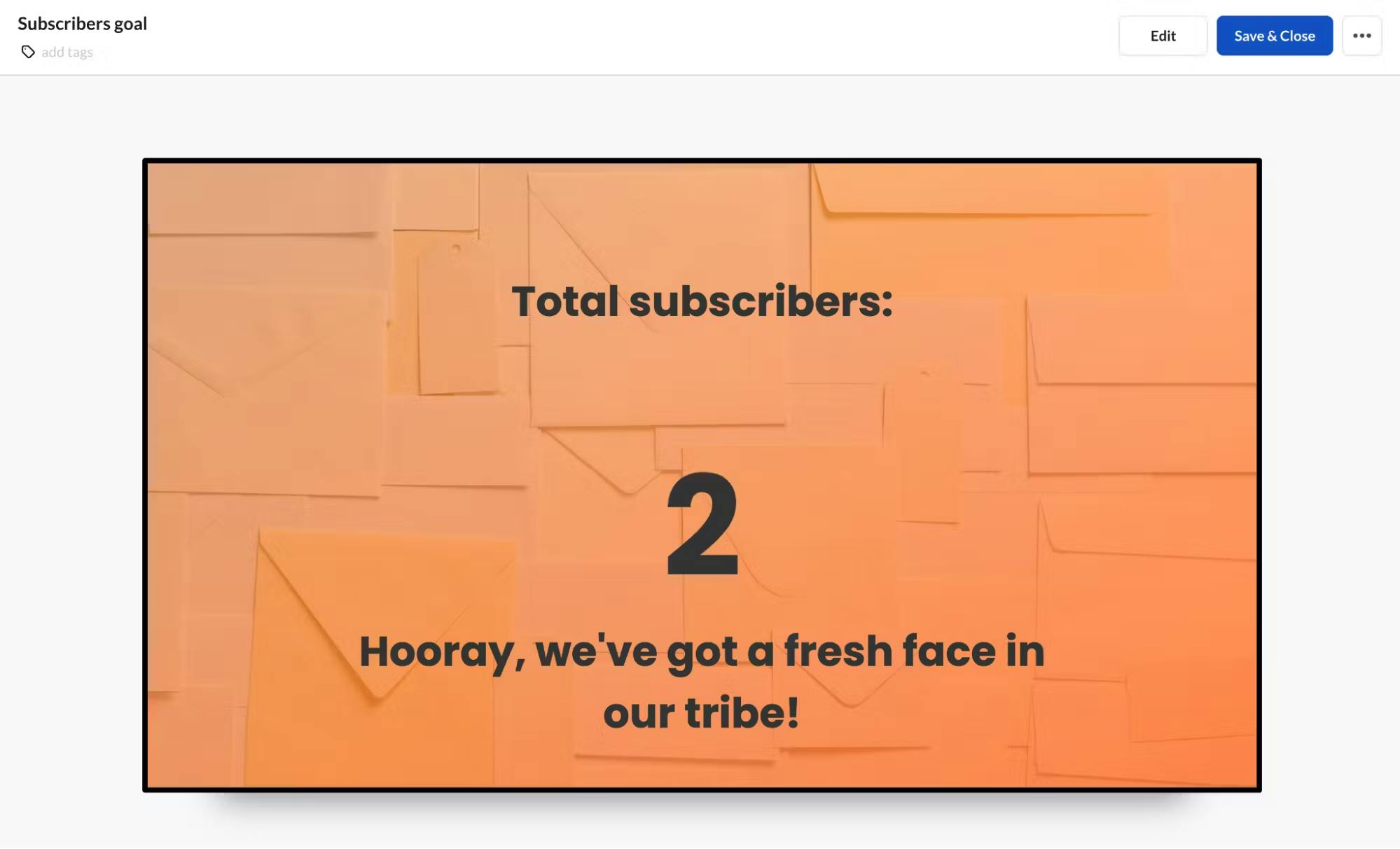 Automation platforms and ScreenCloud are the best way to keep your team updated, automatically
Zapier and Power Automate are largely built for similar purposes, but they take different approaches to building automations and implementing them. Their basic plans are similarly priced, so you only need to factor subscription costs into your consideration if you're building out automations at scale and opting for team-wide or enterprise plans.
If you already have a Microsoft Business 365 plan, Power Automate is worth checking out. It's also a good choice if you're looking to affect business outcomes by automating high-volume data tasks from disparate sources like API-less legacy systems and desktop software. Need to send data from desktop software to your signage? Power Automate is the tool to use.
Meanwhile, Zapier is the better choice to connect modern API-based apps together to push all kinds of data to your digital signage. Whether you're looking to display internal dashboards, schedules and events, or promotional content, Zapier makes it easy to set up with an intuitive interface. 
Once you've picked an automation platform, it's time to hook it up to your digital signage. If you haven't built out signage yet, start with a free 14-day ScreenCloud trial then check our Webhooks guide to push data from any app to your signage, our Chart.js guide to build graphs and charts from your data automatically, and learn how to build auto-moderating user generated signage with ChatGPT.
Happy automating!
Ready to get your organization connected?
Connect your first screen today with our 14-day free trial
articles