Publish content to your screens directly from Microsoft Teams
Learn More


How to Turn Off Touch Screens and Lock Down iOS and Android
Tablets and even repurposed phones are perfect for wayfinding signage and kiosks—as long as no one swipes back to the home screen or switches apps. Here's how to lock down any device to only run the app you want.
"Every application wants a slightly different user interface, a slightly optimized set of buttons just for it," said Steve Jobs while unveiling the original iPhone, for why Apple's smartphone was built around a touchscreen–and only a touchscreen. The idea caught on so well, subsequent phones and tablets got larger screens and fewer buttons until today's phones and tablets are little more than a slab of glass.
Which makes a repurposed phone or tablet perfect as a single-purpose device. Almost any semi-modern touchscreen device makes a great standalone screen, with a slideshow of products, a looping video, or smart digital signage with live-updated weather, news, and transit arrival times—and more. You can deploy them throughout your store or office without needing to hide a keyboard and mouse behind the device for maintenance.
The only problem is, all of the other apps are just a swipe away. That is, if you don't lock your device down and deactivate the touch screen to keep people from using anything other than the app you want them to see.
Here's how to turn iOS and Android devices—along with Macs, Windows PCs, and Chromebooks—into kiosks with touch disabled, or restricted to the things you want people to tap.
How to Turn Off iPhone and iPad Touch Screens
iOS includes perhaps the simplest way to disable or restrict touch screens: Guided Access. This somewhat-hidden feature lets you turn off the touch screen on any iPhone or iPad.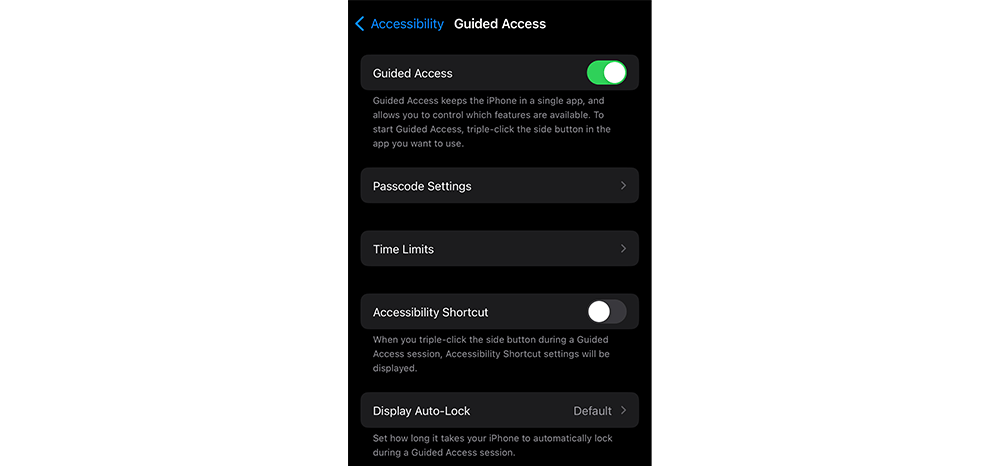 Guided Access is disabled by default. So first, open the Settings app on your device, tap Accessibility, and scroll near the end of the list to select Guided Access. Turn it on, and you're ready to start.
Now, open the app that you want to use on your device. Start a video or slideshow, or open anything you want to keep running.
Then, to lock your device to only use that app, press your device's power button three times in a row (the right-side button on an iPhone or the top-right button on an iPad). Or, if your device has a home button, press it three times instead. That will open a small menu; choose Guided Access.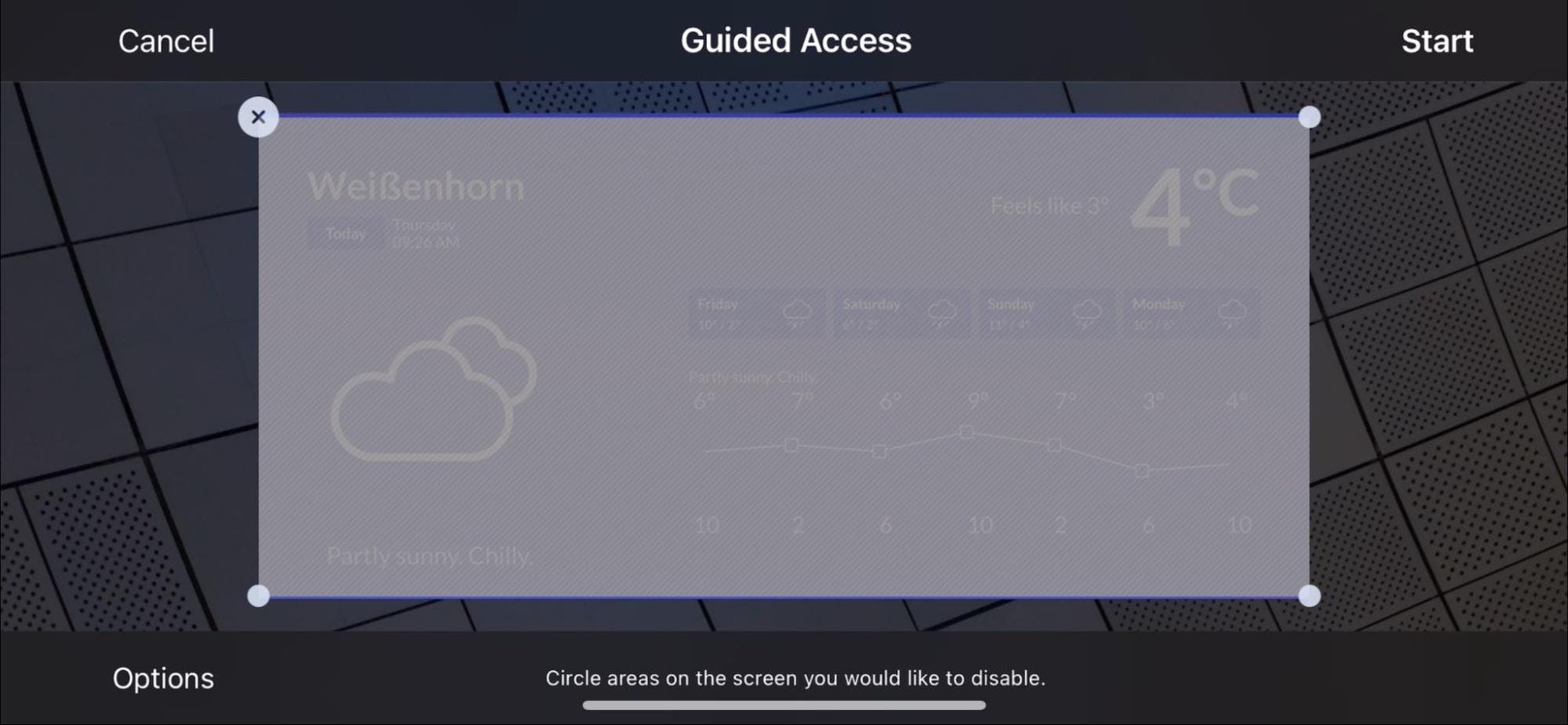 The first time you turn on Guided Access, iOS will prompt you to select which parts of the screen to disable. You can draw rectangles around any section of your screen, perhaps around the lower parts of the app to prevent menu access or around the center to disable play/pause buttons.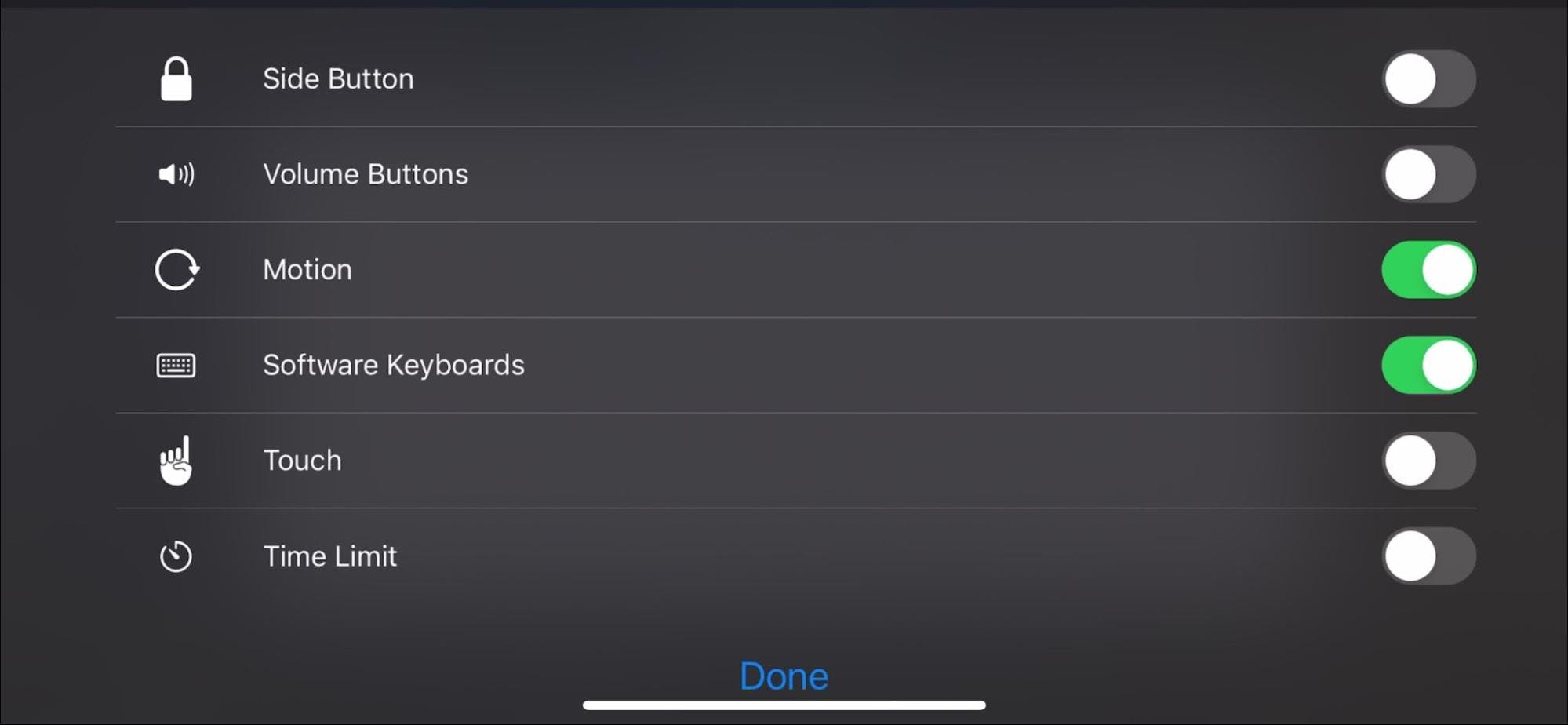 Or, tap the Options button, and disable touch entirely—perfect for digital signage where you don't expect users to interact with an app. Finally, add a passcode—which can be different from your device's default passcode—and you're good to go.
Try tapping on your screen, and nothing will happen if you disabled all touch access. Your app will keep running in the background with anything you already started. Guided Access automatically disables notifications, incoming calls, and the Control Center, so the only thing visible will be the currently open app.
To exit Guided Access and enable your touch screen again, press the power button three times then enter your passcode. Then your device will be back to normal.
There are a few more things you can tweak. Back in the Settings app, tap Display Auto-Lock can set your device screen to never turn off while Guided Access is enabled, perfect again for signage applications. You can also reset your Guided Access passcode, or set your device to use Face ID or Touch ID to turn off Guided Access instead.
How to Turn Off Android Touch Screens
Pinned Apps is the closest thing to Guided Access for Android. Pinned Apps locks your Android phone or tablet to a single app. It doesn't disable the touch screen, but it does keep people from switching apps. If you want to show a single order form, a looping video on your website, or a signage app like ScreenCloud, it's perfect to enable just enough touch for that use case without letting people use your phone or tablet for anything.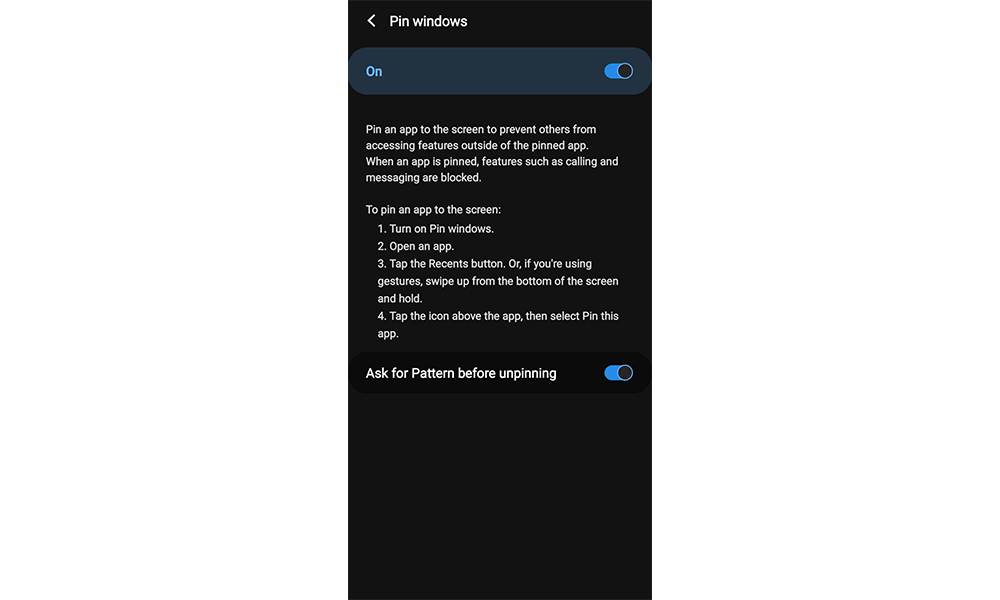 To enable Pinned Apps in Android 11 or newer or Amazon's FireOS 2022 release or newer, open the Settings app, then tap Security -> Advanced -> App Pinning (or Pin windows, depending on your device) and enable it.
Now, open the app you want your device to display, then either swipe to the middle of your screen and hold or press your Overview button to show all of your open apps. Tap your app's icon, and select Pin in the menu that opens.
Your device will now be locked to that app—but you can still use the touchscreen inside the app to start media playing or control the app.
To unpin an app and go back to using your device, press and hold your back and home buttons or the back and overview buttons, depending on your app. You can set your device to request your passcode or pattern when you unpin an app, to keep others from switching apps.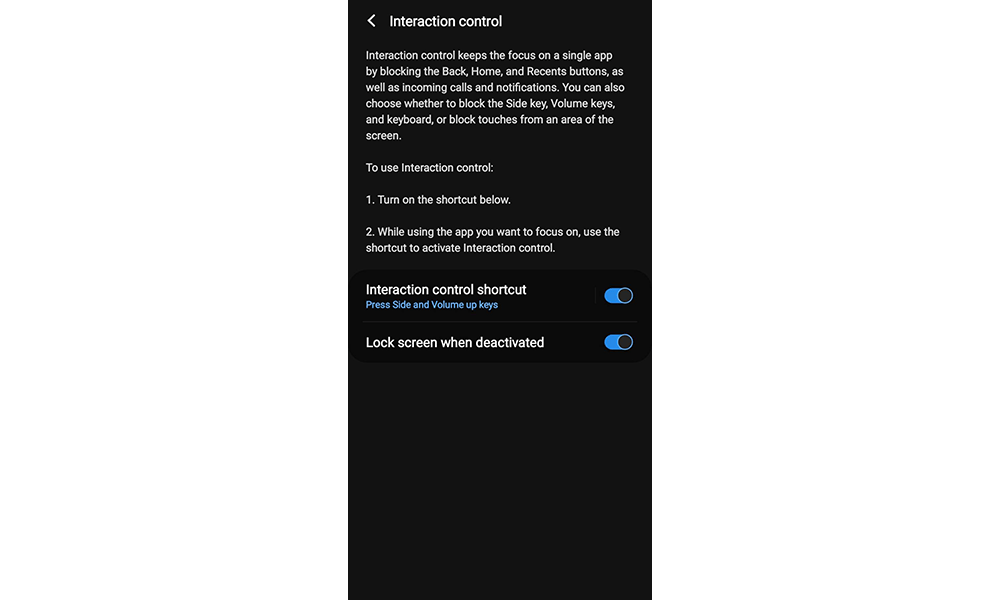 Or, if you're using a Samsung Android device, you can use Interaction Control for something much closer to iOS Guided Access. To enable Interaction Control, open the Settings App, select Accessibility, then choose Interaction and dexterity. There, you can enable Interaction control.
Then, open the app and start anything playing you want to display. Press your device's side/power and volume up buttons to enable interaction control—and, much like on iOS, select the part of your screen where touch should be disabled, or turn off touch entirely.
Press the same power and volume up button shortcut disable Interaction Control, then enter your passcode to unlock the device.

In Samsung's settings, you can also switch your Interaction Control shortcut to pressing the volume up and down buttons for 3 seconds instead.
(Note: Some users mentioned if their battery dies, the phone will ask for passcode before letting you disable Interaction Control, effectively bricking the device. Consider blocking touch only on parts of your screen to leave the passcode region accessible.)
One final option to disable touch screens on any Android device is with a MDM (mobile device management) tool, which can lock down devices to a kiosk mode. If your company centrally manages devices, that could be a good option; for smaller teams or personal use, Pinned apps or Interaction Control is a better solution to disable touch screens on Android.
How to Lock Down Windows Devices to a Single App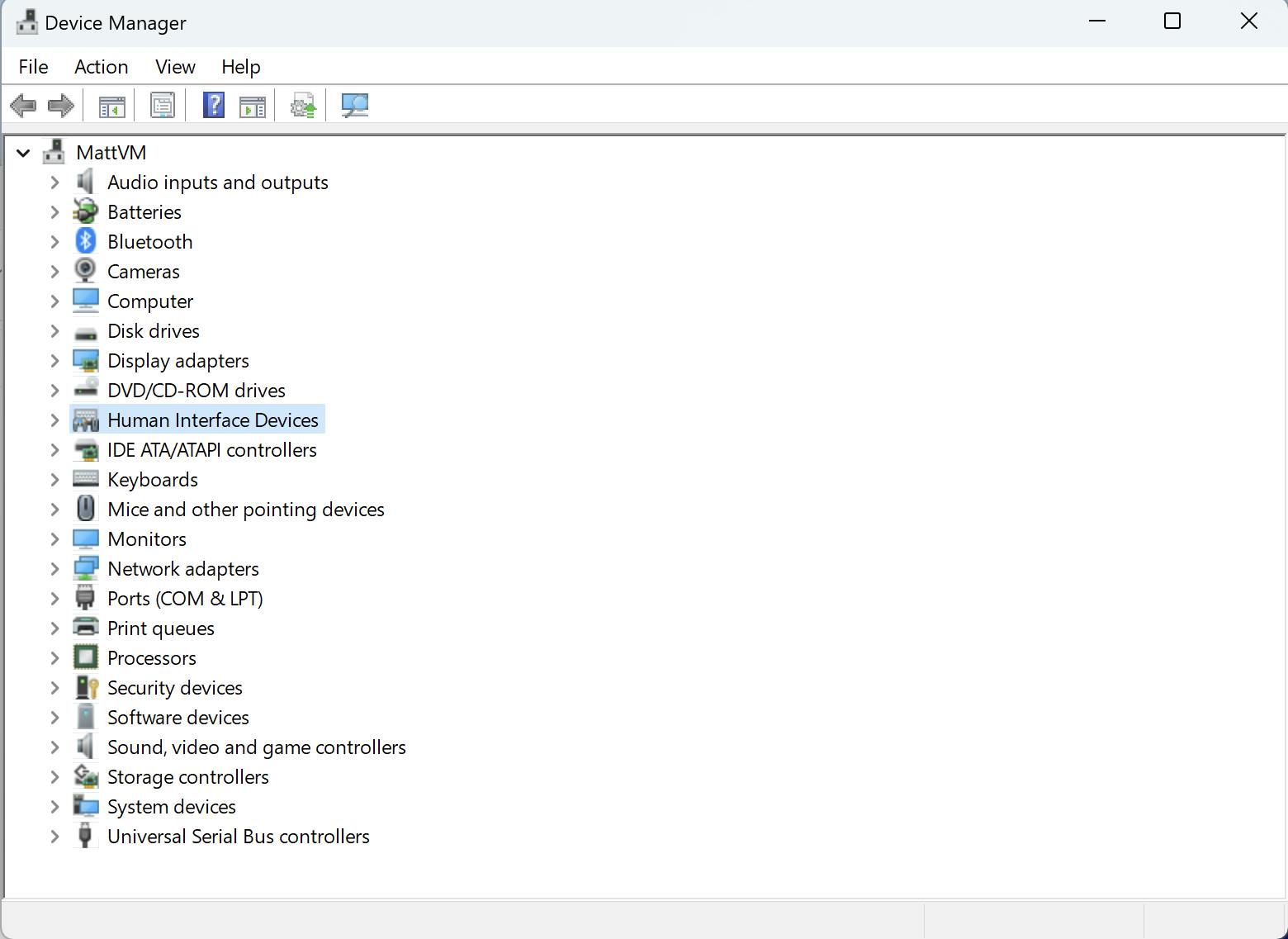 Windows includes a somewhat-hidden option to disable touch screens—forever. Right-click your Start Menu, choose Device Manager, then expand Human Interface Devices and double-click your touch screen or touch controller. There, you'll find an option to disable touch input among other settings, depending on your device..
Or, if you'd like to keep touchscreen access—or leave a keyboard and mouse attached without users being able to switch to another app—you can use the single-app kiosk mode in Windows 10 and 11 to lock your PC down. That uses a new user account that's locked to a single application.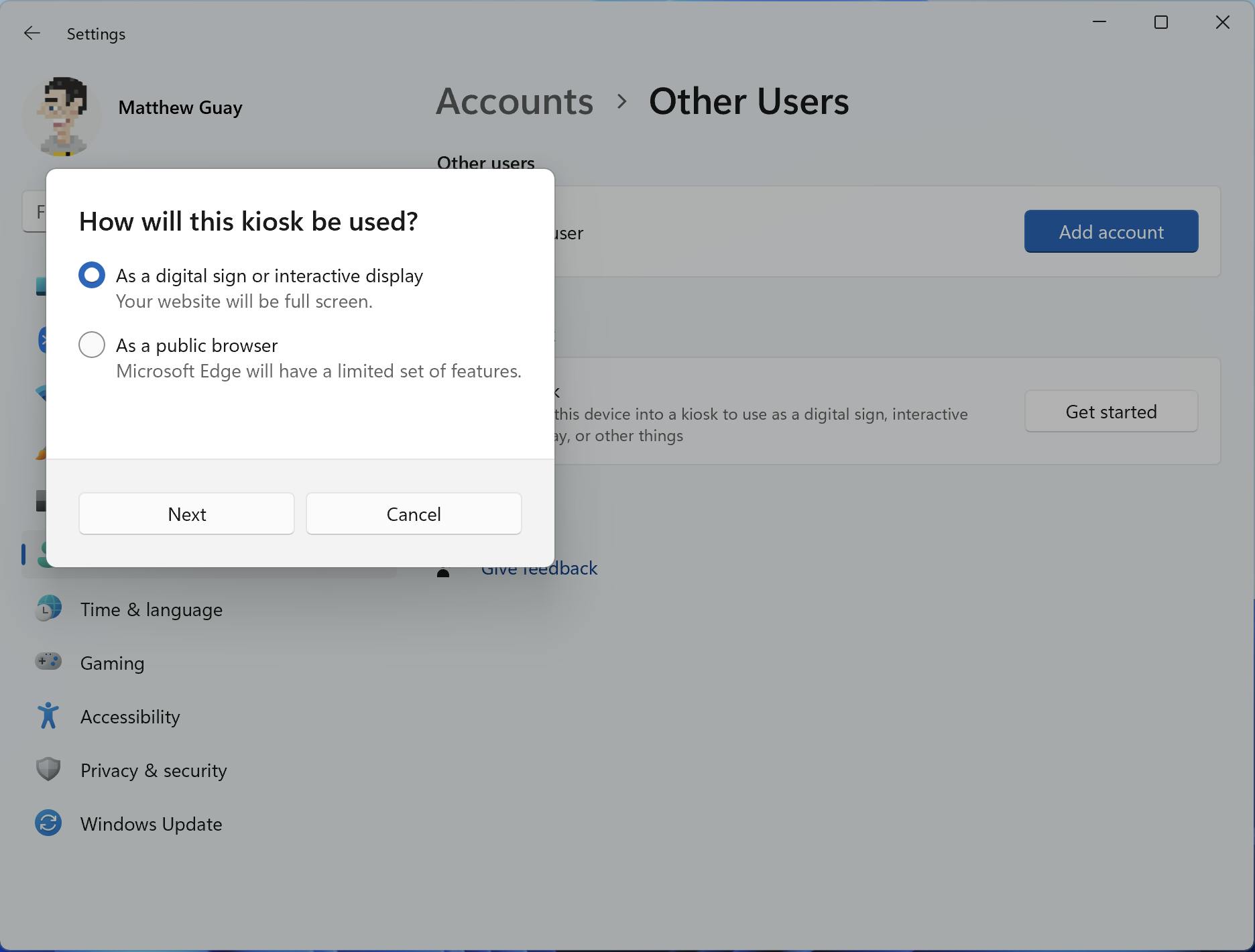 To enable single-app kiosk mode, open Settings, then tap Accounts -> Other users -> Set up a Kiosk -> Assigned Access -> Get started. There, you can add a new name for the locked-down account, and choose a single app to run (or, choose Microsoft Edge and add a single URL to lock the PC down to a single website).
Now, when you login as that new user, Windows will automatically start the app you chose at startup—and disable everything else, until you switch back to a standard user account (press Ctrl+Alt+Delete to exit kiosk mode).
You can also enable Windows Kiosk Mode with PowerShell for an XML-driven kiosk setup that can be rolled out to multiple machines, or with Microsoft Intune and other MDM providers
Or, use an app like ScreenCloud that runs in Kiosk mode by default. ScreenCloud's digital signage app for Windows runs full-screen by default, can start when you first turn on a computer, and can automatically restart itself if someone tries to quit it. That—along with, perhaps, changing your default keyboard shortcuts—will keep your device locked down as a digital signage PC, without requiring a new user account.
How to Lock Down Macs to a Single App
In a somewhat surprising oversight, Macs don't include the Guided Access feature from iOS. Perhaps that's because Macs also don't include touch screens—but you still might want to lock a public-facing Mac down so users can't quit an app or switch to other software.
The default way to lock Macs down to a single app is with MDM solutions, which let you set a single application to run on a Mac while disabling everything else. That works for enterprise use cases. For everyone else, the best workaround is a 3rd-party app.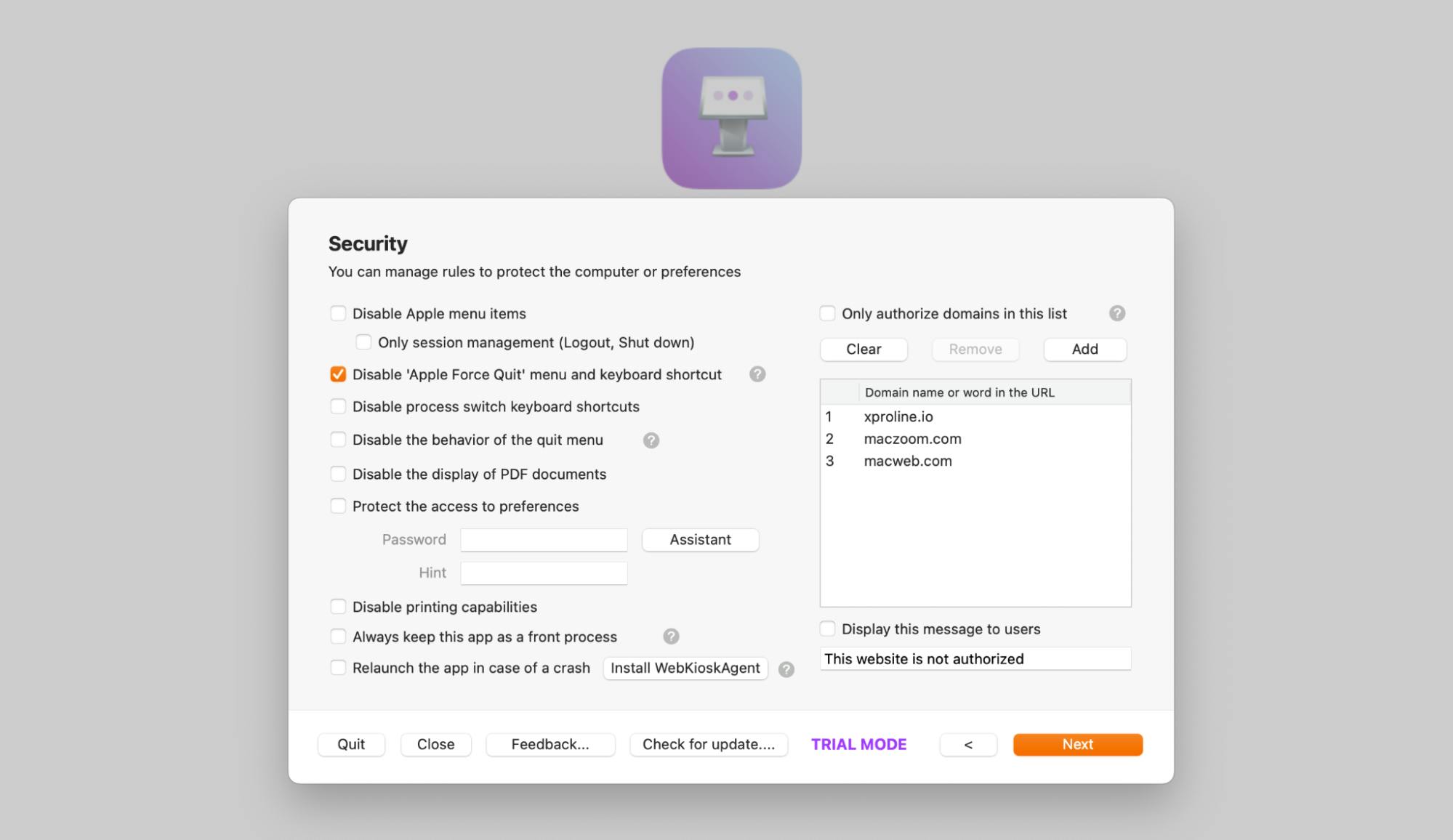 One of the easiest ways to lock a Mac to a single app is with WebKiosk, a browser that's built around a locked-down experience. The first time you open it, you can set what to disable: Menubar access, navigation buttons, printing, and even the Quit command. You can also set the browser to only enable access to a single website, perfect for an order form kiosk, or to loop a video or slideshow from your browser.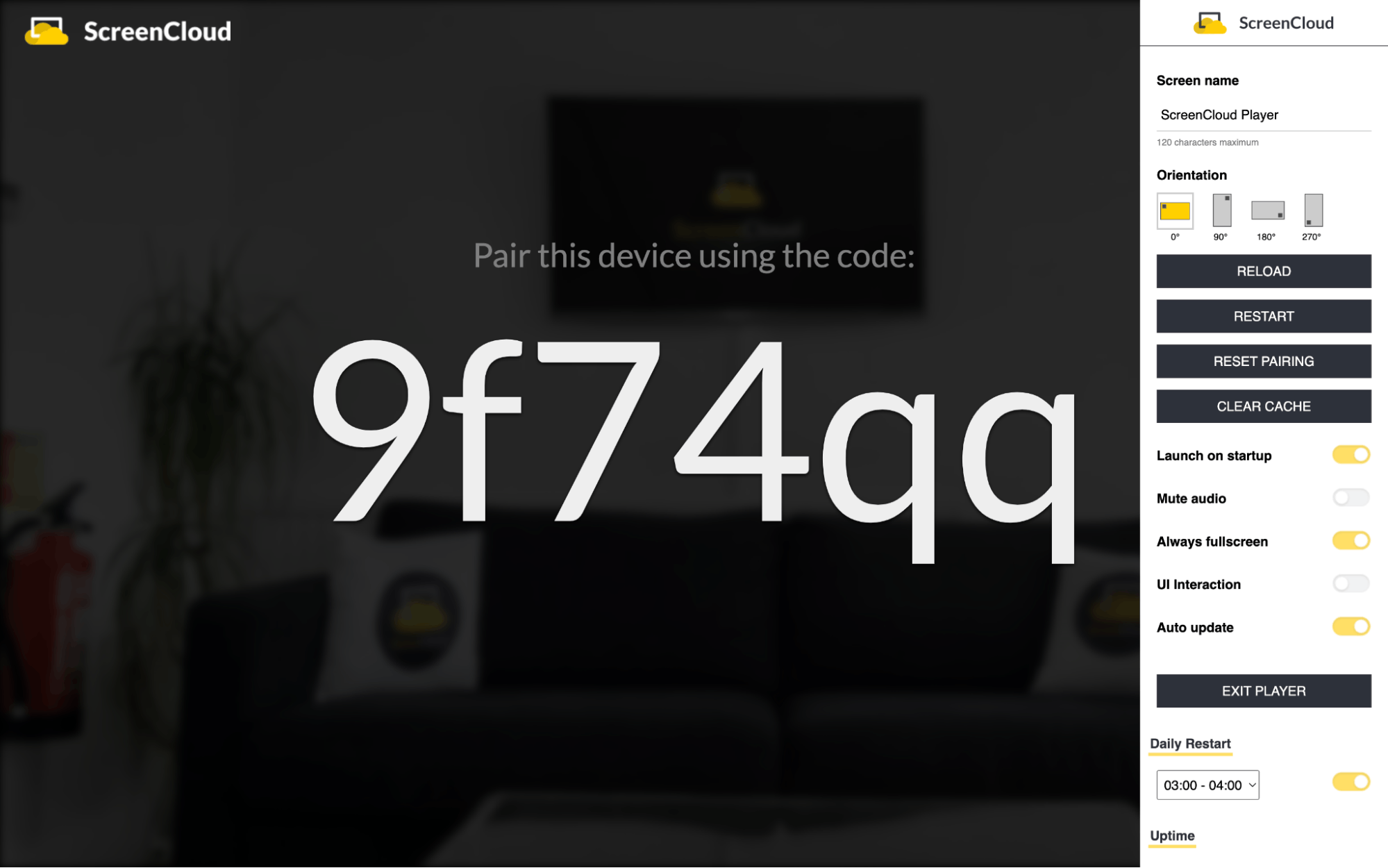 Other apps include similar locked-down experiences, including ScreenCloud's digital signage app for Macs. Install the ScreenCloud app, and the first time you run it you'll see options to always run full-screen and have it start when you turn on that Mac. You can also enable or disable UI interaction—the closest thing to Control Access on a Mac.
One final thing to lock down your Mac is to open your System Settings, turn off trackpad gestures so users can't switch apps or open Launchpad, and edit keyboard shortcuts so they can't press CMD-Q to quit your app. They could, perhaps, guess your new keyboard shortcuts—but odds are they'll be stuck on the app you locked them into.
How to Lock Down ChromeOS Devices to a Single App
ChromeOS includes a kiosk mode to lock a Chromebook to a single app or website. It doesn't disable the touchscreen, but it does keep the device using a single app. It's only supported on devices with an enterprise license, from $50/year per device depending on your region, though.
For companies with large ChromeOS deployments and enterprise licenses, it can be a great way to lock down devices to a single app, similar to Pinned Apps on Android.
First, install a ChromeOS app or extension that you want to run full-screen and enable it for your business.
Then, open the Google Admin Console at admin.google.com, and go toDevices -> Chrome -> Apps & extensions -> Kiosks. There, you can select a specific user and device, and choose an app you'd like to auto-launch as the only app for that user. Or, you can allow a specific URL—and block all others—and set it as your homepage, to use a website as a kiosk.
Whenever you want to use that device locked down to a single app, login as that user and the app or site you selected is the only thing that will open.
Alternatively, on any ChromeOS device, you could hide the tab and address bar to make it harder to switch apps, and change keyboard shortcuts so most users wouldn't know how to quit apps or switch tabs. It's security through obscurity—good enough for basic kiosk uses.
Get more out of your locked down touchscreen device
Now that you've got a touchscreen device with the touchscreen disabled, it's time to put it to work. The best way is with digital signage software like ScreenCloud. You can use it to build wayfinding signage for your office or events, automatically-updating dashboards for your office, or PowerPoint displays to share slides and show notes after a presentation. And you can manage your touch devices, right alongside any TVs and other displays around your workplace.
ScreenCloud works great without touch, shuffling through content from your apps and slides your team created on its own. Or, with ScreenCloud Touch, you can build interactive signage—perfect for Pinned Apps on Android that let you lock your device to ScreenCloud while still letting people interact with your slides.
Start a free 14-day ScreenCloud trial and start turning your spare devices into signage.
Image Credit: Header Photo via Unsplash
Ready to get your organization connected?
Connect your first screen today with our 14-day free trial
articles