Publish content to your screens directly from Microsoft Teams
Learn More


The Smartsheet Dashboards digital signage guide
Want to present Smartsheet data to your team? Here's how to summarize Smartsheet data, build dashboards from your projects, and publish them on your digital signage to turn your data to productivity.
Every project management app lets you check off tasks and set due dates. Any spreadsheet can highlight where your team's over budget. Yet, you decided to manage your projects and budgets and track KPIs and company progress over time in Smartsheets—because it could do it all in one place.
That's why Smartsheet was built, to be "flexible and easy-to-use like a spreadsheet, but designed specifically for tracking the status of team deliverables." Perhaps its best feature is the flexibility to fuse data from multiple sheets into reports, with a bit from here and a byte from there, to give meaning to your data.
Whether you're planning projects and keeping KPIs on target in Smartsheet as intended, or using it for double-duty as a spreadsheet and light database, here's how to get more out of your data. We'll also cover how to turn Smartsheet into a data dashboard ready to present to your team, and broadcast on digital signage.
How to build a data dashboard in Smartsheet
Smartsheet is a spreadsheet with the sensibilities of a database, without as rigid a structure. You can't insert a graph into your spreadsheet, as you would in Excel or Google Sheets, and while you could type a formula anywhere you want, Smartsheet includes a sheet summary as a neater place to sum and count values.
With KPIs, sales figures, budgets, and deadlines itemized in Smartsheet, the first priority is getting Smartsheet presentable. You need to filter and summarize your data before pulling it into a dashboard so you don't overwhelm your colleagues with minute details.
Add a sheet summary to highlight important data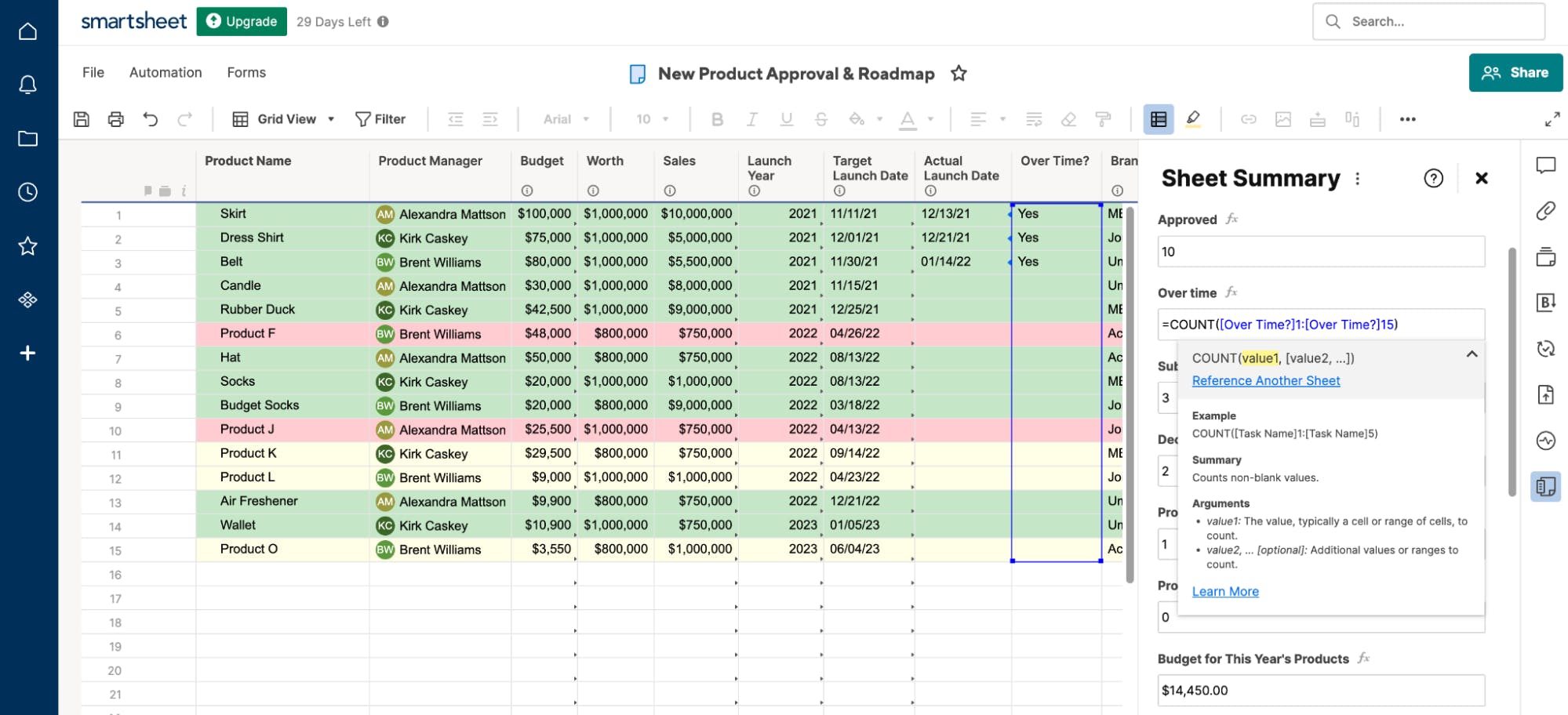 Smartsheet sheet summaries keep your data and formulas separate
The easiest way is with a Sheet summary. Click the lowest button in a Smartsheet table's right sidebar, Summary, to open Smartsheet's dedicated space for the formulas that tell your sheet's story. Tap New field, then add a text field to either write static details for your team or start typing a formula to summarize data. You could, say, sum up the value of all closed deals this year, or count the total number of completed projects, or use formulas to parse together the big picture of what's going on.
Then, when you share this sheet, you can direct your colleagues and managers to the Summary tab. The data's all there, with the core ideas at a glance from your hand picked results.
Build a report to combine data from multiple sheets

Smartsheet reports pull data from multiple sheets into a single table
Another Smartsheet tool is the filtered sheet. You could, if you wanted, reference data from any other sheet inside a Smartsheet spreadsheet, then add a filter to drill down into your data. That's one of Smartsheet's best features, after all: pulling data together from multiple sources.
Reports take it a step further. Select the sheets with the data you want—the last three year's expense reports, five different projects across teams, or time tracking sheets for everyone on your team—then select the columns with similar data across your sheets. Smartsheet turns that into a merged view with the combined info, no formulas needed. From there, it's only a couple more clicks to filter the data.
That's the easiest way to get quick visibility into how things compare across similar projects. It's also a better way to share data; you can publish the summary sheet with its filtered data without sharing all of the underlying fields. And it gets you one step closer to building a visual dashboard.
Create a dashboard to visualize data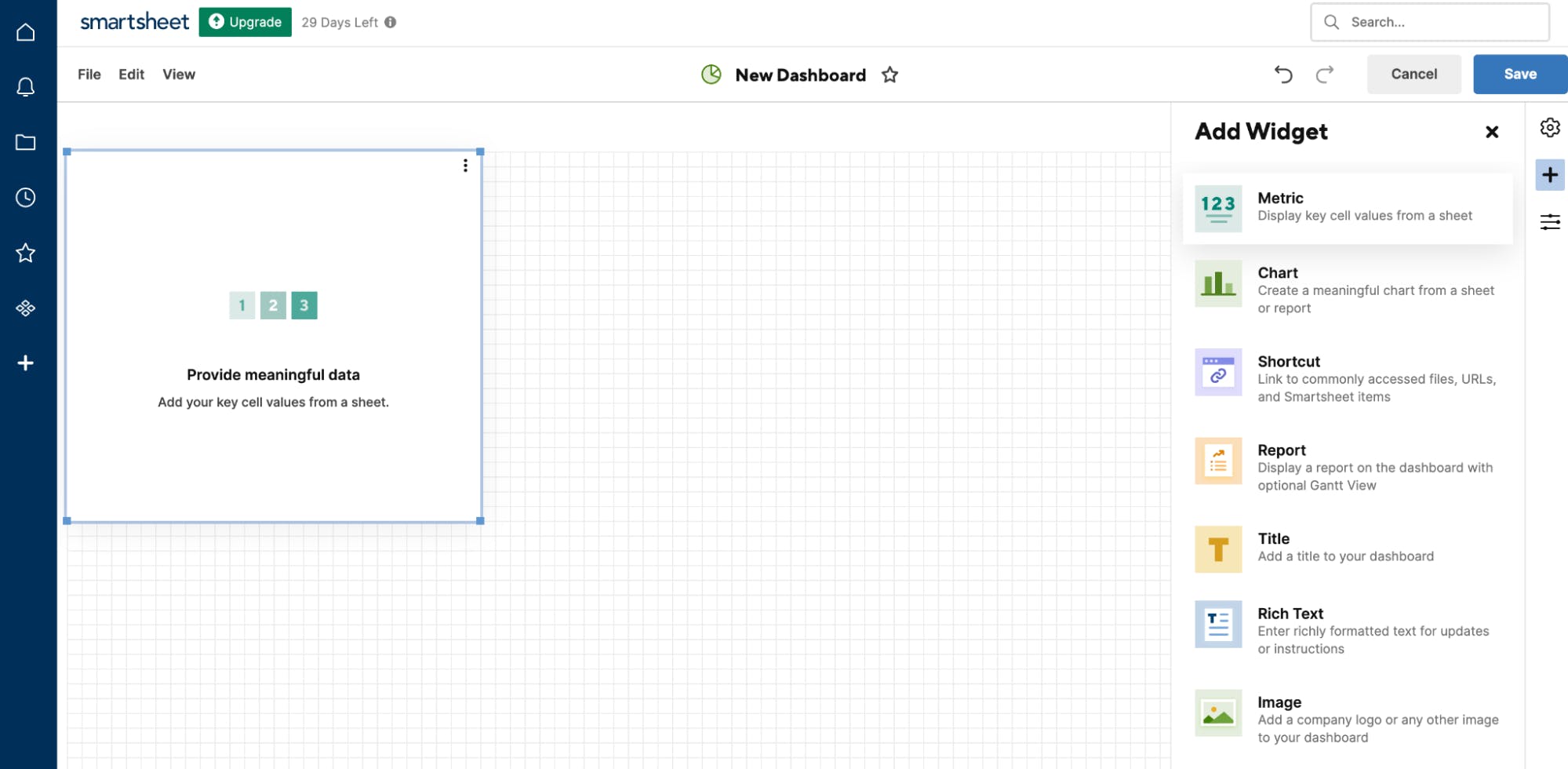 Smartsheet dashboards help you highlight single metrics and build graphs from data
In Excel and Google Sheets, when you want to see how sales have grown (or not) over the past quarter, how your team's productivity has varied or your product revenue breakdown, you'd insert a chart right beside the data.
Smartsheet splits things up, with graphs saved for Dashboards. They're one abstraction up from reports, a visual take on your data.
You could build Dashboards directly from any Smartsheet sheet. Take the time to build summaries and reports first, though, and you can build a Dashboard in minutes.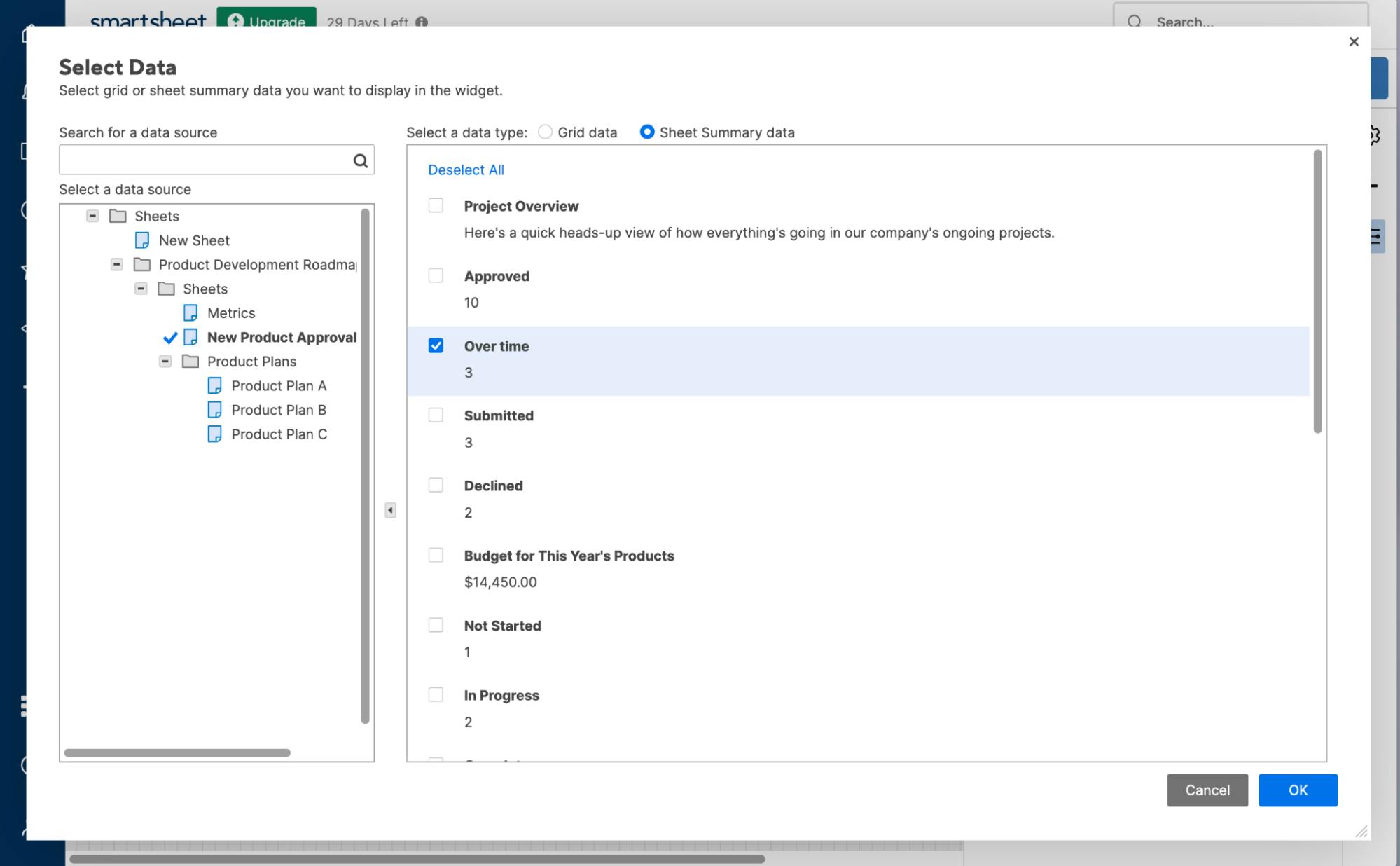 Sheet summary data is best for building Metric widgets
Dashboards start as a blank canvas. Click Add Widget or the + button in the right sidebar, to add a widget. The handiest—especially for presentations and digital signage—are the Metric widgets to showcase a single value, and Chart widgets to graph data. You can also add a title or rich text block to write details for your team, with an image widget to brand your dashboard or showcase the product behind the numbers.
Metric Widgets are great to showcase a KPI on your dashboard—total sales, new products launched, or even less-exciting things like the number of projects behind schedule or growth in churn. You could select a single cell from any of your sheets, or the better option is to choose Sheet Summary Data and grab a single value from the summary you created previously.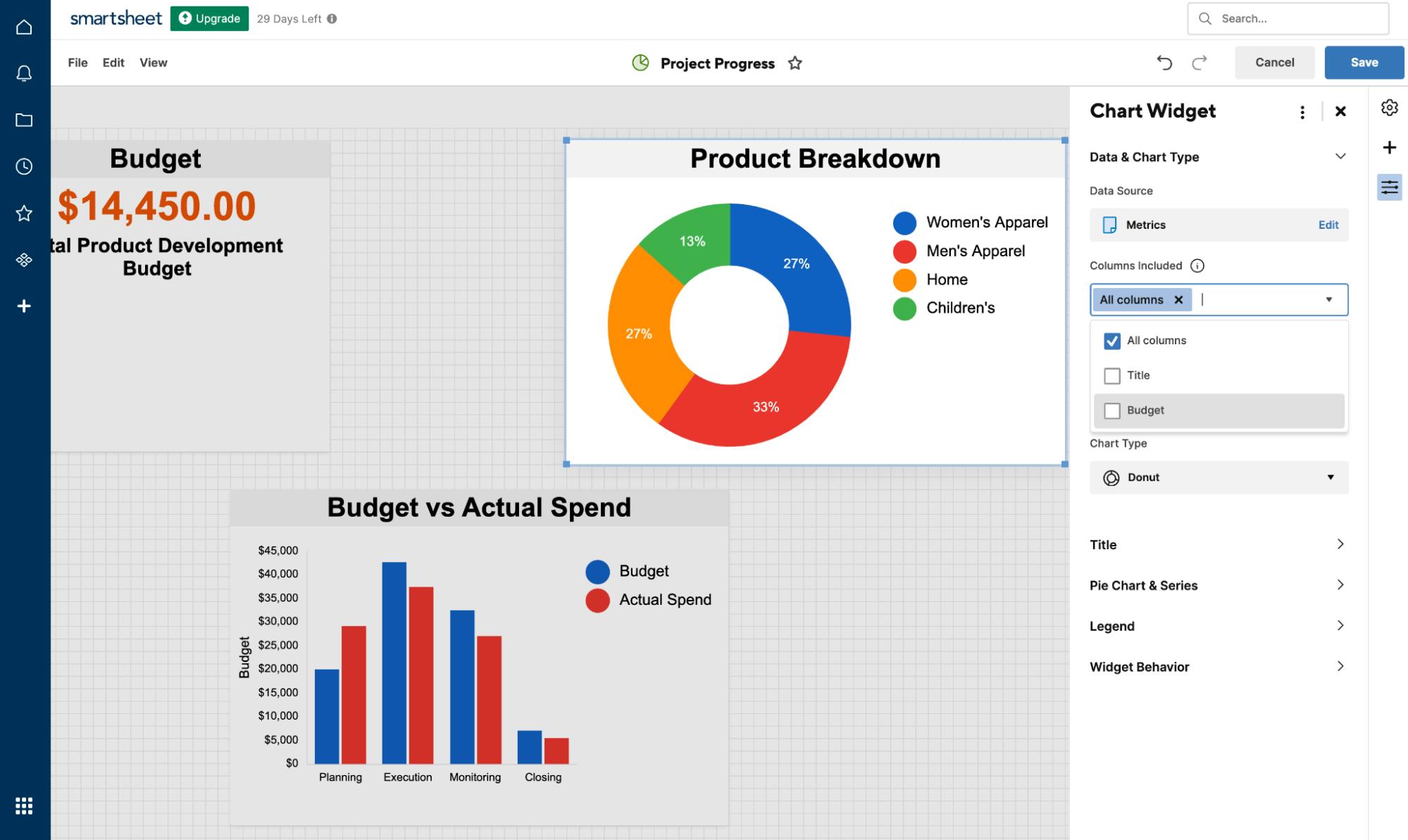 Chart widgets include customization options
Chart widgets include more options. Pick the chart type you want—including line, bar, donut, pie, and more—along with the data fields that should power your chart. Full sheet data can work well for more detailed charts, while data from reports might help you graph details from multiple projects at once.
Don't forget to tweak your Dashboard's design as well. Drag and drop widgets to the order you want; you can easily fit two full rows of widgets on a projector or TV screen for presentations. The default text size might be a bit small for at-a-glance dashboards, and the widget names are rather generic by default. Take a moment to bump up the font size, pick a typeface that fits your branding, edit the widget title so your team knows what the data means, and perhaps add a bit of color to make Metric widgets, especially, stand out.
Then, you can share your dashboard to let your team see how things are going at a glance, without needing to share everything in your projects.
How to present your Smartsheet data
A plain Smartsheet spreadsheet won't look so great in your next PowerPoint. Even a detailed list of summaries would need to be typed out and formatted in your slides to look presentable. Your Smartsheet Dashboard, though, is ready for the big screen out of the box.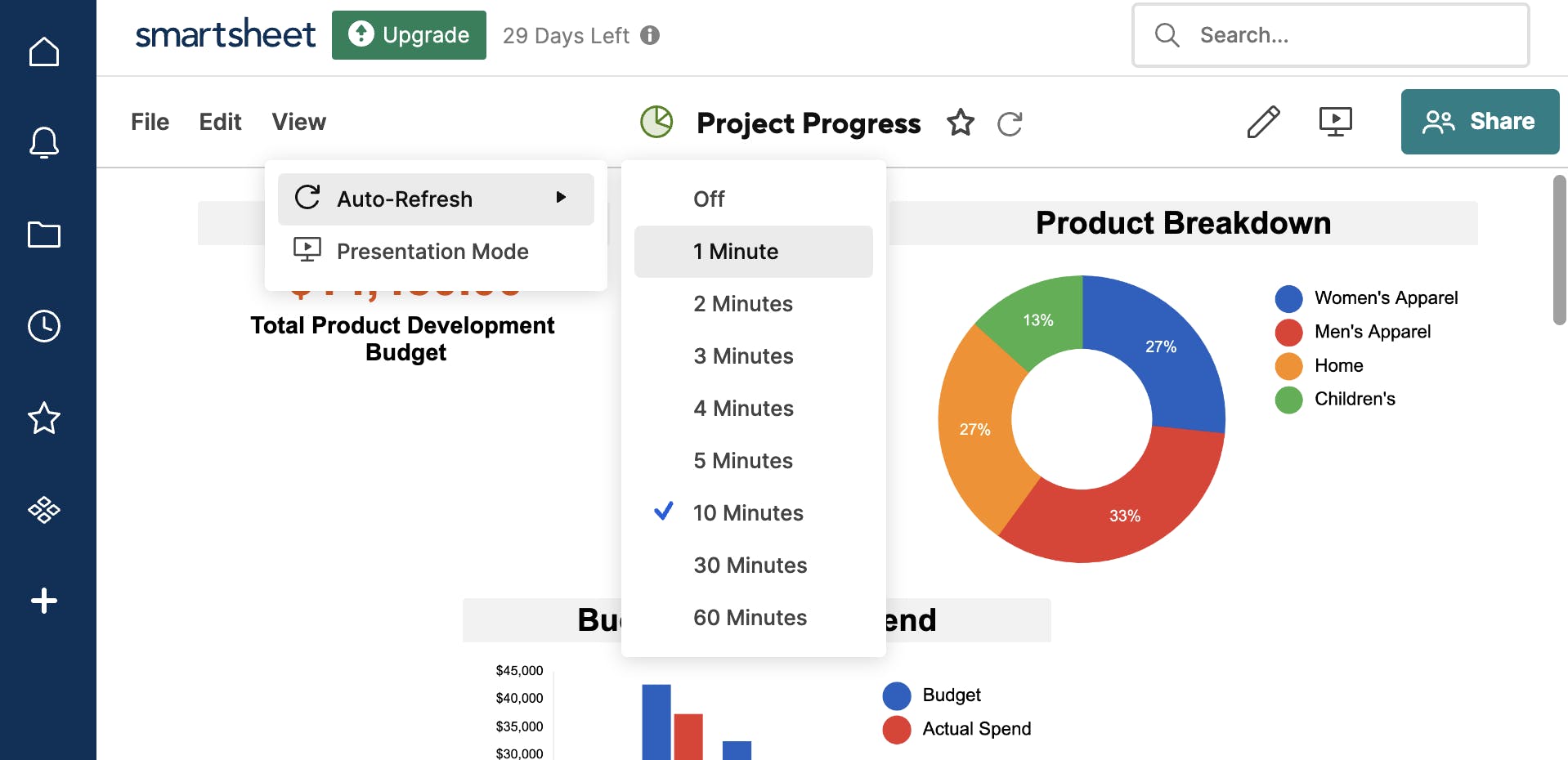 Smartsheet dashboards are an easy way to present your data, without creating a presentation
When you open a Dashboard, by default it appears on a white background without any editing tools, ready for you to present. Click the projector screen icon on the right of the toolbar to go full-screen, and you're ready to start the show.
You can make your Dashboard even better for a live presentation with a bit more tweaking. Dashboards are infinite canvases, so you could add more widgets below the fold, then scroll down during your keynote address to showcase additional widgets (instead of adding extra slides, PowerPoint style). You can also change the refresh cycle to showcase live data coming in from Smartsheet integrations, as your sales go up live during the show. Best of all, the next time you need to present, you could reuse the same dashboard—only this time, it'll show the latest data that came in since the last meeting.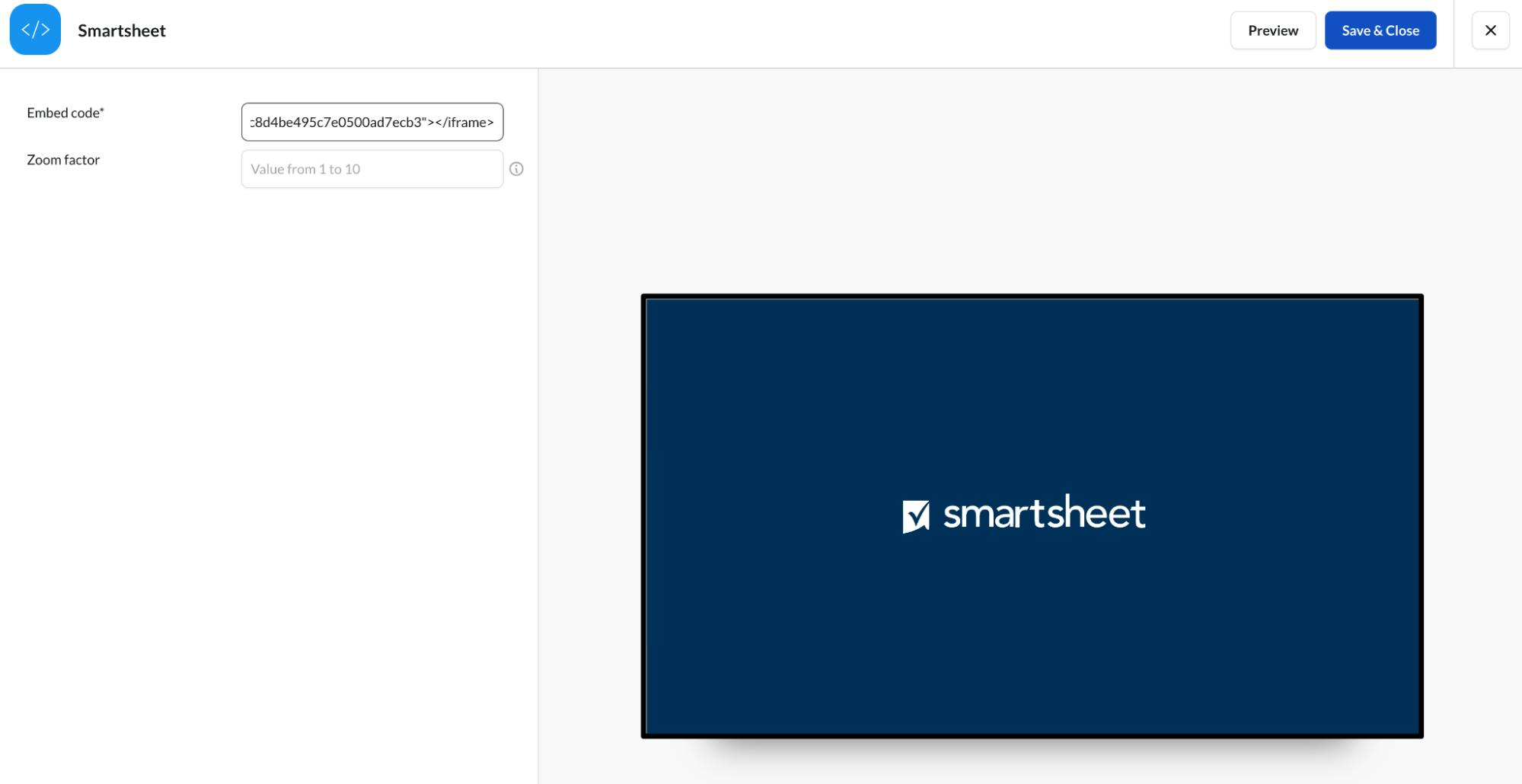 Smartsheet embeds in ScreenCloud let you showcase a full sheet or report on digital signage
With data dashboards like these, though, it'd be a shame to only use them for a single, 30-minute meeting. You could instead put them on your company's digital signage where everyone can see what's happening at a glance. Here, you'd again want a single-screen Dashboard—no scrolling, this time—with the refresh set fast so your team can see your metrics update in real time.
Using ScreenCloud's digital signage tools, you can put Smartsheet on the big screen in minutes. You could put anything from Smartsheet on your signage—but as with presentations, dashboards are best. Tables are too tough to read at a distance.
There are two ways to do this. The quickest is with ScreenCloud Embeds. Open your Smartsheet Dashboard, click File → Publish..., then copy the embed code for your Dashboard and paste it into ScreenCloud Embed. That'll render your full Dashboard—along with the Smartsheet header.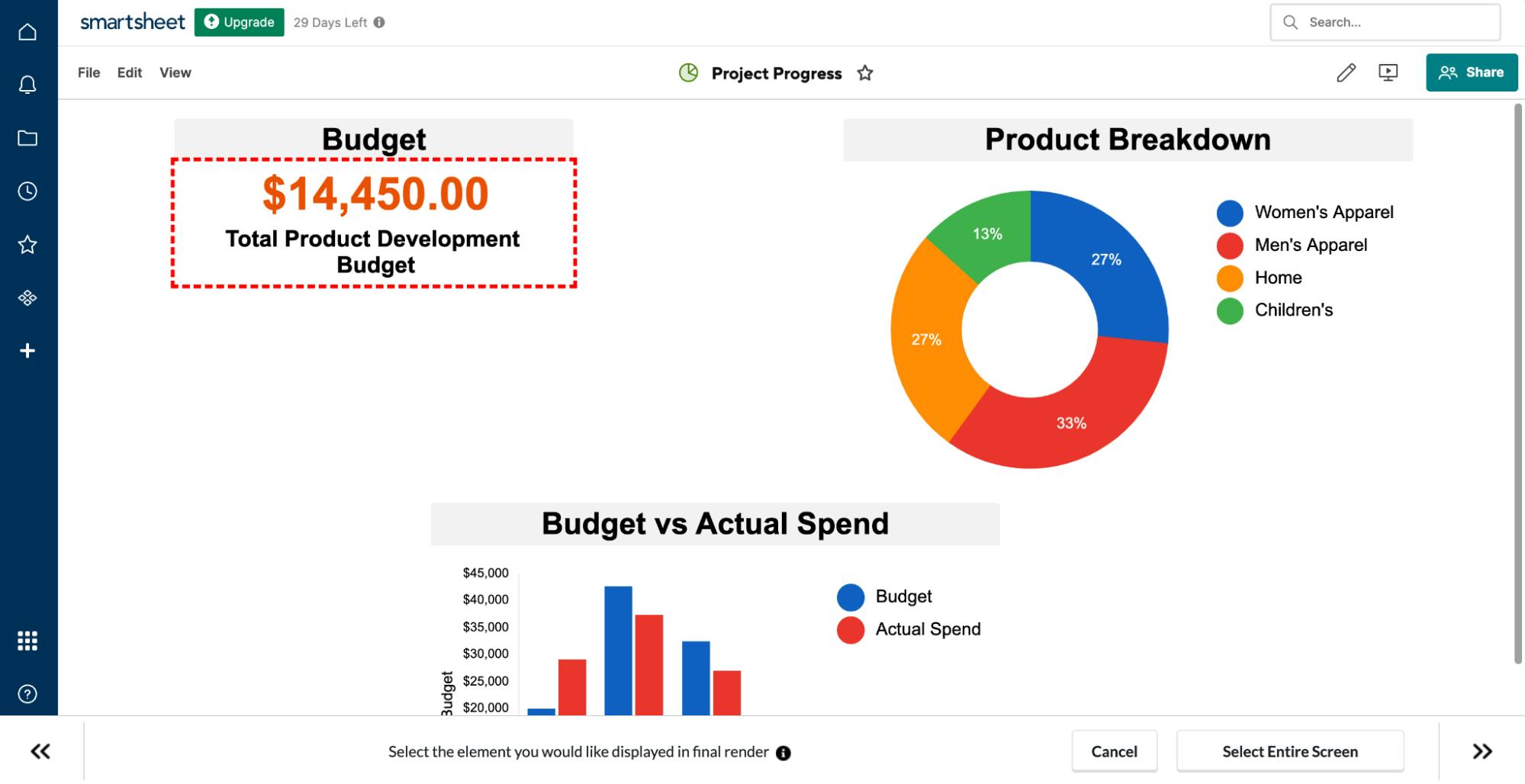 Choose a specific widget or metric to showcase in ScreenCloud—or click the dashboard background to embed the whole report
A more customizable option is using ScreenCloud Dashboards, included with Pro and Enterprise accounts, which lets you select exactly what you want to show on your signage. Copy a link to your Smartsheet Dashboard, open ScreenCloud Dashboards, enter the link, and log into your Smartsheet account. Then, click on the dashboard to select what you wish to exhibit.
You could share your full Dashboard—click the white, blank part of the dashboard to embed all of your widgets, without any of Smartsheet's branding. Or, you could select a single widget to showcase one Metric or Chart from Smartsheet, alongside data from Tableau, PowerBI, JIRA, and other software your company relies on. Do note that ScreenCloud can't select the title and content of a widget at once, so you'll either need to make sure your widget is self-explanatory (perhaps with a legend) or will need to add a separate title widget above your graph or single-value widget in ScreenCloud.
Ready to get your organization connected?
Connect your first screen today with our 14-day free trial
articles