Digital signage is a marketing vertical that's new to many companies. While the setup is easy enough to come naturally, the content curation may not be as straightforward at first. Questions on what to show, when, for how long can intimidate you.
But no fear — in this post we've put together tips that point towards the best way to collect and curate your digital signage playlist to perfectly fit your audience's needs.
Overview of Digital Signage Playlists
With ScreenCloud, you have the ability to set content on your screens using a handful of options. A Playlist is a flexible, hands-off, and time-saving feature that fits in your content operations strategy seamlessly. Instead of the time-consuming scheduling of content one-by-one you can use Playlists to bucket, group, and collect content.
Through Playlists, your content is organized and played in the exact order that you planned. Pieces of content, apps, and media from your ScreenCloud account can all be created into a Playlist. Once assigned to your screen, the Playlist will run on a loop based on the order and timing of the content you've set up.
Playlists are essential in streamlining resource and time management for your digital signage programming. Instead of using Channels to schedule individual pieces of content or media, you can add multiple Playlists into any number of Channels.
Overview of Channels
Using Channels, you can schedule Playlists of content that you have collected and combined. This gives you the ability to group and organize content in a meaningful way by theme, usage, department, topic, or any other way you'd like.
For example, in the screenshot below, there are a number of different use cases by location, such as "Corporate - New York" versus "Remote Workforce".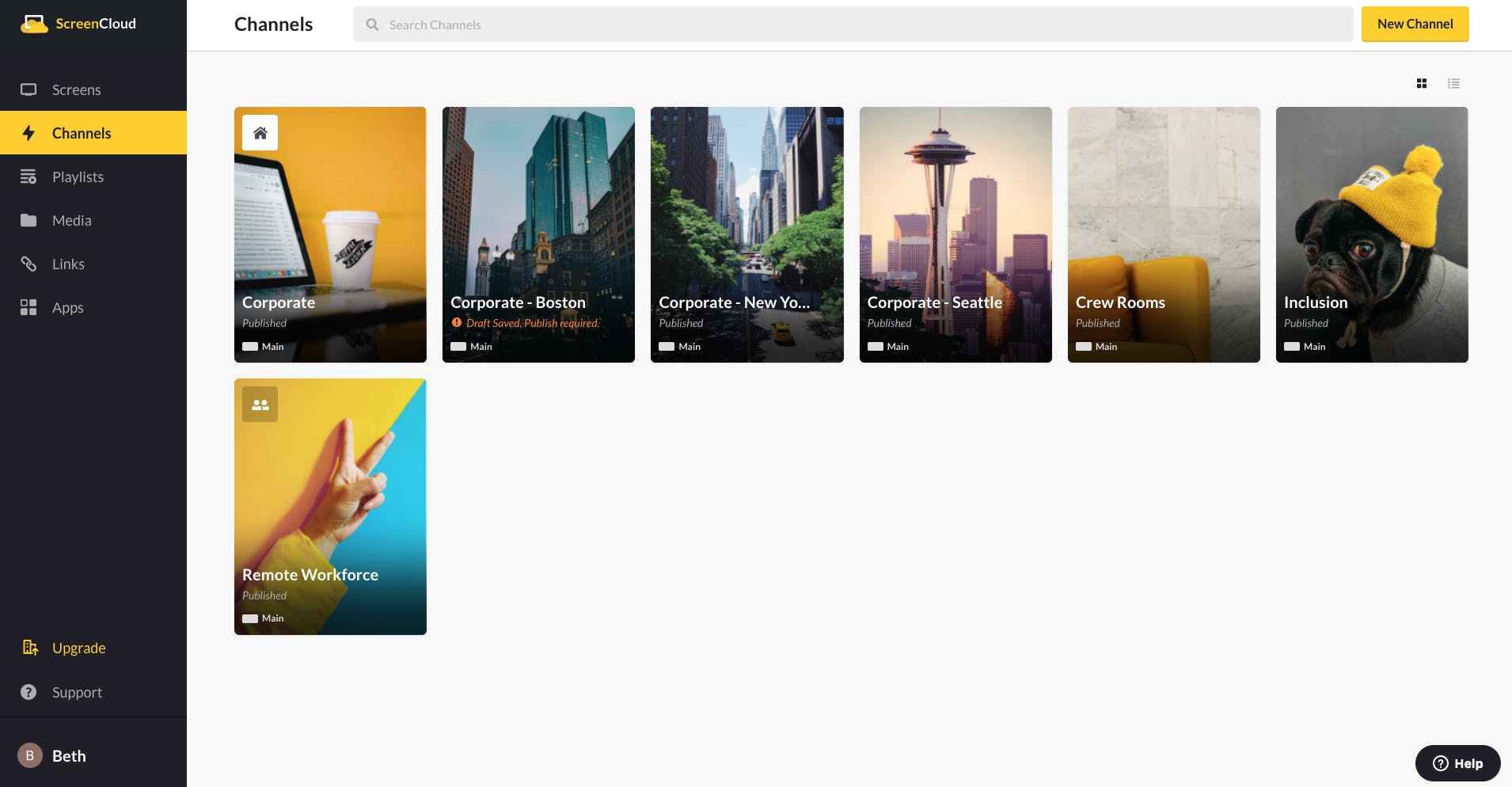 Within these Channels, you can add as many Playlists you'd like to schedule for any time from around the globe, which is especially useful if each location your screens are in are unique in respect to time zones, safety protocols, events, and day-to-day activities for the socials.
Best Practices
Want to make sure your Playlist speaks to your audience? Follow our best practices guidelines below.
Review your digital signage goals
Why are you using a digital signage platform? A company's most common answers to this include:
Broadcast data visualization, such as KPIs, dashboards, and successes in customer satisfaction
Ensure emergency alerts or critical messaging can takeover displays when necessary
Environmentally and budget friendly facilitation of communication by going green and paperless
Drive increased engagement for teams and build morale
Assess inventory management, stock, and resources visible to key stakeholders
Showcase user-generated content and utilize cost-effective content creation
Globally manage updates to anywhere that has a screen, PC, or display
Are you using digital signage to display emergency messaging or social information for employees and colleagues? Or are you wanting customer-facing content like promotions and event countdowns?
The best strategies outline, journey map, and visualize topics in relation to your goals.
Persona your audiences
Your audience should be segmented by day, time, interest and information they need. For example, if the person viewing your screen is going to be there for an hour, you'll need more than 10 minutes of content. If they only have a few seconds to look at the screen, then you may want to keep your messages short, sweet and on repeat.
If you're not sure what your audience will look like, ask yourself these questions:
Will your audience change by day or time?
What personas do they fall under: clients, potential clients or employees?
What does your audience want most from the screen?
If your displays are going up in an office, or surgery waiting room, naturally you may want to extend your playlist length for a 'captive audience'. If they're going up in a college corridor, where students will have a glance window of just 10-15 seconds, you may wish to make them shorter. The demographic of a visitor may vary also.
For example, in a coffee bar you may have Moms and babies at 10am and teenage students at 1pm. Or, manufacturing floors may have different objectives according to time of day. The content you will show to each and the duration could differ wildly.
Explore your Playlist options
There's a number of ways you can improve and enhance the way Playlists can be used within ScreenCloud, such as:
Creating Playlists by topic, category, location, and more - keeping content segmented
Always name and label your Playlists accordingly (i.e. Corporate, Culture, HR, etc.)
See all the FAQs and what you-can-do with Playlists
Manage your Media Library using folders to easily find content while building Playlists
Tag your Playlists using keywords for quicker searches and accessibility
Don't just rely on uploaded media - explore apps and integrations for versatility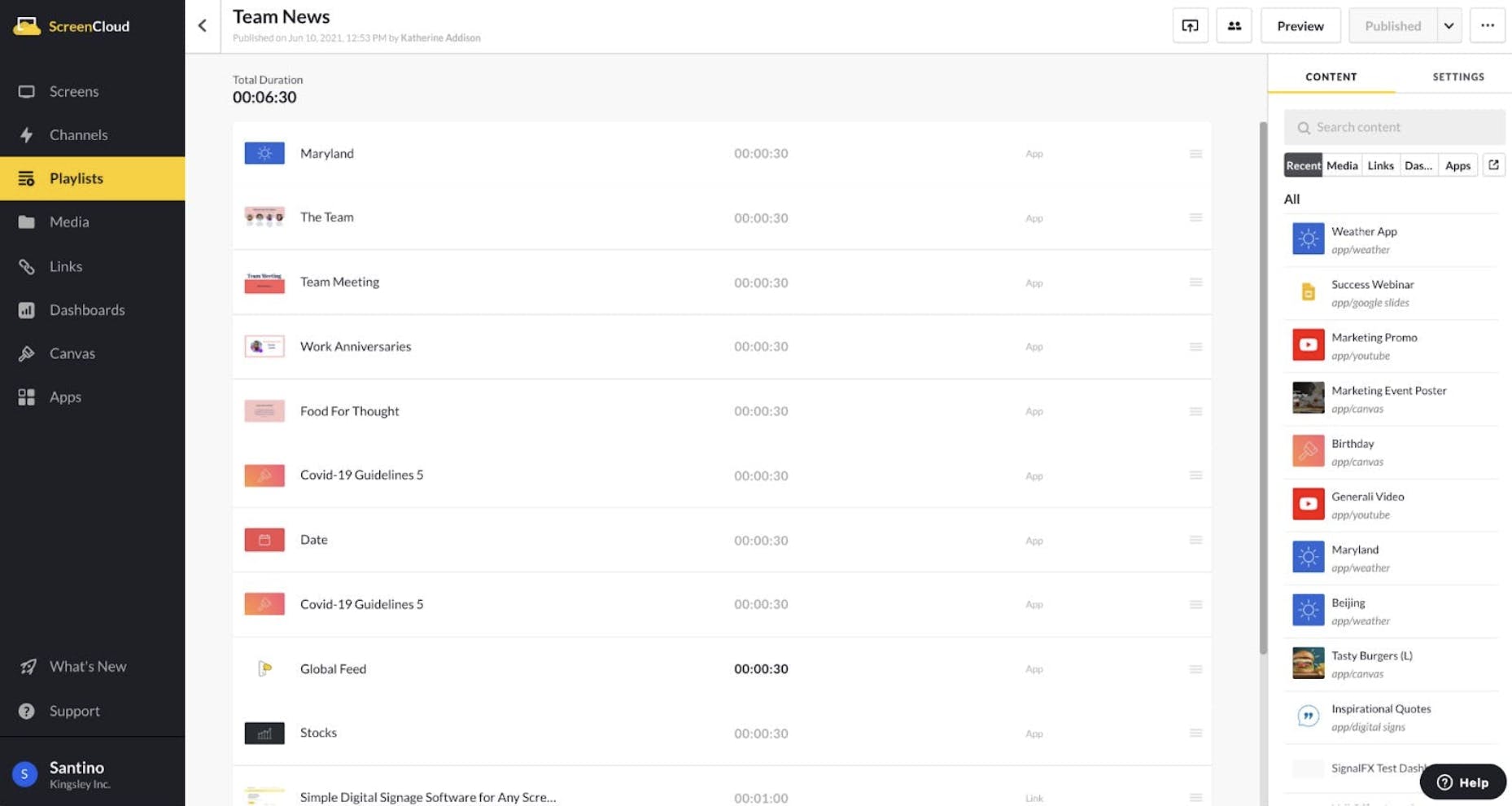 For example, a Playlist topic could be "Team News" which has a goal of both globally managing updates to any teams worldwide and resolving barriers of remote-working. This Playlist is curated and crafted with team-related content only - such as birthdays, using native apps like ScreenCloud Engage to inspire sharing photos, work anniversaries, and more.
Preview and experiment with your digital signage
Some studies suggest that six pieces of content creates the optimal playlist format. As a test, you should be able to read your message three times over in the allocated time frame. If you can't, make the message shorter or easier to digest.
With your digital signage you can create A/B tests for calls-to-action, images, videos and wording, then choose the more engaging option out of the two tests.
The text within each piece of content shown on screen should be a maximum of six words. Rather than creating text heavy content, create messages that are short and can be repeated often, to increase chances of retainment.
Place the most important piece of content first in your playlist or at the top of the page within a static piece of content. Remember that messages that can't be absorbed in 2-3 seconds or less are unlikely to be retained.
Ensure text colors have high contrast with the background color and use sans serif fonts.
Don't forget to create different content types. Video is often more effective when used for learning and information. Remember to keep product pitches under one-minute in length. Educational content can be extended to up to two minutes.
Utilize the content you already have. You have content you already own in the form of images, videos, presentations and dashboards. Uploading content to a digital signage CMS such as ScreenCloud is easy.
As a guideline, each piece of static content should play for eight seconds or less to ensure it captures the attention of humans, who have a surprisingly short attention span. In areas of high footfall (i.e. shop windows) lower the duration of content to five seconds only.
If your content contains complex elements (i.e. animations, longer descriptions), extend the length of content - it takes the brain much longer to process motion graphics or animation.
Update your playlists
If you don't refresh your content frequently, repeat visitors will eventually stop paying attention to your signs. Work out how often your playlists will show to the same audience by measuring dwell time or footfall. Try to ensure that your audience is subject to the same message no more than seven times during their customer lifecycle.
The key attribute of any digital signage system is that the content is adaptable and easy to edit, so make sure to choose a digital signage solution like ScreenCloud that has remote device management so you can edit your Playlists anytime, anywhere after you preview them.
Save Time With the ScreenCloud App Store
If your digital signage screens display in an office or reception, where employees might see them everyday, take advantage of apps that update themselves. Social media, live news apps, sports scores and Trello boards for your project management processes could all help keep data up to date without you having to constantly update playlists.
Simply choose your tool (social media, dashboard, meeting room software, news, world clock, weather), choose your settings and you're ready to add to your playlist. If you need help selecting or setting up, check out our post on how to use digital signage apps to create awesome displays.
The perfect playlist myth
We hope this article has given you a baseline from which you can create your first digital signage playlist. Just remember that once the first is created, you should experiment, seek feedback, and adapt your digital signage campaigns in order to create a second Playlist that is better, but not always bigger, than your first.
About ScreenCloud
ScreenCloud helps teams in 9,000+ organizations around the world communicate with those who matter most, using the screens on their walls and the content already in their systems.
ScreenCloud's digital signage can inform employees on corporate information like social media feeds, data visualizations, emergency alerts, and live broadcasts – or even simply the news, sports scores and weather.
Sign up for a free demo and see how digital signage can work for you today.