Publish content to your screens directly from Microsoft Teams
Learn More


Using and Managing Multiple Screens with ScreenCloud
How to roll out a digital signage strategy across multiple screens.
If there's one thing digital signage screens should be, it's unique. Of course, your average TV screen isn't unique. It's the same model and manufacturer as a million other screens out there. But how and why you use it, should be.
If you want to use one screen in your office to share company data, great. If you want to use 100 screens to share department details across various college campuses - why shouldn't it be just as simple?
In this guide we'll walk you through how to stream content to multiple TV screens across a cloud-based network. So that you can employ digital screens anywhere you like, as often as you like.
Let's get started.
Why multiple screens?
Digital screens only work if they're relevant to the people looking at them. With multiple screen strategies, this becomes even more important. Say you have four different restaurants across New York. What you show on each should depend on the restaurant.
Travel information, menu items, promotions and customer reviews, should be personalized to that location. The same could be true of school campuses, stores and even things as interesting as screens on submarines traveling across the ocean.
For that reason, multiple screen strategies must be easy to roll out, easy to connect across a single network and easy to manage.
Considering hardware in digital signage
With ScreenCloud Studio, you can use as many different types of screens and media players in the same strategy as you need. So you could have one Samsung screen, fueled by an Amazon Fire TV Stick 4K and one Android TV using the Android TV app from the Google Play Store. You may even have a "non-smart TV" (this is a TV with no operating system) and a Station P1 Pro. Because our content system is cloud-based, it really doesn't matter what hardware you run things on. Ideally, this will save on cost as you can use whatever screens and monitors are most convenient at that time.
If you need help deciding what hardware to use, visit our hardware selector tool.
Setting up multiple screens with ScreenCloud
To add a screen to your ScreenCloud account, follow this guide.
1. Download the ScreenCloud app
Where you download from will depend which hardware you are using but here are some of the app stores where you can find the ScreenCloud app hanging out:
2. Pair up your screens
Once you've downloaded your ScreenCloud app of choice, you'll see a pairing code that looks a little like the below.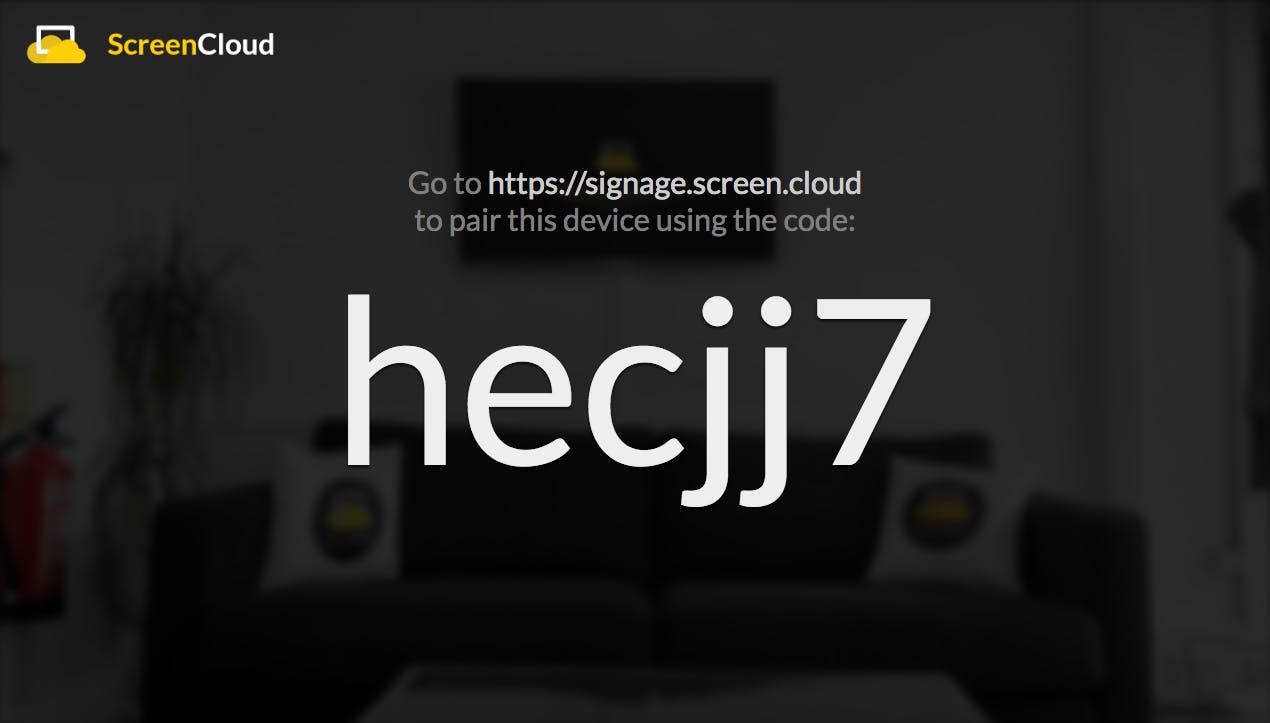 To use this, you'll need to head to our website and set up an account to take advantage of our 14-day free trial. Once you've done that, you'll see a screen that looks like the below allowing you to 'add screen'.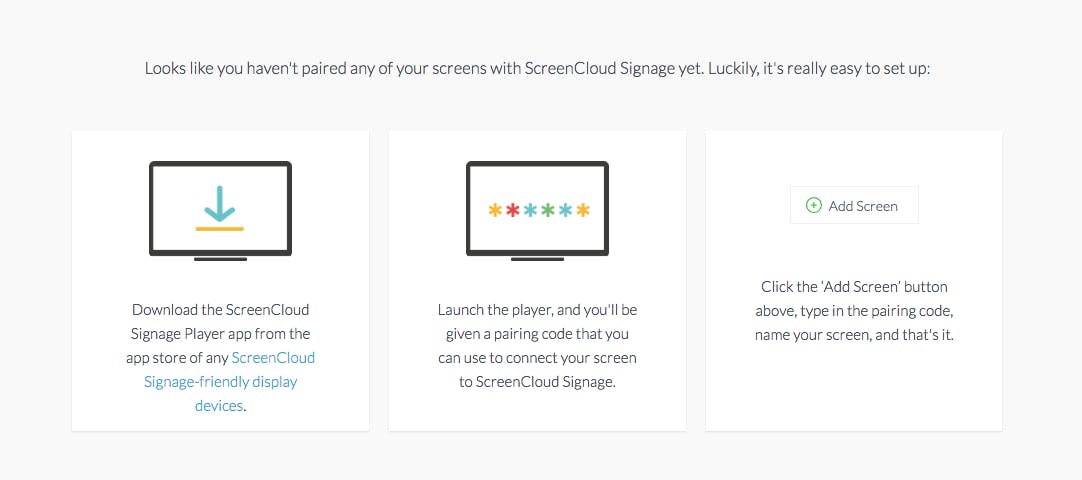 Enter the pairing code and that's it! Your screen is hooked up to your web account and you can begin controlling what's shown.
To add more than one screen you simply follow this process as many times as you need until all of your screens are added to your account. You can add as many screens as you like to your account and manage them all centrally, from one login. The power of the cloud is that these screens, once paired, can then be managed from wherever you like. You don't even have to be anywhere near the screen in question! This makes it much easier to change content and manage multiple screens simultaneously.
3. Organise your screens
When using multiple screens, it's useful to have a way to organize them. To manage your screens, select "Screens" from the left-hand menu.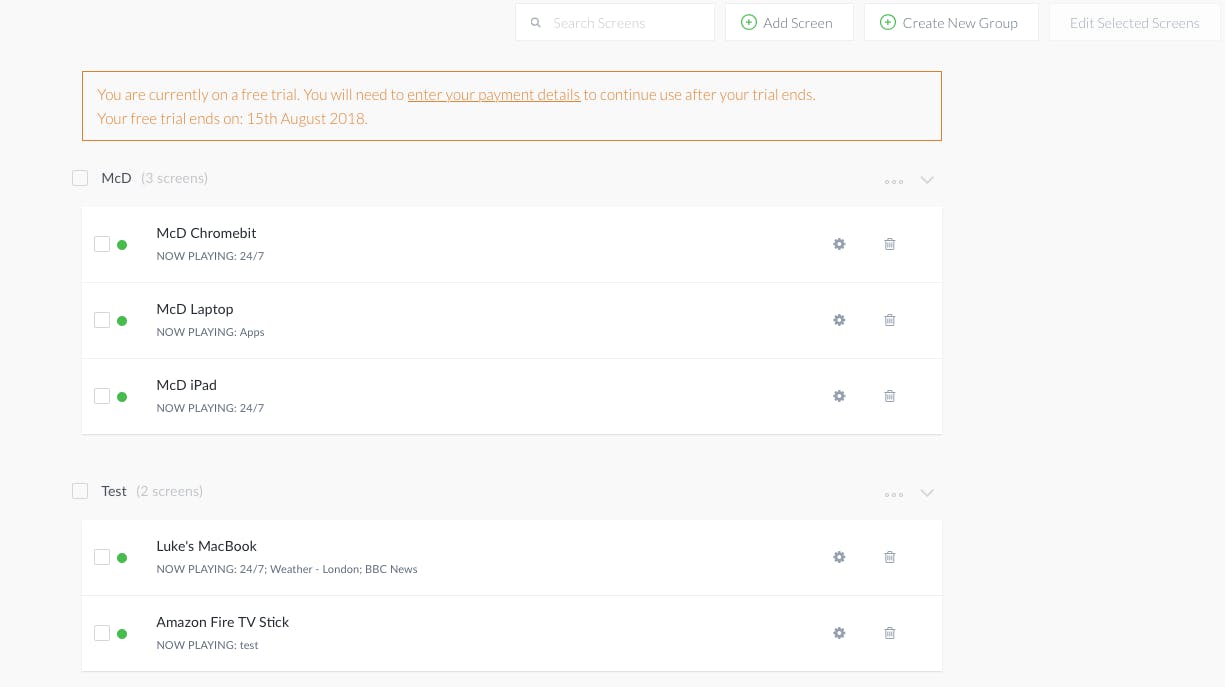 Here, you will see the option to Add screens, Edit screens and Create groups.
Groups help you to organize your screens. They also allow you to set all of the screens to display in one format, for example portrait or landscape. To change the settings on a group of screens, select the dropdown and then "Edit Screens". Here you will see the option to Choose a Layout or Copy a Layout from another screen.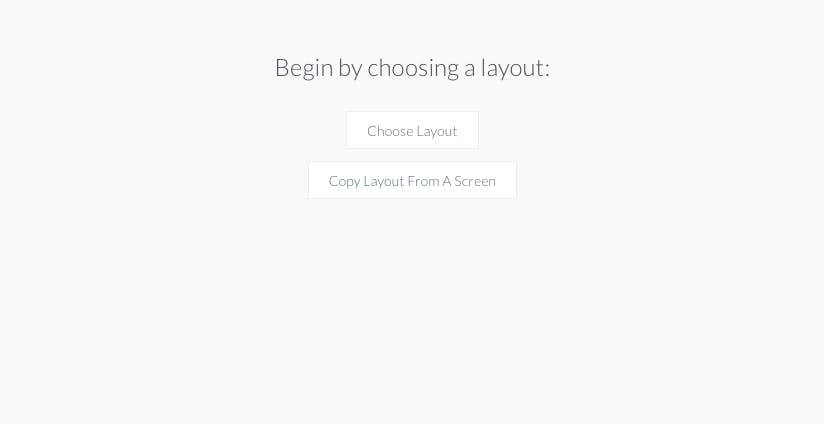 4. Managing content
When it comes to managing content across screens you can use playlists to create unique lists of content.
The order in which to manage content is:
i. Set up a playlist of content that you want to show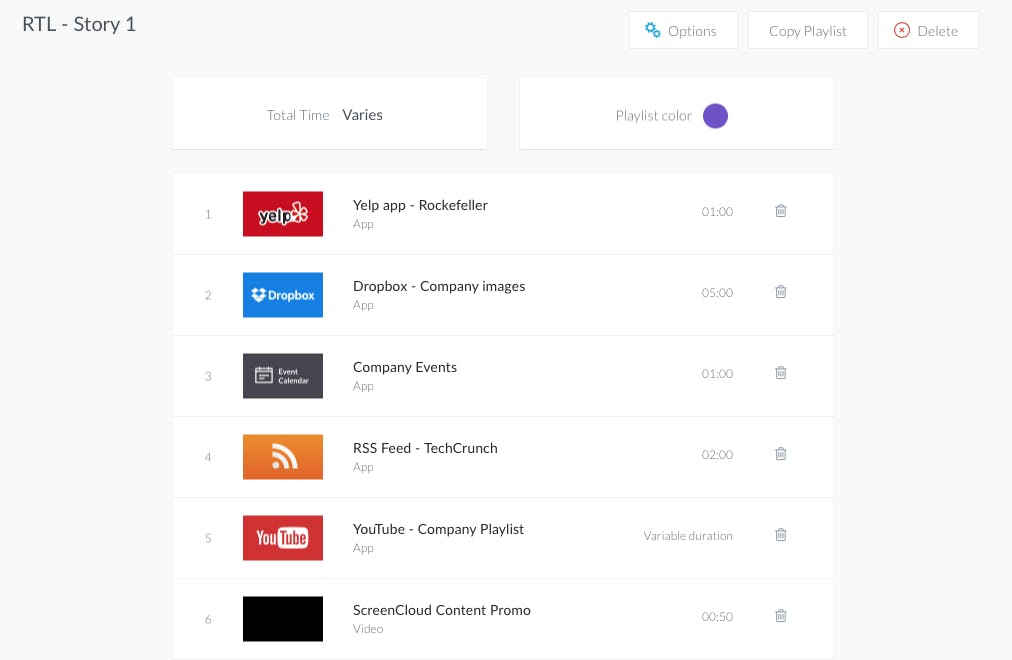 ii. Add your playlist to a schedule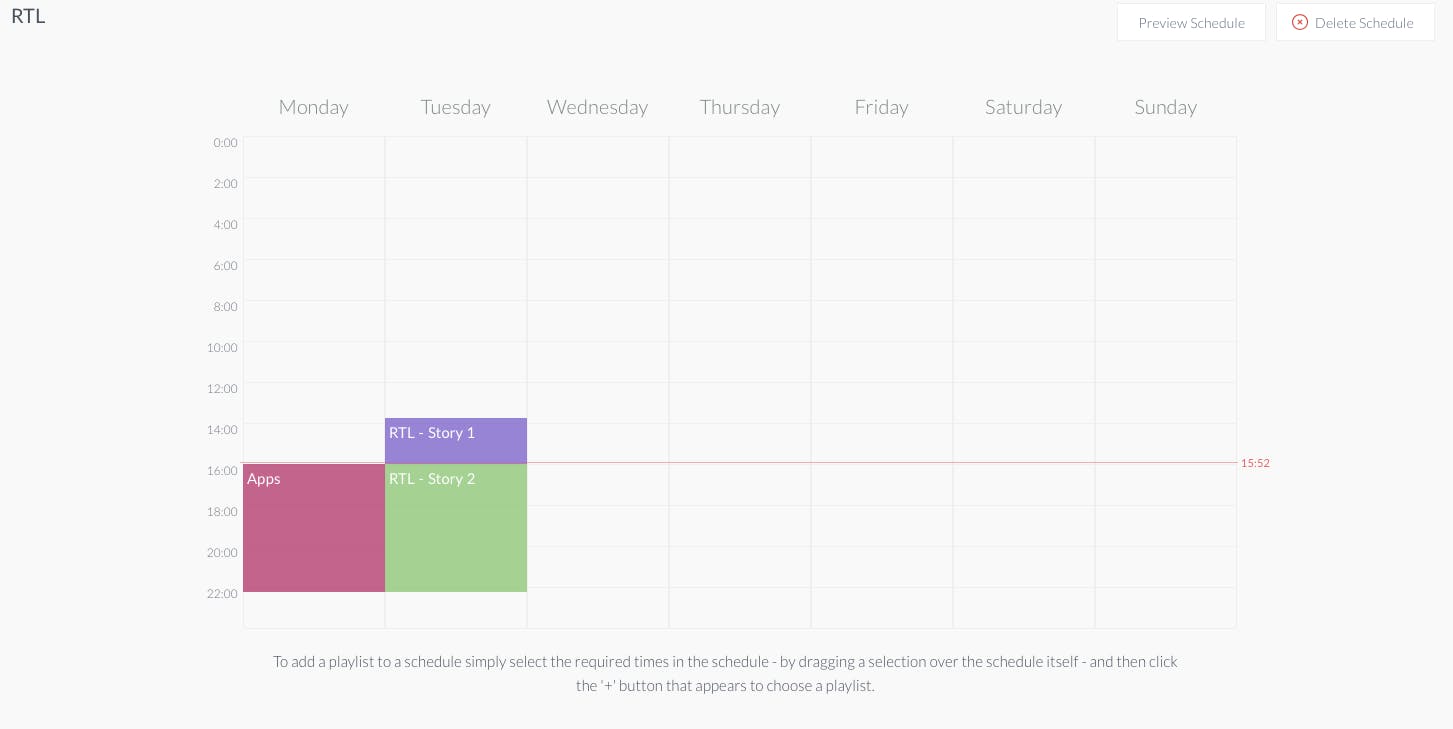 iii. Add your playlist or schedule to a specific screen.
To do this you'll need to visit "Screens" and choose "Screen Settings" on the specific screen you wish to edit. If you're using a zoned digital signage display, you can click on the specific zone to select what shows in that individual section.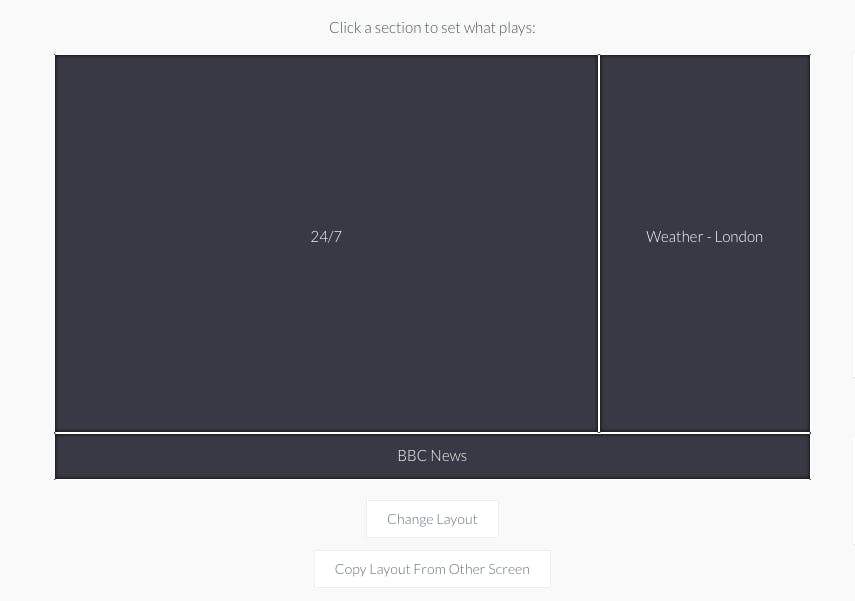 If you aren't using zones, you can simply click anywhere on the screen and choose from a playlist, schedule or piece of content that you want to play.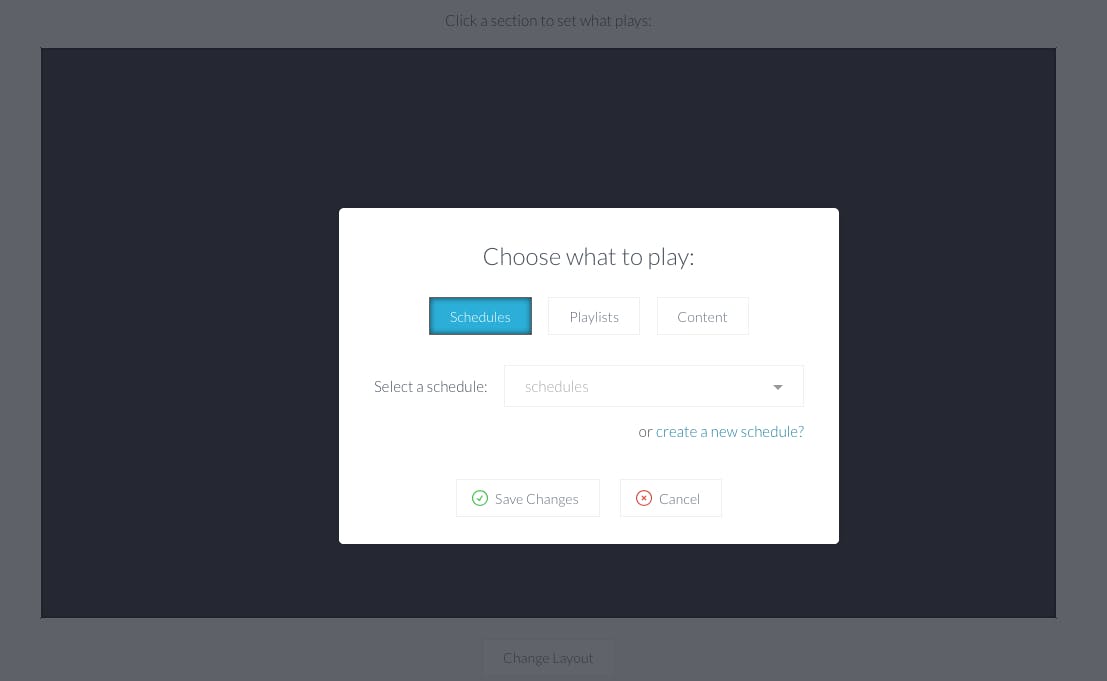 For more help on setting up playlists and schedules, view our online video tutorial.
5. Editing multiple screens simultaneously
If you're looking to setup a series of screens with identical layouts, playlists and schedules, you may want to edit multiple screens simultaneously.
To do this first, select your screens by ticking each screen you want to edit (they don't have to be in the same group).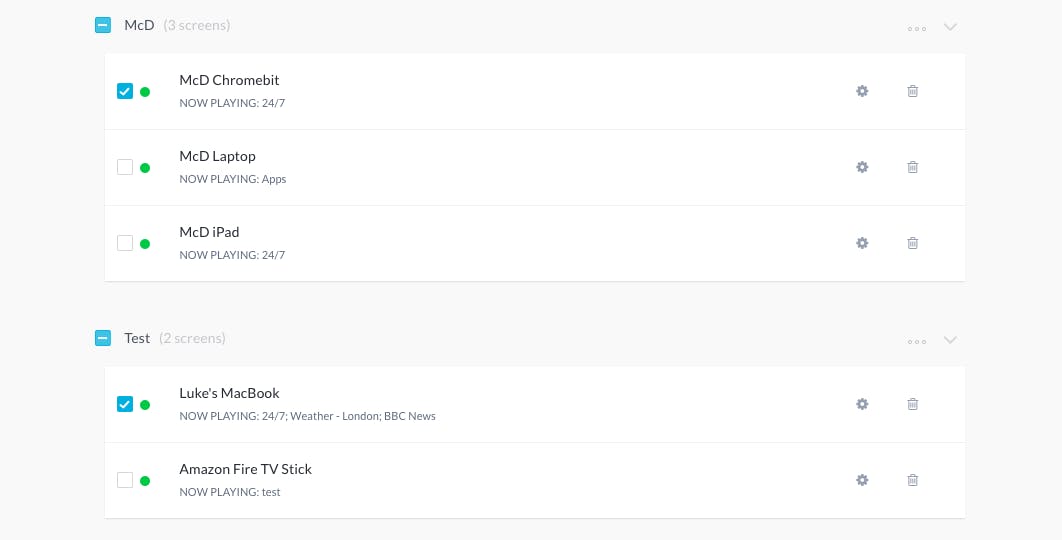 Next choose "Edit Selected Screens" from the top right-hand corner.
Now you will need to choose your layout for the screens (portrait or landscape).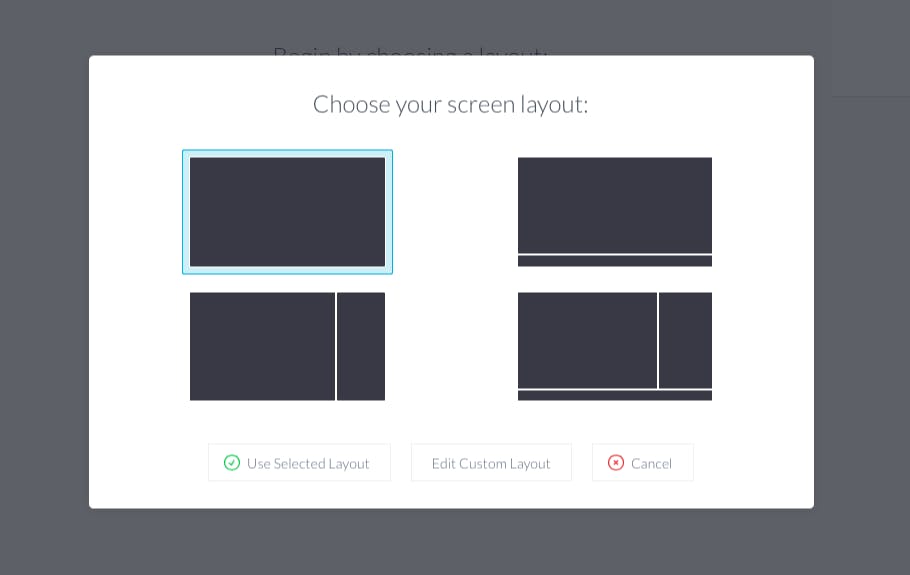 Then click either in the centre of the screen, or in a specific zone and choose what you want to display. This can be a playlist, a schedule or a piece of specific content.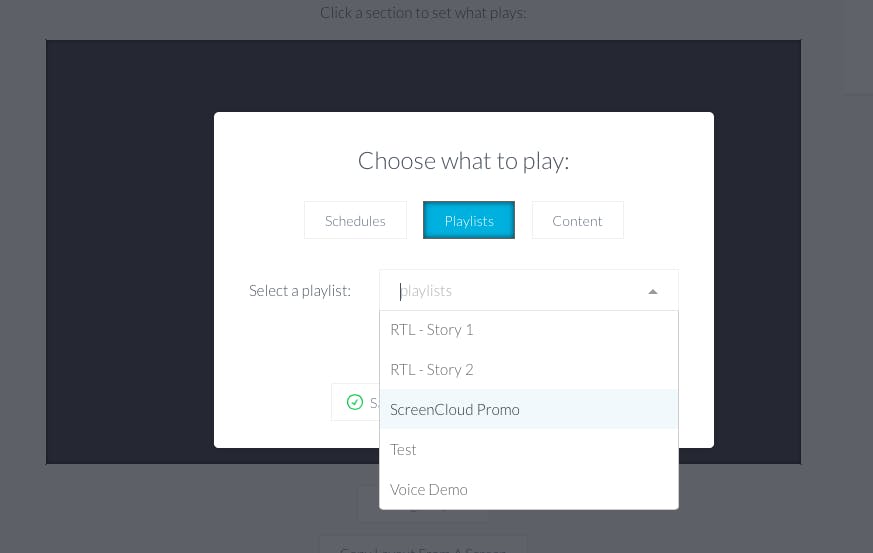 This will save the layout and content across all of the screens you have selected, allowing you to update all of them in seconds.

For further support on setting up multiple screens, email support@screen.cloud or begin setting up your screens today at ScreenCloud.
Ready to get your organization connected?
Connect your first screen today with our 14-day free trial
ideas