Publish content to your screens directly from Microsoft Teams
Learn More


How to Roll out Digital Signage Screens over Multiple Locations
If you want to roll out your digital signage displays to one, or 100 displays, it should be this easy….
You know what's great? When companies use digital signage screens to share information and knock the socks off of their customers, employees and visitors. You know what's even more great? When they realize just how simple it is to do this multiple times over.
A digital signage strategy can be rolled out across multiple locations, whether that's offices across the country, different stores or even just a screen on every floor of your office block. 
The truth is, it's really not that difficult to implement and ensures you have a consistent brand presence and flow of information wherever you are. 
How to roll out digital signage across multiple locations
When it comes to rolling out your digital signage strategy across multiple zones or areas, the first consideration is the hardware. Here you have two choices; use the screens you already have, or invest in new ones. Inconsistency in brand and make isn't always an issue; the screens are going to be placed in different locations after all. 
Alternatively, if you want or need to invest in new screens and players you have a little more choice. Invest in smart TVs and you can run a digital signage app like ScreenCloud with no other hardware or media player needed. Job done!
Or invest in standard TVs and give them a boost by adding a cheap media device like the Amazon Fire Stick 4K or Chromecast with Google TV .
If you're planning to roll out a large fleet of devices to various locations, like in an office space or retail store, it may be beneficial to look into a media player that has large scalability benefits, a great example of which is our Station P1 Pro device, the Station P1. It comes with ScreenCloud's software pre-installed and uses a ScreenCloud OS provisioning USB flash drive to configure your network settings quickly, allowing devices to be set up and ready to go in just a few minutes. This is also a great scalability option if you have IT staff on-site who don't exactly know how to set up a digital signage device, as you can simply configure one USB flash drive per location and set up your devices in just a few minutes.
This is where a partner like Promevo come in handy. Promevo is a partner we direct clients to when they have big digital signage hardware requirements. They make the process of rolling out hundreds, or even thousands, or digital signage screens easy.
There are several advantages working with a company like Promevo for procuring hardware. Firstly, they are experts in Google hardware and the software ecosystem surrounding it so can help advise the right mix for your needs. Because you'll have an account manager you'll be able to add potentially complex delivery requirements to your single order - such as splitting out delivery options to multiple locations. Finally there's the "white glove" option where devices are deployed already configured for use. In that case they simply need adding to your Wi-Fi network and they're operational. This is great if you have non-technical staff involved in the deployment.
This enables one system to manage multiple displays so you have a central reference point and none of the trickiness that comes with integrating different systems. 
If you have a smaller budget, you could even combine new and old screens. Our customer Merchant Taylors' did exactly that.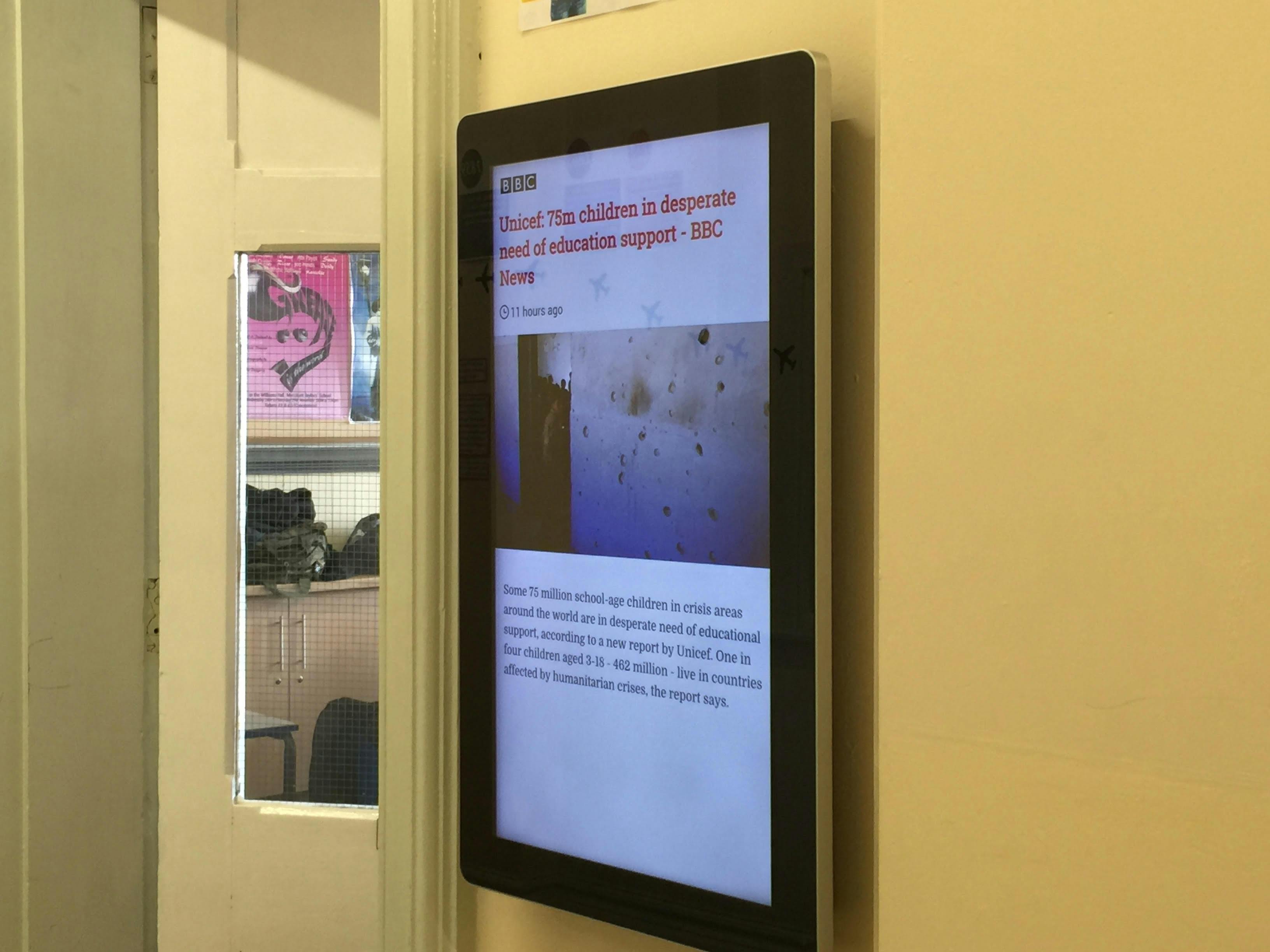 For new installations they chose a screen from AllSee with an inbuilt Android Player. Students couldn't change the screen as there was no visible power button or media player and school staff could schedule when to power up the screens and when to turn them off. 
They then combined the new screens with their existing TV screens, adding cheap Amazon Fire TV 4K sticks to help make them 'smart'. 
Whether you invest in new screens, make use of screens you already have, or combine the two, rolling digital signage hardware out across multiple locations is, and should be, easy. 
What about rolling out digital signage content?
Here's where you get to be blown away. Rolling out digital signage content across multiple locations is even easier.
With ScreenCloud you can add as many screens as you like to your one account. Once paired the first time, this gives you the power to manage of all your content on all of your screens from wherever you and your laptop are.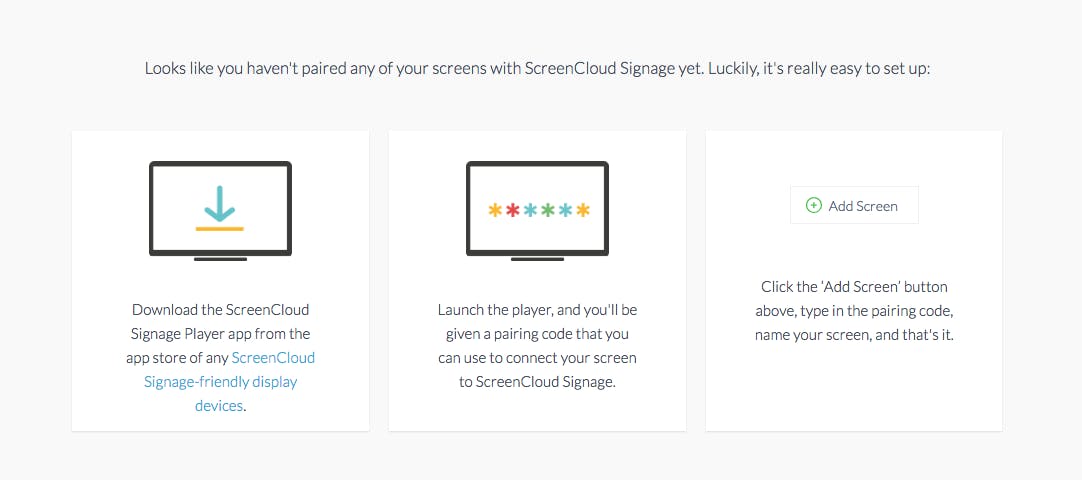 Gone are the days where you had to fiddle around with the monitor to get your screen to play. The headache of copying files to USBs or manually updating media players is gone - vamoosh! 
Grouping screens makes it easy to determine what you play and where. Create playlists that show on multiple screens and in multiple locations without replicating the work more than once.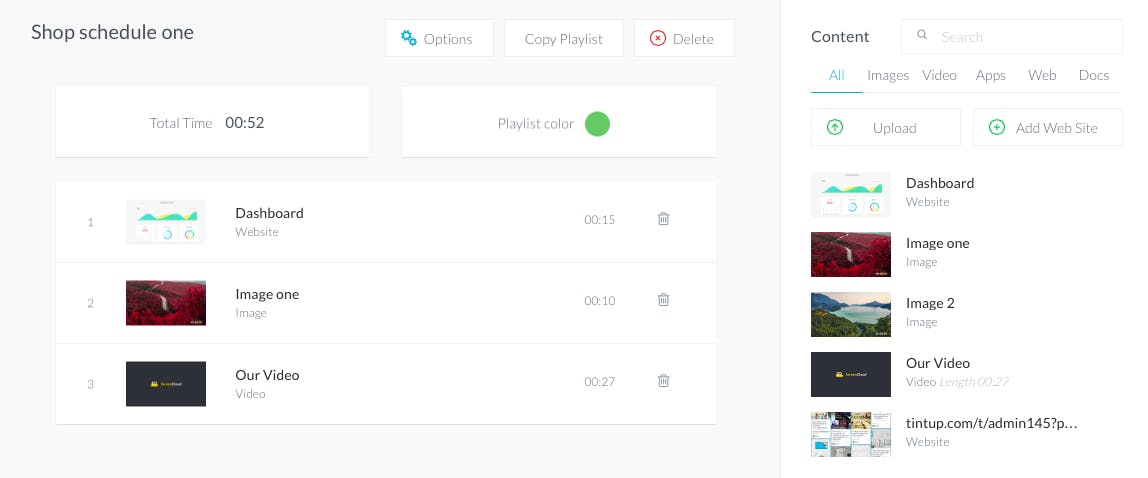 Schedules of what shows when can be the same across locations, or you can set a different schedule for each. For example, you may want the lunchtime digital menu board to show at 12pm in one location, but 2pm in another. Scheduling and playlists make this type of personalization easy. 
Digital signage: one screen or a hundred
Digital signage is one of the most versatile marketing tactics around. If you want one screen that's fine, if you need 100 it's almost just as simple. 
Cloud-based software systems (like ScreenCloud) give you the flexibility to adjust and adapt your content to each screen, from one simple interface. Managing all of your content and then sending it to multiple screens makes digital signage as frictionless as possible. Giving you more options, more control and an easier way to make digital signage happen across multiple stores, offices or agencies.
Give it a try. We offer a 14-day free trial to all customers at https://screencloud.com
Ready to get your organization connected?
Connect your first screen today with our 14-day free trial
innovation